Skriv inn innsjekkingsdatoen i formatet dd.mm.år
Skriv inn utsjekkingsdatoen i formatet dd.mm.år
Utleiesteder du kan bestille uten å måtte vente på vertens godkjennelse.
14 Utleiesteder
· Excello
14 Utleiesteder
· Excello
Oppgi datoer for å se fullstendige priser. Ekstra gebyrer gjelder. Skatter vil kunne tilføyes.
I juli og august i år kan du prøve ut ett av disse 100 hjemmene folk har vurdert som svært gode, i alle prisklasser, og oppleve lokalfolkets blikk på Sonoma. 24-timers innsjekking, Øyeblikkelig bestilling og lokal vin og snacks, lar deg lene deg tilbake og nyte turen.
The Circle O Lodge is located in North Central Missouri not far from historic Highway 36 and Walt Disney's boyhood home of Marceline. Families and small groups will enjoy the Circle O Lodge for its natural beauty and relaxing qualities. It is conveniently located near several local attractions. The lodge is situated on 60 acres of mixed terrain and features hardwood forests, open grasslands, 2 1/2 acre fishing pond and 15 acres of wetlands.
Constructed in 2010 The Circle O Lodge is a rustic but modern family Lodge with three bedrooms, 2 1/2 baths, living room and fully equipped kitchen. The lodge is air conditioned with electric heating and gas fireplace. Amenities Master bedroom - queen bed with linens 2 Bedrooms with 1 bunk bed and 1 single bed in each room with linens 2 1/2 bathrooms with towels Fully equipped kitchen Washer / dryer, iron and ironing board Front and Back decks with outdoor furniture Sporting clays Horse Shoes Barbecue, fire pit Fishing Ponds Walking Trails Guest have access to all the rooms in the Lodge. We do not live on the property but we are available via email or phone.
We charge $ 45.00 dollars for each additional guest.
The host was great! Even let us stay pass check out time!
Joy
September 2016
What a beautiful property! We stayed here for our first wedding anniversary. We loved the relaxing environment and comforts offered in the lodge. There are so many amenities awaiting you at the Circle O. I would definitely recommend it! We hope to make a return trip someday.
Nycole
October 2016
This little piece of property is a little piece of heaven. Secluded, quiet, relaxing, peaceful, secret escape from real life. We stayed there for an extended weekend and left the property once to get groceries; other than that, there was no reason to leave. We explored the property, explored ourselves, and explored the starry skies each night. If you are looking for a place to escape your day to day, this is it. The Wifi was a nice touch so we could have Spotify playing all weekend, but other than that, no phone calls or emails distracting us from ourselves.
Dave
August 2016
The cabin had everything that was needed plus more. I was surprised by the little extras that were available, such as binoculars, charcoal for the grill, DVDs, games and spears for roasting marshmallows. The decor of the cabin is great and the trails and pond were very enjoyable. We had a great weekend and would love to go back again.
Barbara
October 2016
Everything about this place exceeded my expectations. Everything was so guest-friendly. If you forget anything--I mean anything--you'll find it somewhere in the cabin. This place is truly a little slice of heaven.
Hannah
August 2016
The host canceled this reservation the day before arrival. This is an automated posting.
Keisha
We were thrilled to find this gem located in missouri! We had a fabulous time! The cabin was beautifuly decorated and had a cozy welcoming atmosphere. There were lots of personal touches that made us feel comfortable! The property and views were perfect. Thank you for providing us with an amazing place to celebrate our wedding.
Jessica
October 2016
This cabin was well equipped and the perfect weekend getaway! And being able to bring our dog was a huge plus! We will be back!
Tim
December 2016
Romtype
Helt hjem/leilighet
---
Eiendomstype
---
Plass til
8
---
Soverom
3
Marceline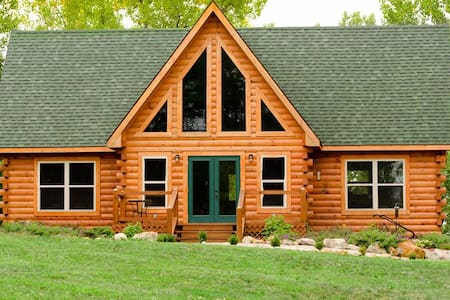 Whether on business or pleasure, stay with us at the Main Stay on Main Street USA, boyhood home of Walt Disney.
Spacious living room and master bedroom. Fully equipped kitchen with nice dining area and featuring a gas fireplace. No restriction to any room Will be available by phone or email.
Home
MAIN STREET USA For a Disney fan to stay on MS USA was icing on the cake. The accommodations were perfect. Watched the WS when the Cubs won at Wrigley. I would stay here again. I will also let anyone that wants to know about Marceline to look for this place first..!
Jeff
November 2016
Great location and wonderful space. We had everything we needed and then some. The location right on Main Street USA was amazing for the Toon Fest events. The space looked to be recently remodeled was very clean and all amenities we there for us. We would stay again for sure
Kristinia
September 2016
Really enjoyed our stay here. Very nice place.
Candice
December 2016
Great place to stay with plenty of space to relax and cook. The rental was spotless and I would recommend this rental to anybody staying near the marveling area.
William
November 2016
Romtype
Helt hjem/leilighet
---
Eiendomstype
---
Plass til
5
---
Soverom
3
Marceline
Just 18 beautiful, country miles southwest of Kirksville, you'll enjoy the peaceful country setting in a private bedroom with a private entrance detached from the main house. A shared bathroom is a few outside steps away in the main house. Your room includes a queen bed, fridge/freezer stocked with snacks, a microwave and your own patio with beautiful views to relax on. Inside the main house you have free access to the living room, kitchen and laundry.
Peaceful country setting Detached private room Private entrance Private patio Bathroom is in the main house. Bathroom is equipped with safety bars Bath lift chair available Living room Kitchen Guest bath Front porch Back patio Hot tub Park area Upon arrival As we cross paths At checkout
Rural country setting Quiet roads Cattle Guest will need their own transportation. Kirksville and LaPlata are both 18 miles.
Perfect for a quiet getaway! Very friendly, made me feel very welcome. Room was spacious and very cozy.
Matthew
December 2016
Romtype
Privat rom
---
Eiendomstype
---
Plass til
2
---
Soverom
1
Kirksville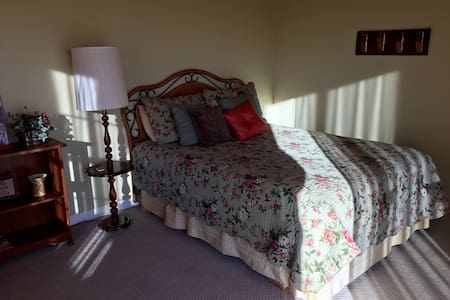 You'll love my place because it offers more space and affordability for small or large groups compared to hotel and motel prices. Perfect for summer vacation travel with the family, holiday visits or just a fishing or hunting trip with the guys.
Romtype
Helt hjem/leilighet
---
Eiendomstype
---
Plass til
4
---
Soverom
3
Shelbina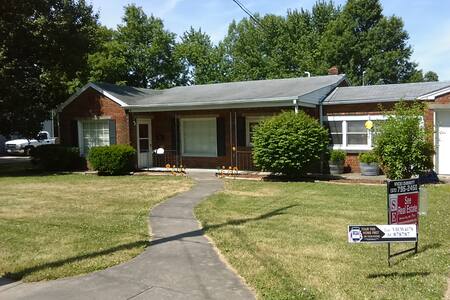 Beautiful 1840's Historical 3 story home 1.5 miles off the beaten path. Totally redone, secluded home with lots of wildlife surrounding. 4 Bedrooms with a large hall. There is a 30 x 35 ft room for entertaining. This home is listed on Missouri's Historical Homes. Sits on a 3 acre lot.
there is a nice front yard for sled riding if theres snow We have coffee pot, toaster, pots and pans, silverware, outside wood fire pit, bar b que grill gas and charcole
this is an small old historical village several of old original houses in bethel
Romtype
Helt hjem/leilighet
---
Eiendomstype
---
Plass til
8
---
Soverom
4
Bethel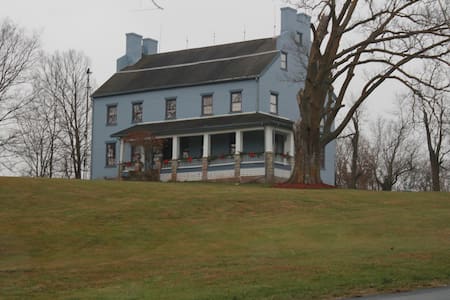 Just 18 beautiful, country miles southwest of Kirksville, you'll enjoy the peaceful country setting in a private bedroom with a shared bath. Furnished with a comfy double bed, a dresser, night stand and sitting chair, there's four drawers and closet space available to use. Additional rooms available.
Living room Kitchen Park area Porches and patios Laundry facilities In passing or when joining us in common areas
Very quiet, rural country setting. Grazing cows. Simplicity. No. Will need your own transportation.
Romtype
Privat rom
---
Eiendomstype
---
Plass til
2
---
Soverom
1
Kirksville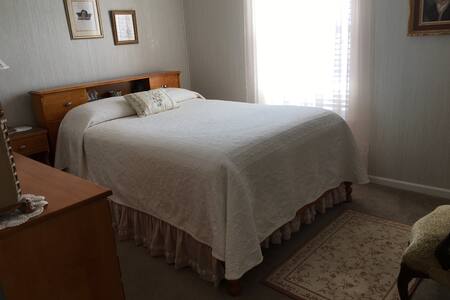 My place is close to family-friendly activities, the city center, Central Methodist University. You'll love my place because of the neighborhood, the comfy bed, the unique setting. My place is good for couples, business travelers and families (with kids). Please contact host if you would like to bring your furry friends along as this does require a higher cleaning fee.
what you see is what you get with this place. very nice, spacious, clean. the crew is very friendly and communicative. i would definitely recommend staying here. very nice place.
james
October 2016
Fayette is a welcoming, gorgeous small town. Howard County Jail is absolutely beautiful! Big windows, lots of natural light, comfy beds, an amazing kitchen and a luxurious bathroom. Communication was great- checking in and out was easy. Thanks so much, we had an awesome time!
Anna
September 2016
Wow! This is such a spectacular place! We arrived to town much later than planned and Ashley was very accommodating and met us promptly upon our arrival. It was almost too good to be true that my husband and I got the entire house and jail to ourselves! It is definitely worth going out of your way if you need a place to stay while traveling along I-70. The renovations to the house are marvelous. We especially appreciated the awesome AC and sound systems since this is such an old building. The best part is that by staying here you not only get to write it off on your taxes, but you're also supporting a very important non-profit that preserves historical little towns like Fayette! The bathroom is worth the cost per night just by itself! AMAZING!
Porsche
August 2016
Communication is pleasant and the house is beautiful! It's such a bargain for what you pay. Take some time to read the history of the jail. It's fascinating and sobering. The bedrooms have only sheer curtains, so you will probably want to do any dressing in the exquisite bathroom with full height shutters. Be sure to explore the area. Rocheport was delightful and Columbia and Jefferson City offer charm, history and city living within an hour's drive. Highly recommended!
Jordan
October 2016
This home is absolutely wonderful, a treasure nestled within a small town! It is both unique and comfortable, I highly recommend it to all Fayette travelers!
Rebbecca
December 2016
The photos of this place do not do it justice! The house is beautiful and the hosts were very nice and accommodating. I would recommend this place to anyone. I never thought staying at jail would be so fun!
Sarah
October 2016
This is the most unique experience you will ever have!!! We were checking out local colleges (In this quaint town and also in nearby columbia--only about 15 mins down the road!!!). The house portion is STUNNING and the old jail is just an AMAZING piece of history!!! Our hosts we're very available and left a lot of "personal touches" to make us comfortable!
Cathy
October 2016
Definitely a unique experience! House has all the bells and whistles and the beds are so so comfy!! There was even Christmas decor and a tree which goes above and beyond what you would expect in a rental property. You will love it here and not want to leave!
Christopher
December 2016
Romtype
Helt hjem/leilighet
---
Eiendomstype
---
Plass til
4
---
Soverom
3
Fayette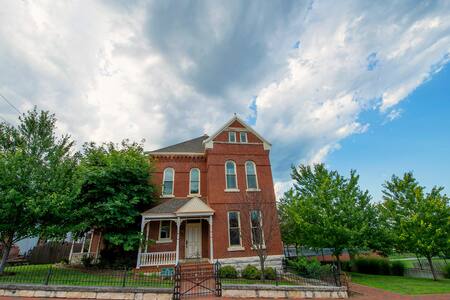 Simple home in the beautiful College Park subdivision. Enjoy the view of Garrett Lake as well as scenic one mile walking path around the lake. This house is close in distance to both Truman State University and AT Still.
Master bedroom: 1 king size bed, sofa chaise, tv, and attached master bathroom with closets available for use. 2nd bedroom: Queen size bed with closet space available 3rd bedroom: Bunk beds (single on top, double on bottom), closet space, and desk. 2nd full bathroom. Two livings rooms: 1st living room is equipped with 1 sofa, 1 oversize chair, tv with access to cable, netflix, hulu, dvd player, and wood fireplace. Second living room has 1 sofa, 1 oversize chair, and 2 small chairs with wood fireplace and view of lake. Kitchen is fully equipped for your use! Keurig is yours to enjoy and I am willing to stock the fridge with items for a fee. Guests will have access to the entire house, including my two car garage.
Very nice open home that allowed rest and relaxation. When we come back to this area hope to book this location again. Great value owner was super accommodating too.
Ed
December 2016
Beautiful house close to a lake, in a nice quiet neighborhood. Host was very accommodating.
Jesse
December 2016
Sarah is a more than gracious host and I highly recommend this property. She was helpful from everything to how to operate the cable remotes to how to find my way around Kirksville. This roomy ranch came already decorated for Christmas which added to the comforts of home easing the pain of working on the road and missing your loved ones. Sarah made cookies, free coffee and fruit was waiting for us on the kitchen counter . I would love to stay there again.
David
December 2016
Romtype
Helt hjem/leilighet
---
Eiendomstype
---
Plass til
7
---
Soverom
3
Kirksville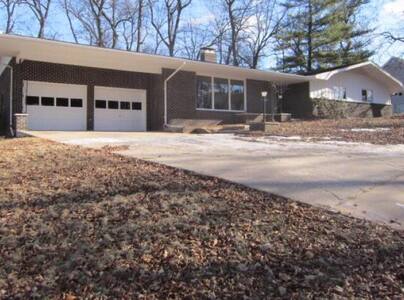 Charming one bedroom + sectional sofa, one bathroom apartment attached to our home. We are a family of five with a large friendly puppy who loves everyone. The home is approximately 1 block from Truman State University. Off street parking is available as well as separate entrance. Our Backyard is perfect for a quiet rest after a long day with access to your own firepit, or use ours for larger groups. We would appreciate the courtesy of no loud drinking parties due to our 3 children.
Guests will have access to the apartment as well as all of the backyard for use. We live on site feel free to let us know if there is anything we can do to make your stay more enjoyable.
We do have 3 children so there is a chance you may hear them from time to time throughout the day however they go to bed early, so it should not hinder your bed time.
I didn't meet Patrick but Erin met me at check in and was very gracious. Their place is clean quiet and very convenient to everything . Comfortable bed and nice shower. Safe neighborhood and very private with my own entrance and living space not shared with the family. Erin was very flexible with checkout time. Thumbs up, I would definitely stay here again.
patti
November 2016
Great location near Truman State. Good space, no TV, but a full kitchen. Very helpful couple that own it. Nice patio out back!
Pat
August 2016
Great little place I'll definitely stay there again when I'm in town.
zachary
September 2016
Erin was incredibly welcoming, and communication with our hosts was a breeze the entire time. Although we didn't spend much time there, the space was big and perfect for our trip. There was a new TV and a nice backyard patio. The water pressure was incredible, too. The space is as described, and necessities, like utensils, were available. Accessing the place was a cinch, and Erin even took the time to warn us of a local college tradition that can be loud. We would definitely stay here again.
Kelci
September 2016
Interviewed at AT Still, this was perfect. It's technically a part of the house, but its on its entirely own system (including air conditioning/heating). It's basically an efficiency apartment and perfect for a bloke like me staying one night. The owners were super nice too, I drove myself to an urgent care for stomach issues and they offered to pick me up. Nothing here is fancy but I don't need it to be, and it was definitely clean.
Shane
November 2016
This was a lovely little place conveniently located near the business district in Kirksville. Overall I would highly recommend this place.
Joseph
August 2016
Great place! Would recommend it anytime!!
Matthew
December 2016
I am a Truman alumni who came back to visit, and was very happy with the location and set up of the space. The house is located near the South East corner of Truman's campus. The walk to the square (where the night life is) was pretty long but definitely doable. The house itself was perfect for my needs since I was really only there to sleep and shower. The bedroom was private and quiet. The space was very clean and did not really have that "overly lived in" feel that is common with Kirksville houses. Overall I was happy with my stay and would gladly stay in the space again when I come back in the future.
Adam
December 2016
Romtype
Helt hjem/leilighet
---
Eiendomstype
---
Plass til
2
---
Soverom
1
Kirksville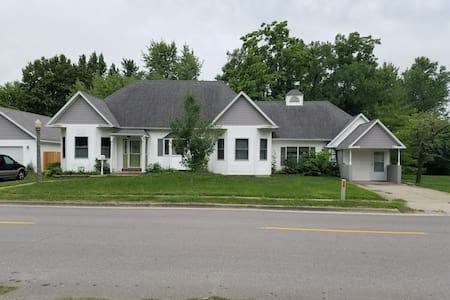 Our farmhouse is on 140 acres bordering Thousand Hills State Park. Access to entire home offered. Bedroom on the main floor has an attached full bathroom for guest use only. Second loft room upstairs. Furnished basement contains full bathroom and bedroom. Atop a hill, the wrap-around porch offer great views - as shown in photos. No pets. No smoking. No use of wood stove. No exceptions.
Peaceful space.
I have almost no neighbors :) No
Had a wonderful stay at the hilltop farmhouse! Very spacious, clean and cozy. The kitchen was stocked with lots of cooking utensils which was great and it's a fun kitchen to cook in. There's a washer/dryer which we didn't use but it's nice to know it's there. I think my two favorite features were the jacuzzi tub and the view of the sunset from the porch. Would definitely stay here again in the future, it's a lovely and affordable place to stay in Kirksville.
Jennifer
October 2016
The "farmhouse" was beautiful with an amazing deck. We enjoyed sitting out morning and evenings listening to the sounds of nature and enjoying the weather. The inside was extremely spacious with two floors and a loft, and provided all the amenities for a great airbnb experience. The hosts were very gracious and made sure we could find the property, and got settled in with all the knowledge of their place. We really enjoyed the relaxing weekend with family. Thanks again!
Chris
September 2016
The Hilltop Farmhouse was absolutely awesome in terms of accommodations, scenery and location. Our objectives in visiting Kirksville were for for peace and quiet, wildlife watching, and to visit the conservation areas and state parks nearby. The farmhouse itself was beautiful, spacious, and we loved the wrap-around porch. It was secluded and very private. The wildlife was abundant. Off the porch or nearby, we saw deer, turkeys, squirrels, opossums, raccoons, red-tailed hawks, Canada geese, bats, and more. We heard barred owls, great horned owls, and the crème de la crème: three sets of coyotes howling at each other. The location was great – secluded and private, yet close to Kirksville and other scenic locations. We visited Thousand Hills State Park (literally across the road – although the main area was a short trip by vehicle), Union Ridge Conservation Area, Atlanta-Long Branch Conservation Area, as well as Truman State University and A.T. Still University. We also went to church on Sunday in town. All in all, a wonderful and relaxing weekend. We plan to visit again.
Sel
October 2016
The house was beautiful and so was the lot. The host was timely and professional, made check-in and check-out a breeze. Will stay again should I be in the area.
Jason
October 2016
The cabin in located within a 15 minute drive to downtown Kirksville. Close enough to be convenient, but far enough away for a relaxing retreat. The view from the wrap around porch is amazing, but the view inside of the cabin is a close second, with gorgeous wood interior. The smell upon entering takes you away to a hideaway in the mountains. Charming does not begin to describe this place. The gravel road leaving up to the property has been maintained exceptionally well. Mary and her family welcomed us graciously and provided an in depth tour of the cabin. The people, space, and surroundings made for a cozy, warm, and inviting trip. I hope to return in the future.
Casey
October 2016
The Hilltop Farmhouse was wonderful and perfect for our stay in Kirksville. The house is was better than listed in that it was larger than I expected and the views and land are gorgeous, and no close neighbors-- making it extremely private. The loft is a full-sized bedroom with a king bed and there is a good-sized bedroom on main level that also includes a large living area with 'cathedral' ceiling. It's a log home inside, really-- just beautiful wood everywhere. The covered deck surrounding the house is 360 degrees. The home also has a large finished walk-out basement that also made it larger than advertised. The home was clean with clean comfortable beds and other linens. We want to stay at the Hilltop Farmhouse again on future visits to Kirksville.
Jean
September 2015
Romtype
Helt hjem/leilighet
---
Eiendomstype
---
Plass til
8
---
Soverom
3
Kirksville
We've set up our Little House for when grandparents visit our kids. Perfect for families or anyone who wants clean, comfortable, and convenient. Guests have the house to themselves with a full kitchen, bathroom, three bedrooms, and a living room. Includes full kitchen, bed and bath linens, ample parking, complementary wifi, and washer/dryer.
A comfortable, charming house conveniently located blocks from Truman State University and downtown Kirksville and less than a mile from A.T. Still University. If you want a full kitchen, a home not a hotel, or are bringing your family and just want separate rooms, this is the place for you! Three bedrooms with a full bed in one room and twin beds in two rooms. Comfortably sleeps four adults. Contact us if you have a larger party or need an air mattress (there are three beds). Guests will have the full house, including a full kitchen, three bedrooms, bathroom, and living room all to themselves. We live right across the street from The Little House and love letting guests know about what's available in Kirksville and the surrounding area (restaurants, etc.) and show them around the house.
The Little House is three blocks from Truman State University with a mix of rentals and primary residences in the immediate neighborhood. We live here and love it, and the house itself is on a quiet corner of the block with green space around it, but there can be lots of foot traffic, especially on weekends. Downtown Kirksville and the campus of Truman State University are within close walking distance. Ample parking on the street and behind the house. The Little House is a great place to invite a few people over for a meal or play a board game, but not for partiers, drinking, etc. If that's what you want, please stay elsewhere. Basically, we bought The Little House so our kids could walk across the street and play with their grandparents when they visited us in Kirksville. It's like their second home and hopefully yours too!
Perfect--clean, well-appointed little cottage. Exactly what my family needed while visiting Kirksville. Convenient, tidy, and I'd definitely book again.
Caroline
January 2016
Very easy to check in and out. The house was great, and met my needs for a short stay. The location is convenient, walking distance to restaurants and AT Stills and Truman State.
James
October 2015
We stayed in this little house for a couple weeks. It's very charming and actually quite nice inside. The neighborhood is close to the university campus but still fairly quiet, definitely a plus. We met Royce and his wife only a couple times, but they were very friendly and seemed ready to help if we needed anything. It was nice to know they were just across the street if we had questions!
Katrina
September 2015
Wonderful experience in a spacious cabin! It was a nice clean older house. Everything I needed was there. Royce was very kind in lending me items I needed. I highly recommend the place. It's within walking distance to AT Still and Truman State University.
Placide
November 2015
Great little place, great people.
Tim
December 2016
I loved my time in "The Little House" -- only a few blocks from Truman's campus, just as easy a walk to the square, and the perfect writing retreat. It was the best home-away-from-home I could have asked for while in Kirksville.
maggie
October 2016
This was a perfect place to stay for a few nights! We look forward to staying again when visiting Truman!
Kaylee
November 2016
The house super cute and well done. My aunt and uncle had no problem staying there. It was an excellent place to stay while in Kirksville, and beat the hotels there anytime.
Katie
May 2016
Romtype
Helt hjem/leilighet
---
Eiendomstype
---
Plass til
4
---
Soverom
3
Kirksville
The Nest is a labor of love by twin sisters who grew up here. It has been a space for family and friends to gather for laughter, good food and memory making. We hope you will feel the joyous vibes that have reverberated throughout this 1,000 sq ft space.
This cozy little cottage was completely renovated in 2012 from the studs up and features original wood floors, custom kitchen and bathroom, and a wonderful loft with two sleeping areas. A queen size air mattress is also available for a group larger than 4. The television room has basic cable television and wifi access. A pantry area houses a brand new washer and dryer for use during longer stays. The 60" shower in the bathroom has amazing water pressure. Sit on the side deck at a bistro table or in the yard with matching outdoor table and chairs. This house sits one block off Brunswick's main street (Hwy 24) and is within easy walking distance (two blocks) to Kaitlynn's Deli, Madison Street Lounge, Sew Sweet Quilt Shop, Upriver Urban Exchange and Plantation Antiques and Interiors. The house has been decorated with art and artifacts acquired during the national and international travels and living experiences of the owners, including photography, ironwork, sea glass, and textiles. We welcome adults and children over the age of 10. Guess access is to the whole main floor and loft. Basement is not accessible to guests. Keys may be picked up by house manager. Any questions or concerns during your stay will be handled by the house manager.
This charming town on the Grand River has undergone a lovely revitalization! Take a class at the Sew Sweet Quilt shop, recognized as one of the top quilt shops in the Midwest. Browse antiques or buy local Missouri wine at the Plantation. Spend the afternoon trying on trendy clothing and jewelry at the Urban Exchange. Hungry for a steak? Dinner at Railyard followed by a slice of heaven from Kaitlynn's Deli, the home of regionally renowned cheesecake. Stop at The Optimistic Gardener on your way out of town for a keepsake piece of art to remind you of this darling town. The whole town is within walking distance.
Our stay was great! Even though we didn't get to stay very long, it was close to where the reception was and very easy to get to. We had not read the notes that were sent to us via email about stopping in earlier and turning on the air. It was pretty warm when we got there, but cooled down very quickly. The place was very comfortable and we slept great! Great place to stay!
Lynn Anne
June 2016
The host canceled this reservation 8 days before arrival. This is an automated posting.
Susan
Romtype
Helt hjem/leilighet
---
Eiendomstype
---
Plass til
6
---
Soverom
1
Brunswick
This house is a local charitable effort. We have hosted a family whose house burned down, a family of asylum seekers from Colombia, and are currently providing a short term home for an immigrant family whose primary wage earner is recovering from a work-related injury. The house is completely furnished secondhand and by donation. It is clean and tidy, but if you require matching linens and are not comfortable with thrifty shabbiness, please consider whether booking is appropriate for you
Casa Guate was built ca. 1920. It is old fashioned and not fancy, with the possible exception of the original woodwork, which has been painted white, and a front picture window with its original stained glass panel. Windows are large and air circulation is excellent. The northwest corner of the house has settled noticeably, but has been evaluated and is only an aesthetic issue. The two bedrooms, combined with two separate living rooms, would make this a great house for two families traveling together, who might like to feel like they have their own space from time to time. You'll have the whole house, with the exception of the basement, which has an exterior locked entrance. If for some reason you need emergency access to shut off the water, I'll be right over. The yard is not fenced. A simple charcoal grill is available upon request, though you'll need to be careful to keep it away from the vinyl siding. I'm available for questions if needed, but I won't intrude. I've lived in Kirksville for 20 years and used to work at the university.
The house sits in a mixed neighborhood with lots of rentals. You'll notice three neighboring houses based on the same model, but each has been changed in subtle and not so subtle ways. Casa Guate is the only house to retain the original picture window with a stained glass panel. You'll be only a block and a half from Baltimore St., which is Bus 63. Following Jefferson St. south will take you right to the hospital and medical school, and downtown and the university are also within easy walking distance. There is space for two cars to park off-street in the front, plus a couple in the back yard off the alley if the ground isn't too wet. Please note that there is no internet access provided at the house. (We have have a television, but with just an antenna. There is a DVD player and a large selection of movies.) What we *do* have is two large living rooms and a nice big dining room, so plenty of space for face-to-face interaction. I have comfortably hosted up to 15 people here for a party, and you're welcome to have friends over, but please keep it reasonably quiet and respectful. I have a master key if needed, but the front door has a code lock, so you won't have to worry about meeting me at some specific time to get in. The code will be unique to each booking and reset upon your departure; it should not be shared except among registered guests.
Very nice stay while in kirksville. Plenty of room for the six of us that stayed
David
November 2016
Exactly as advertised. We enjoyed having the whole space to ourselves. Easy to get to and access. Lynn met us upon arrival and showed us around. We had a great weekend.
Matthew
October 2016
It is a place to stay in quiet neighborhood. House is a little dated but it serves it's purpose.
Jesse
December 2016
Romtype
Helt hjem/leilighet
---
Eiendomstype
---
Plass til
7
---
Soverom
2
Kirksville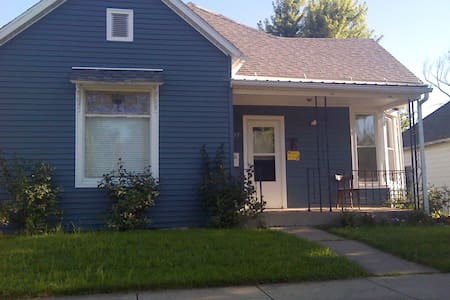 Built by German settlers in 1844, the lodge features exposed brick, rough cut lumber and original wood plank floors. The lodge has a tv/sitting room, café-style dining room, 4 bedrooms and 3 full bathrooms. The lodge can sleep 15, and has laundry facilities, furnished kitchen and parking lot.
This unique lodging experience allows you to experience a little bit of history. The lodge has all modern conveniences and is located in a quiet rural area. Pricing if flexible according to the number of people staying. The lodge can sleep up to 15...which means the more that stay the cheaper the rate! The lodge is a great place to hold office parties or retreats, business meetings/retreats. Hot homemade meals can be provided at the lodge for an additional cost. Guests will have access to Wi-Fi and cable TV. You will have all the peace and quiet you want here. I can provided meals and fresh linens every day or as requested.
The lodge located in the small quiet village of Bethel, MO. This was once a German Colony town. Bethel is located in the agricultural area of northeast Missouri. No public transportation is available. This is the perfect place to "get away from it all." The nearest major towns with shopping centers are 30-50 miles away.
Romtype
Privat rom
---
Eiendomstype
---
Plass til
15
---
Soverom
1
Bethel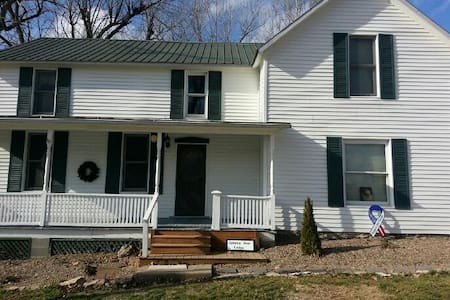 1

–

14

av

14 Utleiesteder