casaBARTHEL is a perfect place for a vacation and an artist residency, immersed in the Tuscan landscape only 15' from the Duomo and 30' from Siena. Come and live with us; enjoy our olive trees, the kitchen garden and our family life style away from the working rhythm. By providing wifi only in the communal courtyard we suggest our guests to utilize internet only when is really needed. Taking a break from been connected with elsewhere and enjoy the 'here and now' could be our best present to you!
casaBARTHEL is a perfect place for a vacation and an artist residency, immersed in the Tuscan landscape only twenty minutes' from the Duomo and one hour from Siena. Come and live with us: enjoy our olive trees, the kitchen garden, the tennis court and the small swimming pool. The TREEhouse is a romantic room immersed in the pine trees with fire place for the winter and AC for the summer. It offers a bedroom with a queen size bed, a small kitchenette with stove and fridge; a bathroom with shower, and a private outdoor terrace. And a fantastic view towards the Tuscan landscape! And if you want to see and know more about our passion for the interior design, the arts and crafts, and antiques you should come visit our design and make shop 'Riccardo Barthel' in Via dei Serragli n. 234 r, in the Santo Spirito district of Florence! At the beginning of the 1980 our family moved into the 'Poggio Secco' (Dry Hill) farmhouse, just outside Florence city center, in front of the Certosa dell'Ema. The compound had a big stone villa surrounded by olive trees, a compost hub, a pigeon house, a barn, a tall cypress tree and an old German shepherd dog. Everything in the farm was placed around a large terracotta courtyard, a sort of public square. Thirty years later the 'Dry Hill' is still our home and a small community. We all live here sharing the same love for the countryside, its olive oil, good food and the family lifestyle! The rent includes the use of the communal swimming pool and the tennis court; the dining porch with the BBQ and the wooden oven; dryer and washer; table tennis and football table, plus a car parking inside the property. We are glad to interact with our guests; you will be part of our large family! Galluzzo is a nice small village with everything you need:crocery stores and a nice farmers market open every day. The certosa monastery is a must. Le Corbusier was there to learn! There are public busses in Galluzzo to go to the city center and to go to Siena. But to get to our house and to enjoy the surrounding you should come by car!
Galluzzo is a nice small village with everything you need:crocery stores and a nice farmers market open every day. The certosa monastery is a must. Le Corbusier was there to learn!
Un perfetto rifugio d'amore per chi vuole fare qualcosa di particolare ...!!!
Cesare
2017-02-15T00:00:00Z
What an experience we had in the CasaBarthel Treehouse. My wife Brittany and I knew we were going to have a great time in Florence/ Tuscany but, the hospitality we received from Elena and Daniela was second to none. We were given the option for breakfast every morning and thank god we accepted. Words or pictures can't describe the setting we had waking up and eating breakfast overlooking the Tuscan hills. It is like waking up in paradise. Besides the incredible views, the fact you can say you stayed in a Treehouse in Tuscany is something we will never forget. Another part of this great experience was the relationship we developed with Daniela. She is so sweet and so helpful that she made leaving very difficult. In addition to being offered breakfast, we were also given the option to have dinner prepared and again, what a great decision we made. Daniela really has a passion to cook and did it ever show. I can go on and on about what an incredible experience we had but, unless you stay here, you will not understand. We have been very fortunate to stay in some pretty incredible places and the CasaBarthel Treehouse is without a doubt near the top of the list.
Kyle
2016-05-07T00:00:00Z
The Treehouse was a truly idyllic place to stay while visiting Florence. Only 15 minutes from Florence center, but feeling like it was in the middle of the countryside. Elena was very hospitable. The pool was relaxing, the architecture of the treehouse inspiring and the views were spectacular. We also visited Osteria del Milione, and amazing local restaurant (booking recommended)
Ben
2015-07-04T00:00:00Z
La casa è stupenda...bisogna andarci per capire quanto sia unica...e la signora Daniela gentilissima e disponibile...ritorneremo di sicuro
bruno
2014-04-07T00:00:00Z
This property is amazing, absolutely idyllic and perfect for the Florence part of our honeymoon! Elena was so helpful on the run up to the trip and we were welcomed warmly and made to feel right at home. I couldn't recommend this highly enough and we will certainly be back!
Nicola
2014-06-30T00:00:00Z
Casa molto bella e accogliente, veramente romantica.
viola
2014-11-30T00:00:00Z
Elena is a super host. Very chilled lady but also is a very strong astute woman. We felt totally at ease around her and her grounds. We had trouble getting to the house just because of traffic and road works and elena kindly offered to pick us up from the bottom of the hill nearby. We really appreciated this. The tree house OUT OF THIS WORLD
Lindsay
2015-06-19T00:00:00Z
(URL HIDDEN)!!
cristiano
2017-01-09T00:00:00Z
Romtype
Helt hjem/leilighet
---
Eiendomstype
Andre
---
Plass til
2
---
Soverom
Firenze, Toscana, Italia
Tipica casa fiorentina su 2 piani, ristrutturata mantenendo tutti i canoni del suo periodo storico, non adatta a chi desidera una casa moderna con ascensore.Nel prezzo è inclusa la tassa di soggiorno
La casa è disposta su 2 piani, la parte inferiore (del 400)camera da letto corridoio bagno, 5 scalini portano alla parte superiore grande stanza con camino tipico toscano con piano cottura soffitto a cassettone pavimento in cotto danno una calda sensazione di accoglienza.Nella ristrutturazione è stato conservato tutto cio che appartiene alla storia della casa, quindi non adatta a chi ama gli ambienti moderni anche per l'arredamento i mobili sono qusi tutti 800 primi 900 autentici, spero possano piacere .
A dieci metri dalle Cappelle medicee, a cinquanta metri da Piazza Duomo, nel cuore di Firenze, vicino a tutto quello che vi può offrire la nostra città. Siamo nel quartiere di San Lorenzo, dove si trova il più grande mercato ortofrutticolo e di prodotti tipici toscani di Firenze. Garage a pagamento a dieci metri dall'appartamento.
The House is great en clean. The living environment is very central and secure. Florence is a great city. Everything within walking distance. Teresa is very nice. There was a welcome tray waiting for us. Very very sweet of Teresa. My experience is that Teresa answers quick to questions (through the mail).
Dusty
2016-02-01T00:00:00Z
Very good location, near train station n have few restaurants nearby. The house is lovely n the host is very friendly
Akiane
2015-12-04T00:00:00Z
L'accueil était plus que bien, plateau de fruits, muffins et bouteille de vin. L'appartement est vieillot mais très sympa. Le charme de la vieille Italie. Tout le nécessaire pour un beau séjour à Florence. le quartier est à proximité de tout.
Hélène
2015-09-13T00:00:00Z
Sólo podemos dar las gracias a Teresa por tu amabilidad y el cálido recibimiento que tuvimos, fue el inicio de unos días muy felices en esta preciosa ciudad. El apartamento de Teresa es precioso, aún más bonito y amplio de lo que se ve en las fotos, estuvimos muy cómodos, como en casa. Todo súper limpio. Teresa tuvo el detalle de comprarles unos súper huevos de Pascua a nuestros hijos y además nos dejo zumo, vino, magdalenas, nueces, fruta, caramelo tos y bombones, ¿qué más se puede pedir? El apartamento está en una ubicación inmejorable, a un paso de la estación de tren y de autobús y de todo el centro histórico, además en la misma calle hay un completisimo supermercado que viene genial para las compras que surjan. Resumiendo: un 10 para Teresa y otro 10 para su apartamento. Esperamos regresar a Florencia y poder volver a este apartamento.
Raquel
2016-03-25T00:00:00Z
Teresa was a great host! The house was very clean and she also left some goodies on the kitchen table for us to enjoy :) Ideal location for trains and sights, Irish Pub across the road also provided a good service if your looking for somewhere to eat.
Jade
2015-10-09T00:00:00Z
위치도 좋고 깨끗한 아기자기한 예쁜 집입니다. 친절하시고 주스 과일 아이가 좋아하는 킨더 초콜렛도 준비해주시는 자상함까지.. 감사인사를 직접 드리지 못해 아쉬웠어요.. 기차역과 두오모 모두 가까운 위치에요~
이예림
2015-10-24T00:00:00Z
Teresa was incredibly nice and she had wine, cheese, coffee and other Italian goodies waiting for us on arrival. The apartment was pretty much exactly as described aside from the AC. It got very hot on the summer nights. However, one night we locked our one key inside the apartment, and that is when we had an issue. Very easy to do as the door locks automatically and she only gave us the one. She comes to let us back in and is as always incredibly nice to us. Her husband/boyfriend came with her and was very drunk. She opened the door and he barged in and stated looking around the place. He was yelling at us in Italian because we were four boys living in a small apartment. He left yelling then came back later banging on the door. He continued to yell at us in Italian with a look in his eye like he wanted to fight us. He then gave us the throat slit gesture with his hands, which we interpreted as "I'm going to kill you." Later that night we found him at the pub across the way and had a nice gentleman interpret for us. He wrongfully assumed we were getting drunk and using drugs in the apartment (we absolutely were not, we did leave clothes around because we are guys). We straightened everything out but without the interpreter we all would have been left terrified by this guy not knowing if he was going to make good on his throat slit gesture.
Dave
2014-06-11T00:00:00Z
Florencia es bella, pero es mucho más bella gracias a Teresa. Un ser hermoso que nos recibió muy acogedoramente. El departamento supero nuestras espectativas. Y Teresa es un sol humano. Si vuelvo a Firenze iré a su casa y la pienso recomendar con todos los que viajen allí. Feliz de conocerla.
Roxana
2014-09-06T00:00:00Z
Romtype
Helt hjem/leilighet
---
Eiendomstype
Leilighet
---
Plass til
4
---
Soverom
Firenze, Toscana, Italia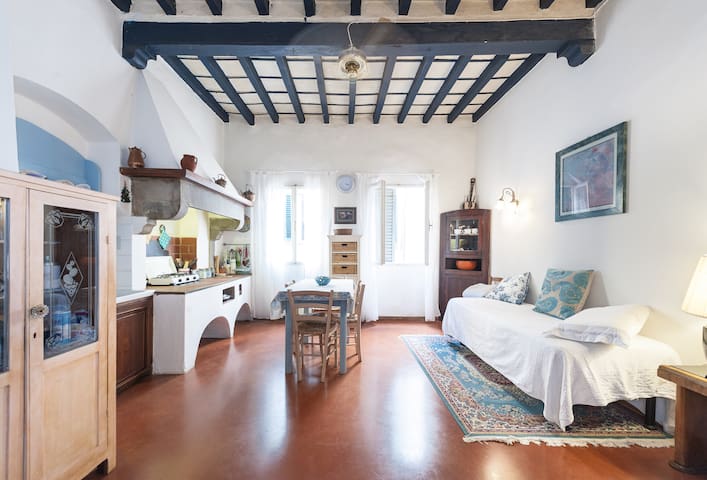 The apartment is part of a Monastery dated back XII century and it's under the Fine Art of Florence. The room is located on the first floor and it's composed by a gorgeous bedroom with original beamed ceiling and bathroom with walk-in shower.
The apt is part of a Monastery dated XII century and it still preserve the original structure in fact we still are under the Fine Art of Florence. You could still see original column as well portal and capitals. We offer the entire first floor, divided by stairs and a beautiful sliding barn door, it is composed by a kingsize bed with private bath and walking shower and with an amazing beamed ceiling (where you could still see a car paw). The bedroom has 2 windows and the bathroom has a window too. We provide a dock station in the room and DVDs player with a wide selection of movies.
The area is the perfect location if you wish to be surronded by gardens, in fact, Settignano and the hill of Fiesole are just next to us. I'm used to go work in the city center by bike and it's about 15 - 20 minutes of ride from the main attraction: the Duomo, the Uffizi Gallery and the Accademia Gallery.
From our arrival we felt welcomed and at home Maria and her husband could not have been more helpful our delightful room with private bathroom was spacious and comfortable also helpful with tourist information and shopping guide which turned out for is a real treat Wished we had more time with this lovely family their son and black cat
Annie
2014-06-15T00:00:00Z
This was an excellent airbnb stay, Maria and her husband were wonderful people to stay with and talk to they were also very helpful. The room was very clean and large, just as described in the airbnb listing. I definitely recommend for travelers to stay at this Monastery. Maria's little boy is very sweet and loves music. The black cat was great. Christina and Richard McGrath
Christine
2015-02-07T00:00:00Z
The place was amazing and very well prepared with daily needs. The room is on the second floor with our own bathroom with shower. There are some steps but really not a problem. Maria and her family stay with us during these days and they all very nice. They prepared almost everything could have for breakfast in the living room and we could have our breakfast any time we want. Any chance back to Florence, I will definitely choose to back here. Thank you Maria :)
Lorrain
2015-12-09T00:00:00Z
Our time with Maria Rita and her family in their beautiful home was great! The appartement is a first-rate accomodation, clean and comfortably furnished. Also it is well located to reach the city center by bus or with the own car. Maria and her husband were very helpful. They explained us, where to park in the city center and recommended us some activities in Florence. Maria speaks English very well, what is helpful too. The atmosphere in the familiy is warm and friendly and as a guest you feel very welcome. On the one hand we were integrated in the familiy and on the other hand we had our privacy and could relax. All in all we loved to stay with Maria Rita, her husband, her little son, the grandmother and the black cat and we really wish to visit this lovely family again.
Carmen
2014-07-31T00:00:00Z
Very nice location with lovely hosts. Near to the bus station that led us to the center of Florence. Quiet location. Clean rooms. Pretty interior. Good breakfasts they prepared us every morning even when they had to be away. Highly recommended.
Lennart
2015-02-18T00:00:00Z
Maria Rita and her husband have been more than great hosts. They were very helpful and their kids are marvelous. The house and room are really beautiful. They style is exceptional and very creative. The bus stop is nearby, so it is easy to get into the city We will definitely come back when we are in Florence.
Richard
2016-08-08T00:00:00Z
Our time in Florence was made even more magnificent by staying here. Maria and her amazing little family (husband and son) were accommodating and so welcoming. They made us feel at home. The room is upstairs and gives you space if you want it. The room is beautiful and I wouldn't hesitate in staying here (URL HIDDEN) fact I can't wait to stay again. The house is 4km out from the main train station but it isn't an issue at all as buses go every 10-15mins until well after midnight if you choose to stay in town that late. It's an exceptional find.
Michelle
2014-11-05T00:00:00Z
Very nice and comfortable room with private spacy bathroom, both on the second floor of the old nicely decorated building. We haven't seen Maria Rita, only spoke to her on the phone before arrival, but her husband Alessio, Duccio and Ercole warmly welcomed us in their home. We had access to all house including kitchen and small garden. Alessio also helped with laundry at no additional cost for us. Highly recommended !
Nadya
2014-10-09T00:00:00Z
Romtype
Privat rom
---
Eiendomstype
Villa
---
Plass til
2
---
Soverom
Firenze, Toscana, Italia
Beautiful apartment for 4 people, with all the ceilings covered by original frescos in the centre of Florence, in a calm street. The apartment has two bedrooms; one with a double bed and one with a very comfortable double sofa bed. The apartment is located close to the main attractions: Duomo, Palazzo Vecchio, Galleria Accademia etc. It has also a very nice private little garden.
Tuscanyflorence is located right in the historical centre of Florence, just 900 meters from the Duomo. You will be hosted in a very charming apartment, with the whole ceiling covered by original frescos, located in a prestigious house dating back to 1500! You will find a warm welcome at your arrival and we will try to satisfy all your needs during your stay. The apartment has two bedrooms and two bathrooms, a kitchen and a fantastic dining hall. Wi-Fi free, sat tv and hairdryer are provided. Our apartment has also a little courtyard facing the Gardens of La Gherardesca. This provides a calm and quiet atmosphere and it is really nice to have such an option being in the centre of the city!
The central location and charming accomodation of Tuscanyflorence will make your holiday in Florence unforgettable. Just next door is the prestigious Four Seasons Hotel where you will find one of the most famous Restaurants in Italy (one Michelin star) and you could also have access to their Spa and swimming pool. Many other trattorias or little restaurants are walking distance from our apartment and we'll give you all the tips. A few meters from TuscanyFlorence you will find one of the most beautiful squares in Florence: Piazza SS Annunziata and in front of us you will find the most ancient botanic garden in the world!
Wonderful location. We could walk to the most important sites. Location was very safe next to the University of Florence. Cafes were conveniently located, grocery store down the street. Would definitely stay there again. Giuseppe and Cristina were extremely responsive and did everything as promised.
Joanne
2016-09-29T00:00:00Z
Lovely well equipped apartment in a quiet neighborhood. Modern bathroom. Beautiful frescos. Highly recommend this apartment for a comfortable stay in Florence.
Megan
2015-04-25T00:00:00Z
The apartment is located about a 10 minute or less walk from the Duomo and the cathedral's dome can be seen from the sidewalk in front of the door. The apartment itself is beautiful, with exquisite ceiling frescos throughout. We particularly appreciated the garden courtyard, where we enjoyed breakfasts. The flat was very spacious and with two bathrooms, felt almost like we were staying at a private home. Cristina left us a bottle of wine, which was a lovely touch and the apartment had great wi-fi in the front half, which I utilized frequently for uploading photos. It was also nice having the washing machine and a drying rack to hang our clothes on. I felt like a princess waking up in the canopy bed and looking up at the beautiful ceilings. Cristina's friendly property manager was there waiting when we arrived and spent ample time with us giving us recommendations and left us his cell phone number should we need anything at any time. Cristina was excellent at communication and checked in with us during our stay (since she could not be there to personally greet us). Her husband stopped by on check out day to replenish supplies and he was very friendly and gracious, as well. I would not hesitate to return any time and I recommend it to anyone looking for a good value and a beautiful apartment in Florence!!!
Sasha
2016-09-21T00:00:00Z
This apartment is a flowless continuation of Florence palazzios and museums. It's huge, cosy, clean and so beautiful that you might spend a couple of hours admiring it, especially the painted ceilings. Christinas daughter Georgia was so worried she couldn't assemble the baby cod (that she brought especially for us) that she brought another one just in case. And they let us stay until the next evening as no guests were checking in after us. Now that's what I call hospitality! The location is 10-15 minutes walk from all the sights.
Maria
2013-09-30T00:00:00Z
Fabulous apartment and location! This apartment is exactly as it appears in the pictures...beautiful. Very spacious and beautifully decorated with amazing ceilings. We could have stayed forever! This unit is located out of the busy area but within walking distance to everything. We had no trouble navigating around Florence and were given a great map upon our arrival. Our host greeted us as promised and we personally met the owners, who welcomed us with two bottles of local wine. I definitely recommend this property and we are looking forward to going back and staying here again. We can thank you enough for a wonderful trip!
Melanie
2015-12-28T00:00:00Z
Georgiia was very accomodating and met us late in the evening due to our late travel arrangements. She was very friendly and ran through the whole apartment with us and wanted to make sure we were very comfortable with the space.She gave us a lot of great tips on where to go in Florence and what her favorite locations are. The restaurant ZAZA she reccomending near the apartment was AMAZING! The apartment itself was perfect and the location was ideal . We will absoloutly stay here again when we return to Florence! Grazie Cristina et Georgia!
Irina
2013-01-07T00:00:00Z
Wonderful place to stay. I loved it and would recommend it to anyone. I will stay here again when I come to Florence. Such pleasant people and very easygoing. We had a wonderful time in Florence and that was because we stayed here and enjoyed it so much. Thank you Giorgia and Christina. You are great hosts and very professional. Hope to see you in the future. Best Regards Nicole
Nicole
2013-10-17T00:00:00Z
My sister and I loved staying in Cristina's apartment and wouldn't hesitate to book it again. The location is perfect as its right near the Duomo, you can see it from the front door, and the street the apartment is on is nice and quiet. Its very tastefully decorated and very felt very large for the two of us. I would love to go back!
Parveen
2016-05-03T00:00:00Z
Romtype
Helt hjem/leilighet
---
Eiendomstype
Leilighet
---
Plass til
4
---
Soverom
Firenze, Toscana, Italia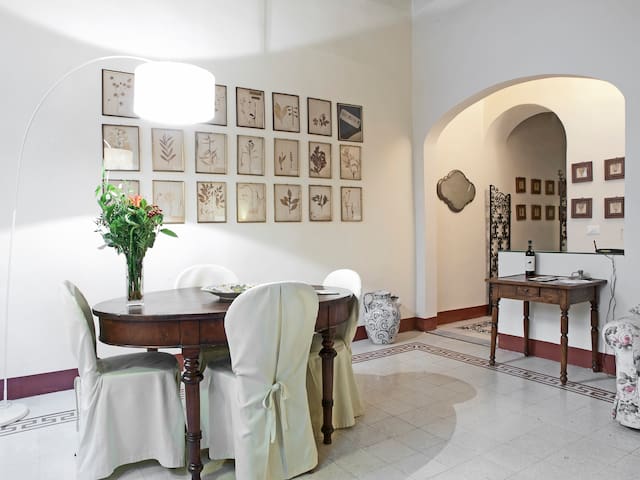 Our home has a perfect Tuscan feeling with its exposed brickwork and glass door facing onto a beautiful garden. Located in the heart of Florence but in a very quiet area, a few steps from the Duomo, train station, Fortezza da Basso & the main bus
Our home has a very Tuscan feeling! We are in the central San Lorenzo district, the most historical in Florence, popular for the Leather market and the Central market where you can buy and taste all of our best products. A very typical area! If you are here for vacation or business, our location is the ideal solution for sightseeing or partecipate in trade exhibitions and events. Our house has been recently renovated. It is very quiet thanks to the historic building dating back to 1300, and is comprised of : -a lovely and very quite double room facing on the garden, -a nice bathroom with shower, -a big open living space with kitchen and dining area (sofa bed for 2 people) -a charming private garden with table and umbrella where in the summer it is fantastic to have breakfast, lunch or a relaxing aperitif at the sunset.
Alles bestens, die Unterkunft war genauso schön wie auf den Fotos und die Vermieterin sehr nett. Die Wohnung ist ideal gelegen und der kleine Garten toll. Nur zu empfehlen!
Babette
2016-09-12T00:00:00Z
Chiara was superbly attentive and helpful. When a lightbulb burnt out, she zipped home immediately to replace it. The flat is lovely and how fun it was to sip a coffee in the garden.
Mateo
2015-08-05T00:00:00Z
Good communication prior to arrival, and met by our host who showed us around. Food provisions thoughtfully set out made us feel welcome. Great location in easy walking distance from main railway station, but also close to all the things you want to see in Florence. A high quality apartment, and we would definitely stay again.
Mark
2015-05-03T00:00:00Z
Appartamento accogliente a due passi da tutto. Chira disponibilissima e simpaticissima... Ci siamo sentiti a casa..ottimo
Marina
2015-01-05T00:00:00Z
Chiaras home was absolutely adorable, we loved staying there! Extremely welcoming and tidy. She was beyond helpful with recommendations on where to go and what to see. Highly recommended staying at her flat!
Michaela
2015-10-15T00:00:00Z
we loved staying here! Chiara was wonderful and gave us amazing recs for restaurants and things to do/see in the area. The apt is located in a perfect spot for walking to everything. It's quiet and gorgeous. No wonder she is a super host!!
anne
2016-08-28T00:00:00Z
Chiara's sister was there to meet us at the apartment when we arrived. The apartment was clean, fully stocked with items that might be needed for our stay! The apartment was located on a great street and made it very easy to get around. We only stayed for one night but wish we could have stayed longer.
Laurie
2015-07-14T00:00:00Z
Chiara was very helpful and helped us get settled - good tips on places to visit and eat. The apartment is lovely. Well maintained, clean and spacious. Great location and perfect for exploring Florence on foot. It was a home away from home - we loved it! Definitely would recommend.
Bryan
2015-03-23T00:00:00Z
Romtype
Helt hjem/leilighet
---
Eiendomstype
Leilighet
---
Plass til
4
---
Soverom
Firenze, Toscana, Italia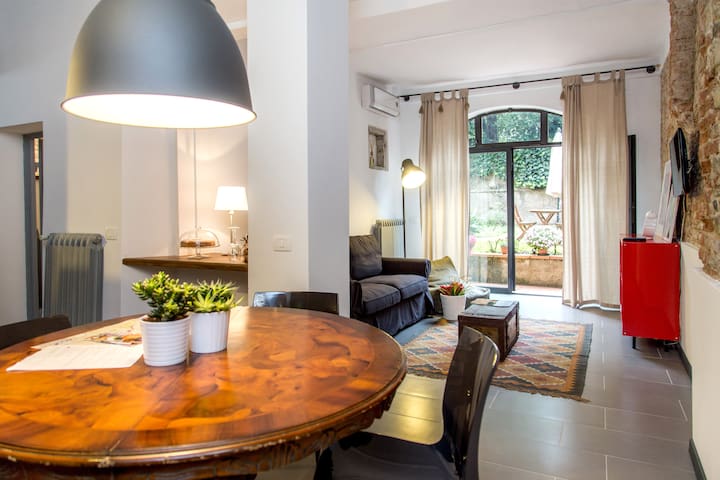 Located in the historic centre of Florence lies La Magione, a haven of peace in the midst of a monumental garden, apparently miles away from the noise and the crowds Open-planned, luminous, cozy, stylish bohemian garden apartment on 2 levels, 1 double bedroom, open-space en-suite bathroom (with bath tub -if looking for a shower this is not the right place!) on the mezzanine level, living room with fire place. Kitchen, private garden, car space for a small car (fiat 500 panda and so on, entrance to the garden with car is narrow and tricky) The guests welcome includes: a house book with local information about the city, a list of favourite restaurants and food shops, and a bottle of our best vintages. The appartment is now equipped with WyFy connection! The train station is only 5 minutes away and the city attractions are all within walking distance. no worries about pubbblic transport! Guests coming to this appartment seldom look forward to their next destination without wishing they could plan a longer stay.
My husband and I really enjoyed our stay in the Sabina's Garden Loft. The property is exactly as it is shown in the photos although we enjoyed learning and discovering its quirks and exploring the large garden. The location of the property is very convenient for exploring Florence. It was less than a 10 minute walk from the train station (and easy to do lugging suitcases) and and easy walk to the river and into the more touristy sections of the city. We only used transportation (other than our feet) once. Sabina was a lovely host. After checking us in, she left us with tips for restaurants & a brief write up of the history of her family (fascinating.) While we didn't need any assistance during our stay, she was completely accessible. If you're looking for a unique stay in Florence, this is the place to be.
Jay
2014-04-18T00:00:00Z
Sabina and family were easy to communicate with and extremely helpful ironing out any small problem. The apartment is lovely, deceptively large and set in in wonderful landscaped garden, quite literally a home fit for a pope. We had a magical time, including the surprise of having Romeo and Juliet staged by a company of young american/british/italian actors literally on the doorstep. I would return any time.
Carlo
2012-07-17T00:00:00Z
A lovely apartment with a beautiful garden just a10 minute walk from the centre and 5 minutes from the train station.
Emily
2014-05-26T00:00:00Z
Located a short walk from the historic sites, Sabina's home is a magical oasis in the already beautiful city of Florence. Sabina provided a very helpful handbook with fantastic recommendations of restaurants, shops, important numbers (such as how to call for a Taxi) as well as a brief history of the Corsini family/property (loved this!!!). We wish we had more time to spend in the stunning gardens with the turtles, the dogs, the lemon trees... It was like a dream. Will definitely return.
Lauren
2016-06-05T00:00:00Z
Lovely and homey house plus the beyond expectation garden. It's a really amazing experience. Love the collection of travel and art books there. Sabina and her neighbour are very warm and welcoming.
Stephanie
2014-07-24T00:00:00Z
The apartment is absolutely perfect, comfortable and well furnished, quiet and surrounded by a beautiful garden. We will miss the sunlight streaming in the windows each day. This is the perfect place to stay in SMN, with delightful restaurants, cafes, and bars all around.
Clint
2014-11-01T00:00:00Z
My boyfriend and I completely fell in love with Sabina's Garden Loft and surrounding gardens! We arrived to Florence on my birthday and as I walked around gardens attached to her loft.. my eyes filled with happy tears... It was breathtaking. Sabina was a very nice hostess and her family history is wonderful. A very special place to stay. It was an honor. We LOVED being able to take in the beautiful city of Florence and then within the city walls... hide away in our secret garden loft behind the walls! We HIGHLY recommend staying here. You won't be disappointed. AMAZING!!!!!! Kristy and Jason
Kristy
2015-07-12T00:00:00Z
Extraordinary experience, lovely stay. The place is fantastic and I can only imagine how the huge garden will look in summer; I was there during the winter. The location is good as well. Our host, Sabina, is very friendly and helpful. Shower can be a tad tricky as there isn't any shower curtains but not a big deal for me.
JunJek
2015-02-23T00:00:00Z
Romtype
Helt hjem/leilighet
---
Eiendomstype
Leilighet
---
Plass til
2
---
Soverom
Firenze, Toscana, Italia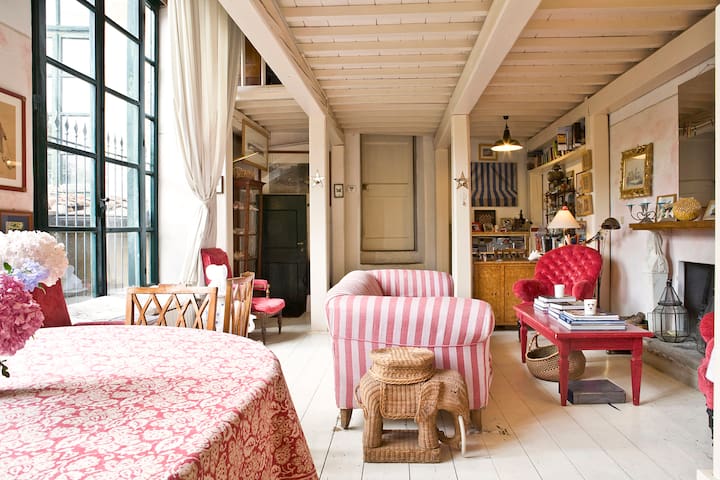 Welcome to this spacious studio apartment located in the historical city centre, only two steps from the Duomo cathedral, which you can admire from our gorgeous terrace.
Our quiet nest is located on the top floor of a historic building (without elevator). All the major sights of the city such as Gli Uffizi, Ponte Vecchio, the Duomo and Galleria dell'Accademia are at walking distance and there are several restaurants, shops and grocery stores in the surrounding area. The train station Santa Maria Novella is only 10-15 minutes by foot. The apartment has a spacious newly renovated kitchen, a dining area, a living room/bedroom, one newly renovated bathroom with shower and a beautiful terrace that is kissed by the sun from noon until sunset - perfect for lunch, aperitivo and dinner. The apartment is on the 5th floor and please note that there is no lift available in the building.
Via dei Servi and piazza Santa Annunziata is a lovely and vivid area. Right across the street you have Robiglio, one of Florence best pastry shops, and around the corner you'll find no one less than David...yes, that David. The hip neighborhood Sant' Ambrogio, with its local food market and authentic restaurants Bistro Gilda and Trattoria Cibrèo, is only 10 minutes by foot. If you go the opposite direction, towards the central train station you'll find another must-visit food market, il Mercato Centrale, the popular restaurant ZaZa and the newly opened concept space La Menagere which includes a restaurant, jazz bar, coffee shop, flower and decor shop. We could continue with tips of restaurants and other hidden gems but we'll keep that for when we meet...
Room was as described, host communication was prompt. It was very cold on our last night there so the heater wasn't quite to our liking. Host provided suggestions on what to do
Nancy
2016-11-29T00:00:00Z
Excellent location near the Duomo. The apartment was very clean and spacious. Having the terrace was especially great for drinking wine and enjoying the evening. Jennifer had great communication prior to our trip, and was understanding when our arrival time was pretty late due to a train strike earlier that day. We would definitely stay again! Thanks, Jennifer!
Shannon
2016-10-25T00:00:00Z
Jennifer's apartment is just gorgeous. It's fairly spacious, very nicely decorated, and the location is incredible. The view from the terrace is worth every flight of stairs climbed! She was a fantastic host as well, providing us with great recommendations for shopping and dining in the area. We will definitely be back, and hopefully for a much longer stay!
Dave
2016-06-03T00:00:00Z
The terrace is the highlight of this amazing apartment. We sat there, drinking coffee each morning and sipping wine in the evening watching the world go by. You can catch a glimpse of the Duomo to one side, or look out to the sprawl of red roof tiles disappearing off into the horizon. For those afraid of heights, with children or in poor health, the five story climb may put you off (there is no lift) but it was fine for us and worth it for such an incredible view at the top! The apartment itself is perfect for two people, with kitchen, dining room, and sitting/bedroom. The bathroom may be a tad small for some (there is no bathtub) but again, was fine for the two of us. Jennifer was a warm host, eager to ask any question we may have and prompt to reply to any emails we sent. Overall, this is an absolute gem - the location is perfect (5min walk to Duomo and 15min walk to Train station) and we would thoroughly recommend it!
Finn
2016-10-29T00:00:00Z
Logement spacieux, propre, idéalement situé avec du charme , on s'y sens bien tout de suite. Bonne literie en sus!;-)
Poizat
2017-03-31T00:00:00Z
We had a great stay. The apartment was beautiful, prime location and a great view.
Marcel
2017-01-17T00:00:00Z
Lovely light apartment full of rustic charm. Great location being just down the street from the Duomo and with many shops, bars and restaurants close by.
rob
2017-03-06T00:00:00Z
Jennifer's apartment is in an excellent location, just a few blocks from the Duomo and a 15 min walk from the train station. The apartment itself is lovely - super spacious and clean, with great lighting and AC which was crucial since it was very hot in Florence during our stay. The patio is a nice bonus too. And, of course, Jennifer is very sweet and a wonderful host! Great communication, met us right on time and she even carried my bag up the stairs!
Maia
2016-06-26T00:00:00Z
Romtype
Helt hjem/leilighet
---
Eiendomstype
Leilighet
---
Plass til
2
---
Soverom
Florence, Toscana, Italia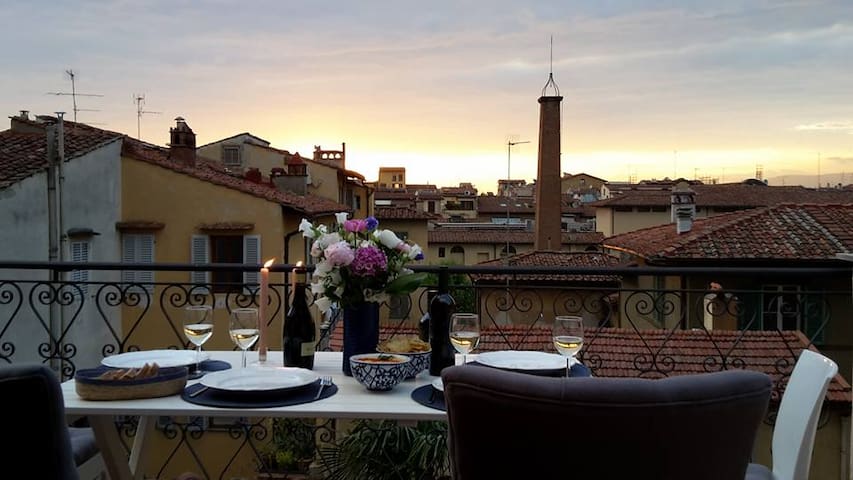 THE DAILY romprisen for 2 personer er 76 euro [2 personer deler] VI HAR 6/7 rom og kalenderen blir blokkert ved første bestilling, DET ER grensen for Airbnb SYSTEM. Vi har laget ULIKE BOLIG for hvert rom og slik at du kan bok fra andre oppføringer. Du kan ikke reservere flere rom herfra MINDRE vi sende deg et spesialtilbud. PLS KONTAKT OSS
Den gamle steinhus ligger i nærheten av byen Vinci hvor Leonardo Da Vinci ble født. Ligger i bakken av Montalbano i hjertet av Toscana [Montalbano del Chianti veien] ... deilig vin og olivenolje! Vi har 6 dobbeltrom med tilgjengelige no. Dette 4-level-hus med en felles kjøkken og stue er dekorert med kunst fra hele verden, og har varme farger: et perfekt sted for kunstelskere! Den nye svømmebassenget er klar sammen med en nydelig terrasse med en fantastisk utsikt over dalen, ideell for frokost, cocktailer og middager. Beliggenheten er perfekt; du kan nå Firenze innen 40 minutter og byer som Lucca og Pisa innen en time og bare 20 minutter fra Pistoia, ble en ny parkeringsplass nylig ferdigstilt.
We spend 10 wonderfull days in the old stone house owned by Giacomo. We used it as a base to explore tuscany and it was the best place to relax and recharge the bateries for another day of wonders in tuscany. The only regret we have is that we waited for the last night to meet the dogs :) afgan's that are simply superb. We loved it and we hope to return and spend some more days in this wonderfull location
Catalin
2012-08-31T00:00:00Z
What a change from the other European destinations on our trip. This place was breathtaking and Giacomo and Rolly were very welcoming. The old stone cottage allows forints guests to socialise with each other with the many communal areas. A real home away from home feeling to this place. Highly recommended!
Betty
2013-05-11T00:00:00Z
the house lies above a small road between lamporecchio and san baronto and has a fantastic view all around the valley of lamporecchio. the house looks like seen on the pictures, old but absolutely well maintained tuscan stone house. the garden is beautiful and the terrace invites to sit an enjoy a glass of wine at the end of the day together with other guests. the interior is stuffed with art pieces and carefully and intently selected furniture. there is a lounge with wifi and a kitchen, where we prepared meals and breakfast by our selves and together with other guests, equipment is not high quality but worked for a week. because of weather conditions (it was raining several times during night) humidity inside the rooms raised and we had to take care, that enough ventilation nevertheless dried our towels. probably it would have been better to start heating. giacomo was not there during our stay but other guests gave us a warm welcome and later on there was rolly who was in charge. all together we enjoyed and had a really good and relaxing time at giacomos place! if you keep in mind that it is not a anonymous hotel but a tiny and lively hostel where you get in touch with international guests and you are kind of self sustaining, it is one of the most beautiful places! have a good trip and time at giacomos place!
Mark
2013-05-25T00:00:00Z
Giacomo was a lovely man who was helpful when he was there. The grounds were lovely, the home was perfect, the pool was refreshing. Everything was really great. One of our favorite stays in Italy.
Susan
2014-06-11T00:00:00Z
We had perfect stay at giacomo and rollys cosy little home. Its definitely one of the nicest bnb places we have been to. The interior, the surroundings and the view from the poolside are just amazing. Vinci is close, you can even walk there. giacomo and rolly are really hearty people, always helpful and friendly. We will definitely be back some day.
Tobi Kehl
2015-03-27T00:00:00Z
Giacomo's house is lovely. It is set high on the hill with beautiful views. We found it reasonably easy to find with a GPS. The town of Vinci is not far away and we stopped there for lunch before checking in.We had use of a kitchen and sitting area (with wi-fi) to share with other guests. Each room has its own bathroom. Our room was quite comfortable. The bed was good quality, the linen and bathroom clean. Apart from the shower head that was difficult to stand under if you didn't want to wet your hair, we had everything we needed. Also the views are superb! Unfortunately we didn't get to meet Giacomo and Rolly as they were unavoidably away. We were well taken care of by their friends David and Nina who made us feel very welcome and gave us directions and advice about the area. It is conveniently located and we did separate day trips to Lucca, Pistoia and Sienna.
Sharon
2012-10-09T00:00:00Z
What a charming and romantic retreat. Rolly and Giacomo certainly have put a lot of hard work and talent into the house. Rolly was our host and he was very friendly and gracious. The art was amazing and I was fascinated by how even the functional aspects of the house were artistic. We took daily excursions to Chianti and Siena via a driver we hired (about a 2 hour drive to each). We didn't have a car of our own, so the restaurant that was within walking distance worked out well. We ate there twice and both dinners were very tasty. The service was great. We made a couple of meals/snacks (well my cousins did!) in the house kitchen, which was fun and allowed us to enjoy the relaxing atmosphere of the house. The outside covered patio and its view are just as idyllic as the photos show. The landscaping is lovingly cared for. Fresh herbs are everywhere. Prior posts mention limited supplies in the kitchen and a remedy would be determining your menu and checking out the supplies (pots, pans, can opener, etc.) to be sure you have what you specifically need to make everything before going to the market/coop. We would return again during warm summer months to take advantage of the pool and explore the town more rather than leave for excursions.
Terri
2013-06-02T00:00:00Z
The location is beautiful, scenic and tranquil and the views from the property are breathtaking. We didn't get to meet Giacomo but Rolly was there to welcome us. It is a shame we couldn't stay there longer. Just one thing to keep in mind if you are planning to drive, the house is on the hills and the drive is steep. We were relying on our phone GPS and we lost signal when were 10-15 mins away. However, the directions provided by Giacomo are quite detailed and helped us get there eventually. But it a hilly road and if you take the wrong exit or drive further, taking a U-turn may be extremely difficult, just something to keep in mind. All in all, if you want to experience a real Tuscan life, this is a great place to be. Do not miss visiting Vinci, the birth place of Leonardo which is only a few miles away.You can visit a musem dedicated to Leonardo's work and Leonardo's birth place, it is also a great place to grab a nice lunch.
Ami
2015-04-27T00:00:00Z
Romtype
Privat rom
---
Eiendomstype
Hus
---
Plass til
12
---
Soverom
Lamporecchio, Toscana, Italia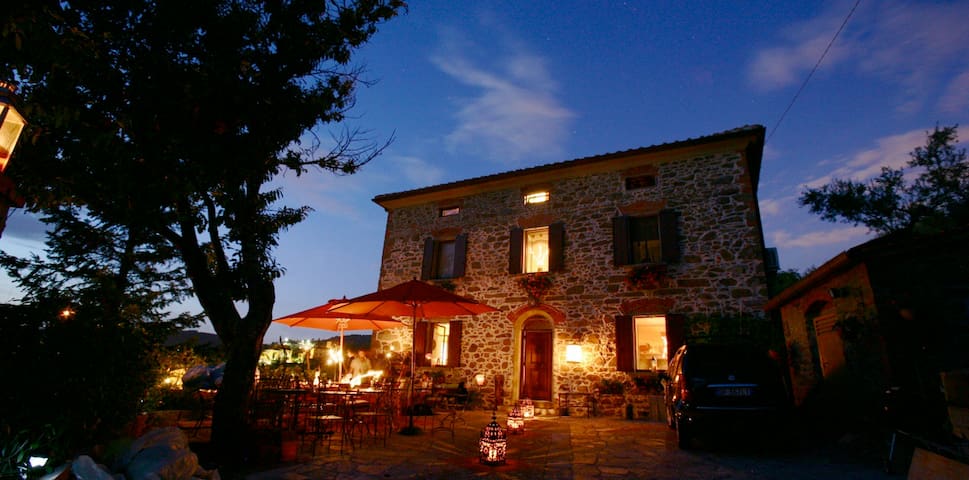 The "Charm" of stone walls meets the "Comfort" for up to 5 people. A luxury suite with a complete kitchenette. The patio, surrounded by nature, will give you privacy and relax. Your holiday house will be in Lunigiana, a region still genuine, with a rich food tradition, away from the touristy beaten path. Still, it's an ideal base for day trips to many points of interest: Cinque Terre, Portovenere, Lerici, Carrara, Pisa e Lucca, Parma, Genova...
The apartment has its own entrance and it consists of a large living room, a bedroom, a bathroom, a kitchenette and a large patio connected to a little garden. It can comfortably accommodate up to five people in its romantic and charming atmosphere. Free parking is a few meters away. EQUIPMENT You will find a nice kitchenette, complete with appliances (fridge, microwave, dishwasher) and all you need to prepare breakfast: mocha espresso maker, american coffee-maker, kettle and toaster. There's a desk in the living room. WIFI connection is available all over the apartment and in the patio. The bathroom has a shower with hydromassage. Washing machine, hairdryer, iron, linen and towels: we want you to be sure you'll find anything you'll need at any time of the day. In the patio you will find a complete garden set, ideal to enjoy, in a panoramic and secluded corner, the sun and the peace of the Lunigianese forest. BBQ in a an open-air stone oven available. BEDS The main bed is a very comfortable queen-size with orthopedic memory foam mattress and there are two single regular beds: one in the antichamber and one in the living room. The fifth guest can be accomodated on a deluxe air mattress or in a folding baby bed. Linens are provided and changed, upon request, every 7 days.
We chose Lunigiana for its strategic location with easy reach of many of the most beautiful places in Tuscany, Liguria and Emilia Romagna. We are at an hour drive from the airports of Pisa, Parma and Genoa and one hour and half from Florence's. The place is wonderful if you want a a romantic getaway to enjoy your free time in total relax, but it's also perfect if you're looking for a base for your excursions. In five minutes you can reach the train station of Aulla where you can catch trains that will allow you to comfortably visit the wonderful "Cinque Terre" in as little as 36 minutes. In less than half an hour you can reach Lerici and the Gulf of Poets, or the sandy beaches of Marina di Carrara. In forty minutes you can hit Portovenere at northwest, Forte dei Marmi and the Versilia coast at south or visit the marble quarries of Carrara, in the southeast.
SIlvia and Fabio are just really nice people. They were perfect hosts and exactly reflect why we stay with Airbnb when we travel. The house had everything you could need including a lovely terrace to sit on in the sunshine. We had quite a bit of rain and our car got a puncture which meant it had to towed to the local garage - on a Sunday - for repair. Fabio and Sylvia did all the telephoning, as we don't speak Italian, and the guys who towed/fixed it were great. Truly, in these small communities the people are molto gentile. An extra, at the house [ they live upstairs] is their little boy Jacopopo (aged 2) who came down with his Mum and Dad when we all got together for a drink on our last evening. We'll always carry a picture of him walking up and down the room with our Kindle to his ear "chatting" to his granny as he thought it was a phone! A lovely family, a lovely house and a really different experience to the normal bustle of Italy. Stay here and you have the chance to learn about a different side of this country and, above all, enjoy good conversation with your hosts.
Nigel
2016-06-01T00:00:00Z
We really enjoyed our stay here. The welcome was fantastic as the apartment was beautifully prepared and our hosts obviously take a great deal of care to make sure their guests feel at home. There was a lot of food left for our week long stay and we really appreciated that. The restoration of the basement has been done to a high standard and we loved living in the space - and there is a lot of it to enjoy including a very nice patio. At the time of the year we were here it was a little cold but there is plenty of heating in the house. I can imagine that the stone keeps the place nice and cool in the heat of summer. The wifi was really fast and so we had no issues watching our favourite Prime and Netflix shows and (SENSITIVE CONTENTS HIDDEN)ing home. From this little village we branched out to many different places including the Cinque Terre, Lucca, Florence, Carrara, Colonata and Pietrasanta. We enjoyed being able to start and end our day living like a local in a small Italian village which is why we chose this place and can highly recommend it.
Keith
2016-12-22T00:00:00Z
The willingness of Silvia and Fabio to help is not to be surpassed. Within minutes we received detailed information and tips: suggestions for fabulous restaurants, excursion tips, or simply help of any kind. They organized us even a cooking course in a local restaurant. It was just fantastic! Silvia and Fabio are absolutely honest, discreet and yet open to a hearty exchange. We have been able to win new friends these days! Authentic, honest and memorable. The apartment is spotless, secluded and quiet, in the middle of the Tuscan countryside. We can express our recommendation from the whole heart and look forward to returning to Fornoli soon to Silvia and Fabio.
Silvan Philipp
2017-02-24T00:00:00Z
Silvia und Fabio are great hosts. They invited us to spend an evening together in their apartment talking about the world and his brother, drinking beer and tasting Lardo di Colonnata. Unfortunately the weather was not as expected so we had breakfast on the lovely terrace only once during the week we spent there. The apartment itself is very nicely furnished and clean and the bed is quite comfortable. Silivia's and Fabio's place is perfect to explore nearby cities like Parma, Lucca, Pisa, Viareggio, La Spezia, Genova and Firenze… and do not forget to enjoy a great dinner at "Alla Piazza di Sopra" in Villafranca – many thanks especially for that hint, Silvia and Fabio! We went there twice! Thank you very much for your hospitality. We will keep in touch and look forward to receiving your new video, Fabio! We wish you all the best!
karen
2014-05-04T00:00:00Z
A wonderful, inspirational place, with great hosts! The stone house breathes a truly romantic, authentic air, as it was refurnished in the local Medieval-inspired style. It is a perfectly relaxing place, with great surroundings, a place for recharge, romanticism or creative work. We would have lived there happily for a few years, not just one week, and still had things to discover:) Silvia and Fabio are warm and interesting to talk to, so interesting we almost missed our plane after a long last breakfast on the terrace!
Catalin
2013-08-23T00:00:00Z
Silvia and Fabio are great hosts. They gave us our space but made themselves available if we needed anything. The apartment is well done and in good shape. The village is off the beaten track and incredibly interesting. We felt like we got closer to the "real Italy" which we got to experience while staying in a beautiful space.
John
2015-10-11T00:00:00Z
Without a doubt, the finest Airbnb experience I've had. Silvia and Fabio were always on hand to guide us to their property and provided a truly remarkable welcome, with wine, cakes and great conversation. The property itself is beautiful and is the perfect ambience for an Italian retreat! Location is great, less than an hours drive from intimate towns, awesome scenery and the coast. Silvia and Fabio were always on hand to recommend some spots and be sure to follow them up. It was capped with an espresso - or three - and a nice chat with the family and little but curious, Jacopo. I should have stayed longer, simple.
Stephen
2017-03-25T00:00:00Z
This place is what AirBNB is made for. Cosy, clean and it feels like a real home. Silvia and Fabio are not only the owners of the house, but also the most kindly hosts you will ever meet. They booked a restaurant for us, planned a trip to 5 Terre and told us about their life in Italy. We hope to come back one day!
Leonie
2017-04-07T00:00:00Z
Romtype
Helt hjem/leilighet
---
Eiendomstype
Gjeste suite
---
Plass til
5
---
Soverom
Fornoli, Toscana, Italia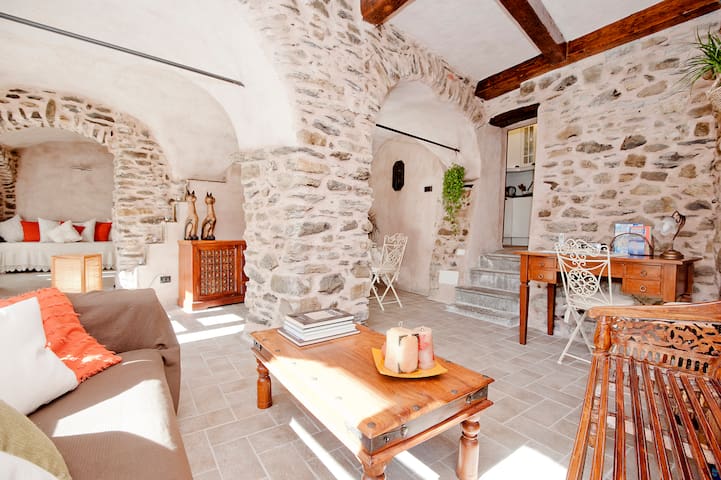 Beautiful Small Apartment, ideal for 3/4 people in the historic center of Florence, consisting of a main room with a double bed loft with a single bed, a kitchenette and an electric refrigerator, a closet with a single bed.
A new mini Flat in the Heart of Florence! 4th floor ( no elevator / lift) in a very central and secure building in via del Corso only 2 mints walking from Piazza Repubblica, Piazza Duomo, and Piazza Signoria. main room with a double bed and a retractable electric kitchen ( furnished for 3 people with a fridge ) , a single bed in a small private seperated room and a small loft with a 4th single bed. the bathroom is big and new, with a big window and a big shower box. The flat is all new, clean and sunny. Wireless internet connection available for free 24/24 , a heater and air condition also available. Staying at my apartment means to be in the heart of the historic center of Florence. it's really close to all main museums and tourists attractions ( 100-500 metes) : Galleria degli Uffizi, Accademia Gallery, Medici Chapels, Bargello, Opera del Duomo, Palazzo Pitti, Palazzo Vecchio, Palazzo Medici-Riccardi, Strozzi Palace, Ponte Vecchio and Santa Croce. Parking: In agreement with a private garage just 2 blocks from the flat , for € 26.00, including entrance fees and ZTL cancellation of the plate system of the municipal police. It will be a pleasure to guide you and make your stay relaxed and unforgettable.
The neighborhood is the best in the city. just 2 minutes walking from the Duomo, Piazza della Repubblica and Piazza della Signoria / Palazzo Vecchio and Ponte Vecchio. supermarkets, leather markets and shopping streets are within 2 minutes walking.
여기 위치정말좋아요 다만 4층인데 엘리베이터가 없다는점.. ㅋㅋ 빼고는 물도잘나오고 전아주 막족했습니다!
Young Ah
2015-08-05T00:00:00Z
Samuel was friendly and informative about the neighborhood. The apartment was lovely -- great location, very clean, and just what we needed!! Would definitely stay there again.
Mike
2015-09-07T00:00:00Z
Samuel is very helpful. His flat has great location, small but convenient with everything you need. The bed, pillows and everything in the house is clean and nice. You can fit 3 people in the flat
Huong
2014-06-15T00:00:00Z
Great location in center of town. But noise late into night due to people coming home from partying. On sixth Floor so eat your pasta first for engery.
Joshua
2017-03-04T00:00:00Z
Renting Sam's little apartment was the perfect choice for my quick two-day visit to Florence. The apartment itself is very neat and comfortable. But best of all, the location is perfect for visiting all the sights within a short walk, allowing me to stop by for a quick rest / freshening-up before continuing to explore that beautiful city. Sam and Rosy are very friendly and helpful, and not only would I recommend this rental, but I plan on staying there again whenever I make it back to Florence.
Gui
2014-02-24T00:00:00Z
We had a great time staying in Sam's flat! We originally booked his other unit, but he had his unit with a VIEW available, so we made the move across the all. Both are great and in honestly the best location in Florence. So central, near great food/drinks/shopping. Climbing the stairs to the top is worth it :) Our view of the Duomo was quite stunning. If you don't rise early, be sure to bring some earplugs, as the bells from the church may wake you. Also, if you have a large group, Sam's two units can be combined to create an amazing space! He was super communicative and easy to work with - a true pro! Thanks again, Sam!
Emma
2012-11-12T00:00:00Z
The communication was great, it was easy to find the flat and we were met on time. As promised, we asked if we could arrive around 12:30pm because of the train schedule, and we were accomodated. The flat had everything we needed, including air conditioning during a hot day. The flat was cozy and comfortable, and we even got great restaurant recommendations! The flat was at the top of the building, which helped us work off the great food we ate and it was also nice because there was a balcony that you could open up and step onto.
Andrea
2016-08-21T00:00:00Z
Han välkomnade oss personligen trots att vi anlände sent. Hjälpte att bära väskan och gav oss tips på sevärdheter o restauranger.
Felicia
2016-08-31T00:00:00Z
Romtype
Helt hjem/leilighet
---
Eiendomstype
Leilighet
---
Plass til
3
---
Soverom
Florence, Toscana, Italia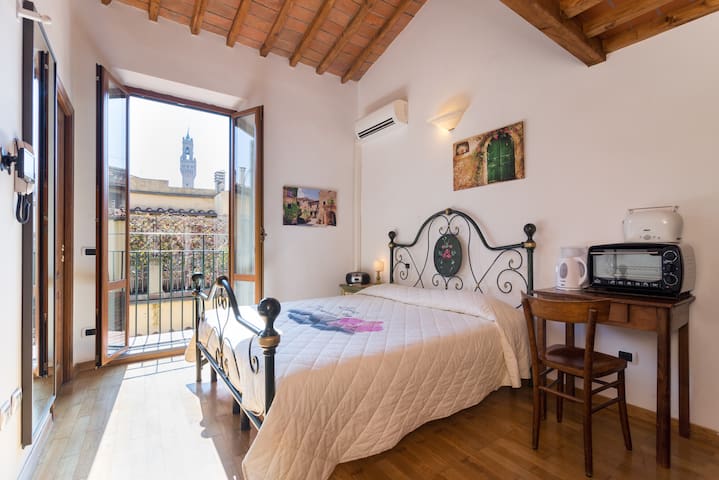 Our house is a small piece of countryside in the middle of the city. In fact, the neighborhood of St. Nicholas is one of the most charming and characteristic of Florence. The house is located below piazzale Michelangelo and very close to one of the most beautiful churches in Florence: San Miniato. Our house is two minutes from the embankment, five minutes from Old Bridge, 10 minutes from the Duomo. From the train station you can easily reach us with the bus 23. In the district, there are very nice and well attended galleries, fine restaurants, bars, night clubs. This is a quiet neighborhood between the river Arno and the green hills. In the near by area there is one of the most beautiful gardens with a special view of Florence called garden roses with an interesting permanent exhibition of Folon. We offer a bright room with views of San Miniato, guest bathroom and separate entrance, kitchen and the opportunity to share with us the living space. In the garden there is a beautiful dining table and many corners to relax especially in good weather. We have wireless and there is the possibility to use the washing machine. if you have your car there is a free parking near our home, at your convenience. Also lives with us two beautiful and very sweet dogs: Lana and Poldo. we wait for youuuuuuuuu !!!!
Warm welcoming host, comfortable stay in a very well located room, just 10 minutes away from Florence's Ponte Vecchio! Nice private garden (with the pleasant company of Lana ;) Definitely recommended!!!
Francesco
2012-05-01T00:00:00Z
Edi and Ale are lovely people. We felt like old friends within minutes. They were very respectful of our privacy but were always ready to share their home generously. Our cooperative dinners were delightful, but this was by no means expected of us. You don't have to be a dog lover to love Lana.
Richard &
2013-01-19T00:00:00Z
Everything was perfect in Florence! My wife and me liked the house and mainly the location. It's a quiet and nice residential neighborhood, near the city center. Edi made ourselves at home, and we also had the pleasure to know Lana, her dog. The room and bathroom are clean & comfortable, and there's a very nice backyard.
Ferenc
2013-05-15T00:00:00Z
Edi's place is a wonderful hidden treasure in a quite and green part of Florence, a bit tricky to find especially if you don't have a proper map like me! Don't trust the locals, they will send you to all directions, I ended up at the top of the hill pretty much by Porta di San Giorgio and realised that her flat is actually on the bottom, although the view was stunning and walking along the olive trees was something I didn't expect especially since you are still pretty much in the centre of Florence! So, no harm there. I was welcomed by Edi and her 2 lovely dogs. The room and the flat is very cosy, she is totally cool and very accommodating, I would certainly reconsider this place on my next visit. Also, there are some really nice wine bars and cafes nearby and away from the main crowd of tourists, well worth checking out!
Francesca
2014-01-11T00:00:00Z
Edi's home and garden are lovely and perfectly located for a visit to Firenze. The room is very comfortable, just as advertised and Edi generously shares the kitchen and living room with her guests. We had a great stay, I recommend it, particularly if you plan walking as your primary means of transport.
Helen
2016-10-10T00:00:00Z
O sorriso, a presença leve, o café da manhã cuidadoso e todo aconchego que a Edi e seus amigos proporcionaram foram inesquecíveis para a primeira experiência no Airbnb. A casa é um delicioso e sossegado pedaço do campo na cidade... e o bairro é sensacional! A poucos metros do portal histórico, cheio de pequenos restaurantes, gente na rua, música, astral gostoso... além de estar pertinho da Piazza Michelangelo e seu pôr do sol magnífico... tenho certeza que um dia eu volto!
Patrícia
2015-06-26T00:00:00Z
L'appartement d'Edi est idéalement situé dans la ville de Florence, à une dizaine de minutes à pied de toutes les attractions touristiques. La chambre est propre et décorée avec goût et donne sur un joli jardin calme et rafraîchissant. Edi est partie en vacances lorsque je suis arrivée, je regrette de ne pas l'avoir connue davantage car je l'ai trouvée très sympathique. Si je retourne à Florence, je retournerai avec plaisir dans son appartement. Merci Edi
Anne
2015-07-09T00:00:00Z
Edi was a very gracious host. She was very accommodating and made us feel comfortable about using the common area. They even arranged a taxi pick up for our departure for an early flight. Her yard and home are as lovely as the photos suggest and it is very conveniently located - walking distance to all the attractions Florence is famous for.
Sherry
2016-08-02T00:00:00Z
Romtype
Privat rom
---
Eiendomstype
Hus
---
Plass til
2
---
Soverom
Firenze, Toscana, Italia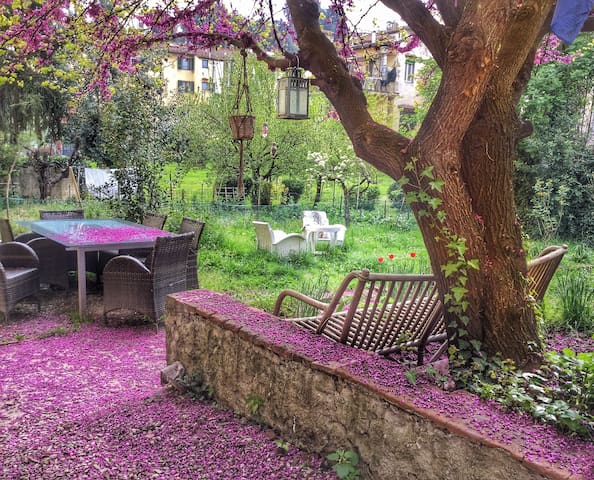 A LARGE STUDIO IN THE HEART OF HISTORICAL FLORENCE - close to all the most important sites, 10 minutes away from the railway station. Entirely renewed, a new flat in an ancient and historical building near Piazza Ognissanti.
A LARGE STUDIO IN THE HEART OF HISTORICAL FLORENCE - close to all the most important sites, 10 minutes away from the railway station A large Studio flat in an historical building from the 16th century, located in the city's historical center near Piazza Ognissanti, one of the city's most elegant squares. Just a few steps away from Ponte Vecchio, Museo degli Uffizi, and the famous Via Tornabuoni, the best for shopping in Florence. Borgo Ognissanti is a very lively street, with cafés, shops, restaurants and a small supermarket at hand. Access: - Plane: Firenze Peretola Airport, then shuttle bus to Santa Maria Novella Railway Station - Train: Just a 5 minutes walk from Santa Maria Novella Station. - Car: Private parking available 300 m from the house (25€ / day) or public parking 600 m from the house (18€ / day). Car-Rental available nearby: EuropCar (50 m) and many more. The apt and the building have been restored in 2010-11 and everything is brand new -- except the walls and foundations. Amenities: wireless internet, 32" LED-TV, air conditioning, washing-machine, dishwasher.
Gian's studio in Firenze is gorgeous! We loved having our own large space, comfy bed, A/C during the hot & humid summer weather, and a great central location. Awesome that it's near the train station. About a 15 minute walk into the heart of city! The kitchen was almost fully stocked (minus food), so wish we had been able to use it but we went out to dinner every night.
Amber
2012-06-28T00:00:00Z
Gian's studio is large, well-equipped and beautifully furnished. We spent three nights there and found it a perfect (and much better) alternative to an overpriced Florence hotel. The bed is large and very comfortable, kitchen and bathroom are both wonderful and the whole place has been furnished and decorated to a very high standard. Gian was quick to respond to all emails and check in/out was hassle-free. The apartment is located in a great spot within walking distance of all major tourist sites. We will be back!
Ryan
2013-11-07T00:00:00Z
I cannot say enough great things about my experience here. For starters, the apartment is clean, beautiful (amazing furniture and a great kitchen), and in a very convenient location. I could walk to absolutely everything I needed to see, but felt removed enough from the main areas that I could get some peace and quiet. There are plenty of shops/restaurants/bars nearby, so if you want to be nearby at the end of the night, that's very easy. Gian and his daughter were some of the kindest, most welcoming and helpful people I interacted with during my multi-city trip to Italy, and I am already dying to return and stay here again.
Samantha
2014-01-31T00:00:00Z
Mi paso por Florencia fue muy rápida, Gian aunque no lo conocí fue muy atento; el lugar es cómodo, fácil de llegar a la estación y centro de la ciudad, moderno y limpio.
Amelia
2015-05-08T00:00:00Z
Gian was extremely quick at replying and although he was unable to meet us on arrival (during the day), he was great in providing instructions for us to pick up the keys and also to find the apartment. The apartment is in a great location, about 10 mins walk from the train station and about 5-10 mins to Ponte Vecchio and about 10 mins to the Duomo. The apartment is exactly as described, it's renovated and comfortable and has great amenities. My husband and I really enjoyed our stay at Gian's apartment and would absolutely recommend it. Gian was great to deal with as well, helpful and super quick to respond.
Claudia
2016-09-11T00:00:00Z
Bellissimo locale a due passi dal centro. Tutto perfetto!!
Luca
2016-08-13T00:00:00Z
Gian met us and was very friendly and helpful. The apartment was perfect for what we wanted - good location, very comfortable. Gian kindly brought us a lighter duvet very promptly. Thanks Gian, we had a lovely time in Florence. Phil & Trish
phillip
2016-06-05T00:00:00Z
Las indicaciones para llegar perfectas. Muy bien ubicado. El departamento es igual a las fotos. Gracias.
Jorge
2015-06-03T00:00:00Z
Romtype
Helt hjem/leilighet
---
Eiendomstype
Leilighet
---
Plass til
2
---
Soverom
Firenze, Toscana, Italia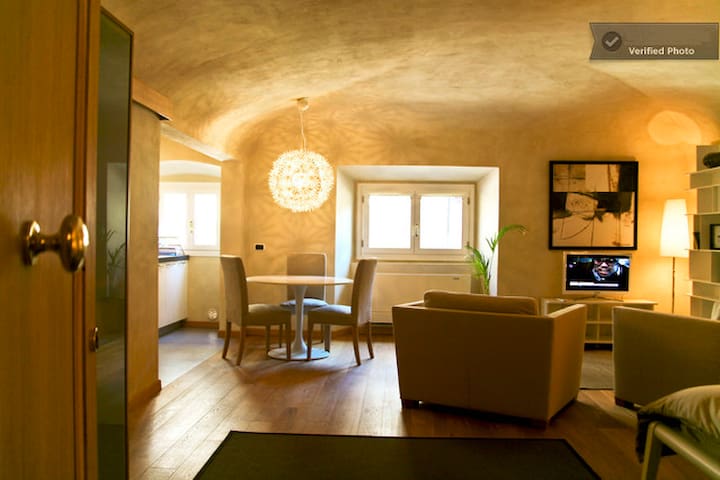 Vår vakre gamle hus, fredelig, innredet med stil, med en nydelig hage og plaskebasseng, er på slutten av en liten middelaldersk landsby, mellom Lucca og sjøsiden. Det er også flott og veldig romantisk i lavsesongen, komfyr på, rolig landskap, lange turer, bøker og et piano
Huset vårt er veldig gammel, laget av stein på slutten av en middelalderlandsbyen ti hus. Det er omgitt av olivenlunder og Lavandas, frukttrær og Chestnut Woods. Hagen er stille, Middelhavet planter gjør det fargerike og forfriskende, perfekt for å slappe av, lese en bok, tenke utsikten. Du kan smake og bruke alle våre urter (rosmarin, salvie, laurbær, Thime, etc) i privat kjøkken og nyte dine måltider ute i skyggen av vintreet pergola. Blant alle rosene kan du ta en dukkert i vår herlige plaskebasseng (3x2,5m) mens over ser den fantastiske utsikten over Lucca dalen. Soverommene er svært spesielle retreats. Alle vegger er dekorert med malerier, spesielle gjenstander, mange bøker og gode møbler. Hvert hjørne er full av inspirasjon og kreativitet. Badene er stor: ett med dusj, mange bøker, og en nydelig utsikt over hagen og dalen, har den andre et bad. Kjøkkenet er fullt utstyrt med gryter og panner og grunnleggende mat (olivenolje, salt pepper, melk, pasta). Den røde Stuen er veldig koselig, her kan du finne bøker og kart om Lucca og dens omgivelser. Den viktigste boareal er et åpent kjøkken, stue med direkte utgang til hagen og en nydelig view.On ene siden av huset er helt privat hage med nydelig plaskebassenget, på den andre siden den rolige landsbyen. Du kan ha endeløse spaserturer i åsene eller skogen eller olivenlunder. Eller bare slappe av i en helt magisk miljø, beundrer de vakre blomster, roser, urter i hagen. Huset har gratis wi-fi. På gangavstand er det en nydelig liten restaurant med en vakker terrasse med utsikt over åsene der du kan ha en lokal middag i en veldig vennlig atmosfære. Den vakre byen Lucca er 15min. langt og strendene er 20min. langt. Vi kan også gi deg råd noen fantastiske elver du kan gå for å få en forfriskende vill svømmetur i dammer skåret i stein eller marmor steiner ... Pisa, Firenze, Siena, Cinque Terre er alle tilgjengelig for dagsturer. Vi tilbyr både b & b alternativ eller ukentlig leie. Når leies ukentlig, serverer vi ikke frokost. Vår frokost er nydelig og frisk: frukt, yoghurt, syltetøy og skinke, ost, ferskt brød, müsli, juice, kaffe og te, som du kan ha ute i hagen hvis sol, i vår herlige kjøkkenet hvis regnfull. Hvis du ønsker kan vi gi deg råd turer, besøk, restauranter eller noen matlaging kvitteringer. Men hvis du bare ønsker å hvile i hagen og absorbere nydelig sollys, kan du ha all stillhet og privatliv du bare ønsker. vet det høres morsomt, men vi tilfeldigvis bor i de vakreste omgivelsene noensinne. Som maler hver dag jeg er overrasket over hvor vakkert landskapet, skog, olivenlunder, landsbyer, byer, natur, mennesker og fremfor alt lys er her. du kan bare sitte og se deg rundt og blir aldri lei. Eller hvis du liker å gå kan du ta endeløse spaserturer i naturen, hver sti du tar er vakker. Vi bor på en høyde i Toscana, betyr det at det er ingen bussrute, og du må ha en bil eller en sykkel hvis du er veldig passe. Det er ikke mulig å bevege seg rundt uten, og du ville være mangler så mye av det. I vinterhalvåret har vi en ekstra sentralvarme kostnad: spør om du er interessert. Ved til ovnen er inkludert i prisen.
Hva gjør Toscana så berømt i verden er det perfekt kombinasjon av små gamle landsbyer, vakre landet og fantastisk livsstil: Dette er nabolaget vårt.
We had a great experience at the Painter's House. Damema's husband Wes welcomed us on our arrival and gave us all the information we needed for our stay (including suggestions for what to see, where to eat, etc.). Damema had all the beds made up in the configuration we needed (we had a group of 7 family and friends) and then met us the next morning and set out an amazing breakfast out on the patio. The house was beautiful as was the garden, the patio, and the view of the surrounding mountains. The wifi on top of the mountain was very good (which was a pleasant surprise!). There was plenty of room for all of us and the location was not only beautiful but an easy trip into Florence and Lucca (as well as a good distance from Rome with a stop in Siena!). A few things: 1. Follow Damema's instructions up the mountain. We drove a 9 person van up and down the mountain without any issues and there was a place to park near the house. Do not take the (SENSITIVE CONTENTS HIDDEN) map instructions to and from the house - you'll end up on what feels like a walking path and wish you'd followed instructions! 2. Listen to Damema when she strongly encourages you to see Lucca. We had precious little time to explore the area but squeezed in a dinner in Lucca on her recommendation and were so glad we did! 3. Spend time out in the garden of the Painter's House - especially if the weather is fine and you can dine al fresco. We really enjoyed our stay at the Painter's House and meeting Damema and Wes. It was one of the highlights of our trip and many who saw our photos and heard about our experiences are anxious to go to Tuscany and stay here, too.
Patricia
2016-05-20T00:00:00Z
La Maison de rêve ! Très belle, bien équipée, propre, un déco top ! Un jardin splendide. La totale quoi ! Super bien située. Damema est très accueillante et disponible. L'adresse à réserver sans aucune hésitation !
MachetteProd
2016-07-16T00:00:00Z
We stayed with our kids (1 and 3) . And had a fantastic stay. The garden ist full of flowers and herbs (we used some for cooking). The views to lucca are great.... we would love to come back....
Jonas
2016-06-13T00:00:00Z
We had a fantastic time at Damemas house.great place to relax!Damema is a wonderful host and her family is lovely. The house is very warm and very comfortable. The neighbours and the nature is amazing. Don't forget to visit the delicious restaurant Il Barbagiani!GREAT FOOD! from damemas house you can easily reach pisa and florence and the beach...we come back soon...thank you for having us
Raja
2014-05-24T00:00:00Z
A wonderfull charming and typically Italian country cottage experience. It was very well equipped and Damema and Wes made us feel very welcome. They even lent us provisions when we first arrived which was so appreciated until we found the local shop. We loved the location because of the spectacular views but the winding road up the hill takes a bit of getting used to. Luca is a beautiful city which is only a 20 min drive away and great to visit Cinque Terre and Florence. We were very glad of the wood burner in the evening,with it being October, which heated the whole cottage and plenty of free logs too.
Jackie
2014-10-19T00:00:00Z
Very special house with everything you need. Lovely hosts, amazing little garden, plentiful and yummy breakfast. Great place to base yourself if you want to do day trips to Lucca, Pisa, Florence etc and start and end your day with peace and nature. Would highly recommend.
Juliet
2015-08-30T00:00:00Z
Posto stupendo e ottima accoglienza, Damema è stata disponibile e gentilissima. Torneremo sicuramente!
Mattia
2014-11-02T00:00:00Z
Il luogo è molto bello e la casa molto graziosa. Piena di libri, colori, quadri e guide. Il luogo ideale per conoscere, evadere dallo stress. Molto bello veramente.
Franco
2015-05-03T00:00:00Z
Romtype
Helt hjem/leilighet
---
Eiendomstype
Hus
---
Plass til
7
---
Soverom
Pescaglia, Toscana, Italia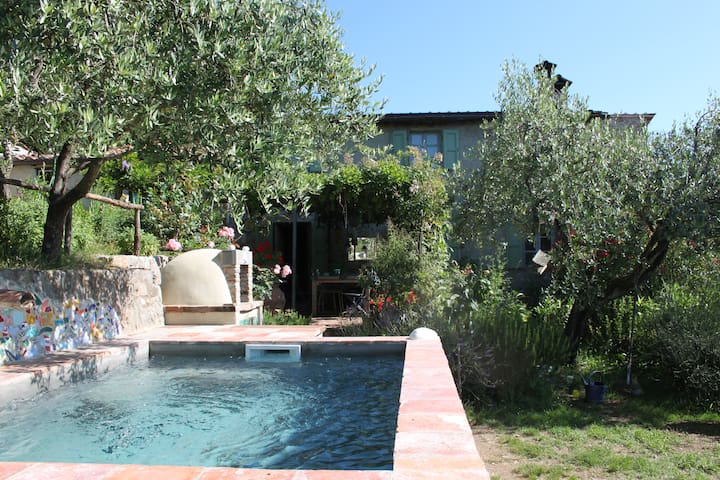 Leiligheten ligger i første etasje i en nylig renovere gammel stil steinhus består av 3 store individuelle leiligheter. Nyt et stort felles svømmebasseng med en fantastisk panoramautsikt over den middelalderske landsbyen og omgivelsene.
La vita è bella er en romslig leilighet i første etasje i en nyrenovert opprinnelige gamle stil steinhus som består av 3 store individuelle leiligheter (vennligst finn her airbnb link til de 2 andre leiligheter: https: //(URL HIDDEN) / rom / (PHONE NUMBER HIDDEN), https://www.airbnb.com/rooms/2506197). Det er et stort felles svømmebasseng med en fantastisk panoramautsikt over den middelalderske landsbyen og omgivelsene. Vær oppmerksom på at det er en ekstra lite rom med en køyeseng for 2 barn + en barneseng for babyer. Det er et veldig spesielt sted med alt du trenger for ditt opphold. En fantastisk utsikt over landsbyen, et stort felles svømmebasseng og en romslig flat inkludert alle varer og en solrik terrasse å nyte en lat ettermiddag.
Det nylig renoverte gammel stil steinhus ligger på grunnlag av "Il Castello". På eiendommen finner du også en restaurant, vingårder og et stort svømmebasseng. Restauranten ligger i første etasje i en auberge og har en stor terrasse med utsikt over den lille byen Casitglione di Garfagnana. Den serverer typisk mat for regionen laget med lokale produkter. Kokk lager en rekke typiske italienske retter (hjemmelaget salater og grønnsaker i hagen, hjemmelaget pasta og ovnen bakt pizza). Landsbyen er i midten av en meget luxious landsbygda hvor du vil finne et stort antall turer, stier og turer til å gå sopp plukking eller nyte fersk olivenolje, lokal vin, kastanjer og alle slags andre funn. For fine byer og landsbyer å besøke rundt vil jeg anbefale: Lucca (sjarmerende gamlebyen med massevis av restaurant og shopping og kulturarrangement), Barga sjarmerende liten landsby. For naturlige viner du har @ 20 minutter fra vårt sted: Podere Concori. Ellers har du nok av dem langs veien vin mellom Monte & Camaiore. Jeg kjenner to fine steder: Podere Del val Del Sole & Podere Valgiano. Restaurant åpen @ denne perioden: Jeg ville anbefalt Il Pozzo (10 minutter fra vår plass), har du også noen gode i byen Castelnuovo di Garfagnana (15 minutter fra vårt sted) eller Mulin Del Rancone i landsbyen Camporgiano (25 minutter fra vårt sted). For turer, fra huset har du en 4 timer tur til San Pellegrino eller en 1 time spasertur gjennom landsbyen Castiglione og deretter følger en sti retning landsbyen Villa Collemandina. I Castiglione, vil du finne et lite marked med fresch og fin frukt, 3 barer med det grunnleggende ting å kjøpe (pasta, brød, kaffe, etc ...) Du har mange turer fra landsbyen heter Sillico (20 minutter fra vår plass) eller i den naturlige parc Orechiella. Gode steder å svømme i elvene også: Landsbyer av Sambuca eller ved siden av Mulin Del Rancone Vi ser frem til å ønske i vår region.
We had a wonderful stay here in the mountains! The home was beautiful and spacious with an unbeatable view. It was a nice relaxing getaway for us to calm down after rushing through some major cities. There are several small communities nearby - one very close with a castle! The food at the restaurant in the same lot was amazing. We only wish we had more time to spend here. Thank you!
Hil
2015-09-29T00:00:00Z
We had a fantastic stay and felt very at home. The apartment was spacious & had everything we needed, exactly as described. And the area is just beautiful. Perfect for exploring the mountains! We would love to go back again. Thank you!
Stephen
2015-05-11T00:00:00Z
Absolutely stunning property. The location was beautiful and the apartment in an older Tuscan farmhouse was so quaint. Loved the visit, only wished we could have stayed longer! Cannot wait to visit again.
Lisa
2016-07-20T00:00:00Z
The place is fantastic! Perfect for a vacation, we would love to have more time there.
Marcos
2015-06-25T00:00:00Z
Nice place, the view is spectacular
Elina
2016-07-19T00:00:00Z
We were lucky enough to meet Raph and he personally saw us settled into the apartment. It was a perfect place to unwind and the kids had great fun in the pool and playing table tennis. The kitchen is very well supplied, the apartment is sociopath and cool. Great views from the terrace and interesting area to explore. All in all, the best value staying in Air BNB we've had this trip - highly recommended!
michael
2016-08-29T00:00:00Z
We hebben een heerlijk verblijf gehad in het appartement. Het uitzicht is echt adembenemend mooi. Het appartement is van alle gemakken voorzien. Prima bedden en genoeg handdoeken. We hebben twee keer gegeten bij het restaurant ernaast. Aardige bediening en prima eten. Vanuit het appartement hebben we lucca en barga bezocht. De wegen zijn af en toe een beetje spannend met een aantal haarspeldbochten. Maar je rijdt wel door een prachtig landschap. Wij komen graag nog een keertje terug!
Josephine
2016-11-05T00:00:00Z
This is a wonderful place to stay in Castiglione di Garfagnana!! The space and accommodations were everything that was described and the hosts were exceptionally welcoming. The apartment was clean, comfortable and complete with all amenities - plus there's the view of Castiglione (we took pictures every morning). The food at El Castillo was delicious - be sure to take full advantage of it while staying here!
Shaun
2015-09-21T00:00:00Z
Romtype
Helt hjem/leilighet
---
Eiendomstype
Leilighet
---
Plass til
6
---
Soverom
Castiglione di Garfagnana, Toscana, Italia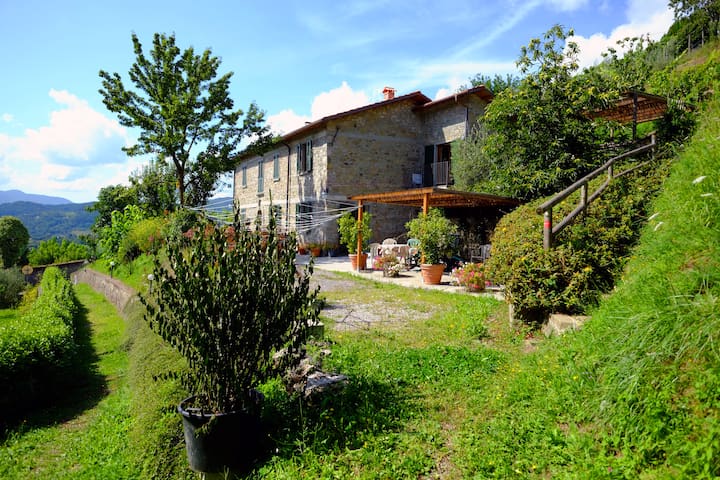 Perched on top of a hill in the countryside of Bologna, the B&B is the perfect location if you are looking for a peaceful place, with panoramic views, very good restaurants (& wine makers) in the nearbies. You can book from 1 up to 4 rooms. Welcome! (ps please note: you need a car to reach us)
****PLEASE ALWAYS INQUIRE US BEFORE BOOKING IF YOU ARE MORE THAN 2 PEOPLE (OR IF YOU NEED MORE THAN 1 ROOM) thank you**** Hello and welcome! THE HOUSE / B&B The house is a bed and breakfast with four bright double rooms all with en-suite bathroom, air conditioning, flat screen tv and and a view on the surrounding hills and countryside. Every room has a double bed (size is 160x195 centimeters) with high quality foam mattress. Two rooms open on a terrace overlooking the valley. The shared areas include a big hall/lounge room, a spacious garden patio, the kitchen and of course the garden. Parking is freely available in our safe dead end street. Being a B&B, breakfasts are included in the room rate. We are very happy to host vegetarian/vegan guests so please tell us in advance if you have any kind of diet requirement, we'll be happy to serve a breakfast that suites your needs. On the other hand, if you would like not to have breakfast or if you think you'd like to cater yourself breakfast please let me know, I'll reduce the room rate accordingly. Our kitchen is available for guests who need to use it for preparing their own meals, but it's nevertheless true that the area is full of very good traditional restaurants (we are more than happy to give recommendations about it) , local traditional trattorias are one the most appealing reason to stay in our area! WHAT YOU ARE ABOUT TO BOOK (1 ROOM OR THE WHOLE HOUSE?) Airbnb listings are usually set for 1 room or 1 whole house. Since we have both options on this listing we would kindly ask you please to read carefully in order to avoid any possible misunderstanding. When you book for 7/8 people (4 rooms) as a matter of fact you'll get the whole house (no other guests will be staying here while you're here). When you book for 1 to 6 people you book for 1 to 3 rooms (so in this second case other guests might be staying at the B&B when you're here). Rates change accordingly to the number of guests you book for. Usually we consider 2 guests are staying in 1 room, 4 in 2 rooms and so on. If you need to use rooms as single rooms (for example 3 guests in 3 rooms) please let me know, I'll try to give you the best quote for this option. So, just to be clear, usually you are not booking the "whole house" unless we agree this or unless you are 7/8 people. AIRBNB CALENDAR We keep airbnb calendar updated, but since our guests can book 1 room or the whole house, calendar can be misleading. For istance It could show a night as unavailable when a couple reserves a room on airbnb; but having 4 rooms, 3 could be still availble despite no availability shown; on the other hand, calendar could show one night as available and we could have one (or more) rooms booked through another website (we are not only listed on airbnb). So our calendar could show availability but we could only have some of the 4 rooms avaiable. This is why we kindly ask to always enquire when you are more than 2 people (or you need more than 1 room). Besides this, we would suggest to contact us even if you see that the rooms are shown as not available for the period you're interested: most likely there are availabilities. WHERE WE ARE We are 15 minutes drive from the main Bologna motorway exit of Casalecchio and from Bologna city center. We are located in the peaceful countryside on the gentle panoramic hills above the noise and heat of the city. You can reach Modena in an half an hour; Ferrara, Ravenna, Florence are daytrip you might consider using our place as a base; Venice is at about 1 hr and half from Bologna (both by car or by train). We are in the middle of the hilly countryside. If you need a bank, a supermarket, a gelateria, a bar you have to go to the closest village, 4 kilometers from our place. A wide range of gorgeous restaurants are at a few minutes drive (between 2 minutes and 15 minutes) HOW TO REACH US Basically you need a car (a vehicle) to reach us, public transport not being at a walkable distance (buses and suburban trains are at 4 or 8 kilometers from the house and on sunday service is very weak). This said , we might be able to offer a free pick-up service from the train station or the airport. If you are interested in using this service, please contact us in advance to ensure we are available on the days you plan to be here. Thanks for looking and welcome to Cherry Cat B&B!!!
LA ZONA ---------------------------- E' una zona di viticoltori e in generale di produttori agricoli ma soprattutto di ristorazione. La cucina bolognese trova su queste colline un infinità di trattorie e agriturismi di qualità e tradizione.
เป็นประสบการณ์การพักที่ดีที่สุดที่เคยไปเที่ยวที่อิตาลีมาหลายๆครั้ง. บ้านใหญ่ สะอาด และสะดวกสบายมาก. host ดูแลใกล้ชิดและช่วยเหลือดีมาก วิวสวยที่สุดครับ
Tong
2016-04-17T00:00:00Z
Simply Fantastic. Andrea always went the extra mile to ensure we had a comfortable and relaxing stay. His breakfast is of amazing quality whilst playing some great music to create a lovely atmosphere. Room was very clean and updated with great furnishings throughout the entire property. Truly a home away from home.
David
2016-10-16T00:00:00Z
We are travelling through Italy and thought of having a stop over. We found this BnB and booked online for one night. Big Mistake! WE SHOULD HAVE STAYED LONGER :) Andrea's home (BnB) is one of the best spots we have stayed in. His villa is even nicer than what you see in the pictures. It has been refurbished with taste. The views are Amazing (if available, ask for the room with the balcony that opens to an amazing view). The living area is tastefully decorated with serene music playing in the background. The coffee he serves along with the breakfast is super yummy. And most important of all, Andrea was a pleasure to chat with. He is such a wonderful man who clearly takes pride in taking care of his guests. And oh, when you are there, ask him about the secret restaurant hidden in a small village. Andrea will book you a table there. Just ask him. You're welcome ;)
Kevin
2016-04-25T00:00:00Z
The place and the views were absolutely amazing, accommodations were top-notch bedrooms and showers very nice. Internet access was not good to say the least. Great breakfast spread by the host every morning. really great recommendations from the host. It's a little strange that he is always around. But it would not stop me from booking here again.
Matt
2015-06-17T00:00:00Z
We cannot speak highly enough of Andrea and his beautiful home! As a host Andrea is so kind and welcoming, with great recommendations of places to see and where to eat at local restaurants. He was so accommodating to our every need, and the cooking class he organised with Signora Franca was a real highlight. The house is beautifully furnished and as soon as you walk in the door it feels like home - from the moment of walking down to breakfast every morning to seeing in the sunset with a glass of wine... Just perfect! Thank you Andrea, we hope to stay with you again next time we are in Italy.
Ellen
2015-04-14T00:00:00Z
What an unbelievable experience! Our Family of 7 was hosted by Andrea in an impeccable manner! The property, facilities and amenities were fantastic! Breakfasts surpassed any expectations! Andrea is a wonderful host. We would stay again, just longer next time! By the way, This property is positioned in the heart of Italian culinary excellence. Don't miss a tour at the a local caseificio to see how Parmiggiano Reggiano is produced!
Marino
2015-07-10T00:00:00Z
Andrea è stato disponibile e accogliente. Penso che i brani scelti durante la colazione (abbondante e bio) fossero davvero intonati con l'ambiente circostante, caldo, semplice ma interessante. Splendida collezione di riviste di arredamento e libri noleggiabili.
Davide
2016-03-14T00:00:00Z
Andrea is the perfect host. He made ourselves feel like we were at home in his beautiful house. The house is truly beautiful.
Ludovic
2015-08-08T00:00:00Z
Romtype
Helt hjem/leilighet
---
Eiendomstype
Bed & Breakfast
---
Plass til
8
---
Soverom
Monte San Pietro, Emilia-Romagna, Italia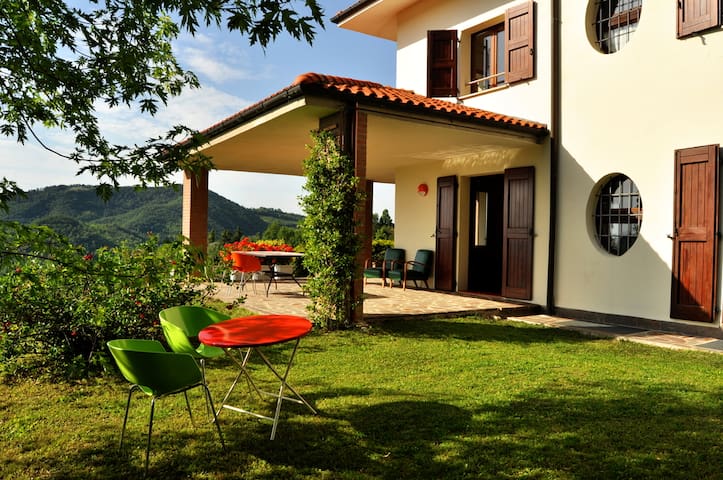 Near to Barberino di Mugello, deep in the green Tuscan hills, rise up an ancient farmhouse of the '500 with a wonderful view on the Bilancino's lake. Perfect for who loves the nature, peace and the sincere hospitality of the rural culture.
The property is located at about 15 minutes by car from the toll booth and about 35 minutes from Florence. The Bed & Breakfast's flats are two, the first with a double room and a wide living room, the second has 3 double rooms and a wide living room too. In both the flats there are also a bathroom and a kitchen. The furniture are rustic, typical of the Tuscan country, as well as the food that the family produce in biological way. The farmhouse is surrounded by 44 hectares of greenery, ideal for walk in wood in total serenity. Open all the year, available also for dinners or parties. Price: 20,00€/night for person, with breakfast included.
Quite an exciting stay! Having got lost trying to find this place without a satnav we were glad to arrive and be offered some bread, ham and cheese to fill up. Not a luxurious place but full of character and with an authentic rustic feel. Lovely fresh eggs and honey. Good value.
Jemima
2015-05-26T00:00:00Z
a beautiful stay!! far location in italy. perfect for a relaxing peaceful stay. nice farm with animals and nature. the host picked us up from the bus stop and drove us to all the stations!! very nice people. thank you so much
Sorah
2016-11-03T00:00:00Z
I had a great time here. Everything is so rustic and open. It was beautiful and very comfortable. Elena's father, Angel picked my friend and I at the bus stop and took us to the farm. I loved Ciro, an adorable dog that loves to play. Anything that we need they were happy to provide and breakfast was included. I would love to return again.
Gabriela
2016-04-11T00:00:00Z
We could only stay one night in this beautiful home, but could have easily stayed a week or more. Comfortable beds, a full kitchen, and serene setting. The host, Angelo, was very sincere and welcoming.
Julie
2016-06-01T00:00:00Z
We had a great time! This place is perfect to relax and to be around beautiful nature and animals (dogs, cats and don't forget the thousands fireflies in the dark). The Hospitality was very good en we really enjoyed our time, hopefully we come back again some day!
Sophie
2015-06-14T00:00:00Z
Nous avons apprécié le séjours en Toscane, Angelo, Fréderico et Lia étaient très accueillants. Nous avons eu beaucoup de plaisir à converser avec eux sur de nombreux sujets. les enfants ont été ravis de partager du temps avec les nombreux animaux de la ferme et les parents de goûter aux produits proposés par Angelo. Il est à noter toutefois que l'habitat est quelque peu rustique et que le chemin pour s'y rendre reste escarpé. Nous suivrons avec plaisir l'évolution de cet hébergement.
Géraldine
2015-08-15T00:00:00Z
L'accoglienza della famiglia de Il Sartino è stata meravigliosa... abbiamo apprezzato molto la loro generosità, l'attenzione ai dettagli e il piacere di condividere esperienze di vita campestre. Il luogo è incantevole!
Cecilia
2015-05-19T00:00:00Z
This home definitely was the winner during our stay in Italy. It is a breathtaking, scenic, peaceful and a beautiful location. Elena and her family were very kind and warm. We originally chose this home because we felt it would provide us with the true Italian, Tuscany, peaceful farm experience we were looking for. We enjoyed playing with the sweet animals in the farm and putting wood in the heating system. The house complex is beautiful! Seeing clay sculptures made by Elena's son Federico around the house was an added bonus. They provided us eatables such as crackers, jam, butter, toasted bread, an amazing tasting bottle of milk, etc. It is such a homie place that made it so difficult to leave. It is a paradise for us and for anyone who wants to wind down, get away and get a break from any crazy city. ZEN OF ITALY. ❤️ Elena! We love you guys and your home. Thank you for everything and offering us your home. It would have not been possible to have this amazing experience in Italy if you hadn't open your home so warmly to us guests from around the globe.
Neel
2016-11-30T00:00:00Z
Romtype
Helt hjem/leilighet
---
Eiendomstype
Bed & Breakfast
---
Plass til
10
---
Soverom
Barberino di Mugello, Toscana, Italia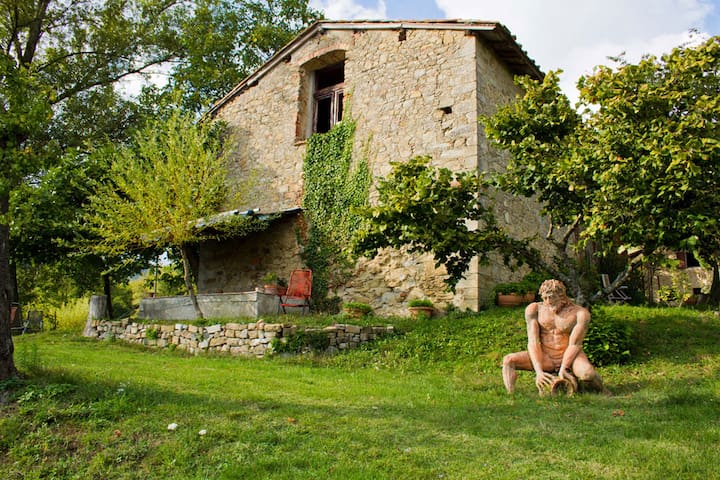 Leiligheten ligger mellom den fantastiske gamle historiske sentrum av Rimini og sin glitrende vannet. Godt tjent med transport, spesielt for Fair og 10 minutters gange fra konferansesenteret! Nabolaget er en av de mest fredelige og grønne byen!
Jugendstil Leiligheten ligger i en flott beliggenhet, kun 5 minutters gange fra sentrum av byen, hvor du kan besøke de vakre romerske arkeologiske steder som Augustus bue, kirurg og Bridge Tiberius, en 15-minutters spasertur fra stranden i Marina Centro (nummer 38-39 badevakt) og bare to minutter fra sykkelsti i parken, som forbinder den gamle byen til sjøen. Ikke for å utelate nærhet til det nye konferansesenteret! Kort sagt, er alt for hånden, jeg ville ikke endre plasseringen av huset mitt med ingenting i verden :)! Leiligheten er på 45 kvadratmeter og har også en nydelig balkong på 15 kvadratmeter for å kunne spise eller spise frokost i friluft! Huset består av et stort rom med et bord for 6 personer og en dobbel sovesofa. Badet har dusj og vaskemaskin til å vaske klær. Soverommet er lyse og store i størrelse, karakterisert ved et loft som øker mulighetene for bruk. Kjøkkenet er fullt utstyrt, med ovner, en stor ovn, kjøleskap og fryseren. Inne finner du alle de redskapene til å lage mat! I tillegg vil de bli gitt grunnleggende elementer for matlaging som salt sukker, kaffe, te osv .. Leiligheten har air condition og internett-tilkobling via optisk fiber. På forespørsel: - Mine foreldre, som er to malere, vil organisere kurs i maling og leire. - barnevakt. - sykler - croissanter og ferskt brød om morgenen Prisen er omsettelig for langsiktig, ta kontakt med meg for informasjon, ikke nøl! Meg og min familie vil alltid være glad og villig I innbydende og hjelpe deg i å ta de første skrittene i amenity av Rimini! Hvis ønskelig, til lave priser, Alice (I), uteksaminert i Conservation of Cultural Heritage, kan ta deg til Rimini og sitt vakre landskap og du oppdager smykker som noen ganger forblir skjult for turister.
stunnig beautiful place with a lot of charme, perfect to go into city center on bikes or foot, everything very clean and a bedroom to stay in for several nights.... Alice was very easy to contact, even gave us a little discount, and her mum made hommemade Ciambella for us! Only thing: no wifi (didn't work) and no breakfast (AirBnBreakfast...) Totally recommend staying there, unique place, beautiful interor. THANKS ALICE!!!
Annette
2014-05-27T00:00:00Z
It was great to stay in Alice's appartment. Her mother made a wonderful welcome cake that I used for breakfast 2 days in a row. The appartment is really nice, close to the center and beach, close to shops and breakfast places, close to the conference center where I spent my days. Good shower and kitchen, nice private place to sit in the evenings. Good wifi, so I could work optimally. I hope to come back with my family.
Leo
2016-09-17T00:00:00Z
Alice was very kind, and the flat was very clean and beautiful. Perfect to stay in rimini
Max
2016-05-30T00:00:00Z
Sono stata a casa di Alice per un week end lungo. Ad accoglierci c'è stata la mamma, con un'ottima torta fatta in casa che abbiamo spazzolato in brevissimo tempo. La casa è così come appare nelle foto, spaziosa, luminosa e accessoriata di tutto. Decisamente un'ottimo alloggio per due persone, o per due persone con due bambini in quanto la camera matrimoniale è molto spaziosa e ha anche due lettini.
Sara
2014-12-08T00:00:00Z
Ci siamo trovati benissimo, e la casa, ha rispecchiato le nostre aspettative. Posizione Centralissima e molto tranquilla.
Matteo
2016-07-10T00:00:00Z
Bello, pulito, accogliente.
Marco
2015-10-25T00:00:00Z
We had excellent time in Rimini! Alice and her family are very nice people, supportive and friendly. The apartment location is very convenient, close to everywhere:-) The apartment is very nice, just as on picture, maybe more:-) It was very clean and had everything we need to enjoy our stay. It is nicely arranged and easily accommodate 4 adults. The cake and wine was just very nice surprise and warm welcome after 10 hours journey:-) I am truly happy we choose this apartment. Definitely recommend it! Alice, thank you for everything! If we can, we will stay longer!
Jitka
2014-06-13T00:00:00Z
Wir haben fantastische 2,5 Wochen in der Wohnung von Alice Familie verbracht. Die Lage ist sehr gut. Zum Strand sind wir immer mit Fahrädern gefahren. Altstadt ist grad in der Näher. Alice und Ihre Eltern sind sehr freundliche Menschen. Wir wurden mit leckeren Kuchen und Wein begrüßt. Die Wohnung ist sehr sauber und gemütlich. Alles was man für den guten Urlaub benötigt ist vornanden. Alice, danke für die Ratschläge. Wir kommen bestimmt wieder und werden die Wohnung weiter empfehlen.
Elena
2014-08-28T00:00:00Z
Romtype
Helt hjem/leilighet
---
Eiendomstype
Leilighet
---
Plass til
6
---
Soverom
Rimini, Emilia-Romagna, Italia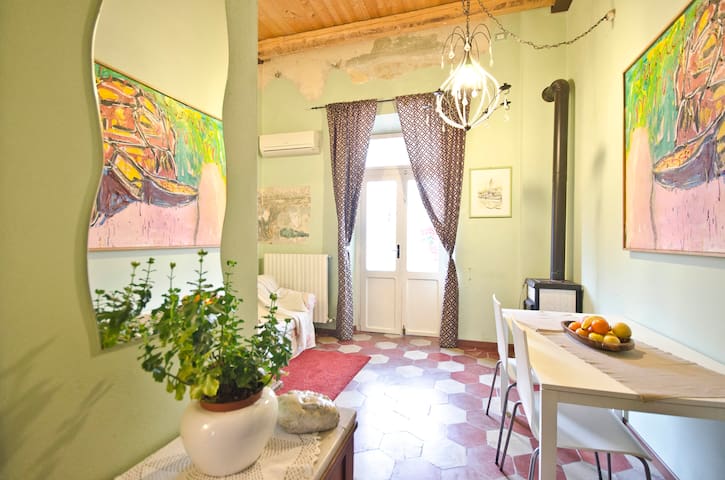 un bilocale con possibilità di altri 2 posti letto su richiesta ... la famiglia è titolare di azienda agricola biologica
double room, light walls have exposed stone
the village of Pitelli is known for its tradition of hospitality and peace, it will be easy to make friends, drinking a coffee at the bar or enjoying the "focaccia "
Apartamento acogedor, cómodo y moderno, con aparcamiento privado reservado.
Alfredo
2016-09-24T00:00:00Z
Ottima accoglienza, casa molto bella in borgo suggestivo. Consigliato vivamente.
Giacomo
2016-06-06T00:00:00Z
Dire Che siamo state bene é dire poco! Bellissimo il paesino - Pitelli - e l'appartamento, curato nel dettaglio e con una vista pazzesca; un gioiellino insomma! Federico e la sua famiglia ci hanno fatto sentire a casa e sono stati gentilissimi e disponibilissimi! E poi che dire delle loro marmellate?? Esperienza da 10+!! Peccato solo aver perso la festa di paese..
Elena
2015-08-07T00:00:00Z
The apartment and the village of Pitelli are the same - cozy, charming, and calm. We loved walking around the village. The apartment is very clean and comfortable (a little tight for 4 people as its just 2 rooms, but nice beds). Gorgeous new bathroom. Federico's father greeted us and was very sweet and kind. The parking spot is huge (by italian standards, decent sized for americans). Nice stay.
Alexis
2016-06-19T00:00:00Z
Federico est un très bon hôte ! Toujours là pour répondre à nos questions et nous donner des bons tuyaux sur les visites ou les restos ! C'etait très agréable. L'appartement était irréprochable niveau ménage ! Un vrai plaisir !!!
Elsa
2016-05-09T00:00:00Z
Federico nous a chaleureusement (URL HIDDEN) s'est assuré rapidement de nous présenter le logement. Il nous a proposé des activités et des restaurants dans la région (vrai guide touristique). Le logement est très confortable et très joli. De plus, il est bien équipé et le lit est confortable. Il est situé dans un village (URL HIDDEN) plus, nous n'avons eu aucun mal à stationner. Il avait prévu un stationnement privé. Nous recommandons ce logement sans retenue.
Gilles
2016-06-09T00:00:00Z
Arrival timing (getting the key) seemed a bit complicated but it worked out fine in the end. Nice place, nice village, nice people.
Jan
2015-07-08T00:00:00Z
This was a last minute booking for us and Frederico responded right away and had his father meet us personally. The place was adorable and had lots of little extra touches that made our stay perfect. Frederico's father greeted us personally since Frederico was away on business.
Jerry
2016-10-13T00:00:00Z
Romtype
Helt hjem/leilighet
---
Eiendomstype
Bed & Breakfast
---
Plass til
4
---
Soverom
Pitelli, Liguria, Italia
Oppgi datoer for å se fullstendige priser. Ekstra gebyrer gjelder. Skatter vil kunne tilføyes.