Perfect for a stay for skiing at boreal. Beds were comfortable and very clean home.
Danielle
2017-03-12T00:00:00Z
Clean place with plenty of space. Can be a bit hard to find when there's a lot of snow, but it's in a nice spot.
Ewan
2017-03-26T00:00:00Z
The host is very nice and answered all my questions. This house is very nice and clean. Very convenient location, just next to boreal ski.
Kumi
2016-12-26T00:00:00Z
Great place to stay in if you'd like to ski or snowboard at Boreal!
Sergio
2017-01-15T00:00:00Z
Great place to come during anytime of year. It was hard for us to get in as we had to shovel snow away from all along the front as it was 'snowed in'. We did come after a huge storm so the huge snowdrifts were unexpected. Also the power went out which probably doesn't happen often. lovely place and got a refund from AirBnB for first day road closure on E-80 Interstate. We also had to 'borrow' a guy with a front loader snowplow from Boreal to clear the unloading area. In all fairness the bobcat excavator came to clear snow there the next day.
Michael
2017-01-13T00:00:00Z
Beautifully remodeled and conveniently located, this condo is fantastic! We never even had to leave the property.
Jennifer
2016-12-29T00:00:00Z
Nice and warm flat in boreal. Close to the road.
Raphael
2017-01-01T00:00:00Z
Super nice place to stay right next to Boreal
Chris
2017-03-31T00:00:00Z
Romtype
Helt hjem/leilighet
---
Eiendomstype
Hus
---
Plass til
8
---
Soverom
Truckee, California, USA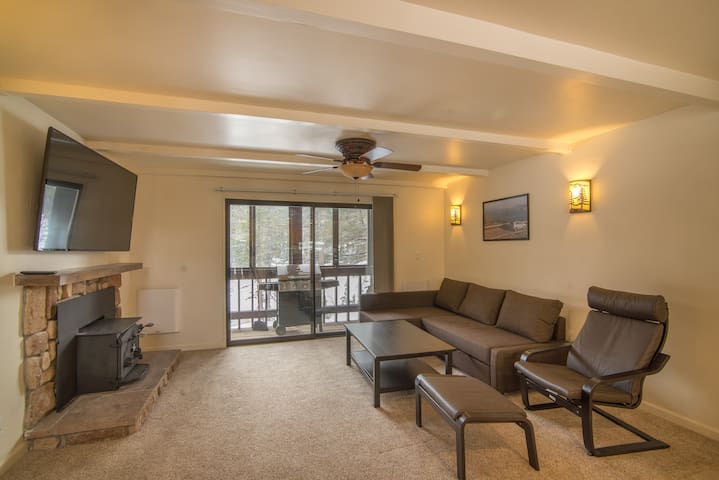 This place is amazing and Jenny was wonderful. The chalet is huge, with distinct areas so people could escape when they wanted to, as well as come together in the wonderful communal living area. From the heated floors which dry ski gear to the upstairs bunk room perfect for kids, it's everything you could hope for in a ski vacation. The perfect chef's kitchen - if you cook, you will love this place. From the French cookbooks to everything you need stocked in the cupboards, it was a really easy place to prepare Christmas dinner for the house. The village was really welcoming with Village Services very responsive - just a note that it's genuinely slopeside, so there is no access by car, you need gondola or snowcat to get to the house (which is extra magical but challenging in a snowstorm!) Jenny is responsive and friendly and really over-delivered when we had some mid-week requests. Will definitely stay here again!
Ed
2015-12-28T00:00:00Z
The Sugar Bowl Slope side Ski Chalet was beyond perfect for our large family celebrating Thanksgiving! The living/sleeping space was large and accommodated everyone. The Kitchen was even better than described with extra stove stop areas and additional fridge space. Jenny was great about communicating from the time of reservation to the time of departure. She addressed all of my questions immediately for the weeks leading up to our stay. I was also very impressed with Sugar Bowl. The staff was beyond accommodating, especially when we had 18 inches of snow over the weekend.
Christine
2016-11-27T00:00:00Z
Romtype
Helt hjem/leilighet
---
Eiendomstype
Hus
---
Plass til
14
---
Soverom
Truckee, California, USA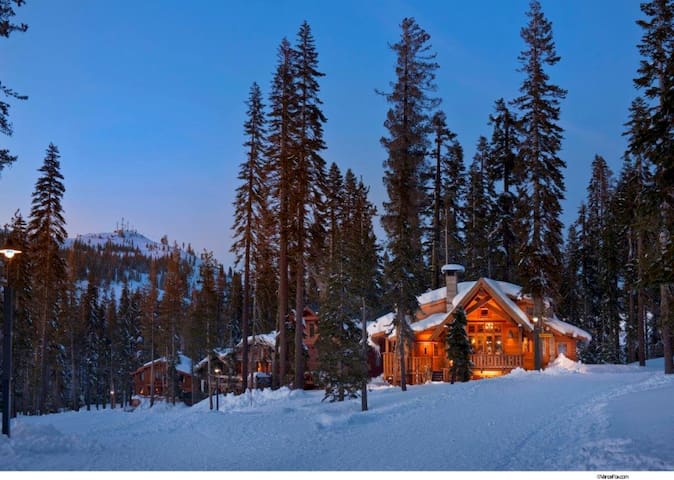 Really nice place. Perfect to ski sugar bowl.
Holly
2017-02-04T00:00:00Z
Amazing! Marc's home was stunning, and him and his family couldn't have been more accommodating.
Colby
2017-01-29T00:00:00Z
We had a lovely stay! Cozy cabin in the snowy woods. For those of you unfamiliar with the area, Donner lake is Tahoe's smaller, cuter brother. Easy access to Truckee (grocery stores, great restaurants etc.) and most major ski slopes are a short drive away. Marc was super accommodating and pleasure to deal with. The neighborhood was easy to access even after a huge snowstorm and the neighbors were all super friendly. Great place to stay for a family or with a group of friends!
Val
2017-01-16T00:00:00Z
Great, newly renovated place, cozy kids room and close to Donner Skiing and sledding. Marc was attentive and texted to make sure we got in ok. Overall great weekend. Thanks!
Nasha
2016-02-08T00:00:00Z
We loved staying in this comfortable, updated and tasteful cabin. It fit our party of 3 couples and two small children perfectly. The beds and furnishings were very comfortable and the decor was on point. There cabin is located close to the freeway and downtown Truckee, and in a nice neighborhood. The Hosts Marc and Kaye, were easy to work with and responded to questions right away, and even sent us a message upon arrival to make sure we got into the house okay and to see if we had any questions. We would definitely stay again!
Olivia
2016-02-15T00:00:00Z
Romtype
Helt hjem/leilighet
---
Eiendomstype
Hus
---
Plass til
6
---
Soverom
Truckee, California, USA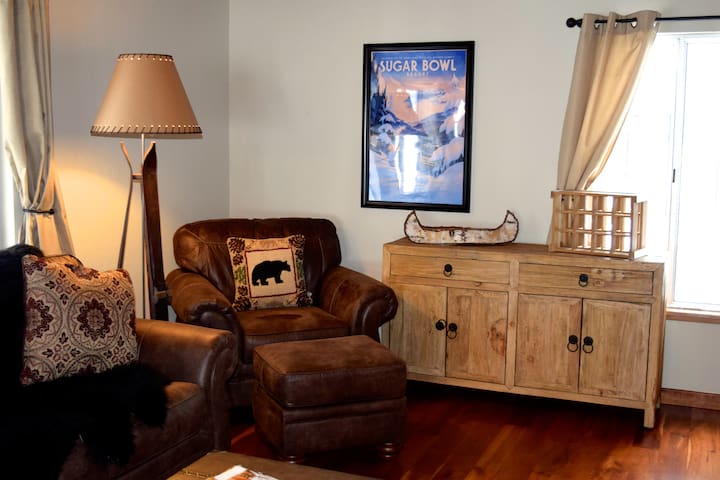 Grass Valley Oceňovaná "zelené" jezera útočiště na samotě, 8 akrů lesa. Uhnízděný v horách skleněné stěny tohoto současného domova zcela otevřený do lesa a nádherným výhledem na jezero. V Sunset Magazine, zcela off-grid, to vitrína domov je ideální pro romantickou dovolenou. Soukromé stezka k jezeru a kánoe pro hosty. 10 minut od historických měst zlaté horečky. Navržený renomovaným architektem, Michelle Kaufmann. Podívejte se na naši Lotus Lake House webové stránky pro hodnocení hostů. "Sestavit to Green" a "Udržujte Sierras zelenou" certifikaci. Pes příjemný.
Quite a majestic place. If you love design in any medium, you will without a doubt enjoy this fine piece of architecture, AND if you love the great outdoors, THIS is the place for you! I had stayed here a total of 5 days, enjoyed serene views, canoed every single day, and disconnected from the 'world'. I can't say I've enjoyed a road trip so much, and I've been on quite a few. This one will stand out in my memory for a long time. Barrie / Tod are also incredible hosts, they did everything to make our stay welcoming, icing on the cake. Will definitely be coming back here.
Charles
2011-08-12T00:00:00Z
Great place, great location. Would love to visit again.
Sankaet
2017-01-02T00:00:00Z
We loved this quiet get-away. Tod was super accommodating, and at the cabin, was a lot of information, as well as board games, dvds, music (because there is no internet connection at the cabin). It really felt like everything we needed was there, just bring our food and clothes! We were also surprised to find a small canoe we could use. My husband is an experienced canoer, so we were able to take it out a little. Super nice. Would definitely recommend!
Jennine
2015-03-31T00:00:00Z
Had a really great stay at the Lotus Lake House. The house is beautifully designed with a lot of great details, and the stars at night from the deck (which is awesome) are amazing. The kitchen is well-equipped, and there's a canoe available to explore the lake if you're adventurous. Highly recommended if you're heading to the Grass Valley area.
Sean
2013-03-04T00:00:00Z
Incredibly cozy and relaxing! Everything you need is there to really enjoy your time in the middle of nature. Saw and heard lots of animals (and few human noises- boats). The lake is much closer than it appears in the picture. Couldn't ask for more!
Steph and Byron
2015-04-07T00:00:00Z
We had a wonderful time at prefab green glass house. Checking in was incredibly easy. We loved opening the glass doors onto the deck, it made the space feel so much larger and more open. The view is beautiful - tall trees and the lake. We loved canoeing (and capsizing). It felt very private and spacious.
Melissa
2015-04-20T00:00:00Z
We had a great time at the Lotus House. Barrie & Tod have created a lovely place for you to enjoy. We loved that the kitchen and outdoor grill are perfectly primed for use. The evenings and mornings were as quiet as anything I have ever experienced, very relaxing. The house setting, nestled into the pine forest overlooking the nearby Rollins Reservoir was beautiful. We also enjoyed taking the canoe out onto the reservoir in the early morning to experience the shifting light over pristine waters before others appear. The house is a 10-15 minute drive to the town of Grass Valley and be sure to visit the fascinating Empire Mine for a gold rush experience. 5 miles further is another gold rush town, Nevada City.
bryan
2015-05-04T00:00:00Z
We had a fantastic stay. The cabin is just amazing, a perfect retreat in the woods. Bring enough food for your entire stay, you don't want to leave the place for a even second while you're there. And cooking with all windows and doors open in the middle of a forest, breakfasts on that patio, just perfect.
Jan
2015-07-13T00:00:00Z
Romtype
Helt hjem/leilighet
---
Eiendomstype
Hus
---
Plass til
2
---
Soverom
Grass Valley, California, USA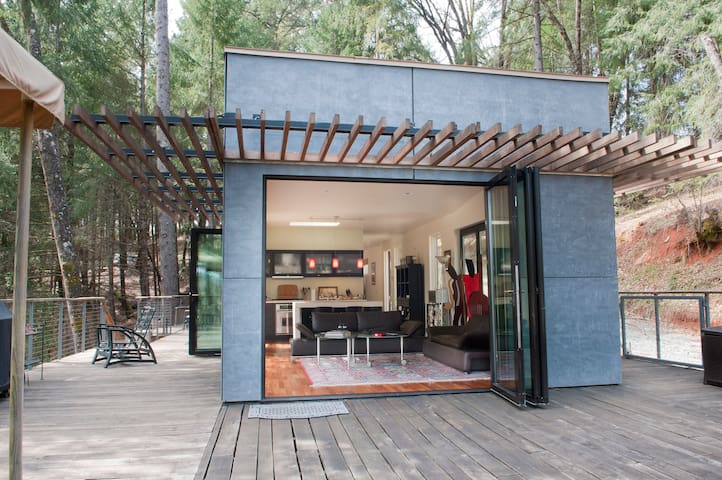 The house is beautiful and well furnished. A stunning view, but a drive way that could be difficult for some divers or vehicles, but well worth it
Rene
2017-04-01T00:00:00Z
Romtype
Helt hjem/leilighet
---
Eiendomstype
Hus
---
Plass til
6
---
Soverom
Grass Valley, California, USA
Nuestra casa de campo amplio y acogedor ofrece lo mejor de ambos mundos. Esto, entorno rural privada se encuentra a pocos minutos de Grass Valley y Nevada City; El encanto de la pequeña ciudad histórica y la cultura. Aventura hacia fuera para un viaje de un día a Truckee, Lake Tahoe, o el río Yuba - o quedarse local y explorar hermosa senderismo / senderos para caminar, restaurantes fantásticos y bodegas cercanas. Disfrutar de una escapada romántica, retiro solitario pacífica o reunión familiar en nuestro acogedor hogar lejos de casa.
Este colorido, único de cabañas está totalmente equipada con todo lo necesario para una estancia relajante: * Amplia cocina, bien equipada (nevera llena / congelador, licuadora, tostadora / horno tostador, cafetera y tetera, horno de gas / estufa) * Amplia sala de estar / comedor (sofá-cama de tamaño completo addtl 'en el salón) * Dos dormitorios (cada uno con baño adjunto) situados en lados opuestos de la sala de estar * Chimenea con los registros ardientes instantánea proporcionó * Televisión por cable completo con streaming de Internet y reproductor de DVD (tenga en cuenta que nuestra señal wifi es típicamente fuerte, pero la capacidad de transmisión de video puede ser intermitente con mal tiempo)
Chicago Park es una zona pintoresca, pastoral a las afueras de Grass Valley. Una pista de caminar preciosa bordea la propiedad y teje a través de las granjas de los alrededores y vecindario. Una oficina de correos y almacén de país bien surtido son a muy poca distancia.
Had a great stay in this spacious, clean, adorable cottage!
Katy
2017-02-20T00:00:00Z
This was the best overall AirBnb experience we've had. Meg & Lucas were friendly, responsive, clear communicators. The cottage (not to mention the overall property) is gorgeous, comfortable, and well-appointed. Everything about the stay was easy and pleasant. Only minor issue - internet was kinda slow, but you're not going out there to just spend time on the computer/netflix anyway, and we were able to use our mobile hotspots easily enough. All in all, we can't wait to go back!
Saran
2017-04-03T00:00:00Z
Romtype
Helt hjem/leilighet
---
Eiendomstype
Hus
---
Plass til
4
---
Soverom
Grass Valley, California, USA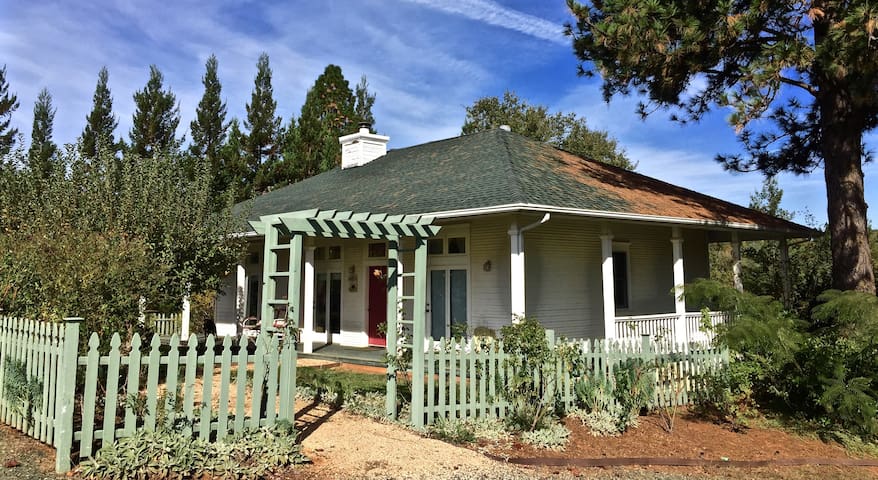 Dette er et nylig bygget (2014) hus i landlige omgivelser med sesong dam, stor uteplass og privat sted. Det er perfekt for helse / yoga / karosseri og samlinger for små grupper eller venner og familie.
* Nybygde med kjærlig omsorg * Soveplass til 6-8 personer pluss camping * Åpen planløsning * Strålevarme etasje * Fullt kokkens kjøkken og grill * Stor uteplass * Private innstillingen 15 minutter fra Grass Valley / Nevada City / Colfax
Tur- / gang- og sykkelstier innen 10 minutter Vinprodusenter innen 5 minutter Rollins Lake 10 minutter Yuba River 30 minutter Ski 35 minutter Lake Tahoe en time
Great sanctuary, totally relaxing, Janice and Jim were awesome! Family of deer with a few week old fawn hung out with us on the lawn!
steven
2016-09-11T00:00:00Z
Wonderful house and setting. Perfect to accommodate our kids, and grown nieces and nephews -- who had a great time playing Uno in front of the wood burning stove. At night, looking up into the abundance of stars reminded me of the poem: Meet me in the stars, I'll be waiting there for you. With a bottle of wine and glasses for two. Just close your eyes and there you will see, Waiting in the stars, just for you I will be. Lovely way to end our vacation in California!
Janice
2016-12-29T00:00:00Z
Photos don't do this home justice. Granted the drive is not for the inexperienced driver but we'll worth it. The private and calm wide-open feel allows for a unique and calming experience. The details and care out into this home is outstanding without feeling staged or unwelcoming. From heated floors to the rain style shower head. It was all in all transforming.
Yazmin
2017-01-15T00:00:00Z
The sunshine house was wonderful! It was peaceful and serene. We loved everything about the house. The house itself was beautiful, not only did it have every possible convenience but it was also charming and inviting. Jim and Janice were wonderful hosts and they were super helpful. We had a great time and we are planning to go back and enjoy it some more.
Rie
2016-02-24T00:00:00Z
What a lovely serene and calm setting for our party. The swings and hammock gave way for lovely afternoon conversations and relaxation. Janice was incredibly receptive to our needs and handled issues promptly. Would have stayed there for a week!
Adriana
2014-09-02T00:00:00Z
Such a wonderful home in a wonderful setting! Very thoughtful hosts that thought of everything. Definitely would like to return in the near future for a longer, even more relaxing stay. If you need a place to unwind, this is it!
Robert
2015-02-16T00:00:00Z
We had a great stay at the Sunshine house. It went above and beyond our expectations and was incredibly private and peaceful. We were a group of 6 adults and a baby and we were quite comfortable. We hope to make it back again!
Maya
2016-07-19T00:00:00Z
Our stay at the Sunshine House was such a surprise gift. Though the roads were windy and many to get there - once we arrived, the spot was more than we could have asked for. The home provides privacy with a tall gated fence that surrounds the grounds. Once we arrived inside we were greeted with multiple spots of indoor and out door relaxation. There were so many details that were thoughtful and beautiful - from the fresh flowers, new and very clean wooden floors/granite counters/rain fall shower and outdoor sauna, to the fully stocked kitchen, meditation music and teas, and soft, clean linens. Our family enjoyed their pond for a swim and the hammock and swings for reading time. We visited Grass Valley for a family wedding and this spot was more restoration than we had ever imagined for our trip. Jim and Janice were lovely hosts - always accessible and helpful, but respectful of our family privacy. We would 5️ highly recommend their spot to any retreat seekers or families (children elementary school age & up).
Melinda
2015-08-17T00:00:00Z
Romtype
Helt hjem/leilighet
---
Eiendomstype
Hus
---
Plass til
8
---
Soverom
Grass Valley, California, USA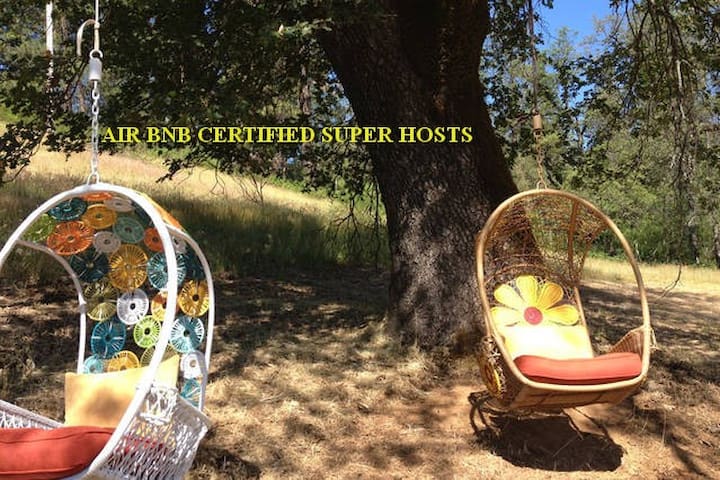 My stay was Lovely , and Franceska was a fine host.
Schezel
2016-11-26T00:00:00Z
This house is amazing! The house looks very nice in the pictures, but even they don't do it justice - it's spacious, gorgeous, and well decorated! Everything in the house is new, shiny, and well laid out. We loved her kitchen layout so much that we've decided to some day build the same kitchen in our future home! There are two separate (large) living rooms, one with carpet and one without, which was pretty nice if we needed space from each other. The bedrooms are large and clean. We had our baby sleeping in the upstairs room - it was so far away that we could hang out downstairs without waking him. Franceska was professional and available but left us alone to do our own thing, which we really appreciated. Fantastic value for this luxury house!
Robbie
2016-12-30T00:00:00Z
Open, spacious, well lit home. Close to stores and restaurants. Short drive to downtown Grass Valley and Nevada City. Easy communication with host. Our teens had upstairs to themselves and we grown-ups enjoyed having the main floor. Looking forward to our next visit.
Ruth
2017-01-06T00:00:00Z
Franceska was a wonderful host! This house is incredible!!! It's so spacious and the openness creates such beautiful energy. The hardwood floors are gorgeous and the shower a reeeeaaal treat! The kitchen was my favorite place to play in as the design is artful and spacious. I would recommend this place to all people visiting gold country as it is so conveniently located yet you feel privacy and have the enjoyment of porches and a nice accent trees to feel nature.
Whitney
2016-10-07T00:00:00Z
I can honestly say that this was the nicest Airbnb space I've ever stayed in! It is a new (or updated) home that is open, light, bright, clean, nicely decorated, with LOTS of space, a fully equipped kitchen, 2 sweet decks in the back and a great vibe. Since we were a party of 4 (2 couples) I loved the separation of space, with 2 levels and a bedroom and full bath on each level. We took advantage of the kitchen, cooking our breakfasts and some lunches there, and eating either on the back deck or nice dining area in the house. Franceska provided lots of great books, and the house is conveniently located right near a shopping area and the freeway, yet was amazingly quiet and peaceful. The internet works well, which was a relief! Both levels of the house have back decks looking out to the peaceful backyard. Very relaxing. And the upper level has a huge loft area the size of a large living room, that is carpeted and perfect for doing yoga. This place was a winner in all ways.
Jennifer
2016-10-24T00:00:00Z
Romtype
Helt hjem/leilighet
---
Eiendomstype
Hus
---
Plass til
6
---
Soverom
Grass Valley, California, USA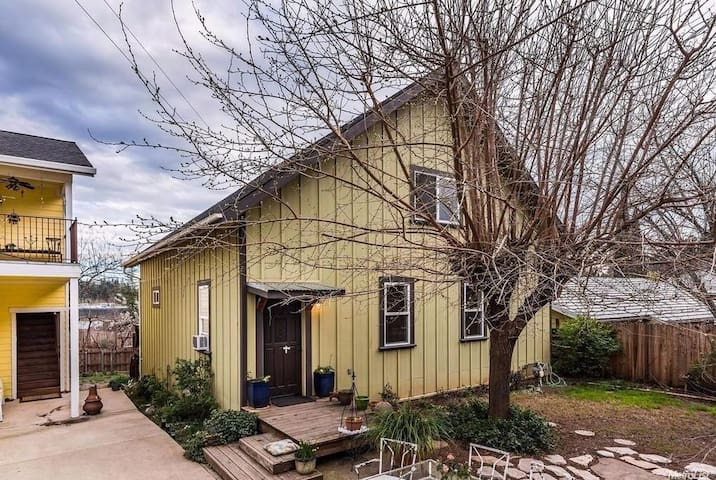 Belle maison sur 5 arpents calme près de la ville et Grass Valley historique Nevada. Regarder le lever du soleil du lit ou se détendre avec un verre de vin par l'une des cheminées.
Cette maison est vraiment une œuvre d'art. Promenez-vous dans le magnifique jardin japonais pour accéder à la 2 entrée histoire dramatique qui segues dans la grande chambre spacieuse. Les grandes fenêtres captent une vue étonnante qui est rythmé par une cheminée en ardoise naturelle et foyer. Salle à manger est une 1ère expérience de classe dans la salle à manger avec vue imprenables sur le pont de l'artiste qui étend l'espace de vie extérieur, tout ouvert à la cuisine de cuisinier bien équipée. À l'étage principal est la grande suite parentale complétée avec une grande salle de bains avec une lucarne au-dessus de la baignoire. Aussi à l'étage principal est une deuxième chambre avec un balcon et une salle de bain à proximité par une porte coulissante et de les séparer de la maison principale la création d'une aile privée. L'escalier circulaire vous amène à la suite en bas qui a aussi une porte coulissante pour l'intimité et un petit balcon, une salle de séjour avec une cheminée et une télévision, une chambre et une belle salle de bains. La maison est ouverte et pleine de lumière avec une ambiance sophistiquée et confortable. Il y a 32' TV et un lecteur DVD et une bibliothèque de films dans la suite inférieure pour le divertissement.
Il surplombe les montagnes de la Sierra, il est très calme et tout à fait mais il est à seulement 10 minutes de toutes les commodités.
This house is even more beautiful in person! It is very spacious, beautifully decorated, and amazing to wake up with a beautiful sunrise from the master bedroom. We had a wonderful time & Ildiko was a great host! She kept in touch with me and made sure we checked in ok. Absolutely would recommend this place to anyone looking to relax in a peaceful environment!
Vanessa
2017-01-16T00:00:00Z
Ildi's house in Grass Valley was a true gem for our New Year's Eve mountain getaway.  The house is perfect for a family/friend vacation nestled in the hills with amazing views from almost anywhere in the house.  The master bedroom was recently renovated and you can truly appreciate all the thought and detail that went into it.  Your pick of three fireplaces - the common area, the master bedroom or the bedroom suite downstairs.  Fully stocked kitchen, lots of outdoor space.  It was also a pleasure to meet Ildi and her husband - very warm and helpful hosts.  Ildi greeted us with a plate of freshly baked cookies.  We would LOVE to stay again and couldn't recommend it enough.
Osvaldo
2017-01-01T00:00:00Z
Our stay hosted by Ildiko and Ken was very nice. Upon arrival the power was out but they had a generator and gave us good instructions on it's use and had a warm fire to greet us. Luckily the power returned during the nite. The location was very private and we enjoyed an easy day trip to Lake Tahoe from here. The house had everything that we needed to make our stay comfortable. I would highly recommend staying here.
Joanne
2015-01-03T00:00:00Z
We felt totally welcomed by Ildi when we got to her fabulous home. She showed us around the house and where everything was. It was absolutely perfect for our family of 5 for the 3 days that we were there. There was everything we needed for a comfortable stay. And we were able to be in touch with Ildi if we had any questions about anything at all which was wonderful. The scenery from the decks is absolutely glorious. There is no doubt that we will go back there some day if we ever have the chance.
Cynthia
2015-07-26T00:00:00Z
Iidiko was an excellent host and the listing was perfect. The view from the patio were amazing and the entire check-in and check-out process was seamless. Will definitely come back!
Esete
2016-02-15T00:00:00Z
Ildiko's house is a dream house in scenic and peaceful Grass Valley. We reserved the house for 3 families with 3 young children, for a snowy get-away at the Soda Springs resort. The house is simply perfect. Warm, cozy, welcoming and refreshing. Kids had a lot of fun. Ildiko won their hearts by snow man chocolates as welcome treats :) We started admiring each and every artifact, painting and exquisite arrangements the moment we reached. You are sure to loose track of time here. Away from all the hustle bustle. Ildiko is a very caring and warm hearted host. She was regularly in communication. All the Do's and Don't were clearly stated. She made our stay pleasant and refreshing. Kids (and parents too) already want to go back and visit the house. Looking forward to many more get-aways in Ildiko's dream house. -Jyoti
Jyoti
2017-02-20T00:00:00Z
Ildi was great and so was the location. Very accommodating and made for a perfect gathering for our group of friends during news years. Great for games, cooking, watching a movie among a group of friends downstairs, or enjoying the fireplace with the amazing view outside. The locations nearby were also great, a hike next to Yuba River on some icy waters followed by the cute historic Nevada city made it for a perfect getaway!
Kjeld
2016-01-04T00:00:00Z
It was an amazing home with an incredible view! Definitely stay here!! The house is super clean and the owner is really helpful. It was even more beautiful than the photos.
Samantha
2016-07-25T00:00:00Z
Romtype
Helt hjem/leilighet
---
Eiendomstype
Hus
---
Plass til
7
---
Soverom
Grass Valley, California, USA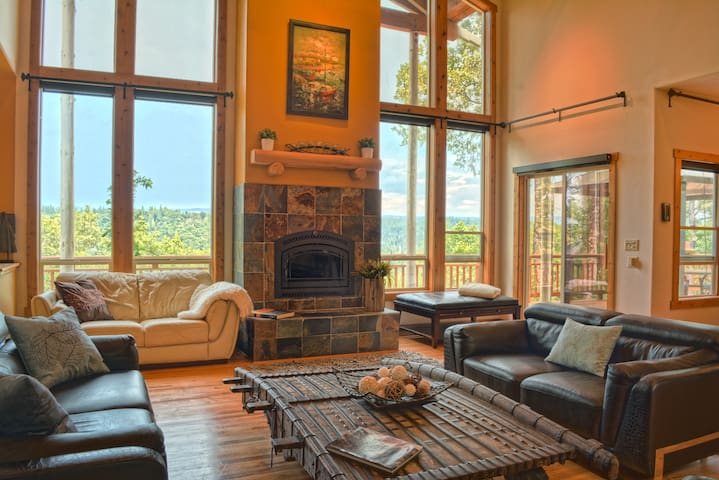 It's a very nice secluded little cottage that's not far from the nearest town. When we arrived there were cupcakes in the kitchen along with a little coffee/tea/hot chocolate station and all of the necessities. It's really just a beautiful little house that makes you feel at home as soon as you walk in the door. We had a wonderful time staying here and are likely to come back.
Marielle
2017-01-03T00:00:00Z
Such a pretty place! It was even more amazing than the photos. And so we'll equipped. So nice to have coffee and other treats.
Thisbe
2016-12-28T00:00:00Z
We had a wonderful stay at Cindy's cottage in Grass Valley! The house was located in a beautiful wooded area, very quiet, but only a few minutes drive from Grass Valley shops & restaurants. Easy trip up to Donner pass or Tahoe to play in the snow. The house was very clean, cozy, and very nicely decorated. Great kitchen with everything needed to do some cooking. Beds were very comfortable too! Co-host Chris was very helpful and responsive, and in addition to the variety of packaged treats / toiletries the house was stocked with, even left us some homemade muffins for our stay! This was a perfect weekend getaway to the foothills. Would definitely go back / recommend.
Jeff
2016-12-26T00:00:00Z
Great place for family to meet and stay
Howard
2017-02-19T00:00:00Z
Romtype
Helt hjem/leilighet
---
Eiendomstype
Hus
---
Plass til
5
---
Soverom
Grass Valley, California, USA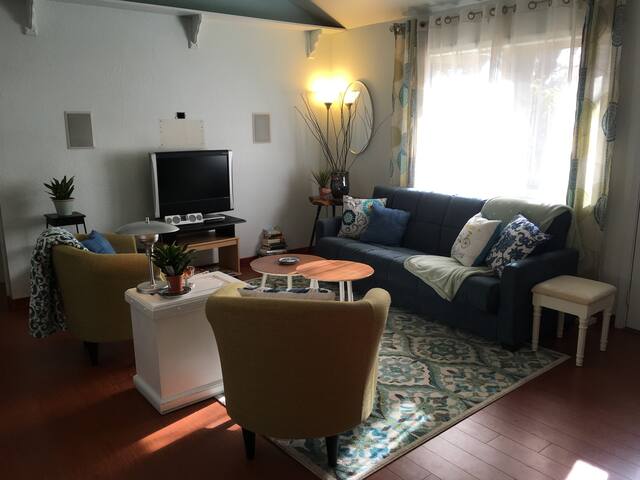 Patricia is such an awesome gal. I had a fabulously wonderful, quiet and comfortable stay at her house. She goes above and beyond as a host: leaving a nice tasty treat for the morning for you. Everything about her home is pleasant and I look forward to returning in the future.
Lauren
2015-06-22T00:00:00Z
I loved Patricia's place, which is a quick drive to the uber-hip Nevada City yet has the feel of being in the forest, peaceful and surrounded by the fragrant pine trees of the Sierra. The room is charming, tasteful, and, indeed, cozy. Patricia was pleasant and easy to deal with from the initial reservation to the post-checkout ( I though I'd left my book there!) Polite, kind, and thoughtful, she is an excellent host who loaned me her sewing kit to sew on a button - and I loved her cat! A nice respite on a busy trip, and as a woman traveling alone, I appreciated a place where I could feel entirely safe.
Susan
2014-07-11T00:00:00Z
Another pleasant stay. Patricia had good recommendations for places to check out nearby--we were able to find a nice swimming hole and a place to hang out by the river. Thanks, Patricia!
Kristi
2014-09-02T00:00:00Z
A wonderful place to stay! Patricia is very welcoming and the room is exactly as listed. A nice bedroom with a private entrance to a lovely patio area with a relaxing view of the trees. I would highly recommend staying here.
Lakota
2015-09-07T00:00:00Z
Patricia made me feel right at home!! The home was easy to find, and the room was so beautifully set up for me with clean, fresh towels on the end of the bed! The space was clean, cozy and very welcoming after a busy weekend of travel! Plus, the bed was very comfortable :) Patricia also provided very nice company over a deliciously included breakfast. I would recommend Patricia to ANYONE! Thank you so much!! :)
Lisa
2016-05-09T00:00:00Z
Patricia was a wonderfully kind and friendly host. She made sure that we had everything we needed, and gave us a nice brunch recommendation in town that we enjoyed. The bed was very comfortable and we felt well rested for our trip to Northstar. Her cat is friendly as well.
Albert
2015-03-02T00:00:00Z
Lovely home and natural, engaging conversations with a warm, easygoing hostess. Great sleeps in a peaceful environment.
Joseph
2015-03-30T00:00:00Z
Patricia was a wonderful host. She was warm and welcoming and made sure l had everything l needed. The home was in a beautiful neighborhood and the chair swing on the patio was great. Simba the cat is a talker but will quiet down and purrrrr if you pick him up. Of course, if you are not a cat person, he'll probably know that too. Great place, great price, great host. If I come back to GV I'll be back. Thank you, Patricia.
Summer
2014-06-08T00:00:00Z
Romtype
Privat rom
---
Eiendomstype
Hus
---
Plass til
2
---
Soverom
Grass Valley, California, USA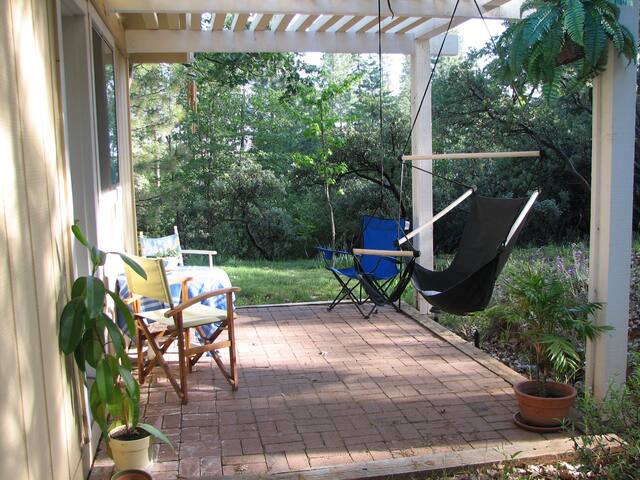 The bed is super comfy
Trevor
2017-04-02T00:00:00Z
We enjoyed staying at Ildi and Ken's downstairs suite with a beautiful view overlooking the forested mountains. They graciously welcomed us in to their gorgeous house and we quickly bonded with them over woodworking and world travels. The downstairs suite was the perfect place to relax after our days of traveling between Nevada City, Grass Valley, and the surrounding recreation areas for a weekend. We couldn't imagine a better and more peaceful retreat! Ildi was eager to meet any need we had. Our last day, she invited us up for homemade crepes and they were delicious. Thanks for being great hosts!
Brad & Kalie
2015-01-19T00:00:00Z
We had a wonderful stay at Ildiko's beautiful, mountain home. The suite was both roomy and comfortable. The views overlooking the valley and mountain beyond was awesome. Truly a memorable trip. Thank you!
Cheryl
2015-02-16T00:00:00Z
Quick response and a very easy in out process, the fireplace and views were perfect. Very clean, modern, private and QUIET :)) Great host!
Greg
2017-03-11T00:00:00Z
While visiting in Nevada City area, We found Ildiko listing on airbnb and book the room for 4 days. What a amazing place to stay. Very tranquil and relaxing and such a nice place. Ildiko and Ken were such great host too and always checking in to make sure we were okay and made sure we felt comfortable during our stay. You couldn't ask for a better airbnb experience. I would highly recommend staying here while visiting the Grass Valley, Nevada City areas.
Ray
2015-10-24T00:00:00Z
We really enjoyed our stay at your home, the downstairs area was very private, clean and comfortable. We also appreciated your recommendations for restaurants and talking to you both in the morning! We'd love to come back during another season so we can enjoy the welcoming porch!
Amanda
2017-02-26T00:00:00Z
Romtype
Privat rom
---
Eiendomstype
Hus
---
Plass til
3
---
Soverom
Grass Valley, California, USA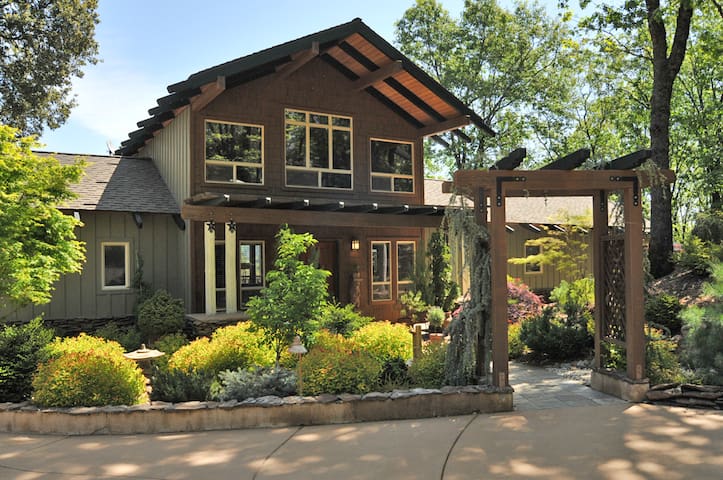 Trish was very accommodating, easy to work with and very responsive. The Country Retreat was wonderful and the listing was very accurate. The entire house had everything you could possibly need (we were a family of 8 that stayed) the kitchen was clean and well stocked as were the bedrooms, linens and towels. The house is close to town yet very private with pine trees, lawn and patio areas. We loved The Country Retreat and would love to return.
Sandi
2016-10-02T00:00:00Z
The Country Retreat was beautiful, relaxing and well appointed. We enjoyed everything from the board games to the wonderful kitchen. Trish was great about communicating with me prior to the trip. Highly recommend!
Natalia
2016-07-05T00:00:00Z
The Country Retreat is a great place to spend time and relax. The kitchen is modern and well equipped. We loved making meals as we all gathered in and around the open space of the kitchen. The front of the house has a lovely inviting garden, where we spend time playing games. In the listing it says 9 acres of private property. However, there is a cottage in the back of the house where people stayed at the same time we were there. Overall a great place to rest and rejuvenate.
Tanja
2016-09-06T00:00:00Z
Trish's place was great. It was clean, spacious and comfortable. It has a gourmet kitchen and plenty of dining and living space. Less than 15 minutes into Grass Valley and close to Empire Mine St. Park.
Todd
2015-10-05T00:00:00Z
Trish provided us with everything we needed for a wonderful stay in the area. We had firewood which was great and the house was even decorated inside and out for the holidays which made it very festive. The house was cozy,wonderful, and spotless. The beds were comfortable and plenty of comforters and nice linens, great for 6 adults. The location was great ,near Grass Valley and Nevada City. The kitchen was well equipped for everything we needed for cooking gourmet meals. Even though it rained the entire time we were there we still had a great time because we were comfortable and had allot of fun games and things to do. We would definitely come back.
Coleen
2015-12-23T00:00:00Z
Beautiful kitchen home is beautiful and comfortable
Jana
2017-03-26T00:00:00Z
The home was well prepared for our visit. Beautiful kitchen and very comfortable home. We felt very relaxed
Peter
2016-08-26T00:00:00Z
The Country Retreat was the perfect place to spend a weekend with friends next to the Yuba river. The house was spacious and clean and the best part was the kitchen. It was so well-designed and prepped to cook meals for a group. This was the best part - we ate every meal at home and got to maximize our time together. Thanks to the retreat!
Sarah
2015-09-08T00:00:00Z
Romtype
Helt hjem/leilighet
---
Eiendomstype
Hus
---
Plass til
9
---
Soverom
Grass Valley, California, USA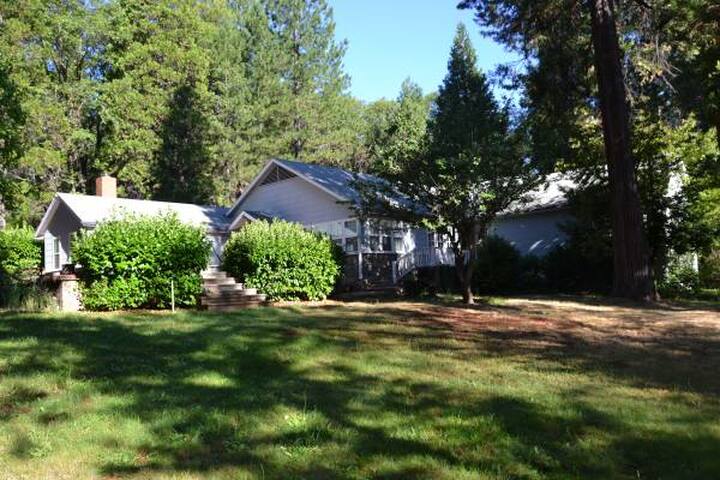 Si usted está buscando el "lugar perfecto" Para disfrutar de un merecido y relajante escapada o una ocasión especial .... Ahora lo has encontrado! El 'lugar perfecto' Retreats! Esta "PERFECTO" Inicio, conocida como la "casa principal en el Meadow View ', es un totalmente amueblado, cálido y agradable, Private Home Eso ha sido muy bien ubicado en una Exuberante boscosas y Nivel 3 Acre parcela en la parte final de la carretera y ha fijado muy detrás de la calle, por una larga y Cedar Winding camino bordeado con un año redondo Creek Trail y caminar!
Our stay was very relaxing. We were remote enough to have lots of peace and quiet, yet close proximity to all services. The home was very comfortable and all the amenities we required. We made the trip to Nevada County specifically to take the boys to the Fair. As expected, we were NOT disappointed. We will go back again. Thank you Lynnie.
Carylon
2016-08-15T00:00:00Z
Cozy cabin in the woods! Great for a group looking to spend time near the Yuba.
Ali
2016-07-25T00:00:00Z
Just got back from a wonderful Yuba weekend with five friends, and couldn't have found a sweeter place to stay. Lynnie was a wonderful host and took extra care to make sure our stay went smoothly even as she nursed multiple injuries. The Perfect Place really is a phenomenal retreat!
Ethan
2016-09-06T00:00:00Z
Romtype
Helt hjem/leilighet
---
Eiendomstype
Hus
---
Plass til
8
---
Soverom
Grass Valley, California, USA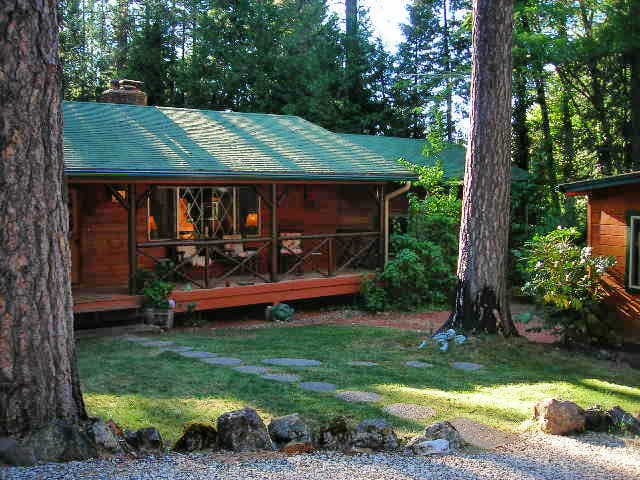 Savor a cup of coffee while enjoying the view of the snow capped Sierras. Guest Suite with private entrance. Our home is nestled under a canopy of conifers next door to the Tahoe National Forest and only a five minute drive to downtown Nevada City.
Our guest suite, which has recently been remodeled, is furnished with a queen size bed, bathroom, walk-in closet, and has a private entrance. A partial kitchenette includes a mini-fridge, microwave, toaster oven, mini grill, and coffee pot as well as dishes and utensils....even a corkscrew and wine glasses. A continental breakfast, juice, coffee, and tea are provided. If you are traveling with friends or children, there is also a futon with a full size mattress which can comfortably sleep two more. (Additional persons after 2 are $10 per person/night). Enjoy the expansive view from the deck while you soak in the hot tub, relax and read a book, or warm yourself by the fire pit. Put on your hiking boots or jump on your mountain bike to explore the miles of trails beckoning you from your doorstep. Scotts Flat Lake is a 10-minute drive where you can kayak, paddle board, and go boating. The pristine Yuba River is 15 minutes away with beautiful swimming pools and hiking trails. 45 minutes to Sugarbowl and an hour to many Tahoe resorts. The quaint Harmony Ridge Market is a mile up the road. They stock a variety of groceries (not fruit or veggies) and have a great deli as well in case you want to pick up some sandwiches before hitting the trails. Historic Nevada City is full of Victorian charm with great restaurants, entertainment, wine tasting, art galleries, and a calendar full of community events year round.
Our home is on 2.5 secluded acres in a forest of firs, cedars, and oaks. There are some neighbors in the vicinity who are all very friendly and quiet.
Exceptional hosts went above and beyond to ensure we had every luxury. The fresh baked scones were really the cherry on top. Lynne and Sandy were beyond welcoming and accommodating, they are very generous and its apparent that they enjoy taking great care of their guests. The room was sweet and private with a lovely view of pine trees. Fruit, snacks, tea, coffee and bagels were generously provided. We enjoyed our stay very much and would gladly return.
Catherine
2016-11-13T00:00:00Z
We spend 1 night with Lynne and had such a restful time. Easily we could have spent a week. With the two lovely dogs and the playful cat, we felt like at home and very welcomed my the family. The place is in the middle of nature with views of the valley. There are lots of humming birds to observe. We came to Lynne's place to relax from busy San Francisco life and found the perfect place to unwind with swimming at the Yuba River, eating dinner in Nevada city and resting time at Lynne's. The room is very well equipped with a very clean and modern restroom and shower. There were lots of snacks, tea, coffee and fruits for breakfast. The best was Lynne's homemade raspberry scones with lemon zest. They were to die for! She made them freshly in the morning. What a treat! I highly recommend Lynne's place and I hope to be soon back. Thank you for being such great hosts!
Claudia
2016-09-11T00:00:00Z
Lynn and Sandy were excellent hosts and we enjoyed many things about our stay in our private room in the lower level of their home: The room was clean and comfortable. Bathroom was very nice. Things my wife, Debbie, and I really appreciated: 1) Lynn accommodating our non-dairy preference with soy milk for our coffee and soy yogurt as part of our continental breakfast 2) Fresh strawberries; 3) We really enjoyed interacting and playing with their dogs, Murphy and Cooper. 4) Great view of Sierra Buttes from the upper deck, where we enjoyed the hot-tub and ate a take-out dinner one evening; 5) Sandy, Lynn's husband, building us a fire in the fire pit on the deck and showing us the flying squirrels; 6) Lynn providing us with a variety of restaurant recommendations; 7)Their warm and friendly manner. Thank you for an excellent Airbnb experience!
Danny
2016-05-31T00:00:00Z
Lynne gave us a beautiful tour when we arrived. So welcoming. Would come back and or move to the area!
Adrienne
2016-08-28T00:00:00Z
Awesome place to stay with very gracious hosts. All around it was a great place, location, accommodations and great value. Can't wait to come back.
David
2017-03-12T00:00:00Z
We felt so welcomed by Lynne and Sandy. The room was very private and comfortable. There was fresh fruit and other snacks that were a very nice touch. The dogs were so sweet and fun to pet and play with while having a cup of coffee in the morning looking at their amazing view. We very much enjoyed the fire and watching the stars from the hot tub. I don't think we could have asked for a better place to stay!
James
2016-06-14T00:00:00Z
Our stay exceeded all our expectations. We were greeted on arrival and showed where everything was and how it worked. Everything was provided and more than we expected. Had a great time.
Greg
2016-08-15T00:00:00Z
Amazing stay! Lynne and Sandy's house is beautiful, splendidly located on the top of hill with 180° views. Sandy built the house himself! The room is very homey (with a brand new TV with Dish, very useful if you are like me trying to catch the Euro cup games during the night) and full of small welcoming details (such as fresh strawberries, delicious :) I didn't get a chance to try to hot tub so I will definitely have to be back as it looks the perfect place to enjoy a gorgeous sunset with a glass of wine!
Simon
2016-06-27T00:00:00Z
Romtype
Privat rom
---
Eiendomstype
Hus
---
Plass til
2
---
Soverom
Nevada City, California, USA
Very clean and private studio (bedroom + bathroom) in beautiful craftsman home downtown historic Nevada City: best location! We are 2 minutes walk away from excellent restaurants, unique boutiques, best coffee shops/brewery and historic landmarks; no need to drive, all downtown events & entertainment are right outside your door. Private 1 car parking, children welcome!
Beautiful private studio: bedroom & bathroom with private entrance and patio area. This is completely independent from our main home. Complimentary amenities also include a refrigerator, microwave and coffee maker.
Beautiful historic downtown Nevada City
The studio was absolutely wonderful. It was clean,quiet and in a great location. The home and the grounds around it are beautiful. Perfect place for my short weekend getaway to Nevada City.
Kristena
2016-12-18T00:00:00Z
This place is awesome!! Quiet, cute and beautiful!!
Lisa
2016-11-26T00:00:00Z
Cute and comfortable. Great location.
Linda
2016-11-21T00:00:00Z
All went well with our booking, beautiful little place with great shower and comfortable bed. No complaints !
Nell
2016-08-05T00:00:00Z
Very cute, clean, and private. Right in the heart of historical Nevada City. Lizzie was very responsive to my little requests. I would stay there again for sure!
Marianne
2016-10-04T00:00:00Z
Great little space for the weekend! My fiancé and I were visiting Nevada City for a wedding and Lize's studio couldn't have been a better fit. Super clean, updated, and stocked with everything we needed. It's also only a few blocks from town, too! Would highly recommend.
Brian
2016-07-17T00:00:00Z
The room was actually better than the pictures depict. It appears freshly remodeled, updated and very clean. Location makes if very easy to walk to downtown and all of the very good restaurants and tasting rooms. Due to not understanding how communication works with Airbnb I had to go to the front door of the house where the host lives. She was very understanding and took us to the studio room and showed us around. Very personable host and will come back again.
Lee
2016-12-15T00:00:00Z
Quiet, comfortable, excellent location! Would definitely stay again!
Kelley
2016-07-06T00:00:00Z
Romtype
Privat rom
---
Eiendomstype
Hus
---
Plass til
2
---
Soverom
Nevada City, California, USA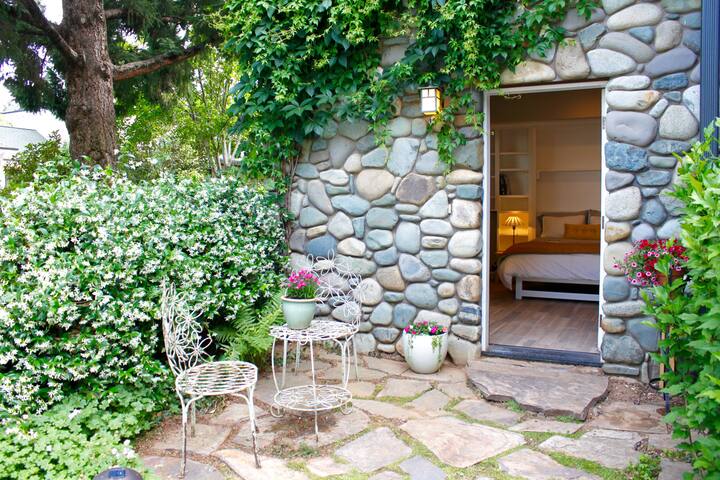 A sunny upstairs flat (~600 sq ft.) in a classic 1880 Victorian garden home, just steps away from downtown NC. A private entrance leads up to two sleeping rooms (queen size bed, and queen-size futon), well-provisioned kitchenette, marble bathroom with claw foot tub. Enjoy town and afternoon sunshine from the front porch. Your hosts have deep roots in the region, and have also lived and traveled in dozens of countries and cultures: we welcome guests from all backgrounds.
At the top of this classic 1880 Nevada City Victorian home, this 600 sq ft space is bright and airy with treetop views. From your private entrance at the front door, you ascend the stairs to the main bedroom, with a new Saatva ("luxury-firm"--good support, soft pillow-top, organic cotton) mattress and antique furniture. The central room functions as a reading room and/or study; with a queen-sized futon, it can become the kids' room. The back room is the largest, with a fully functioning and well equipped kitchenette, also serving as the dining area and lounge. The renovated bathroom is spacious, with marble floors and a classic clawfoot tub. While not a traditional "stand up" shower, the bathtub fixture allows for luxuriant baths or seated showers. We've come to prefer this approach to bathing--try it! See photo captions for more details. The floorplan of the flat is such that guests walk through the bedrooms to access the kitchenette or bath. However, there are doors between every room to allow for privacy as needed. This old house has Victorian charm, and also some creaks and cracks that come with age! The space is also ideal for someone on an extended business trip, or for people considering re-locating to the area and wishing to experience "living in town" before making a housing decision. We offer a discount for week-long stays, and will offer the same discount for 5 night stays: send an inquiry and we'll send you a special offer with the discount.
The whole of downtown Nevada City is an "historical district," preserving the gold rush era architecture, with Broad Street running up the center of town. Broad Street forks at a grand Victorian house at the top of town, there's a string of vintage homes up to the right on East Broad Street...we're the fifth house up the way. Steps away from the action of town, yet tranquil, especially at night. For the many events and parades throughout the year (e.g Tour of NC Bicycle Race, Mardi Gras Carnival, etc.) our porch offers a front row seat. Check the calendar of events at the NC Chamber of Commerce, the Miner's Foundry, the Nevada Theater, the Haven Underground and local restaurants and saloons to learn about live music, performances, conferences and film festivals in town. (And remember Grass Valley, with all the happenings at the Center for the Arts and elsewhere, is just a 5 minute drive.)
Loved the space. Cute, clean, walkable. Already booked again for my next visit!
Nicole
2017-04-08T00:00:00Z
This is a nice clean, bright apartment with a short walk to the downtown historic district and hiking trails. Jason was very gracious and accessible to answer any questions about the area.
amy
2017-02-20T00:00:00Z
Everything about this place was lovely. My only regret is that we couldn't stay longer! Thank you!
Laura
2017-02-10T00:00:00Z
Great home in a great location. Everything is within walking distance. We really enjoyed our stay.
Joanne
2017-03-20T00:00:00Z
Really beautiful little nest, made with taste and love... Extremely sweet host...perfect place to experience the alternative vibes of Nevada City.
CHRISTINE
2017-02-24T00:00:00Z
Jason's home is perfect for anyone wanting to experience all that Nevada City has to offer. This beautiful Victorian home is located in a residential area on Broad Street, just steps from historic downtown. In a few blocks walk, just minutes away, you'll have access to restaurants, shops, cafes, a convenience store, bars and nightclubs. The section of the home you'll stay in includes two bedrooms, a bathroom, and a kitchen dining area. The beds are comfortable with plenty of blankets and pillows. The bathroom features a bathtub only, no standing shower. There are soaps and shampoos provided, as well as nice towels. The kitchen has all the amenities except a microwave. Overall, we found this cozy home perfect for our stay and would recommend it to everyone!
Mace
2017-02-12T00:00:00Z
The house is beautiful !
Sydney
2017-02-07T00:00:00Z
A lovely small apartment, well equipped and near everything. The neighbourhood is beautiful and a very quick walk to the shops and night life. The house is beautiful and well kept. Enjoy your stay!
sharron
2017-01-16T00:00:00Z
Romtype
Helt hjem/leilighet
---
Eiendomstype
Hus
---
Plass til
4
---
Soverom
Nevada City, California, USA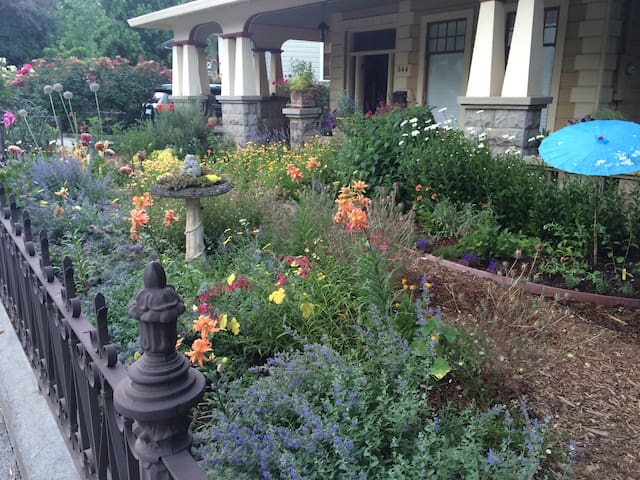 Emigrant Gap - Airbnb
:
Gjennomsnittlig

4.91

av

5

stjerner fra

414

gjesteanmeldelser
1

–

18

av

132 Hjem til leie
Oppgi datoer for å se fullstendige priser. Ekstra gebyrer gjelder. Skatter vil kunne tilføyes.