Apartment on the top floor of a three-storey building, located in a peaceful and secured compound. The district is named "Deux-Plateaux", a residential and quiet area with many shops and amenities of all kinds nearby: easy access to public transportation, restaurants, various shops, shopping centers, etc. "Sococé", the famous mall, is two blocks from the compound. Fully air-conditioned , the apartment is soundproofed and has two bedrooms , a lounge with a flat-screen TV set with cable, a bathroom , a toilet, a fully equipped kitchen , a small balcony overlooking the boulevard Latrille , a laundry with washing machine. As internet access is essential (email hidden) internet connection is also available. You just need to bring your luggage as you will find everything you need on site: linen, ironing board with a steam iron, dishes, kitchenware, "Senseo" coffee maker with single-serving coffee pods, etc. The main bedroom has a King size bed, TV set with DVD player and cable, built-in wardrobe with storage place, a chest of drawers, an armchair and an air conditioner. The second bedroom has two single beds, built-in wardrobe with storage space, a small desk with chair and an air conditioner. Watching television will be a pleasure since the cable offers CanalSat Africa (French network) and DSTV (English networks). Also on site: a telephone set with access to international calls, equipped with a charging system by cards.
Quartier à la fois résidentiel et commerçant, vous y trouverez de nombreux restaurants, centres commerciaux, boutiques, etc. se trouvant à proximité. Accès facile aux transports.
Bonne accueil de son chauffeur avec en plus panier garni dans l'appartement à notre arrivé. C'est un appartement situé dans une résidence sécurisé. Un appartement bien équipé. Cependant très bruyant à cause de la clim et de la circulation des voitures. De plus il n'y a plus de pression d'eau à partir de 22h tous les soirs, impossible de se doucher le soir. Ce qui est un peu dommage car dans l'ensemble c'est un bel appartement.
Michel
2015-05-05T00:00:00Z
I stayed in this apartment for six weeks while traveling for work in March/April 2015. Overall, it was a great experience. The apartment is large and very well equipped (TV, wifi, cable in French and English, washing machine, iron and ironing board, etc...). My hosts, Marie-Gisèle and her husband Fabien, also went out of their way to make my stay pleasant and stress-free. This was my first time traveling to Abidjan, and I couldn't have asked for a warmer, more hospitable welcome. Marie-Gisèle is very organized, responded promptly to all my questions, and went out of her way to assist with the visa application process. She also arranged for me to be picked up from the airport, a big relief after traveling for more than 24 hours. She was out of town while I was there, but Fabien dealt quickly and thoroughly with small glitches that arose with the wifi and radio. He also helped arrange transport for a weekend visit to Grand Bassam, which was much appreciated, especially since it was a last-minute request. My hosts also made a point of dropping off small treats and gifts throughout my stay, which was very kind and made me feel very welcome. The location is convenient for grabbing taxis and exploring the area around Deux Plateaux. If you're a light sleeper, you may want to pack ear plugs to block out sounds from nearby traffic and from the air conditioner in the bedroom, which can be a bit noisy. All in all, lovely hosts and a great place to stay. Highly recommended and would definitely return.
Marion
2015-04-19T00:00:00Z
Spacious and comfortable apartment, centrally located in Cocody. Very service-minded and friendly host/owner. The apartment is in close vicinity to a heavily trafficated road, which means there is some noise. I'm not so sensitive to noise, so no problem to me. 4 people can comfortably live there. I will stay there again if I visit Abidjan again.
Georg
2014-04-21T00:00:00Z
Nous avons passé un excellent séjour dans l'appartement de Marie-Gisèle. Les photos publiées dont fidèles. Appartement entièrement équipé (literie, vaisselle, cuisine, machine à laver le linge, TV, décodeur canal+ et DSTV, fer à repasser, ...) et propre. M. Sinali est toujours disponible en cas de besoin et une femme de ménage passe 2 fois par semaine. Agréable surprise: panier de bienvenue Sécurité: porte d'entrée métallique et portail fermé durant la nuit. Bien situé. Parfait pour une famille comme la nôtre (2 enfants) Par contre très bruyant car près d'un grand carrefour.
Philippe
2016-01-10T00:00:00Z
L'appartement est vraiment très très agréable, nous étions deux. Il est grand et bien situé. Nous avons été très bien accueilli par le chauffeur. Et avons eu la chance de rencontrer le mari de Marie Gisèle pendant notre séjour. Les deux sont aux petits soins pour nous. Et se rendent disponible et réactif dés que l'on a une interrogation. Merci encore pour ce très bon séjour.
capucine
2015-03-14T00:00:00Z
Very nice and clean apartment, Well located, fast internet, cable tv. Marie-Gisele was very kind. Will definitely stay there again when i'm in Abidjan.
Brice
2013-09-02T00:00:00Z
Nous avons adoré notre séjour dans l'appartement de Madame Amany à Abidjan. Il est bien équipé et bien situé. L'accueil a été très chaleureux et nous avons beaucoup apprécié le chauffeur, Sinaly. Merci encore pour cet accueil!
Solène
2014-11-12T00:00:00Z
The host canceled this reservation 3 days before arrival. This is an automated posting.
Samir
2016-04-21T00:00:00Z
Romtype
Helt hjem/leilighet
---
Eiendomstype
Leilighet
---
Plass til
4
---
Soverom
Abidjan, Lagunes, Elfenbenskysten
Comfortable studio fits 2, with AC, Satelite TV, Internet, equiped kitchen, dining space, bathroom. Easy access, Centrally located. 5 minutes drive from the Plateau (CBD) and the Sofitel Hotel Ivoire Congress Center. Shops and banks nearby!
Clean and serene atmosphere, with a distinct style.
Cocody Canebière is a secure neighboorhood, where most expatriate live. (Embassies, high standing apartments and villas nearby)
The reservation was canceled 6 days before arrival. This is an automated posting.
Abdelkader
2014-09-08T00:00:00Z
Romtype
Helt hjem/leilighet
---
Eiendomstype
Leilighet
---
Plass til
2
---
Soverom
Abidjan, Lagunes, Elfenbenskysten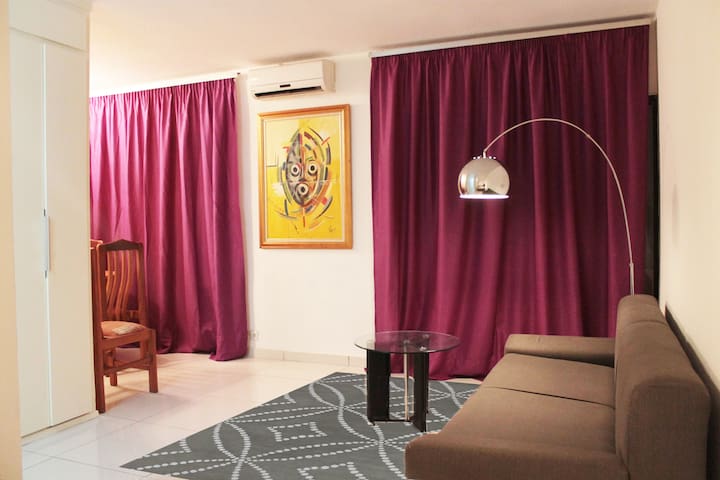 Appartement meublé de 4 pièces avec 2 douches et 2 wc idéal pour une famille en plein cœur de la Riviera dans la commune de Cocody , à 10 mn du Plateau , 10 mn de l aéroport avec toutes les commodités autour restos , bars , pharmacies , cliniques supermarché ; parking sécurisé.
Connexion internet , parking securisé 24/24 , machine à laver , chauffe eau , climatisation dans les différentes pièces , ustensiles de cuisine disponibles , machine a café , fer et table à repasser disponibles , petite terrasse qui donne sur un beau paysage . Personnel disponible pour le nettoyage à la demande
Appartement situé au coeur de la Riviera Golf , facile d accès à 10 mn du centre des affaires le Plateau ou l'aeroport , à 2 mn du pont qui conduit à Zone 4 et Bietry en 5 mn. Entouré de supermarché(Leader price et hypermarché (Casino), pharmacies , cliniques et restaurants Italien , asiatique et bars.
Romtype
Helt hjem/leilighet
---
Eiendomstype
Leilighet
---
Plass til
6
---
Soverom
Abidjan, Lagunes Region, Elfenbenskysten
Appartement Original meublé et équipé! 01 chambre + 01 salon, toilettes visiteurs, baignoire dans la douche. 02 Climatiseurs (chambre+salon) ! Internet, chauffe-eau et bouquet Canal+ à votre disposition. Cadre sécurisé avec parking intérieur
Logement sécurisé
Quartier résidentiel, très sécurisé loin des bruits et tapage nocturne. Endroit idéal pour se ressourcer après de longues journées. Proche du boulevard latrille, et du vallon avec leurs restaurants et supermarchés pour les courses et détentes. Situé à 8min en voiture des 2 plateaux SOCOCE (hypermarché ); 08 min des 2 plateaux VALLON; 14 min de Cocody Centre et 23 min du PLATEAU.
L'appartement est agréable à vivre le quartier animé et Idriss Sympathique et serviable j'ai passé un très agréable séjours je reviendrais à la prochaine occasion merci pour votre disponibilité Idriss
Sylvain
2016-12-09T00:00:00Z
Romtype
Helt hjem/leilighet
---
Eiendomstype
Leilighet
---
Plass til
2
---
Soverom
Abidjan, Lagunes, Elfenbenskysten
tres bel studio meublé et tout équipé a Abidjan 2 plateaux ,7e et 8e tranche .tres comfortable et immeuble securise . Est équipé de : canal , Eau chauffe , wifi , split et cuisine avec utensils Contact : 225
Meublé ,équipé sécurité
Romtype
Helt hjem/leilighet
---
Eiendomstype
Leilighet
---
Plass til
2
---
Soverom
Abidjan, Lagunes, Elfenbenskysten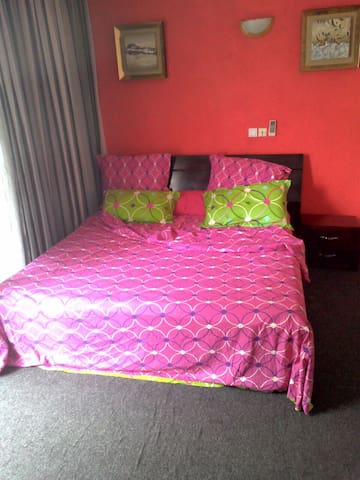 cet appartement colonial a gardé son charme et son architecture très aéré vu sur la lagune ouladine et le pont de la victoire ,situé dans le quartier France, la ville de GRAND-Bassam est classée au patrimoine mondial de l'Unesco depuis 2012
This place was fantastic! Beautiful colonial apartment. The room we were given is spacious. I lost my wallet while I was there and they went way beyond what was expected to help me find it, taking me to the police station, local radio station, then when recovered, to abidjan to meet me. I cannot be more thankful that we stayed here when in Grand Bassam. Great location-very close to the beach, and near great restaurants. Would come back again.
Alanna
2016-06-18T00:00:00Z
Quelques petits commentaires sur mes deux jours passés au grand appart de Grand Bassam. D'abord des points positifs : i) les points d'information de base avant d'arriver sur les lieux avec des échanges réguliers avec Mr en France et Mme sur place, ii) l'accueil de Mme : elle est très gentille , très ouverte au dialogue et m'a offert eau chaude pour mon café le matin avec jus d'orange et papaye ; son personnel du resto est également très gentil et disposé à rendre service iii) L'emplacement est bien dans le quartier « France » avec la plage à 200 mètres mais aussi le resto de Mme en bas de l'appart (sa cuisine est bonne avec salade, poisson braisé / atiéké, sole meunière, etc) ; l'appartement est spacieux et le cadre d'ancienne maison coloniale lui donne un cachet historique ; l'accès internet est organisé par l'enregistrement d'un code d'accès, le parking en bas de l'appartement est sécurisé car le quartier est calme. Quelques points plus mitigés qui sont des suggestions personnelles d'améliorations du service : i) l'annonce indique un logement entier, or je me suis retrouvé dans une chambre privée ; il faudrait clarifier ce point sur l'annonce car du coup, il n'y a qu'une chambre / deux annoncées; deux lits / trois annoncés et on doit partager des espaces communs : salle de bain, toilette, salon, etc ; ii) des petits services peuvent être améliorés : la literie est « de base » avec un matelas peu épais et très mou sur un sommier en bambou, la chambre privée n'a pas de serrure (elle ne peut être sécurisée pour l'instant), la télévision se trouve dans le resto dont l'accès est facile mais hors de l'appart, une petite note explicative du fonctionnement de l'appart (gestion des clés de l'entrée, menus du restaurant, accès code internet, organisation de la machine à laver, etc) serait le bienvenu. Bref, satisfaisant mais / et pourrait être facilement mieux / meilleur !
Denis
2015-08-10T00:00:00Z
William et Lise sont attentifs a bien faire et bien recevoir. La résidence est dans le quartier France lui-même près de la grande plage et de la lagune. Le bâtiment est du début du siècle dans son jus très colonial. Il fait partie du patrimoine et de l'histoire de la Côte d'Ivoire. Evidemment, il faut accepter les petits tracas des services publics ( les coupures d'électricité sont gommées avec la mise en route d'un groupe électrogène, l'arrivée d'eau est boostée par un surpresseur qui permet de prendre de bonnes douches . Les lieux sont maintenus propres avec une exigence toute ferme. Placée dans le quartier de la mairie et de la préfecture et le tribunal, la sécurité du quartier est permanente et la bienvenue. Une pharmacie est voisine et très bien approvisionnées en médicaments européens. Ia présence du restaurant est un plus pour manger un plat local africian ou européen pour moins de 10euros à toute heure de la journée .
jean-bernard
2016-02-18T00:00:00Z
The host canceled this reservation 11 days before arrival. This is an automated posting.
VERONIQUE
2016-02-11T00:00:00Z
Romtype
Helt hjem/leilighet
---
Eiendomstype
Leilighet
---
Plass til
6
---
Soverom
Grand-Bassam, Sud-Comoe, Elfenbenskysten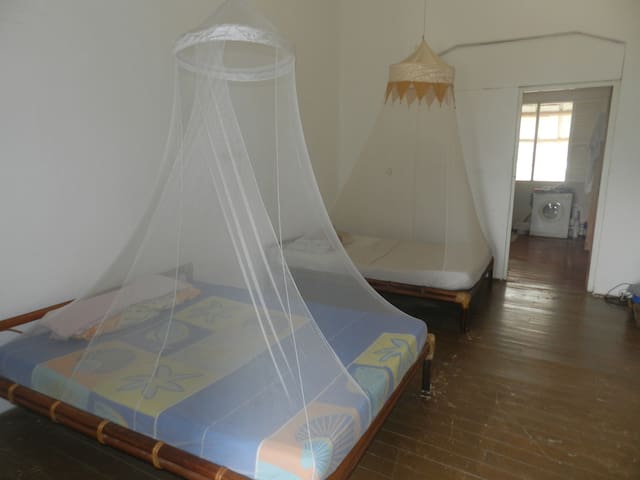 Situé à la riviéra palmeraie , ce studio vous accueille pour vos séjours à Abidjan. Vous y retrouverez de nombreux commerces, restaurants et rooftops. N'hésitez pas à me contacter pour les bons plans! Le studio est climatisé et équipé pour votre séjour ( télévision, cuisine, fer à repasser,..).A noter qu'il n'y a pas d'eau chaude. Une box mobile wifi est à votre disposition. Le studio se trouve au rez-de-chaussée d'un immeuble de deux étages, dans une zone sécurisée.
Christelle's place is such a quaint apartment. Perfect for a solo traveler, esp. a female, but will do for anyone. The apartment itself is very secure, private entrance and a cute little garden in your private little yard, with a watchman at the gate. Place is very clean, modest, and decorated tastefully with African art. The bathroom shower is newly-tiled, very good water pressure, especially if you like to just relax in the shower. It's in a safe and quiet residential neighborhood. Two minute walking distance to catch a taxi on the main road. It's in a decent residential area but you will have to take a taxi to get to most places, not too much to do is in walking distance. The taxis are very reasonable though, make sure you haggle, lol. And Christelle herself is a wonderful host. Being my first time in a francophone African country, she took me out the first night and helped me navigate the wifi (advice: find out the best way to stay connected before you leave so you can be better prepared) and phone issue. She intoduced me to her friends and really took me as a friend, not a renter. I never once felt uncomfortable. She invited me to different events to help me really acclimate to the culture, and not just be a tourist. I would definitely stay there again.
Toyo
2016-07-13T00:00:00Z
The host canceled this reservation 7 days before arrival. This is an automated posting.
Fleur
2015-07-25T00:00:00Z
Logement relativement propre en revanche un peu loin du centre ville les équipements sont très corrects clim télé c'est juste un peu dommage pour le wifi qu'on a pas réussi à faire fonctionner. En revanche la ventilation n'est pas très bonne, et c'est embêtant pour l'eau qui n'est pas courante ça coupe beaucoup et il y a des constructions en ce moment donc un peu de nuisances sonores.
nicolas
2016-11-27T00:00:00Z
Tout a fait en adéquation avec la description. A quelques pas des commerces : boulangeries, boissons, épiceries (boutiques), bar et night-club. L'accueil fut charmant et souriant. Le lieu est propre et frais. Et Ali est dispo nuit et jour. Merci pour tout. Qui aime Baby trouve ici tout Baby.
josé
2016-10-09T00:00:00Z
Christelle & Her Sister were most excellent host in early communication and in getting us into our one bedroom aparment flat that they rent out . . . the location was easy to find. The flat is just a few minutes to major shopping (& CAP - Nord Grocery Store). The Apartment was very clean. The kitchen is excellently equipped. . . The bathroom is recently remodeld and very modern. A/C was good. Satellite TV was good.
Bradley
2016-09-24T00:00:00Z
J'ai été accueilli par la soeur de Christelle et son fiancé. Ils ont tout fait pour que je me sente à l'aise dans le logement. Ils m'ont donné de nombreux conseils : lieux à visiter, activités à ne pas manquer et personnes à rencontrer. Ce qui m'a permis de rapidement m'intégrer à la vie locale. Nous avons même eu l'occasion d'échanger lors d'un repas au restaurant et une agréable balade à Abidjan. Ils se sont montrés généreux et ouverts, disponibles sans être envahissants, exactement ce que j'attends d'un logement Airbnb. Le logement était propre, bien décoré, plutôt grand. Une chambre spacieuse, une salle de bain et une cuisine. Le frigidaire et la télévision marchaient bien. L'internet aussi mais à charge de l'hôte (5000 CFA pour 1,5 GO). La douche est froide mais avec la chaleur, cela ne pose pas de problème. L'immeuble est situé dans une rue calme, non loin d'un rond-point fréquenté. Donc possibilité de trouver un taxi facilement. En résumé, j'ai passé un agréable séjour et j'ai pu découvrir Abidjan avec un oeil local. C'était idéal ! Encore merci à Rosette et Marco pour votre accueil.
Matteo
2016-10-18T00:00:00Z
Rosette was very welcoming to us; we communicate with her before we checked in because we stayed in Grand Bassam for three nights before returning to Abidjan. She actually met us at the apartment the day before we were to check in just to show us the apartment. The apartment is just as shown in the listing. The apartment was in a good and safe area of Abidjan. We did not have any problem with the area. The only issue we had was the AC did not work during our stay. however, we did have use of a fan.
Rudolph H
2015-04-12T00:00:00Z
Logement fidèle aux photos, fonctionnel
Clément
2016-07-01T00:00:00Z
Romtype
Helt hjem/leilighet
---
Eiendomstype
Leilighet
---
Plass til
2
---
Soverom
Abidjan, Lagunes, Elfenbenskysten
Situé à Abidjan, le Residence Ahou est un hébergement confortable avec une connexion Wi-Fi gratuite. L'appartement est doté de la climatisation, d'une chambre et d'un salon. elle dispose de 4 appartements
Romtype
Helt hjem/leilighet
---
Eiendomstype
Leilighet
---
Plass til
4
---
Soverom
Abidjan, Lagunes, Elfenbenskysten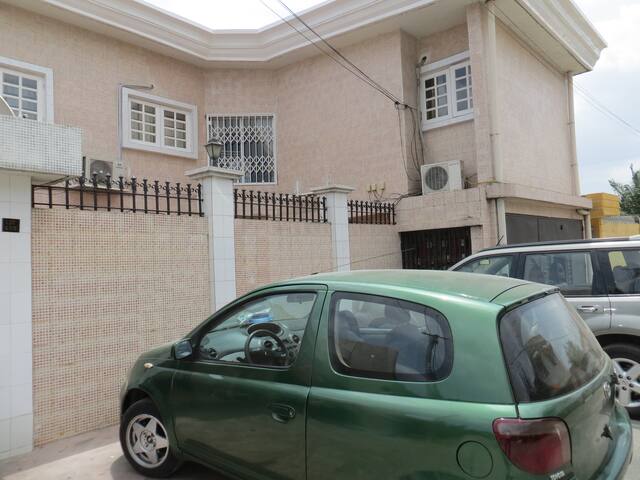 Situées au cœur de la capitale économique de la côte d'ivoire, à 20 min de l'aéroport Felix Houphouët Boigny, les Résidences KEPAV, vous offrent des appartements(appartements-une chambre) et studio
la residence KEPAV est un agréable et reposant avec une connexion WIFI dans tout l'établissement. nous disposons de 7 appartements-1 chambre et 2 studios de luxe. DES OREILLERS GÉNÉREUX, UNE COUETTE ACCUEILLANTE, UN MATELAS QUI S'ADAPTE À VOTRE CORPS AVEC SON ULTIME COUCHE DE CONFORT.
la residence KEPAV est située en COTE D'IVOIRE dans la capitale ABIDJAN precisement dans la commune de COCODY dans le quartier de 2 PLATEAUX LES OSCRAS
Romtype
Helt hjem/leilighet
---
Eiendomstype
Leilighet
---
Plass til
2
---
Soverom
Abidjan, Lagunes, Elfenbenskysten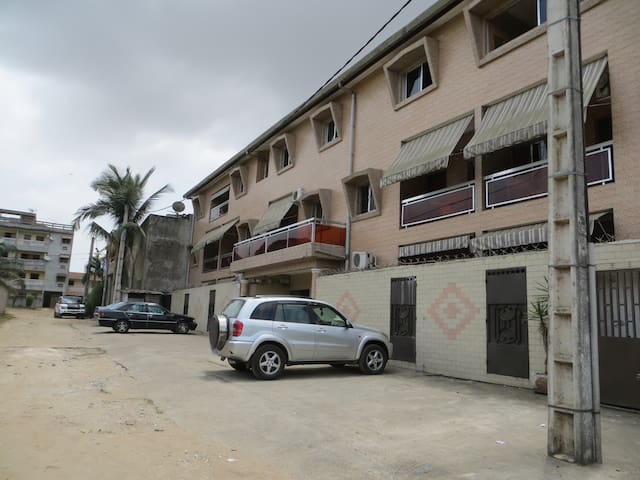 Comme on le dit à l'ivoirienne « Akwaba » chez vous dans cet appartement charmant de 2pièces entièrement meublé et équipé (TV LCD, cuisine, machine Nespresso, Wifi),situé au (vallon, ambassade du Ghana), à 15mn de l'aéroport et à 10mn du plateaux
*Navette aéroport-appartement *Produit de toilette *Cadeau de bienvenu *Parking gratuit *Une ménagère 3 fois/semaine
Cocody un quartier résidentiel paisible,sécurisé avec facilité d'accès
It's a very nice modern and spacious apartment, the pictures don't do it justice of how large it is. The area is great, close to banks, stores, the building is secure with 24 hour guards. The real highlight though are the hosts, Mrs. Angel and her husband were nice, welcoming and available, genuinely eager to help arrange anything I would need during my stay and have helped a lot in accommodating us. I definitely recommend this apartment but also any other place that is under Abidjan Sweet Home simply because of the hosts, who'll help make your stay comfortable, warm and welcoming.
Emanuel
2016-07-15T00:00:00Z
Logement idéalement situé et bien équipé. Hôte très disponible et très gentille
Bignon cedric
2016-08-27T00:00:00Z
Superattentive host who responded to everything in least possible time. Given the challenges of running an establishment in emerging countries, we salute Angel's efforts. Let's encourage these entrepreneurs. It was very quiet to get a good sleep, cool enough, firm mattress, plus the maid service. Plenty hot water and functioning cloth washer.
Shahul
2016-11-06T00:00:00Z
Lieu parfait pour travail sur Cocody
Julien
2017-01-25T00:00:00Z
Lovely two bedroom apartment in a safe & upscale neighborhood. Walking distance to restaurants & markets. Angel is a beautiful woman who graciously helped with transportation and communication. Thanks kindly Angel would love to stay again in the future.
Jean
2016-08-22T00:00:00Z
L'appartement est parfait, bien situé, propre, fidèle aux photos. Je recommande à 100%.
meriam
2016-10-29T00:00:00Z
Appartement bien situé dans le quartier dans le quartier résidentiel des II Plateaux Vallons à 5 min à pied de la plus grand salle de gym / spa d'Abidjan. 5 en voiture des boulangeries, pâtisseries, salons de thé, restaurants, super marchés, galeries, etc. Nous avons apprécié les 2 salles de bains - très pratique quand on à des enfants. Internet haut débit. Environnement calme. Parce de parc disponible à l'extérieur. Petit soucis à l'arrivée: Internet ne fonctionnait pas, linge sale dans la buanderie, cuisine pas suffisamment équipée. Tout ceci à été corrigé 2 jours plus tard. En général, nous apprécié notre séjour. Good location. 5 min drive from bakery, supermarket, restaurants, etc. Big apartment with two bathrooms. Fast internet. Quiet neighborhood. Issues on arrival: internet was notworking, missing items in the kitchen (cutlery, saucepan, ...), dirty towels in the laundry. This has been corrected 2 days later. Overall, we have enjoyed our stay.
Philippe
2017-01-03T00:00:00Z
Romtype
Helt hjem/leilighet
---
Eiendomstype
Leilighet
---
Plass til
4
---
Soverom
Abidjan, Lagunes, Elfenbenskysten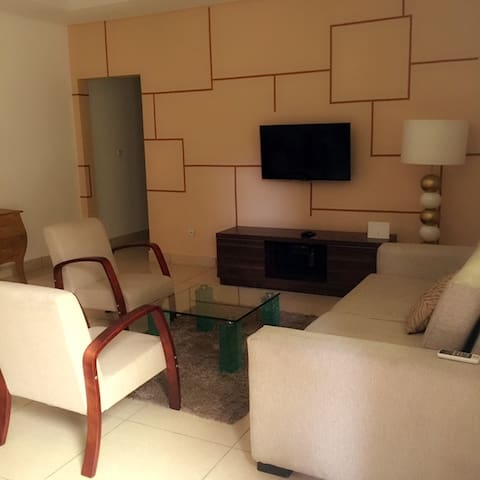 belle chambre meublée à Cocody quartier Lycée Technique dans un appartement de 3 pièces le grand salon et la cuisine disponibles
en plein centre d'Abidjan
sont disponibles dans le grand hôtel du quartier à 300 m supermarché, pharmacie, banque
Romtype
Privat rom
---
Eiendomstype
Leilighet
---
Plass til
2
---
Soverom
Abidjan, Abidjan, Elfenbenskysten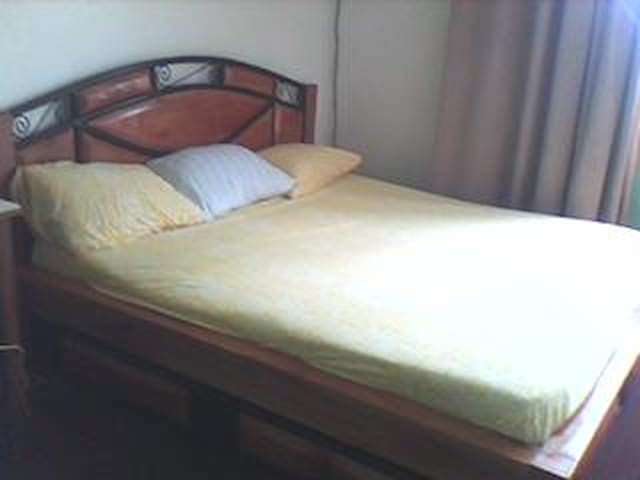 appartement meublé de 3 pièces au 3e étage Cocody Lycée technique plein centre d' Abidjan
il se trouve à bonne distance de tous les autres quartiers, à 5 km du Plateau centre des affaires
à 300 m on a : supermarché, banque et pharmacie
The host canceled this reservation 43 days before arrival. This is an automated posting.
Ivan
2016-02-20T00:00:00Z
Romtype
Helt hjem/leilighet
---
Eiendomstype
Leilighet
---
Plass til
4
---
Soverom
Abidjan, Abidjan, Elfenbenskysten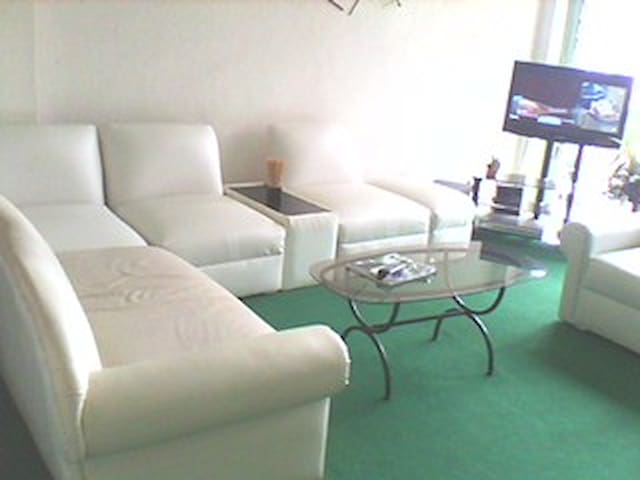 Appartement confortable, calme, sécurisé, situé à 5 mn du Vallon et de la Riviera 2. Accès rapide à Marcory/Zone4 par le nouveau pont. Climatisation, eau chaude, télévision, canal+, lave-linge, gazinière avec four. Calme, clair, aéré, vue dégagée.
When we arrived, Vincent was at the apartment to greet us and show us everything we would need for our stay. He is a very kind man and made us feel at home immediately. The apartment is located in a quiet, safe neighbourhood where it is easy to catch cabs from. To get to zone 4 is about 3000 cfa each way and traffic can be a hassle at times. Overall we had a very nice stay and enjoyed the beautiful little apartment. I would recommend it.
Lindsey
2015-12-27T00:00:00Z
Eric's place is cosy and well maintained. We felt at home with all the amenities. The location is ok. Vincent made sure that we had everything we needed. I will definitely book this place again when needed.
Fadwa
2015-11-07T00:00:00Z
Le logement d'Eric est conforme aux photos, il est joliment décoré, propre, proche d'une zone de taxi et la connexion internet a bien fonctionné pendant la durée de mon séjour. Je recommande l'appartement d'Eric.
Dimitri
2016-08-27T00:00:00Z
Merci pour ce séjour, appartement en très bon état, agréable, et accueil parfait aussi bien d'Eric au téléphone que de Vincent sur place. Nous reviendrons !
Jean-Marie
2015-12-10T00:00:00Z
Résidence sécurisée 24h/24 par la présence de gardiens. L'appartement est conforme aux photos. Vincent notre interlocuteur à Abidjan est à l'écoute et serviable. Cependant : -Nous avons subi des coupures d'eau fréquentes dont la plus marquante en pleine douche : je vous laisse imaginer (c'était cocasse…) -Optez pour des boules quies car le voisinage est très très bruyant. -L'hygiène de la literie était médiocre ; nous avons été piqués, à plusieurs reprises et avons été obligés d'acheter des produits à nos frais pour résoudre le problème…( et les piqûres n'étaient pas une impression comme on a pu nous le souligner) -Pour les cafards dans la cuisine, malgré nos efforts, nous n'avons pas réussi à les éliminer complètement.
Evelyne
2016-08-02T00:00:00Z
I really enjoyed the stay at the apartment. Very secure, convenient minimarket in the building and very easy to get transport (taxi). very good location for Cocody, II Plateaux. The Apartment is well furnished and has all needed confort. I appreciated the help of Vincent and the overall organization. I will come again for sure! Thanks Eric and Vincent
Sebastiano
2016-02-19T00:00:00Z
Super contact avec l'hôte avant, pendant et après le séjour. Il est très serviable. En clair: que des bons souvenirs, prêt à recommencer lors d'un prochain séjour. Appartement agréable dans quartier agréable. A recommander absolument.
Alain
2015-08-07T00:00:00Z
Eric's apartment is in a quiet, secure neighborhood. It is extremely clean and comfortable and everything works well including A/C and hot water. Easy access from the airport via the 3rd bridge. Everything was as described in the listing. I will definitely be back!
Jonathan
2015-12-04T00:00:00Z
Romtype
Helt hjem/leilighet
---
Eiendomstype
Leilighet
---
Plass til
2
---
Soverom
Abidjan, Lagunes, Elfenbenskysten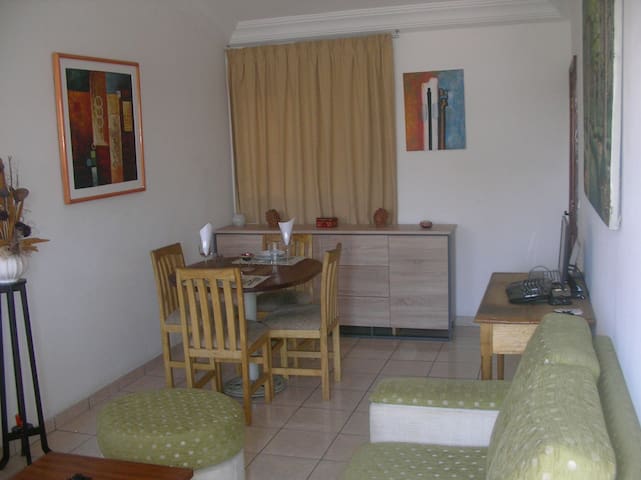 En location des appartements meublés de haut standing, dans un immeuble sécurisé, gardiennage, interphone, parking sécurisé...Entièrement meublés: climatisation, chauffe-eau, gazinière, microonde, canal sat...Paisible et accessible aux commerces.
Romtype
Helt hjem/leilighet
---
Eiendomstype
Leilighet
---
Plass til
2
---
Soverom
Abidjan, Lagunes, Elfenbenskysten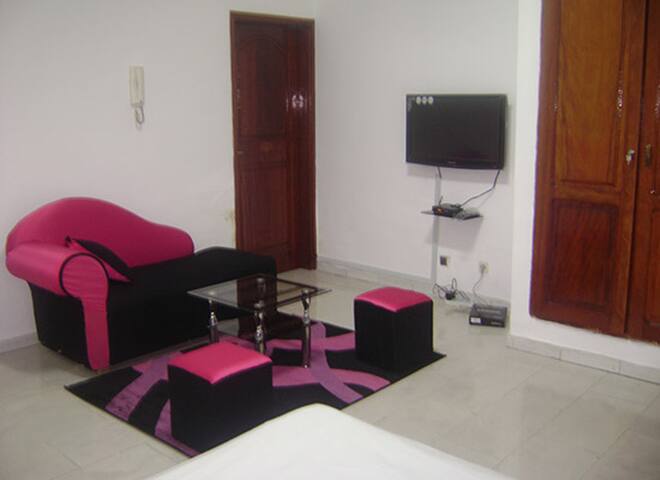 Centrally located in the beautiful tray 3-room apartment 86 m2, modern, renovated in 2014 in residence. Apartment very bright, air conditioned, teak furniture. Very comfortable. Flat screen TV and WIFI available free of travelers.
In center of shelf this very comfortable and modern apartment is equally suitable for a family vacation or a woman or a businessman.
Roume The residence is on the same avenue as the hotel IBIS Plateau.
Belle résidence sécurisée dans le quartier des affaires à Abidjan. Nous avons passé un très bon séjour dans cette appartement. Identique au photo. Nous étions très à l'aise, comme à la maison. L'employé Dominique nous à très bien reçu. Aucun point négative sur cette appartement. J'y retournerai volontiers avec ma famille. Merci à tous
Audrey
2015-08-20T00:00:00Z
Le séjour s'est trés bien passé. L'appartement est propre et correspond aux photos. le wifi et la clim marchent trés bien. M. Dominique et M. Cheiikhou sont disponibles et réactifs et la résidence est sécurisée. trés bon séjour !
Fletcher
2016-03-25T00:00:00Z
First things first – Gisele has a well-furnished apartment in a great area of Abidjan. I spent 38 nights there. There is no source of drinking water in her apartment, but she will supply you with bottled water if you request her for it. She also has a fantastic house help in the form of Dominique who is an impeccable cleaner and very non-intrusive. I am very happy to commend these things about her apartment. Was I happy with my stay though? It's complicated. Gisele does not live in Abidjan and forgot to inform her local manager of my arrival and I had to make ten calls before I could get through anybody. Eventually, I also ended up waiting outside her apartment block for 30 minutes before her manager arrived. Second, her apartment was not in a clean condition when I arrived. I informed her of both these things and the second was taken care of when Dominique visited the first time while I was there. There were many things in the interim which I won't mention unless I am provoked to do so. Gisele's attitude was the final straw for me. There was never an apology about any of the things that I brought to her notice, it was always about how no one has complained before. Further, if you bring anything to her attention, her responses are usually on the lines of – 'this is not a hotel', 'life in Abidjan is very hard', 'we are not in London or New York or Paris' even though the rates are not that different. At some point, I had to involve AirBnB. I had resolved to not write a review at all as once I made up my mind to not have any correspondence with Gisele, I enjoyed my stay. It is only after I saw that she had left a review for me that I decided to write one too. It's apples and oranges really. Would I pick a good apartment with a cantankerous host? No. Can I recommend the apartment? Absolutely. Would I put in a good word for the host? No.
Swati
2016-10-22T00:00:00Z
Excellent apartment in the CBD near the IBIS Plateau. Clean comfortable and nicely decorated. Good wifi and excellent aircon. Large living/dining/tv room with aircon. 2 medium sized bedrooms with aircon. Modern shower room and separate WC. Good kitchen including microwave, electric stove/oven, nespresso machine, large fridge and clothes washer. Good quality towels and good bed linen. Nice view from the living room. There is off street parking and 24/7 security, albeit of the sleepy variety. Only one of the 2 elevators worked but that is par for the course in Abidjan. The area around the apartment is dead calm on weekends and at night but busy during daytime midweek. There are a couple of lunch restaurants within 5 minutes walk but you need to head out by car at night. The IBIS hotel is only 200 yards away so you can have breakfast there (for only 7000 FCFA per adult) , safely get cash from the ATM in the lobby and hail a taxi or hire a car with driver right outside the hotel. Check in check out was very easy. Highly recommended.
Angus
2016-01-01T00:00:00Z
The host canceled this reservation 48 days before arrival. This is an automated posting.
Swati
2016-09-15T00:00:00Z
J'ai passé un excellent séjour de 6 semaines dans l'appartement de Gisèle. Pour mon 1er voyage à Abidjan, j'ai pu bénéficier d'un emplacement central avec toutes les facilités, le logement étant parfaitement équipé avec du matériel moderne en plus de l'efficacité et de la discrétion de Dominique, me permettant d'être rapidement opérationnel au travail et de m'installer tranquillement. Très bonne communication avec Gisèle. Je recommande fortement.
Papa
2017-03-31T00:00:00Z
Second stay at the same apartment. Good experience.
Angus
2016-04-05T00:00:00Z
Nous avons eu un très agréable séjour dans votre appartement, merci beaucoup. Pour chaque pièce comme dans l'ensemble, le lieu est aussi beau que fonctionnel, et très propre, et très confortable. Entre-autres nous avons eu le plaisir d'apprécier la vue, l'air climatisé, les commodités de la cuisine et celles de la salle de bains. L'accès à la résidence est également un plaisir. Merci beaucoup aussi pour la disponibilité pendant le séjour, et à Cheikhou, et à Dominique, et au personnel de la résidence.
Lucille
2016-07-23T00:00:00Z
Romtype
Helt hjem/leilighet
---
Eiendomstype
Leilighet
---
Plass til
3
---
Soverom
Abidjan-Plateau, Lagunes, Elfenbenskysten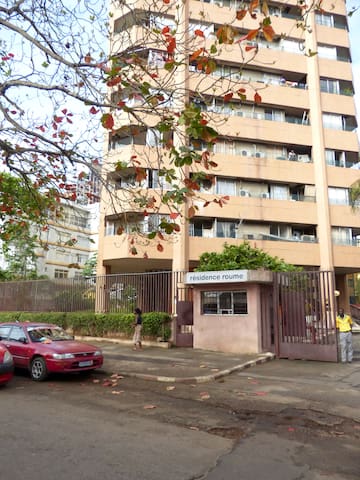 Nous mettons des appartements de haut standing à votre disposition pour vos courts et longs séjours à Abidjan...Entièrement équipés: climatisation, eau-chaude, microonde, cuisinières, canal sat...Accessible aux commerces et sécurisés.
Romtype
Helt hjem/leilighet
---
Eiendomstype
Leilighet
---
Plass til
2
---
Soverom
Abidjan, Lagunes, Elfenbenskysten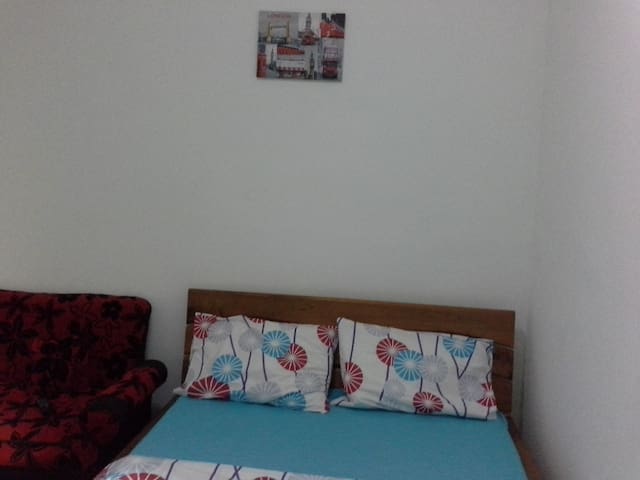 SITUEE A AGNRE 8ème TRANCHE LA RÉSIDENCE ALMADYA VOUS DES APPARTEMENTS-2 CHAMBRES ET DES STUDIOS A DES A PRIX TRÈS ATTARCTIFS. AVEC UNE DÉCORATION MODERNE ET VARIÉE,UNE VIDEO-SURVEILLANCE VOUS NE TROUVEREZ PAS MIEUX CHEZ NOUS.
Romtype
Helt hjem/leilighet
---
Eiendomstype
Leilighet
---
Plass til
4
---
Soverom
Abidjan, Lagunes, Elfenbenskysten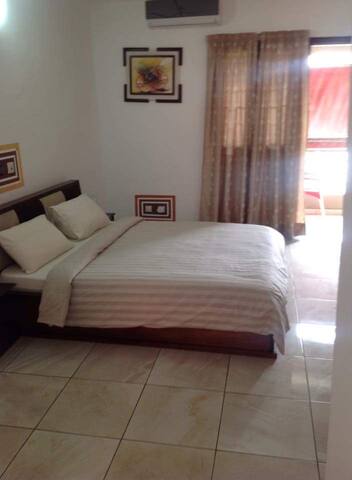 AVEC UN DECOR MODERNE LA RÉSIDENCE VOUS OUVRE POUR SES PORTES AFIN QUE VOUS SOYEZ AGRÉABLEMENT ACCUEILLI. NOUS OFFRE UN SERVICE DE QUALITÉ PAR CE QUE VOUS ETES DE LA QUAALITE A NOS YEUX
Romtype
Helt hjem/leilighet
---
Eiendomstype
Leilighet
---
Plass til
2
---
Soverom
Abidjan-COCODY ANGRE, Lagunes, Elfenbenskysten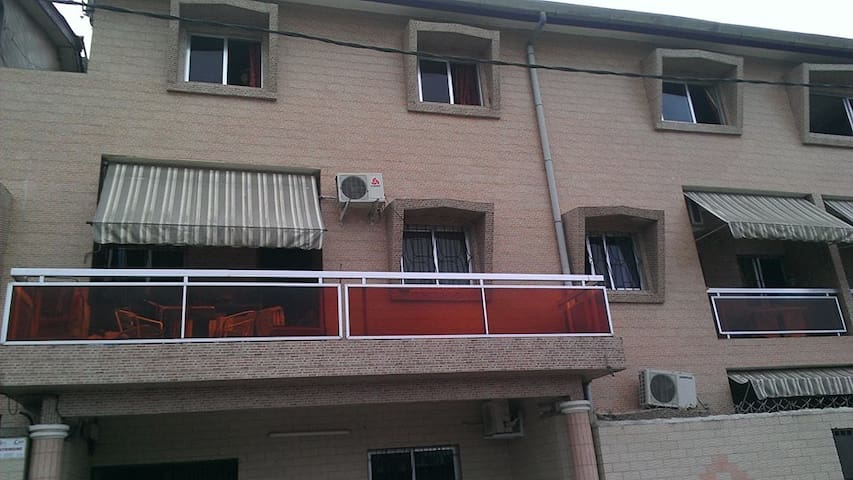 Elfenbenskysten - Airbnb
:
Gjennomsnittlig

4.19

av

5

stjerner fra

68

gjesteanmeldelser
1

–

18

av

269 Leiligheter til leie
Oppgi datoer for å se fullstendige priser. Ekstra gebyrer gjelder. Skatter vil kunne tilføyes.