From your own private brick patio & secret garden, you will be welcomed inside to polished wood floors, deep soak Jacuzzi tub/ hand-held European style shower, comply dbl sleigh bed, quality linens, everything clean to a 't'. We are Self-Catered but you will find light breakfast items & snacks available. Better yet, a short 2 block walk & you can explore Old Town shops & eateries. Another accommodation in the same locations offers a full kitchen & can accommodate friends (see Old Town Cottage)
Perched above Old Town Placerville, Stage Coach rides, restaurants, shops. Only a short walk to Old Town, were are a 10 minute drive to Apple Hill Farm or Gold Country Wineries! This super welcoming private Suite is part of a large home that sits above Main Street and was the the talk of the town when it was built in the 50s. It is it's own separate space with a private entrance. You will think you have landed in a secret garden with quiet seclusion although you only have a short walk to shops and restaurant of downtown. The bedroom is large and comfortable with garden views, a double sleigh bed, closet, personal temperature control, ceiling fan, cozy fireplace, polished shining wood floors and plenty of storage. Wireless is available but no TV. A separate space has a built in executive desk with coffee and tea service which also offers a small refrigerator. You can take your morning cup and sit under the umbrella in the garden during warm weather or by the 'fire' in the winter, and wake up slowly. The bathroom is all your own. It has a deep soak jacuzzi with a Euro hand held shower, classical tile flooring, plenty of towels, and even a towel warmer. At certain times I am able to make the full house available to accommodate additional guests and allow open access to the kitchen. This needs to be negotiated prior to arrival. There is a lot of flexibility so if you would like something more than your own little private garden accommodation, just inquire and we will make every effort host your needs. Historic Placerville sprang into being with the largest human migration in world history: the Gold Rush of 1849. It was a rough wild place back then. There are many reminders of that history everywhere you look but now you'll also find hundreds of Gold Country Award Winning Wineries, excellent restaurants, and quaint Shops (don't miss Placerville Hardware - oldest west of the Mississippi), history, wildlife (of all kinds) and just the breathtaking beauty of the Sierras (we are 45 minutes from skiing at Sierra at Tahoe and closer yet for snowshoeing. As a backcountry enthusiast, I will gladly share my favorite places to go. There are wonderful places to eat in Placerville and you can walk to all of them all. For dinner I particularly like The Independent (best all around), Hey Day ( fun and excellent fare with a wonderful wine list), Cascada (very good upscale Mexican/full bar). Breakfast: the best Italian style espresso is at with light breakfast fare and gelato), Cuppa Coffee and More has the most friendly staff, light breakfast & a good selection of gluten free wonders. Sweetie Pie's is an all time favorite of Placervillians for breakfast. Close by attractions include: Apple Hill Farms ( open at harvest - late August- Dec) Red Hawk Casino Hiking: Desolation Wilderness and Carson Pass are favorites Skiing: 45 minutes to Sierra at Tahoe River Rafting South and Middle Fort of the American River Passport Weekend (wineries put on the 'dog') Christmas in Placerville and the Lighting of the Christmas tree Christmas Tree Farms The Brew Fest in October Daffodil Hill and Bluebird Iris Farms FINDING YOUR HIDEAWAY: When you walk up the step (you'll see the photo in the album), from the street, and go past the birdhouses, along the walkway, you will enter a courtyard and the gate to your private garden will be straight ahead.Enter through the French door, the key will be on the table as you enter. If the day is warm, I will leave the air conditioner on but the nights cool down, so you can turn it off and leave the windows and door open for a fresh breeze (there is also an overhead fan). The neighborhood is safe and you will be secure enough to leave the door open, if you like. For cozy winter nights you will find the fireplace welcoming you inside and a wintery garden view from bed. What could be a better place to start an adventure, whether hiking the Sierras, exploring history, wineries, apple farms, getting into the holiday spirit or meeting up with friend or family, than your own personal and cozy little place that is all yours, not a hotel but living authentic history and beautiful Placerville life.
We are all praying for an El Niño this winter and the summer has been strange enough to think it might actually be on the way. If you are up for the beauty of the nearby wine country, you have hundreds of wineries to choose from. Some provide solitude, solace and a place to think while others, reverie and fun (you may want to venture out and meet Jack at Helwig) but all are astounding beautiful this time of year. Also, Apple Hill is a fall favorite but lots of people flock there on weekends in the fall only 8 miles away, and will still be in full swing. All farms open, offering the orchard country experience. Then, of course, there are the shops, coffee houses and restaurants of the old town within walking distance - not to be missed. You have a short time and too much to do. My philosophy is that less is always better - it may take two trips.
As a Director of Sales in hospitality, I have a keen eye for exceeding expectations. The moment my wife and I walked through the door we were blown away in surprise. The Wow factor was immediate. The articulate detail, cleanliness and amenities the room had were above and beyond our expectations. From water (with a perfect PH), to a small electric fireplace, to a towel warmer rack, everywhere you look there was thought to each detail rolled out in perfect fashion. Cindy's passion to what she does makes this a hidden gem. Thanks Cindy for a wonderful stay, you are not only an awesome person but your place I would recommend to anyone and everyone. -Todd & Heather Yohn
Todd
2015-12-13T00:00:00Z
Cindy's place was just perfect for us. She left the Christmas lights on outside so we could find our way to a cute little courtyard & our room. As we entered, I noticed she had also left chocolate truffles on the bed. Yum! Cindy made sure we had a good experience. She even offered us fresh squeezed grapefruit juice on our first morning. Will definitely stay here when we are back in Placerville.
Kerry
2014-11-09T00:00:00Z
Cindy is a marvelous host. We had special requests. She accommodated us. The room was spotless and there were countless thoughtful touches everywhere. Filtered water. Lots of options for hot beverages. Little chocolates on the pillow. A heated towel rack. Copious linens and bath towels. Fast WiFi. Cindy was responsive to every communication. A workman accidentally turned off the hot water. We texted her. It was on in 5 minutes. We are new to the area and thinking about relocating there. She agreed to meet with us and we actually had a lovely dinner together. We now think of her as a friend. Really, you could hardly have a better, more attentive and caring host.
Stephen
2016-10-18T00:00:00Z
Wonderful location walking distance from the charming downtown Placerville. My pregnant wife couldn't get enough of the clean smell of the room and the Jacuzzi Tub. Cindy is by far the best host. Five Stars highly recommend staying here.
Nicholai
2014-10-19T00:00:00Z
Cindy's place was the perfect setting for our weekend exploring Placerville. It is a short walk to the main street, and she went out of her way to make sure everything was immaculate for our arrival. All the little touches (e.g. fresh raspberries, hand-baked cookies, chocolate truffles, coffee and a French press) were delicious, and very much appreciated. Cindy was easy and quick to communicate with, and recommended a great local spot for dinner (The Independent - we loved it so much we went back the next day!). Thanks for ensuring we had such a wonderful time!
Ruth
2016-06-20T00:00:00Z
We had another wonderful stay at the cozy cabin. It was cozy and comfortable. Every detail was perfect. Thank you Cindy.
Deborah
2016-01-24T00:00:00Z
Cindy is a gracious, generous, and very hospitable hostess. She made sure that everything was perfect before our arrival. Stepping into the cottage was like stepping into a Better Homes and Gardens magazine photo. The space was perfectly appointed with a personal touch. Every detail was attended to, including fresh ground coffee and light breakfast fixings. The place was spotless, and the garden was a welcoming place to sit and have coffee in the morning and to wind-down with a glass of wine in the evening. Cindy truly cares about her guests, and she was readily available to accommodate us whenever we requested ideas of things to do, places to eat, etc. We really enjoyed our stay and have nothing but good things to say about our host!
Nicole
2016-08-29T00:00:00Z
Cindy is an impeccable host! Very accommodating and she made us feel so very welcome. The space itself is elegantly and tastefully decorated and was cleaned to perfection. She provided tea and and coffee to our taste, plus many other tasty treats that we enjoyed as an excellent light breakfast. The location is easily walkable to Old Town shops and restaurants, although do be ready for a nice hill in your stroll. Since I've hit the waddling stage of my pregnancy, we opted to drive and found parking easily. Her restaurant recommendation, Heydey Cafe, was a wise choice. (Do try the lobster bisque!) Cindy's place is also just a 10 minute drive from the highlight of our trip, a day of pampering at the Daybreak Spa. We highly recommend them if you're in the area! All in all, the experience went above and beyond our expectations. If you want to stay in Placerville, stay with Cindy!
Ginger&Lewis
2014-11-23T00:00:00Z
Romtype
Helt hjem/leilighet
---
Eiendomstype
Leilighet
---
Plass til
2
---
Soverom
Placerville, California, USA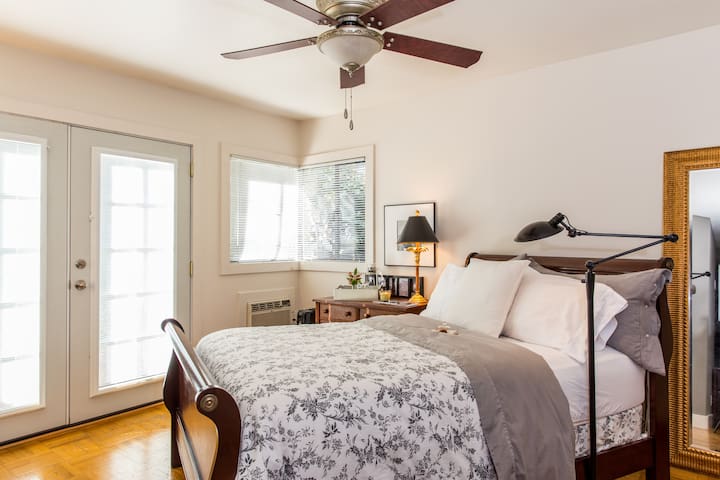 Hello, come stay in this beautiful studio in Fair Play CA Wine Country with the rate of $135. per nt-2 persons- includes T.O.T tax. Near 50 wineries, Consumnes river, Sierra hiking, Placerville, Apple Hill, Coloma, & Kirkwood. We have a comfy queen size bed in the sleeping area and a double size futon in the living area. It is a space best for 2 people, but 4 close friends or family would work.
The Beauty and Tranquility.
The Vineyards and views.
Bruce and Sondra were welcoming and helpful. The studio is a perfect size for the two of us and our dog. The deck and views were delightful. The winery up the hill is charming. We received a complete beginning wine education at the winery from a visiting neighbor named Murray and even though we are beer drinkers we bought wine for the first time. We wandered back down the hill through the grape vines eating the very sweet grapes. Every other driveway is a winery. It was really a treat. Thank you for helping with the barbecue and thank you for a really nice time.
Marian
2015-10-18T00:00:00Z
Great location Nice space for two Nice friendly people. Bruce & Sondra made it super easy and low key
Janet
2015-10-05T00:00:00Z
Cozy studio with futon bed and full kitchen. Very close to many wineries. Beautiful scenery. Bruce was welcoming and gave us a quick tour when we check-in.
Meg
2016-04-10T00:00:00Z
Bruce and Sondra were both very welcoming hosts. We had the chance to meet Bruce once we checked in and got settled- he came by to show us how to work the TV, fireplace, where the linens were- it was very helpful! This studio is indeed a charming little place tucked away in the gorgeous surrounding wine country. My boyfriend and I celebrated V-day here, relaxed, and enjoyed a nice cheese plate and bottle of champagne on the balcony. Very cozy space and it was peaceful to fall asleep to the frogs croaking in the nearby pond :) kitchen is fully stocked with dishware, our only regret was not packing a light dinner to make! The winery just up the road offers pizza, however we didn't leave the little cabin because we were so content! We're from San Francisco so this was the perfect get away from the city! Thank you so much Bruce & Sondra for our peaceful stay xx
Andria
2015-02-15T00:00:00Z
This was my first Airbnb experience. Bruce was very accommodating and helpful. The apartment was super cool, very clean and was perfect for my trip. Great experience!!! I will definitely be back!!
Michael
2016-06-08T00:00:00Z
Bruce was very welcoming. The loft was very peaceful and comfortable and we enjoyed our short stay.
Alison and Matthew
2015-05-31T00:00:00Z
We had an amazing time at Bruce and Sondra's lovely studio! The place was very warm, cozy, and a perfect amount of space for the two of us. Bruce welcomed us and showed us the place when we arrived. Gold Mountain Winery is within walking distance, and on weekends they serve delicious wood-fired pizza. Be sure to take a walk around the winery with Patti, the winery owner's friendly dog. This place was in a great location and had lots of privacy. It was within driving distance from great wineries, and about a 40-minute drive from Coloma, which has places to pan for gold and trails to hike. Definitely would recommend this place for a relaxing getaway for two.
Diogo
2015-01-01T00:00:00Z
This place is a true find! Highly recommend if you're exploring the many area wineries. Bruce and Sondra are wonderful hosts.
John
2016-10-30T00:00:00Z
Romtype
Helt hjem/leilighet
---
Eiendomstype
Leilighet
---
Plass til
2
---
Soverom
Somerset, California, USA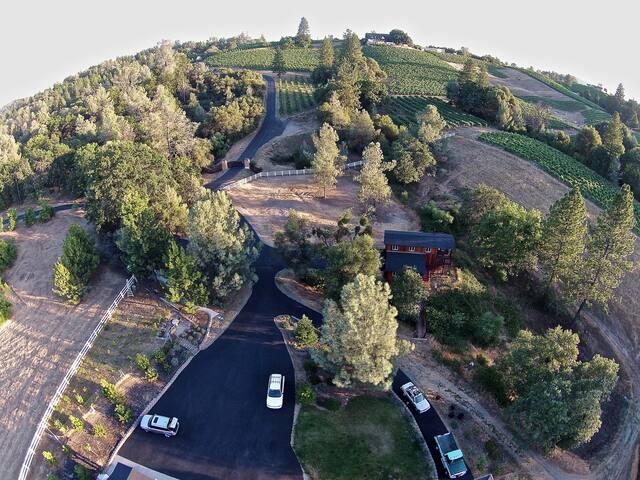 Directly across the street from Kirkwood village and within just 100 yards of lifts! Hotel-style room with one King-size bed. Includes lovely, updated bathroom with shower and jacuzzi bathtub. Cedar lined, large closet. Stone tile entryway with closets to hold skis. Kitchenette has coffee maker, microwave and mini-fridge. Comfy recliner chair for relaxing after a great day of skiing.
Awesome place, walkable to the lifts. Very comfortable room for 2 people. Well maintained. Had an awesome ski trip to kirkwood !
Venu
2017-03-12T00:00:00Z
Romtype
Helt hjem/leilighet
---
Eiendomstype
Leilighet
---
Plass til
2
---
Soverom
Kirkwood, California, USA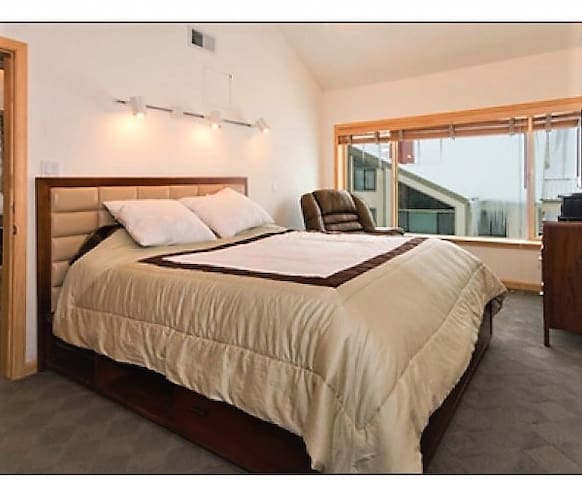 Cute studio space, includes kitchenette, new floors, very comfortable queen bed. TV with dvd player & selection of dvd's. & Roku great value for your money. !!!10 min from Heavenly Ski & right near bike path that peddles to Camp Richardson in the summer!! Also next door to my other listing
Near bike path, quiet comfortable place, walk to Sonnys Restaurant or Alpina coffee
Easy walking, quiet, near Camp Richardson
Perfect room for two! Very affordable for such a cute studio. Will be staying again!
Genevieve
2017-03-12T00:00:00Z
Great location to explore tahoe!
Shefali
2017-03-26T00:00:00Z
Great place to stay. Clean place, comfy bed and responsive host. What more can you ask for? Thanks rita!
Eddie
2017-03-18T00:00:00Z
Great simple place, fun people
Marianna
2017-03-19T00:00:00Z
Not worth the price of what is being charged for a night
Andrew
2017-04-05T00:00:00Z
Romtype
Helt hjem/leilighet
---
Eiendomstype
Leilighet
---
Plass til
2
---
Soverom
South Lake Tahoe, California, USA
My place is close to Historic Auburn Hiking and biking trails Rafting We are on Sierra Foothills Wine Trail 10 minutes from Folsom Lake 50 minutes from Boreal Ski Resort. 25 minutes to Sacramento
Have yourself a Farmcation, in our spacious 2 bedroom apartment, located on 5 private and serene acres. You can enjoy your morning coffee on the back deck, as the chickens meander around the property. The early bird really does get the worm! Then hit the wine trail or the hiking trail and end your evening under the stars at the outdoor fire pit. We have a stocked fishing pond available for your use, it's catch and release, pease bring your own pole.
While we are only a few miles off of I-80 you will find yourself feeling worlds away from the city! Our property is quiet and serene, a perfect place to unwind.
This is a great retreat.
Mike
2017-02-15T00:00:00Z
This was such a good place to stay with kids. Our two sons (4 and 17mo) had a blast visiting the cow and chickens, plus running across the yard and roasting marshmallows on the fire pit. We were so happy to cook some meals here so we weren't eating out all the time and we were only 10 min from Auburn! Denise provided a high chair and lots of outlets had kid-proof outlet covers too. There were great books and games for grownups, plus a nice TV for Saturday cartoons. Took the kids to Funfinity when it rained, plus a used bookstore in Auburn. We had such a good weekend!
Jennifer
2016-11-27T00:00:00Z
It's called their "happy place" for a reason! It was so charming and lovely inside. Denise's little touches were everywhere and made us feel welcome, comfortable and pleasantly surprised. I'm not sure if they can take the credit, but we saw a shooting star sitting out on the back deck! It was a lovely little oasis!
Rebecca
2016-08-21T00:00:00Z
This place is quite amazing- it's a modern in law unit on a modern farm, with lush trees, a pond and green pasture. We visited some local gems to inlude hiking the hidden falls trail, the American River, Ikedas, Cheese shop deli, and Bistro 301 in old town Auburn. You could easily visit a few local wineries if that's your jam or the tap house in downtown Auburn. This is a great place to stay off the beaten path for a magical weekend.
David & Velvet
2016-09-04T00:00:00Z
A beautiful Country Home, nestled amongst soaring oak trees. This was such an amazing home. All the amenities and comforts of home that is very well decorated, clean, spacious and centrally located to everything. It was a peaceful trip and allowed for nice quiet time to myself. I will definitely be back soon to enjoy more Farmcation time at Denise's very special home.
Darcy
2016-09-20T00:00:00Z
We had such an amazing time staying at this beautiful "farmcation" apartment. My husband and I were in town for a wedding with our two kids and the house and property were the perfect escape for our weekend getaway. The property is gorgeous, with a back deck overlooking a lush green lawn, which was our favorite spot in the house to hang out. The kids especially loved watching the chickens roaming around, walking down to the small pond, and visiting the friendly cows. The beds in both rooms were really comfortable and I loved all of the farm decor! Denise was incredibly attentive and helpful and provided everything we needed and more in the house and was quick to answer any questions we had. The house is easy to find and only a few minutes from the freeway which was perfect for quick trips into town. We ended up spending more time at the house than out sightseeing because it was such a nice, peaceful place to be. We'd definitely stay here again!
Natalie
2016-10-02T00:00:00Z
Bill of the couch and all the little chickens were sweet and fun to be greeted in the morning
Jurayia
2017-03-20T00:00:00Z
This beautiful cottage was the perfect combination of spacious yet cozy. It was extremely well-appointed and had an unbelievably gorgeous, pastoral view, large kitchen and dining area, a rustically elegant living room with a fireplace, and cozy, comfortable beds. Our hosts were extremely respectful of our privacy, yet were immediately accessible by text if we had questions. Highly recommend!
Kimberly
2016-12-06T00:00:00Z
Romtype
Helt hjem/leilighet
---
Eiendomstype
Leilighet
---
Plass til
4
---
Soverom
Newcastle, California, USA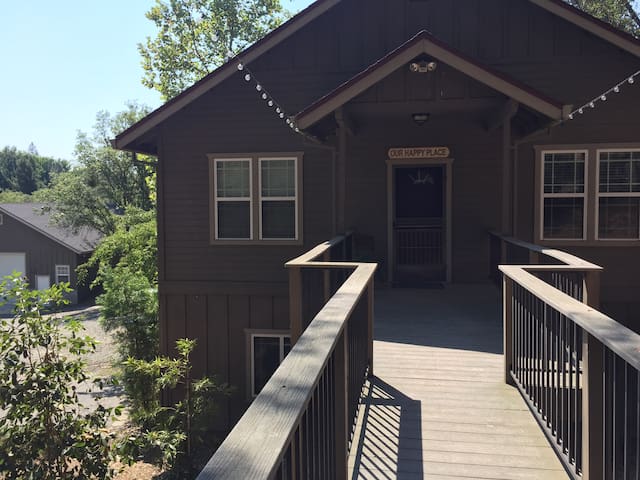 This modern and spacious studio is ideally situated--a short walk to the east will bring the wonders of nature with Rabe Meadows, Nevada Beach, and Round Hill; and a short walk to the west will bring you all the shopping, nightlife, and dining you could ask for with the casino corridor and Heavenly Village. A Queen-size bed and comfy futon in the unit can accommodate up to three guests comfortably. You also will have access to the serene yard in back where you can lounge and relax.
This often-overlooked neighborhood is currently undergoing a renaissance! We love living here, and we're sure you will enjoy your stay. As for restaurants an easy walk away, you can't beat the $5 breakfast specials in Timbers and Latin Soul inside Lakeside Casino, or the amazing Italian gem of Asiago's across 50. If you are hankering for the outdoors, there are countless paths weaving through meadows and woods, and a pond with ducks! Nevada Beach is only a mile walk away, and if you are feeling adventurous, then you can climb Round Hill. If you ski or ride, then the less busy Heavenly Resort Nevada entrance is a short drive up Kingsbury Grade, and the Gondola is even closer. Safeway and Raley's Supermarkets are each about 1 mile away. Montbleu, Hard Rock, Harrah's, Harvey's, and the Heavenly Village are all within 1-2 miles, and easy to walk to. This neighborhood also borders the backside of the world-class Edgewood golf course.
Great location, awesome little space. Has everything you'd want for a weekend stay in Tahoe. Within walking distance of the Casinos and night scene, but far enough away that you don't have to be a part of that scene if you don't want to.
Austin
2017-01-15T00:00:00Z
The host was very welcoming had coffee chocolates extra towels wifi available. The neighborhood was tucked away it was very private and cozy. Very reaponsive too!
Cecilia
2016-12-26T00:00:00Z
Great location. Cozy and comfortable for a couple. Basic furnishings.
Carol
2017-01-27T00:00:00Z
This space is very cozy and comfortable, perfect for a tahoe getaway! It was close to heavenly village, making it so we could basically walk anywhere we needed which was really nice! The hosts were very friendly and available if needed! Overall it was a great place to vacation!
Sarah
2016-12-30T00:00:00Z
Sara was an amazing host. Gave me all the necessary information for my stay and added that if I needed advice on what to do and where to go, she'd be happy to help. The location of this spot was great 5 min from the city center. Walking distance from a casino. It was neat/organized and again Sara's hospitality made us feel right at home.
Maegan
2017-02-26T00:00:00Z
Very cozy and perfect for a weekend getaway!
Nichoel
2017-03-27T00:00:00Z
Such a cute studio and so close to South Lake Tahoe, and Nevada Casinos! Great location and great place.
Julia
2017-01-30T00:00:00Z
cozy spot that's close to restaurants and shopping.
Dan
2017-04-04T00:00:00Z
Romtype
Helt hjem/leilighet
---
Eiendomstype
Leilighet
---
Plass til
3
---
Soverom
Stateline, Nevada, USA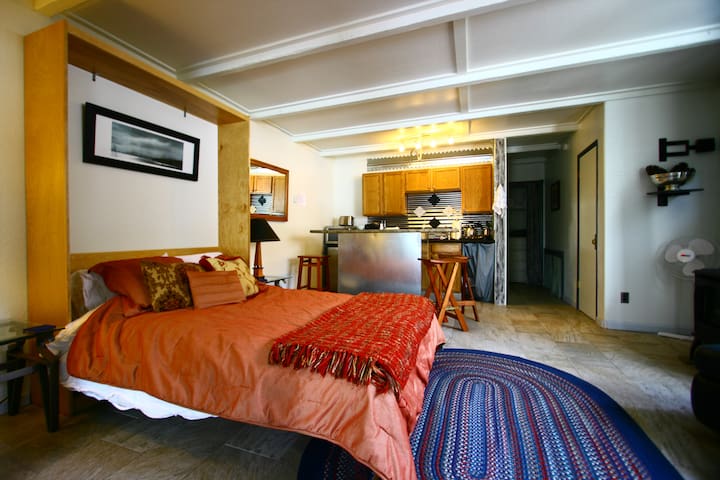 This is a relaxing, spacious, self-contained riverside studio in the lower floor of our home. Wake up in a comfortable Cal King bed to a beautiful view of the forest and river on our 20 acres. Relax in a hammock, fish, or paddle a kayak. Shower indoor or outdoors. Enjoy the privacy and convenience of a well-equipped kitchenette and bathroom. Private patio. Perfect for couples. Not suitable for children as this is on the river and in the woods. Only 3 miles and 3 turns from Hwy 80.
Bear River studio is only 3 miles and 3 turns off of Hwy. 80, yet is nestled in the woods on the rivers edge, in a quiet setting on our 20 acres. Play or fish in the river, take walks around the property on our trails, fall asleep to the sound of the river from your bed. You can explore the local area or simply hang out and de-stress.
Although we are only 3 miles from Hwy 80, it feels like you are in the wilderness. The studio is off of Dog Bar Road, which is a back way to Grass Valley and Nevada City. We only have one neighbor, and they are very friendly.
Mia is one of the most hospitable people you'll ever meet! The studio, attached to her home is steps away from a beautiful river, and the space inside is extremely clean and unique with all of the necessary accommodations. We can't wait to go back!!
Chad
2016-10-10T00:00:00Z
Mia and Tom were incredibly gracious hosts. The instant confirmation was nice because we hadn't planned far in advance, and Mia's alacrity in responding was much appreciated. The house and property are gorgeous and secluded, amenities/activities abundant, very friendly locals. Mia effortlessly straddled the line between being open for any/all inquiries and giving us space. I would absolutely come back and bask in amongst the stones (and very friendly dog) in the river!
Valentina
2016-08-09T00:00:00Z
What a lovely bit of paradise on the Bear River. We were so happy with the location and access to the river with all the great places to hang out and equipment we could use like the inner tubes for floating on the river, hammock, kayaks, hot tub etc... I wished we had more time to take advantage of it all. Mia was a very gracious host, giving us a tour and making us feel very welcome at her home. Our room was spacious, the shower and bathroom excellent, the views form those huge windows are so peaceful. It is the perfect place to unplug, relax and retreat.
Laurie
2016-08-17T00:00:00Z
Mia welcomed us so warmly. She has a wonderful personal touch and made us feel at home. The studio apartment and natural setting, the well set-up spa and riverside all made for special get-away.
Marc
2016-07-30T00:00:00Z
I'm so in love with these people. Mia and Tom have their fingers on the pulse of what makes life joyful. I admire their ability to live and I'm grateful to have absorbed some of their remarkable energy.
Erica
2016-08-09T00:00:00Z
Mia was a great host! Very responsive and open to adjustment when mine and my husbands schedule went a little crazy. She was very excited to see us and show us around. Overall very welcoming and accommodating. Would definitely look into staying again. It was quite the perfect mini vacation.
Britania
2016-08-15T00:00:00Z
Mia and her husband were so amazing to us during our stay in their amazing river front room!!! They were so sweet and welcoming right when we got there. They met us with refreshments in hand and went over the room to make sure we were comfortable. The kitchen was stocked with anything you could need...Mia even took the time to grind us fresh coffee! The view from the room was so very beautiful and the grounds were out of a dream! Mia's garden was so fun to roam through and she welcomes you actually picking and using any of the veggies you would like. They even set up a little sitting area right on the beach of the river where we spent a lot of our time just relaxing. Money well spent and such a nice treat...we hope to come back soon!!!
Christina
2016-07-19T00:00:00Z
This was our favorite Airbnb to date! We loved the location to the river and being able to lounge by the beach area and just listen to river flowing by. Mia has thought of everything one could need to thoroughly enjoy this outdoor paradise. The studio itself was clean and comfortable, and had everything we could ask for to enjoy our stay. The bottle of wine on arrival was icing on the cake. We definitely can't wait to come back and spend more time enjoying the river!
Salitha
2016-08-22T00:00:00Z
Romtype
Helt hjem/leilighet
---
Eiendomstype
Leilighet
---
Plass til
4
---
Soverom
Colfax, California, USA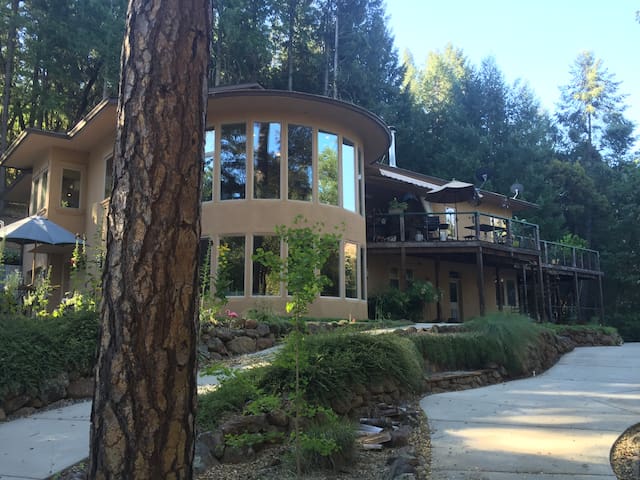 Cozy Studio with its own private entrance situated at the end of a cul-de-sac in a quiet neighborhood in Zephyr Heights. Close to Heavenly Resort, casinos and Zephyr Cove beach, this cozy studio has all the amenities you need for your own private Tahoe Adventure!
The studio has everything you need for a comfortable and private stay! It comes fully equipped with a king sized bed and full kitchen. It is located in a quiet neighborhood in Zephyr Heights. We are a short (5 minute) drive to all of the excitement and entertainment options available at Stateline with its casinos, restaurants, movie theaters and Heavenly village. For those guests looking for a more relaxed atmosphere, we are a short (2 minute) drive or 10 minute walk to Zephyr Cove beach and the magnificent natural beauty of Lake Tahoe!
The studio is situated in a quiet neighborhood of friendly people and custom homes in a forested setting near the south shore of Lake Tahoe.
We had a lovely time at this sweet little spot.
Betánië
2017-01-27T00:00:00Z
Laurie was very responsive, and made sure that we were comfortable during our stay! This quiet and comfortable full studio was very conveniently located and made for a great Tahoe visit.
Jamie
2016-08-24T00:00:00Z
Our stay at the studio was very comfortable. Check-in was easy and everything was nice and clean. Just know that if you go in the winter months there is a bit of a hill to go down to get to the house, which can get icy, so make sure you have snow tires or chains especially to make it back up. Also, you can hear the people staying in the unit above you (especially kids running around) but I guess that is common for multi-story residences. Also, it is usually easy to get an Uber to the casino/Heavenly Village area, about a $10 trip if no surge pricing. Overall a cute place to stay.
Tamara
2017-01-01T00:00:00Z
Laurie and Don were very nice hosts. The studio is cute and clean and in a lovely residential neighborhood. There were even some beers and sodas in the frig and biscotti on the counter! The bed was very comfy, and the shower was lovely. The kitchen is supplied with enough pots, etc to make simple meals, and there is a nice grocery nearby. Thanks for the great stay in Tahoe!
Barbara
2016-09-16T00:00:00Z
We had just gotten married and made a last minute change to our mini-honeymoon plans. We looked on AirBNB for a cute spot near the South Shore and found Laurie's place. We were pretty sure we wouldn't be able to get anything for that day, much less within the next couple hours after booking. But Laurie responded immediately! So we packed our bags, drove down the East side of the lake picnicking along the way, and had a great place to end up that evening. Their spot is located within minutes of the lake, in a nice quiet neighborhood and had everything we needed to just relax for a few days, plus it was very clean. Thanks for being so accomodating Laurie!
Tim
2016-06-29T00:00:00Z
The studio apartment was clean, very spacious, well lit and very private. The bathroom is very spacious too. The heater kept me warm even while temps were 35° F outside. Laurie was a wonderful host. Very communicative and ready to help with tips and local information. I recommend this place.
Luis
2016-10-31T00:00:00Z
The host was great! Thank you!!
Linda
2016-11-21T00:00:00Z
This lovely studio is fitted out with just about everything: there was coffee for the French press and biscotti; a couple of bottles of beer and water in the fridge; dishes, silverware, glasses, pots & pans and even some zip-top storage bags in the kitchen; lots of fluffy towels and a comfy bed with extra pillows; and a small table and chairs by the window. Everything was nice and clean and comfortable. We felt like invited guests, welcome from the first day to the last, and would highly recommend this property!
Lee
2016-07-18T00:00:00Z
Romtype
Helt hjem/leilighet
---
Eiendomstype
Leilighet
---
Plass til
2
---
Soverom
Zephyr Cove-Round Hill Village, Nevada, USA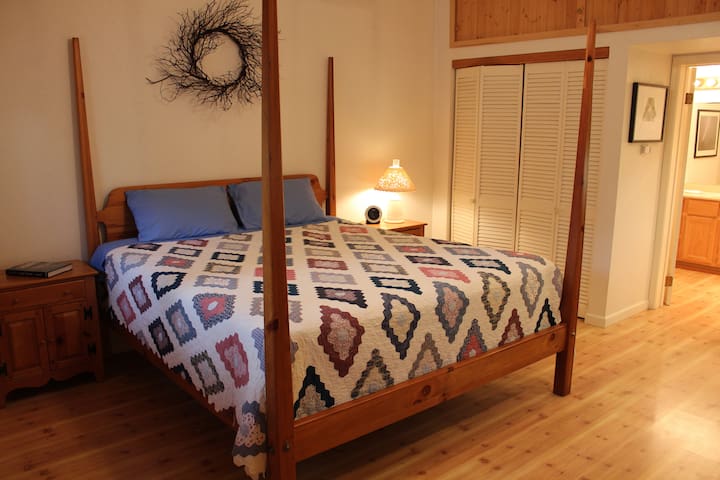 Victoria at Rubicon Bay
Romtype
Helt hjem/leilighet
---
Eiendomstype
Leilighet
---
Plass til
8
---
Soverom
Tahoma, California, USA
My home is close to Downtown and Old-town Auburn, the movie theaters, restaurants, wineries, hiking trails, biking trails, rivers, golf courses, and more! The place is cozy, quaint, private, in a great location, and makes for a great weekend get-away. If you are a couple or even a solo adventurer then you will feel at home!
My place is around a 800sqft studio and is more than enough space for 2 people. Sit and enjoy the living room, or outside on the patio. Fenced so you have privacy from the neighbors!
My place is a 5 minute drive in either direction from everything you need whether it be the grocery store, restaurants, Old Town Auburn, Downtown Auburn and only 5 min off where Hwy 80 connects to Hwy 49.
Awesome host
Sheila
2016-12-26T00:00:00Z
Tyler's place was perfect for our stay and met all of our needs. Comfortable bed, clean, private, and perfectly quaint. Although there was not much of a need to contact him, he was responsive and available to inquiries. Thanks again Tyler, we'll hopefully be returning soon :)
Anna
2016-11-21T00:00:00Z
Tyler went above and beyond the "host" responsibilities. The place was clean, comfortable, convenient, and most of all affordable.
Christine
2016-12-18T00:00:00Z
I really enjoyed staying at Tyler's little cottage. It was a good location for what I needed and it was clean and comfortable and felt very safe. I appreciated the note welcoming me with some nice tea bags and Tyler was responsive when I had questions.
Catherine
2017-03-29T00:00:00Z
Our stay was perfect. We were visiting friends, so we just needed somewhere to lay our head, as we were with friends most of the time. Tyler's place fit our expectations and needs perfectly. The place was easy to find and parking was a dream. The place was clean and very welcoming. We would return :)
Marissa & Chris
2017-01-14T00:00:00Z
This was fantastic!
Massimo
2016-11-26T00:00:00Z
Tyler's place was clean and cozy and we would consider it for future trips.
Tara
2017-01-01T00:00:00Z
I was in town to run the Way Too Cool 50K in the neighboring town of Cool, and this was the perfect place to stay. Super private and quiet and comfortable, and a very short distance from stores and shops and nature and downtown Auburn. If you are visiting the area I highly recommend staying here. I had a great time and Tyler made everything easy. 5 stars, would stay again.
Jerry
2017-03-06T00:00:00Z
Romtype
Helt hjem/leilighet
---
Eiendomstype
Leilighet
---
Plass til
2
---
Soverom
Auburn, California, USA
This cozy 450 square-foot one-bedroom one bath apartment, newly renovated, has an outstanding view of Folsom lake in a quiet neighborhood with direct access to a hiking trail along the lake. Pet friendly, fenced backyard, gorgeous pool. This beautiful carriage house has a large deck, new appliances, clean and pristine. Decorated in a calming water and wood theme with full size sofa bed. Not far from historic Folsom.
Amazing views, quiet neighborhood, direct lake access. Washer drier, dish washer. Refrigerator, dishes and. cookware, Sleeper sofa, full size bed, dinette set.
Romtype
Helt hjem/leilighet
---
Eiendomstype
Leilighet
---
Plass til
4
---
Soverom
El Dorado Hills, California, USA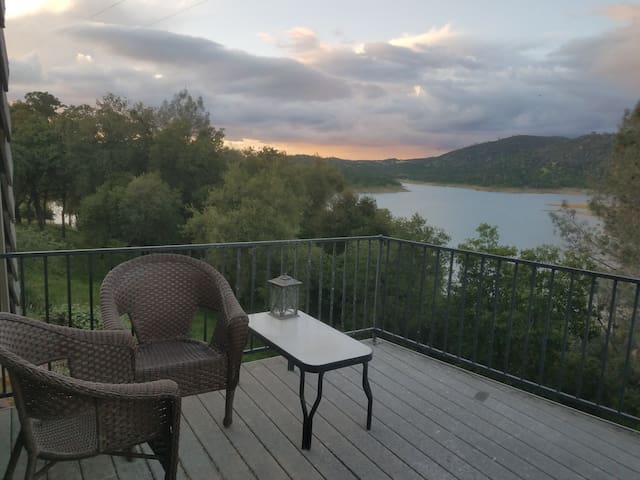 Great South Shore Lake Tahoe Condo with nice upgrades. Sleeps up to 4 with updated kitchen, fireplace, and washer/dryer in unit. 400 yards to Heavenly Valley Ski area and Near South Lake Tahoe's big Casinos. Enjoy Skiing in the winter and Summer boating hiking and Lake Activities. We have been using another website for our rental over the last few years but after hearing from friends of ours that have used AIRBNB we wanted to list here as well!
Excellent communication with Hosts prior to check-in, then after check-in, they provided some restaurant suggestions, since it was late and the city was crowded for Labor Day weekend.
Sherri
2016-09-04T00:00:00Z
Had a great stay at Richard's place in South Lake. His place is very clean and comfortable. Richard was very quick to respond with any questions I had. Thanks again!
Joel
2016-06-13T00:00:00Z
The host canceled this reservation 39 days before arrival. This is an automated posting.
Michele
2016-06-20T00:00:00Z
Amazing stay everything about it and Richard & Christiana are the best hoping to stay again thank u to both of you :0)
Rose
2016-08-07T00:00:00Z
Everything was fine but we have to wait 3 hours because they were paving the parking to the condo. It was very quiet all the time, the condo is comfortable, the room is a little too small and the futon is not comfortable to sleep. Good neighborhood and safe.
Jaime
2016-08-23T00:00:00Z
Cute little condo close to South Lake but far enough away for a peaceful and quiet getaway. Richard & Christina are good hosts!
Haley
2016-11-26T00:00:00Z
We spent 4 days at Richard & Christina's Lake Tahoe halfplex at the summit of Daggett Pass and enjoyed our stay. The condo was quiet, clean, nicely furnished, and had the amenities needed for a relaxing stay. Our host gave us great directions and instructions to access the condo, and were quick to respond with any questions we had. Parking was convenient and it is only a 10 minute drive down to the casinos and restaurants of South Shore. It should be noted that you will need to carry luggage / supplies up some stairs (at a high altitude) into the condo, which may not be suitable for some. We recommend staying there and would do so again.
Greg
2016-07-14T00:00:00Z
The place was as described, Richard and Christina warned us that the place wasn't big and wade sure we will know what to expect. Which was very nice of them. The place was clean, the neighborhood was quiet and beautiful. With a lot of trails for hiking around. We liked the stay a lot and didn't want to come back home)))
Valentin
2016-08-15T00:00:00Z
Romtype
Helt hjem/leilighet
---
Eiendomstype
Leilighet
---
Plass til
4
---
Soverom
Lake Tahoe, Nevada, USA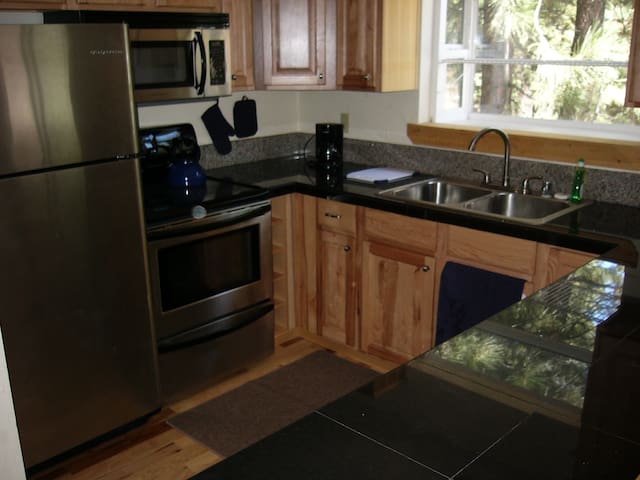 This apartment is a 1 bed room apartment with space available to sleep centrally located in the civic center/downtown area in SF. You would be sleeping in living room on comfortable bed . It is a short walk to all popular places in city.
Romtype
Delt rom
---
Eiendomstype
Leilighet
---
Plass til
1
---
Soverom
San Francisco , California, USA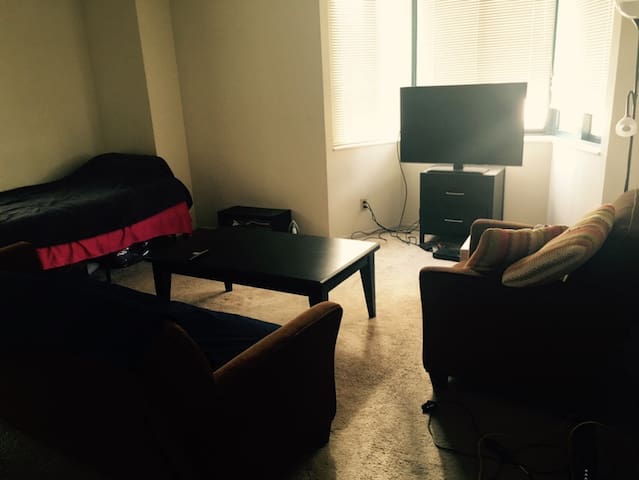 Park your car(s) in the driveway, proceed down a few steps, through gate to your private entrance. Salt water pool & hot tub (thus no children under 12 please). Propane fireplace, laundry room, stunning private pine tree views, well-stocked kitchenette, comfy queen bed in the bedroom, pullout queen bed in living area. Strong cell & WiFi, 200 channels of cable TV. Short (but steep!) walk down to historic Main Street.
Welcome to Your Pine Retreat! Park your car(s) in the driveway, proceed down a few steps and through the gate to the private entrance to your home away from home. Amenities include a salt water pool & hot tub (thus no children under 12 please), propane fireplace, laundry room, and private pine tree views. The well-equipped kitchenette includes fridge, microwave, toaster oven, 2-burner hotplate, and a full array of kitchen supplies, as well as a one-cup coffeemaker with a 35-pod carousel featuring a variety of coffee choices. You'll find a comfy queen bed in the bedroom, as well as a sofa with a pullout queen bed in the living area. We have strong cell & WiFi, and 200 channels of cable TV. Feel free to wax rhapsodic on the well-loved piano - you'll find music in the bench and under the side table. (The framed photo on the piano is a family classic - my husband Cary's grandparents!) It's a short (but steep!) walk down to historic Main Street, with its unique restaurants, antique shops, boutiques, coffee shops and candy stores. Don't miss Placerville Hardware and Placerville News - wonderful stores with roots in the Gold Rush.
Your half-acre Pine Retreat is on a quiet, dead-end lane.
There is no stove here, but there is a hotplate. The hosts live upstairs. If you're looking to be isolated from people, this isn't the place. I could hear them walking around upstairs in the morning.
Stephen
2017-01-22T00:00:00Z
Very cute space! Both secluded and close to town. Relaxing in the hot tub and taking in the view was one of the highlights of the weekend. Only complaint was the low ceiling in the bedroom, it wasn't a big deal but definitely something to be aware of if you're tall.
B Sundeep
2017-02-06T00:00:00Z
This truly was a retreat experience. Having never stayed at an Air B&B before, I wasn't sure what to expect. But Jeanne exceeded all of my expectations. The pictures were just as described. Parking was easy once I made it up the steep road to the home. I was staying mostly for work (wi-fi is excellent), but wanted a quiet escape from Sacramento. The beautiful pines, cozy atmosphere of the home, and cabin decor made it perfect. Jeanne thought of everything I might need and had clear instructions labeled. My favorite was probably the propane stove and endless supply of yummy coffee drinks. I ran to the grocery store in town for a few essentials and was able to eat breakfast and dinner at the retreat. The only think I would share in case you have someone really tall in your group is that the shower stall is low. Was fine for me (I'm 5'8"), but someone like my hubby who's 6'3" would def have to duck down. It wouldn't keep me from bringing him next time though- I'm already considering a weekend getaway with him and possibly the kids next summer. There's a lovely pool & spa, plenty of room for 4 people so I think we would enjoy it as a family.
Allison
2016-10-07T00:00:00Z
The space is quite lovely, relaxing and cozy. We had easy communication and were happy to enjoy a clean, friendly environment. We highly suggest to stay here.
laura
2016-11-27T00:00:00Z
Very nice stay. Lower floor of a home with own entrance, felt very private. Comfortably furnished. Guessing 600-700 s.f. - much larger than a hotel room and most suites. Hot tub with lovely forest scenery. Easy walk to town - walking back tougher due to steep hill (better be in shape, or cab from downtown restaurant back was $6). Ceilings in living area are pretty typical but they are lower in the bedroom/bath, a bit under 7 foot I think. My husband is 6'1" and there was no issue but if you're 6'5" or more - might get a little cozy. Excellent wifi. Little things like outdoor motion-sensor lighting (pathway lighting, not blinding flood lights) makes it clear thought was put into strangers staying here. Overall, a wonderful spot that represents a much better value than the area's hotels. Would definitely stay here again.
Katy
2016-11-13T00:00:00Z
Good location for a quick getaway from the south bay focusing on great customer service and equally good value for the money spent. As stated in other reviews, the ceiling is lower then other rentals but we did not find any issues with it, and we're above 6' in height. Bathroom, living room, and bedroom were all good and meet our needs for our stay. TV/Cable is available and is conveniently placed around two nice and comfortable couches. The gas heater stove is a nice touch and keeps you warm while you sit and relax watching TV. Bring your swimsuits to use in the Jacuzzi. I think most people will love the memory foam bed but we sleep "hot" so its not our favorite, however it did better then expected. The kitchen is well equipped but we did miss having a toaster in the morning. The hosts were/are superb. They were there to support us before we arrived and also helped out after we left. Better support then most 4 * hotels and absolutely better then all other rentals with been involved in.
Michel
2017-01-15T00:00:00Z
Absolutely beautiful home in an equally beautiful setting. Wonderful place for a weekend getaway.
Martin
2016-12-19T00:00:00Z
This was our second stay here, and we will be back! The place has everything you need to feel at home. It is very quiet, and close to town.
Melinda
2017-03-19T00:00:00Z
Romtype
Helt hjem/leilighet
---
Eiendomstype
Leilighet
---
Plass til
4
---
Soverom
Placerville, California, USA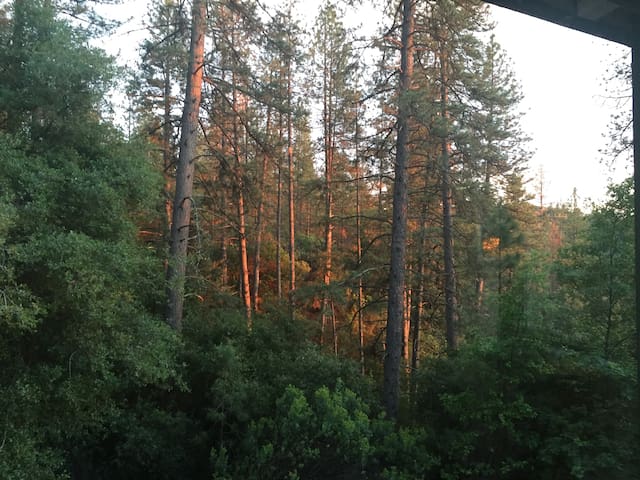 Our place is close to Downtown restaurants, shopping, biking, small lake. 5 min drive to boating, 20 min to skiing and rafting. You'll love our place because of the amenities. This is a 4+ star guest house. Our place is good for couples, solo adventurers, business travelers, and families (with kids). Amenities include Barbeque w/Pavilion, horse shoe pits, tether ball, ping pong, Wi-fi, Playstation. Guest House does NOT have cable television (includes antenna TV w/Apple TV including Netflix)
The Avery Guest House is approximately 600 square feet, 2 bedrooms, kitchenette, private bath with full tub/shower, living room with 40" television. Master bedroom has a writing desk and 40" television & Apple TV, Bedroom 2 has a 19" television with DVD and VCR. Living room has a television w/playstation, Apple TV. All the fixtures and furniture are of high quality and appointed beautifully from the Silestone kitchen counters to the marble bathroom floor. The kitchen includes an apartment size refrigerator/freezer, microwave, coffee pot, crock pot, toaster oven, toaster, stove burners, all the dishes, pots, pans, utensils, glasses, silverware, and linens you need to make an efficient meal. The bedrooms are not large but they are comfortable and have room to rest and put your things away to make yourself at home. Bedrooms have carpet and heaters and fans for each room. There is NO CABLE service but antenna for local channels (Apple TV access for Netflix, CBS, and many other popular channels. Wi-Fi is available and included. In the pavilion there is a large barbecue that has an additional burner and oven. WE ARE STRICTLY A 4 PERSON MAX CAPACITY. (no exceptions) Absolutely NO PETS. Non smoking environment. (okay to smoke at upper covered patio) Fire Pit is available when fires are permitted. Provide your own firewood (We include a "Duraflame" log) This property is similiar to a "family suite" at a local hotel includes the 2 bedrooms, kitchenette, livingroom. (Local hotel "family suite" is $250 per night)
We are WALKING distance to restaurants and dining, shopping, and hiking/biking trails at the lake. By car we are 5 minutes from the boating and swimming, hiking, biking, camping lake. In 25 minutes you can be skiing or white water rafting. Because we are close to the elementary school our road is plowed right away and power is rarely if ever lost. Wine tasting and Apple Hill Farms are within minutes. Historic Coloma and Placerville are less than 15 minutes. We are located at 4000 feet (at the snowline) Often snow is as close as the backyard but the nearest snowpark is about 20 minutes at 6000 feet.
We had a great time at the Avery House! It was a beautiful house with a garden-like backyard great for relaxing with friends. The house was comfortable and had most everything you would need.
Cherise
2016-10-10T00:00:00Z
Clean, comfortable, well-appointed home. Hosts have gone out of their way to make a pleasant experience, with info binder, snacks, movies, etc., as well as hangers and drawers for unpacking. We have a toddler, and they provided high chair, bed safety rail and a few toys and books, which were all extremely helpful! Safe location, parking 10 steps from the door, quiet neighborhood. Would definitely stay here again!
Stacey
2016-11-07T00:00:00Z
Cathy and Dennis have a great guest apartment, very well-arranged for visitors. It's quite private, and the fireplace makes it especially cosy. They considerately left snacks and lots of useful information. The location is in central Pollock Pines, near the shopping center and highway, but tucked away in a quiet neighborhood. We would definitely book a stay there again; the hosts do a really lovely job of making guests feel welcome.
Karen
2016-09-22T00:00:00Z
The Avery house was a very peaceful place to stay. The hosts were great and accommodating. We loved their dog Wilson and their backyard was perfect to relax, cook, play horseshoes and unwind. Thank you so much!! Josh & Courtney
Courtney
2016-09-26T00:00:00Z
We thoroughly enjoyed our 2 nights at Avery House. Cozy, well appointed, in a quiet setting. We would definitely stay at The Avery again!
Vanessa
2016-11-13T00:00:00Z
Cathy's Avery house is a wonderful spot of tranquility in the beautiful town of Pollock Pines. It was clear that Cathy takes great care in making a stay at the Avery house pleasurable for her guests. Avery house was tastefully decorated, extremely clean, and had amenities (kitchenette with kitchenware, entertainment options, including kid activities, even an outdoor hot tub among other amenities) that made it a space that is accomodating for different groups of people, including families. Overall, our family enjoyed our stay there and would be pleased to stay again! I highly recommend this home to Air Bnbers!
Marlen
2016-12-20T00:00:00Z
We had a wonderful stay at Cathy's guesthouse. Cathy and her husband made us feel welcome. The place was very comfortable, well appointed, quiet and centrally located in town. We looked forward to coming back to the place after a long day of hiking and activities. We fell in love with Pollock Pines and the nearby Sly Park Lake / Recreation area was a nice alternative to Tahoe Lake itself (which was quite busy over July 4th weekend). Also, the atmospheric town of Placerville was just 15 minutes away with more dining options.
Jesse
2016-07-05T00:00:00Z
We happened to book on a ridiculous snow weekend, which closed Hwy 50 for several hours on a Friday night. What a treat to just stop and settle in, and not worry about waiting on the road for several hours to get to SLT. Cathy had the place warmed up for us, ready for our arrival. Great location to avoid driving over Echo Summit during winter. No major issues. Our kids loved the Xbox. Note-- kitchen has no oven, and one induction burner for cooking only.
Vanessa
2017-01-22T00:00:00Z
Romtype
Helt hjem/leilighet
---
Eiendomstype
Leilighet
---
Plass til
4
---
Soverom
Pollock Pines, California, USA
Remodeled Feb 2017 - Studio located in the Meadows bldg, pretty much brand new everything. HQ King bed, memory foam, cool bunk bed or couch combo... a home, not a hotel room :) very short walk (235yards) to the village & main mountain access (Chair 6/5/10/11..) Only condo bldg at Kirkwood that has everything; Hot tub, wood fireplace, free firewood, Great Room for lounging, ski-locker, waxing station, laundry, elevator, reserved underground parking, cross country access, gasBBQ & Shuttle.
It's one of the only units at Kirkwood to have everything. The studio comes with a full kitchen wood-burning fireplace, free firewood, ski locker, covered underground parking, private deck, hot tub, gas burning grill always stocked, A large great room with two-sided fireplace and large tables and super comfy chairs to relaxin...perfect for entertaining guests. it is about 200 yards two main mountain access, a short walk to the lifts and you can ski in right to the front door of the building from chair six or chair seven. In the unit you will find brand-new flooring and high-quality amenities like Egyptian cotton sheets, quality pillows, memory foam toppers and so much more than a basic hotel room. Pets allowed $25/night per pet Right now, Winter of 2017... we have had so much snow out at Kirkwood, the deck connected to the back door of unit in covered with ice and snow and you can't use it at this time... just FYI. Oh it just sucks so bad to have so much snow :) Also, the cleaning fee of $100 - I had a guest complain about it, so I thought I would explain that I actually pay the cleaner $120 per clean because of the remote location of the unit, 45 min drive from town...hard to find reliable folks, so when you do, you pay them well! So just FYI, I eat $20 each time to make sure your place is ready to go when you arrive. Shaun is awesome!!!
This studio worked really well for my 2 middle school kids, my dog, and I for a 3-day weekend. The hot tub was nice, the meadow is close-by and the lifts were only 300yds away. The memory-foam bed was comfy and the place was clean. Thanks!
Judy
2017-04-02T00:00:00Z
Great place to stay for skiing kirkwood, get your own parking spot and walk to the lifts! The bed was super comfortable! We'd definitely stay again.
nancy
2017-03-10T00:00:00Z
Good place to wake and shred!
Sean
2017-02-28T00:00:00Z
Solomon and Shaun were great. Easy all the way around and super check in instructions. We love the Meadows. We'd certainly opt for Solomon and Shaun's place again.
Don
2017-03-19T00:00:00Z
Romtype
Helt hjem/leilighet
---
Eiendomstype
Leilighet
---
Plass til
4
---
Soverom
Kirkwood, California, USA
Private entrance, very lg patio and fire pit area with lovely views of pines and oak trees.All new appliances, including washer and dryer. Provide outdoor dining and grill. Visit Historic placerville 5 min from downtown& apple hill. Near exceptional restaurants,wine tasting rooms and exclusive shops. We look forward to your visit.
This is a completly renovated, modern 1 bedroom unit, it is a 3 room suite, including an open kitchen with stainless steele appliances, a washer and dryer, and nice tile floor. The second room enconpasses a foyer with a beautifully lg bathroom attached, the third room is a spacious bedrm with a queen bed, walk in closet, desk area, a new plush carpet, a large flat screen tv, both cable and wifi available, with only one shared wall with the main house and private entrance, you have complete autonomy and privacy.The communal backyard is perfect for relaxing after a day of exploration, with lounge chairs, nice lighting,and a fire pit.
Randy and Debra were very welcoming, friendly and helpful. Their place is nice and clean. Placerville is in a pretty area. Good central location for day trips including Tahoe, Amador and Napa. We enjoyed our stay.
Lisa
2016-10-16T00:00:00Z
Very easy & Friendly!!
Dana
2017-04-01T00:00:00Z
We had a wonderful stay in Placerville while attending Hangtown Music Festival! Randy was very communicative and flexible with our schedule and timing and made it as easy as possible for us to check in and have a perfect weekend. The room itself was perfectly clean and tidy with great natural lighting and plenty of space. I would highly recommend this airbnb to anyone also looking to get away and relax and enjoy their great vacation!
Billy
2016-10-23T00:00:00Z
Randy was an excellent host and a genuinely nice guy. He is available to answer any questions you have but also very respectful of your privacy. The accommodations were more than adequate. The bedroom and bathroom are both updated, clean, and spacious. The pictures are a good indication of the quality of the features. Having a separate kitchen was nice too. If you want a place to stay while you're visiting Placerville I don't think you'll be disappointed.
Jason
2016-11-13T00:00:00Z
Randy and Deb were absolutely fantastic hosts. Their listing doesn't do the place justice! It is a beautifully remodeled, private 1 bedroom unit with a gorgeous kitchen and bathroom. It was perfect for my husband and I. The place was extremely clean when we arrived, and getting in was very seamless even though we had a later than expected arrival. Randy was extremely responsive. They were truly incredible hosts. The place was very private as there is a seperate entrance to the unit. They have a beautiful back yard with a firepit and outdoor seating to enjoy the peacefulness of the area. Their home is very close to great wineries and breweries, and minutes away from Apple Hill as well. They had a whole wall of brochures and things to do in the area. Randy also recommended breakfast at Sweetie Pies in downtown Placerville which is a cannot miss! Thank you for a wonderful stay! We hope to be back!
Laura
2016-09-18T00:00:00Z
The host and hostess greeted us as we came from our parking place and were very open and welcoming. They showed us where the key was and how the lock box operated. They showed us around the nice quarters that included a full kitchen with a washer and dryer and refrigerator, all very new. The refrigerator was stocked with Beer and Snacks and the counter had wine and all the other essentials like cheese and crackers. (We later enjoyed our wine on the very back patio overlooking a beautiful forest.) They had put out beautiful flowers throughout which was very inviting and cheery. The listing was accurate and more than met our expectations. The neighborhood was safe and quiet snuggled into a forest of tall trees and the outside patio areas had an abundance of furniture with a firepit to enjoy when the cool of night settled into this gorgeous Sleepy Hollow. The bath and shower were very clean with fresh towels and soaps ready for use. The bedroom was nicely laid out with an overhead fan, plenty of closet space, a desk and a most comfortable bed. The big screen TV was excellent with unique features such as a talk into remote to allow you to pick up on football games or whatever by talking into the handset. We also had an opportunity to visit with our hosts on the back deck and heard stories of the hosts singing career and stories about Placerville, a very historic town. Both host and hostess were interesting, pleasant, and entertaining. Their knowledge of the area, including wineries, restaurants and historic places is very extensive. The next morning we took their advice and visited an 1865 Victorian restaurant specializing in breakfast. It was a great breakfast and the French Toast was excellent. We visited several sites in the area along with walking the streets of Placerville's unique Main Street updated with new streets, bike lanes, motorcycle parking, and beautifully bricked pedestrian crosswalks. We enjoyed it all and visited an art shop and other stores throughout the town. Even though the town has lost its early name of Hangtown, at one place a Mannequin hanged from an extended beam on an original store just to remind you of the out west roots of this town as probably the biggest crossroads town for the 1850's Gold Rush, known to all as the 49'ers, the name also given to the Bay Areas favorite football team. Our place of stay with Randy was only a short hop to Main Street and all of the real fun of this area, including the wineries which we also visited, were close by. Indeed we found, bought and have now consumed some excellent wine . To all potential visitors, whether close by in Sacramento, or farther away, this location and stay was simply marvelous and great for us. The convenience and local attractions make for a great package, along with Poor Red's for dinner one night. We strongly recommend "The Foothill...
p
2016-09-06T00:00:00Z
Everything here was fantastic. Randy was very accommodating and wanted to ensure our comfort during the entire stay. I'd recommend staying here to anyone looking for a great place with lots of privacy.
Scott
2016-09-26T00:00:00Z
My wife and I stayed at Randy's place for 2 months while we looked for a more permanent place to live. His house is less than 5 minutes to downtown Placerville which was nice. Randy was an excellent host all around. He was quick to respond whenever I sent a message and handled all concerns swiftly. The space itself is extremely nice and very comfortable. If I needed to I would definitely stay with Randy again.
Jason
2017-02-28T00:00:00Z
Romtype
Privat rom
---
Eiendomstype
Leilighet
---
Plass til
2
---
Soverom
Placerville, California, USA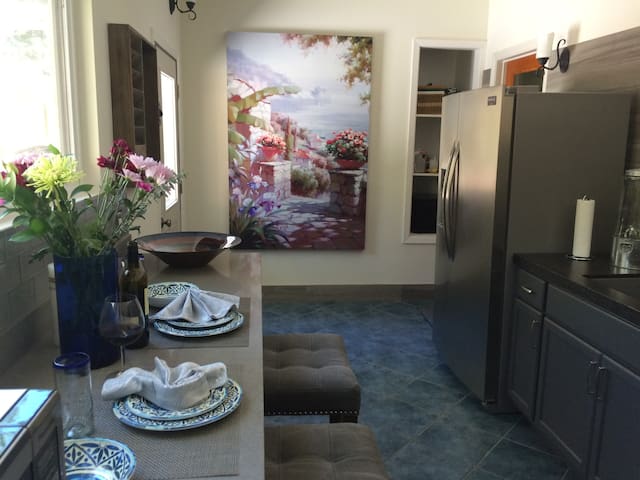 Modern recently remodeled 2 Br, 1 BA condo. Each bedroom has a King size bed, Queen Sofa bed in the living room, as well as a fireplace, fully equipped kitchen and bathroom. In close proximity to the lake, skiing, hiking , bike trails, shopping and restaurants. Sleeps 5.
Recently remodeled 2 Bedroom and 1 Bath nicely furnished and comfortable bedding condo. Very Clean! 800 Sq. ft. SLEEPS 5 people comfortably; Each bedroom has king size bed, and pull out sofa bed in the living room. This condo comes with comfortable beds and furnishings, fully equipped kitchen: full size cook ceramic stove and refrigerator, microwave, dishwasher, European style washer/dryer. Fireplace in the living room, cable, WiFi and smart TV in each bedroom and in the living room. Includes coffee and tea, as well as all kitchen towels, bath towels, bedding, hair dryer and toiletry to make your stay warm and comfortable. **Free Wi-Fi **Flat screen Smart TV in each room and Cable TV **NO SMOKING** **NO PETS**
Our Condo is for all seasons. It is CENTRALLY LOCATED between all 3 south shore ski resorts, within minutes of skiing, biking, hiking, beach, entertainment at the Stateline and anything else you may desire at Lake Tahoe. Approximate DISTANCE AND TIME TO KEY Destinations: • STATELINE CASINOS gourmet restaurants -- less than 6 miles. • HEAVENLY SKI RESORT -- 5.9 miles, approx. 15 mins. • KIRKWOOD SKI AND SUMMER RESORT -- 31 miles, approx. 42 mins. • SIERRA at Tahoe SKI RESORT -- 14.6 miles, approx. 25 mins. • LAKE TAHOE - Just 5 min drive • LAKE TAHOE GOLF COURSE - 3.9 miles • Reno/Tahoe International airport- 58.9 miles, approx. 1 hr. 2 mins. Affordable Ski and Snow board Rental place is nearby: Snowshoe Thompson's Ski and Snowboard Rentals 1219 Emerald Bay Rd, South Lake Tahoe, CA 96150
Romtype
Helt hjem/leilighet
---
Eiendomstype
Leilighet
---
Plass til
5
---
Soverom
South Lake Tahoe, California, USA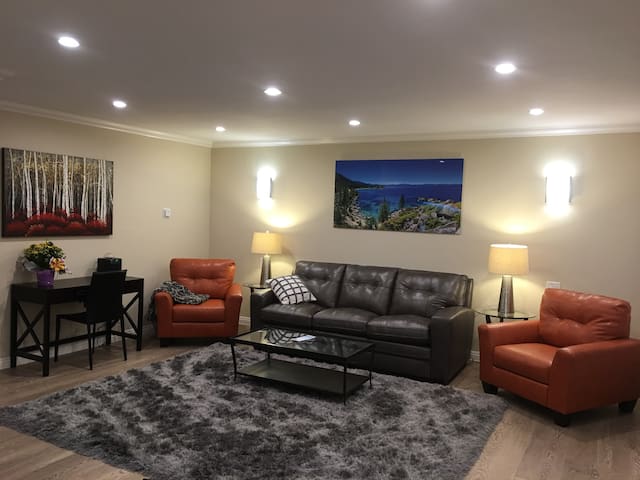 1

–

18

av

281 Leiligheter til leie
Oppgi datoer for å se fullstendige priser. Ekstra gebyrer gjelder. Skatter vil kunne tilføyes.