Domus Diana ligger på strandpromenaden i den tyrrenske kysten. Ligger i første etasje i en bygning som vender mot havet, er leiligheten innredet med stil med vintage dekorasjoner i lyse toner.
The apartment of 60 sqm., Close to CarraraFiere, is divided as follows: a living room overlooking the sea view terrace, a small kitchen with balcony, a double bedroom, a bedroom with two single beds and a bathroom with a bathtub seat shower. And 'the ideal accommodation for 4 people! The accommodation includes bed linen and towels, hair dryer, shower gel, toilet paper upon arrival. The kitchen is equipped with gas oven, refrigerator, coffee maker and household accessories. The reserved parking in the inner courtyard of the building is free. The WiFi internet connection is free. The shoreline of Marinella di Sarzana is low and sandy, still has the characteristics of the last stretch of Tuscany, nor is the natural extension before the typical Ligurian high and rocky coast. They not far meet the most famous Marina di Carrara and Versilia with Forte dei Marmi and Viareggio. The selection of beaches, restaurants and nightlife is very diverse. Ferries for the Cinque Terre departing from Lerici and in summertime from Marina di Carrara are only 2 km away.
Med sin sandstrand sammen cirka tre kilometer, hvor alternative strender ved private strand klubber, er Sarzana Marin et populært feriested for turister fra nabo Emilia og Lunigiana som kommer for en avslappende dag på stranden. Det er også kjent for sin nærhet til de arkeologiske utgravningene av Luni. Kystlinjen er kjent og verdsatt for både enkel tilgang og for sin nærhet fra de store bysentrene i området. Et godt valg for de som ønsker å nyte havet og strendene med ro unna utskeielser av den nærliggende turiststedet Versilia. Ved foten av landsbyen, er Tenuta di Marinella; et stort område av landet dyrket med mais og andre produkter; Det er det perfekte sted for fotturer, sykling og ridning. Innenfor eiendommen er det også anlegget som fungerer og produserer høy kvalitet Marin melk og dets derivater.
Casa fantastica, di gusto squisito! Host disponibilissimi e puntuali su tutto; più che consigliata!
Liliana
2016-10-31T00:00:00Z
L'appartamento e' situato a due passi dal mare in una zona tranquilla, e' tenuto molto bene ed e' arredato in modo ottimale, Stefano e la moglie sono stati molto accoglienti e disponibili rendendo il nostro soggiorno molto positivo.
Omar
2016-05-13T00:00:00Z
L'appartamento di Stefano è stato all'altezza delle nostre aspettative: pulito, colorato ed estremamente accogliente. A due passi dalla spiaggia, è stato un buon punto di appoggio per la nostra mini-vacanza: lo terremo presente per i nostri prossimi soggiorni in zona. Assolutamente da raccomandare!
Stefania
2016-09-13T00:00:00Z
Sono stato a Marinella due giorni a casa di Stefano. La casa é molto pulita e tenuta molto bene. Ed e anche bella spaziosa. Stefano e sua moglie sono gentilissimi e cordiali e si sono resi disponibili per qualsiasi cosa di cui avessimo avuto bisogno. Inoltre la casa gode di una bellissima vista e sta a due passi dal mare.
Imad
2016-02-16T00:00:00Z
Domus Diana è un Bell appartamento arredato con stile e molto funzionale. Vicino al mare e ai servizi necessari per un piacevole soggiorno. Stefano è stato un host disponibile ed attento. Rapporto qualità prezzo fantastico.
marco
2016-06-25T00:00:00Z
Appartamento carino e confortevole, a due passi dal mare. Stefano - il proprietario - è molto disponibile sia per gli orari di arrivo/partenza sia nel suggerire mete interessanti o locali dove mangiare. E' stato un piacevole soggiorno!
Ilaria
2016-09-08T00:00:00Z
Casa davvero molto accogliete. L'appartamento é molto pulito, profumato e super attrezzato. E' perfetto per periodi lunghi o brevi. Si vede che c'é stata molta cura nell'arredare la casa. Anche se sono stata a Marina di Carrara solo per lavoro ci tornerei volentieri in Vacanza. L'appartamento è a due passi dal mare.
Emanuela
2016-03-01T00:00:00Z
Magnifique!
Anthony
2016-12-16T00:00:00Z
Romtype
Helt hjem/leilighet
---
Eiendomstype
Leilighet
---
Plass til
4
---
Soverom
Marinella di Sarzana, Liguria, Italia
Min Boligen ligger nær fantastisk panoramautsikt over sentrum, kunst og kultur. Mitt rom er egnet for par, enslige eventyrere og forretningsreisende.
Ho soggiornato da Sonia in previsione di una gara il giorno successivo. Posso solo ringraziarla per l'accoglienza impeccabile e la sua disponibilità nei miei confronti, consiglierei questa host a chiunque. L'abitazione è facilmente raggiungibile dall'uscita autostradale e in un quartiere tranquillo. La camera è accogliente e come da descrizione. Overall a great host. She is also fluent in English which is definitely a plus for foreign travelers. Thumbs up.
James
2017-02-26T00:00:00Z
Sonia ist eine Großartige Gastgeberin. Es war einfch und unkompliziert, mit ihr in Verbindung zu treten, sie hat mir sehr geholfen mich zurecht zu finden und mir viele Tipps gegeben. Jederzeit wieder
Felix
2017-04-04T00:00:00Z
Che dire? La mia prima volta con airbnb non è stata un flop! Sonia, precisa e affidabile nelle comunicazioni pre check-in, si è rivelata una host capace di comunicare (in più lingue tra l'altro) una sensazione di familiarità e amicizia grazie alla grande energia e dinamicità che la contraddistingue e che investe la sua graziosa casa. Ricco di cultura colorata e multietnica, l'appartamento si colloca tra le vie della calma e silenziosa zona residenziale di Marina di Carrara. La stanza in uso si è rivelata confortevole, calda e silenziosa. Ideale per riposare al meglio dopo le mie giornate dense di impegni. Per il mio primo soggiorno con airbnb non potevo essere più felice.
Michele
2017-03-25T00:00:00Z
Alloggio confortevole e pulito, in zona abbastanza tranquilla. Non mi è mancato niente.
raffaele
2017-02-19T00:00:00Z
Romtype
Privat rom
---
Eiendomstype
Hus
---
Plass til
1
---
Soverom
Carrara, Toscana, Italia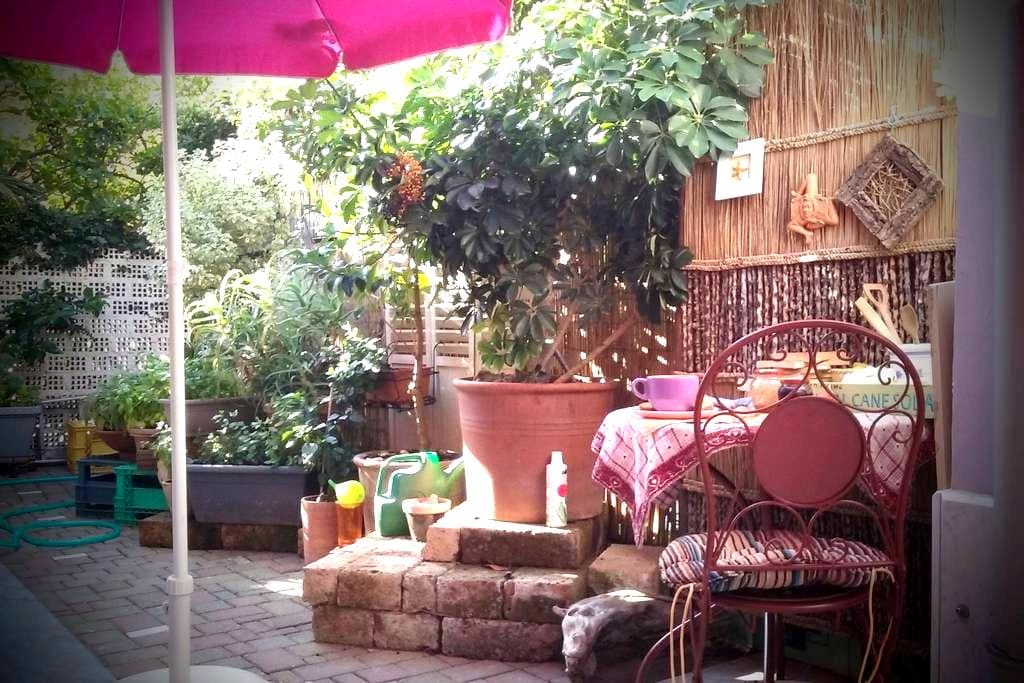 Nel bel Borgo di Nicola, a 6 km dal mare una casetta su due piani per chi ama il relax e la tranquillità. In the beautiful village of Nicola , 6 km from the sea a little house on two floors for those seeking relaxation and tranquility".
Un'antica casa in pietra completamente ristrutturata, ubicata nel centro del paese.
NICOLA DI ORTONOVO dista dal mare circa 6 km. (Bocca di Magra, Marinella, Fiumaretta) e poco più dall'inizio delle"Cinque Terre". Nelle vicinanze: LUNI 6 Km (con il Museo Archeologico e l'Anfiteatro romano), SARZANA 9,5 km, CARRARA 10 km, LERICI e le "Cinque Terre" 13 km (Riomaggiore, Manarola, Corniglia, Vernazza, Monterosso) VERSILIA 30 km, PIETRASANTA citta' d'arte ( dove vivono Botero e altri artisti famosi) 30 km. LA SPEZIA 32 km, PORTOVENERE 46 km, LUCCA 59 km, PISA (con aeroporto internazionale) 59 km, PORTOFINO 98 km, GENOVA 114 km, FIRENZE 131 km. Dall'Autostrada Roma-Genova uscita Carrara e poi seguire le indicazioni per Ortonovo e Nicola Per chi volesse raggiungere il paese senza auto, le stazioni dei treni piu' vicine sono CARRARA avenza, MASSA centro e SARZANA e si prosegue con autobus fino sotto la collina per prendere poi quello che porta fino al paese, (quest'ultimo ha orari definiti ) oppure salire a piedi per 2 km. il Borgo di Nicola e' molto piccolo e ci sono 2 parcheggi dove lasciare la macchina e proseguire a piedi per arrivare all'alloggio. Il borgo e' un isola pedonale. Nel borgo non ci sono negozi, solo un buonissimo ristorante che ha ottenuto il riconoscimento "slow food". Per la spesa e lo shopping si deve andare a valle dove ci sono negozi e supermercati di tutti i tipi. The District NICOLA OF ORTONOVO is about 6 km from the sea. (Bocca di Magra, Marinella, Fiumaretta) and little more from the beginning of the "Cinque Terre". Nearby: LUNI 6 Km (with the Archaeological Museum and the Roman Amphitheatre) SARZANA 9.5 km, CARRARA 10 km, LERICI and the "Cinque Terre" 13 km (Riomaggiore, Manarola, Corniglia, Vernazza, Monterosso) VERSILIA 30 km, PIETRASANTA cities' art (where they live Botero and other famous artists) 30 km. LA SPEZIA 32 km, PORTOVENERE 46 km, LUCCA 59 km, PISA (with international airport) 59 km, PORTOFINO 98 km, GENOVA 114 km, FLORENCE 131 km. By car from the Roma-Genoa highway, exit Carrara and follow the signs to Ortonovo and Nicola For those wishing to reach the village without car, the train stations more near are CARRARA avenza, MASSA centro and SARZANA and continue with bus down the hill, then take the one leading to the village (this one doesn't pass very often) or just walk up the hill for 2 km. Borgo di Nicola is very small and there are two car parks where to leave the car and walk to reach the accommodation. The village is a pedestrian precinct. In the borgo there aren't shops, only a very good restaurant which achieved the "slow food appreciation". Down the hill you can find every kind of supermarket and shop.
We stayed by Monica for 2 nights and it was really a great time. Monica is a very available, discrete and generous host. The place is beautiful, on top of a hill with greate sea view. In 15 minutes by car you can reach the beach area. I totally recommend this place!
Мария
2015-08-07T00:00:00Z
Abbiamo soggiornato la scorsa settimana nella "casa nel cuore del borgo" di Nicola. Davvero due gioielli che si valorizzano a vicenda. La casa è un nido accogliente e di gusto squisito, dalle finestre si gode un panorama splendido e mutevole ad ogni ora del giorno e della notte, sul mare, sui monti e sulla piana di Luni, c'è di che riempirsi gli occhi e il cuore. E' stato un piacere conoscere i proprietari, Monica e Germano, gentili, disponibili e davvero innamorati di questo borgo che stanno contribuendo a conservare come un patrimonio prezioso. Quindi ottimo posto per chi cerca una vacanza nella tranquillità ma posizionato in modo fantastico, in quindici minuti si arriva nella carinissima Sarzana, in dieci minuti al mare di Marinella di Sarzana in mezz'ora a Lerici, Fiascherino, Tellaro, Piatrasanta, Camaiore. Che dire ancora? Torneremo a trovarvi sicuramente. Un arrivederci da Miriam & Titta
maria
2015-06-27T00:00:00Z
Monica e Germano hanno avuto grande gusto nel ristrutturare questa porzione di casa nel piccolo, ma bellissimo borgo di Nicola. Ogni dettaglio è stato rispettato nel conferire a questo ambiente un aspetto del passato, seppure con tutti i comfort di oggi presenti. Che si può dire.. Solo complimentarsi anche per pulizia e gentilezza degli host. Il borgo antico potrebbe essere conservato meglio, ma purtroppo, come spesso accade in Italia, l'inflazione della bellezza dei nostri luoghi ci porta a sottovalutare il singolo. Forse una sovraintendenza più attenta avrebbe portato a minori devastazioni, specie nella piana sottostante.
giuliano
2016-09-05T00:00:00Z
The house is beautiful, in Nicola's middle age awesome little borough. The place is lovely, absorbed in the nature and history. the seaside is 10 mins away, the very pretty city of Sarzana is 15 mins away as well like Lerici. Very relaxing experience overall, Monica and Germano are very welcoming and kind. I recommend this place to anybody!
Martina
2015-07-05T00:00:00Z
Monica's house in Nicola is a hidden gem! Tucked away in the beautiful hill top village of Nicola, it is a beautiful two storey home, fully equipped, with a fantastic scenic view of the coast. I was in the area for 4 nights for business, and was able to relax and recover for another day of business every day with this super cozy set up. Not to mention that I got to see such a unique and worth while side of italy that I would never experience otherwise!! Monica and her husband Germano were an absolute delight to meet and were quick to reply to my messages everytime!
Farhood
2016-09-23T00:00:00Z
We really enjoyed the typical Italian style of the case. It was really beautiful. The fresh smell of the lavender bouquet, which was in the casa at arrival was amazing. The owners were really nice to us. Perfecto, Mille Grazie!
Florian
2015-07-22T00:00:00Z
It is a very romantic and beatyful location. One of my favorite location in Tuscany!!! A wonderful place!!!! Thank you very much!
martin
2016-08-07T00:00:00Z
La casa es preciosa, decorada con mucho gusto y detalle. Nicola es un pueblo muy pequeño y auténtico, situado en una colina verde y con unas vistas espectaculares. Hemos estado en verano y las noches con las ventanas abiertas viendo las luces del valle son una delicia. El acceso hasta el pueblo es un poco incómodo por la carretera llena de curvas, aunque después de un par de subidas te acostumbras y vas más tranquilo. No se puede acercar el coche a la casa por lo que hay que cargar con maletas durante un trecho por calles empedradas.
Almudena
2016-08-03T00:00:00Z
Romtype
Helt hjem/leilighet
---
Eiendomstype
Leilighet
---
Plass til
5
---
Soverom
Nicola, Liguria, Italia
Appartamento a 2 km dal mare composto da cucina,bagno e camera matrimoniale con possibilità di 3° posto letto con rete aggiuntiva. La casa è situata sull'Aurelia a 2 km dalle spiagge di Marinella e Marina di Carrara raggiungibili comodamente con biciclette. In auto o con mezzi pubblici sono visitabili: Sarzana Lerici,Bocca di Magra,Carrara e le cave di marmo,Marina di Carrara,Viareggio e Forte dei Marmi. Vicino all'appartamento sono presenti supermercati,bar,tabacchi,banche e poste.
Romtype
Helt hjem/leilighet
---
Eiendomstype
Leilighet
---
Plass til
3
---
Soverom
Casano, Liguria, Italia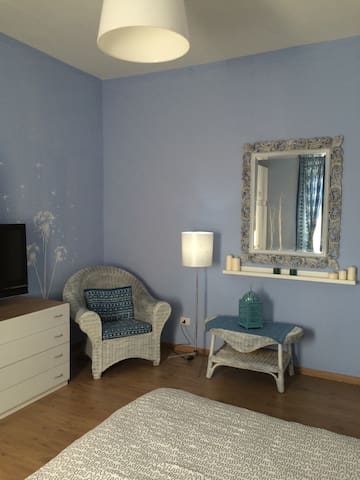 independent annexe on the ground floor at 100 mt from the sea and from the fairgrounds of Carrara Fairs. Composed of kitchen with fireplace, large living room with sofa bed and bathroom with shower. Street parking in front of the entrance gate.
La depandance è carinissima e confortevole, situata in un buon punto di Marina, comodo per raggiungere il centro anche a piedi. Giovanni e la sua compagna sono stati molto ospitali e premurosi (con tanto di caramelle sui cuscini del letto). Esperienza assolutamente positiva!
Rosanna
2017-03-19T00:00:00Z
Ottima sistemazione , bella e confortevole. Giovanni è stato sempre disponibile.
Alessandro e Giovanna
2017-04-06T00:00:00Z
Casetta veramente carina, vicino al mare e a Carrarafiere. Spaziosa e ben arredata. Giovanni ci ha accolto di persona ed è stato molto disponibile. Consiglio a tutti il suo appartamento!
Federica
2017-04-09T00:00:00Z
Come l'ultima volta, tutto benissimo !
Rosanna
2017-04-02T00:00:00Z
Excellent, exceptionnel, extraordinaire, familial, vous rêvez d'un accueil vraiment chaleureux, alors n hésitez pas ! Gracié mille à toute la famille !
Jocelyne
2017-04-10T00:00:00Z
Romtype
Helt hjem/leilighet
---
Eiendomstype
Hus
---
Plass til
2
---
Soverom
Carrara, Toscana, Italia
Great for summer rentals, both weekly and monthly that even for a single day or weekend, given the proximity to the sea.
The area is very quiet ideal for those seeking relaxation and is well served. Close to the weekly market (Thursdays) and by commercial enterprises.
bell'appartamento. comodo e confortevole. Dario e la moglie sono stati gentili, disponibili e ospitali.
Lucrezia
2017-02-26T00:00:00Z
Tranquillita' dell' ubicazione e simpatia dei proprietari.
Roberto
2017-04-05T00:00:00Z
Debbo dire che sono stato veramente bene,struttura pulita,confortevole,parcheggio privato in una zona abbastanza centrale,persone che dall accoglienza al check-out sono state stupende,grazie Dario a presto
Carmine
2017-02-10T00:00:00Z
Siamo stati accolti con molta gentilezza e disponibilità. L'appartamento è piccolo e accogliente con tutto il necessario, con tanto di giardino privato ottimo per la bella stagione! il quartiere è un po' un labirinto, ma di facile accesso; parcheggio privato con cancello.
Erika
2017-03-19T00:00:00Z
Dario e sua moglie sono stati sempre presenti e disponibili. Consigliato a tutti!
Emanuela
2017-02-23T00:00:00Z
una casa comoda~
nuoya
2017-02-24T00:00:00Z
Romtype
Helt hjem/leilighet
---
Eiendomstype
Leilighet
---
Plass til
4
---
Soverom
Carrara, Toscana, Italia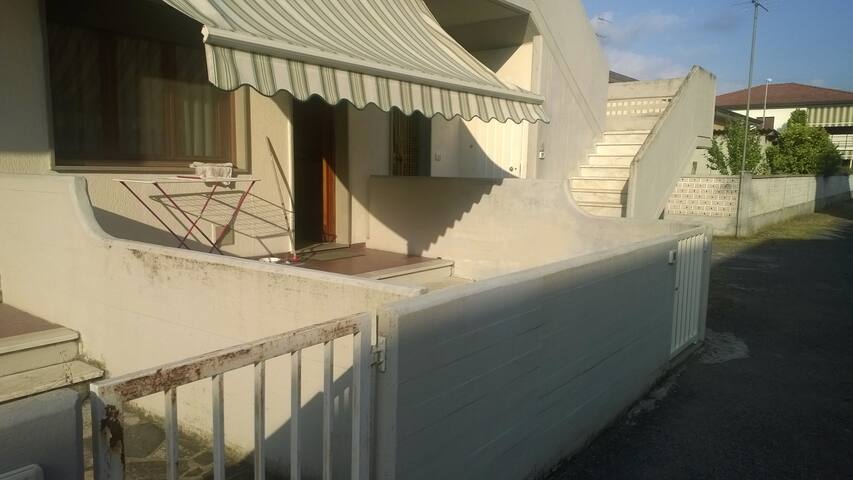 The room that we provide is 500 meters from the center of Marina di Carrara and therefore very close to restaurants, pubs, shops, the hot spots. It is an accommodation suitable for couples, singles, friends and business travelers (we are a happy young couple to host anyone). A 5-minute walk from the beach and the Fair Complex. Available to guide you to anything and happy to answer your questions, concerns and doubts.
The accommodation has all you need for a nice holiday by the sea or in the mountains; also we provide an umbrella! The kitchen is not available except for take-away meals (FOOD CONSUMED CHARGED GUEST), with a refrigerator space reserved; Our guests are offered coffee, but (because of new laws) we are unable to provide breakfast.
Marina di Carrara is a fraction of the province of Massa-Carrara on the Tuscan coast which is 7 km from Carrara (location very artistic) and from the famous marble quarries. Just a short distance from Viareggio, Forte dei Marmi and Versilia, the must for those who want to party at night, go shopping or visit the beaches.
Accoglienza perfetta. Stanza come da descrizione.
Andrea
2016-10-15T00:00:00Z
Sie waren sehr gastfreunflich und sind ein Sympatisches Paar. Es war sehr schön bei den Untergebracht zu sein und sie sind sehr ordentlich. Das Zimmer ist neu Möbliert eingerichtet hat auch eine Balkon für alle, die Luftmatratze kann man nach einiger wunsch einstellen so kann gut drauf schlafen. Sehr Empfehlenswert sind die Einkaufsmöglichkeit von kleine Läden bis Einkaufskette. Nachbarschaft ist ruhig.
Dominik
2016-07-28T00:00:00Z
Mary and Gabriele are very welcoming hosts - despite the fact they had to wait for my quite late arrival, the welcome was all the more pleasant for being quite unlooked-for! Not only they provided me with all the info about Marina di Carrara (including the map with free beaches location marks and their personal guide of local restaurants), but also they gave special recomendations about Cinque Terre places (1 hour by train), Pisa (1 hour) and Genova (2 hours). Moreover, it takes 2 hours to get to Florence by train. So, one can say, the place is located at super strategically advantageous place - if staying on the beach for days is not your cup of tea, you can make trips in any direction easily)) (the station is in 30mins walk down very quiet streets). You can take a bike for free as well. There are 3 free beaches around, and the nearest - Paradiso - is in 5min walk. Guys gave me a sun umbrella, which is a must there - the wind on the beach makes your skin burn in mere seconds. By the way, the free beaches are nice, there are not so many people, the sea is quite shallow, but each beach is equipped with life-saving station. Breakfast included is quite a rare option, and often it is not worthy its money - at Mary and Gabriele's place you get wonderful coffee (Krups Dolce Gusto machine) with juice and croissants, which is a nice start of an energy consuming day at the beach or tripping. Speaking of food: there are a few quite nice shops around, Esselunga supermarket is in good 35min walk from there. Gabriele was so kind, absolutely incredible host, he took me to Esselunga by car. Moreover, he took me at the railway station at the end of my stay. Once Mary and Gabriele took me to a wonderful evening out to Johnny Bruschetta in Marina di Massa, where we had traditional, but very innovative at he same time bruschettas)) We had a nice talk as well, guys told me a lot about italian cuisine and even taught me a few useful phrases)) All in all, I had one of the best, one of the most outstnding experiences of having beach vacations! Mary and Gabriele, GRAZIE MILLE!
Anastasiia
2016-08-10T00:00:00Z
Mariagiulia e Gabriele sono stati due ospiti meravigliosi, non potevo chiedere di meglio, accoglienti, pazienti e disponibilissimi. Mi hanno dato tutte le informazioni necessarie per muovermi comodamente sia a piedi sia in auto, mi hanno consigliato posti da visitare e dove poter andare a fare la spesa senza spendere un patrimonio. Davvero non potevo chiedere di più. Note tecniche:il materasso gonfiabile è molto comodo, la stanza che avevo a mia disposizione è fresca e ventilata e il bagno condiviso è molto comodo. Mi hanno lasciato ben due ripiani del frigorifero e dato libero accesso alla cucina. Esperienza per me assolutamente da ripetere! Ci tornerò! !
marta
2016-07-05T00:00:00Z
Una camera benissimo! È pulito ordinato e tranquilla,molto vicino al mare. Erano molto gentile e entusiasti mi hanno aiutato tanto.
Qiuyi
2016-09-23T00:00:00Z
Sono stati entrambi gentilissimi e super disponibili. Se dovessi capitare nuovamente a Carrara andrò sicuramente da loro! Casa pulitissima e vicinissima al mare!
Bea
2016-09-05T00:00:00Z
I had a very nice, comfotable and relaxing stay. The host is amazing, helpful and the house is really beautiful and neat. I Will stay at this place every time I visit Carrara and I strongly recommend this.
Ashish
2016-10-05T00:00:00Z
Persone assolutamente discrete e gentilì ambiente pulito ed accogliente ed ottima posizione al mare al centro e servizi.
Elisa
2016-09-11T00:00:00Z
Romtype
Privat rom
---
Eiendomstype
Leilighet
---
Plass til
2
---
Soverom
Carrara, Toscana, Italia
Mijn ruimte is vlakbij Mare e monti. Je zult genieten van mijn plek vanwege het comfortabele bed. Mijn ruimte is geschikt voor stellen, solo-avonturiers, zakelijke reizigers en gezinnen (met kinderen).
Bungalow molto accogliete perfetto per una vacanza al mare.
We enjoyed our time at Christian's place! It was uncomplicated to stay in contact with him. His father (who lives next to the bungalow) was very helpful. It is perfectly located to reach cities like Genova, Bologna, La Spezia, Pisa or Firenze or to go to different beaches.
Simon
2016-08-04T00:00:00Z
Very atmospheric location. Perfect for trips to the sea. Clean and pleasant. I highly recommend.
Wojtek
2016-08-08T00:00:00Z
Romtype
Helt hjem/leilighet
---
Eiendomstype
Bungalow
---
Plass til
4
---
Soverom
Casano, Liguria, Italia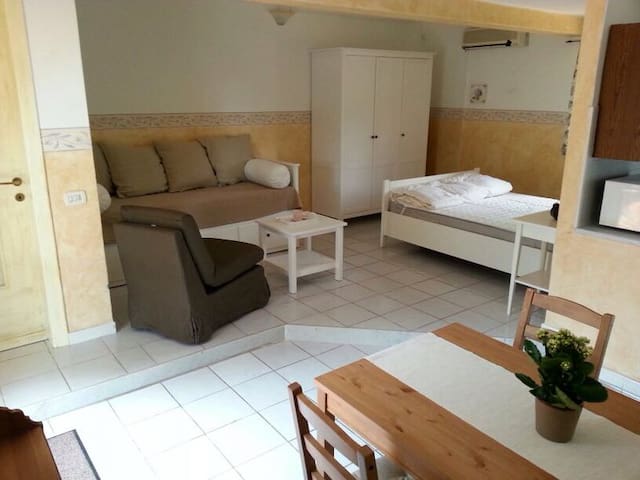 Independent apartment with private entrance and court. Authenticand practical close shops. 5 minutes from thebeach by bike as the village of Nicholas and the archaeological area with the 'amphitheater of Luni. Ideal for relax but also practical to visit the Gulf of Poets and the 5 Terre but also cities d 'art such as Firenze Pisa and Genova.But don't forget our quarries of Carrara a beautiful sight in 15 minutes. Ouvrir dans (SENSITIVE CONTENTS HIDDEN) Traduction Commentaires (SENSITIVE CONTENTS HIDDEN) Traduction htt
Die posizion ist einfach optimal:einkausfszentrum und autobahn sind schnell zu erreichen,in ungefaehr5_10 minuten ist man mit dem Fahrrad am Strand und beim Anfitheater und den Ausgrabungen der antiken roemichen Stad Luni. Ein idealer Ort um sich zu erholen und sich zu entspannen,aber auch guenstig gelegen um excursiones zu machen:Nicola ,ein mittelalterlicher Ort in den Huegeln ueber dem Meer,der Golf der Poeten,Lerici und S.Terenzo-zwei alte maleriche Ficherdoerfer,die "5 Terre",das mondaenere Versilia ,die spektakulaeren Marmorsteinbrueche von Carrara.Die beruehmten Kunststaedte Pisa,Florens und Genua(das droesste Altstsdzentrum Europas)sint in Tagesausfluegen gut mit Zug oder Auto zu erreichen.
boulangerie coiffeur et poissonnerie a 2 min a pieds et centre village a 5 minutes a pieds avec tous commerces
Romtype
Helt hjem/leilighet
---
Eiendomstype
Leilighet
---
Plass til
4
---
Soverom
Casano, Liguria, Italia
Apartamento L' se encuentra en una zona céntrica de Avenza dos pasos de la estación. Consta de dos habitaciones dobles, una sala de estar, cocina y baño. La terraza ofrece una hermosa vista de los Alpes Apuanos. Se encuentra a 10 minutos del mar y las colinas. Es cerca del ferry que lleva a cinco tierras.
The room is small but cozy. Equipped with a double bed, television, stand on hangers. Towels set. Cleanliness is guaranteed and even privacy. For breakfast you will find cookies, coffee, tea, milk and snacks. You l 'use of the fridge and the kitchen
The apartment is in a well served and quiet central area. Supermarkets, grocery, bakery, bar, pub with free Wi-Fi, restaurants and pizzerias. public transportation just below the house.
Great place. Very clean, and Valentina is very friendly and helpful
Jonas
2016-07-27T00:00:00Z
You're less than a 5 minute walk away from the train station, and along a main road so it's easy to find you way back home again! There's no wifi, which is unfortunate, but Valentina told us about a nearby pub (another 5 minute walk) with great food and free wifi, so you'll be fine. The place was super clean and spacious, and Valentina and her mother were incredibly sweet and easy to talk with. Great location, place, and people:)
Katharine
2016-05-08T00:00:00Z
Valentina è molto getilissima. anche la sua mamma,la casa è bellissima e vicino al stazione.
lee
2016-10-06T00:00:00Z
Casa molto bella e accogliente, collegata bene con mare e montagna (come da titolo in effetti). Peccato aver avuto poco tempo per conoscere meglio Valentina, è simpatica e super disponibile! Se siete interessati a giri e/o passeggiate nelle montagne/colline circostanti saprà darvi ottime indicazioni a riguardo! ;-)
Luca
2016-06-30T00:00:00Z
Lovely place. Felt very private, was comfortable and was very close to transportation. Valentina is a great host.
JulienBeeCee
2016-08-15T00:00:00Z
O apartamento de Valentina é super acolhedor e limpo. Linda vista da sacada para a montanha. Fomos recebidos pela sua mãe e haviam toalhas e outros acessórios disponíveis. Valentna ainda deixou café da manhã disponível, mas como estávamos com pressa acabamos não desfrutando. Retornaria com certeza.
Júlia
2016-06-25T00:00:00Z
Valentina is very pleasant host but unfortunately she don't speak English although we didn't have any problems with her. The appartment is very nice and clean and it has a good location near to the train station. Too many rules but I recommend the place.
Plamen
2016-09-30T00:00:00Z
Sono stata a Carrara in occasione della Fiera della pietra ed ho soggiornato da Valentina per 1 notte. Valentina è stata molto gentile e disponibile, sia prima dell'arrivo (nel concordare gli orari, ma anche nel darmi utili info su come trovare la casa e un locale dove mangiare), sia durante il soggiorno (nel fornire tutto ciò di cui necessitavo), per finire con un apprezatissimo passaggio alla sede della fiera! :) L'appartamento e la camera sono puliti; il divano letto non è dei più comodi, anche se devo dire che io ho dormito senza tregua tutta la notte. Consigliato!!
Isabella
2016-05-21T00:00:00Z
Romtype
Privat rom
---
Eiendomstype
Leilighet
---
Plass til
2
---
Soverom
Carrara, Toscana, Italia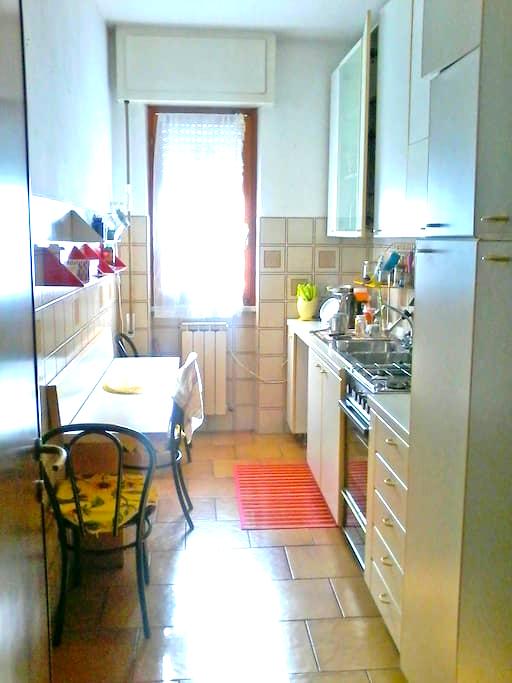 Huset er beliggende i starten af den middelalderlige landsby Ortonovo, på en bakke omkring 200 m, 5 km fra havet. Det sted, du vil elske, hvis du kan lide ro og natur, her kan du nyde lange gåture gennem skoven og olivenlunde, vandreture i Apuan Alperne eller nyde strandene i det Liguriske Hav. På grænsen mellem Ligurien og Toscana, er det også inden for Cinque Terre, Porto Venere, Carrara, Versilia og baglandet til Lunigiana.
The apartment is on the ground floor of a two-story house; It is an open-plan area with kitchenette, bathroom with shower, wc, bidet and washbasin, sleeping area. The house is complete with a living terrace. The wi-fi is not always possible due to network problems related to the country's position. Some problems also for networks of mobile phones.
Great stay in a quiet place. The flat has everything needed for a short stay. Ilaria gave us great tips about place to visit, restaurants, etc.
Pablo
2016-08-20T00:00:00Z
很棒的房子,干净,温馨,舒适,每天都能看到无敌风景,特别是清晨和傍晚,可以看到整个Carrara,期望以后可以再去一次,Ilaria也是一位很nice的女士,非常棒的体验,感谢Ilaria为我们带来了这么棒的体验。
yu
2016-09-23T00:00:00Z
Ilaria is a great host, we arrived late and everything was prepared for us. Also she is very generous. We had complimentary coffee, milk, pasta and homemade honey. One time she even surprised us with fruits from her garden. The flat is located on the hill over carrara. It is easy to get to the beatch and to larger cities in the area. Ortonovo is a relaxed little village with many friendly people. The flat is nicer then on the pictures and actually quite spacious, everything was very clean. We loved to stay there and recommend the Place and Ilaria as Host! Thank you for the nice time!
Eva
2016-08-11T00:00:00Z
Our experience at Ilaria's was a delight. It was a quiet place. I relaxed and recovered well here for my business trip. Iliaria was very nice and left us extremely delicious cookies! The place comfortable and well equipped. I would recommend to my friends.
Farhood
2016-09-30T00:00:00Z
The host canceled this reservation 28 days before arrival. This is an automated posting.
Zsuzsanna
2016-07-14T00:00:00Z
Ilaria made us feel welkom the minute we arrived, allthough we arrived late in the evening. The appartment is clean and private, situated in a free standing house, on the ground floor on the street site in a little village on a mountain about 25 minutes drive from the sea. We had a pleasant stay. If you like a peacefull place this can be it.
Roy
2016-07-22T00:00:00Z
La casa di Ilaria è funzionale, accogliente e ben organizzata. Pulizia ottima, cucina ben fornita, arredamento curato. La location, come mostrato nell'annuncio, è in un paesino caratteristico, lontano dai circuiti del turismo di massa ma vicino e raggiungibile da ogni parte. Ottimo per chi cerca tranquillità e atmosfera di campagna.
Martina
2016-09-05T00:00:00Z
Ilaria is a very nice person, friendly, with all the strength of doing things very good. The comunication was very good since the beginning. The mini flat is really nicer than the photos shows All is very clean, tasty style, nice color combination, all is new. The place is close to Marina di Carrrara by car. Nice view from the hill, fresh air. We are very happy to have choosen her place!, We recommend it without any doubt! come and stay at Ilaria s place!
Fanny
2016-07-17T00:00:00Z
Romtype
Helt hjem/leilighet
---
Eiendomstype
Leilighet
---
Plass til
3
---
Soverom
Ortonovo, Liguria, Italia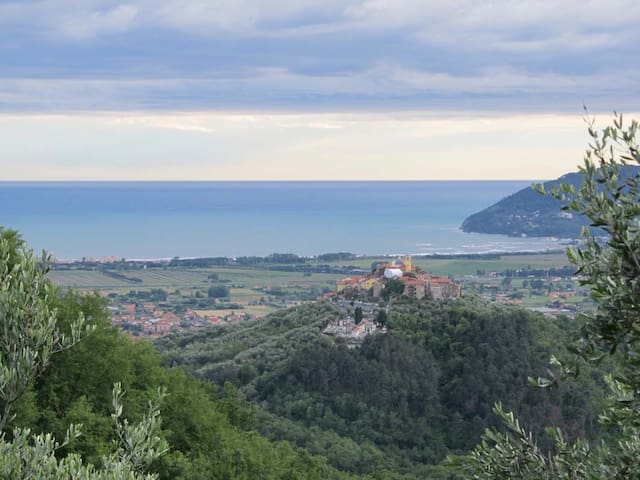 La dimora è situata nel centro del paese di Fiumaretta, a pochi metri dalle spiaggie e dalle passeggiata lungo fiume; offre agli ospiti ambienti ampi ed accoglienti ed un clima rilassante e familiare. E' dotata di parcheggio e giardino attrezzato.
L'appartamento è collocato in una residenza situata all'interno di una strada privata, lontana dal traffico e dalla confusione tipica dei mesi estivi. In pochi minuti a piedi si possono raggiungere gli stabilimenti balneari, la partenza dei battelli per le mete caratteristiche del litorale della liguria di levante, i negozi e tutti i servizi del paese.
Провели в доме Кристины 2 дня, это был замечательный отпуск! Нам было разрешено оставить машину на её закрытой парковке, в доме ждали приветственные закуски. Также , в доме было всё необходимое. Кристина была очень гостеприимной, отзывчивой, заботливой и выручила нас, когда мы оказались поздно далеко от дома :) 10 из 10
Artem
2017-04-04T00:00:00Z
The place was very beautiful and near the beach. the appartment was cosy and very beautiful ,host was very helpful and friendly.
Pranita
2017-02-28T00:00:00Z
The host canceled this reservation 315 days before arrival. This is an automated posting.
Magdalena
2016-08-27T00:00:00Z
Tutto perfetto, l'appartamento è accogliente e Cristina è gentile e precisa. Tutto come da foto, semplicemente perfetto! Grazie ancora, alla prossima!
Nino
2016-10-30T00:00:00Z
Sehr nette und saubere Unterkunft - die Vermieterin absolut unkompliziert und hilfsbereit. Jederzeit wieder ...
David
2016-05-22T00:00:00Z
Ho soggiornato tre giorni con la mia famiglia nell'alloggio della sig.ra Cristina a Fiumaretta. La casa era molto accogliente e molto pulita. La sig.ra Cristina non ci ha fatto mancare niente, neppure gli addobbi natalizi, visto il periodo in cui abbiamo soggiornato. La posizione della casa è molto comoda per muoversi nel territorio circostante.
Marco
2016-12-27T00:00:00Z
posto tranquillo nel periodo invernale, casa pulitissima. proprietaria gentile e cordiale
luca
2017-01-15T00:00:00Z
Cristina nous a très bien reçu... sa maison est très propre et possède tout ce qui est nécessaire... à conseiller
Pascal
2017-02-12T00:00:00Z
Romtype
Helt hjem/leilighet
---
Eiendomstype
Leilighet
---
Plass til
6
---
Soverom
Fiumaretta, Liguria, Italia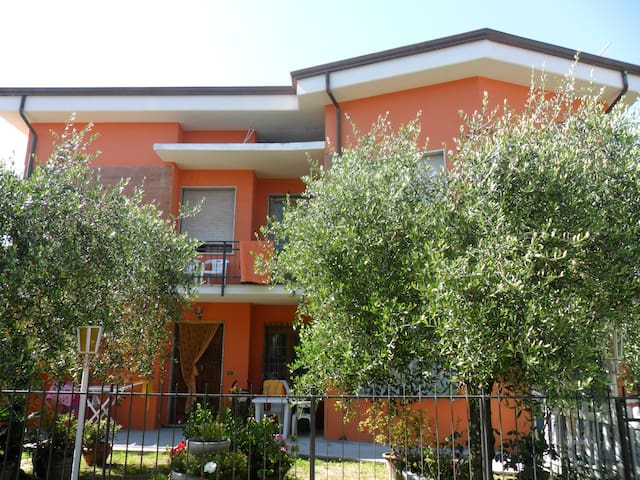 Our beautiful villa surrounded by gardens and olive groves, is in a residential area, but very close to shops and supermarkets. You can walk to the archaeological area Luni, and is just a few kilometers from the beaches of Marinella di Sarzana.
We are on the plain of Luni Antica, a few kilometers from the sea, also accessible by bicycle across a campaign full of history, where you can meet sheep grazing near a Roman Amphitheater, or herons and egrets in the irrigation channels ... until you get to the free beaches of Marinella. Independent villa, surrounded by gardens and olive groves, consists of:-ground floor: 1 large, bright room with 1 sofa-bed, dining room with TV, fireplace and piano, 1 kitchen with oven and microwave and 1 storage room with fridge and washing machine. -first floor: 2 bedrooms with possibility of adding 2 beds, 1 bath, spacious and bright. The dining room opens onto a patio with outdoor dining table. Linen and tableware in perfect condition. Ability to purchase organic honey of Lunigiana, beer and jams on our farm "honey Moon". Located in the countryside but close to restaurants, bars, pizzerias, supermarkets, pharmacies ... The House, located on the geographic boundary between Liguria and Tuscany, in the territory of the Lunigiana, is just a few kilometers from the nature park of Cinque Terre (UNESCO World Heritage), Versilia (Forte dei Marmi, Viareggio and Torre del Lago) and the Regional Park of the Apuan Alps. A stone's throw from the ruins of the ancient Roman port town of Luni. Next to historic towns and villages such as Carrara, Sarzana, Ortonovo, Castelnuovo, Nicola, Fosdinovo, Lerici and Portovenere. It is in a strategic position for visiting certain areas of particular historic and artistic interest (54 Km from Pisa, 51 Km from Lucca, 127 km from Florence and 110 km from Genova). Near some stables and a sports centre with tennis courts, swimming pool and restaurant "The Wall", and to taste the local gastronomy products to "the Golden Hen", "Bacé" (vegetable Cakes, testaroli with pesto, sgabei.
very quiet neighborhood, but close to an area served by public transport and comes complete with amenities (banks, swimming pool, tennis courts, bars, restaurants, bakery, grocery stores, pharmacies, discount stores, post ...)
As mentionned, the property is really close to Marinella and Carrara. The amount of space available in both bedrooms living room and kitchen is just amazing. Very nice typical Tuscan house. Silvia and her mother in law made us feel very welcomed. Would recommend it to anybody
Angelino
2016-09-01T00:00:00Z
Abbiamo trascorso qualche giorno ospiti in questa splendida villetta. La struttura e' esattamente come viene descritta, tenuta bene, pulita e curata anche nelle dotazioni. Ottimi i letti e spaziosi gli armadi. La zona e' silenziosissima, pur essendo molto vicina all'Aurelia e alla ferrovia. Ci sono parecchi negozi a poche centinaia di metri. Silvia e' una persona disponibile, discreta e precisa, e cosi' ci siamo trovati proprio bene.
Francesco
2014-05-05T00:00:00Z
Beautiful house. Silvia is very nice, she gave us homemade bread, beer,... :) We were delayed and she waited for us till 11pm. Highly recommended.
Cyprian
2014-08-07T00:00:00Z
Nous avons été très bien accueillis, avec des fruits frais, petits gâteaux et jus de fruits. La description de la maison correspond à ce qui est décrit sur le site, elle est simple et facile à vivre. Pas de lave-vaisselle mais il y a un lave linge disponible, ce qui est appréciable. Tous les produits de base sont à disposition. Les lits sont faits pour l'arrivée des locataires et du linge de toilette est mis à disposition. wifi aléatoire. Sylvia et sa famille se sont montrés disponibles et très agréables pour répondre à nos demandes. Le logement est un peu excentré, mais l'accès à la marina est relativement simple. Un parking privé derrière la maison très utile (possible de mettre 2 voitures).
Isabelle
2015-08-01T00:00:00Z
A great place to stay for a vacation! Very clean and cosy. Comfortable beds. In the House is everything you need for a pleasant stay. There is also a great garden, where you can enjoy the sunset with a glass of italian wine. The owner are very kind and hospitable. Thank you!
Artem
2016-05-30T00:00:00Z
Sylvia est une hôte très accueillante et attentionnée! Sylvia nous avait préparé de la documentation sur les 5 terres et de l'eau au réfrigérateur. Nous avons séjourné à 7 sans aucun problème dans sa maison très propre et ordonnée! C'est avec un très grand plaisir que nous retournerons chez elle! Encore merci Sylvia
remi
2014-06-02T00:00:00Z
Wow, what a beautiful home. Furnishings were terrific. We had our own private patio and small back yard. Silvia let us sample the beer and jam that they make. She brought us milk when the stuff we bought turned out to be no good. She was a great hostess.
Karl
2014-06-21T00:00:00Z
Silvia heeft er alles aan gedaan om het ons naar de zin te maken. Het huis was volledig uitgerust zelfs met grote badlakens voor het strand. De bedden waren uitstekend en de kastruimte enorm. We hadden wel last van de hitte en muggen (eind juli).
Marianne
2016-08-02T00:00:00Z
Romtype
Helt hjem/leilighet
---
Eiendomstype
Villa
---
Plass til
7
---
Soverom
Casano-dogana-isola, Liguria, Italia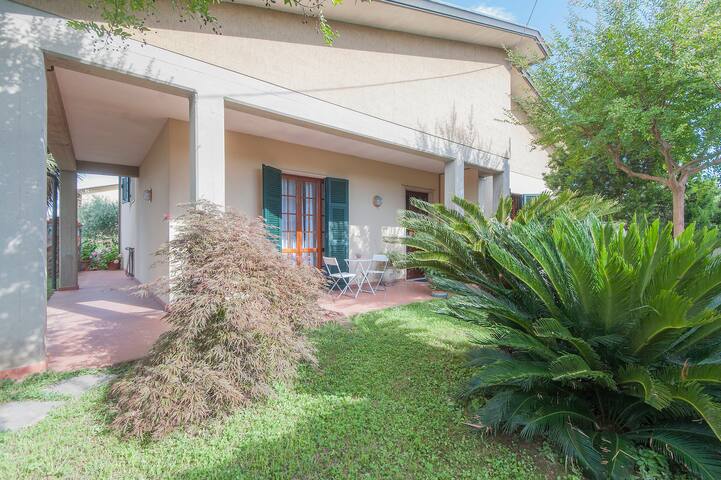 SAFE, CLEAN, PRACTICAL, ARRANGED GARDEN, strategic position and private parking!
This is a proposal articulated vacation that is not limited only to propose a practical accommodation, arranged with garden and provides free parking. Just ourselves we go on holiday and we try to offer our customers exactly what we would find in holiday homes we choose! ... And that's why we make available to our customers, free of charge, some interesting, useful and above all as a VERY PRACTICAL GUIDE COMPLETE we realized! It contains information on how to visit the 5 Terre, a selection of the best beaches to go to the beach, a selection of resorts and art that are worth a visit (it all with times and distances description), a list of the most important events that take place in the area during the holidays (parties, Fireworks, white Nights etc.), a selection of the places where you "eat well without spending a fortune", "historic pubs" where it deserves to taste the best local ice cream and even where to buy local products (wine, oil) of quality and authentic, train schedules, the boats, and much more! ... But the customer also will have WI-FI ADSL SUPER FAST ... In addition, our customers can always rely on our ASSISTANCE CONTINUE with availability 24 hours on 24 for any problem and / or need to occur during the holiday: an extra service very important because away from home a little boredom can become, in fact, a problem ! E 'for all this, for ALL THESE LITTLE THINGS IN THEIR ENTIRETY, that the holiday we we offer is DIFFERENT from the other simply because we try to put the customer at ease in a position to take advantage of the holiday to the full and from the first instant! MAXIMUM SECURITY, RELIABILITY 'and RELIABILITY', CLEANING SERVICES, ORGANIZATION and value 'to TOP PRICE: these are the main features of our offer. In particular apartment that we propose is on the ground floor, completely redeveloped is situated in an ideal geographical context, in a quiet place, but well connected, close to everything there is to see and enjoy during your holiday. Reflects perfectly and faithfully the photos and described characteristics. It 'very convenient to reach all the other famous beaches at the nearby area of Marinella di Sarzana and Lerici (for their location and structure some reachable only by private means) such as BAY BLUE (one of the most famous in Europe) , FIASCHERINO, TELLARO, San Terenzo, ECO SEA etc., ... and still the points of embarkation and the paths that lead to PUNTA WHITE and the beautiful and unspoilt beach of PUNTA CROW! Our proposal must therefore be assessed as a whole will live in every moment the holiday and explore as much as possible the beautiful surrounding places (and there are many ... .... from beaches and coves to the art cities, from 5 to Terre Apuan Alps, from the piers of nearby Versilia to the marble Cave, etc.), allowing HOLIDAY DYNAMIC and iNTENSE! Ours is AN OFFER TO EVALUATE carefully ... .aspettiamo his most welcome contact!
If you want to CHOOSE YOU, from time to time, the context in which to enjoy your holiday, which beach to choose (... it's nice to change, the landscapes change decisively and quickly reach the most spectacular beaches in the place!), Diversify attractions another kind and nature, and never have the problem of where to park your car CURRENCY CAREFULLY our proposal: we'll offer a bid articulated characterized by quality of services to it combined and attractive prices for a VIVA holiday, SPARKLING!
Romtype
Helt hjem/leilighet
---
Eiendomstype
Hus
---
Plass til
6
---
Soverom
Colombiera-molicciara, Liguria, Italia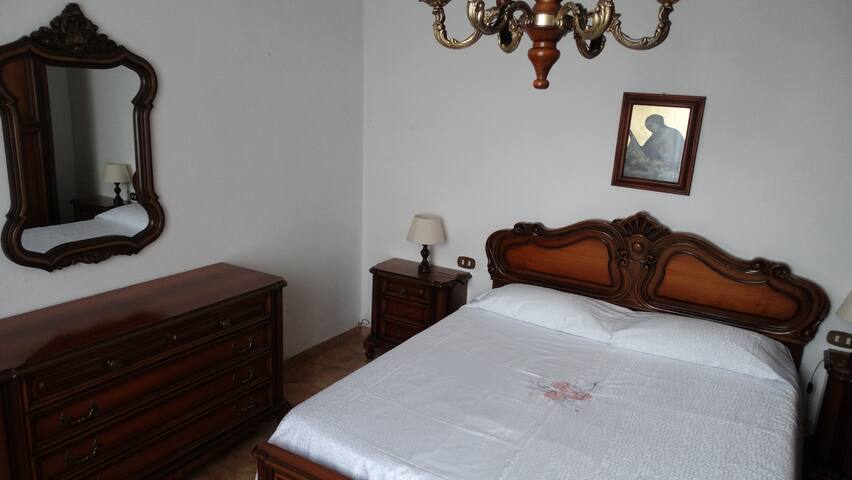 "Casa di Laura" is the perfect location for your Italian holiday! Walking distance to free access beach and resorts! PRIVATE PARKING Points of interest: Sarzana Versilia Montemarcello Cinque Terre Tenuta di Marinella Carrara Marble Caves
The apartment, which has been recently refurbished, is the perfect place for a relaxing holiday! You will love this colorful apartment! It is perfect for a family with kids as the beach is very close and there's also a park close by. Group of friends up to 6 may enjoy the nightlife of Versilia and beach parties throughout the summer.
Right across the road begins a long sandy coast plenty of beach resorts, free access spots, bars, restaurants and pizzerias. Shops, bank, post office at walking distance; shopping malls and train a short drive away. The apartment is very close to a big park where you can hike, jog, have relaxing walks and have fun with your kids in a dedicated space.
Laura is extraordinary host. She helped us a lot with planning our trips in Italy. The place is really 20 meters from large beach. It's fully equipped with all necessary accessories - from iron, through the toothpaste :) everything is super clean and fresh. I strongly recommend Laura's place! Best regards!
Marcin
2014-09-23T00:00:00Z
In realtà nn ho avuto accoglienza perchè non stando bene l'host ho preso le chiavi ad un bar vicinissimo e le ho restituite lì. Comunque è stata sempre velocissima nel rispondere al cellulare. Il posto è perfetto per chi vuol godersi il mare, a 80 metri dalla spiaggia e ci sono tanti comodi lidi dove prendere i lettini. Comodissimo il parcheggio interno.
Giulio
2016-07-18T00:00:00Z
Would recommended to others! Good location, clean and spacious. Host is nice and attentive to your needs :)
Syndia
2013-06-12T00:00:00Z
Appartement proche de la plage mais situé dans un endroit bruyant. Appartement vieillot et sale. Nous avons dû faire le ménage en arrivant. En compensation, la moitié des frais de ménage nous a été remboursé.. Les photos sont conformes. Place de parking à dispo. Laura n'étant pas là, nous avons eu une autre interlocutrice qui n'a pas été présente lors de notre arrivée, nous avons du récupérer les clés dans un bar. Un peu décevant. Sinon je pense que Laura est prête à aider et donner des conseils sur les visites aux environs. L'appartement est quand même bien situé géographiquement pour visiter les cinque terre... sans trop faire de route! Mais nous n'y reviendrons pas, déçevant!
Aurélien
2016-08-07T00:00:00Z
Laura is an excellent host. She met us upon arrival and gave us all the info which we might need. Laurs also was there when needed for any extra help which had nothing to do with the accommodation like assisting in restaurant booking etc. The flat is as described. The only criticism I have is the story with the tourist tax. We had to pay an extra 21 Euros which we didn't pay anywhere else in Italy to the other four hosts. Also, if you are arriving at night time, make sure you have some tea, coffee, sugar, oil etc which again were provided by all other hosts.
Magdi
2016-06-27T00:00:00Z
Laura was really helpful from the moment we booked and went out of her way to assist in any way possible. From talking to taxi drivers, giving advice on where the best places to go were, and even arranging an ambulance for our daughter who became ill, she was an invaluable friend who meant our holiday experience was so much better than it would have been without her! Beach very short walk away with a large choice of beach clubs and a handful of public beaches with good cafe/bars. Nice restaurant just around the corner with very friendly owner. Excellent gelateria then just around another corner with equally lovely owner and staff. We relied on public transport for our family of six so had to get taxis to/from local train stations (between Euros35-50). The food available in the few local shops was fairly limited for self catering dinners - plenty of bread, cheese, ham etc for breakfast/lunch - but there are other shops nearby which would be easily reachable in a car (which I imagine most guests would have - we would do this next time as it would make life a lot easier and allow more exploration of the local area, however this time we were just looking for a relaxing few days on the beach at the end of our time in Italy). Plenty of restaurants around to keep those dining out happy. The apartment was very neat and well laid out with simple instructions to guide. It was very warm in the evenings (to be expected end of Aug) but the mosquito screens on the windows mean you can open them during the night to help cool down. Beds all very comfortable and the kitchen well equipped with all the essentials (a bigger stove top coffee pot may be useful if there were more than a couple of adults needing a caffeine fix). This was our first experience on Airbnb and Laura made it a very enjoyable and stress-free one - thanks so much!
Ewan
2016-09-04T00:00:00Z
Vi har haft en dejlig uge i lauras lejlighed. Der alt hvad man behøver i lejligheden som ligger utroligt godt for spændende udflugter. lejligheden vender væk fra fra vejen, så der er rimeligt roligt, til gengæld er der alene naboer at kigge på. lejligheden har en dejlig størrelse og den lille balkon er guld værd. laura er sød og venlig og alt er forløbet godt. Også de andre beboere i ejendommen er søde og rare mennesker, som vi kunne få en lille snak med. Vi kan anbefale andre at booke Lauras lejlighed
Marie
2016-09-11T00:00:00Z
Apartment matches provided photos, perfect protection from mosquitos (our first holidays in southern europe without troubles). Locality around is also nice, beaches are in short walking distance. Nice place for families.
Václav
2016-07-11T00:00:00Z
Romtype
Helt hjem/leilighet
---
Eiendomstype
Leilighet
---
Plass til
6
---
Soverom
Sarzana, Liguria, Italia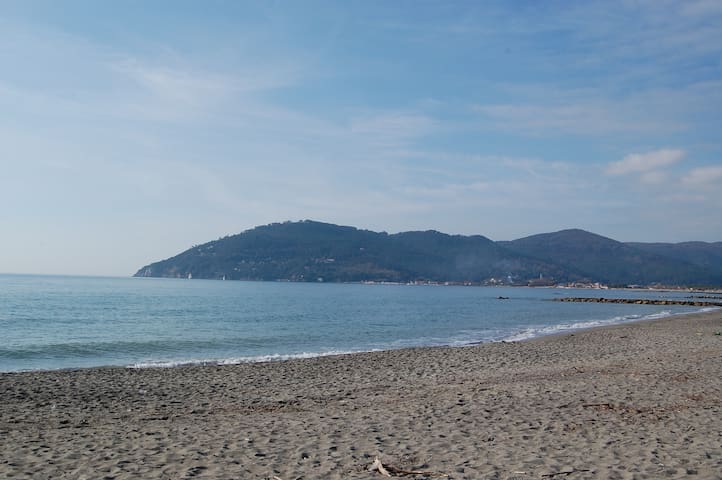 È una villetta a due piani che si trova in una zona residenziale verde e quieta. Il mare è raggiungibile a piedi o in bicicletta (500 m). I monti distano circa 7 km. Vicina al casello di Carrara dell'autostrada A12. All'arrivo troverete me, Giovanna
È una villetta a due piani che si trova in una zona residenziale verde e quieta. Alloggerete in una camera per due persone e avrete a vostro esclusivo uso un bagno con doccia. La camera dà sul giardino, quindi è molto silenziosa. Volendo, nell'area salotto dell'open space è disponibile un comodo divano letto matrimoniale per altre due persone.
A pochi passi da casa, sulla strada che porta al mare, ci sono bar, una favolosa pasticceria, negozi di generi alimentari, edicole di giornali, libreria, negozi di abbigliamento e calzature, lavanderia, e tutto quello che può contribuire a rendere piacevole un soggiorno.
Giovanna è un host accogliente e gentile, viene incontro alle esigenze dei suoi ospiti. Consigliamo vivamente un soggiorno nella sua struttura.
Mick
2016-10-16T00:00:00Z
Excelente!! Giovanna es una mujer encantadora, educada y muy amable. Fue muy gentil al ir por nosotros a la estación de Carrara en la noche, que ya no había autobuses. Estar en su casa fue un remanso de paz que nos permitió descansar del ajetreado viaje. La casa es bellísima, decorada con sus bellos cuadros y con muy buen gusto. Conocimos a su hija que es muy inteligente y comprometida, lo cual es muy valioso en estos tiempos. Es un poco complicado llegar a Marina di Carrara, sin embargo a nosotros nos valió la pena y está muy cerca de Cinque Terre, que es maravilloso! Las playas son privadas, lo cual fue toda una sorpresa, pero si te despojas de ese mal sabor, la playa pública no está mal. Cuidado con las medusas en verano! Gracias Giovanna!
Anaité
2016-08-28T00:00:00Z
bellissimo soggiorno in una adorabile abitazione: pulita,colorata e silenziosa! la signora Giovanna é stata disponibile e discreta! sicuramente ci resterà nel cuore!
Sara
2016-07-10T00:00:00Z
Marina do Carrara is not nice city because there are a lot of people. the house is very nice and Giovanna is friendly . but it was not comfortable that we can not use the refrigerator for water or wine. we could not have breakfast at home , the owner does not allow anything to eat anywhere in the house . it would be nice to have a small fridge in the room and a small breakfast in the living room . Internet works very bad.
Полина
2016-08-10T00:00:00Z
Zdecydowanie polecam!!! Bardzo spokojna okolica, 10 min spacerem od plaży. Giovanna to bardzo serdeczna i pomocna osoba, a polecane przez nią restauracje to strzał w dziesiątkę! Niesamowite wspomnienia będą nam towarzyszyć na pewno przez długi czas. Z przyjemnością jeszcze kiedyś wrócimy.
Kasia
2016-07-25T00:00:00Z
Really nice apartment and room, kind people. Good price. Definitely recommend!
Johannes
2016-08-10T00:00:00Z
Extraordinaire place ! Toutes accommodations, appartement propre et spacieux avec une décoration qui donne un esprit vraiment zen. On s'y sent bien et Giovanne est exceptionnelle. Merci pour ce séjour.
Victor-emmanuel
2016-07-01T00:00:00Z
Todo perfecto!! Llegamos a Marina di Carrara y Giovanna nos fué a buscar con su automóvil a la terminal.. también nos esperó con el desayuno cada mañana y nos dió orientación para llegar a cada lugar. 100% recomendable!
Pablo
2016-06-04T00:00:00Z
Romtype
Privat rom
---
Eiendomstype
Hus
---
Plass til
2
---
Soverom
Marina di Carrara, Toscana, Italia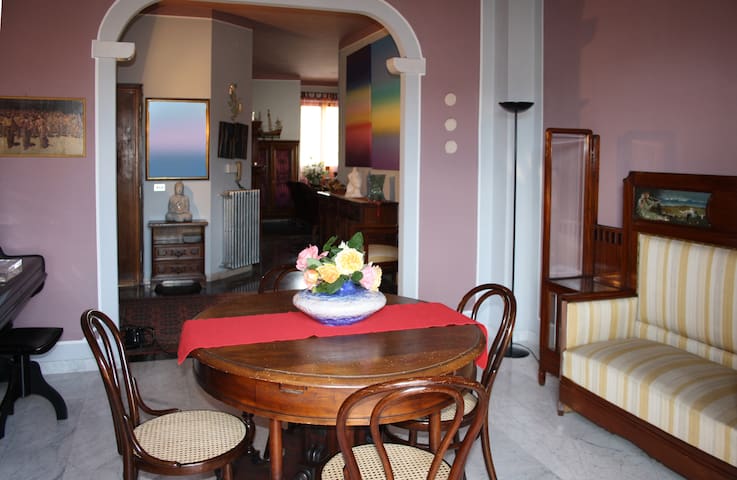 My accommodation is located in the countryside, in the archaeological area of Luni, between the historic Sarzana and the marble quarries of Carrara. A few minutes from the beach, with excellent connections to the Versilia and the Cinque Terre, not far from cities such as Pisa, Lucca and Florence. My "home in the country" you will like the quietness of the place, the beautiful garden and terrace relax. A perfect solution for couples, families, large groups and furry friends.
Beautyfully decorated appartement, with large terrace. We stayed with our two children and had a wonderfull time. When Lorella and her husband heard we were coming by train, they offered to pick us up at the station and lend us 4 bicycles to get around town and to the beach. We can recommend this place.
Sarah
2016-08-13T00:00:00Z
Sehr schöne, großzügige und neu renovierte und gut ausgestattete Wohnung mit großer Terrasse auf großem Grundstück. Problemlos wurde uns ein neues Kinderbett und ein Hochstuhl zur Verfügung gestellt. Ein Auto ist unbedingt erforderlich, da das Haus zwar guten Anschluss an Autobahn hat, aber man sowohl zum Strand (insbesondere zu den schönen Buchten), zum Essen und zu allen attraktiven Orten fahren muss. Zu beachten ist auch, dass die Eisenbahnschienen nicht unweit vom Haus sind, so dass man in der sonst so ruhigen Gegend, Nachts schon mal vom durchrauschenden Zug geweckt wird. Am Tag ist das weniger störend. Loretta hat uns freundlich empfangen und Ihre Tochter hat uns gute Tipps für Ausflüge, Veranstaltungen und zum Essen gehen gegeben.
Heike
2016-08-09T00:00:00Z
Accoglienza perfetta, casa favolosa. Torneremo sicuramente!
Silvia
2016-09-05T00:00:00Z
Séjour de deux nuits dans un appartement situé en 1er étage d'une maison, état neuf, bien équipé, pour l'accueil nous n'avons pas eu de contact avec la propriétaire à aucun moment du séjour, dommage mais bon accueil de la personne qui nous a réceptionné. De plus, nous avons été mis au courant au dernier moment que le WIFI et internet ne fonctionnait pas, ce qui nous a handicapé le voyage. Un bruit assourdissant de passage de train se fait au coucher du soleil et dure une bonne partie de la nuit (nous concernant). Sinon le coin est calme. Nous sommes à 5 minutes des commodités, en voiture. Pour les démarches administratives de photocopies des pièces identités des locataires pour les autorités italiennes sont un peu brouillon et mal expliqués.
Stephane
2017-02-28T00:00:00Z
Très chouette appartement et très spacieux, même pour 6 personnes. Terrasse très agréable avec vue sur les montages. La chemin de fer situé à 50m ne nous a pas dérangé.
Nico
2016-08-26T00:00:00Z
Casa magnifica, come da foto..pulitissima e fornita di ogni cosa possa servire. Lorella, la proprietaria, è stata gentilissima e disponibile in tutto. Ci torniamo di sicuro!!!!
Matteo
2016-08-19T00:00:00Z
Romtype
Helt hjem/leilighet
---
Eiendomstype
Leilighet
---
Plass til
6
---
Soverom
Ortonovo, Liguria, Italia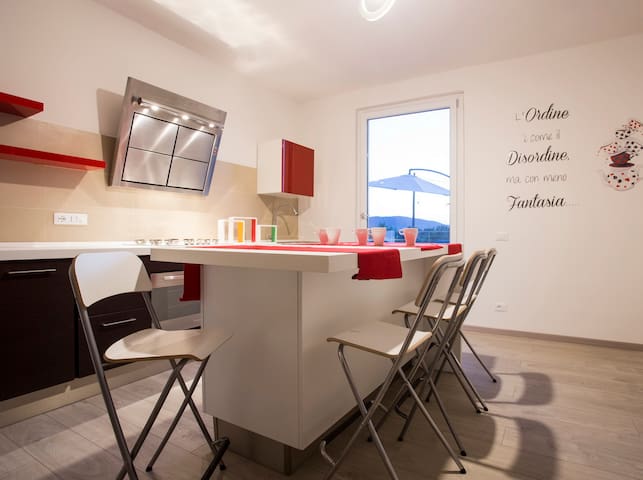 Bellissimo appartamento, spazioso e pulito. Paolo è stato molto disponibile e gentile per ogni evenienza.
Isabella
2016-06-27T00:00:00Z
Paolo è stato un ottimo host, preciso, accogliente e disponibile. L'appartamento è molto grazioso, pulito e veramente confortevole, anche per 5 adulti. Buona anche la posizione, tranquilla e lontana dal traffico e non distante dalle spiagge.
Silvia Beatrice
2016-08-23T00:00:00Z
The host canceled this reservation 11 days before arrival. This is an automated posting.
Tania
2016-10-15T00:00:00Z
Tutto perfetto! casa molto accogliente!
Davide
2016-10-21T00:00:00Z
Romtype
Helt hjem/leilighet
---
Eiendomstype
Leilighet
---
Plass til
5
---
Soverom
Carrara, Toscana, Italia