Baldwin House is close to Okemo (12mi), Killington (25mi), Pico (18mi), Stratton (33mi), Bromley (29mi), Magic Mountain (24mi). It's the perfect location on a main road, yet still a quiet country getaway feel in the heart of the Green Mountains. Beautiful riverfront property with lots to explore, including many nearby trails. You'll love the freshly renovated interior, spacious rooms, and comfortable, clean furnishings. Good for couples, business travelers, families, and big groups.
The house is a gorgeous early 1900s Victorian with a rich history. There are original hardwood floors, curved plaster walls, a stained glass window, high ceilings, a large porch and all kinds of beautiful details. Grill on the back deck, relax in the large backyard or explore the woods and Mill River at the back of the property.
Shrewsbury is a delightful Vermont town with an awesome restaurant, several country stores, farms, maple sugar houses, trails, and more! The Long Trail and Appalachian Trail both pass through Shrewsbury with easy access. You'll get that Vermont country charm while still being close to Rutland, Ludlow, and Weston. Manchester and it's shopping venues are a short drive as well.
Romtype
Helt hjem/leilighet
---
Eiendomstype
---
Plass til
10
---
Soverom
Shrewsbury, Vermont 05738, USA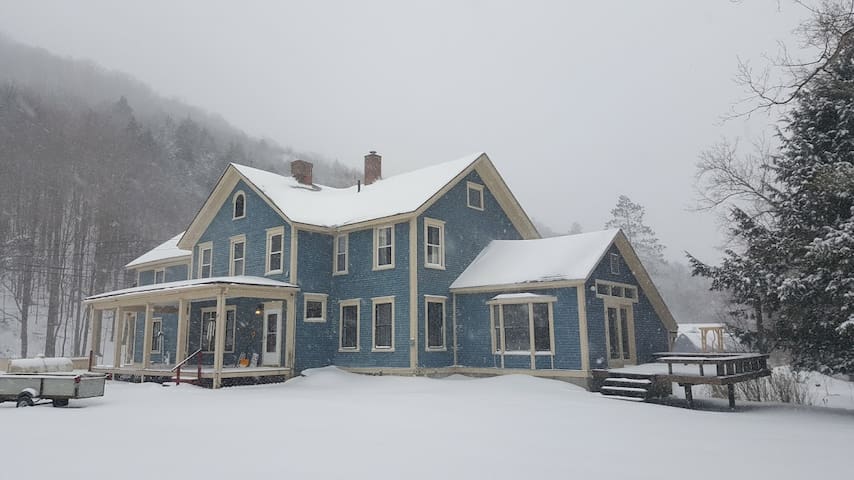 We like to say that we live in the most beautiful town in Vermont...and we do! Only 20 min. from Okemo and 40 min. from Killington ski areas, great hiking, and all that Vermont has to offer. Private entrance, private queen bed and full bathroom, and private sitting room/ breakfast nook...all yours!
The bedroom, which has windows to the south and west, has a queen size bed, and a full private bathroom next door off of a downstairs hallway. The hallway is accessed through what we call our sunroom, which faces south, and, in that room, we are providing our guests with a small dining table, 2 chairs, a small refrigerator, toaster, microwave, tea water heater, coffeepot (the organic Mocha Java is on us!), glasses, plates, bowls, silverware, etc.. We provide coffee,tea, granola bars, yogurt, juice, milk, granola, English muffins and some fresh fruit. The sunroom is yours to use. We live on a quiet road, away from heavy traffic. We nicknamed our property the "Skyranch" a long time ago, as we have wonderful views to the west, amazing sunsets, and a clear, dark, and starry night to enjoy.
As Shrewsbury residents for over 31 years, we are delighted to share info. about local farms, hiking, attractions, etc. Life is fairly quiet here, but there's lots to do and see. You can walk out the door and enjoy amazing scenery without going any further, or you can venture out on a variety of day trips. We are close to both major ski areas Okemo and Killington, to the famous Weston Playhouse and VT Country Store, the Vermont Marble Museum, the unique Carving Studio, and to the Vermont Summer Festival Horse Show, among others.
It was a wonderful first time experience for us in Vermont. Vicky and Paul were both very patient with us and was very accommodating, especially with the microwave and anything else we needed. They respected our privacy and everything was as they had described. I would definitely recommend this place to anyone looking for a place to stay.
Sun
2016-01-19T00:00:00Z
Vicki and Paul were wonderful hosts. My girlfriend and I came up to Vermont for a short ski trip over the holiday weekend and this was the perfect place to unwind at the end of a long day. We were able to easily drive from their location to both Okemo and Killington which was great for us. They were helpful and engaging but never invasive of our space. I can honestly say this was one of my favorite Airbnb stays and I couldn't reccomend this more to anyone! Hope to be back soon.
Sammy
2017-01-16T00:00:00Z
Vichy and Paul are thoughtful. They gave us every information in details. Although they were not at home when we arrived, we can easily fix everything. All the food and appliances in the kitchen were nice. I like to have warm water in the morning. I love their plants in their glass balcony. It is really a comfort place. I am regretful that we left early in the morning and didn't say goodbye to you.
Yi
2016-10-18T00:00:00Z
Victoria and Paul live in a very nice neighbourhood off the beaten track and made us feel welcome. Everything was as described in the listing.
Ninna
2016-10-12T00:00:00Z
This place is simply amazing! The room is beautiful, and the hosts are very nice. We arrived a bit late, but they were very accommodating and allowed us to have a late checkout as well. We wish we could have stayed more at their place.
Marco
2015-12-02T00:00:00Z
This is a cozy, secluded Vermont woods retreat. Lovely accommodations and hosts!
Marcia
2016-11-26T00:00:00Z
Vicki & Paul were great hosts, very down to earth and pleasant. If you're looking for quiet solitude, this is it. There's one restaurant in town and if you want more than one choice you'll have to drive 20 minutes north or south, which isn't bad. We only stayed one night but it was nice and the bathroom was clean and spacious and water was working; unlike our previous night's stay at a Holiday Inn in Rutland! Would rent from Vicki and Paul again.
Linda
2017-01-16T00:00:00Z
Victoria and Paul have a lovely cozy home and wonderful thoughtful little extras in the breakfast nook. They were very communicative and easy to coordinate with. The neighbors across the road were a herd of cows that first morning and everything was still steeped in beautiful fall foliage. I had a most pleasant and peaceful stay.
Zea
2016-10-25T00:00:00Z
Romtype
Privat rom
---
Eiendomstype
---
Plass til
2
---
Soverom
Shrewsbury, Vermont 05738, USA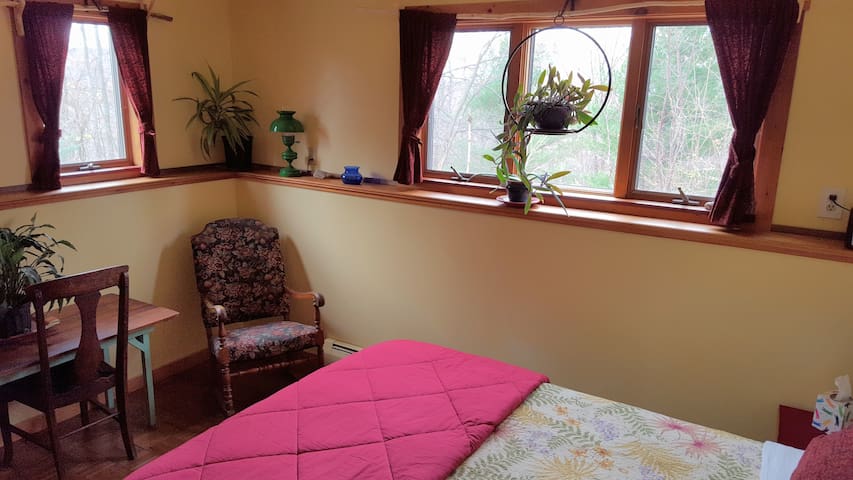 Relax in our 2100 sq foot fully renovated 1850's Vermont riverside home. WiFi and cable TV. Wood stove (wood provided). Easy access to Okemo (13m) and Killington (18m). Driveway ploughing provided. Plenty of shops in Rutland (6m). Rutland Airport (4m). Our home has a fenced in front yard and a very large deck overlooking the 1.5 acre back yard. At the back of our yard is a fire-pit and a bridge to the river. Great for families, couples, solos, big groups. Furry family members welcome.
This was a wonderful experience. John and Charmaine were so eager to help us with any aspect of our trip, going above and beyond. They were always very responsive to our questions.
Erin
2016-09-26T00:00:00Z
John and Charmaine were wonderful hosts for our family weekend in Vermont. They left us an enormous bowl of fresh fruit, which was delicious! Their house was lovely, clean and spacious for the 6 of us and 2 little dogs. This part of Vermont is very beautiful, and John and Charmaine have a lovely piece of land. The fenced in yard was just right for the two dogs. They have A/C, which while looking for a place we found was a rarity, and which was much appreciated. We will definitely tell our friends about our weekend and recommend John and Charmaine's little piece of Vermont.
Lisa
2016-08-16T00:00:00Z
John and Charmaine were wonderful. They were there to greet us when we arrived. A quick tour of the place and away they went in their RV. Fenced in front yard was perfect for our dog to run around. Definitely pet friendly! They kept in touch once a day with a quick text to make sure all was well. Couldn't have asked for better place to stay or better hosts. Thanks again.
Eric
2016-08-01T00:00:00Z
John and Charmaine were wonderful hosts! Every year, my grad school friends and I like to get together and hang out for a weekend. This house was perfect! The place very comfortably accommodated six people and two dogs. We enjoyed cooking in the large kitchen, hanging out on the giant porch, and warming up by the stove fire. J+C were very responsive to messages before our arrival and they left such detailed instructions at the house that we didn't need to bother them once we arrived. I highly recommend John and Charmaine's home. Perfect for a getaway!
Stephanie
2016-11-13T00:00:00Z
John and Charmaine's house is the perfect place for a cozy get together. We are all foodies and their kitchen is super equipped. Nothing is missing there. We loved the open floor plan and the central kitchen. We spent a lot of time hanging out there while the cooks prepared the meal. If you like hiking, you can't beat the area. We actually saw a moose 5 miles down the road which was really exciting. We all loved our stay there.
Colleen
2016-11-27T00:00:00Z
Perfect airbnb experience, great home and helpful hosts.
Ean
2016-07-24T00:00:00Z
I really enjoyed the stay at John & Charmaine's place. We were there for a weekend snowboarding retreat. The place is right next to major road, and the place is within the decent distance to both Killington and Pico (~30min by driving). What is more important, the place is lovely, cozy, decorated in beautiful holiday vibes (lightings and gorgeous tree), and amenities are great, including big screen TV, treadmill and etc. Last but not least, the hosts are really welcoming, caring, and made their best to make me feel at home, including swift message reply and etc. I highly recommend this place, and would definitely revisit.
Siyang
2016-12-15T00:00:00Z
We had a wonderful time at John and Charmaine's beautiful home and would definitely come back! We were 6 adults and three little kids getting together for a little reunion with a friend who moved to Vermont and we had a bed to spare. The house was very comfortable and the coffee, waffles and fruit were very welcome! They had additional nice amenities for us like delightful lavender soap and soft towels. We were thankful for their very reasonably priced home.
Marcy
2016-10-24T00:00:00Z
Romtype
Helt hjem/leilighet
---
Eiendomstype
---
Plass til
11
---
Soverom
Shrewsbury, Vermont 05738, USA
Our home has 2 acres of land bordering on Mill River so you can enjoy a Vermont swimming-hole, fishing and gold-panning. The entire second floor is yours. There are two bedrooms, one of which has a very small room off it with a full-size bed. There is also a queen air mattress and a single air mattress for a possible 3 additional guests. Note: we have 2 golden retrievers and 2 cats that live in the house but are not allowed upstairs.
This is an 1850's home that was originally a tea house in the days when horseback travelers needed a place to rest-up. It is now fully renovated with modern amenities.
Shrewsbury is an old-world Vermont town with a library, a museum, and a country store.
Stayed upstairs with a group of friends for a race in the area and John & Charmaine were such warm and accommodating hosts! All amenities/photos were there as listed, and anything they could help us with they did (being flexible with changes in party size and arrival time, coming to the rescue when we forgot some small race gear, and providing food/attraction recommendations)! As a bonus, they provided a homemade waffle batter/waffle maker for the mornings along with fruit, maple syrup, and bacon! We had a lovely time exchanging stories with John and Charmaine over breakfast and later playing with the dogs before we had to journey home. All in all, a great experience!
Nancy
2016-09-19T00:00:00Z
John and Charmaine were FANTASTIC in every way. They made us feel 100% at home. They were very warm and interesting people, and we very much enjoyed their company and not just their home. I couldn't possibly recommend their place any more! Great location between Killington and Okemo. We were just here - in July - but I bet they are even better-situated for winter sports!
Irene
2016-07-18T00:00:00Z
We had such a great time in Shrewsbury! John and Charmaine were very welcoming, and even set out a lovely fruit basket that they kept stocked. The kids loved playing with the dogs and cats. John even went down to the (beautiful) riverside with us. The house is an older house- very charming. You have the entire upstairs to yourselves, so there is plenty of privacy, or you can hang out downstairs and chat with the hosts. If you are not an animal lover you might look elsewhere. Also, the house is right by the road and there is some road noise- might be an issue if you are a super-light sleeper. Otherwise we loved it and would heartily recommend that anyone stay there.
Aaron
2016-06-17T00:00:00Z
Great experience. 2 very fun dogs, and had a beer with her husband John. Great hosts all around and felt very welcomed.
Nick
2016-06-09T00:00:00Z
Romtype
Privat rom
---
Eiendomstype
---
Plass til
6
---
Soverom
Shrewsbury, Vermont 05738, USA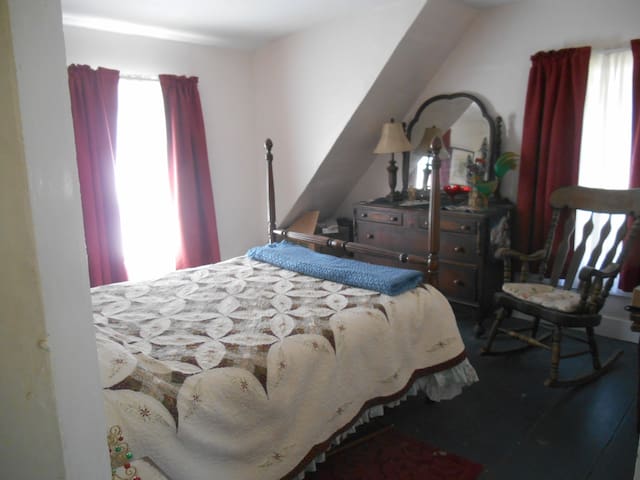 Our house is nestled in the mountains in the tiny town of Shrewsbury. We are 20 mins from Okemo and 35 mins from Killington. We enjoy shopping at the bountiful Rutland farmers market, and cooking with the results; along with skiing, hiking, biking, enjoying the nearby lakes for swimming and kayaking. Please note: house was off the market in Fall of 2015 due to installation of all new windows, and sliding doors to deck, and from lower level bedrooms.
The house is spacious and airy with many living areas, comfortable bedrooms, an excellent kitchen and an enormous deck-- and lovely views. There are 4 bedrooms and two dens to sleep 12; Two master bedrooms with king beds, another with a king, another with two twins and two dens with (full size) pull out couches. There are 3 large living areas: a great room with two wood fireplaces and the dining table, a tv room with a couch big enough for the whole family, and a game room for playing music or games. We have spent many hours cooking here and we take our meals very seriously. The kitchen is well equipped with a Thermador 6 burner range, wall oven, outdoor gas and charcoal grills, two dishwashers, and plenty of pots, pans, dishes, glasses. We keep a well stocked pantry as well. The deck is great for relaxing in the sun and eating outside and enjoying the view. We keep a healthy array of tomatoes and herbs growing in pots in the summer. Feel free to harvest!
Shrewsbury is a small mountain town with many old farms and a great general store. Lakes in the valley are great for swimming and boating and access to the Appalachian trail is 5 minutes from the house. Okemo is 20 mins away and Killington is 35. We ski at both all the time. Rutland, 20 minutes away, has the best farmers market in Vermont on Saturday mornings all year. There are great restaurants in Ludlow and Rutland.
This was our second time staying here and it got even better. Record selection is incredible, also the ability to hook your phone up to the sound system which was ideal. Directions were clear and anything you needed to cook was easily accessible. I highly recommend staying here. -Rick
Richard
2016-03-08T00:00:00Z
Lisa was an unbelievably great host. She was very helpful every step of the way. The house was gorgeous and I would definitely book with her again. Also, please listen to Lisa with her recommendation for 4WD cars. It snowed the last night we were there and getting down the driveway and out of the neighborhood was a hassle even with 4WD and we probably would not have made it out with a 2WD.
Brian
2015-03-25T00:00:00Z
Wonderful place. We thoroughly enjoyed staying here for the fall colours. The backyard and deck were awesome.
Punita
2016-10-12T00:00:00Z
Stayed in this house while on a weekend trip to Vermont to go to Killington which is a bit over 30 min but this house is worth it! The house is beautiful. Extremely spacious and has everything. I was nervous when I realized that I didn't bring any cooking oil, but when then I found some in the cabinet! House is located in an area with no reception and had a bit of trouble finding it the first night after my GPS stopped but is very easy to find after you drive there once. My favorite part are the windows and back deck as the sun is rising while making breakfast. The view is breathtaking.
Kristy
2015-03-31T00:00:00Z
Beautiful home 25 minutes from Okemo mountain. Perfect for a ski trip. The home is very spacious with an open layout with lots of entertaining space. We really loved the surround sound throughout the house and nothing beat the view of the mountains that you get from every room in the house. We had an amazing weekend. Lisa was a great host.
Yaacov
2016-02-19T00:00:00Z
Great house. Very large and well equipped. The kitchen is amazing! We had a great trip and Lisa was an excellent host.
Tara
2016-01-19T00:00:00Z
Wow. This house was amazing. Everything was as listed. Lisa was great. Any questions, just ask, and she'll help you out. Sound system was awesome. The kitchen was the best. Only thing I will have to say for others, is the location. The house is located on a pretty steep hill, so if conditions are snowy, you'll definitely need all wheel drive. Will definitely return.
Jimmy
2015-02-15T00:00:00Z
I've rented many homes over the years, and this has been one of may favorites. The large common area is great to hanging out, and it offers nice views. There was also plenty of space for sitting and dining for our group of 7. The kitchen is very well stocked with everything you need to prepare a nice meal. There was even a SousVide to cook the perfect steak to Riedel wine glasses to enjoy your wine. The host is very pleasant and is quick to get back to any communications you send her. The location is a bit of a drive from skiing, but we knew that going in. It took us about 20 minutes to get to Okemo. I would highly recommend this house to anyone looking for a quiet winter getaway.
Raymond
2017-02-03T00:00:00Z
Romtype
Helt hjem/leilighet
---
Eiendomstype
---
Plass til
12
---
Soverom
Shrewsbury, Vermont 05738, USA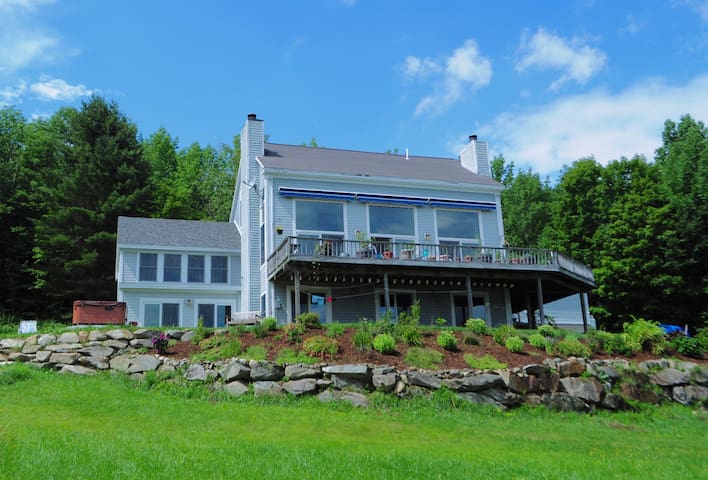 Unique chalet offers all that is ideal about VT. Situated on 88 acres, this home offers unparalleled views in a private, quiet setting close to amenities, several ski resorts, and cultural activities. This 3 bed, 3 bath retreat offers a beautiful kitchen, cathedral ceilings, floor-to-ceiling mountain stone fireplace and a wall of windows overlooking a small orchard below. You will find an abundance of activities tailored to your interests in all four seasons. See more: (URL HIDDEN)
Romtype
Helt hjem/leilighet
---
Eiendomstype
---
Plass til
8
---
Soverom
Shrewsbury, Vermont 05738, USA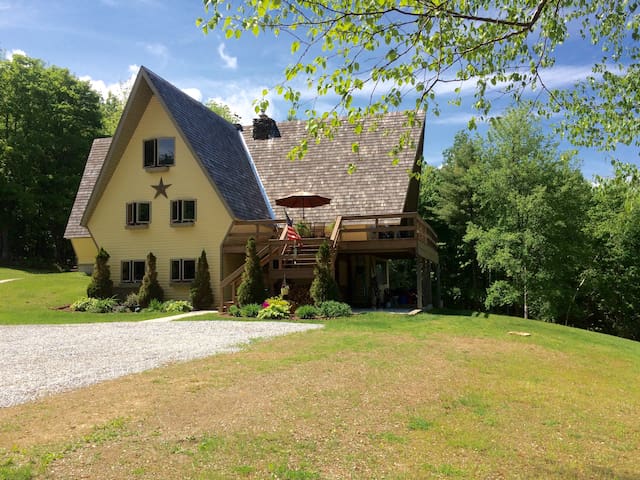 4 single beds, 1 queen, a couch, and a cot available, private 11 acre wooded setting, appx 10 minutes to ski Okemo, bordering a Vermont Maple Syrup producing farm. Entire bottom half of house included in rental, host lives upstairs. Private entry/bathroom. Beautiful wrap around deck with views!
Appx 10 minutes to ski/ride Okemo, 35-40 minutes to Killington, 45 minutes to Stratton. Travel times vary depending on weather/road conditions. Property borders a unique 850 acre mountainous Vermont Maple Syrup farm, a tour of the sugar house when production season is active (spring-weather dependent), can be pre-arranged. *4 single beds, 1 queen bed, 1 couch, 1 cot* *Not a full kitchen! Included is: wet bar with sink, mini fridge, microwave, coffee maker, cabinets have plates/bowls/cups/coffee mugs/silverware/paper towels/coffee filters/dish soap) There is no stove/oven. Bring your own coffee/groceries/additional kitchen utensils you may need. Bring your own toiletries, provided bathroom items include: bath towels/wash cloths/hand soap/toilet paper. Tv in room, has hdmi cord with iPhone 6/7 adapter for streaming, also has a roku to sign into your media accounts, (Netflix/Hulu etc.) Speakers with aux cord also available in room. Wifi available.
Quiet, private, quintessential Vermont dirt road living. A newly built home set on 11 acres of mostly forest land, owned by a life long Vermonter with local knowledge of the area.
Great place to crash for the night on a ski trip! Super clean place. Jesse was very communicative and a great host! Highly recommended.
Jen
2017-01-08T00:00:00Z
Great place, close to Okemo. Jesse was very helpful and responded extremely quickly.
Kon
2017-01-17T00:00:00Z
Great spot to stay
Jerry
2017-01-29T00:00:00Z
After deciding to do a last minute night drive to VT to ski, I needed a place to stay. Jesse's home was perfect for that! He was gave me all the nessecary information to get to the house and in the case he wasn't there directions to get it. However he was kind enough to meet me during his work shift to greet me. The home is simple, lots of beds but perfect for a ski trip with friends.
Kadeema
2017-01-07T00:00:00Z
Great location a short trip from mountains. Very clean and exactly as described. Communication was easy and response time was very fast. All questions were answered immediately
Aleksandr
2017-01-15T00:00:00Z
Our stay was great. Everything was very clean and comfortable. Be very careful in the winter on the driveway!
Jess
2017-01-22T00:00:00Z
Romtype
Privat rom
---
Eiendomstype
---
Plass til
8
---
Soverom
Wallingford, Vermont 05742, USA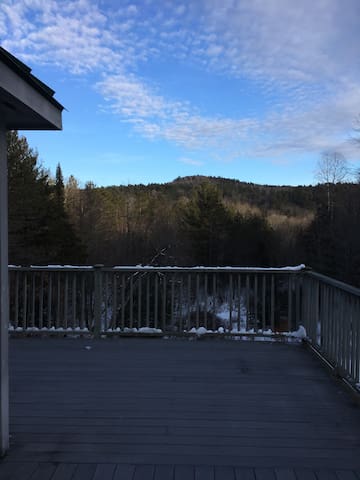 Feel like you are a world away while only 10 min to Okemo and 40 min to Killington. Exquisite home set on 35 acres. Swim and fish in the two ponds in the summer and snowshoe, sled and ice skate in the winter. Hot tub, wood burning fireplace and large deck with gas grill are just a few of the amenities in this oasis in the Green Mountains. Located minutes from Rutland Southern Vermont Regional Airport and the Appalachian Trail. Enjoy some of the best skiing, craft beer and food in New England.
The house is a very beautiful and set off from the main road. We had the perfect amount of rooms and space for my family. The hot tub was great. There was a closet full of clean towels which was awesome. We loved our stay there.
Shah
2017-01-11T00:00:00Z
this was our first time doing our annual NYE ski trip in vermont, and boy, were we spoiled with pond hill! erica and janson were wonderful, quick to respond and extremely helpful in terms of giving us tips on how to get up to the house from NYC, what restaurants to eat at, etc. the house itself is beautiful, janson has outdone himself in the design department. it was perfectly comfortable for our group of 8, and would be good for a family too (there are two "kids rooms" with single beds, one w/a crib). the kitchen is spacious and very well-equipped, and the hottub (especially post snow!) can't be beat. we would happily come back again, and would recommend the home to anyone looking for a relaxing winter escape.
sarah
2017-01-09T00:00:00Z
Romtype
Helt hjem/leilighet
---
Eiendomstype
---
Plass til
10
---
Soverom
Wallingford, Vermont 05742, USA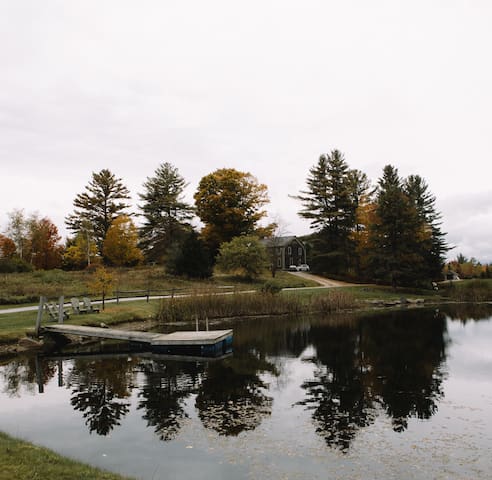 At the end of a dirt road sits our peace of heaven. We offer 1 king room w/private 1/2 bath; shared shower/bath downstairs/1st floor. For families we have 2 additional single bedrooms for $55 each . Guests have access to all common areas of our home.
Built in the mid 1800's our home is nestled on the side of a mountain. We have large indoor and outdoor porches to enjoy natures beauty...the woods, flower gardens or pond. Common living spaces with original wood floors and a field stone fireplace add to the charm of this quintessential Vermont home. Take a walk up the dirt road for views of Killington Mountain, a short drive to the renowned Weston Theater and Vermont Country store, or explore the outdoor activities at Okemo Mountain. Nature abounds in this area with access to many hiking trails and nearby lakes for kayaking within 10-45 minutes.
We are are right off 103 and near route 7 and 100. There are many farm to table dining options within 30 minutes, 2 major ski area's Killington and Okemo, Weston Playhouse summer stock theater, music and outdoor festivals galore, and a growing micro brewery industry.
Excellent experience. Jennifer and her husband were incredible hosts, giving us great suggestions on places to see, eat, or really anything that we asked! House was beautiful and animals super friendly. Highly recommend a stay!
Gabriele
2015-09-28T00:00:00Z
Our stay at Jennifer and Stu's place was beyond our expectations! We had to change plans several times- and they accomodated with a smile! they were very nice and welcoming. The place was very cozy, the beds really nice and the recommended excursions awesome. We wouldn't have seen as much and as interesting sites if we hadn't been guided by Jennifer and Stu! All in all, very recommendable and a great experience.
Mette
2015-10-04T00:00:00Z
Jen and Stu were excellent hosts for our first AirBNB experience. From the start, they were warm and inviting and did everything to make our stay comfortable. They took us around the house and told us its history. They offered drinks and snacks. Breakfast was delicious with homemade maple syrup-infused waffles! They provided excellent information about the area and we found an amazing swimming pond and the best maple creemees nearby. Bedroom was large and comfortable. Thank you!
Penelope
2016-07-18T00:00:00Z
Jennifer and Stu were wonderful hosts and made me feel right at home. Their home is lovely (especially the sun room) and the guest room is large and quiet. They have 3 friendly pets, especially Lucy who loves to play. I would definitely stay with them again.
Ellen
2015-07-15T00:00:00Z
Jenn and Stu were incredibly accommodating and nice. They really made us feel right at home and were great conversationalists, which was nice for us after long days of sightseeing. Both were very helpful in providing points of local interest for us to see that we otherwise would not have seen. Their dog Lucy was also a pleasure, providing lots of entertainment as well as the 2 sweetie kitties. The place is very nice and comfy in a beautiful setting - can't ask for anything more. A perfect stay. Will gladly stay here again if I ever make it back to this area.
Sue
2015-10-26T00:00:00Z
My son and I were warmly welcomed by Jennifer, Stu, the family dog (Lucy) and the 2 darling cats. The house is charming and the conversation was fun and interesting. Jennifer was helpful in finding us a laundry mat and giving us dinner suggestions. We definitely recommend staying here! :)
Nancy
2015-07-20T00:00:00Z
We spent wonderful time with Jenn.&Stu. They are amazing hosts taking care of us. We enjoyed all the advises. Lucy was so exciting to play with us,it was like we were back home. The bedroom was clean,nice and confortable. We felt actually great atmosphere inside the house.
Thomas
2016-09-25T00:00:00Z
This is a wonderful place to stay. Nestled outside a small village in the Green Mountains, the homestead is a beauty. Set on the dead end of a small dirt road - it butts up against an old logging road you can walk for scenic views. There is lovely pond,a nice deck and a sun room which is great for having breakfast. From the sun room as well as from my bedroom, you could hear the sounds of the bullfrogs from the pond as you drifted off to sleep. The house is classic pre-Civil war era house that has been amazingly well maintained. The king size guest room is nicely furnished and has windows all around-very comfortable. the other shared rooms in the house- were exceedingly charming; one with classic fireplace and another with a more modern setup with TV, cable, blue ray and Netflix. There is a nice electric fireplace in that room for chilly mountain nights. Jennifer and her partner are very welcoming and make you feel right at home. There were drinks and snacks available for me, and in the morning, they had stocked the fridge and larder with continental breakfast kind of fare. Jennifer and her partner also know the area and Vermont very well; they are apparently members of the Vermont 251 club- which means they ave been to all 251 towns an villages in the state- so they are a fountain of knowledge and sent me to a really nice place to eat dinner (Tex-Mex) about 15 minutes drive - in the ski town of Ludlow. They area also only about 20-25 minutes from Rutland which is pretty big town and good for shopping/supplies. I was only there overnight- So had limited time to explore- but they do have kayaks that can be negotiated as well as bikes and places to hike right out the door. There seem to be slew of gorgeous lakes nearby and the Appalachian and Long trails are only 5-10 minutes away as well. I would come to this place again in a heartbeat if i am in the area. They also have two additional small bedrooms which make it pretty friendly for families. The only downsides I experienced is that it is a bit of an inconvenience to not have your own full bath. The king suite has a very nice half bath- but the full bath is down the stairs. I didn't mind at all- but some might. They also have two neat cats and a cute as a button small dog, so may not be for everyone, but i was nothing but entertained by them, and they do keep a bedroom and a sitting room cat free for those with cat allergies. Classic mountain New England retreat. I give it a 4+ stars.
stuart
2015-06-15T00:00:00Z
Romtype
Privat rom
---
Eiendomstype
---
Plass til
4
---
Soverom
Mount Holly, Vermont 05742, USA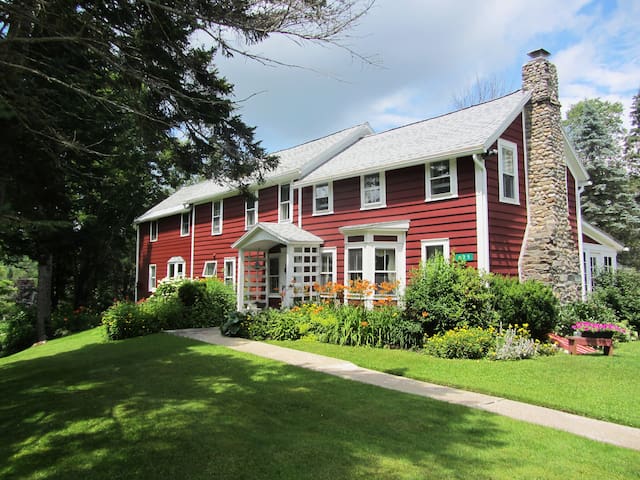 Oppgi datoer for å se fullstendige priser. Ekstra gebyrer gjelder. Skatter vil kunne tilføyes.