Die Sedgwick Antique Inn verfügt über 14 Zimmer in der historischen Bankgebäude. Unsere Gäste sagen uns, dies ist ein wunderbarer Ort zu bleiben. Bitte bleiben Sie bei uns, so lange wie Sie wollen.
Viel Platz und viel Platz zu lassen Ihre Vorstellungen fließen.
Wir gehen durch die Straßen in der Nacht. Sie finden in unserem freundlichen kleinen Stadt sicher sein. Wir haben den Jumbo-Reservoir 5 Meilen westlich von uns. Angeln und die Jagd ist in unserer Region reichlich vorhanden. Denken Sie daran, wir eine kleine Stadt mit einer Bar und eine Apotheke auf der anderen Straßen sind.
Go here. Do it. Well worth your time. Excellent experience.
Dylan
2016-04-24T00:00:00Z
Lupe was very kind and the listing was accurate. This is not a highly populated area but there was plenty to do during our one night there.
Stephen
2016-05-19T00:00:00Z
Lupe was a wonderful hostess and communicated with us throughout the booking process. We had a blast just chatting with her in the evening regarding the towns history along with tidbits of her life story. Lupe is one of the most interesting host we have stayed with. The Inn is "eclectic" and in the process of going through updating. It was nice to have breakfast at the Inn before we left Sedgwick. It was a great stopping off point for us coming from the East as it left us with about a 3 hour drive to Rocky Mountain National Park the next morning.
Bill
2016-09-07T00:00:00Z
Lupe was very welcoming. She gave us a quick tour of the place and allowed us to choose our room. There are quite a few to choose from. There was also ample parking. Lupe gave us a brief overview of the town, which is quite tiny and set off from the highway. The town itself seemed peaceful, if a little isolated. It is also directly across from a dispensary if you're looking for that kind of thing. There are 2 bathrooms to share for all the rooms. The mattresses are a bit older and quite noisy, as is the center hallway that runs in front of all of the rooms. I also found it to be quite dusty (I'm allergic to almost everything) so I had to take a benadryl to get me through the night. Everything is a bit dated and worn, but some may find it to be kitsch. All in all, great host, but for the sake of my allergies and wanting a private bathroom, I would pass.
Princess
2016-05-27T00:00:00Z
Fun and quaint find just off I76. Comfortable and easy.
Naomi
2016-09-10T00:00:00Z
This was a very unique place to stay, the building has a lot of cool history and it was a joy to stay in. I'd happily stay again!
Matthew
2016-12-10T00:00:00Z
If you want a super clean room with all the amenities of a modern establishment, this airbnb is not for you. If you are fine with basic cleanliness (albeit a little dust and a few dead flies and spider on the windowsill), an old building with lots of character, a wonderful warm proprietor, and the possibility of sharing a bathroom, this will fit your needs. The bed was very comfortable, and having a restaurant right next door was great. This serves as lodging for hunters and fishermen, and a respite from the storm for the public.
Ginger
2016-11-18T00:00:00Z
Lupe was incredibly friendly and made us feel very welcome upon arrival. We were looking for a place to get a shower and a good sleep after being on the road for a couple days. Our stay with Lupe was exactly what we wanted and needed. Lupe is a wonderful host and a really lovely person.
Jessica
2016-09-03T00:00:00Z
Romtype
Privat rom
---
Eiendomstype
Andre
---
Plass til
16
---
Soverom
Sedgwick, Colorado, USA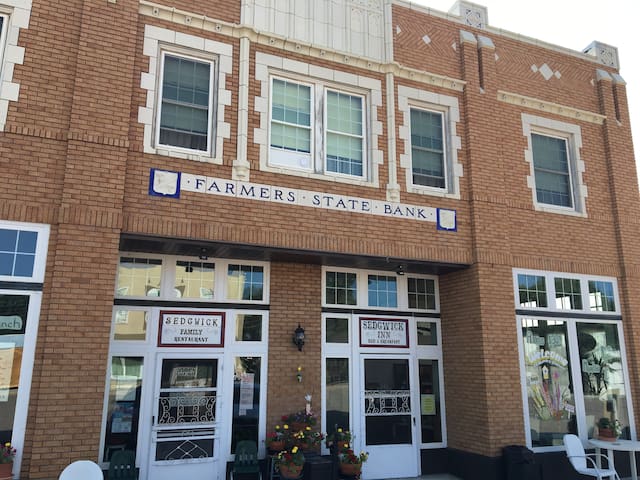 2 private bedrooms on main floor with shared bathroom. 3 minutes off I80 for you coast to coast travelers not waning to spend a lot of money on a hotel. Very clean house with a hunting theme.
2 private bedrooms with a shared bathroom upstairs. Full access to kitchen and living room.
Small town USA, but 3 minutes from I80.
Romtype
Privat rom
---
Eiendomstype
Hus
---
Plass til
2
---
Soverom
Sidney, Nebraska, USA