Dove and her daughters were there to greet me when I ran up early in the day. I came up to meet them, because I was 40 minutes away in West Oneonta at Cooperstown All-Star Village and knew I would be really late that evening. The room and bathroom are right off of her kitchen. Dove had the porch all lit up so it was inviting even though I was coming in so late. It had been a really hot day, her water pressure was (URL HIDDEN) the moment It was the best shower of my life. It was my first Airbnb experience and as mother of 3, my first stay alone in a very long time...thank you, Dove!
Cecily
2016-06-27T00:00:00Z
This was a great way to step off the beaten path and relax.
Mark
2016-05-24T00:00:00Z
The host canceled this reservation 9 days before arrival. This is an automated posting.
Sherry
2016-07-01T00:00:00Z
The host canceled this reservation 22 days before arrival. This is an automated posting.
gordon
2016-07-01T00:00:00Z
Hostess is warm and friendly. one comment I would make is that the private bath is not ensuite. It is just outside the room off the kitchen,
Eric
2016-06-23T00:00:00Z
She was amazing, very friendly and welcoming
Zachary
2016-06-13T00:00:00Z
Dove is reasonable and responsive host who cares of her guests.
Alex
2016-08-08T00:00:00Z
Dove was a wonderful host. Room and accomodations were exactly as advertised and the place was very easy to find. Plenty of parking, great checkin experience, perfect
Zack
2016-06-29T00:00:00Z
Romtype
Privat rom
---
Eiendomstype
Hus
---
Plass til
1
---
Soverom
Cobleskill, New York, USA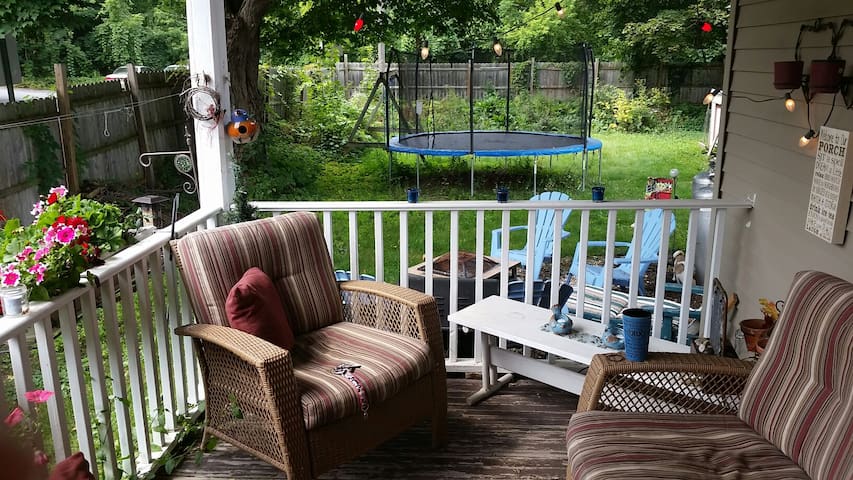 Booked the house super last minute and Mindy was great with communication and making my first AirBnB experience a success! The property and surrounding area is beautiful. House is comfortable (wood stove kept us toasty) and kitchen is fully equipped. We managed to pull off an unplanned a pre-Thanksgiving dinner complete with apple pie! Loved that there's a compost bin. Looking forward to visiting again!
Carolina
2014-11-17T00:00:00Z
Mindy's farm was great! The perfect weekend getaway from the city. The kitchen was perfect for cooking, the woodstove cozy and the surrounding farm existential for hiking and wandering. Our dog is still sleeping off her adventures! Only 20 minutes from Cooperstown, I can't recommend Mindy's place enough. Thank you for a much-needed weekend away.
Corey & Kristen
2015-12-14T00:00:00Z
We had a fantastic New Year's weekend at Mindy's place. If you're looking for a cozy, unique home where you can roam free in all directions without having to speak to another living soul, cook up a storm and want for nothing in the way of supplies, and snuggle by a piping hot wood stove, then this is the spot for you. I hope we'll get to see it in summer time! Thanks Mindy!
Candace
2016-01-05T00:00:00Z
We had a wonderful stay over Valentine's Day weekend on what were the coldest days of the season. The house definitely exceeded our expectations. It was cozy and had lots of space. There was a full kitchen with anything you could possibly need, a bathtub/shower, and a cute loft bedroom with a large bed and TV. Lots of windows and natural light. The setting was very secluded and beautiful. Despite being -20 degrees, the wood stove kept us toasty, added to the experience, and there was plenty of firewood provided. We cooked a full meal the first night and went to the American Hotel in Sharon Springs (~15 mins) for Valentine's dinner. A quaint town that's def worth a visit. Mindy was easy to communicate with. We'd love to stay again and visit in the summer. Thanks, Mindy!
Matthew
2016-02-16T00:00:00Z
Originally my sister and I were going to stay for 2 nights but do to the impending rain storm opted to stay only one night. We found the place without getting to lost. It's about 10-15 minutes outside of downtown Cobbleskill. Set back from the road, it's a quaint farm with ponds and trails. We hung out on the porch and watched the stars from the patio. We did have trouble locking the door, but finally figured out how to do it. I talked to Mindy on the phone and she was helpful. Just a few things people should do. Bring sugar or honey if you like the real stuff and when you have a fire the directions say bring the damper forward. That means towards the stone wall. Trial & error. You learn quick. Overall we had a nice time. The place is fairly remote but it's nice to relax and enjoy getting back to nature
Maria
2014-10-17T00:00:00Z
My son was in a baseball tournament in Cooperstown and we did not want to be in a hotel room for the whole week so we decided to stay a little further away at the farm house. It is about a 30 min. drive from the farm house to dreams park. It worked well for us! We loved using the kitchen, they have everything you need for cooking. My daughter absolutely loved the tree swing outside and all of the games and movies available! Mindy was great! She answered any questions I had almost immediately and has a whole write up for the farm and surrounding area, including grocery stores, restaurant ideas, hikes, anything you could think of. I came from California and have never been to New York Mindy couldn't have been anymore helpful! It was so different then any place I have ever stayed, it is on 70 acres, so quiet, and remote! We loved our stay and Mindy was such a great host!
alisha
2015-06-27T00:00:00Z
Cozy, friendly farmhouse with everything we needed and more, though we spent most of our time at the lake and reading on the porch. Our dog loved chasing the rabbits!
Mikita
2016-06-29T00:00:00Z
Grenke Farm was the perfect place for a late-summer get-away with our well-behaved dog. The acres of property surrounding the house provided tons of space for our energetic pup to run and romp. The house is exactly as described: "hand-made." I would add, "still in progress." That said, it was comfortable, tidy and well-stocked when we arrived. The big windows and ceiling fans kept it cool, despite the warm weather. Mindy (the host) provided exceptionally helpful information about amenities in the the neighboring towns, driving directions to the house, and clear instructions on getting in and locking up. Although we did not need to speak with her during our stay, she was very responsive both before and after our visit. The wi-fi worked flawlessly, but we did not (as Mindy had warned) have reliable cell service. It didn't matter since we spent our time curled up on the covered front porch, reading---which was also a great spot to watch a storm roll in one afternoon. Cooperstown is about 25 minutes away. We went there twice to watch the Leatherstocking sheep dog trials, and stumbled upon a great lunch spot: Origins Cafe at Carefree Gardens. Excellent locally-grown food in an indoor/outdoor garden setting. On another day, we picked raspberries and apples at Middlefield Orchards (about 20 minutes from the house). These were nice excursions in an otherwise very lazy country vacation. I recommend Grenke Farm for anyone looking for a rustic retreat from the city (or suburb).
Victoria
2016-08-23T00:00:00Z
Romtype
Helt hjem/leilighet
---
Eiendomstype
Hus
---
Plass til
6
---
Soverom
Cobleskill, New York, USA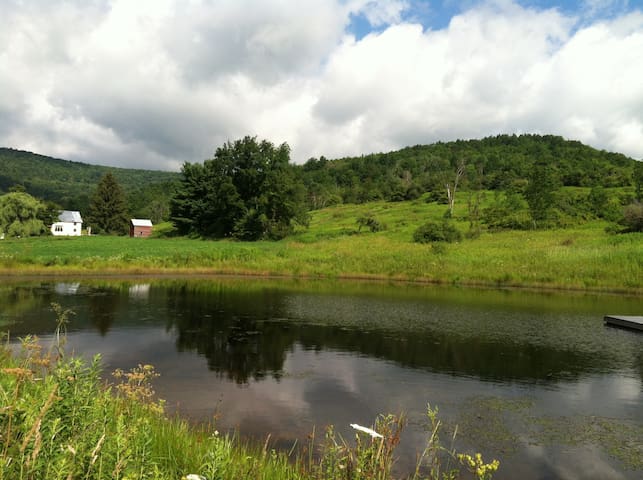 Warm and inviting country farmhouse built in 1860, situated on 32 acres of pristine rolling hills and pasture. The house sits in Medusa, NY just 18 miles from Windham Mountain, 35 miles south of Albany and 4 miles from Rennselaerville. Perfect location for ski trips or just a simple getaway!
Warm and inviting country farmhouse built in 1860, situated on 32 acres of pristine rolling hills and pasture. The house sits in Medusa, NY just 18 miles from Windham Mountain, 35 miles south of Albany and 4 miles from the charming village of Rensselaerville and a 1,400 nature preserve for hiking and swimming. If you are looking for a weekend escape from the hustle and bustle of everyday life this is it. There are two ponds on the property for skating in the winter. There is also a great hill for sleigh-riding and plenty of room for roaming and hiking. The house has recently been renovated including 2 full bathrooms downstairs (claw foot tub/shower in the main bath) and a 1/2 bath on the upper floor. The master bedroom has a gas fireplace and a full bathroom. Two upstairs bedrooms come with their own sinks. There is a big bunk room that sleeps 7...perfect for the kids. Updated kitchen, fully stocked with all the necessities. Dining room seats 8 comfortably and 10 with a little less elbow room. Butler's pantry provides ample space for storage and dishwasher.
There are neighbors, but for the most part you have acres of land all to yourself to enjoy the outdoors and roam around on.
The house is wonderful, cozy, and SO quiet at night; the location as expected (middle of nowhere!); and the hosts exemplary. Greg and Duvet were very communicative, accommodating and helpful -- even sent an email before our stay of what to do in the area. Having followed nearly all of their recommendations, I can tell you that almost no planning is necessary as a result... just do what they suggest! We'll definitely stay here again when we're heading to the area next.
Andy
2016-10-16T00:00:00Z
The house is beautiful! And although Greg isn't there personally, Donna the caretaker for the house was very attentive and always a call away with anything that we needed. We also went up during a snowstorm and she was constantly calling to make sure we were all ok. The house is great to go with a group of friends and we especially loved the kitchen, since we all cook together.
Caroline
2016-01-25T00:00:00Z
We (a large group of 3 families) stayed in Medusa for a week. During the rental process Greg was very communicative and helpful. The location of the house was ok - 30 mins away from Widnham where we went skiing. When we arrived, the lights were on for us so it felt good to be welcomed. The house itself was a disappointment though. The listing photos show it in a great light. In reality it felt really small and crammed, specifically the common areas. Dining room with a large table serves as an entrance to the house which made it very hard to pass. Additionally, the common areas were VERY cold all the time (while the bedrooms were super hot). 2 space heaters were provided but there were not enough to keep those rooms warm. A few other things to note: no locks on bathrooms, water pressure was low, cupboard where all glassware was stored smelled really bad, rooms were dusty. Greg did provide the contact information of the caretaker, but the last thing we wanted to do on vacation was to deal with house issues and asking for somebody to come in and fix things.
Igor
2017-01-02T00:00:00Z
Romtype
Helt hjem/leilighet
---
Eiendomstype
Hus
---
Plass til
15
---
Soverom
Medusa, New York, USA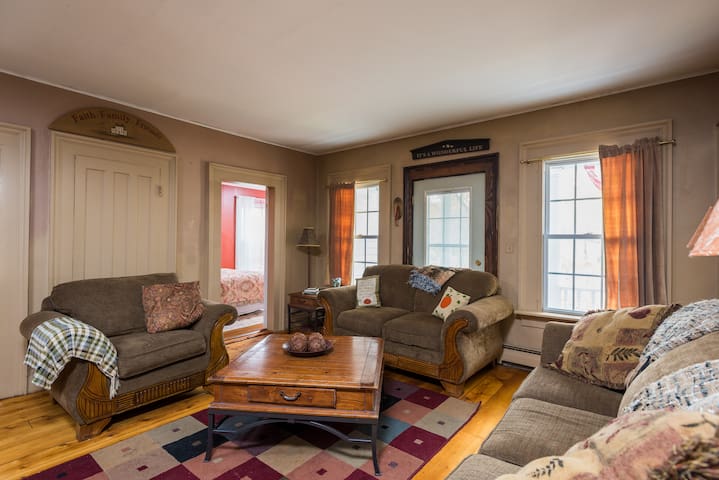 We had a wonderful time in this rustic cottage on picturesque lake Onderdonk. All the supplies and comforts of home were available for us to barbecue and entertain family yet still had access to WiFi. We would return to enjoy this property, thank you very much.
Judy
2015-08-16T00:00:00Z
Romtype
Helt hjem/leilighet
---
Eiendomstype
Hus
---
Plass til
4
---
Soverom
Westerlo, New York, USA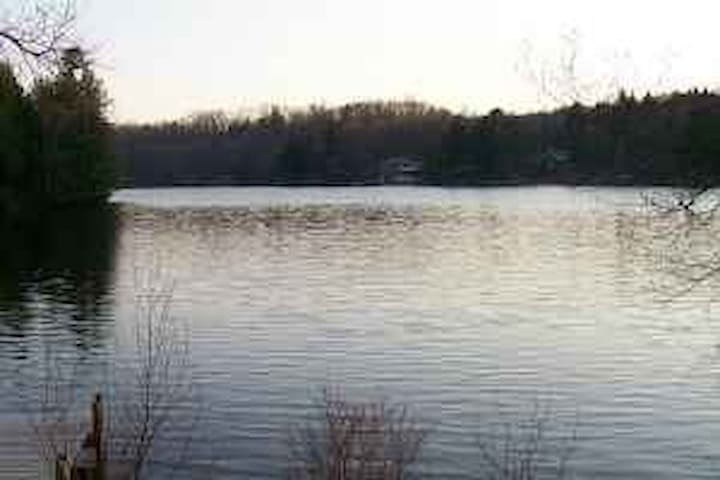 Had a great time at David & Nancy's place. You couldn't find 2 nicer people. The room was immaculate, & they even offered to drive us to & from the concert at Ommegang. As an added bonus, their dog Dodger was very friendly & welcoming. Only a block from the heart of Cooperstown, we left our car in the driveway & walked to the village. Would highly recommend this to anyone.
Bill
2016-05-30T00:00:00Z
David and Nancy are great and have a welcoming home. The room was spacious and comfortable. The location is perfect for anyone looking to visit Main St. in Cooperstown. It is within walking distance to everything you could want to do in town, Hall of Fame/Double Day Field/Lake Otsego/restaurants/etc. If you are staying in the area I highly recommend staying here. Thanks guys, we enjoyed our trip! Andrew says "Hello Dodger". :)
Michael
2016-06-16T00:00:00Z
Unfortunately, we just stayed in Cooperstown for 1 night but once we saw this wonderful little town and got to know David and Nancy would have loved to spend more time there. This is a beautiful home with a lovely guest and bathroom. David, Nancy, and their Dog Dodger are the best hosts you could wish for! We already miss them.
René
2016-09-14T00:00:00Z
David and Nancy were great hosts! They made us feel very welcome at their beautiful home in the village of Cooperstown. The room was very spacious and comfortable. Thank you!!
Christa
2016-09-19T00:00:00Z
The proximity to the wonderful small town of Cooperstown cannot be beat. In five minutes or less you are on main street and another five minutes you are in front of the Baseball Hall of Fame. Its a quiet, peaceful neighborhood and Nancy was a wonderful host.
Jerry
2016-08-29T00:00:00Z
The room was just as expected. Very spacious and a very comfortable bed. David and Nancy went out of their way to be welcoming.
Sally
2016-09-16T00:00:00Z
A great location one block from Doubleday Field ! the room was spacious with a king sized bed. Family members were very helpful with information and suggestions for activities in the area.
Barb
2016-07-04T00:00:00Z
David and Nancy went above and beyond in the Airbnb hosting experience - not only were they attentive and accommodating through the entire process, they are warm and personable which made us feel like we were at home away from home:) my only dissapointment was not being able to spend more time with them during my short stay!
Tory
2017-01-08T00:00:00Z
Romtype
Privat rom
---
Eiendomstype
Hus
---
Plass til
2
---
Soverom
Cooperstown, New York, USA
Художник, музыкант или отступление писателя находится в Гамлет Middlefield занесен в Национальный реестр исторических мест в семи милях от Куперстаун, Озеро Отсего, музеи и Глиммерглас оперы. Пешие прогулки на Бетти и Уилбер Davis State Park в двух милях от отеля. Наслаждайтесь тишиной и покоем в свете заполненного недавно отремонтированный комфортабельный загородный дом.
My boyfriend and I had an amazing and very relaxing weekend at Mary's place. The pictures are exactly what you get. The inside was very clean and cozy, I felt like I was at home. We absolutely loved that there was no internet or TV because it gives us a chance to unplug, relax and have good conversations. Every morning I drank my coffee on the porch which was a nice way to start the day. It is only about 10-15 minutes from Cooperstown and was about 20 minutes from the Ommegang Brewery where we had tickets to see a concert (I highly suggest seeing a concert there, it was very fun! food trucks, good beer, good people, and awesome music). Overall our stay was exactly what we expected. Mary was great with communication and gave us a lot of useful information before our arrival. I would absolutely stay there again.
Ashley
2016-07-31T00:00:00Z
Mary's artist retreat is located in beautiful countryside that was perfect for my daily bike rides and I hiked at the Betty and Wilbur state park- also lovely. Mary gave me great tips about where to find a grocery store and natural foods store. She also provided a coffee maker and coffee! My stay was just what I was in need of- peace and quiet and a little respite- just lovely!
Marcia
2016-07-21T00:00:00Z
We spent a lovely, peaceful weekend at this pretty yet simple cottage, reading on the porch, eating outside by the flower garden. The owners have recently refurbished the place, with attention to detail. It was very peaceful and quiet, and had everything we needed to be comfortable. Located in a small cluster of houses, surrounded by countryside it felt very remote, yet is close to Cooperstown.
ANDREA
2016-07-04T00:00:00Z
Had a great stay at Mary's retreat; and it is just that, a retreat. The house was very clean, the bed most comfortable, and the space free from masking fragrances or the smell of harsh chemical cleaners. The area is very quiet and picturesque, but conveniently located to Cooperstown, etc. While our communication was limited to messages via Airbnb, Mary was quite responsive and the entire experience was stress free!
Daniel
2016-10-02T00:00:00Z
My fiancé and I had a lovely time at the cottage. It is very clean, comfortable, quiet, and peaceful. It has a great back yard to grill and star gaze! It is a short and beautiful drive to Cooperstown, with great produce stands everywhere. We really enjoyed our stay here and would absolutely recommend.
Chloe
2016-08-13T00:00:00Z
We had a lovely stay at Roseboom! Early October was the perfect time to see the leaves changing. It was a very chilly fall weekend, but Mary had plenty of blankets and a space heater to keep us cozy. The area is very quiet at night, which was a big change for us city-dwellers. The house itself has a wonderful farm house feel to it. The bed was firm but comfortable and we had plenty of hot water. Overall, perfect for a weekend retreat!
Jamie
2016-10-10T00:00:00Z
We had a great time in the quiet atmosphere with close access to Cooperstown as described. We had no difficulties.
Gerald
2016-08-27T00:00:00Z
Romtype
Helt hjem/leilighet
---
Eiendomstype
Hus
---
Plass til
2
---
Soverom
Roseboom, New York, USA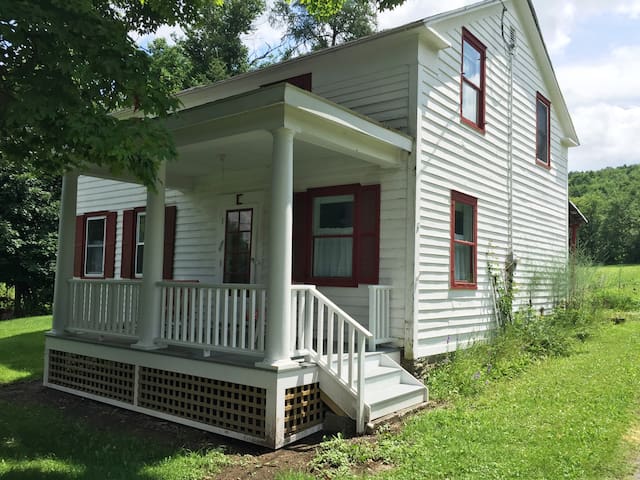 Quaint and cozy home sitting on 7 acres with large Koi pond and pergola. You can enjoy wildlife sightings anytime of the day and spectecular views of the Catskill Mountains!
The changing seasons in the Catskills offer spectacular vistas and colors. A variety of outdoor activities to please everyone's interest. The fall season with its brilliant foliage color, offers enchanting mountain views given way to a crisp winter snow painted country side. The warmth of the spring renews the flowers and brighten the mountain with a lush green foliage announcing the warmth of summer evenings. We would love to share with you the experience! Our home is centrally located within 25 miles radius encompassing the town of Durham, Windham, Catskill, Greenville, Hunter and 45 minutes from Red Hook and the town of Hudson. The house is only 2 1/2 hour from GWB, or Boston, MA and just 45 minutes from Albany. A perfect escape from the hustle and bustle of the city life. In the Catskill you can do hiking, mountain biking, fish, hunt, downhill skiing, snowshoeing, cross country skiing, canoeing, golf, horse back riding, zip lining, miniature golf and so much more. We are also conveniently located nearby several summer festival including: Grey Fox Blue Grass Festival, Hunter Mountain Jam feast, Irish Art Week, East Durham Irish Festival, International Celtic Festival at Hunter Mountain, The Catskill Mountains Thunder Motorcycle Rally. Plus others. Catskills are well known for ski areas, golf courses, antiquing and picturesque water falls and mountain views. See Guidebook for more details. Our Casa Bella Vista sits on seven acres on the side of a hill with beautiful views and fully stocked large Koi pond with sitting area under the pergola to relax and enjoy your coffee. In the warmer season you can sit on the deck and enjoy the spectacular views and the sunsets with a glass of wine with dinner or later sit by the fire pit and gaze at the stars and roast marshmallows. The house has an open floor plan, Fully equipped kitchen, 2 bedrooms with full size beds, bedrooms are on opposite sides of the house, great for two couples with plenty of privacy. 1 full size futon bed in view room, and one full size futon bed in living room, the house sleeps 6 adults comfortably and can accommodate up to 8 people. We have a 40 inch flat screen TV with DVD player in view room. Also there is a TV in every other room. The house has a deck with BBQ and picnic table, a sundeck with lounge chairs for sunbathing and a covered deck for rainy days. The house has a foyer/mudroom for your convenience to leave coats, skis and boots after skiing. Dish Network WiFi, some restrictions apply. Sorry! Cellular Service very Poor. There is a land line available for local calls only or collect calls.
Very peaceful and away from everything. The views are spectacular all year but especially in the fall. There is little or no traffic on Knowles Road. If you like to hike uphill there is a horse farm and a lambs farm with llama within a mile, down hill there is a cow farm and an equestrian center. There are large fruit orchards within driving distance to pick your own apple, peaches, cherries and strawberries when in season. (Fix Brothers Orchards) See Guide Book. There is a public park with a creek, picnic tables, and children's playground. (Coming from the house go to blinking light make a left, Preston Hollow Park is located 1 1/2 miles on the left side of the road.)
So cozy! We had a wonderful long weekend stay at Casa Bella Vista. Because they have a nest thermostat, the house was nice and warm upon arrival. The wood stove was the biggest highlight for us. It made everything so much cozier and relaxing. The house is only 20 minutes away from Windham Mountain, as well as fun shops and restaurants. For the two of us, it was quite spacious. Great fun for a winter retreat!
Victoria
2016-02-23T00:00:00Z
If you look for a perfect place for a unique experience, you are in the right place. The house is amazing, clean, cozy and you can find all you need to enjoy a perfect stay. During the stay you can enjoy the fire pitch, the small pond, the bbq on the balcony and the spectacular view from the house. Definitely a place to visit again
Piero
2015-10-13T00:00:00Z
Mike and Lucy responded quickly to any of our questions and were very welcoming and accomodating when we added a new guest at the last minute. The house and the yard are peaceful and charming, Especially the view room which is cosy with it's wood stove. The kitchen is well equiped with everything you may need for cooking or baking. If you're looking for a quiet place for a few days, don't look further, Casa Bella Vista is the right place to stay !
Sebastien
2015-12-28T00:00:00Z
Mike and Lucy's home was fantastic. The listing is as advertised and a great spot to get away from the city for the weekend. Loved the spot
GORDON
2016-07-05T00:00:00Z
Mike & lucy are super hosts,always immidiate response. The place is charming.stayed there for the second time.i guess its says it all. Distant,amazing view,lots of birds and lovely pond with coi fish.looking forward to come again!
Dmitry
2016-07-11T00:00:00Z
Mike and Lucy were so easy to communicate with, and the house itself was great and very charming! The view from the house is great, and it's very fun to just sit by the koi pond. The house itself is in great shape, and the location is good too. Quite a few hiking trails and fishing spots nearby.
Yakov
2015-09-08T00:00:00Z
Casa Bella Vista was the best. The perfect location to relax and unwind with everything we needed. Mike and Lucy were great hosts. Can't wait to come back!
Nick
2016-06-06T00:00:00Z
My family and I really enjoyed our stay at Casa Bella Vista. My family was visiting me from France, it was the perfect place for them to discover the countryside of the US and relax after couple of days in the hectic NY city. The house is very clean, cozy and has everything you need to have a great stay. Mike and Lucy are very responsive and make sure all goes well during your stay.
Anne-Sophie
2016-08-27T00:00:00Z
Romtype
Helt hjem/leilighet
---
Eiendomstype
Hus
---
Plass til
6
---
Soverom
Preston-Potter Hollow, New York, USA
20 minutes away from Cooperstown, Baseball Hall of Fame, Glimmerglass Opera House, 10 miles from State Univ. Cobleskill
Romtype
Helt hjem/leilighet
---
Eiendomstype
Hus
---
Plass til
2
---
Soverom
Sharon Springs, New York, USA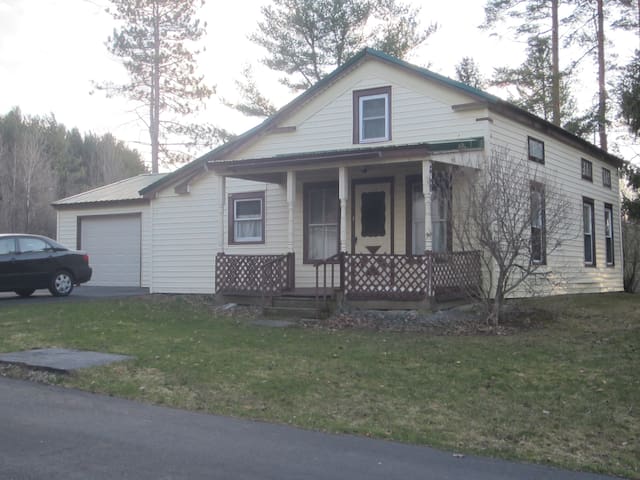 Our newly restored 1882 farmhouse is the ultimate rural retreat, backing on a 10,000-acre state forest with more than 200 miles of hiking and snowmobile trails. Quiet, cozy-yet-sophisticated design, the perfect writer's retreat or family getaway. We're writers who bought and restored this property 10 years ago in our quest for a quiet weekend retreat. This is the ultimate retreat, with sightings of red fox, black bears and deer, and hummingbirds feeding in the extensive rose and herb gardens. The modern kitchen overlooks the state preserve and is equipped with cutlery and service for 8, stainless steel appliances, cookware, and 15-feet of fabulous local bluestone countertops. We have central heat and a cozy wood stove - with cords of seasoned firewood stacked outside for you to use. There are three airy bedrooms with queen beds in each, and one small child's bedroom with a single bed. Sheets and towels are included. Two large bathrooms with spacious showers, a large deck with a propane grill, picnic table and chairs, and in warm weather, a fabulous sleeping porch with two couches/twin beds. Our guests love to sleep out here and watch the fireflies! Our five acres are surrounded on two sides by the Burnt-Rossman State Forest Preserve, which includes almost 200 miles of snowmobile/horseback/hiking trails. Please note this is a remote location. The closest supermarket is a Price Chopper 15 miles away in the village of Cobleskill (We suggest that you stock up on groceries at the Price Chopper in Cobleskill!). ** We are a 55-minute drive from the Baseball Hall of Fame in Cooperstown and 45-minutes from the Field of Dreams baseball camp. We're a great base for Hall of Fame weekend or a day trip to Cooperstown. ** We are very close to the SUNY Cobleskill campus -- about 15 minutes down our hill -- and most of our neighbors work at the college. Our house is a great base for conference guests! Guests have full access to all areas of the house. We do have a brand new washer/dryer in the basement. Prior to check-in we will give you a code to open the keyless locks on our doors. We will not be at the property during your stay but you can reach us at any hour by text, email or cell and we do have a wonderful handyman in case of an emergency. You'll love the quiet! We love to hike past the miles of old stone walls that mark the many apple orchards that flourished here over the past 200 years. We do have neighbors with horses and we love the occasional whinny, or the sight of riders outnumbering cars on the road in front of the house. There are several lakes in the area that are perfect for kayaking. You must have a car to reach our home. This is a house for nature lovers, family or friend get-togethers, and people who want to escape the noise of the city! Keep in mind we picked this location for the solitude and distance from civilization! We do have a coffee maker and grinder and we'll leave you a nice bag of fresh roasted Columbian beans from Fairway. We like to cook, so there are plenty of pots and pans, a Cuisinart, a big mixer and an ice cream maker. We recently renovated the kitchen, which has a dishwasher, gas oven and stove, and large fridge. (It also has a really nice window seat that overlooks a beautiful old apple tree.) We are willing to negotiate a lower rate for a lease of longer than one month.
This is a beautiful, charming home and I use the word home, not house because you can well the warm from Marty's design. We absolutely loved the enclosed porch and the neighborhood is very quiet. The kitchen had everything you can think of in a modern kitchen. A short walk will take you into the state forest behind the home. Marty was an awesome host, from the initial request to the night before our stay and after, she was prompt with her responses. I would love to stay here again and would recommend this place to anyone.
Mohamed
2016-06-01T00:00:00Z
Outstanding no problem with anything. Very nice property
Angel
2016-06-29T00:00:00Z
A group of friends and I stayed at Marty's house for New Years. We found it even more lovely in person! She was sweet enough to leave us some NYE treats and breakfast staples. Highlights were the massive kitchen, wood burning stove, bee keeping books/VHS tape and claw foot tub. The property is in a state park which is great for hikes, which I would recommend coming back during the warmer months. This is definitely a good place for "unplugging."
natalie
2015-01-02T00:00:00Z
Truly a charming farmhouse nestled in the NY countryside. Great kitchen for cooking, comfortable and abundant sleeping arrangements...all in a bucolic peaceful setting. Rambling country rides to local attractions such as Cooperstown, breweries, hiking trails and more. Highly recommended for a family retreat!
Silvia
2016-07-10T00:00:00Z
Marty was very welcoming, responding promptly to questions, and providing lots of relevant detail about the house, drive and things to do. The house is very clean and well cared for, and the kitchen is well equipped for cooking. We had a lovely stay at her home and would not hesitate to stay there again sometime.
Jennifer
2016-05-19T00:00:00Z
Staying at Marty and Barry's place was perfect for 5 city slickers looking for peace and quiet and a touch of nature. Our every need had been anticipated and we spent every night stargazing or relaxing in the sleeping porch. The house has ample space, updated appliances and great style. Our hosts provided a yummy breakfast and even left a delightful holiday surprise. We had such a great time and will be happy to stay again.
Joe
2016-07-06T00:00:00Z
Perfectly charming...a lovely get away place. We were welcomed, treated, and trusted with Marty's much loved home. The kitchen is totally set up and yes...the screened in porch is pure restful retreat. We wandered acres of forest and best of all revelled in the silence of nature's best gifts.
Carol
2016-05-28T00:00:00Z
We had a great long weekend at Marty's place. The house was beautiful and you can tell a lot of love and effort had gone in to it. It was a very hot humid weekend but Marty's house was comfortable and the fans in every bedroom were perfect to keep us cool at night. A bad thunderstorm took the power away for a few hours over evening but the house was well stocked with flashlights, matches and candles. Plus boardgames which kept us entertained all night :) It was our first time traveling with our 9 month old and 3 year old but it couldn't have gone better. The girls loved running around in the yard and we got the most amazing pictures of them in front of their beautiful flower garden. I would definitely recommend Marty's house for anyone looking to get away and relax and enjoy the fresh country air.
Liz
2016-08-16T00:00:00Z
Romtype
Helt hjem/leilighet
---
Eiendomstype
Hus
---
Plass til
6
---
Soverom
Summit, New York, USA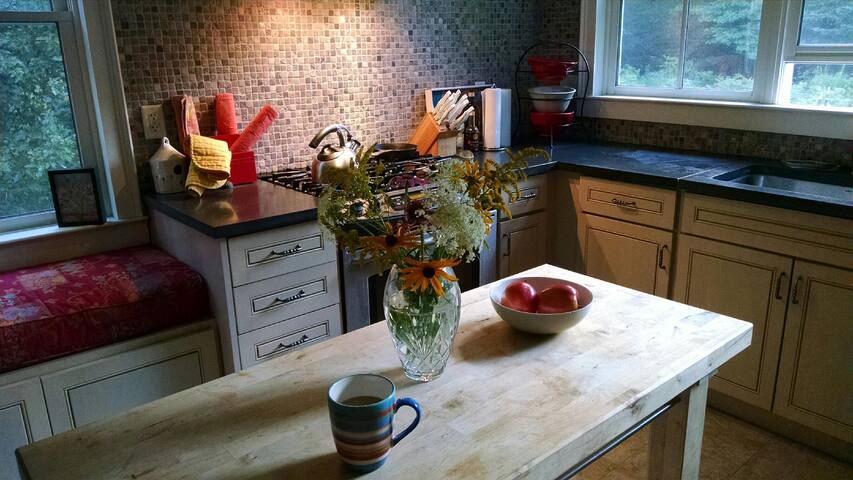 The location of the house is wonderful. It sits further in, away from the road and far from other homes. You could stay up late and do as wish without disturbing others. It is a bit far from stores but not a deal breaker, should be expected given the nature of upstate New York. Service was excellent, we were serviced by Greg who was readily available when need be. The accommodations were true to word. The kitchen was a bit cramped but plenty of room to cook in none the less. Beds and couches were comfortable, overall just a nice environment inside the house to hangout. Despite the good, the main issue myself and my group of friends were all upset was the cleanliness. We spent our first day cleaning, mainly the kitchen. The stove was filthy and required a good 3 hours of cleaning. The fridge was a similar story. The house overall is on the dusty side along with lots of dead and alive flies. Overall, I would recommend but cleanliness needs to improved on.
Stefano
2017-01-15T00:00:00Z
Romtype
Helt hjem/leilighet
---
Eiendomstype
Hus
---
Plass til
8
---
Soverom
Middleburgh, New York, USA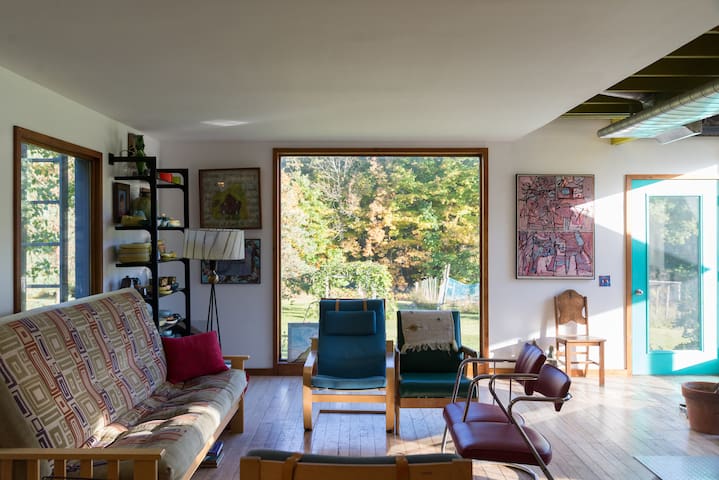 Alice was a wonderful host! She is full of information and willing to share! Our room was comfortable and clean. I would absolutely stay with her again! Perfect!
amy
2015-07-31T00:00:00Z
My boyfriend and I spent a weekend at Alice's home while we were in Cooperstown for a concert at Ommegang. What a great experience! It was our first time using Airbnb, and we could not have been more thrilled with how everything worked out. Alice & Sergio were gracious hosts with a wealth of knowledge about Cooperstown. Their home was beautiful and the room we stayed in was very comfortable - plush bedding and pillows, plenty of towels, a clean bathroom, and more than enough space for the two of us & our bags. We would not hesitate to stay there again, and we've already recommended Alice & Sergio's home to friends and family.
Monica
2014-09-08T00:00:00Z
Alice's charming Cooperstown home was a delight to stay in. The beds were comfortable, the decor delightful, the towels fluffy, and the proximity to downtown welcoming. Alice was so sweet and was very accommodating in being flexible to our arrival time getting later and later due to traffic. Highly recommend this for your stay in Cooperstown.
Phillip
2015-09-30T00:00:00Z
Delightful hone within walking distance of the HOF, Doubleday Field, downtown and the lakeshore. Very clean and colorfully decorated bathrooms. Gleaming white tile. Bedroom was comfy and nicely decorated. Alice has a style with artwork and furnishings and it makes you feel at home. Downstairs kitchen open for coffee, breakfast snacks, fruit. You can put items in the frig. You feel right at home here and I would go back in a minute
Jim
2015-08-26T00:00:00Z
What an amazing home to spend our weekend in! The hosts were extremely welcoming and nice. The house was beautiful and accurately described on the Airbnb website. If you're ever travel to Cooperstown, NY, I suggest you give this house a try. Thank you Alice and family for your more than generous hospitality.
Collin
2015-10-05T00:00:00Z
Friendly and helpful host, room and house even nicer than appear in the photos. Best location possible in Cooperstown.
Susan
2016-08-22T00:00:00Z
Alice was a great host! The accommodations were lovely and Alice told us everything we needed to know about the area. The house is conveniently located, just a short walk to the center of town. We had a great stay and would absolutely recommend!
Robin
2016-06-23T00:00:00Z
Alice has set the bar high. All of the other reviews are accurate. She truly wants your stay to be perfect and does so with her beautiful home. We will be back someday, perhaps to rent the house. Thank you Alice for the wonderful stay.
David
2016-08-11T00:00:00Z
Romtype
Privat rom
---
Eiendomstype
Hus
---
Plass til
2
---
Soverom
Cooperstown, New York, USA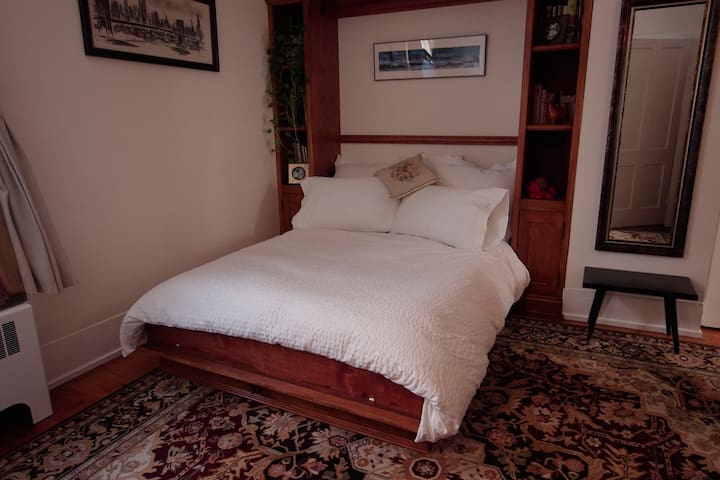 A beautiful Catskills farm house with enchanted swimming holes and a 100' waterfall! The house has vintage wallpapers, eclectic antiques, a picturesque red barn and a spectacular mountain view from the front porch. Behind the house is a magical mossy forest and a private path to the river and waterfall!
The Sparrow house is a beautiful Catskills farm cottage, complete with vintage wallpapers, eclectic antiques, a picturesque red barn from the 1850s and a spectacular eastern view of the misty mountains. Just behind the house is a magical forest and river, with enchanted swimming holes, real clay beds, and a 100' waterfall that is a secret and very private paradise! With two bathrooms, a wood fireplace as well as central heat, a wainscot paneled kitchen, Victorian side porch, hummingbird feeders, a swing set, hammocks under an apple trees, a firepit and a large fenced in yard, the Sparrow House is a perfect getaway for couples or families looking to spend some relaxing time in the unspoiled nature and still-wild rivers of the Catskills... The Sparrow House sleeps up to 8 in 3.5 bedrooms (one with a full bed and the other with both a full bed and single bed). There is a downstairs living room with a double cast iron daybed (not shown in the photos... new photos coming soon. thanks!) with a wall of sliding glass doors where another 1 or 2 people can sleep on the sofa or on organic cotton Thai bedrolls. If additional space is needed, there is also a sweet renovated camper that sleeps up to 3 people in a double and single bed along the forest edge in the neighboring field. (see photos) For many years the beauty of this area has been an inspiration to the many different artists, musicians and writers who have stayed with us and each season has its own special magic. In Spring it is the forest awakening with early wildflowers, wild greens, and orange spotted newts along the trail. In the summer, the forest and rivers are a cool emerald mossy paradise of small wonders and there is no more relaxing escape then spending the days on slate rocks warmed by the sun after a dip in the swimming holes along the river. In fall the colors of the leaves, mountain landscapes and clear starry skies are just breathtaking. In winter, the river becomes a frozen icicle palace fit for Jack Frost himself; and sledding through the forest or skiing at nearby Windham mountain is always a fun adventure! We have high speed wifi, and the house is close to the towns of both Middleburgh and Cobleskill where you can go to grocery stores and find most anything that you would need. The sleepy hamlet of Breakabeen, 2 miles away, has a nice wine store and a general store where you can get everything from milk to fishing tackle to the New York Times. Also nearby is a library, playgrounds, antique stores, an auction yard, the Zoom Flume Water Park, horseback riding, hiking at Vroman's Nose, Barber's and Shaul's farms stands, Sap Bush Hollow and Longview Local meat and poultry farms, and so much more! There is an endless array of outdoor adventures in the area: hiking trails, camping sites, mountain bike trails, whitewater rafting/kayaking, and ski resorts, (the closest of which is Plattekill Mountain). If you want to go exploring on a rainy day, you can head to the nearby town of Cobleskill to visit the underground waterfall of Howe's Caverns, spend a few hours at the Iroquois Museum, or catch a first run movie at the Park Theatre for $4. Or you can just sit on the front porch and watch the mists move over the mountains and if you are lucky (like we were today!) you might see a double rainbow right over the field of wildflowers across the road!!
Surrounded by 50 acres of both private wooded land and wide-open fields of wildflowers, the Sparrow House is located in the Western Catskills' beautiful Schoharie Valley, reputedly the most fertile valley east of the Mississippi, where most of the food for General Washington's troops was grown. It is still unspoiled farm country, and there are many local farms with fresh produce and organic meat within 5 miles of the house. For over 200 years the majestic waterfall right behind the house, called Kenhuragara Falls by the Mohawks to whom this land originally belonged, has been a secret place revered for its spectacular and serene beauty. Coursing between two outcroppings in a deep ravine, the waterfall crashes down over mossy rock shelves into a hidden pool, which then empties again into the river, running into glass-like swimming holes and through dramatic clay beds. The effect is transporting. Truly, it is one of those extraordinarily beautiful spots on earth that makes you feel like you are in another world.
I had a wonderful time at Bethany's farm house! The waterfall and pools were absolutely stunning, and the house was big and comfortable. It was a perfect weekend away: very rural and beautiful. The listing was accurate, and I felt right at home and welcomed. I didn't have a chance to meet Bethany in person, but that was perfectly fine, since we arranged everything ahead of time, and she gave me several other phone numbers in case she was unavailable. Thanks, Bethany!
Courtney
2015-06-08T00:00:00Z
This is our second annual trip to the Sparrow House, and we hope to make it every year for as long as possible! We absolutely love this place and everything that inhabits it. Bethany and Rufus are spectacular hosts. Even when they are not around, there is always a friendly human nearby to help with any snafus. Photos really cannot do justice - there is a very special prehistoric vibe happening here that cannot be captured unless you experience it for yourself. I hold this place in my heart and cannot wait to come back!
Sandra
2016-09-14T00:00:00Z
Bethany and Rufus made us feel very welcome and were easy to get in contact with throughout our stay. The waterfall is just as magical as promised and their home/town is a beautiful retreat from busy city life
Sarah
2016-09-19T00:00:00Z
Really enjoyed our stay at Bethany's charming home! Felt like we were "home"! The falls are breathtaking (we went during the coldest few days of the year and it was still amazing)!
Rahna
2016-02-16T00:00:00Z
Amazing stay. We were able to stay at this location on a really short notice. It was really great Bethany made this possible. Gorgeous location. We made some precious memories, and def planning to come back!!!
Drs. Annemieke
2017-02-20T00:00:00Z
We had a lovely long weekend stay at Bethany's home. We didn't want to leave. We hiked along the river and through the woods just behind the house. The waterfall is quite the site. The fenced in backyard was great, our dog really enjoyed all the space to roam and sniff and run. We had some rainy weather and really enjoyed cooking in the well equipped kitchen and relaxing the the sunroom. Would love to come back someday soon.
Stephanie
2015-11-16T00:00:00Z
The charming sparrow house was just what my family was looking for. The 6, 7, and 10 year old with me loved exploring the waterfalls and swinging in the hammock. The house has everything you could possibly need to support a great holiday. Bethany was right next door and even checked on us during a brief power outage after a thunder storm. My 10 year old asked if we could return to the exact same house.
Mia
2016-07-02T00:00:00Z
We booked both the Farm house and the larger Waterfall house for the same weekend. Bethany was super accommodating, especially considering our monstrously large group (34 people!!). You think the photos look good, the real thing is more beautiful. Between swimming in the river & waterfall, the many beautiful hikes, sunning dry on the patio, or swinging in a hammock, there's plenty of opportunity to relax. Bethany is a fantastic host who carries an infectious calm energy around herself. She let us pick some of the herbs from her garden -- it's been a good year for growing -- we made a lemon balm, mint, & basil sun tea. We had an amazing time and would love to return at some point in the future.
Chie
2015-08-17T00:00:00Z
Romtype
Helt hjem/leilighet
---
Eiendomstype
Hus
---
Plass til
8
---
Soverom
West Fulton, New York, USA
Laura was very responsive, accomodating and easily contactable. My only regret is that I did not have the time to meet her personally although she invited me to tour her farm.
James
2016-09-17T00:00:00Z
Great little place in a cute part of town!
Lisa
2016-08-29T00:00:00Z
Our cottage at Springfield was so tranquil & clean. We really enjoyed the easy and quick check in. All of the home amenities were easily accessible. Our family felt at home during our stay. The drive to Main St. Cooperstown was only a 10-15 min ride. The foliage was absolutely stunning. Thanks Laura for allowing us to stay in your cottage!
Maria Angelica
2016-10-10T00:00:00Z
Beautiful location! Laura gave us freedom to explore the entire farm. Close to Glimmerglass State Park which has a beautiful lake and lots of hiking trails. Amazing collection of friendly and unusual animals(the camel gives kisses). The cottage was spacious and VERY clean. I cook a lot and the kitchen was very well stocked. Laura was flexible and accomodating with all our requests. Excellent host!
Beth
2016-08-15T00:00:00Z
This was a lovely little spot, close to Cooperstown, and the Glimmerglass Opera house. Very clean, and they even have an animal farm that you can visit which was an added bonus! Heads up for all you AT&T users - no service. Not a reflection on this place, but just good to know.
Erin
2016-08-22T00:00:00Z
We really enjoyed our weekend in Cooperstown. It was quiet and location was great. The house was clean and everything was as expected. There were only two issues that we think should be noted: for a home that accommodates 6, there were only chairs at the table for 4. This made meal times a little difficult. Seating in the living room was an issue but we sat on the floor with pillows. The other issue was leaving procedures. There were no directions on what to do with our dirty towels, bedding, etc. I did email an ask about garbage and other amenities earlier in the week and left the garbage in the garage as directed, but nothing about other requests for leaving. Overall, a very good weekend away!
Katie
2016-11-13T00:00:00Z
Romtype
Helt hjem/leilighet
---
Eiendomstype
Hus
---
Plass til
6
---
Soverom
Cooperstown, New York, USA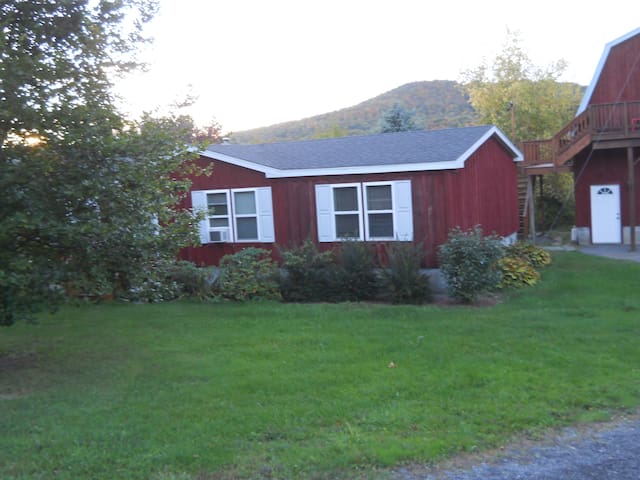 Louer cette chambre 3 3 salles de bain maison hebdomadaire ou mensuelle pour vos vacances. Maison se trouve au sommet d'une colline et a une vue à couper le souffle, levers de la chambre des maîtres et des couchers de soleil de la greatroom. Home a octogone forme une grande chambre avec bois ouverte
20 Minutes à Cooperstown.
The house was fantastic!! Perfect location and beautiful view!
Alida
2016-09-26T00:00:00Z
The house was amazing, very unique layout and colors. The great-room was awesome and the fireplace was a big hit with us. The screening room and projector was perfect for watching videos. The kitchen was also very accommodating. We got responses to all of our questions from the host within the hour. Overall stupendous experience!
Patrick
2017-01-15T00:00:00Z
My partner and I were enchanted by this property and would rent again and again. Amos was the perfect host and was excellent with providing clear instructions on how to use the amenities. Besides the gorgeous location and the breathtaking views, you can tell that a lot of thought and care has gone into making this house a special place. We loved the fire pit and the hot tub which were so relaxing and therapeutic after days of exploring nearby Cooperstown and Sharon Springs. The beds and pillows were very comfortable and we felt like we were in the lap of luxury while still getting away from it all. It is worth noting that even though this property is in a remote part of a rural town, it is very accessible to nearby attractions such as Cooperstown, the American hotel in Sharon Springs, downtown Canajoharie, numerous orchards and vineyards, and Howe Caverns. Also, I must add that the lack of light pollution makes for spectacular stargazing and we were even lucky enough to see a meteor shower our first night. Highly recommend A ++.
Julie
2016-05-23T00:00:00Z
Amos has an amazing place! The pictures are great but it's even better in person. My friends and I had an amazing long weekend here. Amos was very accommodating and could not have asked for a better host. We truly enjoyed our stay.
Erick
2016-09-06T00:00:00Z
Romtype
Helt hjem/leilighet
---
Eiendomstype
Hus
---
Plass til
10
---
Soverom
Canajoharie, New York, USA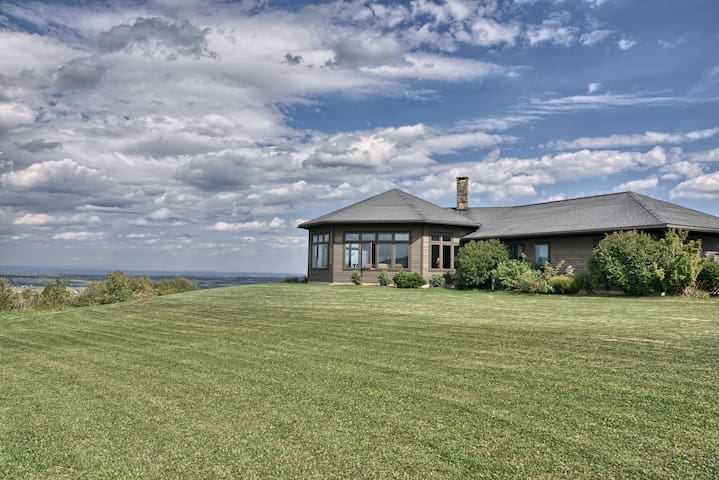 We fell in love with this property and we want everyone to experience what we do. The house is amazing and the area is breath taking. If your looking for a relaxing getaway or want to explore another amazing part of New York this is the place for your family!
The house offers a ton of charm and fun for kids and adults alike. It has a tire swing in the front and a regular park like swing in the back as well as a professionally built tree house in the back yard of the property which has power a television and bunk beds. There is also an outdoor fire place and plenty of wood to burn on the property. This house is truly a getaway from the hustle and bustle of the big city.
The location is serene and quiet surrounded by farms, walking trails and amazing fishing. Hunter and Wyndham ski resorts are less then a 30 minute drive away. Cooperstown is a well worth it 40 minute drive across some beautiful scenery.
Our stay was lovely. Host was very attentive. It was a beautiful area with mountain views.
Morten
2016-09-11T00:00:00Z
Beautiful house in a scenic setting. Salvatore checked in with us before and gave us plenty of helpful information. House was comfortable and nice, with plenty of things to do for a kid friendly vacation. We were tempted to just hang around the home the entire time. Fall foliage is magnificent around this area.
Preeti
2016-10-17T00:00:00Z
The stay at Sal's cabin/house was better than expected. I was worried there wouldn't be enough space for 10 people or enough pots and pans or toilet paper or paper towels. But they were extra prepared. Check in was extremely easy using my phone and it was nice to have a hotel-like experience, checking in remotely instead of meeting up with the host. The home was beautiful and unique and we made a lot of use of the fireplace indoors, which was amazing. Amazing hosts and place.
Justina
2017-02-06T00:00:00Z
My family & I had a great time @ Sal & Jen's home. Sal was very nice and accommodating to our families needs (all 9 of us)! This charming house was a hit with both the adults & kids :) Very comfortable for all & with plenty of spaces both indoors & outdoors to relax. The house was fully stocked with all necessary kitchen utensils & seasonings too, which we found to be an added bonus! We enjoyed our time in the kitchen the most; although the pool/deck/grill was a great time as well. Overall a wonderful stay & great get away from NYC! Would definetely recommend to anyone wanting a relaxing & comfortable time :) Thanks Sal & Jen!
Yajaira
2016-08-13T00:00:00Z
The house is amazing! well equipped, clean, a lot of space, and most important - kids friendly. The tree house, the outdoor fireplace, and the swings were perfect for our kids. Salvatore was a great host and provided all the information we needed. I defiantly recommend.
Shachar
2016-10-04T00:00:00Z
We thoroughly enjoyed our escape from New York over the holidays thanks to Sal & Jennifer's beautiful home. There was enough room for a few families and plenty of kids to enjoy the snow, the outdoors and, of course, Thanksgiving dinner. The kitchen is pretty well stocked, the rooms & bed are comfy and the outdoor amenities - especially the treehouse - were particularly loved. Sal was very attentive, providing tons of help and answering questions via text in a matter of minutes. We all loved it!
Lesley
2016-11-26T00:00:00Z
My friends and I had an amazing time at Salvatore & Jennifer's home! Salvatore reached out to me a few days before my trip to give us some tips about the home, explained check in, and gave us some suggestions of places in the area, which I found very helpful. The house was extremely clean and well equipped with towels and blankets, kitchen supplies, and DVD's and board games. In addition to loving the inside of the home, the property is absolutely beautiful, with gorgeous views of mountains in the background. There are also a lot of great outdoor aspects, such as a pool to use during the summer, a tree house, fire place, and tree swings. We would recommend this house to anyone, and can't wait to come back!
Christina
2016-10-23T00:00:00Z
The Catskill Hidden Getaway was my first Airbnb experience and I must honestly say it was as close to perfect as perfection gets! My 3 coworkers and I teach at a K-8 charter school in the Bronx, NY and we wanted to get in one last getaway before the school year starts up next week. We wanted a peaceful, relaxing, yet entertaining adventure and we all agree that Sal and Jennifer's home absolutely gave us this and more! The house and property was even better than what was pictured! We easily settled into the vacation upon arrival. The layout/design & finishes/coziness of the kitchen and living room; amazing! The space in the bedrooms; amazing! The backyard/pool/tree-house; amazing! The landscape and scenery; amazing! We went into town for groceries one night and hiking the next day and even the people we met...amazing! The combination of indoor AND outdoor living that the house afforded us was phenomenal, with quick access to the deck/pool. We LOVED the kitchen, the appliances, the large wooden dining table, the granite island.....and the beautiful WINDOWS!!!!! :) Everywhere in the house, there were windows!!! We didn't even notice the lack of AC in the home because the fresh breeze circulating throughout the house was constant! We all literally kept gushing over how "at home" we felt our entire stay! We were SO sad to leave, and even contemplated staying an extra day! lol Sal contacted me prior to arriving at the house with some need to know details. He was SO kind and forthcoming with house information, restaurants in the area, places we could hike, etc. He was extremely cool about the entire process and made me feel even more comfortable about our stay. Even when we arrived, I had trouble with the app to open the front door and he was right on it via phone, ensuring we were able to get into the house swiftly, which we did of course. :) I speak confidently for my coworkers when I say that our complete stay at this home was nothing short of paradise! It was exactly the low-key, natural yet lavish, peaceful yet adventurous experience we were looking for! AND it was affordable on our teacher budgets!! I can't imagine anyone NOT falling in love with this slice of heaven, even if they stayed for 1 night! We are ALREADY planning our next trip back here in a few months!...we actually planned it once we opened the front door. lol Thanks so much Sal and Jennifer! :)
Stejha
2016-08-31T00:00:00Z
Romtype
Helt hjem/leilighet
---
Eiendomstype
Hus
---
Plass til
10
---
Soverom
Stamford, New York, USA
Enjoy mountain valley views and seclusion on 25 acres of private Catskill land. 15 miles from Windham and Hunter Ski Resorts and charming Roxbury. Relax in the 6 person cedar hot tub under the stars, watch movies on the projector and let our woodsy and well-appointed home host your friends and family for an upstate retreat weekend!
The house was built in 2003 by the previous owner who is a millworker. It is constructed of wood beams milled from the property and pieces like the bannister from the original farmhouse, and the barn is reconstructed from its original place. There are many impressive surprises to discover in the craftsmanship!
Grocery store, liquor store and hardware store 10 mins away in Prattsville. Windham and Hunter Mountain Ski Resorts, Pakatakan Farmer's Market 30 mins away. Clark's family restaurant is 5 minutes up the road, or take longer scenic drives to Peekamoose in Big Indian, Table on Ten in Bloomville or the Phoenicia Diner in Phoenicia. Waterfalls, hiking, distillery and brewery tours all nearby.
I spent my birthday weekend at Joel's house and it was such an amazing experience! Since our first interaction with Joel, he was really kind and easy going. He provided a complete guide with all details about the house and surrounding area. The house has everything you need to have a comfortable and relaxing time. It is clean and spacious, yet feels cozy. The house is even better than the pictures depict. The property is expansive - leaving you with a feeling of freedom, especially if you're escaping NYC. There's also a lovely barn and a stream next to the house! I definitely recommend.
Gabriela
2016-02-07T00:00:00Z
Calm and relaxing amazing space. Definitely need to go back in the warmer weather.
John
2016-01-11T00:00:00Z
Great getaway. Home is even more beautiful than the photos. Close to ski and snowboarding. My family and I had the most memorable vacation together thank you!
Aimee
2016-12-26T00:00:00Z
Joel was extremely informative with his description of the entire home, how to access the home, and surrounding areas. He provided great detail and instructions on things such as the fireplace and record keeper which allowed ease of use. He was very responsive and checked to make sure we arrived safely and that we were able to access the property. The home had everything from silverware and spices to shampoo and extra pillows. The beds were so comfortable with lots of extra bedding. We really felt like Joel's home was our home and we did not want to leave. The home itself was stunning and the surrounding property was absolutely breathtaking with lots of area to explore.
Lauren
2017-01-03T00:00:00Z
Our stay at Joel's was just amazing! It was exactly what we wanted for our long weekend gateway. It was clean and comfortable and the entire house was stocked thoughtfully. We really appreciated the craftsmanship and charm the place offered. There was something for everyone to enjoy such as reading a book on a hammock, relaxing in a cedar hot tub, and wandering the huge acres of land the house was on. Our dog has never been happier then she was there roaming around outside, or playing alone with her ball in the basement. All communications with Joel were warm and helpful. We are so happy we found this gem and would definitely book it again.
Misaki
2016-08-25T00:00:00Z
Woodland retreat was a perfect getaway for my family and I. Joel's home was beautiful, spacious and full of windows and natural light. We took advantage of the large property and made a few camp fires which the kids thoroughly enjoyed. We also walked to the stream that's behind the house which was charming. The house manual pretty much explained everything you'd need to know in regards to the home and property and getting around to town, etc. We would definitely return and recommend Joel's home for an upstate retreat.
Cassandra
2016-04-26T00:00:00Z
The Woodland Catskill Retreat is just that -- a beautiful retreat! We live outside of NYC and it was so refreshing to spend the weekend relaxing in a wonderful home. This place is gorgeous - even better than the photos! There is plenty to do on the property, from checking out the swimming hole, to building a fire in the outdoor pit, to eating lunch on the picnic tables overlooking the view of the mountains, to spending time in the hot tub. It is always a plus finding a pet-friendly home to spend time in. Joel's communication was wonderful, too! A+ experience.
Nikki
2016-07-05T00:00:00Z
Right from the start this was the perfect place to get away from it all. It was a gorgeous piece of property with lots of space and even its own river to swim in (if it's warm enough). We loved just sitting inside by the fireplace, cooking, and listening to music. The place was clean, well stocked, and very comfortable. Would highly recommend. Definitely plan on staying again.
Ryan
2016-01-18T00:00:00Z
Romtype
Helt hjem/leilighet
---
Eiendomstype
Hus
---
Plass til
8
---
Soverom
Gilboa, New York, USA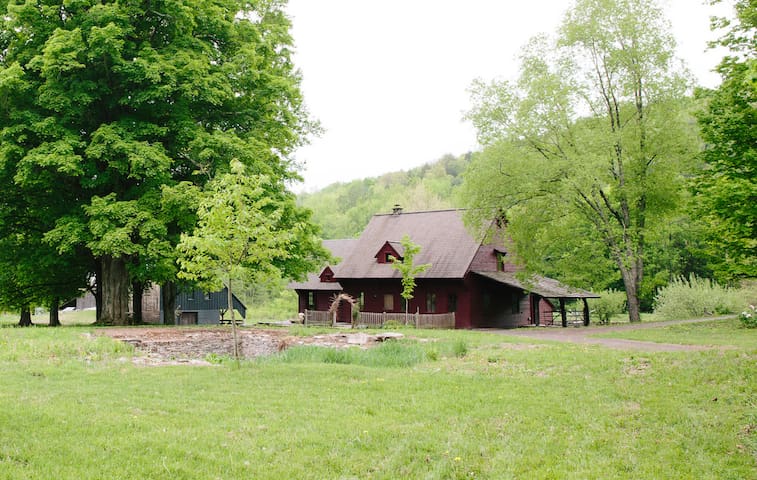 1

–

18

av

109 Hjem til leie
Oppgi datoer for å se fullstendige priser. Ekstra gebyrer gjelder. Skatter vil kunne tilføyes.