Our sun filled 2 bed, 1 bath home is the perfect stay for a simple stop through, or weekly stay visiting. We are smoking friendly, LGBT friendly, and pet friendly!
Unique smoking room with fenced in back yard, quite area with beautiful shade and fire pit for nightly fun :)
Good honest people all around us.
Romtype
Privat rom
---
Eiendomstype
Hus
---
Plass til
2
---
Soverom
Clarinda, Iowa, USA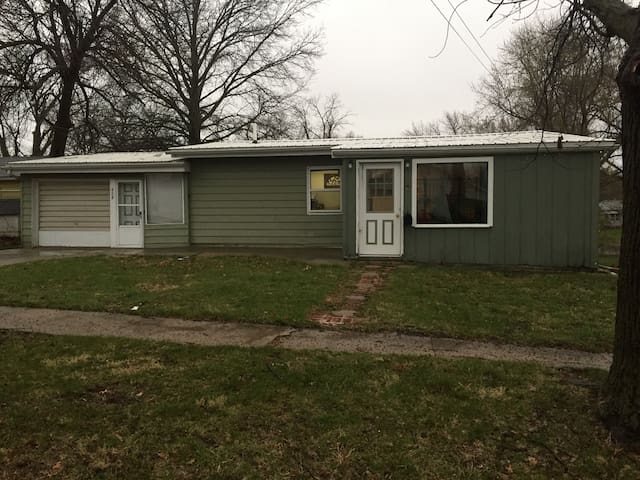 My place is close to the historic Promenade and 2 blocks from our beautiful downtown and restaurants. Clarinda has 3 fine museums- Nodaway Historic Museum, Glenn Miller Birthplace Mueum, and The Clarinda Carnegie Art Museum. You'll love my place because it is a beautiful historic house filled with period antiques. Enjoy our home while you are away from yours!. My place is good for couples, solo adventurers, and business travelers.
Beautiful home. Great room upstairs with a close bathroom. Breakfast was delicious. Hosts friendly and warm. A treasure in Clarinda for sure.
Aline
2016-06-29T00:00:00Z
Romtype
Privat rom
---
Eiendomstype
Bed & Breakfast
---
Plass til
2
---
Soverom
Clarinda, Iowa, USA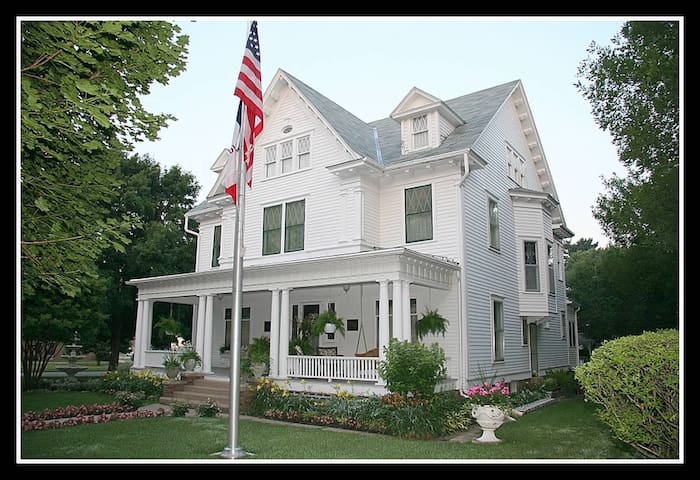 Excellent lodging for fresh air and country sunshine. A short drive to Maryville, MO to support NWMSU Bearcats or Hatfield, MO to view the Prairie Chickens at Dunn Ranch! Great for your next vacation or hunting trip in Northwest Missouri. Clean, Wifi, wireless printer, central heating/AC, laundry, Tempurpedic mattresses, garage, kennel, kitchen, freezer. Located on pavement road with easy access.
Part of Gladcrest Farms, a Missouri Century Farm continuously operating in the family since 1848. Raising Angus cattle, corn and soybeans, it is an active agricultural operation.
Very rural setting, cattle and horses in pastures adjoining property.
Susan is very accommodating, and it's a wonderful spot. We were made to feel very welcome once again - it makes all the difference to a trip!
elizabeth
2017-04-03T00:00:00Z
We were looking for a place to stay for Homecoming weekend at NWMSU. We stumbled onto this AMAZING home! We were so lucky to have amazing weather for our stay. Susan was very helpful and readily available to answer any questions. Our kids (11, 14) were outside the entire time. They were able to take a tour of the farm, bottle feed a baby calf, ride on a tractor.....for my "city kids" it was so nice to see them interact with nature. The property is well kept, easy to find, and a great location. The house itself was adorable! So beautifully decorated. A nice mix of contemporary and country chic. I just LOVE the rocking chair in the sitting room! My kids loved the twin beds upstairs. They were able to adjust the beds so that they were sleeping sitting up. The queen bed on main level was comfortable and had cozy sheets. The bathroom had a tub and shower. The motion-sensored lightening was a great touch. Never had a problem with WIFI. We turned the TV on at nights only. There is a DVD player available, if needed. We used the gas grill several times during our stay. We are looking forward to returning to the farm!
Jamie
2016-10-30T00:00:00Z
We stayed at Susan's home while my husband hunted. It was a perfect setting with beautiful views and greetings from the horses and cows that surrounded the farms. She welcomed our dogs and the house couldn't have fit our needs better. We had to leave late on the day of our departure and she was totally accommodating. We look forward to returning for future hunting trips. This is an adorable house, very comfortable and Susan is a great person to deal with.
Daniel
2016-11-15T00:00:00Z
This lovely house is in a beautiful spot, with a wonderful view. The host couldn't have been more accommodating. We had a great time!
elizabeth
2016-09-19T00:00:00Z
Description was perfect and the home is even more cozy than the pictures show. Host made access super easy and instructions to the house were convenient and clear. Comfortable bed, state of the art appliances, clean in every way, exceptional office with excellent internet connection.
william
2016-06-06T00:00:00Z
We were in the area to go see the Prairie Chickens at Dunn Prairie Ranch. Susan's place was perfect for the four of us - much better than a motel. A highlight of our stay was seeing the horses in the field right out the back window!
Andrea
2017-04-12T00:00:00Z
This is an idyllic, quiet haven tucked into the northwest part of Missouri. The home was charming, the amenities bountiful, the beds (URL HIDDEN) bad we got there after dark and left at 4:30 to see the prairie chickens at Dunn Ranch. Great front porch for sippin' bourbon and watching the stars wheel about in the sky. If you have any reason to be in that part of Missouri, go there.
Mike
2017-04-07T00:00:00Z
Great house on a historic piece of land. Tastefully decorated, inviting home. A nice getaway from the city.
Jesse
2017-01-26T00:00:00Z
Romtype
Helt hjem/leilighet
---
Eiendomstype
Hus
---
Plass til
5
---
Soverom
Worth, Missouri, USA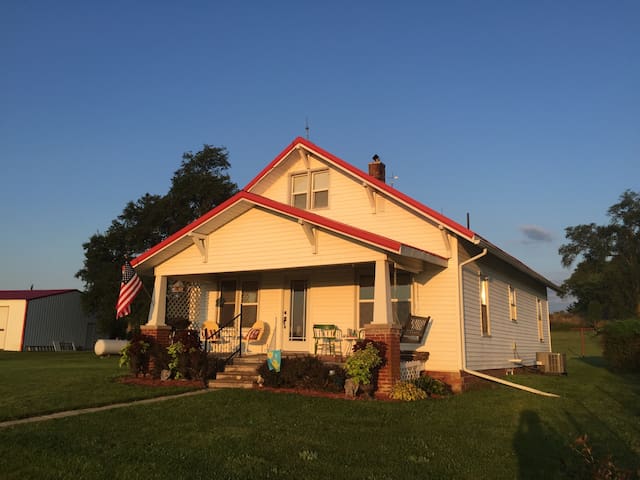 A bit of history, imagination and a lot of craftsmanship went into building this cozy one room/one bath cabin on the same acreage as the original Honey Creek School. Enjoy cozy country comfort at the cabin
The cabin was constructed with a 1890's theme. A step back in time with a few "necessities" like cable TV, microwave, a small (cube) refridgerator and, oh yes and a full bath and running water!!!
The only thing we overlook is a cornfield, a hayfield and a creek. The days and nights are quiet and leisurely. If you would like to try some of our favorites: For great meals at these independently owned restaurants, try La Portal Mexican Restaurant or Hickory Road BBQ in Auburn and the Lyceum in Brownville (check for open times) Summertime is big around here and there is a little bit of everything to do. Check the fliers on the desk, we try to keep it current, and as always, ASK US!
Our stay was wonderful. The cabin was quiet and quaint. Jerry was helpful and friendly. They thought of everything right down to the bug spray I forgot to bring.
Jennifer
2016-07-23T00:00:00Z
It was a great time. Jerry was very nice, very friendly and very willing to help with any questions. Beautiful place to visit, unwind and relax.
Richard
2016-06-20T00:00:00Z
Jerry was there to welcome us when we got in. He showed us around and had the fire pit ready to be lit. The place is on an acre of land surrounded by corn and soybeans. It was gorgeous. The stars were so bright and it was so quiet, other than the random cow mooing or coyotes yelping. We had a fantastic time being lazy, reading books, cooking on the fire, and sleeping in. We will be back.
Chelsey
2015-09-21T00:00:00Z
Oh my goodness, this was extraordinary. We stayed over the 4th of July holiday with our dogs, to escape the fireworks in the city. Not only was it clean, comfortable, and quiet, but it was peaceful. I think my jaw unclenched for the first time in weeks. Jerry was on hand when we arrived and was the perfect host. The cabin (which he BUILT!!) was beautiful and exactly what we needed. Thank you, Linda and Jerry, for a wonderful experience. We look forward to visiting you again.
Alison
2016-07-06T00:00:00Z
Out host was so generous and helpful! We had everything we needed and more. Great getaway for my hubby and I to have some quiet time together. Birdwatching was amazing! Thank you - hope to do it again!
Charlotte
2015-05-17T00:00:00Z
Beautiful place! Loved it so much! Can't wait to come back
Brandon
2016-07-03T00:00:00Z
Jerry was very welcoming and went out of his way for us, right down to helping us find the running trail. The cabin is perfect and we'll done. Perfectly located for us. Thank you for opening your cabin. Can't wait come back in 4 weeks.
Gregory
2015-10-18T00:00:00Z
Very relaxing stay. Great cabin, perfect location for easy access from Omaha. Just what we needed before start of school year, thanks!
Angie
2016-08-23T00:00:00Z
Romtype
Helt hjem/leilighet
---
Eiendomstype
Hytte
---
Plass til
2
---
Soverom
Peru, Nebraska, USA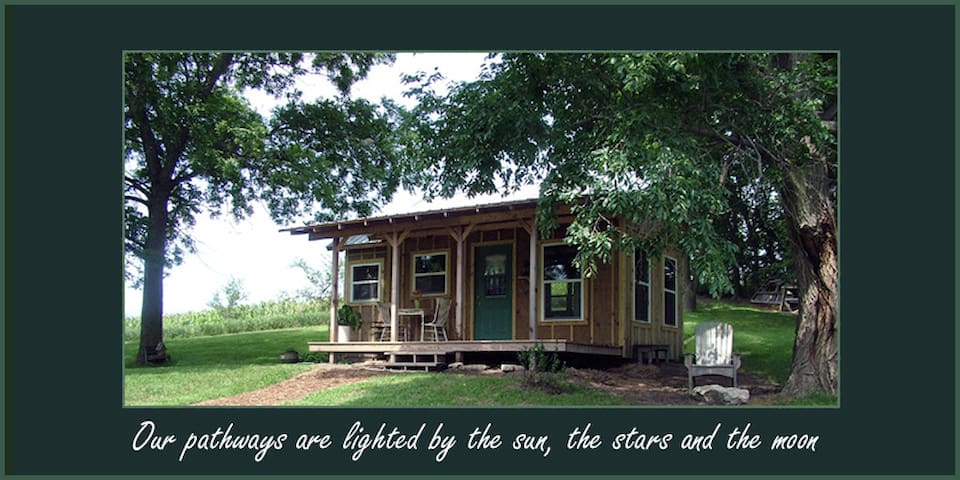 Country Home (Pays de diamant) dans la belle Loess Hills. Vous pourrez vous promener la terre profiter des vues magnifiques et la faune. Nous louons des chambres individuelles qui dorment 2, nous avons suffisamment de chambres pour un maximum de 10 people.You peut profiter du meilleur des deux mondes. Dormir et jouer dans une atmosphère paisible de campagne ou à 35 miles à Omaha, Nebraska et toutes ses commodités des grandes villes. En outre à seulement une heure de Lincoln, NE et tous les événements sportifs et culturels sur le campus NU.
Pays diamant peut être un arrêt rapide d'une nuit au cours de votre voyage ou vous pouvez rester un certain temps et faire tremper dans la paix et la tranquillité. Nous sommes situés juste à côté de I-29 et l'autoroute 2 qui relie avec I-80. De là, votre voyage peut vous emmener au nord du Dakota du, à l'ouest de Yellowstone ou au sud de Branson.
Alors que nous sommes dans l'Iowa rural, célèbre pour les champs de maïs, tout ce que vous voyez de notre maison sont les vallées et perspectives de l'unique Loess Hills. Nous sommes à cinq minutes de Sidney Iowa et à 15 minutes de Nebraska City, NE, où vous trouverez boutiques, des restaurants, des antiquités et des attractions.
Absolutely perfect host.
Michael
2017-04-02T00:00:00Z
Such a great place to stay. The pictures don't do the house and property justice. It was so clean, tidy, homey, and beautifully crafted and decorated. Lona was the definition of hospitable and was easy and pleasant to talk to. She was very kind and thoughtful. I would recommend staying here for anyone, whether stopping by in passing or staying around for a while.
Bethany
2017-04-03T00:00:00Z
Sweet lady, beautiful place, good value, and open living space... Winning
Arthur
2017-04-12T00:00:00Z
The host canceled this reservation 3 days before arrival. This is an automated posting.
SUNIL
2017-03-15T00:00:00Z
This was a very nice home to visit. The house is very secluded and safe. It has a very nice country type of feel to it. The whole home has nice touches throughout and and is nestled within some really beautiful terrain, with winding, hilly, country roads, complete with creeks and wildlife. I will definately look Lona up on my next trips out... business or otherwise. It was a pleasure. Thank you very much!
John
2017-04-05T00:00:00Z
A beautiful house and location. The great hospitality makes you feel like you are staying with family or an old friend. I will gladly stay again if I am in the area. Thank you Lona for being such a great host!
Evan
2017-03-05T00:00:00Z
Romtype
Privat rom
---
Eiendomstype
Hus
---
Plass til
10
---
Soverom
Sidney, Iowa, USA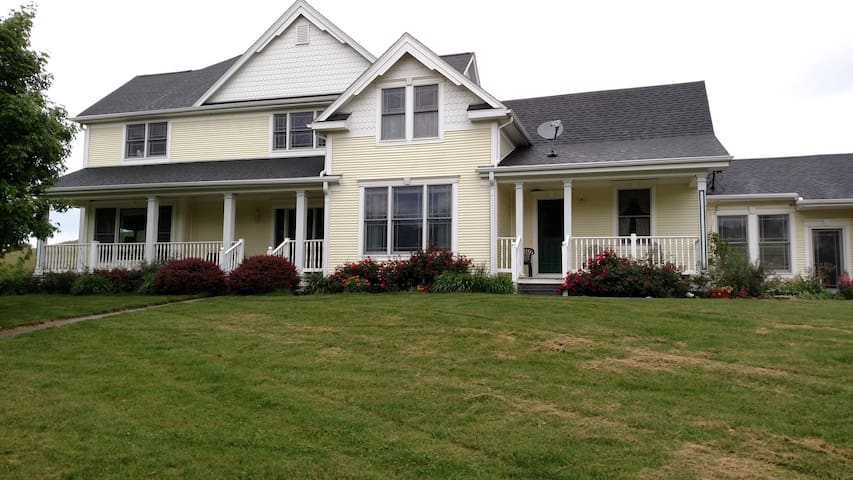 你会设施,包括高速互联网,电视,干净的卫生间和一个完整的厨房。 厨房是干净的,并提供所有的必需品您选择,当你不游览城市的充满活力的餐厅现场做任何烹饪。
Romtype
Helt hjem/leilighet
---
Eiendomstype
Leilighet
---
Plass til
4
---
Soverom
Fairfax, Missouri, USA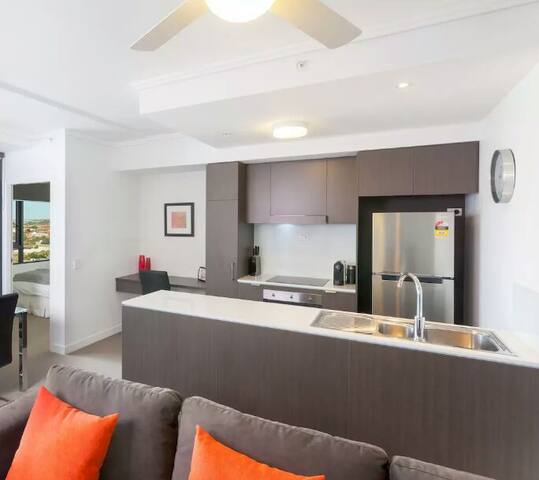 No smoking No pets. Two private bedrooms with double bed. Full bathroom. Fully equipped kitchen. We want you to feel at home in your own private space.
Romtype
Helt hjem/leilighet
---
Eiendomstype
Leilighet
---
Plass til
4
---
Soverom
Peru, Nebraska, USA