We had a wonderful two-night stay. Kelly called us on the day of our arrival to welcome us and share information about accessing the apartment, parking, and things to do in the area. She remained available should we have questions or concerns during our stay. The apartment was lovely, and the photographs captured the look and feel of the space. We enjoyed the spacious, cozy bedroom and living area and made use of the kitchen. The historic details throughout the building were interesting as well. Neighbors were welcoming and friendly and shared good information about the area. We would definitely visit again.
Kellie
2016-05-30T00:00:00Z
Easy communication and quick response to questions. Shared info on nearby restaurants and hiking near the lake.
Cheryl
2016-04-12T00:00:00Z
Franck's place was great. Easy check-in and a quaint, little town.
Aaron
2016-02-15T00:00:00Z
This Airbnb was a fantastic choice for my night's stay in Clarksville while biking the East Coast Greenway. The apartment is clean and spacious. Location is perfect, one block from the lake and a few good places to eat. Bed was very comfortable. I would stay here again in a second were I to return to Clarksville. Thanks, Franck and Kelly!
Jason
2016-04-25T00:00:00Z
The host canceled this reservation 14 days before arrival. This is an automated posting.
Denise
2016-11-08T00:00:00Z
The apartment was as listed and pictured - it was clean and had welcoming touches such as a binder of local information. The bed and furniture were comfortable and we enjoyed sitting in the nook area of the full kitchen. Thanks.
Gladys
2016-03-27T00:00:00Z
Kelly and Franck were both wonderfully responsive and helpful in setting up our stay. The apartment was nice, clean and quiet. The town is interesting, but the plantation across the river was the real draw for us. It's worth spending an afternoon at, as we did. There are plenty of choices for a nice dinner in town as well.
Terence
2016-05-09T00:00:00Z
Great place in a nice quiet town, easy walk to anywhere you might want to go!!
Brian
2017-04-09T00:00:00Z
Romtype
Helt hjem/leilighet
---
Eiendomstype
Leilighet
---
Plass til
2
---
Soverom
Clarksville , Virginia, USA
NEW PICTURES!!! 3 BEDROOM, 1500 sq ft downstairs APARTMENT on a lake front lot on Buggs Island Lake and near the towns of Clarksville VA and Oxford, NC. Full kitchen, the high ceilings and the view make an ideal place for couples, families and friends.
It's large enough to hold a family as well as a few with all the amenities. The view of the lake is the very best thing in any weather. Like toplay darts or enjoy a fire pit and marshmallows. How about lounging on the patio and enjoying the peace and quiet. We have a piano for you and Direct tv too. There is a desk and printer available also. Each bedroom has a ceiling fan for extra comfort!! Depending on the time of year we may have dock space for your boat. Please ask ahead of arrival and we can verify.
Even though we have neighborhood it's very quiet. Lots of trees. There is a bird sanctuary not far away. You'll enjoy the many birds and their songs. Go for a walk to the main road and back. Or bring your bikes and enjoy the country roads. Kerr Lake has lot to do with fishing, hiking swimming, boating and so much more. Clarksville is a cute small town with antique shops and tourist retail shops. Public access to boat ramps at Longwood and other state parks. Enjoy a ride to Clarksville public boat ramp for lunch or a stroll through town!
This was the perfect place to reset and relax. Hosts were so amazing!!! Clean, welcoming and homey !!! Fishing, sunsets and views worth a million bucks!! We can't wait to go back....
brandelin
2017-04-02T00:00:00Z
What a gem this lovely place is. We spent time on the patio reading and looking at the water then later cooked in the very well appointed kitchen. Jenny had everything we could possibly have needed including the ingredients to make S'mores by the fire pit outside. We could not have asked for a cozier, cleaner, warmer getaway. We were treated on Saturday night with fresh catfish, dressed and filleted caught by our host. We will return without question. If you are looking for a place that will open its arms to you, this is it. With busy lives and concerns, which we all have, this was the place to exhale!
Sylvia
2017-02-26T00:00:00Z
Jenny's home truly is Lake Happy Place. I visited Jenny's lake house for a weekend getaway with my boyfriend. It was the perfect place for getting away from the city. First and foremost, Jenny's communication was perfect. She was quick to respond to the request as well as receptive to any and all questions before and during the stay. Finding the house was easy ((SENSITIVE CONTENTS HIDDEN) Maps and Garmin both brought us to the correct location) and Jenny and her husband were there to greet us and show us around. The apartment was clean and well stocked - we felt at home the second we arrived. We truly lucked out with the weather - 70's in February? Totally unexpected but it made the trip spectacular. The porch at Lake Happy Place offered lounging at its finest. Gentle breezes, comfy chairs, and peace and quiet. One of the reasons we chose this location was because it seemed far enough outside the city to see the stars, and boy were we right. The view from the floating dock on the lake is breathtaking. On a clear night, you are able to see the faint banding of the Milky Way, shooting stars, and satellites galore. Lastly, we were pleasantly surprised to find a working N64 with Mario Kart. We would highly recommend Jenny's to family & friends and hope to return for our next needed getaway!
Kate
2017-02-19T00:00:00Z
Lovely, scenic and private ground floor apartment in a secluded lakefront community. My brothers and sister and I used it for our annual "Sibling Weekend" getaway and thoroughly enjoyed ourselves. Three very well equipped bedrooms, each with a queen bed and one with an additional comfortable futon bed gave each of us our own beds. A cozy gas fire kept the whole place warm on a cold winter weekend. Jenny and Paul couldn't have been more welcoming or more accommodating. We also highly recommend the Lamplighter Restaurant in Clarksville. Great place for a quiet weekend or an active, family-friendly warm weather stay!
Susan
2017-01-29T00:00:00Z
My friends and I can't say enough about how incredible our stay was at "Lake Happy Place"! The name says it all - the home is spacious, comfortable, and beautiful both inside and out. The location on the lake made for a relaxing getaway - and what made it even better was how welcoming and gracious Jenny was as a host. If you are looking for a quiet, scenic, and relaxing place to stay, I highly recommend booking a night or two here! We enjoyed everything from a bonfire and s'mores out back to time both on the private dock (both at night and during the day) as well as a hike at the local state park.
Emily
2016-11-05T00:00:00Z
Happy Lake Place is a wonderful home with an awesome view. I cant begin to count all the amenities. It is truly a home away from home with all needs covered. Jenny and Paul are not only great hosts, they have huge hearts. They go above and beyond to make our stay memorable. I booked a long weekend for our 14th wedding anniversary. When we arrived, Jenny and Paul had candles lit throughout the home, strawberries and two apples on a dish, and a bottle of wine with two wine glasses waiting on the counter! They had also stocked a cabinet with fresh blueberry muffins and all the fixings for s'mores! Not only did we find a new getaway location, we gained some great new friends!
Russell
2017-03-20T00:00:00Z
My family of four (2 adults, 1 year old, & 3.5 year old) thoroughly enjoyed our stay at Jenny & Paul's basement apartment. We had a warm welcome with a tour and juice and cookies for the kids. While pictures are accurate, the apartment is bigger than it looks. Lots of space for the kids (& lots of toys too!). Kitchen was well equipped (tons of spices and tons of kitchenware). We stayed while in town for a family event and the drive to downtown Clarksville was 10-15 minutes - plus we loved having our own place to come home to & eat meals at. The lake view is gorgeous though we wish we spent more time enjoying it. Perfect as a hotel alternative, weekend getaway, or vacation!
Susanne
2017-03-12T00:00:00Z
Place is even nicer than the pictures. The hosts could not have been any nicer or accommodating!
Kristina
2017-03-05T00:00:00Z
Romtype
Helt hjem/leilighet
---
Eiendomstype
Leilighet
---
Plass til
8
---
Soverom
Clarksville, Virginia, USA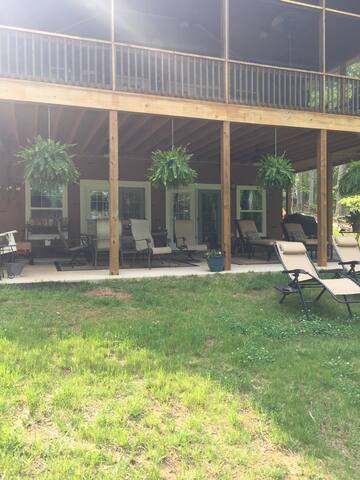 Nuestro lugar está en el lago Kerr, a 10 minutos de Clarksville, VA, y 20 minutos de Oxford, Carolina del Norte. Longwood Park (está a 5 minutos con una playa de arena), Occoneechee State Park, y Rudds Creek Campground, todo está cerca, con rampas del barco, senderismo, pesca, natación y mucho más. Disfrutará del lugar debido a las vistas, la ubicación, y el acceso al agua .. Puede dejar su barco en el muelle. Nuestro lugar es ideal para parejas, aventureros en solitario, pescadores y familias.
La vista del lago es muy bonito de nuestro apartamento. Nuestra base está en una cala de agua bastante profunda justo bajando la colina. No compartimos nuestro muelle con los vecinos. Cada familia tiene sus propios muelles, que es grande.
El barrio es muy tranquilo a sólo 4 casas cercanas. La mayoría de los fines de semana podría haber una o dos familias aquí abajo. Nuestro apartamento es de un minuto a la carretera nacional, lo que hace que sea fácil de localizar.
Our stay at Vickie's was great! The pictures don't do the beauty justice. Myself and four friends spent the weekend away here and we loved it. The lake is gorgeous, and Vickie and her husband Chris are so willing to share their dock and space. They even let us use their paddle boards and row boat. You can see the water from the large windows in the apartment and it's just a quick walk down. We loved our time here. There is a large grass area to relax or throw a football around, and the game room is perfect for a movie at night. It was relaxing, quiet, and absolutely beautiful and we can't wait to come back.
Edward
2016-10-11T00:00:00Z
We had a great time at Vickie's place. The room was very clean and a had a great view of the Lake. Location is very close to Clarksville, VA and Occoneechee state park. Vickie was an absolutely amazing host! I would highly recommend.
Mohit
2016-11-22T00:00:00Z
Vickie welcomed us with a wonderful place to stay and lots of little extras - breakfast items and even some fun things for our daughters. Great quiet and relaxing location by the lake. The apartment was tidy and perfect for us; it was great to have the kitchen to be able to cook our own meals. Spent the day at Occoneechee State Park and Clarksville, then back to the apartment for dinner. Loved it!
Greg
2016-11-06T00:00:00Z
The place was great!!! It was absolutely everything we needed and more!!!
Harve
2016-10-08T00:00:00Z
Vicki and Chris could not have been more accommodating. They were very gracious hosts and catered to our every need while still respecting our privacy. We thoroughly enjoyed our stay and will definitely be going back. They went out of their way to build a bonfire down by the lake for us while we sat out and watched the harvest moon come up over the lake. It was a beautiful night! Thanks for your hospitality.
Sherry
2016-09-18T00:00:00Z
The lake studio is awesome. The space is extremely clean, well-equipped, and comfortable. There is space upstairs for when you might want to rest and the gameroom downstairs is designed for entertainment. Vickie and Chris were inviting and gave us ideas about where to eat and where to visit. We got some worms and tried our hand at fishing from the dock. If you want a central location for time on the lake, then this is the place for you.
Beth
2016-10-23T00:00:00Z
We had a fantastic stay on the lake and Vickie made us feel right at home! The pictures do not do this studio apartment justice -- the decor was adorable and it was impeccably clean. The full functioning kitchen came with pots and pans and Vickie went as far as to provide us with fresh fruit, breakfast items, and coffee. The bathroom had various travel-sized toiletries and plenty of towels. The view of the lake was gorgeous and it was very easily accessible. Checking in was simple and Vickie made sure we were comfortable, offering restaurant suggestions and assistance if needed. Would definitely return the next time I am looking for a waterfront weekend getaway!
Olivia
2016-09-11T00:00:00Z
Vickie and her Husband were both very kind and very helpful. The place was trueky a gym in a place where there's seemingly nothing. We felt peace as soon as we walked in. Blessed to stay here.
Nathanael
2017-03-18T00:00:00Z
Romtype
Helt hjem/leilighet
---
Eiendomstype
Leilighet
---
Plass til
4
---
Soverom
Bullock, North Carolina, USA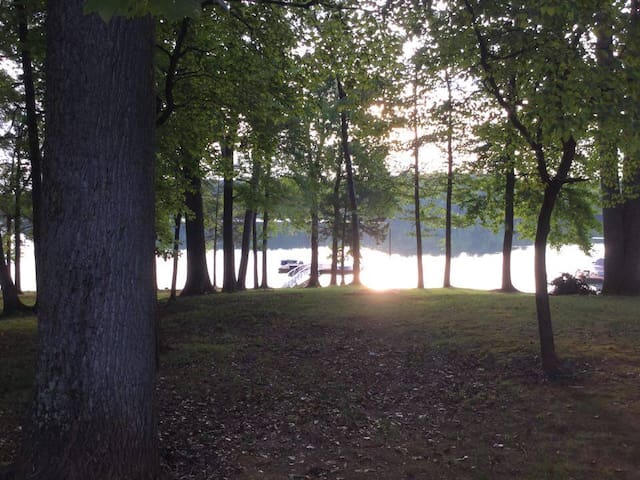 1

–

3

av

3 Leiligheter til leie
Oppgi datoer for å se fullstendige priser. Ekstra gebyrer gjelder. Skatter vil kunne tilføyes.