Set in a lovely semi-rural location......
Set in a lovely semi-rural location...... Bed and breakfast at Robin Cottage built in the 18th Centuary. Located in a semi-rural setting surrounded by fields, sheep and horses. The Trans Pennine Trail,(Sustrans route 68 Pennine cycleway) runs by the side of the cottage. The Peak district and its National Parks are located on the doorstep. Near by Broadbottom hosts a few take aways, pubs, train station and garden centre with a cafe. Charlesworth hosts a few local grocery shops, two pubs and two horse riding centres. There is easy access to trails and footpaths around the local countryside many of which lead to the Peak district National Park. Manchester city centre is only a 25 minute train journey away. The city is great for shopping, restaurants, museums, theatre and clubs and pubs. Combine a country holiday, walking, mountain biking, horse riding or just relaxing and enjoying the culture and the dazzling night life of Manchester. Offers a basic room with a double bed, clean linen, towels and free wifi connection. Decorated to a high spec and set in the attic. The attic does not have a door but the room occupies the entire 3rd floor space. It is completely private (see 2nd photo) with a winding staircase leading up to it. Shared family bathroom with shower and bath and separate toilet room. A 'help yourself' breakfast of tea or coffee and cereal or toast is provided. If you require anything in addition to this then it can be arranged in advance at an additional cost of £5 per person. I am normally quite a sociable person and love to chat when I am free, I would be more than happy to share my knowledge of the area (I am a member of the local Mountain Rescue Team) and help in any way I can if I have the time. Manchester city centre is only a 25 minute train journey away. Tickets cost around £4 return. The closest main line train station is Broadbottom which is 15 minutes walk away and a bus stop is located nearby. Manchester Airport is a 30 minute drive away from my home. It is also possible to get from Manchester Airport to Broadbottom by train, changing trains at Manchester Piccadilly. However, I may be able to arrange to collect from or take to the airport, for a charge of £20 (taxi costs £35). A dog is welcome at an extra cost of £10 per night, payable on arrival. However please do check before booking as it may not always be possible due to my work commitments. Non smokers only please. Any questions, please do not hesitate to contact me and ask.
Have stayed before and will do again. A beautiful cottage in a rural location.
Mark
2016-10-13T00:00:00Z
The accommodation was a lovely 17th century cottage with a converted loft for the sleeping quarters. Cozy, comfortable and a very friendly hostess. As I was driving up from London, I arrived quite late. Angela was very kind and had stayed up to receive me. The room was compact, beds comfortable and the breakfast adequate to start the day! Certainly enjoyed the short stay and would definitely return if the occasion arises. Definitely reccomended!!
Satish
2014-11-11T00:00:00Z
Angela is a very thoughtful & welcoming host. Her home is lovely as is her gentle & very cool dog Alfie! A great place to stay in a beautiful area, see you next time!
Philippa
2015-10-21T00:00:00Z
Me and my boyfriend had a lovely stay with Angela. She and Alfie made us feel very welcome. Even though we arrived much later than planned she was very gracious about it. The house was in a great location for both Manchester and the Peak District, and we had a very enjoyable stay. She even laid out an unexpected breakfast for us which was much appreciated.
Amy
2015-03-22T00:00:00Z
Angela's house is lovely and the location was perfect for what I was looking for. There is a nearby train with access to manchester and a few local shops and pub. I spent very little time at the house and met Angela when I first arrived And she gave a good tour of the house. Great to have breakfast included.
Caroline
2016-12-11T00:00:00Z
Angela has been a wonderful host for the 3 nights that I stayed at her place. Her house was very neat, tidy and clean and pictures of her house was exactly what I saw when I arrived. Before I arrived, Angela was very prompt in providing me with directions to her place which was convenient to get to from Manchester city and a short walk from the train station. I would HIGHLY recommend this place for anyone who wants to be near to the city but at the same time experience the countryside. Not to worry, her dog, Alfie, is also really friendly. I went for a morning walk with her and her dog and I was able to see more of the countryside. I opted for the breakfast and it was a pretty good spread that she provided. Thanks once again for making my trip a memorable and enjoyable one. I hope to be back again soon someday. I wish you all the best.
Brian
2013-08-26T00:00:00Z
Although we struggled with checking in to her place in time, Angela was still able to accommodate us and was very welcoming. Her home is lovely and in a very quiet private neighborhood. She left us free breakfast the morning we left. We only stayed for one short night but Angela was a great host!
Leilani
2016-06-13T00:00:00Z
Nice little clean attic room, quite close to Buxton. Bathroom and shower are very clean and new as well. Angela is very friendly and helping host. Her dog Elfi is easy going as well.
Jai
2014-07-27T00:00:00Z
Romtype
Privat rom
---
Eiendomstype
Hus
---
Plass til
2
---
Soverom
Charlesworth, Storbritannia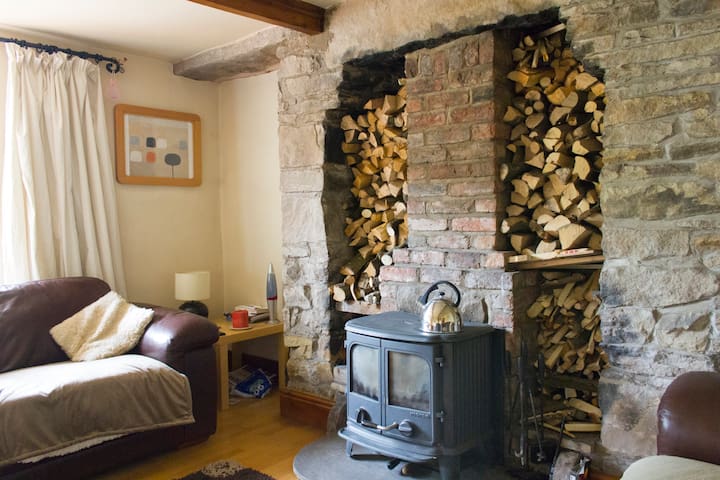 Chapel House is a large, historic, beautifully renovated house, conveniently situated in town. Guest's room comprises a fully converted Very large basement room with ensuit shower ( toilet is upstair), which leads to Kitchen and dining.
Peaceful, quite and friendly.
Darren and Saima were very welcoming to one of my guests. She liked staying with them. They also communicated well with myself. Thanks!
Nicole
2016-11-27T00:00:00Z
We received a text message saying that the boiler had (URL HIDDEN) the weather forecast stated that it was going to be freezing we were a bit worried! Yet the boiler seemed to sort it's self out without the need of a Plummer. The house was toasty warm. The room was big, airy and clean. The hosts were welcoming and charming. The breakfast was just how I liked it-yummy! We found Glossop a great place to wonder around, we found plenty of bargains in the many charity shops. In the morning Darren showed us on his map the best places for off road bike ride-which was superb. We had a relaxing night away! Thank you x
Maria
2016-02-15T00:00:00Z
Perfect location to see Glossop, easy walking distance to cafes and pubs. Lovely big room, very clean and private. Saima was a very friendly, helpful host!
Kat
2016-12-14T00:00:00Z
I had a nice stay at Glossop, too bad it was too cold for the season, so haven't seen much of the surroundings. Very kind people in the North and would definitely visit again, but in Summer!
Hanife
2016-04-25T00:00:00Z
Saima is a warm and welcoming lady. She made us feel at home and it was nice to chat to her. The room was spacious and clean and the house is close to the station. We had a good time!
Elza
2016-07-15T00:00:00Z
The house was really nice. There is a pub and M&S in about 5min-walk range. It was quiet in the night and the view is perfect! Would love to live here if I come to glossop next time!
Sihao (Peter)
2016-06-11T00:00:00Z
I was made very welcome and Darren and Saima did everything they could to make me feel at home
Rachel
2015-09-14T00:00:00Z
Fab room, exactly as it appears in the pictures. Perfect alternative to the limited accommodation options in Glossop. Darren and Saima were very welcoming. Thanks again and I'm sure we'll see you soon
Sarah
2016-05-23T00:00:00Z
Romtype
Privat rom
---
Eiendomstype
Hus
---
Plass til
2
---
Soverom
Glossop, Storbritannia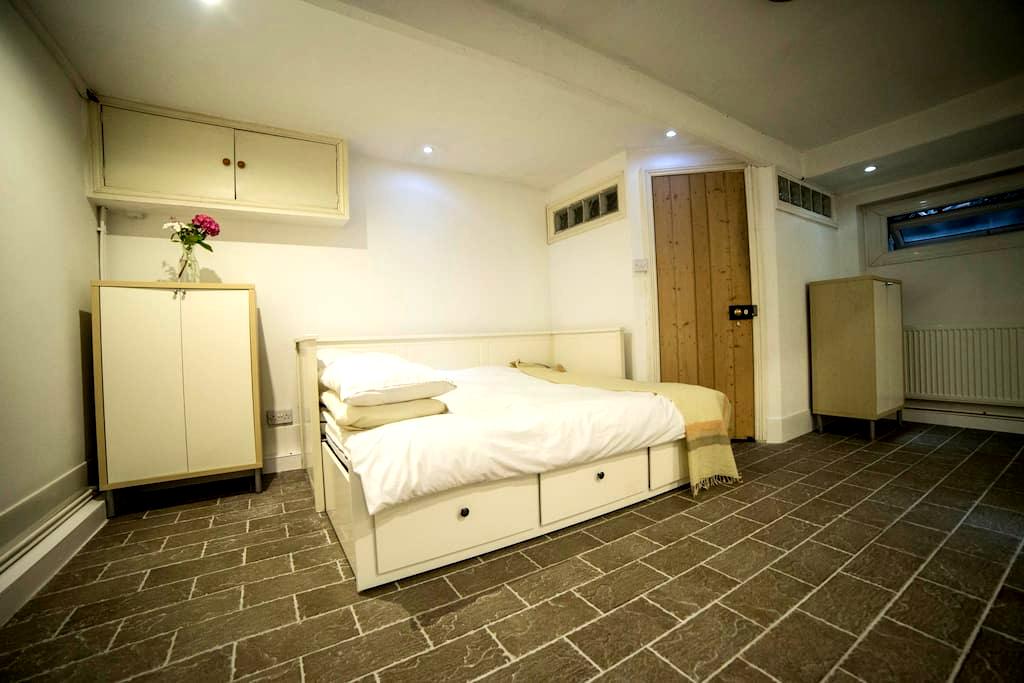 buena ubicación, entre Peak District y Manchester. casa unifamiliar tranquila. Habitación grande con baño en planta baja. dos camas o cama implique una enorme tamaño. Vista al jardín. Té / café, mini nevera y microondas. Desayuno incluido. Un amplio aparcamiento fuera de la carretera.
Nuestra habitación grande puede ser configurado como una habitación doble, con una implique una enorme tamaño (6 ') cama, o como una habitación doble, con dos individuales (3') camas. La habitación tiene un smart-TV, así que además de los canales digitales terrestres habituales también se puede ver la BBC, ITV y Channel 4 programas a través de los servicios de puesta al día en línea. Hay té / café en la habitación, un microondas y una pequeña nevera, y secador de pelo. Proporcionamos una carpeta de información que contiene detalles de los pubs locales, restaurantes y cafés, y una amplia selección de visitar la ciudad o las ideas para caminar. La habitación tiene un cuarto de baño con ducha con inodoro, lavabo, ducha grande con ducha eléctrica y una máquina de afeitar. Proporcionamos toallas, jabón y champú. planchas disponibles bajo petición. Los huéspedes también pueden tener acceso a la lavadora y secadora en un pequeño coste adicional. El desayuno es incluido en el precio y nos proponemos una selección de: cereales, leche, yogur, tostadas, panecillos, bollos, mantequilla, mermeladas caseras, fruta fresca y zumos. Podemos proporcionar gluten y los productos lácteos libres opciones.
I had a great stay! The room was exactly as described, like staying in a small boutique hotel - tastefully decorated and very comfortable bed, with coffee and tea facilities. The shower had good pressure and plenty of hot water. The house is peaceful and quiet with good internet and I was able to get work done in comfort. The hosts, Ingrid and Simon, were very friendly, helpful and accommodating with good advice about where to eat, drink and visit in the local area. I highly recommend staying here to anyone visiting the Mottram area.
Ian
2016-04-07T00:00:00Z
Excellent as always :)
Mark
2016-10-27T00:00:00Z
Very friendly couple, very cosy bedroom, nice garden in the back to appreciate in the Spring and Summer. I had a wonderful breakfast before I left. The room I stayed was exactly as described, very nicely decorated and with a very comfortable king size bed, just like home. I highly recommend staying here to anyone visiting the Mottram area or close.
Mónica
2016-05-05T00:00:00Z
Excellent........ as always :)
Mark
2016-11-23T00:00:00Z
Fantastic as always. Take care and see you soon. Matt and Lizzie
Matt
2016-12-18T00:00:00Z
Ingrid and Simon were so lovely! Their space is so well set up - the bedroom has everything you need, clearly labelled, and very comfortable. It was so nice to have an ensuite and a kettle in the room, Ingrid and Simon were very respectful of our privacy. We also had a great recommendation for The Bulls Head which had good food and a nice atmosphere. A lovely place to stay and an easy drive to Chatsworth House and the Peak District.
Fiona
2016-06-18T00:00:00Z
This really is a tremendous find. Easy to locate in a beautiful location, yet only minutes from the M67 motorway. Ingrid and Simon were most welcoming and friendly. The room is self contained, with a lovely outlook and good en suite facilities. I highly recommend staying if you're in the area.
John
2016-12-30T00:00:00Z
Great value,great location for countryside and/or city exploring. Comfy room overlooking garden
Loraine
2017-03-26T00:00:00Z
Romtype
Privat rom
---
Eiendomstype
Hus
---
Plass til
2
---
Soverom
Mottram in Longdendale, Cheshire, Storbritannia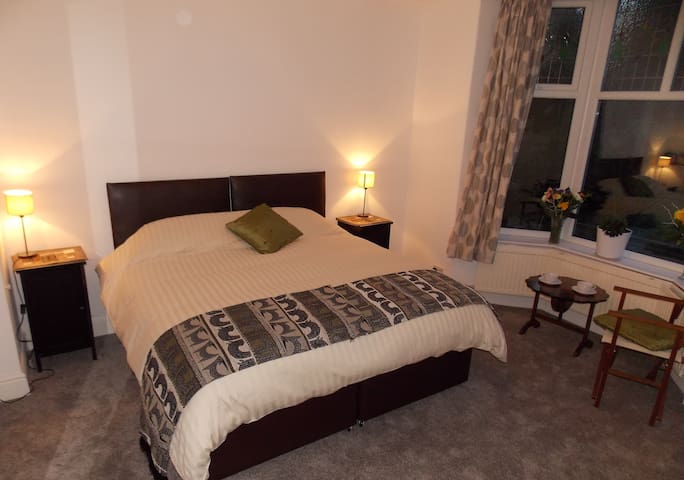 2 rooms to rent in my home in Hadfield, Glossop. Semi rural environment nr the Longendale Trail, and Train St to Manchester. 1 room has a bed which can be single/twin/double the other room a single cabin bed. Cosy wood burning stove. Bike Storage
The rooms are in a 3 bedroom Victorian end terrace house which is stylishly and cosily decorated. It is very warm, hot water always available. Free to use all the facilities in the house. We have Wi Fi
Great location in a village 2 miles from Glossop. Country walks straight from the house, can access Longendale Trail and the TransPennine Trail. Bottoms Resevoir at the end of the road. Great location for walkers and cyclists. There are pubs either end of the road which do food and the 16th Century Bull's Head in Tintwistle does good pub grub and is 15 minutes walk
A very warm welcome to a nice cosy house. Would definitely use again :) Also I am reliably informed that it is a very beautiful location but it was dark so unable to see :(
Mark
2016-11-17T00:00:00Z
The house was lovely and very comfortable. The host was very helpful friendly, welcoming and provided very useful advise on good walks places to eat etc. There is an excellent walk from the house up past the reservoir lakes towards the Woodhead pass. Hadfield was a great little town - breakfast at Dolly's café is recommended.
Stewart
2016-07-24T00:00:00Z
I had a nice stay a usual with Debbie and Linda. I always feel welcome there it's like a second home. Thank you both.
Paul
2016-09-09T00:00:00Z
Deborah and Linda are very nice and they made me feel welcome in there home. This is my 2nd week with them and they are great hosts. The neighbourhood is nice and quiet walking distance to the shops and nice local walks. I would 100% recommend them and I will be staying again. Thank you for letting me stay.
Paul
2016-08-06T00:00:00Z
Debbie is a great host, and you'll always feel welcome there! The village is nice and it close to the train station into Manchester.
Paul
2016-12-09T00:00:00Z
Deborah & Linda made me feel at home. They're both helpful. The room is very clean and comfortable. They live in a nice quiet village, there's local shops walking distance from the house, and there's many lovely walks.
Paul
2016-07-30T00:00:00Z
Debbie and Linda are fantastic hosts. They always make me feel at home every time I visit them. Thank you once again.
Paul
2016-11-11T00:00:00Z
If you looking for some place like home this is it, a very welcoming hosts in a lovely house. This is the perfect place for adventures into Peak District, you can leave the house on foot for a hike. Close to train station and some local amenities.
José
2017-01-29T00:00:00Z
Romtype
Privat rom
---
Eiendomstype
Hus
---
Plass til
2
---
Soverom
Hadfield, Derbyshire, Storbritannia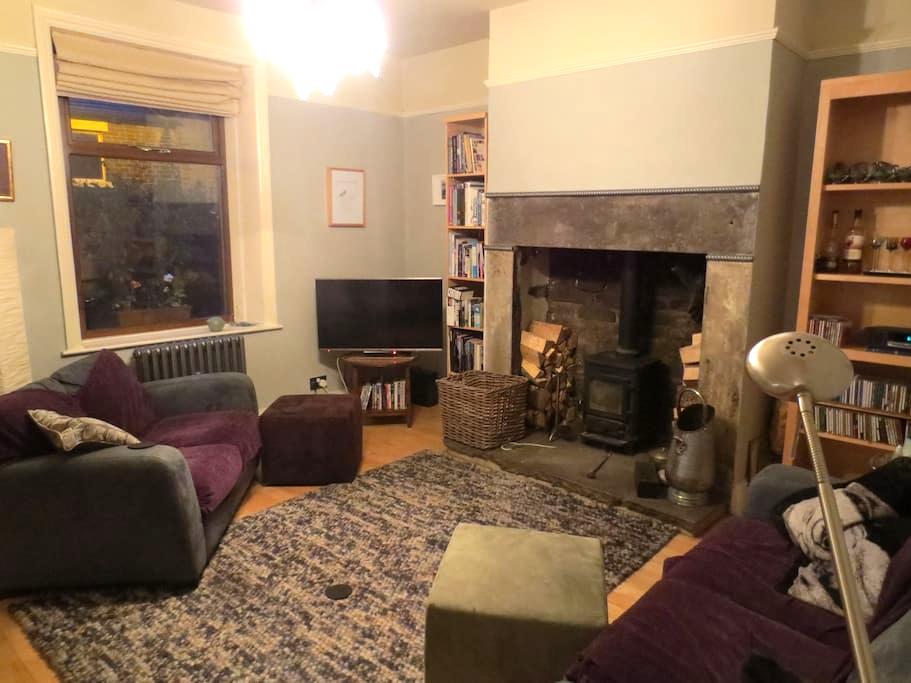 Large double room with king-size bed & TV; shared bath/shower room with toilet (opposite). Five minutes from the railway station, with service to Manchester, and the Longdendale Trail, which leads to the Pennine Way and the Trans-Pennine Trail.
The house dates back to 1873, I believe, and overlooks St. Andrew's Church and its delightful garden (there is no churchyard for those of you who are squeamish about these things!). The room is a good size and comfortably big enough for two people. It has a king size bed and a couple of quirky chairs on which to relax, watch television, read or listen to the radio if you feel so inclined. There is also a table and chair. Free wi-fi is available. There is a good train service to Manchester (40 minutes) from Hadfield station if you want anything that a city has to offer, if not, Glossop is less than ten minutes away by bus or train with its pubs, restaurants, bars, take aways, shops and even a theatre. Hadfield itself (or Royston Vasey for those fans of The League of Gentlemen) has a number of pubs, some of which provide meals, cafes, a couple of fish and chip shops, an Indian take away, as well a small number of shops, a chemist, a Post Office and a Tesco Express. If you enjoy the outdoors, Hadfield is on the edge of the Peak District National Park; from the house, the Longdendale Trail (five minutes) crosses the Pennine Way (about 15 minutes walk) with Crowden, Black Hill and Standedge to the north and Bleaklow, Kinder Scout and then Edale to the south; the Trans-Pennnine Trail, the Sustrans route 68 Pennine cycleway, which goes from Southport on the west coast to Hornsea on the east, also goes through Hadfield nearby. So, what more can you want?! Whether you are on business in Manchester, but want to escape at the end of the day, or whether you are on holiday, wanting to enjoy the magnificant scenery of the Peak District as well as the culture and the nightlife of Manchester..... there is something for everyone.
In the 1800s, Hadfield was a mill town and many of the stone terraced cottages provided housing for the workers. The majority of them are now privately owned.
A very pleasant stay with Liz, made welcome, a lovely home, comfortable room and well cared for. Would come and stay longer next time to have opportunity to explore the area - certainly lots to see and do.
Mary
2015-06-13T00:00:00Z
Had a lovely experience staying with Liz. The room is large, the bathroom clean, and breakfast is good. Liz is also an extremely helpful person and easy to chat to. She gave me some excellent tips on walks in the area. Would definitely recommend this place!
Suzanne
2015-06-19T00:00:00Z
Really enjoyable stay. Lovely home tastefully decorated. Very comfy double bed. Liz is an interesting, engaging host who even got up stupidly early to make breakfast. Best experience of Air bnb so far.
Robert
2015-11-25T00:00:00Z
The house and room in which you stay are exactly as shown in the photographs. Liz was the perfect host and tea and crumpets as soon as I arrived were very welcome. The bed is very comfortable, the shower good and Liz was very attentive. I would recommend the Peels Arms for something to eat; it is about a mile away from Liz's but there a few pub/takeaways closer. I would definately stay with Liz again.
John
2014-04-16T00:00:00Z
Liz's house is simply gorgeous. It is an old full renovated house. The bedroom 's got a big and confortable bed, I splept there like in Heaven. Liz is a lovely lady, she's been so nice! Thank you very much for your help. I definitely recommend to anyone to stay there.
Noelia
2014-04-26T00:00:00Z
We couldn't have wished for a better place to stay and a better host than Liz. Everything was very clean, the room very spacious and Liz just so helpful. Since she is in a mountain rescue team she could recommend us where to go for walking, and even borrowed us her map. Hadield is very conveniently located for hiking and we had two beautiful walks, very much thanks to Liz.
Sonja
2014-07-29T00:00:00Z
Liz is a very friendly and helpfull host. We was very happy to stay at her home. Everything was great!
Anastasia
2014-05-07T00:00:00Z
A really tasteful, clean and beautiful house. The room was perfect and we couldn't have asked for better. The location was also great for easy driving access to the peak district, local pubs etc. Liz is an absolute gem. Kind, considerate and genuinely interesting. She was accommodating from beginning to end this it's 5 stars from us and a big thumbs up. :-)
Amit
2014-07-22T00:00:00Z
Romtype
Privat rom
---
Eiendomstype
Hus
---
Plass til
2
---
Soverom
Hadfield, Storbritannia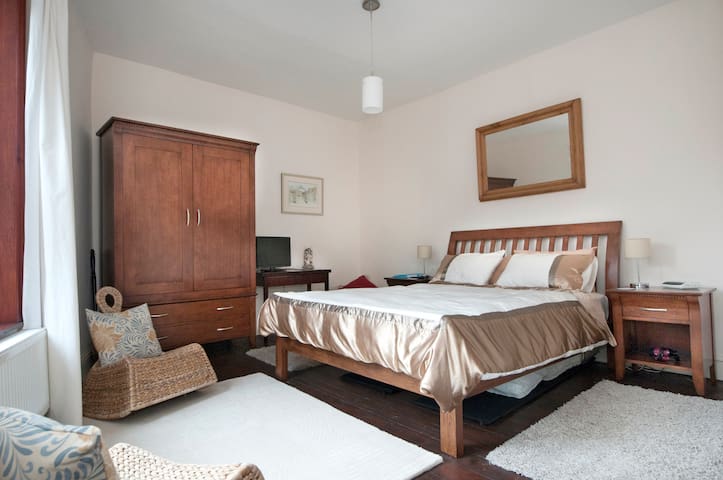 2-Zimmer-Haus im Dorf Tinwistle. Das Haus befindet sich im Herzen des Peak District gelegen, mit einfachem Zugang zu den beiden Manchester und Sheffield. Tolle Lage für Spaziergänger, Wanderer und Radfahrer. Eingerichtet, um einen hohen Standard mit einer modernen Küche, Bad, 2 Schlafzimmer und einen Garten.
Mark a toujours été prêt à nous aider. Sinon, la maison est très agréable mais la chambre sur la rue est un peu bruyante et la propreté peut être améliorée. Agréable séjour pour nous.
didier
2016-09-18T00:00:00Z
We really enjoyed our 3 night stay at Marks cottage. The cottage is so cozy and inviting, we especially loved the electric fire in the living room. The location was perfect, a short bus ride away to local villages such as Glossop, where we visited for an afternoon. The local people were so friendly and welcoming, which made our visit even more special. Although it was December, we were surrounded by the most beautiful countryside and enjoyed going for walks. Would highly recommend this to all those looking for a countryside get away!
Stacey
2016-01-02T00:00:00Z
Mark was great at setting up the house ready for us to arrive. The key was deposited with a local friend and was easily transferred to us. No hassle. The house was cosy and warm. It was in a good location for walking, eating and drinking. Thanks for letting us stay.
Darren
2015-11-15T00:00:00Z
Wonderful house and location! Mark was a gentleman and very helpful with everything responding quickly whenever I had a question. Top notch! Would definitely stay again!
Alexandra
2016-02-28T00:00:00Z
Our stay at Mark's house in Tintwistle was great. Mark was easy to work with when getting instructions and directions. The house was clean and comfortable and was exactly as listed. Dolly's Café in Hadfield was a pleasant experience and just a short walk away. There is also a convenient small store with the usual "convenience" items literally 50 feet away. Overall a nice stay. Thanks Mark.
Steve
2016-06-15T00:00:00Z
We had a fantastic time at Country Stone Terrace cottage . Mark was so helpful and accommodating, and gave us plenty of good advice. I enjoyed running around the Dam, near to the property, with pleanty to see and explor(URL HIDDEN)
john
2016-06-20T00:00:00Z
A lovely 2 up 2 down cottage; perfectly situated for exploring the Peaks and trips to Manchester. Walk to Hadfield station (15-20 minutes) for a twice hourly train to Manchester Piccadilly (£4.40 off peak return). Drive to Hayfield (20 minutes) for loads of circular walks including Kinder Scout, and the amazing ElephantStone Gallery for photos, line drawings and Scandi objet d'art. Only an hour or so to Matlock and Bakewell, if you fancy the southern Peaks and something a bit more 'touristy'. Mark's communication was great; he gave us lots of local info about where to eat and where to go. Clean, simple, just what we were looking for. If we're near Glossop again, we'd definitely stay at Mark's.
Tristan
2016-08-31T00:00:00Z
Great stay in mark's place. Really lovely house in a beautiful location. Would highly recommend it. Thanks Mark
Paul
2016-11-21T00:00:00Z
Romtype
Helt hjem/leilighet
---
Eiendomstype
Hus
---
Plass til
4
---
Soverom
Tintwistle, Glossop, Storbritannia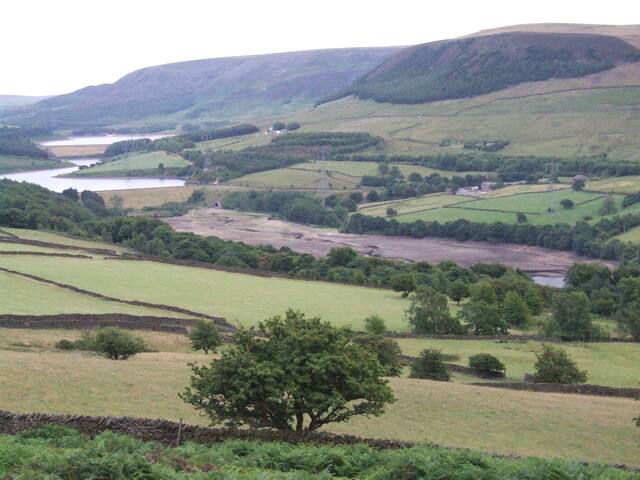 Brand new house close to Manchester and motorways,. M60 motorway is half a mile away with easy access to Manchester. Easy to get to airport but close to countryside near Mottram and Derbyshire. New furniture and bed own bathroom next door. Parking on drive or road. Room is large with double and single bed.
Romtype
Privat rom
---
Eiendomstype
Hus
---
Plass til
2
---
Soverom
Greater Manchester, Storbritannia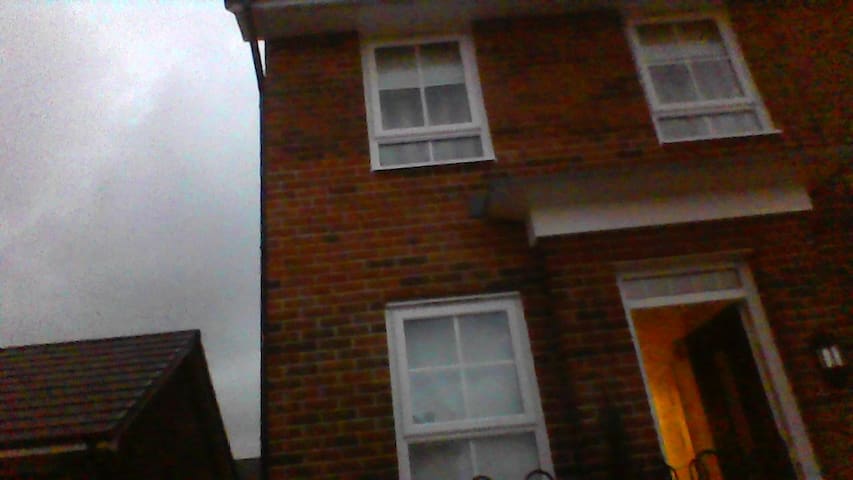 Our charming red brick Victorian property sits on a pedestrian access only path in a quiet neighbourhood. Surrounded by trees and boasts a 90ft garden to the front. Comfortably fitting up to six in 3 double bedrooms. The Trans Pennine Trail is a short walk towards the front of the property as well as the Werneth Low Country park. Access to rear with off road parking. Supermarket, bus and train all walkable. Close to transport links direct to Manchester Piccadilly. Drivable to any Peak District attraction.
The house with comfortably fit 3 and 6 if sharing king size beds. There is one main large bathroom with separate shower, bath and toilet. A separate toilet and desperate downstairs shower.
The neighbourhood is conveniently located close to bus and train links directly into Manchester. An Uber will also get you there or back home in about 20 minutes. A village more countryside feel with great transport links to the city.
Romtype
Helt hjem/leilighet
---
Eiendomstype
Hus
---
Plass til
6
---
Soverom
Hyde, England, Storbritannia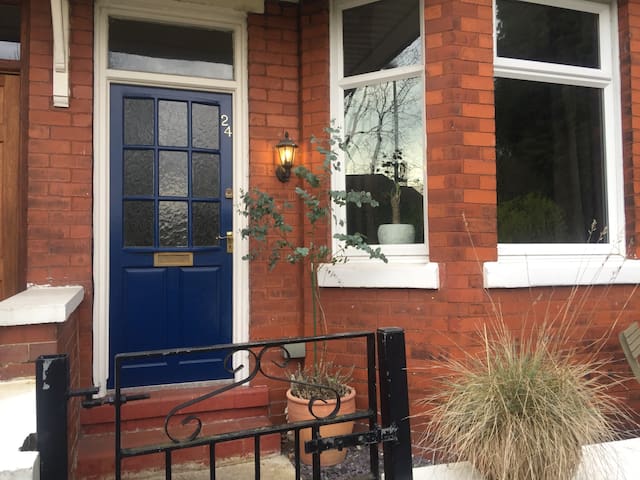 Double bedroom en suite ( modern shower room) central to marple bridge. one of the most pictureque places south Greater Manchester. Easy access to the pennines, canals, parks, the airport , train services and Manchester. Beautiful park location Friendly and a safe place to stay
Double room en suite, shared kitchen living room and downstairs cloakroom and garden. Parking space available. Free Wi Fi and TV, coffee and tea. The room has a small double bed. Price based on one person additional guest will be £10
Experience award winning cafes village life canal walks, superb walking landscapes in the heart of the Pennines. Manchester by train takes 20 mins so easy and fun to do. I recommend Libbys for fresh bread, cakes and coffee as well as Dutsons cafe which is open each Sunday as well as other days. The post office sell local produce as well as an amazing range of cards. Brabyns Park offers lovely trails and its easy to walk up to the cheshire ring canal.
A great room, ideal for what we needed
Charles
2017-03-19T00:00:00Z
Gill made me feel at home in her home. The room was perfect it had en suit bathroom too.e The neighbourhood was every nice and quiet so is Marple Bridge many nice places to eat and drink. It's about a 5 min. walk to the train station. I would recommend this this place for walks and for a place to relax.
Paul
2016-10-14T00:00:00Z
Gill was brilliant at communication. The room in her house is on suite which is a bonus. The house was very neat and very clean. The location is quiet and secluded and Marple Bridge has many nice pubs and easy access to the beautiful Brabyns Park and the canal with it's many locks and Marple train station with trains into Manchester.
Brian
2016-11-27T00:00:00Z
Perfect location in Marple Bridge and a very welcoming host.
Anne
2016-12-21T00:00:00Z
Great house to stay
Jonathan
2017-03-09T00:00:00Z
A very cosy room a great base for Marple Bridge
Charles
2017-03-23T00:00:00Z
Nice room with en-suite, very close to the centre of the village of Maple Bridge with 3 pubs, restaurants and shops on the short high street.
Mike
2016-12-04T00:00:00Z
Gill was lovely, very welcoming and the accommodation was clean, warm, cosy and excellent value. She a lovely host and very responsive when I arrived in the area to ensure I found it ok, despite it being quite late. Many thanks, I would definitely recommend Gill's place and would stay again.
Liz
2016-11-07T00:00:00Z
Romtype
Privat rom
---
Eiendomstype
Hus
---
Plass til
2
---
Soverom
Marple bridge sk6 5ex , Cheshire, Storbritannia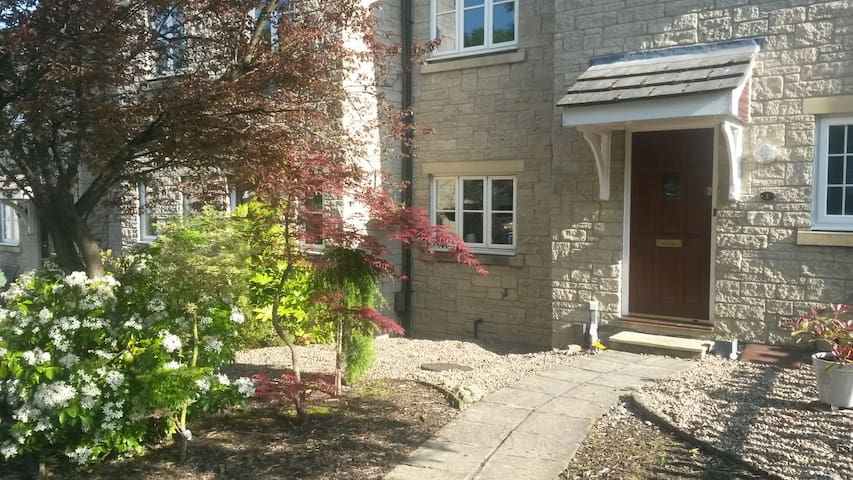 Beautifully presented two bed roomed fully refurbished period cottage (in converted Stables) set in a woodland peak park setting surrounded by wildlife and just metres away from excellent walking routes including Kinder Scout and Kinder Downfall.
Perfect place for a weekend walking in the peaks a couple of great routes right out the door and a cosy fire to come back too.
Daniel
2016-08-30T00:00:00Z
The Gamekeeper's Cottage is one of the most incredible locations I've stayed. The moor is just out of the property's back door. Out the front door is an old pond filled with ducks. Was a very sweet and relaxing break. Christian is a great host and responded very quickly to my emails. Would stay again!
Camilla
2017-01-05T00:00:00Z
Very cute, comfortable house. Set in lovely woodland park. Enjoyed very relaxing stay.
May
2016-09-12T00:00:00Z
Sadly we weren't able to meet Christian, but he came back quickly with the information we needed. He recommended The Lamb as a local pub to eat on our first evening, though we left it too late and they were fully booked. The location is great for some fabulous walks, particularly around Hathersage, and the property itself is surrounded by ducks and peacocks and, at night, owls. The kitchen is in the hallway as you enter, but close to the sitting/dining room. The furnishings are mostly IKEA, which is fine, but lacked a little in substance and charm. It was nice to have a wood-burning stove.
David
2016-10-25T00:00:00Z
The host canceled this reservation 18 days before arrival. This is an automated posting.
Charles
2016-11-06T00:00:00Z
The Gamekeepers Cottage was the perfect place from which to explore the Peak District. Our walk to Kinder Scout and Downfall literally started from the door of this beautiful cottage. The home is lovely, situated in a gorgeous estate. There were fields of bluebells under the trees all around us and hens, sheep and peacocks parading around the ground. There's a great pub right down the road if you don't feel up to cooking or just want to get a pint at the end of a long walk. Christian has thought of everything one would need to enjoy their stay. We unfortunately didn't get the chance to meet Christian, but he was very responsive and helpful via email. We had a wonderful stay and wholeheartedly recommend the Gamekeepers Cottage to anyone wanting a wonderful Peaks escape.
Erin
2016-05-15T00:00:00Z
The host canceled this reservation the day before arrival. This is an automated posting.
Hannah
2016-12-14T00:00:00Z
This is the most AMAZING home and location. All thought and gracious hospitality has ben poured in to all aspects of Christians home. He was literally there to meet us and welcomed us with open arms. For my family & I, this was an absolute Jewel in our trip. If only we had longer. There are some beautiful walks just through the gate, although I advise you take water & snacks as one wrong turn almost turned our one hour stroll into an eight hour one! Don't hesitate. Book this venue. You will not regret it. Oh, and make it down the pub on a Monday night to support the local musicians!
Jennifer
2016-05-19T00:00:00Z
Romtype
Helt hjem/leilighet
---
Eiendomstype
Hus
---
Plass til
6
---
Soverom
Little Hayfield, Storbritannia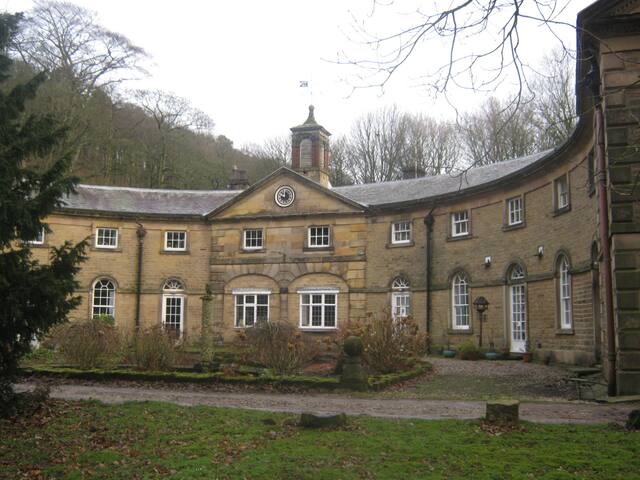 You can have one or two rooms in a delightful barn conversion. Exposed brick and a galleried landing with large windows and exceptional views. Direct access to country walks. Border of the Peak District. 3 minutes drive to train station to Manchester. Many convenient local shops and restaurants.Free, safe parking.
WILL ONLY RENT for a minimum of 2 nights. It is a beautiful barn conversion with views of the valleys and river. Direct walks onto the canals. On the border of the Peak District. The house is very private and quiet. You will have your own private lounge and dining area. Ample space in the room. Newly decorated. Romantic and peaceful. There is currently no access to a kitchen until one is added in the near future. Fridge and freezer and microwave and kettle.
Romiley is a village with local shops and restaurants and some pubs. The Hare and Hounds in Gee Cross has beautiful views over Manchester. Marple Bridge is a beautiful village to visit for independent places to eat and drink. Many of the restaurants need booking instance. It is a 10 minute drive away or a walk over the river through Brabyns Park. The train station is a few minutes drive away. Free and easy parking and it takes 20/25 minutes into the centre of Manchester.
When we arrived the key was left at the house. The house is located very nice. the beds are good. There is no kitchen, the neighbor is little cocky. Was no breakfast and wifi
Erik
2015-08-31T00:00:00Z
This is a lovely, comfortable and spacious place set on the edge of the beautiful Peak District. We thoroughly enjoyed our time there and would not hesitate in coming back. The barn has been converted really well, it was very clean and it was always warm which I would imagine is important in colder months! There is a barbecue outside which we used, a small fridge/ freezer, microwave and kettles in the bedrooms, and while there is no sink in the kitchen, Tara and her family kindly helped out with cleaning of plates etc. There is what looks to be a permanent resident in a section of the lower level of the barn, underneath the two bedrooms - he is quiet as a mouse, but his dog (which is largely kept in his flat) certainly isn't!!
Emma
2016-05-31T00:00:00Z
Lovely place. Very peaceful. Good communication.
Stephen
2017-04-08T00:00:00Z
The barn was just as the pictures show, if not better! Everywhere was nice and clean and we felt very welcome. The barn is an impressive building, with a nice fire and cosy bedrooms. There is also a handy fridge and microwave by the dining table. And also a kettle. I wish we had time to go on some of the walks Tara had suggested, because there is some really lovely scenery around. Oh, and we also got to pet her horses in the stables, such beautiful animals! Our stay was fab! Kind regards, Adam and Annely
adam
2016-12-12T00:00:00Z
Just got back from spending a weekend away at Tara's lovely barn conversion, it was exactly what we were hoping for and more. Warm, welcoming and immaculately clean. Haven't a bad word to say about our stay. The local train station is a stones throw away and taxis are very easy to get. Romiley is a charming area, we are already considering returning to stay again as we have had such a good time. Tara was very helpful throughout answering any of our questions and making sure we were safe and welcome. Can't wait to go back to Romiley!!:)
georgia
2016-06-20T00:00:00Z
Friendly welcome, nice big space with private lounge and clean room with en-suite and TV. Great alternative to a hotel room and perfect for visiting Romiley, Marple and surrounding area.
Peter
2015-12-29T00:00:00Z
Absolutely terrible customer service. The host is Julie but the only person managing airbnb is Tara, who doesnt even live there and she doesnt inform Julie that we were due to arrive. We got sent away for half hour whilst the rooms were prepared. We were not told that the access was shared and we found out when the other guys huge nasty dog woke us up at 6 and didnt stop barking until 7.30 when we left. The other flat is only separated by a single interior door which does not limit sound at all. We came back from work the next day to find our front shared door wide open and the person who left it open drove off and left it open. Julie's response to this was 'you need to get a life you do'. The listing specifically says private and exclusive dining area and lounge but we werent given a key to lock it. My laptop was in the living room when the host left my front door open to paint it went out. I have to admit that the barn is nice but the people are actually inept and insulting!
Robbie
2016-06-06T00:00:00Z
Romtype
Privat rom
---
Eiendomstype
Hus
---
Plass til
6
---
Soverom
Romiley, England, Storbritannia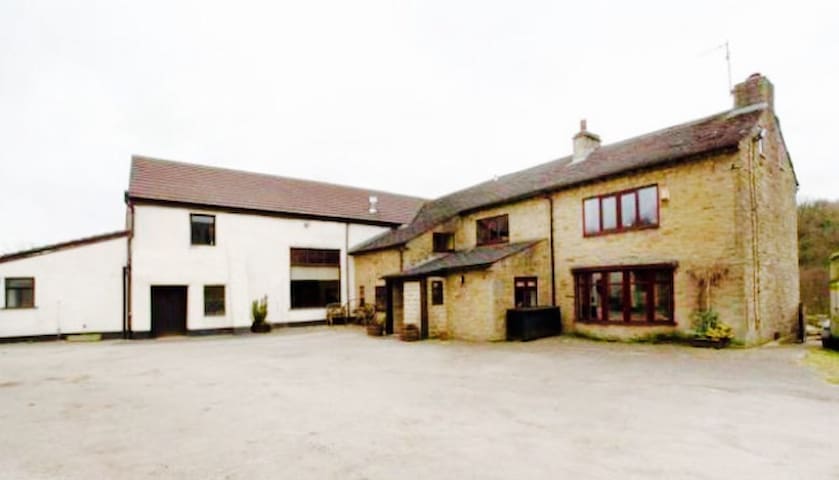 nice quite room over looking golf coarse
Nice Brand New room coffee and tea wif parking
Romtype
Privat rom
---
Eiendomstype
Hus
---
Plass til
2
---
Soverom
Glossop, England, Storbritannia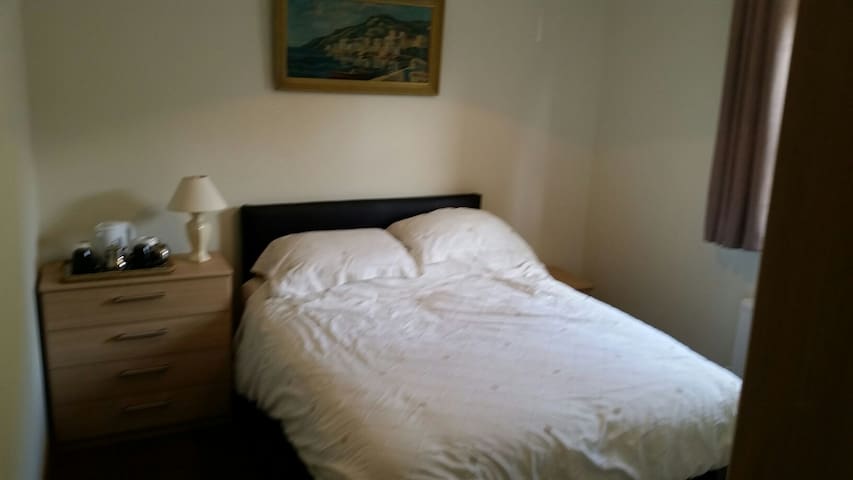 Gran casa de cuatro dormitorios en el Gran Manchester y del área de pico Distrito. Ideal para cualquiera que desee caminar por los Apeninos o pasar el tiempo en el noroeste de Inglaterra. Buenos servicios locales, cercana estación de tren y la red de autopistas muy cerca.
L'hôte avait préparé une description très utile des pièces et équipements. Le quartier est calme et très vert.
Hélène
2016-08-24T00:00:00Z
Romtype
Helt hjem/leilighet
---
Eiendomstype
Hus
---
Plass til
8
---
Soverom
Stalybridge, Storbritannia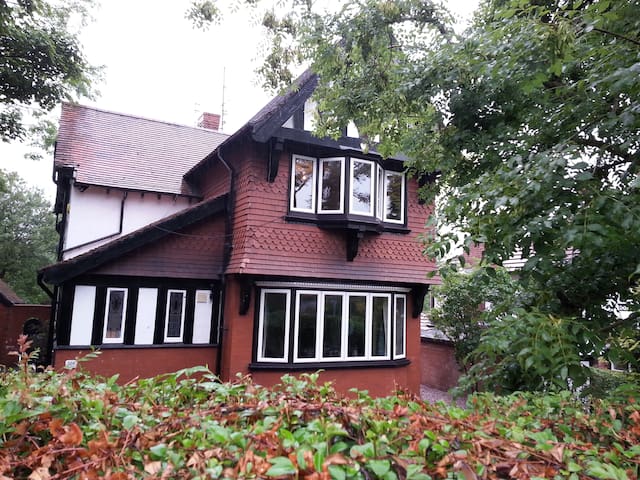 Op de Sett Valley Trail ons huis ligt in een rustige maar gunstige locatie. King size bed, koffie- en theefaciliteiten, evenals privé-gebruik van een TV / zitkamer en een eigen badkamer met douche. Het ontbijt wordt in de kamerprijs.
Ons huis is gelegen naast de Sett Valley Trail, een omgebouwde onbruik geraakte spoorlijn waardoor wandelen tussen Hayfield en New Mills en daarbuiten, waaronder Kinder Scout. Een grote, lichte ruime kamer op de 2e verdieping van onze molen huisje compleet met een eigen badkamer met douche.
Zeer rustig en ligt in een bosrijke omgeving, op slechts een korte wandeling naar 3 lokale pubs waar echte ales, snacks en een is een Chinees restaurant en een ander met traditionele restaurant eten.
Linsey & Martin were very welcoming and helpful with local knowledge of things to do and see. Breakfast was great. A fabulous place to stay, very quiet with walking on the doorstep. Ideal Base for visiting The Peak District. We'd definitely return!
Ulen
2016-11-27T00:00:00Z
This was a truly fantastic find. The room was comfortable and very clean. The shower was blissfully powerful. Linsey was an excellent hostess and provided a very tasty breakfast and went out of her way to be helpful. I would definitely go back if in the region.
Jane
2016-07-30T00:00:00Z
A Lovely house down a cobbled lane. We were made to feel very welcome! We stayed for one night and the room was bright, airy, clean and comfortable with a great shower. Lynsey made us a lovely cooked breakfast in the morning. We will be staying again if we are planning to be in the area.
Sarah
2016-07-17T00:00:00Z
Lindsey's place is a lovely house at the bottom of a cobbled country lane. She couldn't have been more welcoming and her communication couldn't have been better. The room was very nice and clean with an ensure shower loo and sink. She even gave us a lift to our wedding! She booked us a cab as well, taking care to get one who knew where her place was. Breakfast was as good as any classic b&q I ve ever been too with good quality bacon and sausages. Definitely recommended.
James
2016-06-06T00:00:00Z
The host was great! She made me feel very welcome and the house is amazing! I felt very safe and they had parking in front of the house for me. Room was very quiet and clean.
Diane
2016-06-20T00:00:00Z
Linsey and Martin were welcoming hosts and made us instantly feel at home. It was a comfortable stay and we appreciated the flexibility on breakfast time. Linsey was also v. quick to respond as we booked late in the day. A good experience overall.
James
2016-12-04T00:00:00Z
Lovely warm welcome, beautiful house in a pretty setting. Lots of help with getting set up for our little one, much appreciated. What a place to walk the trail. Lovely wildlife too. Highly recommend it!
Sally
2016-05-30T00:00:00Z
Linsey and Martin were very friendly and helpful from the moment we arrived until we left the morning after. Very comfortable en-suite bedroom with tasty breakfast in the morning! We're hoping to return in the future.
Alex
2017-01-29T00:00:00Z
Romtype
Privat rom
---
Eiendomstype
Hus
---
Plass til
2
---
Soverom
Birch Vale, High Peak, England, Storbritannia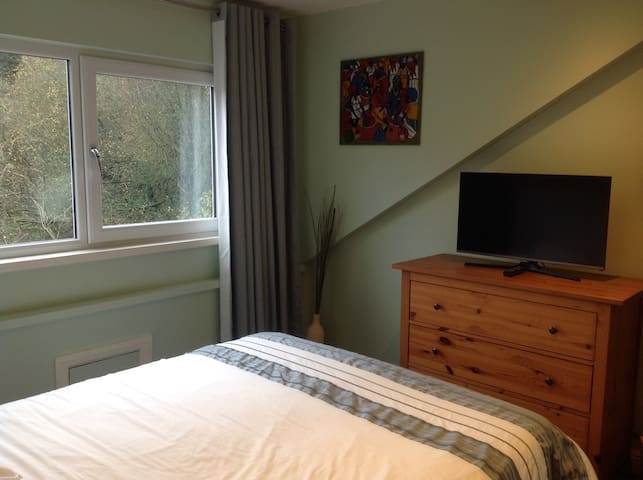 Cosy terraced cottage in the heart of the picturesque village of Hayfield,High Peak.Stunning views to the front and rear.Stone surround woodburner.Ideal for starting the Pennine Way.Perfect retreat for walkers.MTB and road bike friendly. Families or couples. Guided MTB rides!
The cottage offers a well-equipped kitchen, a spacious dining area and a delightful sitting room with multi-fuel stove to relax in at the end of a day's walking or cycling. Upstairs, there are two double bedrooms, a bathroom and a large converted loft area. The rear communal garden at the cottage has stunning farmland views and there are facilities to securely store up to 4 bikes. The cottage is equipped to comfortably sleep 6 guests.GUIDED MTB RIDES ARE AVAILABLE; Please request on booking.
This cosy terraced cottage is in the heart of the picturesque village of Hayfield in High Peak, within a short walk of the Peak District National Park and with stunning views to the front and rear. Fairy Bank is a perfect retreat for couples, families or groups of friends looking to explore this beautiful area of the Peak District. There are an abundance of walks and cycle routes from the doorstep of the cottage, Lantern Pike, Kinder Scout, Chinley Churn, to name a few. Hayfield can be also be used as a start/finish point for the challenging Pennine Way. After a full day in the High Peaks you can enjoy a drink and meal in one of the village's fine pubs. There are also a variety of shops within 200m of the property. Glossop, Buxton, Castleton and Bakewell are all just a short drive away, whilst Chatsworth House and Gardens are not to be missed.
Doug var i huset da vi kom. Han var en hyggelig vert og kom med flere tips om aktiviteter vi kunne gjøre og turløyper. Huset er koselig og stort nok for en familie med tre barn. Kjøkkenet er godt utstyrt, det var ingenting vi savnet. Kjøkken/spisebordet er større enn det som er avbildet. Det er to sofaer i stuen så det var plass til hele familien. Soverommene er romslige. Hayfield er en koselig landsby med flotte turområder. Ved busstasjonen ligger det en liten turistinformasjon som selger kart, turbøker mm. Det er to små butikker som selger mat, men utvalget er veldig lite. "The Village Chippy" selger god fish and chips.
Magne
2016-07-12T00:00:00Z
The cottage was exactly as described. Doug met us there and gave us some very valuable advice on the best route up and back to the Kinder Edge and Falls. With games, DVDs, lots of cycling memorabilia, maps and books, it feels like a home. Snug little wood burning stove already laid was nice touch. Hayfield is picturesque too, with a handful of shops, tea rooms and pubs. The walk was epic. Happy to recommend, and would go again.
Richard
2016-01-24T00:00:00Z
Fairy Bank cottage was exactly as describe on Air BnB. The house is lovely and warm and very welcoming with plenty of information of the local area supplied by Doug. The house was clean and tidy and has all home comforts. Doug was constantly in touch and a very good host. We were there on a cycling weekend and its perfectly set up for it, the roads are usually quiet and brilliant for climbers training for a big event. Hayfield its self was a brilliant quiet little town with plenty of traditional pubs with good food and ale. We would definitely come back and recommend Doug and the cottage as somewhere to stay.
Thomas
2016-04-17T00:00:00Z
Doug is a great host, and was very quick to respond to our questions both before and during our stay. Fairy Bank Cottage is lovely and homely, and the village of Hayfield is pretty, with the added bonus of pubs and shops a short stroll away. The cottage was larger than expected, and the wood burner and selection of DVDs was a real bonus in the evening when those cold winds set in! Our six family members from three generations all had a wonderful time.
Lisa
2016-04-04T00:00:00Z
Lovely clean, spacious home in pretty village with lots to do locally. Doug left us lots of information and offered helpful advice on walks and pubs. Our family really enjoyed our stay and would love to go back for longer if possible.
paula
2016-10-28T00:00:00Z
Our stay at Fairy Bank was very relaxing- a home from home. The cottage is as it seems in the photos and has lovely views at the back. Doug as a host was very helpful and we would come back again. Hayfield is near to some beautiful countryside near the village and near lovely walks.
Liz
2016-02-21T00:00:00Z
Doug's place is in a fantastic location with lots of great walks and pubs all easily accessible with simple fuss free comfortable accomodation.
Melanie
2016-10-31T00:00:00Z
This was our first time using Airbnb and we had a great experience. Doug met us on arrival and gave us a few pointers on the local area. The wood stove was all set up and my 6 year old son was very insistent that we gave it a go. The cottage itself is deceptively big and is situated in the lovely little village of Hayfield, right on the edge of The Peak District. What a great place to stay!
Gary
2016-02-14T00:00:00Z
Romtype
Helt hjem/leilighet
---
Eiendomstype
Hus
---
Plass til
6
---
Soverom
Hayfield, Derbyshire, Storbritannia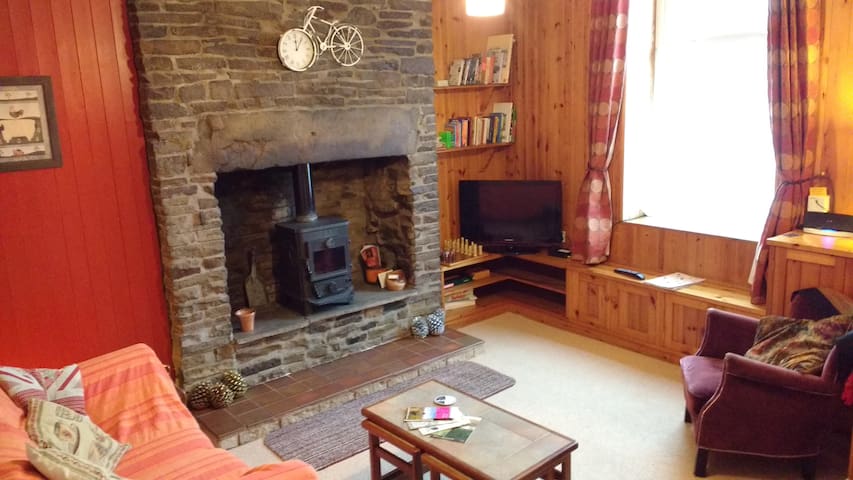 Comfortable self contained bedsit in a pleasant semi -rural area. Close to Manchester via rail (Manchester Piccadilly 23 minutes). Plenty of excellent cafes and pub restaurants within 10 minutes walking (Marple Bridge). Many others listed below. Immediate access to the countryside. You can walk for miles from the front door and we are very near to Peak District National Park. Approx. 20 mins drive to Hayfield.
We offer a double bed, plus en-suite shower/WC and kitchenette, fridge, and TV. We have wifi access via sockets and cable. The mobile phone signal is good. Everyone who stays here remarks on the peace and quiet. Note we also have a futon that would accomodate small people. They are welcome; we are parents and grandparents.
Mellor is a very desirable place to live - a wonderful mix of urban and rural. There are a fair number of actors, musicians and writers here. A few minutes walk down the hill are excellent cafes and pub / restaurants: the breakfasts are outstanding. My favourites are Libbys, Dutsons, SouthSeven and the Norfolk Arms...Oh, and the excellent Pulse Cafe (Veggie) in New Mills. Then you can look at nearby Marple with Cambodian, Italian and Spanish food. We sometimes say we are BBC approved! They relocated staff to Salford Quays a few years ago and provided a list of a few nice places to live. They suggested that Mellor was worth a look. Walk five minutes the other way and you are in the country. A few minutes driving can access National Trust properties such as Lyme Park and Kinder Scout. There are plenty of cycling trails and a large network of public footpaths so you can ride or walk straight from the front door. I walk and used to ride my road and mountain bike around here. The area appears regularly on lists of the UK's best areas for mountain biking. It is also a walker's paradise. Don't forget this part of the country fought hard for public access to open space so there are footpaths and bridleways everywhere. Note - we can always find room for your bikes in the garage. We are very close to the River Goyt (recently featured on C4 with Jeremy Paxman) and the famous Roman Lakes Tearooms. I can vouch for the quality of Rachel's home made cakes having sampled all her recipes. Her other food is equally good. You can see dippers on the river, and if very lucky spot Kingfisher, Buzzard and even the deer from time to time. Over the hill is New Mills, with the excellent High Street Books (second hand books and music), the best coffee at Revive (Trust me I've tried a few!) plus Pulse Veggie Cafe, Llamedos full english breakfasts and Iranian themed foods at the Torrs Cafe too.
Romtype
Privat rom
---
Eiendomstype
Hus
---
Plass til
2
---
Soverom
Mellor, England, Storbritannia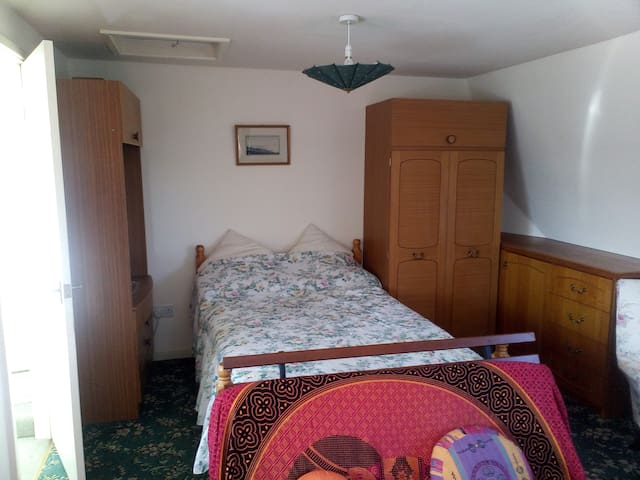 You will be sleeping in a double, medium firm, memory foam topped mattress, under a king-size feather and down duvet and with a choice between feather or foam filled pillows or you can choose a non-allergenic fibre duvet if you prefer. (Please note your bed will be made with the feather and down duvet as a matter of course so if you wish man made fibres please specify). Our detached house is on a new estate, convenient for local amenities, shops and with good transport links to the city centre
Comfortable room in a detached new build property.
The estate is new but has been finished to a high standard. Neighbourhood is quiet and safe.
Mi sono trovato molto vene, ci tornerei volentieri :) il the al inglese e sempre il migliore :)
Daniel
2016-12-19T00:00:00Z
Made you feel very welcome home from home and very abliging. Clean and access to facilities.
Wendy and Fred
2016-10-21T00:00:00Z
Louis and Ian are excellent people who I really enjoyed meeting. Great conversation, very well kept and thoughtfully decorated home. Waking up there was a pleasure (make sure you take advantage of the back garden view they give you). There's even a nice selection of channels in your room. Whether you're with Louis and Ian or in your room, you feel relaxed. I slept better on this bed than I do my own. Can't recommend it enough. Great people in a nice home. Also, they were great with emails and the one time I called. Excellent communication.
Julian
2016-10-02T00:00:00Z
They were available when I needed to contact them, a nice welcome basket, plus the use of the house meant it felt like home from home.
Wendy and Fred
2016-10-07T00:00:00Z
From the moment I arrived, I was welcomed with a cup of tea and was made to feel very much at home. Everywhere was very clean and tidy and my room was very comfortable, especially the bed. Everything I needed was provided and the basket of snacks was a lovely touch. Louis is a brilliant host and I would definitely recommend staying at his house.
Sarah
2015-12-16T00:00:00Z
Together with my wife we spent 3 nights at Luis' house .Everything was just great. From the beginning when Louis picked us up from the train station to the last greetings for goodbye. Small welcome pack with snacks was waiting for us in the room. All was very clean and of high standard. Louis and Ian are extremely hospitable and we felt there very comfortable. Definatley recommend to stay there for everyone.
Michał
2016-05-31T00:00:00Z
Myself & my partner spent a lovely few days in Louis's house. Great bedroom with very comfy new mattress & everything in the house was immaculately clean too. We were welcomed from the start & invited to share also the kitchen/living room spaces - 1 night we watched tv together with Louis & his partner Ian after a long day out in Manchester. They also gave us helpful tips for our trip to the Peak district. Louis also left us a nice welcome basket in the room. Well located for Manchester & peak district visits. Recommend.
Marianne
2016-05-03T00:00:00Z
Yet another enjoyable stay here, hosted by the ever friendly Ian/Louis.
Vijay
2016-10-26T00:00:00Z
Romtype
Privat rom
---
Eiendomstype
Hus
---
Plass til
2
---
Soverom
Hyde, Cheshire, Storbritannia
1

–

18

av

30 Hjem til leie
Oppgi datoer for å se fullstendige priser. Ekstra gebyrer gjelder. Skatter vil kunne tilføyes.