Spacious warm studio room with comfy king size bed, leading onto large lakefront patio with spectacular views. Modern en-suite with mini kitchenette, Storage wardrobe/closet, relaxing chairs, TV, coin operated laundry, and close to local amenities.
You have your own private apartment with your own private balcony! Our location is perfect for the upcoming snow season with NZ Ski transport pick up and drop off just a stones throw away on the main road :) There is a mini kitchenette area complete with mini fridge, washing up liquid, dining ware, microwave, sink and kettle. There is unlimited wifi and Netflix that can be viewed. If staying with us for 3 nights or more let us know what wine you lean more towards (red or white) and we'll have a bottle waiting to greet you while you take in the breath taking view.
We are located right on the Frankton track between Queenstown & Frankton, beautiful and scenic easy walk to or from town right beside Lake Wakatipu. If you walk up towards Frankton on the walking track you'll be at the very tip of the Frankton Bay which is has a beautiful park over looking the lake, great for stunning sunset pics! Our favourite healthy place to eat is Rehab which is located in the heart of Queenstown. Fresh juice, expertly blended smoothies (all dairy free), amazing breakfast bowls, healthy lunches with vegan and meat eaters options. Queenstown may be small but you are spoiled for choice from all the restaurants and bars. I am a Remedial Massage Therapist with my own clinic in Queenstown. During your stay if you have any aches or pains or just want a bit of relaxation, let me know and I can book an appointment in for you! Whether you're here in Winter or Summer (or anything in between) there are loads of things to choose to fill your day. From walking trails, to jet boating, to sky diving or a bungee and wineries, we'll list all those kind of things in our handy dandy guide book.
Megan was great with communication, and her place was sooo comfy and clean!! Unfortunately, we encountered some very cold, wet weather when we arrived to Queenstown - so her Netflix on the Tv was perfect to watch when we weren't checking out the cozy pubs in town!!! Would highly recommend!! Our view of the lake was stunning!!!
Jess
2016-05-14T00:00:00Z
Fantastic place to stay. Lovely view and very comfortable. Great advice provided by host as well. Would definitely stay again!
Jessica
2016-05-15T00:00:00Z
We instantly fell in love with this apartment. It's beautiful, ultra clean (this coming from a total neat freak) and very spacious. The heater in the bedroom is brilliant, especially in chilly spring time when we were there, and it regulates the temperature you set. The king size bed is absolute heaven, the comfiest we've ever slept in with extra snuggly bedding. Pair that with the stunning view of the lake and mountains and you'll understand why we didn't want to get out of bed every day. You have your very own large balcony and there is nothing between you and the lake, it's a perfect view - the photos don't do it justice. There's a table and chairs to sit on out there which we used as a desk for working on our laptops. The shower is huge and water pressure is excellent, and there's lots of space to put toiletries in the bathroom which was so useful. There's also a heater in the bathroom so you don't freeze when getting out of the shower. The wifi speed was pretty good though understandably slower on the balcony. Having Netflix was a huge bonus and a luxury we really enjoyed. The apartment is only 15-20 mins bus ride from the airport (no. 11, $8.50 each) and about 10 mins from the centre of town ($5.50 each). You can buy tickets easily on the bus and the bus drivers are very helpful. The bus stop is directly outside the apartment complex so very convenient but it is quite a steep climb up the hill to get to the main road and even more challenging with 20kg of luggage so may not be suitable for those less able to walk. The Frankton track is right outside the apartment front door so very handy for a scenic walk round the lake to the centre of town, but it's not quick so be prepared to walk anything from 45-60 minutes. We didn't meet Megan but she was a great host and were blown away by the cleanliness and styling of the apartment that she maintains. We had trouble logging into wifi at first and then issues receiving messages from Megan to resolve it, but once she realised this she promptly contacted us to make sure we had everything we needed. It's hard to put into words just how amazing this apartment is. Literally the only thing that could improve what is already a wonderful place is a slightly bigger kitchen, as there's not much worktop space to play with (and using the microwave was slightly challenging because it's on a high shelf) but it's enough to make tea and coffee (which Megan kindly provides) and simple snacks. We would without doubt book to stay here again if and when we return to Queenstown.
Siew Lee
2016-10-16T00:00:00Z
Excellent place in a quiet part of outer Queenstown. Walkable to the central city or just over 5 minutes drive in the car. Very comfortable bed, easy check in arrangements & outstanding balcony space. Would definitely stay there again - thank you.
Ben
2016-12-28T00:00:00Z
The apartment is very clean, and Megan has everything sorted with a guide book prepared. The view from the balcony is spectacular. As advised by Megan, do keep the windows closed or keep any light off at night. I totally understand that the next morning when I woke up seeing insect bodies on the balcony. Glad I read the guidebook! The bed is very comfortable and I like how the shower room has constant hot water. That's a plus! Location wise, it's just within 10 mins drive to Queenstown Town Center.
Peony
2016-02-15T00:00:00Z
The view at Megan's is wonderful and in a great location. But perhaps what I liked most was how organized and helpful she was. Megan provided tons of helpful information prior to my arrival that I greatly appreciated. Then once you are there she has a folder full of other helpful bits and bobs. There were two beers in the fridge and a bag of popcorn that were most welcome since by the time I got back from my Milford Sound tour, I had zero energy to leave the apartment for food. Staying at this place felt like staying in a hotel room at a 5 star hotel without the hassle and annoyances of a hotel. The morning of my departure I was able to take some photos from the balcony that were some of the best pictures from my New Zealand road trip. I also ended up with beautiful pics of a double rainbow over the lake. Doesn't get much better than that!
Ashleigh
2016-05-12T00:00:00Z
The property was a stunning view and very comfortable and cozy. A plethora of information was provided for things to do and although Megan was not there my experience was fantastic!
Damon
2015-10-25T00:00:00Z
Megan's place was so awesome - a warm and comfortable space, lovely bed, and amazing views! The little touches to the place were much appreciated, from the lovely scent used, through to some breakfast foods and milk. The location was great as it was only a short drive into town, and it was also a really quiet environment.
Heather
2015-11-05T00:00:00Z
Romtype
Helt hjem/leilighet
---
Eiendomstype
Leilighet
---
Plass til
2
---
Soverom
Queenstown, Otago, New Zealand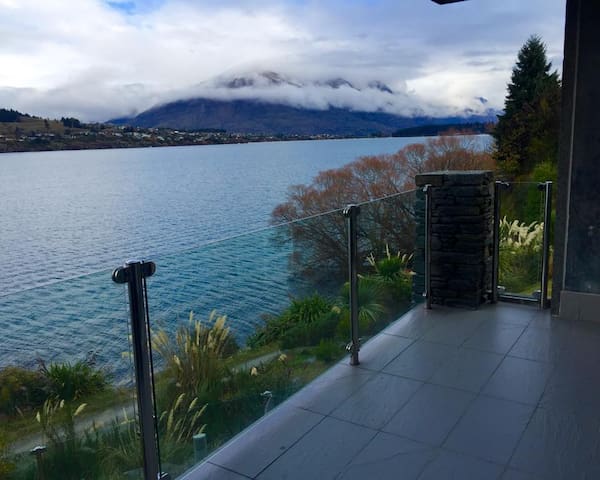 Centrally located in Queenstown, Million Dollar Views is a 2-bedroom apartment with magnificent lake and mountain views. Conveniently located, we are within walking distance to shops and restaurants. Located in a quiet part of town, we are pleasantly set apart from the bustle and rush that Queenstown can sometimes experience. The apartment is fully self-contained with a full kitchen. A washing machine and dryer are also provided. The bedding in the apartment consists of one Queen bed and two singles. Best suited for a couple or a family with up to 3 children. If you are arriving in Queenstown by car, covered parking is provided for your convenience. Whether you are a ski bunny visiting Queenstown in winter to take advantage of our amazing slopes, or an adrenaline junkie looking for your next thrill, or simply want to enjoy the scenery, Million Dollar Views is the perfect place to base yourself. Amenities and Inclusions: * TV * Air Conditioning * Kitchen * Covered Parking * Family and Child Friendly * Washer * Dryer
Great unit in an even better location. Collection of keys and directions hassle free. Views are just as you see from the pictures. Very well set up for a couple or small family. A long weekend stay is possible for four adults too. We loved staying here and will definitely not hesitate in rebooking Million Dollar Views if we return to Queenstown.
Emily
2014-08-05T00:00:00Z
The apartment was great and the view is indeed GORGEOUS. Would be good to know that the house is on a rather steep hill, if you aren't driving that would mean a legit hike up back. Other than that, it was a pleasant 4-day stay. Would definitely be back :) Thanks Brian & Lynece!
Sharifah
2014-04-19T00:00:00Z
The room has an amazing view - though it is a steep climb from town. Kitchen is well equipped, and heating works really well. Parking is a little awkward, but thats common in such a hilly area. Close proximity to town. Arrangements with land lord for keys etc were easy. Very good value, and I would reccomend it to friends.
(EMAIL HIDDEN)
2014-10-01T00:00:00Z
房子离湖不远,处在临湖的坡上,景观还可以。房内设施齐全,侧门外还有一个观景台。适合驾车者居住。
若安
2015-03-31T00:00:00Z
Thank you Brian for a most incredible holiday experience!! We loved your cosy and comfortable house and could not get enough of those spectacular views! Easy walk to town and to everything we needed to get up to the ski slopes each day. Fantastic communication and information from Brian and local contact Lynece. We felt very much 'at home' and hope to come back soon!
Stephanie
2015-07-06T00:00:00Z
Great place in prime location! Clean tidy apartment with all the essentials for a good holiday! Short walk to centre of Queenstown. Quiet area and the apartment has breathtaking views, would highly recommend! Thanks for letting us stay!
Jordan
2015-08-20T00:00:00Z
Nice place, close to town center, equipped with everything we want, beautiful view.
Xinyue
2016-10-14T00:00:00Z
Amazing. The pictures in the listing don't do it justice. Great views, very comfortable apartment, and very conveniently located to the heart of Queenstown. Area was very quiet at night, which you can't say about all of Queenstown. Communication with Brian was direct and to the point. Support was there as well if we ran into trouble, which we didn't. Key pickup and drop off were convenient. Overall, a great experience that was the high point of our trip in New Zealand!
James
2013-11-16T00:00:00Z
Romtype
Helt hjem/leilighet
---
Eiendomstype
Leilighet
---
Plass til
4
---
Soverom
Queenstown, Otago, New Zealand
A modern and small home available near central QT. Suit couple looking for a weekend getaway or travellers who would like their own private space. 15 - 20min walk to the centre. Large balcony which is the perfect spot to gaze out over the lake and mountain ranges.
Petite and modern. This home has everything you need to make it your home away from home. The main bedroom has a queen bed and the 2nd room now has a new double bed. There is a heat pump for cooler nights and winter times. The views from the living room and bedrooms are sensational - it's like having your own private look-out! Free view TV and WIFI is available. The house is fully kitted out with all kitchenware and there is also a laundry room with washer and dryer. There is also storage under the stairs for skis. It's about a 15-20min walk into town or a 5min drive/cab ride. Its a 10min cab ride from the airport. A bus into town is available at the bottom of the hill. The property is on a private road which means there is very little traffic. There is a parking space at the house for guests. There is a walking track at the bottom of the property, which takes you around the lake or there is a walking track up the hill behind the property for those who like a good hike. The house is non-smoking. Smoking on the balcony is acceptable provided the butt pot is used. Check in is at 2pm. Check out is 11 am. All linen is provided.
15-20 minutes walk to the centre of QT. 10min cab ride from the airport. There is a walking track at the bottom of the property, which takes you around the lake or there is a walking track up the hill behind the property for those who like a good hike. The property is on a private road which means there is very little traffic. Parking space is available to park in.
Nina was very responsive and the house was comfortable and well stocked with helpful items. True to the pictures-Amazing views of the lake from the balcony and bedroom!
Sue Lyn
2016-04-16T00:00:00Z
The view of this cottage is great. However, we had some unpleasant experience with the landlord. If you would like to try your luck, my suggestion would be: 1) keep all the correspondence in written; 2) upon your arrival, do a thorough inspection on the house and advise the landlord all the deficiencies in written.
catherine
2016-02-15T00:00:00Z
Amazing Lake view! Our family had a great time here. Nina was also easy to reach. Enough condiments on the cabinet made it convenient for us to cook. I also loved that there were extra hot water packs!!
Sae A
2016-08-02T00:00:00Z
Such a beautiful and well appointed home away from home. View was amazing. We wanted for nothing, and lots of lovely touches including fresh flowers
Jacquie
2015-04-14T00:00:00Z
Fabulous home!! Such amazing views and equipped with anything you could want or need! The beds were amazingly comfortable and very cozy. The house was very clean and all directions were very clear when getting to the house. There was even a little book that could answer any of your questions you may have that rests on the coffee table. Nina was very helpful and I would recommend her place to anyone! Definitely will have to have another stay there! :D
Rachel
2015-07-28T00:00:00Z
Nina's place was amazing. It was exactly as pictured and I couldn't of asked for a better experience. The views were incredible, the apartment was clean and very comfortable. It was in a great location - you could either walk into town during the day or take a relatively inexpensive taxi, or rent a car. Will definitely recommend Nina's place to others.
Katherine
2015-09-08T00:00:00Z
We loved our stay, perfect location for exploring Queenstown and the views from the balcony are definitely amazing. Also a great base for day trips. The unit was very well presented and comfortable place to relax. I couldn't recommend staying here any higher.
Dean
2015-02-22T00:00:00Z
Very comfortable accommodations overlooking the mountains and river! We were able to walk down to the bus stop for our excursion. All conveniences of home were available. A nice drive to town and the grocery store. Great WIFI and information provided for activities.
Susan
2016-05-04T00:00:00Z
Romtype
Helt hjem/leilighet
---
Eiendomstype
Hus
---
Plass til
4
---
Soverom
Queenstown, Otago, New Zealand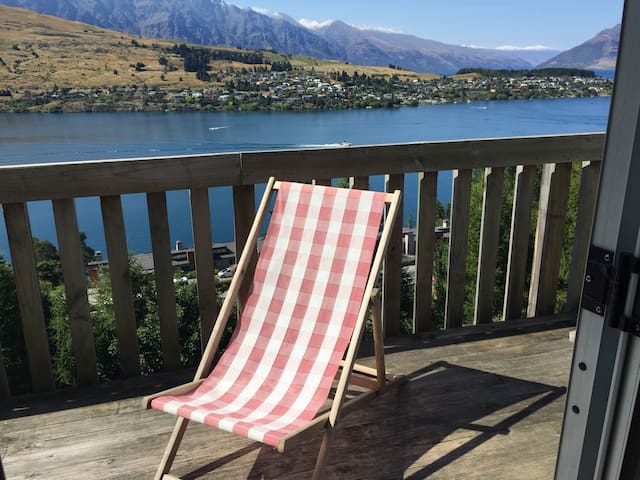 We offer a spacious private room with separate entrance, ensuite bathroom and extra storage for bags skis. Kitchenette including microwave, fridge, toaster, tea, coffee and generous continental breakfast. Free Wifi TV Use of bicycles Approx 2 kms from lakefront and Wanaka Village.
Guests find our accomadation very spacious & comfortable
Great mountain views and handy to town
Joy and Ian's place was our first Airbnb experience and we were totally spoiled. Joy was there to greet us on our arrival and gave us lots of helpful information on where to go and what to do in and around Wanaka. The room was spotlessly clean, cozy and comfortable and very private. The cupboards and fridge were stocked with lovely continental breakfast fare and Joy had even left us some home made apricot jam to have with the sour dough loaf which was delicious! The large bowl of fruit was very much appreciated too. The bathroom was fabulous with a shower with amazing water pressure. Quiet location and only a short drive or a leisurely walk to town and 2 bikes were available if you wish to ride some of the beautiful paths and tracks around Wanaka. We stayed at Joy and Ian's for 3 nights and thoroughly enjoyed our stay. We would highly recommend Joy and Ian's place. Thank you for your hospitality Joy and Ian, hope we can come back again one day.
Ros
2016-10-20T00:00:00Z
In one word: perfect! I travelled alone with my road bike through NZ, coming to Wanaka i was looking for a place with decent privacy, comfort and help to get the best out of the area. Ian and Joy were super! The room is absolutely perfect: lots of space, excellent bed, very clean and a fridge& sink to make light meals. Above all, their hospitality is gold. Joy invited me for a cuppa, and Ian offered to take me out on a hike. Their hospitality is honest en sweet, but theygive you privacy (the room is a private part of the house). Recommended for both young travellers aa well as older ones. Best value for a decent price!!
Spike
2015-02-08T00:00:00Z
Joy is a very kind lady. when we get there, she give us ideas on touring. The house is tidy and very clean, near the downtown area. I strongly recommend u stay here.
Rong
2016-01-24T00:00:00Z
An amazing place to stay at Lake Wanaka. The host are fantastic and shared with us plenty about new zealand and Wanaka. The room was clean, you have your own private entrance and there were a great supply for food for breakfast.
Jefferson
2016-08-25T00:00:00Z
It's a perfect room with everything you need. And Joy is lovely.
Coby
2016-11-17T00:00:00Z
Wonderful experience, in a spotless, well-equipped and well-located independent unit. Joy's kindness and thoughtfulness showed in every detail, from the stocked fridge right down to the nice toilet paper! Walk-in closet with ample room for luggage was terrific. Thanks Joy!
Nabanita
2016-11-18T00:00:00Z
What a wonderful place to stay in Wanaka. Joy was really helpful in giving us tips around the area. Will definitely stay there again.
Thea
2016-02-03T00:00:00Z
Joy and Ian is a very nice and kind couple. Joy introduced us everything about the house and the activities inside and around Wanaka. We love the town of Wanaka. The house is clear, cozy and comfortable. Joy prepared everything on our room. It's really like Home. Hope we would come back soon.
Vanessa
2015-04-11T00:00:00Z
Romtype
Privat rom
---
Eiendomstype
Bed & Breakfast
---
Plass til
2
---
Soverom
Wanaka, Otago, New Zealand
Queen bedroom in beautiful Goldfield Heights. From the lounge and deck enjoy beautiful views of Lake Wakatipu and The Remarkables. Handy to the airport, the local bus route and down town Queenstown, adventure is right on your doorstep!
We want our home to be your home away from home. Your room is a warm comfortable refuge at the end of a busy day jumping off bridges or jet boating or mountain biking or skiing or ... well you get the idea. Your room has one queen bed and is suitable for a single or a couple... if you are just friends & would prefer separate beds, we have a very comfy single mattress that can be made up to make the room a twin. The cost of having this extra bed is $10 per night, which is payable direct to us on arrival at our home. If you are needing this bed please make sure you let us know before you arrive so we can have it made up for you. We also have a second room listed 'Lovely Lake & Mountain Views' if you need extra space or are travelling with friends.
Our home is in Goldfield Heights... the halfway point between the airport and down town Queenstown, so it is very handy to everything! The best thing about where we live is the view... and let's face it... that's why you come to Queenstown. So from our deck you can gaze at The Remarkables and Lake Wakatipu to your hearts content.
Sheena and Shrek were great hosts and we really enjoyed staying in their lovely home. The location is perfect for anyone wishing to explore Queenstown - 5min by car, 40 min walking (and it's a beautiful walk if you're up for it), or simply catch the bus which picks up and drops off at the bottom of the hill. And the view from their patio is absolutely spectacular! Our guest room was clean, thoughtfully prepared and felt very private as it was on a separate floor with its own bathroom. Sheena and Shrek were very helpful with recommendations and super friendly and easy going. They provided us with a great self-serve breakfast every morning which we very much appreciated. We would absolutely stay here again if in Queenstown and wouldn't hesitate to recommend it to anyone.
Marcella
2015-10-19T00:00:00Z
Sheena and Malcolm were fantastic hosts and made us feel very welcome. The house had everything we needed with a really comfy bed and breakfast was provided both mornings. Both Sheena and Malcolm were really happy to give us tips for things to do around Queenstown and for the rest of our time in New Zealand which was really helpful. Overall we had a great time and would definitely recommend staying here.
Lisa
2014-10-29T00:00:00Z
We had a great time. Shrek set us up with some reccomendations to make the most of our time and we could not have been happier. The whole family is so nice and did everything to make us feel at home. Thanks for letting us stay. I would def reccomend!
Trisha
2014-09-18T00:00:00Z
我很喜欢sheena的家,很温馨,很干净,我们住了三晚,很舒服。sheena让我们感到很自由,we love her home
BEI
2016-02-03T00:00:00Z
Our stay at Sheena & Shrek's for 3 days was really wonderful. Shrek was very kind to help us pick the overnight cruise at doubtful sound based on his vast experience, and this turned out to be one of the highlights of our trip. Sheena welcomed us to the place and it was lovely chatting with her about our Queenstown experiences. The room was nice and cozy to stay and had a lovely seating area outside. The washing machine was also available to guests for use, which came in really handy, given we had been travelling for several days. The house is at a nice location with a bus stop close by. They also have the most adorable pets, especially Meeca, who is extremely well behaved and obedient. Highly recommend their place to anyone traveling to Queenstown.
Lakshmanan
2015-10-14T00:00:00Z
Hands down Sheena and Malcolm's home has the best view in this world! Lynn and I really appreciated their comfortable hospitality and sleeping in the best bed imaginable. Thank you! Edward
edward
2014-11-20T00:00:00Z
Beautiful house - even more beautiful than advertised with amazing views And wonderful hosts - nicest and friendliest folks I have ever met Room is huge and fully furnished tastefully They arranged for my Milford sound tour at a great deal Great tips and suggestions on things to do around the area - every one of their tip was a must do that you can't find on a guidebook and was wonderful just talking to them Highly recommend - felt like I stayed with my best friends :) and I already miss them so much
Thiagaraja
2016-09-30T00:00:00Z
Sheena and Shrek are wonderful hosts and made our 4 night stay very comfortable. The views are fantastic and the room is large, clean and beautiful. They made us feel very welcomed in their home, provided excellent recommendations and we enjoyed the chats. We really appreciate the little things they did for us, for example they turned the heater on while we were away and always had breakfast ready in the mornings. We also loved the fluffy white robes and playing with Mouse, Minou and Pheobe. We highly recommend staying with them. Thank you again Sheena and Shrek for making our time in Queenstown special and we can't wait to return!
Andrea
2014-11-13T00:00:00Z
Romtype
Privat rom
---
Eiendomstype
Hus
---
Plass til
2
---
Soverom
Queenstown, Otago, New Zealand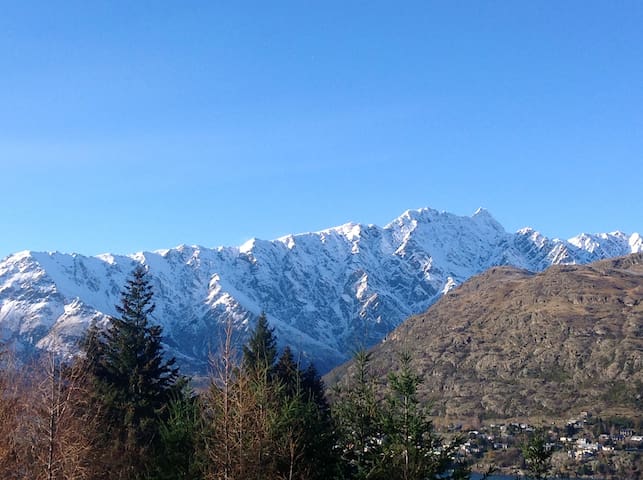 Bushmills Inn is a VERY centrally located home. The definition of "inn" being " An establishment for the lodging of travellers " The Inn has 5 bedrooms 4 with private ensuites, plus owners bedrooms. Wifi,Sky Tv , Laundry, all included
Bushmills Inn is purpose built for the accommodation of travelers .(URL HIDDEN) Located only 100M to the town center. Bushmills Inn has two fully self contained floors ,independent of each other and linked by the central stairs. The ground floor has the 4 en-suite rooms, lounge, and a fully equipped kitchen. Guests have their own private ensuite bedroom and share the kitchen/lounge with the other guests. Wifi, Sky tv, central heating, bbq, bike storage, hot tub (winter ski season only) , laundry room all included. Stunning lake and mountain views from the upper deck , which all guests are free to come and use . NOTE : Bushmills Inn is "listed" many times, because of limitations in the airbnb web design. Every 'room' and 'whole house' booking option has to be listed separately, and unfortunately the calendars for each listing do not sync with each other and will therefore more than likely be incorrect (Especially if i get a whole house booking as it now means there are no individual rooms available even though they still show up as a listing ). Also the airbnb listings (1 to 5) do NOT correspond to any particular room, i will email you nearer the time with your room number and arrival information. SO PLEASE MESSAGE ME TO SEE IF I HAVE AVAILABILITY. ( I apologise if you make a booking and i then decline it(URL HIDDEN)try to reply to all messages very promptly
This location is the old original part of Wanaka , with the best views , the best aspect for sun , and very very close to the town centre . In short the "best " place to stay! Wanaka is an exceptionally beautiful area , most guests only plan ONE night here and then they REGRET IT! Stay a second night if you can ,you will be glad you did , trust me!(URL HIDDEN) Have a look at Stunning Wanaka (URL HIDDEN) OR (URL HIDDEN)
Jeremy is a nice host. The house is clean & comfortable, location is very convenient. Recommended.
Ally
2015-11-15T00:00:00Z
Thank you Jeremy - we had a very comfortable stay in the NZ winter– especially since the insulation works and there is central heating. Walking distance to bars/restaurants. ll. Very nice and comfortable. Recent construction that has been designed for holiday rentals. Bottom floor has 4 bedrooms, each with its own bathroom. Shared living room, kitchen (quite large) and laundry. Owner's apartment upstairs. Appreciate your kind hospitality!
Mei
2015-06-23T00:00:00Z
Great location, friendly host, would recommend staying here if you want a homely place to stay but also meet a few people on the way.
Cameron
2017-03-11T00:00:00Z
Great location
Kai Chin
2015-11-11T00:00:00Z
We stayed here only for 1 night on our way to Queenstown and really enjoyed our stay. We did not get to meet Jeremy as he was out of town but the check in process was easy. The room was clean and comfortable, and the shower was nice and warm. The location was conveniently located within a few steps from town. And the views from the upper floor were nice. For the price however, we were expecting a little more - maybe if breakfast was included or something. Overall we had a good stay on the short time we were there. Thank you for everything!
Vanessa
2015-09-09T00:00:00Z
We didn't see jemery, but he organised it very well! He gave us a code to open the door and our room was ready. The room was ok. It was walking distance from the cafés and bars so that was great!
Annelies
2016-03-17T00:00:00Z
The accommodation was close to Town, clean and hassle free.
Kathy
2016-09-10T00:00:00Z
Jeremy 热情的迎接了我们,并帮我们升级到独立而安静的小屋,告知了我们屋里物品的使用方法,非常贴心。Wanaka是个美丽而安静的小镇,这里的一切都令人怀念。
YAO
2016-06-16T00:00:00Z
Romtype
Privat rom
---
Eiendomstype
Hus
---
Plass til
2
---
Soverom
Wanaka, Otago, New Zealand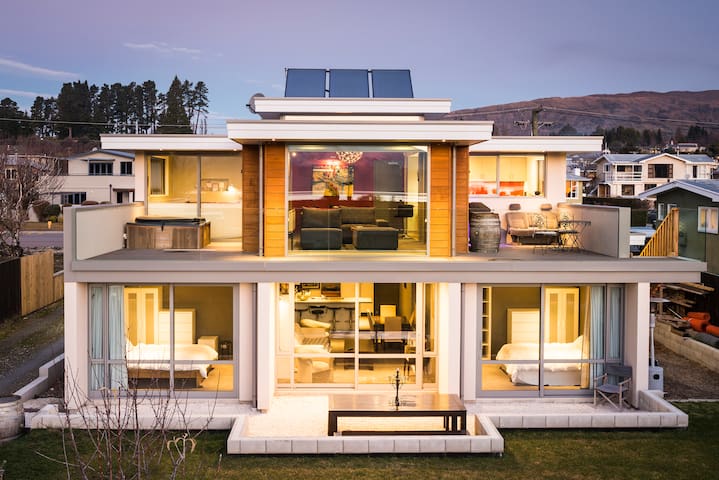 This brand new, modern sleep out is a great place to escape and enjoy everything Cardrona has to offer! It comfortably sleep two with room to cook and relax. Welcome to paradise!
This modern and warm sleep out gets plenty of sun with North facing aspect. It is situated over 2 acres in the beautiful Cardrona Valley. Pringles Creek runs through the property.
Our sleep out is located minutes from the Historic Cardrona Hotel, Cardrona Distillery & Museum, Cardrona Ski Resort access road, Snow Farm Resort access road, iconic Bra Fence, horse trekking and quad biking. There is so much to enjoy in this valley! We are located between Wanaka and Queenstown, so a great place to stay if you want to explore both areas.
Good place to stay for 2 people. Sick location. Closer to Wanaka than Queenstown. Has anything that you would need for a few days.
M
2017-01-23T00:00:00Z
everything was lovely and clean and super accomodating. they have the most beautiful dog who is well behaved and super friendly. it truly is a little slice of paradise
kelsi
2017-01-01T00:00:00Z
Perfect little spot if you're traveling in and around wanaka. Rachel's place was very clean and equipped with all the necessary ammenities. Would definitely come back and stay
Georgia
2017-01-28T00:00:00Z
For peace and quiet in the country this would be a difficult place to beat. Great pillows, great duvet, new everything and just a great two nights. Thanks Rachel
Paddy
2017-02-22T00:00:00Z
We loved staying at Rachel's place in Cardrona. The views and scenery are breathtaking. The cabin is finished to a very high standard and it felt really luxurious. Cardrona itself has a hotel with great food and a lovely garden which is only a 3min drive away. Arrowtown, Queenstown and Wanaka are all short drives from the cabin so this is a good base to explore the local area as well as being a wonderful location in its own right. Rachel went out of her way to make our honeymoon stay special, she was the perfect host. We had such a great stay that we didn't want to leave!
Chrissie
2017-01-09T00:00:00Z
Rachel's Airbnb was so great! It was clean, organized, and well stocked with everything we needed. The shower was amazing and the bed was very comfy. She was really helpful with tips about the town, and she was there when we had questions. Cardrona is close to Wanaka but far enough away to feel very secluded. Perfect for us! Thanks Rachel!
Erin
2017-01-15T00:00:00Z
What a unique place to stay in the middle of the mountains, very private and peaceful, we would recommend this accomodation for anyone who enjoys getting away from the hustle and bustle of Queenstown.
Cecilie
2017-01-05T00:00:00Z
This house is idially located in a heaven of amazing vieuws and quiet surrounding. Central between queenstown and the more peacefull Wananka with its nice small boulevard with some bars and restaurants. The room is perfect and complete. And Rachel is allways willing to help you with advice about the area. Allways a smile!
Erik
2017-02-17T00:00:00Z
Romtype
Helt hjem/leilighet
---
Eiendomstype
Andre
---
Plass til
2
---
Soverom
Cardrona, Otago, New Zealand
5 mn to Largest NZ ski area, Cardrona Resort, for all kinds of snow enthusiasts from beginners to Olympic athletes. Skiers & mountain bikers (in summer) will appreciate accommodation for location & outdoor spaces.Perfect for couples or solo. Situated in beautiful landscaped grounds with on-site facilities including Somber Duck Wine & pool and Jacuzzi. 40 mn from Queenstown & 15 mn to Beautiful Wanaka. If you want to experience something different visit Snow Farm or famous Cardrona Hotel.
Charming & new studio. New Washing & dryer machines. New dishwasher. All kitchen facilities except dishwasher detergent. Coffee, tea, shampoo & bath soap provided. To turn off the cooker hood fan you have to push the button a long time. Please, to close the door you have to LIFT THE HANDLE UP and turn the key. Please enjoy your schedule.
This studio apartment is located within the Benbrae Resort complex giving you access to the luxury facilities the resort has to offer including an outdoor pool, jacuzzi, BBQ area and resort restaurant. Cardona Hotel : Very good breakfast & dinner 2 mn walk. 5 mn by car to Cardrona, the Biggest NZ Skying area. A must in winter for skying or in summer for biking and walking through the beautiful landscapes. The historic village of Cardrona is just 20-minutes from Wanaka. Situated on the famous Crown Range Road, the highest paved highway in the country, Cardrona Valley connects Wanaka and Queenstown and is part of a popular loop drive from Wanaka, through the Kawarau Gorge, Central Otago Wine region, and back to Wanaka. Either in a vehicle or on a road bike, this loop is a stunning and diverse monument to the natural beauty of New Zealand. Retaining its vintage charm the iconic Cardrona Hotel at the heart of the village is one of the most photographed buildings in New Zealand. Originally built to quench the thirsts of gold miners, both European and Chinese in the early 1860's, the hotel still serves patrons today all year-round, its a particular favourite for après ski in winter and a crisp beer in the summer sun. You can eat Breakfast, Lunch and Dinner here!
Basic unit is good 1 night stopover between Wanaka and Queenstown. Do read the description as the provisions in the unit are sparse (as compared to other Airbnb options which typically offer dish detergent, for example). Space is not luxurious but very much like a hotel room. Heated pool was nice and food at nearby Cadrona Hotel is great.
Chantal
2017-02-23T00:00:00Z
Anapa's place was great. Clean, comfy bed and a hot pool! Great location in between Wanaka and Queenstown. Perfect as a base for both!
Lou
2016-12-06T00:00:00Z
#21 was a comfortable and quiet apartment. Easy walking distance to the Cardrona Hotel and a short drive from all that Wanaka has to offer (but far enough away from the hordes of backpackers!). The hot tub and pool were a nice addition especially in the summer.
Leila
2017-01-13T00:00:00Z
Great place. Very clean and everything was new.
Jane
2017-02-27T00:00:00Z
Thoroughly enjoyed the stay,best place I have stayed as a traveler up to date, what you see in the pictures is what you get and more
soma
2016-12-31T00:00:00Z
We really loved this place! Super clean and quiet. Had everything we needed and more. The heated pool was great after a long day of tramping in the beautiful surroundings and the "Cardrona Hotel" next door was perfect for dinner. All in all highly recommended.
Mads
2017-01-23T00:00:00Z
This is a great modern stopover with everything you could possibly need and more. It is clean and tidy with plenty of room for two. The hot tub and pool are a welcome extra. The local Cardrona Hotel does fab food and also Wanaka has a good range of cafes, bars and a supermarket, a short drive away.
Carole
2017-02-08T00:00:00Z
Very tidy, well kept apartment. Great location. We loved the Jacuzzi!!!
Jessica
2017-03-07T00:00:00Z
Romtype
Helt hjem/leilighet
---
Eiendomstype
Selveierleilighet
---
Plass til
2
---
Soverom
Cardrona, Otago, New Zealand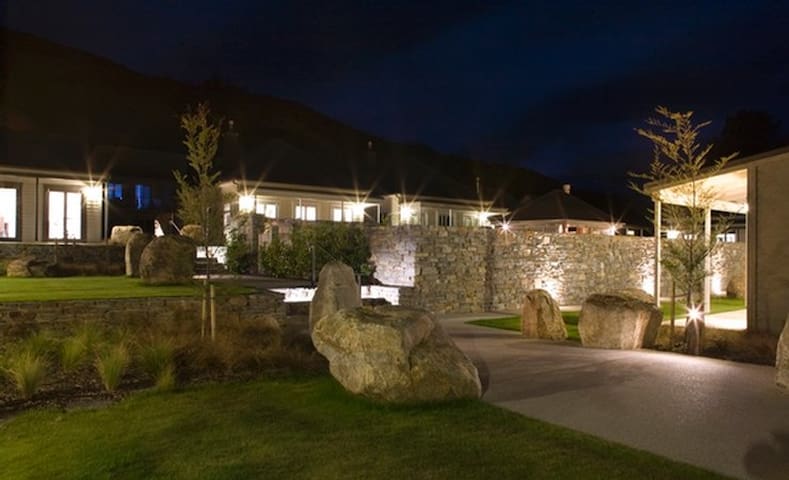 Romantic and stylish studio for couple. Best views over Cardrona valley and Mt Cardrona. Easy drive to queenstown and Wanaka. Private spa pool and warm water outside shower. Cook dinner on Aga stove or short walk to historic Cardrona pub. Perfect spot to telax and take some time out.
Private modern studio Elevated section with best views of Cardrona valley Easy access to both Wanaka and queenstown Easy walk to historic Cardrona pub Pets welcome (if well trained) Public transport to queenstown and Wanaka Animal friendly Public transport to queenstown and Wanaka Animal friendly
The studio is a wonderful place to stay. The location is spectacular and the studio itself really beautifully designed and fitted out. We loved the wood fire and the floor to ceiling glass making you feel connected to the landscape. Thanks Morne, highly recommended.
Anya
2015-04-18T00:00:00Z
Great place. Great location.
James
2017-01-04T00:00:00Z
We had the most amazing time at Morne's Cadrona cabin. It is set in a beautiful part of the country, very peaceful and relaxing. The outdoor shower and spa were a real treat. Definitely coming back!
Mike
2016-02-07T00:00:00Z
One word. Perfect.
STu
2016-11-18T00:00:00Z
Brilliant location with amazing views over the cardrona valley. We liked it so much on arrival that we booked another night. Very peaceful, a place to escape but with an easy walk to the cardrona hotel that has a great beer garden. We bbq'd every night, loved the outdoor shower. Interaction with Morne was straightforward
Natasha
2016-03-13T00:00:00Z
Our host was incredibly welcoming and we loved the property. Booking was quick, easy and professional. The arrival process was seamless, and the studio itself, beyond beautiful. A perfect fusion of rustic and modern with all the necessities. When we arrived, hot water turned on, fire pumping and spa was red-hot. Definitely the perfect location for a ski-holiday, as you are perfectly placed between QT, Cardrona and Wanaka. We skied all mountains across 5 nights and loved kicking back in the hot-tub each evening. Cardrona Hotel, moments down the road is excellent for a glass of wine, fire-side ambience and a very good meal. We cooked at the studio most days and nights; all the essentials are there including large fridge, gas cooking and the basic essentials like tea, coffee, oil and sugar. Do your shopping in either QT or Wanaka, as there are no local shops in Cardrona Valley. The outlook each sunrise and sunset is absolutely breathtaking. The ceiling to floor glass makes you feel completely connected to the incredible land-scape you are surrounded by. Valleys, snow-capped mountains, rivers and everything in between. We cannot wait to return! Thank you Morne for hosting us.
Lauren
2015-07-01T00:00:00Z
Stylish design and spectacular setting. The views from this studio are mesmerising. You can sit and do nothing for hours and hours. The log burner was excellent. Location to Cardrona Pub and horse riding was perfect. Excellent kitchen facilities, piping hot water throughout including the outdoor shower and spa. Would love to visit again when we go skiing.
Julieanne
2015-10-03T00:00:00Z
The cabin itself was clean and comfy and it has everything you need, the exterior could use some cleaning up (construction wood/materials lying around, dead plants in the wine barrel in front of the cabin etc.) Unfortunately for us when we arrived, the cabin had already run out of gas. We could not cook the food we bought prior to arriving at the cabin, we did not have warm water to shower, no hot tub. It was the last day of the year and we expected to have a nice time at the cabin but that didn't happen. We tried to call, sms and msg Morne on Airbnb, but to no avail. It wasn't until 4 hours later that Morne called us and instructed us on switching the hose to the new bottle of gas. Morne was very patient explaining the steps on the phone, and we managed to have gas soon afterwards. But it would have been nicer if he had gotten back to us earlier, and would have come by the cabin himself and fixed the problem. We thought we could use the hot tub on the second day (now that the gas supply was back), but unfortunately (again!) it didn't work, water was cold. Morne got back to us on the phone (a couple of hours afterwards) explaining that it could have been the cleaner's fault for placing the cover on the control panel of the hot tub, causing it to stop working. We managed to reset the settings, but it would take a day or so to get the water to warm up again, so no hot tub for us at all. We understand that things happen sometimes, but these could be easily avoided with some proper checking of the amenities prior to the guest arrival. We also expect that the host would have gotten back to us soon after our call, not 4 hours afterwards. Something more serious could have happened and we would have been left there to deal with it on our own.
Kelvin
2016-01-02T00:00:00Z
Romtype
Helt hjem/leilighet
---
Eiendomstype
Hytte
---
Plass til
2
---
Soverom
Cardrona, Otago, New Zealand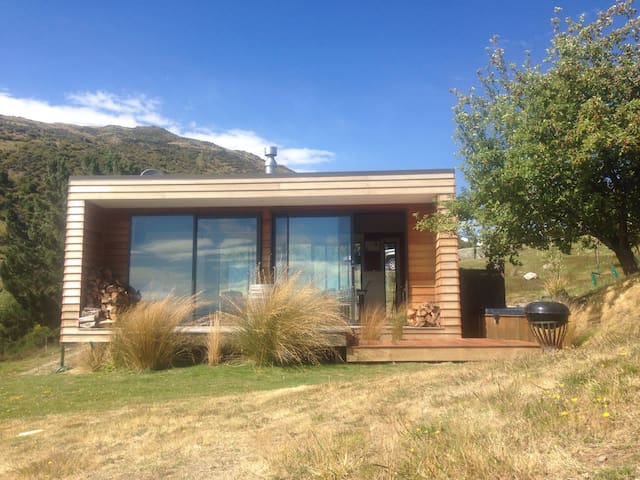 Modern comfortable free standing Alpine Villa with access to Hot Spa, lap pool and BBQ area. Nestled in the Central Otago Alpine township of Cardrona between Wanaka a 20min drive north and Arrowtown/ Queenstown 30/40min drive south.
Short 2min walk to the historic Cardrona Hotel and 5min drive north to the Cardrona Distillery and access roads to both the Cardrona Alpine Ski Resort and Snow Farm. You can enjoy all of the amenities in the resort including the heated spa pool, swimming pool and BBQ area. Swimming pool and SPA pool close at 9pm.
Hey, that's pretty goood
Khan
2017-03-18T00:00:00Z
Romtype
Helt hjem/leilighet
---
Eiendomstype
Villa
---
Plass til
4
---
Soverom
Cardrona, Otago, New Zealand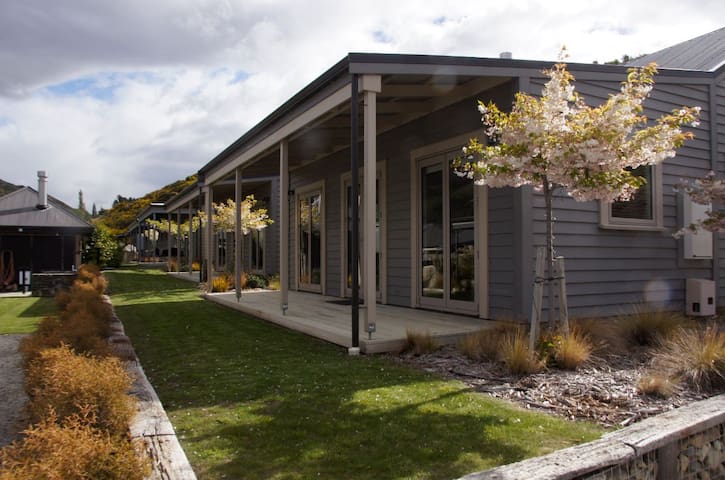 My place is close to The Cardrona Hotel, The Cardrona Ski Fields, The Cardrona Distillery and many other activities. You'll love my place because of the breathtaking mountain views, fresh air and close proximity to all the splendor the Otago lakes district has to offer. This is not a hotel or fully serviced. Please take care of the property.
Lovely mature garden and patio area with views of Cardrona and Pisa range mountains. Cardrona pub and river are a 30 second walk away, views of deer and sheep and birds of prey, this area is steeped in history and has plenty to explore. Lovely open plan lounge and kitchen, small dining area and two fresh comfy beds on mezzanine (loft), one super king, one double, accessed by steep steps, free wifi. Shower and toilet and basin in bathroom
Mountain Valley, breathtaking views, in Winter you can actually see the ski runs of the Cardrona Snow resort, lovely river and historical village hall and school, art galleries and crafts and of course the pub
Andy's place is situated accross from the Cardrona hotel, which serves great food. Andy's place has all the basic amenities and is a short drive away from both Queenstown and Wanaka. Although Andy was not there when we arrived, the place was ready for our arrival. There is a small fireplace, which should not be underestimated, is heats up the place in no time. Just knock on Andy's door for an axe and a lighter or anything you need, Andy is keen to assist.
Uwe
2017-02-13T00:00:00Z
Super cute place with the loft beds, it was great!
Anna
2017-03-01T00:00:00Z
Descent but not good for value.
Jordan
2017-02-05T00:00:00Z
Park the car and walk across the road to the hotel and restaurant. Great loft bedroom - kids loved the adventure of it! Best water pressure in the shower - you could actually wash your hair and get all the shampoo out properly!
Lorna
2017-01-16T00:00:00Z
Lovely secluded cottage that was perfect as a getaway from Queenstown! Definitely would recommend.
Matthew
2017-01-13T00:00:00Z
Cosy space across the road from the Cardrona hotel. Andy was very accommodating. Would recommend staying here if you're after a secluded spot to unwind in.
Veronica
2017-03-18T00:00:00Z
Andy's place was in a great location. The place was very comfortable and Andy was great to communicate with.
Danielle
2017-02-22T00:00:00Z
It was a nice place to stay with beautiful hills around. There is a fire place if you should need it but in Feb there was warm enough. There are most of the basic things to cook a simple meal but some things were missing. Probably Andy fixes it soon. The beds were on a loft. And tje stairs were really steep, so the place is not suitable for people with low mobility. Otherwise it is a good place to stay!
Markus
2017-02-17T00:00:00Z
Romtype
Helt hjem/leilighet
---
Eiendomstype
Leilighet
---
Plass til
4
---
Soverom
Cardrona, Otago, New Zealand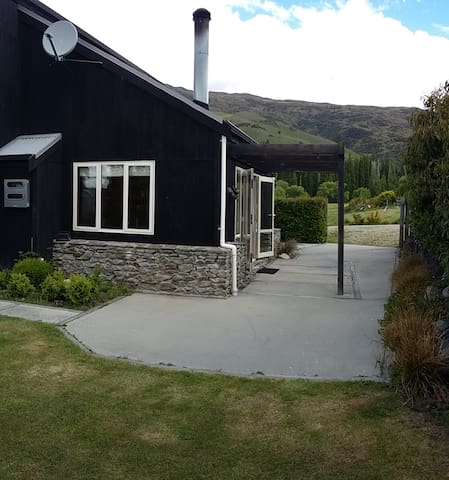 INCLUSIVE PRICES! Enjoy peace and quiet in this modern accommodation with your partner in between Wanaka and Queenstown. IF YOU BOOK ON THIS PAGE YOU ARE BOOKING THE QUEEN ROOM. FOR ONE OR TWO PEOPLE. PLEASE CHECK MY OTHER LISTING: 'A HEARTWARMING WELCOME: BEAUTIFUL CARDRONA, WANAKA'.' for the twin room. You will have shared use of my kitchen and my friend David, who lives in the property, will be around to help. NB: THERE ARE THREE ROOMS AVAILABLE IN TOTAL SO PLEASE CONTACT ME FOR FURTHER INFO.
The prices shown are for two people per night sharing a room. You will need transport. A car or motorbike is best but if you are fit then get cycling. You can get by without a car but it may be difficult. I could pick you up from Wanaka or Queenstown for a fee (Queenstown has an international Airport). (The whole property is available for rent by negotiation. Please ask.) The total number of bedrooms is four (one bedroom is a double but quite small) There are two bathrooms. There is a log fire for those winter evenings and each bedroom has its own electric wall heater. There is a small patio complete with table and chairs and you can use the barbecue if you wish to go al fresco!
Lake Wanaka is just 15 minutes' drive away and Queenstown is just 40 minutes away. In the small village of Cardrona, where the accommodation is located, there is the iconic Cardrona Hotel/Pub, one of the oldest inns in New Zealand. The property is just a very short drive away from the Cardrona Alpine Resort and from the Snow Park, for cross country skiing. Horse riding, mountain biking, hunting, fishing and hill walking are on the doorstep. You can also visit the new Cardrona Distillery and taste a wee dram or just have a coffee. Many vineyards, some world renowned, can be found just a short drive away. Quiet and peaceful but close to the party town of Queenstown and all that offers! Wanaka is a gem of a town, where you can find a supermarket, souvenir shops, lake activities and much more!
Nice clean place roughly halfway between Queenstown and Wanaka, so perfect for traveling to both (plus Arrowtown). David was helpful and we enjoyed our stay.
Joshua
2016-12-31T00:00:00Z
it was an awsome experiance.house is well maintained, clean and comfy.david is such a wonderful host.he was so helpful and we a felt like our own home.really appreciated.just talk to david and all your concerns sorted.highly recomended
Vibi
2017-02-01T00:00:00Z
You might think there is not much to do in Cardrona but we spent the day exploring the area and had a great time. The condo was great, David was great and helpful. We would definitely stay there again if we were in the area.
Peggy
2017-02-07T00:00:00Z
Friendly host, great views over the Cardrona valley.
James
2017-01-12T00:00:00Z
Had a great stay. David was a fantastic host, would definitely recommend to escape the crowds of Queenstown!
Claire
2017-01-04T00:00:00Z
David has a great home. The room is quiet and comfortable and we felt very welcome in his home. You have to try his shower!! David is a great host to talk to and takes time to get to know you, which is not always the case with Airbnb. We enjoyed meeting him and would recommend his place to anyone in the area!
Daniel
2017-01-21T00:00:00Z
David was a lovely and helpful host. We liked the houseand the room very much.
Marcel
2017-02-26T00:00:00Z
One of the best things about Airbnb is the people you meet. The hosts are full of local knowledge and always willing to help you plan your trip and get the best out of local area. David was the perfect guest surpassing our expectations even inviting us to join him for the Christmas meal. David was great company, humorous, interesting full of local knowledge, everywhere he recommended, we loved. The house is a newly built modern house with good facilities. My Wife said that it's the cleanest/tidiest place she stayed in so far in New Zealand (she been here 3 months already). We highly recommend both David as a host and the house for its amenities and it's location. Our only regret is that we could not stay more nights. Thank you for a lovely time. All the best Martin & Katja
Martin
2016-12-27T00:00:00Z
Romtype
Privat rom
---
Eiendomstype
Hus
---
Plass til
2
---
Soverom
Cardrona , Otago, New Zealand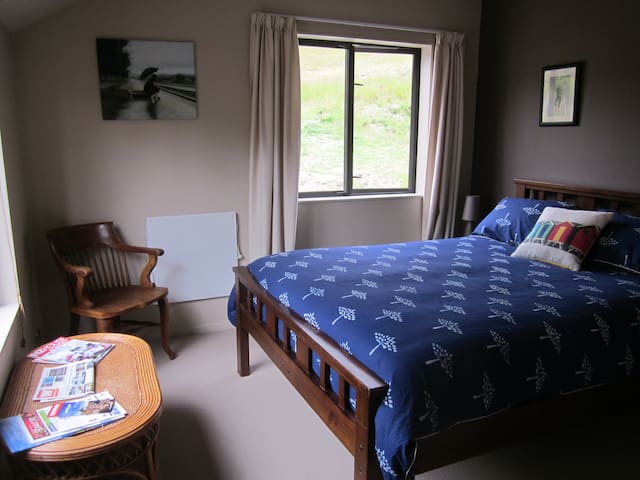 3 bedrooms Villa with 2 bathrooms, swimming pool, large heated spa pool and BBQ area. Enjoy your summer in Cardrona an amazing location between Wanaka(20mins) and Queenstown(40mins). Mountain bike, river walks, horse tracks and more.
The villa is just 2 mins waking from/to Cardrona Hotel/Pub and 5 mins driving to Cardrona Ski Resort entrance and Snow Farm entrance.
Cardrona valley is amazing during winter and summer. In the summer within waking distance you have: World class montain bike, river, tracks, horse rides and a beautiful country side experience. In the winter you have Cardrona Ski Resort and Snow farm at your door step.
Rafael's place is great provided with all basic amenities and Netflix (which is cool for chilling at home). Rafael is easy to communicate and helped us with proper instructions for checking in and guides which has good info on travelling around. Overall we had a great and comfortable time.
Sri Harsha
2017-02-03T00:00:00Z
This was a great condo in a lovely location. Highly recommend!
nikki
2017-03-02T00:00:00Z
Great get-away for a short weekend. Located in between Lake Wanaka and the City. It was a nice stop-over trip. Villa is well equipped. Perfect for families.
Marie
2016-11-22T00:00:00Z
Rafael's place was lovely, located right next to the Cardrona Hotel. Easy to locate and only 30 minutes drive away from Queenstown. It was very cold when we visited and Rafael's place was the perfect warm haven my family and I needed. Everything was well thought of and provided. Highly recommend!
Nerissa
2016-07-08T00:00:00Z
Excellent accommodation all as described with a brilliant scenic location! Raphael is an excellent host who provided complimentary condiments and all household essentials. A beautiful house a lovely stay and well worth the money. Brought a smile to my eye to see his downhill mountain bike on the balcony too, knew we couldn't go far wrong when dealing with a fellow downhiller 10/10!
Andrew
2016-03-31T00:00:00Z
Great location if you intend on going up the mountain for hiking/skiing/biking. Will definitely stay again next year during the ski season. Well equipped apartment with everything that you need for a comfortable stay.
Yash
2016-09-13T00:00:00Z
Great location for skiing, Wanaka and Queenstown. Lovely and warm house with good quality furniture, bed linen and other fittings. Well equipped kitchen with a good range of crockery and glass ware. Very friendly owners who were quick to answer questions and help. Will book again.
Sarah
2015-07-15T00:00:00Z
Outstanding- a real gem in a fantastic location.
ej
2017-01-15T00:00:00Z
Romtype
Helt hjem/leilighet
---
Eiendomstype
Villa
---
Plass til
6
---
Soverom
Cardrona, Otago, New Zealand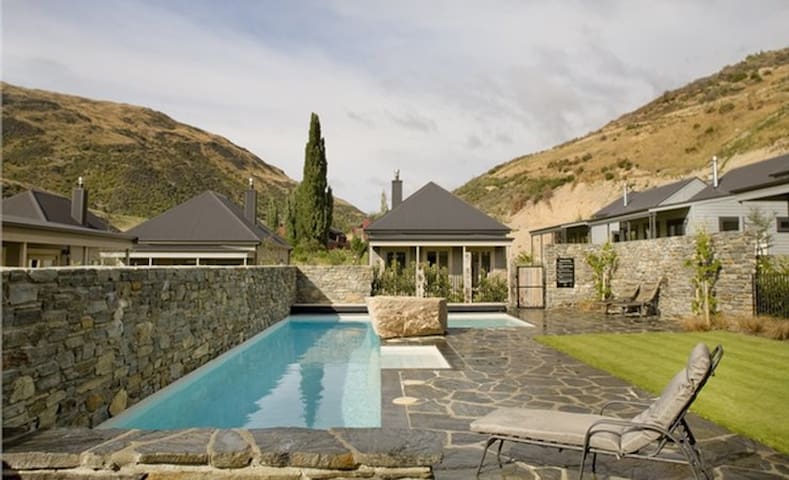 Our studio apartment is situated in between Queenstown and Wanaka, in the idyllic Cardrona Valley. Located only 15 minutes drive from Wanaka and on the doorstep of Cardrona Ski Field. This offers mountain biking in the warmer months and skiing and snowboarding throughout winter. Kick back with a few wines or craft beer at the famous Cardona Hotel pub, which is only a stones throw away. Enjoy a few leisurely laps in the onsite swimming pool, or relax in the hot tub. The perfect getaway!
Our modern studio can sleep up to 3pax, with one queen bed and a pull out bed. It is fully equipped with a kitchenette, a bathroom and seating area. There is a lockable storage cupboard ideal for storing skiis and boards.
Set in a peaceful complex with mountain views from the studio.
Romtype
Helt hjem/leilighet
---
Eiendomstype
Leilighet
---
Plass til
3
---
Soverom
Cardrona, Otago, New Zealand
The spectacular Cardrona valley is the ideal location for the ultimate ski holiday, and is a central base to explore the Queenstown and Wanaka areas for an adventurous or relaxes summer vacation. This 4 bedroom Townhouse can comfortably accommodate 8
Cardrona Townhouse is situated only 3 minutes drive from the base of the Cardrona, Snowfarm and Snowpark ski resort access roads. Alternative ski areas of Coronet Peak, Remarkables and Treble Cone are all well within a comfortable 40 minute drive away. This cosy home is luxuriously and comfortably furnished to provide the ideal base for all activities, summer and winter. It features an open-plan kitchen and lounge with an open fireplace for the perfect winter ambience. This is complimented with a heat-pump, underfloor heating and heaters in all 4 bedrooms. The attached garage has an ample supply of dry firewood. It also houses a washing machine and dryer, internal clothesline and a heated drying cabinet to dry out ski gear overnight. The fully-equipped kitchen is well fitted out with dishwasher, electric oven & hob, microwave, fridge / freezer and top quality crockery and glassware. Everything needed to prepare superb meals after a big day on the slopes is there. For those too tired to cook, then the iconic Cardrona Hotel is only 3 minutes walk down the road. This provides essential après-ski atmosphere and great meal options. Lounge features comfortable leather sofas, flat screen TV and home entertainment system. Two upstairs bedrooms contain queen beds, with the third holding two bunk beds. The downstairs bedroom also has a queen bed. All beds are fitted with electric blankets, and luxurious, top quality linen and bed ware.
Winter is perfect for skiing and snowboarding, all easily accessed from Cardrona Townhouse. Summer and non-ski activities in the Cardrona Valley include mountain biking, trail running and walking, and horse-trekking. It is also the ideal location for visits to local wineries and many adventure activities. Wanaka is only 15 minutes drive away, and Queenstown less than 40 minutes.
the host, Garry has to learn how to take a picture better!! this home was much much great than i expected. you guys will be surprised. everything was just perfect. nothing to say. just dream home.
규호
2016-02-27T00:00:00Z
We had an absolutely perfect stay at Garry's house. The communication beforehand and the arrival were perfect. The house is beautifully furnished and very cosy with wonderful beds. As a welcome present we even found a bottle of wine! Absolutely recommended to stay there!
Johanna
2016-02-22T00:00:00Z
My family loved this townhouse. It was big for 6 adults and 2 children, had a tidy and well-equipped kitchen, and beautiful night sky. Recommended for others to try.
Lai
2016-03-15T00:00:00Z
We had a very enjoyable stay in this modern property. Having a bedroom and bathroom on the ground level was perfect for my elderly grandmother who was traveling with us. Communication with the host (Garry) was very easy. WiFi was an added bonus. Enjoyed the complementary bottle of wine. Would definitely recommend this listing to anyone looking for a base to explore Queenstown and Wanaka from.
Matt
2016-02-13T00:00:00Z
Garry's place in Cardrona was excellent. Quick drive to the ski fields, accommodation kept everyone very warm and everything we needed was catered for. Will definitely stay here again.
Mitch
2016-07-16T00:00:00Z
Our stay was wonderful. The house was much larger than seen in the photos. It had everything we needed in terms of cooking needs, house appliances, towels and linen. It was very clean upon our arrival and not to mention the very welcoming bottle of wine. There were enough beds for our group of 5 and the rooms were neither too cold or too hot. Garry and Kristine were easily contacted via email. We had no problems during our stay, except that the water was shut off on one night probably due to constructions nearby. Also, the distance from Queenstown is quite far, 45 minutes, but the scenic drive was quite nice with scenic stop bays along the way. Definitely would return for another stay during the snow season.
Nhi
2016-11-22T00:00:00Z
We absolutely loved our time in Garry's place in cardrona! The pics don't do this place justice, it was so nice.. And the bottle of wine on arrival was a special treat! House is in a great location, close enough to wanaka that we went back and forth through the day and the drive down to Queenstown from cardrona is spectacular! Very easy host to communicate with too. Had the best experience here, definitely going to come back in winter time to ski!
Sam
2016-01-11T00:00:00Z
We had a lovely stay at the Cardona Townhouse. I loved that our family could all stay in the one spot and overall our experience was fantastic. The beds were comfortable and they had thought of every little thing you might need which felt like a home away from home. Thanks Garry for your wonderful hospitality and we would highly recommend this place to others. Warm regards, Ashleigh
Ashleigh
2015-12-31T00:00:00Z
Romtype
Helt hjem/leilighet
---
Eiendomstype
Rekkehus
---
Plass til
8
---
Soverom
Cardrona, Otago, New Zealand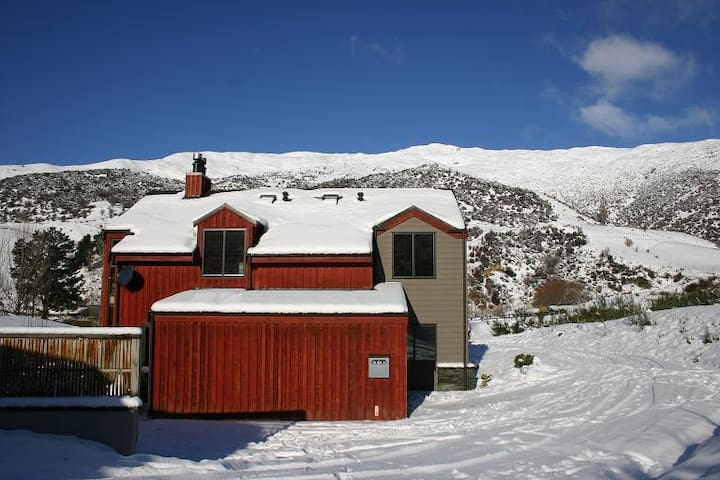 Idyllic getaway to explore the magic of a beautiful wonderland. Welcome to our little piece of paradise! In winter we are as close as you can get to the snow- without staying on the mountain, in summer close to streams, walks, lakes and mountains. The peaceful beauty of Cardrona Valley is the perfect location to escape and experience a fantastic array of activities at your doorstep – or simply relax and unwind in the comfort of Cardrona Sanctuary.
This home is tastefully appointed with high quality furniture and appliances for your comfort and pleasure. Downstairs you will find the well equipped kitchen featuring double-drawer dishwasher, microwave, electric oven and cooktop, and fridge/freezer (all stainless steel). The dining area provides comfortable seating for 4 people (as pictured), or can easily be extended to accommodate 6-7 people. The adjacent lounge features a superb open fire-place with 2 comfortable leather sofas, an LCD TV and blue-ray/dvd/cd surround sound system and free internet/WiFi. Floor heating and a reverse cycle heat pump (air conditioner) assist the fire to keep the home at a perfect temperature even during a severe mid-winter chill. Three bedrooms (2 double/queen, 1 single/study) are located upstairs while 1 bedroom (2 single beds) is found downstairs. All beds are fitted with electric blankets on luxurious innerspring mattress/base ensembles with linen and bedding supplied.
Cardrona Sanctuary is just a 2 minutes drive from the Cardrona and Snow Park/Snow Farm ski fields' access roads. The famous, historic Cardrona Pub is only a 400m walk away and provides great après-ski during winter, welcome cold drinks in summer and fabulous food all year round. The valley is also great for walking/jogging and mountain bike riding and is well known for the local horse trekking activities.
Great location half way from Wanaka to Queenstown. Just near the Cardrona Hotel, great food and service. Local beers on tap also. All you need was supplied in the townhouse, with up stairs and downstairs very handy for a family and 2 couple's.
Kevin
2017-03-05T00:00:00Z
The host canceled this reservation 161 days before arrival. This is an automated posting.
anneke
2017-02-01T00:00:00Z
It was great
Kveta
2017-03-18T00:00:00Z
Peter's house is so wonderful and easy to have everything you want to. Very sweet home and keep clean
Kate
2017-04-05T00:00:00Z
Peter house was really nice and spacious. The kitchen was perfect, it even has a juicer in it. A perfect place to stay for a group of friends or a family for trips to Wanaka or Queenstown. Peter was really responsive as well. Do not be afraid to let him know if you require anything, he will get back to you as soon as he can. Anyways my group and I really enjoyed our trip and Peter's place play an important role in it.
Alain
2017-02-05T00:00:00Z
Romtype
Helt hjem/leilighet
---
Eiendomstype
Rekkehus
---
Plass til
7
---
Soverom
Cardrona, Otago, New Zealand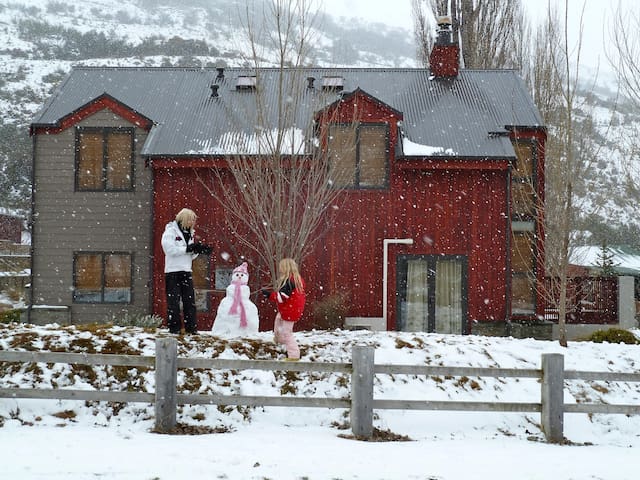 Enjoy a slice of paradise in our family friendly holiday home. located just two minutes from the ski field entrance and 2 mins walk to the famous Cardrona hotel. Just 20 mins drive to lovely relaxed atmosphere of wanaka and 40 mins to the hype and adrenaline rush of Queenstown . Soaking in the bliss of the jacuzzi after a tough day on the slopes tops off an absolute day in heaven
Romtype
Helt hjem/leilighet
---
Eiendomstype
Leilighet
---
Plass til
6
---
Soverom
Cardrona, Otago, New Zealand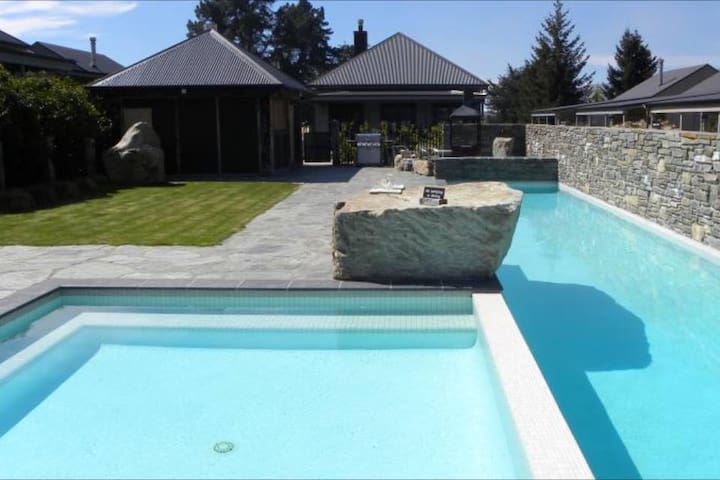 You'll love my place because of the amazing mountain views, the handy location, and the warm ambiance. My place is good for couples and families (with kids).
We do have a dog, so please be aware of that when you book the house if you or your guests have any allergies. As we live in this house, you are welcome to use condiments, tea/coffee etc.. as we won't be emptying the fridge or pantry. Space will be made in the drawers/closets in the bedroom.
Quiet and friendly neighbourhood down a little cul-de-sac. We have a beautiful garden with a track through it which comes out at the bottom of Hensman Road. There are many tracks & walks around the neighbour & a park a few mins walk away.
The is an awesome plàce with an amaźing view. It made for a great holiday.
Robert
2016-12-27T00:00:00Z
Leah was great and arranged an easy check-in using a lock box. She left a lot of nature guides and helpful resources. The home itself was awesome. Very cozy and spectacular views of the lake and the Remarkables! We enjoyed the wood fire on a rainy night. The grill also worked well. And only a 5 min drive to center of town. Otherwise, an easy / relatively flat 30-min walk to town along Frankton Rd, if you take the shortcut from the lower level deck down through the garden to the bottom of Hensman Rd. It was great! Would stay again
Katie
2017-01-03T00:00:00Z
The view is so beautiful and Location from downtown is negligible. I strongly recommend this house for you.
Jin Kie
2017-02-16T00:00:00Z
Romtype
Helt hjem/leilighet
---
Eiendomstype
Hus
---
Plass til
4
---
Soverom
Queenstown, Otago, New Zealand
Cardrona - Airbnb
:
Gjennomsnittlig

4.92

av

5

stjerner fra

1560

gjesteanmeldelser
Oppgi datoer for å se fullstendige priser. Ekstra gebyrer gjelder. Skatter vil kunne tilføyes.