Das Haus ist nur ein Tourist zu Hause, nur für 3 Personen in der Collio, an der Grenze zwischen Italien und Slowenien. Ideal für eine leidenschaftliche Weintouristen oder einfach nur neugierig ein kleines Grenzgebiet mit einzigartigen Eigenschaften zu entdecken.
Es gibt einige gute Gründe für einen Urlaub in Collio zu verbringen: eine Fläche von ein paar Kilometer vom Meer kennen und die Berge, die zwischen zwei Staaten der Europäischen Union erstreckt: Italien und Slowenien. gute Weine zu trinken. Entdecken Sie eine einfache Küche und Grenze. Bewegen Sie sich in einem diskreten Ort, wo man nicht laut Massen begegnen. Genießen Sie eine effiziente und gepflegt in einem gut erhaltenen Umwelt.
Romtype
Helt hjem/leilighet
---
Eiendomstype
Hus
---
Plass til
3
---
Soverom
Capriva del Friuli, GO, Italia
Capriva Del Friuli: 'CASA Roncus' nedsenket i vingårdene i Collio for en avslappende ferie - kultur - idrett og gastronomiske gleder.
The 'HOUSE Roncus' tilbyr et ideelt opphold for vinelskere. Collio, hjemmet til den berømte Tocai friulano, tilbyr muligheten til å smake på vin produkter av vårt selskap "Roncus 'og de beste lokale vinprodusenter og slovensk. Gleden av tabellen, men er ikke den eneste attraksjonen i vårt område. Muligheter til å praktisere utendørs sport er mange og varierte: blant disse er det som tilbys av "Golf og country club" av Capriva, som er bare 500 m fra boligen vår ligger. Til slutt peker vi ut nærhet til de mest kjente feriestedene i Friuli Grado, Lignano Sabbiadoro og Sistiana.
Capriva er en fin liten landsby, vil du finne et slott, mange vingårder og en golfbane.
we had a really good time in your house! thank you sooo much. everything was perfect! we willcome back, thank youmarco
Wolfgang
2016-05-17T00:00:00Z
Romtype
Helt hjem/leilighet
---
Eiendomstype
Hus
---
Plass til
11
---
Soverom
Capriva del Friuli, Friuli-Venezia Giulia, Italia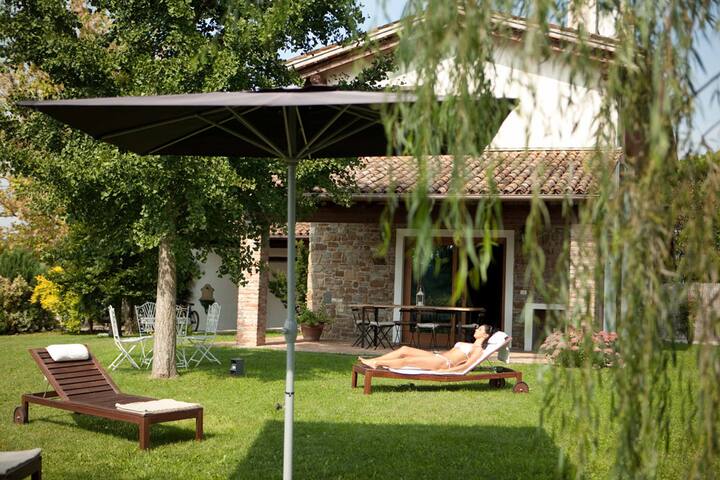 A Cormons, in the heart of Collio rent apartment in Old Town, bedroom with double bed and two single beds, sitting area with TV, equipped kitchen, large bathroom, private garden.
Sabina was really flexible with the time of arrival, even on short notice. The place is quiet and just a short walk to the center. There is also a great enoteca just around the corner. The appartment is big an well furnitured, even if quite old. But there is everything you need. Sabina helped me out with some stuff from a pharmacy I needed, because the shops were closed that day. That was very kind.
Adeline
2016-03-30T00:00:00Z
Sabina's flat is right in the center of picturesque town Cormons. It"s a cosy and well equipped flat, we liked it very much. There is one bedroom so it's convenient for a couple or a family.
Zsolt
2016-08-26T00:00:00Z
Sabina is a fantastic host. She was available for questions and helpful for the whole process. We needed to extend our stay for a day and she graciously allowed us to. The location is perfect for exploring Cormons and the surrounding areas. It was raining when we left and her husband even brought is to the airport. I would highly recommend staying here.
Scott
2016-05-01T00:00:00Z
L'appartamento di Sabina è fantastico e situato nel cuore di Cormons. Ambienti spaziosi, ben arredato, cortiletto delizioso, wi fi veloce. Sabina è gentile e disponibile. Sarebbe utile fornire qualche bene di primissima necessità (acqua, crackers, sapone) la cui mancanza ma non ha inciso nel giudizio di questo bel soggiorno. Vivamente consigliato.
Chiara e Marco
2016-09-02T00:00:00Z
Romtype
Helt hjem/leilighet
---
Eiendomstype
Leilighet
---
Plass til
4
---
Soverom
Cormons, Friuli-Venezia Giulia, Italia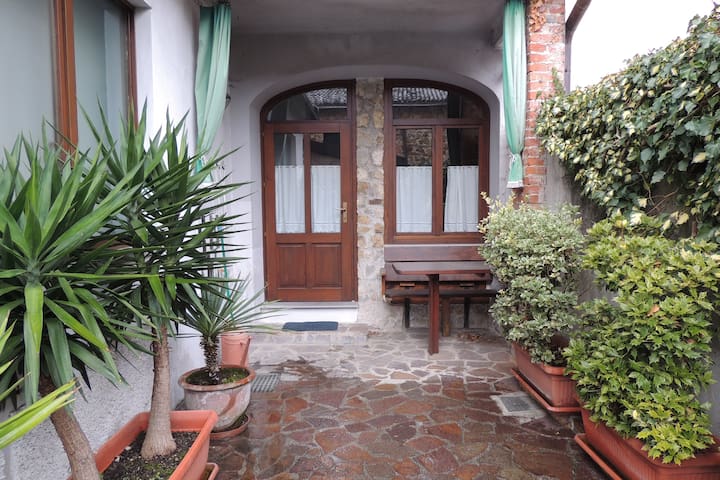 Casa indipendente su un terreno di grandi dimensioni in una posizione appartata con vista mozzafiato sul Collio, la regione migliore vino bianco d'Italia. Arredate con cura, con particolare attenzione per i materiali naturali.
Cormons è intatto, città non turistica con tutte le guarnizioni. Belle bar, gastronomie, supermercati, macellerie, panifici, gelaterie, lavanderia, cucina raffinata e alcune trattorie. La posizione centrale Cormons vi invita a gite di un giorno Aquileia 30 km (scavi romani), Cividale 17 km
Non ci sono vicini visibili.
Romtype
Helt hjem/leilighet
---
Eiendomstype
Hus
---
Plass til
8
---
Soverom
Cormons, Friuli-Venezia Giulia, Italia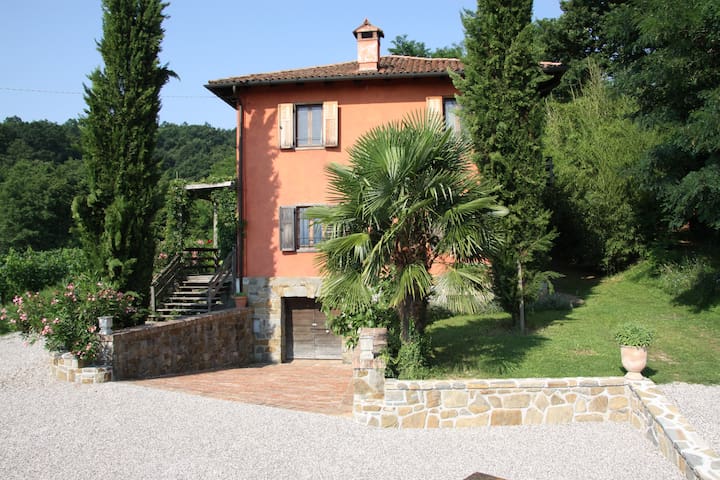 A cozy newly renovated apartment at 200 mt from the center of Cormons, perfect for groups of friends or families who enjoy good wine, food and nature. Cormons with his Collio and ideal for cycling or hiking.
Tutto perfetto: cortesia ed efficienza e appartamento perfetto e pulitissimo.
Ariele
2016-10-31T00:00:00Z
Eddy nagyon kedves volt és segítőkész. A lakás szépen berendezett és nagyon tiszta . A WIFI tökéletes. Közel volt a városközpont jó éttermekkel. A legfelső szinten volt a lakás és mivel klíma nincs , nagyon meleg volt. A meleg miatt nyitott ablakoknál aludtunk volna, de a lakástól 50 méterre elzúgó vonatszerelvények miatt nem sikerült. István
Istvan
2016-06-28T00:00:00Z
Nette Wohnung, brauchbar, sehr gutes Preis-Leistungs-Verhältnis, alles da was man braucht. Für den Preis eigentlich 5 Sterne.
Moritz
2016-05-29T00:00:00Z
Nice, big, comfortable apartment. Good condition, helpful host.
Josep
2016-09-04T00:00:00Z
Nous avons peu vu notre hôte, car nous n'avons passé que peu de de temps dans son appartement. Son accueil était cependant très chaleureux. L'appartement est superbe, spacieux, confortable, refait à neuf, et surtout très propre. La région est magnifique. Nous avons passé un très agréable moment à Cormons.
Hans Peter
2016-09-03T00:00:00Z
Wir haben die Unterkunft zu dritt genutzt und waren sehr zufrieden. Beschreibung und Fotos sind treffend. Kleine Abzüge in der B-Note gibt's für den Zugverkehr und das Internet (WLAN funktioniert super, aber die Netzgeschwindigkeit erinnert ein bisschen an die 90er-Jahre).
Andre
2016-09-14T00:00:00Z
Eddy ci ha contattato per informarsi sul nostro arrivo, una volta a Cormons siamo stati accolti molto bene. L'appartamento è esattamente come descrizione e foto. L'abbiamo trovato pulitissimo e ordinato. E' situato a due passi dal centro. Ho dormito bene e sono molto soddisfatto della mia esperienza. Grazie Eddy
Fabiano
2016-09-05T00:00:00Z
Flexible host received us. Excellent flat with space for minimum 4 people in two bedrooms. Kitchen with everything necessary. Flat was just cleaned on our arrival, scent Perfect. 10 minutes from restaurants and winebars, 2 minutes to birreria. Wifi fell out some of the time, but this was probably due to a mistake we did.Would like to return.
Ronny
2016-10-31T00:00:00Z
Romtype
Helt hjem/leilighet
---
Eiendomstype
Leilighet
---
Plass til
6
---
Soverom
Cormons, Friuli-Venezia Giulia, Italia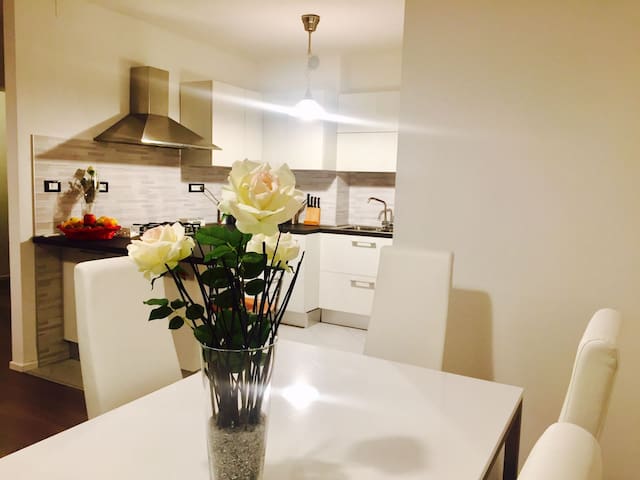 My accommodation is suitable for couples, business travelers and families (with children).
The rooms are located on the ground floor of a two-story house, the apartment is bright, with a terrace and a separate entrance. There is the possibility to park the car in the garden and a garage available for any bicycles. The apartment has a large double bedroom (16,8mq) and a room with two single beds (10sqm), both with wardrobe available. The bathroom is shared by the two rooms.
Romtype
Privat rom
---
Eiendomstype
Bed & Breakfast
---
Plass til
4
---
Soverom
Farra d'Isonzo, Friuli-Venezia Giulia, Italia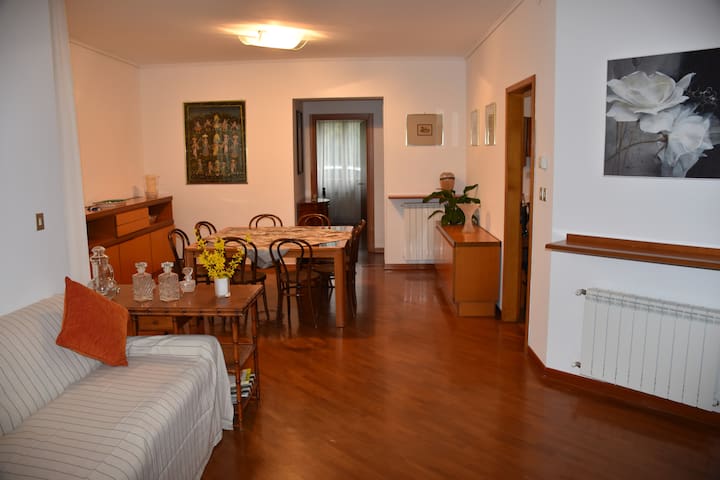 confortable casa de dos plantas, patio y terraza cubierta en el centro de la región Collio. paisaje inolvidable, antigüedades romanas, ciudades medievales, ciudades interesantes, arte, playas, tiendas, todo dentro de 50 km. 7 días de alquiler mínimo. Tenga en cuenta: Tasa de Limpieza para ser pagado en efectivo a la salida (véase más adelante la nota)
Casa con capacidad para 6 adultos, pero no es adecuado para niños o personas con discapacidad.
A poca distancia de tiendas, supermercados, mercado al aire libre los viernes, restaurantes y bodegas. Un montón de rutas en bicicleta, senderismo, excursionismo.
Albarosa´s house is very nice and cosy. We liked all the pictures and books and the beautiful lamps and the "old-style"... We liked the place very much and Cormons and the Collio with the restaurants and "osterie" can be highly recommended. Albarosa was very helpful answering all our questions. Unfortunately the street is right in front of the house - but you can sit in the small backyard and stroll around the collio all day and have a great espresso "in piazza" of cormons. Anyway I would recommend the place.
Alexia
2015-04-03T00:00:00Z
Romtype
Helt hjem/leilighet
---
Eiendomstype
Hus
---
Plass til
6
---
Soverom
Cormons, Friuli-Venezia Giulia, Italia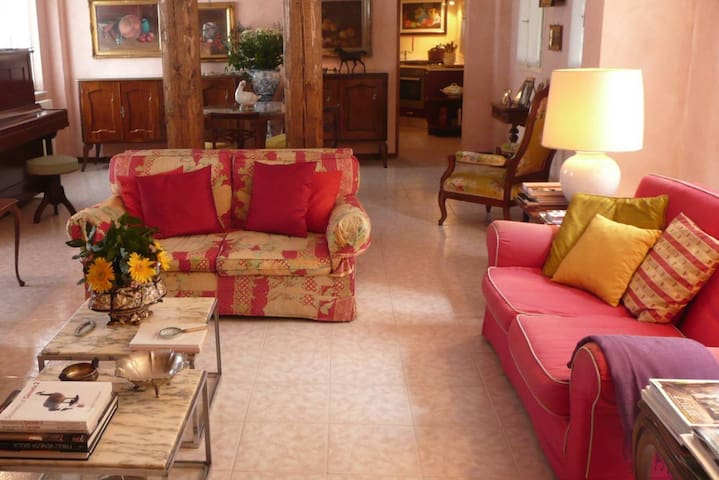 La famiglia Korsič vi aspetta per condividere la pace del suo agriturismo. Immergetevi nella quiete delle vigne e degli ulivi. Fatevi cullare dalla natura assaporando uno dei nostri vini godendo l'ospitalità del Collio!
Ospitalità cortesia ed assoluto relax in un vero agriturismo. Disponibili biciclette a noleggio, sala riunioni e colazioni, appartamenti forniti di cucina. Siamo sempre presenti, saremo noi ad accogliervi e darvi il benvenuto. Ogni giorno la colazione è servita dalla padrona di casa. Tranquillità e natura. Appena fuori Gorizia a pochi metri dal confine con la Slovenia. Con le bici a noleggio è possibile esplorare il Collio utilizzando le vicine piste ciclabili. Gli amanti dell'enoturismo saranno vicinissimi alle maggiori cantine del Collio e alle tipiche "osmizze" disseminate su tutto il territorio del Collio, del Carso e della Slovenia. Anche gli appassionati di storia potranno godere della vicinanza ai luoghi della grande guerra: i musei Goriziani, i monti San Michele e Sabotino e Caporetto. Gli amanti dello svago e del relax potranno approfittare di una serata frizzante ai vicini Casinò di Nova Gorica; mentre gli appassionati della natura non mancheranno le magnifiche escursioni nel verde dei boschi del circondario e della Slovenia. Da non perdere una gita a Ljubljana o alle grotte di Postumia!
Amazing family and place. Its not easy to say how unique and wonderful this experience is, so you must visit! We met them a year ago and wish we would have stayed with the family last year also. Cannot consider any other place in collio. Thank you janja, matja (dimitri), francesca and the rest of the family!!!!
Michael and Katrina
2016-08-02T00:00:00Z
Notre séjour à l agrotourismo a été très agréable La région est belle . Nous avons trouvé un restaurant sympathique dans le beau village voisin de Smartno Janja est très accueillante. Elle nous a servi sur la terrasse un copieux et délicieux déjeuner La chambre et la salle de bain sont spacieuses et décorées avec beaucoup de goût . L ensemble du bâtiment est très beau avec des espaces extérieurs fleuris et fort bien aménagées Seul le wifi manquait mais une nuit sans Wifi cela nous désintoxique !! Endroit vivement recommandé!
eve
2016-08-24T00:00:00Z
I spent one night in Janja's place I could not have the chance to meet her but I met her mother and father, such lovely person. I got lost and Janja's mother pick me up. The place is really beautiful and so quiet among the grape farm.
jean charles
2015-05-10T00:00:00Z
This place was absolute heaven. If you are considering a trip to this part of Italy, you MUST stay at Agriturismo Kovac. It was perfect - our apartment was lovely, the family was friendly and helpful, the scenery was beautiful, the breakfasts were delicious, and the location was perfect for exploring the area. We stayed 4 days and fit a lot in (Trieste, the Carso, Cividale del Friuli, a wine tour around the Collio, and a drive around the Slovenian border towns) but I wish we had stayed a week (we would have visited some mountain villages and the beach in Grado). Definitely rent a car to drive around the region. Thank you so much, Janja and family, for an amazing few days!
Liz
2016-05-04T00:00:00Z
My boyfriend and I had a wonderful stay at Agriturismo Kovac. The organisation was easy-going and uncomplicated, even though we were deciding spontaneously, when to come. The room was great and very spacious and the hosts extremely welcoming and friendly. We enjoyed our stay a lot and would have liked to stay longer. After all the area is really beautiful and there is a lot to see. But since the room was not going to be occupied directly again the day after, also the time of check-out was very flexible, so that we were not in a hurry. A great place to stay in the Collio!
Cara
2015-05-14T00:00:00Z
Eine überaus herzliche Familie, die einen ohnehin schon zauberhaften Ort auf einem Hügel inmitten von Weingärten zu einem kleinen Paradies werden lassen!
Alexander
2016-06-26T00:00:00Z
L'agriturismo Kovač è meraviglioso! Ci sono stato solo una notte perchè partecipavo ad una festa di matrimonio che si svolgeva poco distante, ma la permanenza è stata comunque deliziosa. Le stanze sono enormi, pulite e accoglienti, la prima colazione è stata deliziosa e il clima generale è di una pace incredibile, merito probabilmente della posizione, cioè in mezzo ai vigneti. Sicuramente è un posto accogliente in cui spero di tornare in futuro e passare maggior tempo!
Andrea
2015-06-01T00:00:00Z
Tutta la famiglia ci ha accolte in modo splendido e genuino. L'agriturismo si trova tra i bellissimi vigneti del Collio; le camere sono pulite e confortevoli; colazione con prodotti fatti in casa e con orari flessibili. Apprezzatissimi gli ottimi vini di loro produzione DOC Collio. Assolutamente da consigliare per un soggiorno di relax. Grazie ancora!
elena
2016-07-01T00:00:00Z
Romtype
Helt hjem/leilighet
---
Eiendomstype
Bed & Breakfast
---
Plass til
4
---
Soverom
San Floriano del Collio (Gorizia), Gorizia, Italia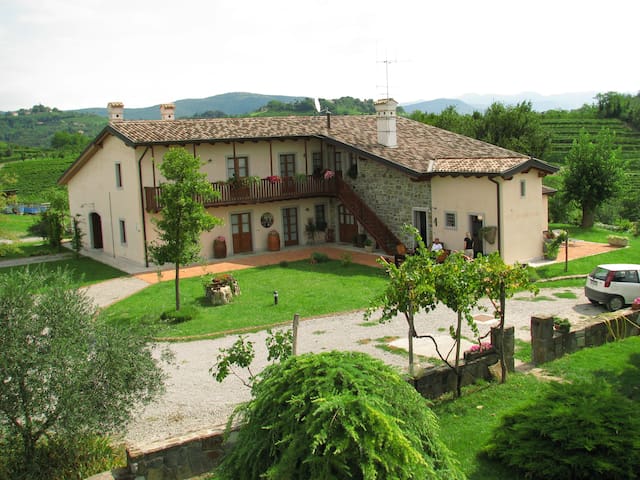 My place is close to great views and restaurants and dining. My place is good for couples, families (with kids), and furry friends (pets).
Apartment is located in a small village and set atop a hill and is offering a beautiful view of surrounding vineyards and cherry orchards. All guest can access shared swimming pool on common terrace, where they can relax on sun loungers and enjoy life. Apartment is located on ground floor and is featuring double bedroom, open kitchenette (ceramic top cooker (4 rings) with hood, dishwasher, fridge and dining table) in living room (double sofa bed, extra bed, satellite flat-screen TV), bathroom (shower) and private patio with garden furniture. Parking space provided on the premises. Free Wi-Fi available. Pets allowed. Grill in common area.
Located in one of the world's most exquisite wine regions in the world – Goriška Brda, everything here revolves around the wine. This small region is literally packed with world-class wine cellars (all of them are open for wine tasting) and restaurants, serving locally produced food. The nearest Michelin-starred restaurant is only 6 kilometers away, the nearest golf course 7 kilometers away. World-renowned city of Venice is only 1,5h car drive away or can be easily reached by train. Adriatic coast is 30 kilometers away. There are wide range of various events organized in the region.
Top!!!
Matěj
2016-07-25T00:00:00Z
Vi hade ett par jättefina dagar i Slovenien och Italien. Lägenheten var jättefin och modernt utrustad med en fantastiskt utsikt! Läget var toppen i mysig by mitt i vindistrikt. Värdparet var jättegulliga och måna om oss och hjälpsamma. Ett extra plus var den fina poolen. Hit vill vi gärna återvända!
Maria
2016-07-18T00:00:00Z
TOT OK!
Jordi
2016-08-11T00:00:00Z
Romtype
Helt hjem/leilighet
---
Eiendomstype
Leilighet
---
Plass til
5
---
Soverom
Vipolže, Nova Gorica, Slovenia
Romtype
Helt hjem/leilighet
---
Eiendomstype
Leilighet
---
Plass til
3
---
Soverom
Farra d'Isonzo, Friuli-Venezia Giulia, Italia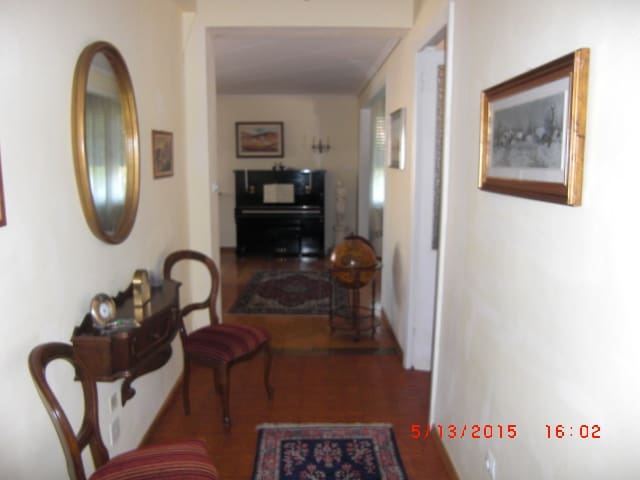 Sunny's House awaits you in Cormons (GO) among the vineyards of Collio, you can visit: Slovenia, Sagrado, Trieste, Grado, Lignano Sabbiadoro ect quiet place to various occurrences. We offer a small apartment, with two bedrooms and a bathroom. The separate entrance from the apartment and easily accessible through the driveway gate that leads into our courtyard, you will find a large private car park We are easily accessible from the A4, and from the station.
The place is lovely, the accommodation has a private entrance, ample parking for campers. Consisting of living area, sleeping area with double bed and possibility of adding beds, bathroom with shower box, and accessories.
The accommodation is located just steps from the playground, near pizzerias, trattorias and pools. Also possibility of long walks along the paths that the mountain Quarin offers.
Ciro persona splendida e gentile , posizione ottima e servizi impeccabili ci ritorneró!
Stefano
2016-07-16T00:00:00Z
Ciro is a very nice host. The appartment is big and clean, Ciro and his family are very kind. I will love to come back. ;-)
Viktor
2016-08-15T00:00:00Z
L'accoglienza è stata ottima e anche il posto! Ciro è stato disponibile e gentilissimo sicuramente un'esperienza da ripetere! Grazie di tutto! !
marina
2016-05-10T00:00:00Z
Ciro is a wonderful host. Communication was easy and fast even he does not speak much English. The place is very quiet and convenient and I can recommend it for a short term stay.
Chiao-Hua
2016-10-30T00:00:00Z
I stayed at Ciro's flat for only one night but everything went smoothly. Communication as well as value for money was excellent.
Enrico
2016-07-24T00:00:00Z
tutto bene casa accogliente e ben confortevole,Ciro è una persona gentile e cortese.
Alessandro
2016-10-04T00:00:00Z
Posto tranquillo e vicino al centro. Spazi ampi e parcheggio disponibile. C'è tutto quello che serve per una sosta comoda nel Collio, anche per lavoro.
Angelo
2016-11-12T00:00:00Z
alloggio spazioso, pulito e letto confortevole
Alessandro
2017-01-05T00:00:00Z
Romtype
Helt hjem/leilighet
---
Eiendomstype
Leilighet
---
Plass til
4
---
Soverom
Cormons, Friuli-Venezia Giulia, Italia
Posto bellissimo immerso nel verde e nella pace. Paola è stata molto gentile, ospitale e disponibile, assolutamente consigliato!
Giulia
2016-08-10T00:00:00Z
Romtype
Privat rom
---
Eiendomstype
Bed & Breakfast
---
Plass til
2
---
Soverom
Cormons, Friuli-Venezia Giulia, Italia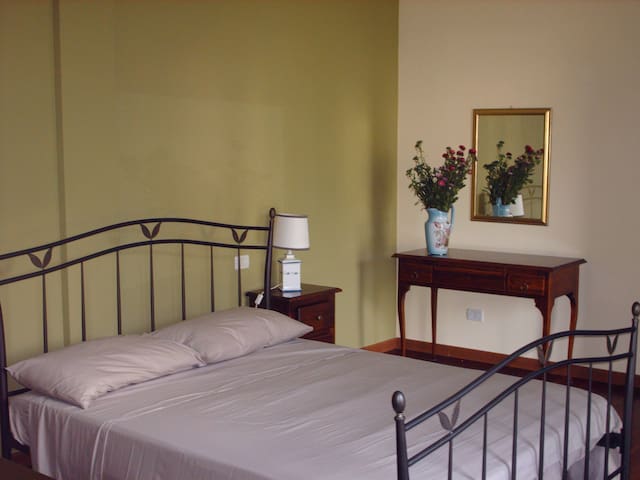 A los 10 minutos de Eslovenia en una zona llena de restaurantes y granjas, con la posibilidad de cenar o simplemente un aperitivo en el restaurante, solamente los vinos producidos por nosotros, Azienda Agricola Pizzut Paola
Granja cerca de la finca del mismo nombre, Vinos Pizzut Paola, detrás de la colina en la Subida Friulano Collio, en un entorno paisajístico y natural de gran encanto
Paola è una host perfetta, premurosa e attenta sempre anche ai piccoli particolari. La sua struttura è un paradiso sia d'estate che d'inverno, le vigne anche in questo periodo creano un'atmosfera molto rilassante. Paola come sempre ci ha omaggiato di una bottiglia del suo vino migliore. Assolutamente consigliata
duilio
2016-12-14T00:00:00Z
L'Agriturismo di Paola Pizzut è un vero paradiso terestre, un'oasi di pace e natura. Paola e le ragazze che la aiutano nell'Enoteca sono gentili e comujnicative. Ci Tornerò altre volte. Consigliato
duilio
2015-09-22T00:00:00Z
Romtype
Privat rom
---
Eiendomstype
Bed & Breakfast
---
Plass til
3
---
Soverom
Cormons, Friuli-Venezia Giulia, Italia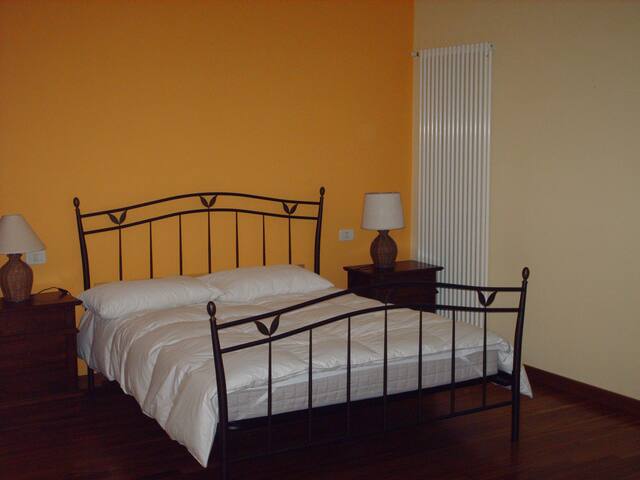 La stanza, molto ampia, 40m2+una lunga terrazza di 11m2, è divisa in due parti,nella prima parte c'è un salotto (comodo divano in pelle a due posti+poltrona) , un letto singolo sulla sinistra, con letto estraibile sottostante, un letto matrimoniale proprio di fronte,Se continui sulla destra, diviso da una parete di cannette e tende trovi un altro letto matrimoniale con ampio armadio e comò. Ottimi materassi.Set per la prepazione di te e caffè (solubile).Bagno esterno ma RISERVATO alla stanza.
Romtype
Privat rom
---
Eiendomstype
Leilighet
---
Plass til
6
---
Soverom
Gradisca d'Isonzo, Friuli-Venezia Giulia, Italia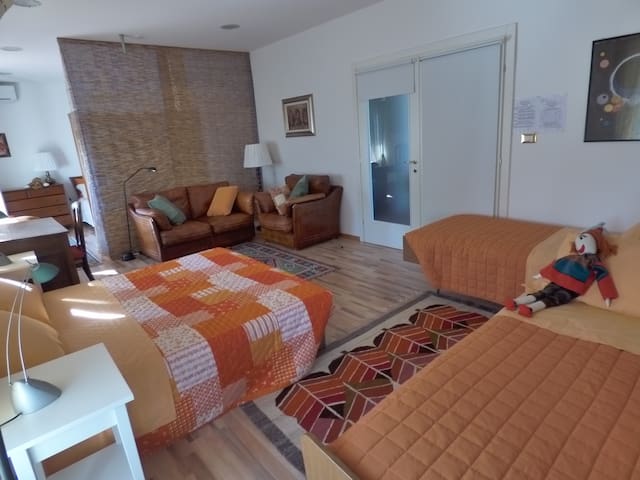 Una meravigliosa casa in pietra che risale al 1630 perfettamente ristrutturata e inserita in una corte raccolta nel centro di un piccolo borgo rinascimentale. I nostri ospiti potranno godere di una grande sala da pranzo, una sala camino due bagni una stanza da letto matrimoniale divano letto nell'ampio studio. WI-FI riscaldamento a pavimento, aria condizionata nella zona notte. Il mio spazio e' perfetto per una coppia una famiglia o una coppia di amici.
Vi sentirete accolti in un angolo di passato, con tutti i comfort di oggi. Tutto è curato nei minimi dettagli e faremo in modo che vi sentiate a vostro agio come se foste a casa vostra. La casa e' disposta su due piani e si affaccia su un grande giardino dove è possibile utilizzare un barbecue.
La casa si trova in un meraviglioso piccolo borgo seicentesco adagiato sul letto di un fiume e con attorno vigne e colline.
Romtype
Helt hjem/leilighet
---
Eiendomstype
Hus
---
Plass til
4
---
Soverom
Giassico, Friuli-Venezia Giulia, Italia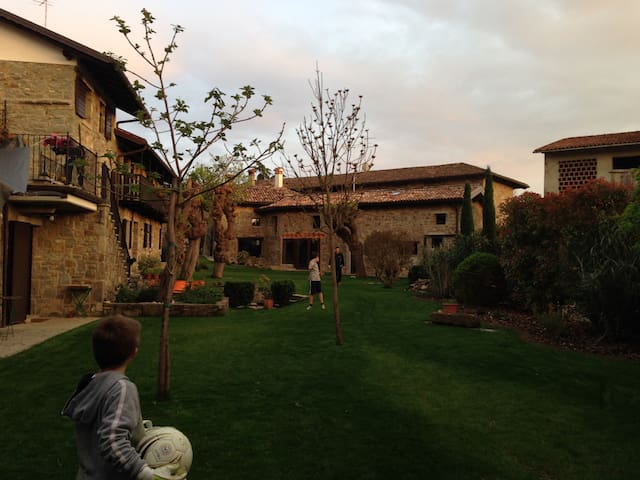 La stanza, molto ampia e luminosa, 21m2, ha un letto matrimoniale , ed un letto singolo. E' fornita di un'ampia cabina armadio ( rivestita di tende e cannette, molto simpatica). Il bagno, luminoso e comodo, si apre nella stanza ed è a tuo uso esclusivo. Condizionatore e frigo in stanza. Presente il set per la preparazione di te e caffè ( solubile) ed un ampio tavolo (1mx1m). Se necessiti dell'asse e del ferro da stiro, a richiesta te lo facciamo trovare in camera.
La tua stanza è in un appartamento al primo piano di una casa a due piani, al piano terra ci sono due studi medici , aperti ovviamente solo durante la settimana e di giorno, per cui l'appartamento è molto tranquillo e silenzioso. L'appartamento è bello grande, 138 m2, con ampie terrazze e accesso posteriore al giardino. Ci sono tre stanze date in locazione. Stendibiancheria, lavatrice, servizio lavanderia e posto macchina in garage a richiesta con modico sovrapprezzo. Cambio di biancheria da letto e bagno, settimanale, inclusa nel prezzo. Condizionatore e frigorifero nella stanza.
il nostro quartiere semicentrale rispetto al Centro Storico ha la caratteristica di essere tranquillo, parcheggio pubblico sempre disponibile, a 100 metri hai un buon supermercato, ed a 400 metri hai il centro della cittadina, con il suo ampio parco, le viuzze e tutti i negozi, banche di cui puoi necessitare
Zeer leuke verzorgde verblijfplaats met een duidelijke meerwaarde.
Jacky
2016-06-10T00:00:00Z
Romtype
Privat rom
---
Eiendomstype
Leilighet
---
Plass til
3
---
Soverom
Gradisca d'Isonzo, Friuli-Venezia Giulia, Italia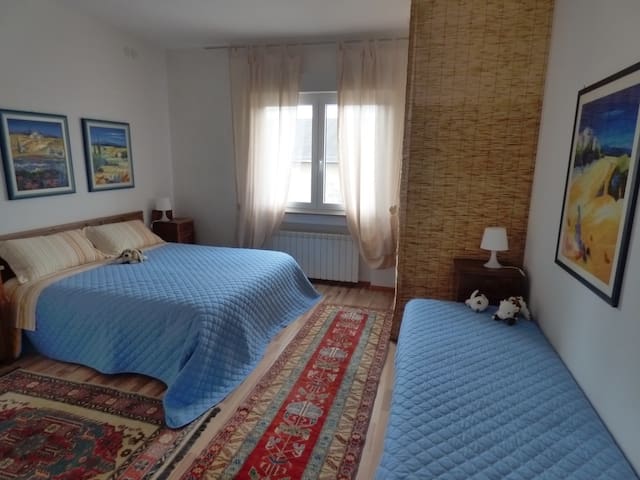 Beautiful 18th century manor finely furnished and surrounded by a spacious garden at the foot of the eastern hills. Ideal for visiting the surrounding territory, in particular the famous 'Collio' area, producer of some of the best Italian wines.
Casa due Tigli is a 17th century villa, restored respecting original structure, well furnished with antique forniture.
Casa due Tigli is very close to North-Eastern Hills, where are the wineyards of famous superwhites wines (that You can taste in several wineries all around). We're surrounded by nature.
Un piacevolissimo soggiorno. Sono stata accolta da proprietari gentili, disponibili e premurosi. La casa è curata nei minimi dettagli e le stanze sono ampie, comodissime ed impeccabilmente pulite. La colazione principesca con prodotti locali e ottime marmellate fatte in casa. Un b&b assolutamente consigliato gestito con amore e passione. Tornerò senz'altro.
Paola
2017-02-12T00:00:00Z
The house and garden is like a historic piece of art, well maintained and clean but with all modern comforts like wifi. Umberto and his wife were very nice and helpful.
Frederick
2015-09-05T00:00:00Z
Villa caratteristica, titolari molto cordiali, camere comode , colazione più che ottima, ci siamo sentiti molto bene.
Massimiliano
2016-11-13T00:00:00Z
Umberto sent us a nice email before our arrival, explaining how to reach his home. They welcomed us like family, showed us our room and gave us water. Breakfast was simply to die for. Highly recommend it to everyone.
Miha
2016-10-30T00:00:00Z
Lovely stay.
Grant
2016-12-22T00:00:00Z
The B&B Casa due Tigli is a wonderful place to stay. It is a beautiful big house surrounded by a spacious garden. The bedrooms are large and comfortable -- the bathroom is separate. I had a wonderful stay and I would recommend it highly. Umberto and his wife are kind and exceptionally hospitable, welcoming hosts. The sumptuous breakfast is cooked and beautifully served in a private sitting room. The wifi works very well all over the house, including in the bedroom, which is also a plus.
Robin
2015-06-27T00:00:00Z
Romtype
Privat rom
---
Eiendomstype
Bed & Breakfast
---
Plass til
8
---
Soverom
Corno di Rosazzo, Friuli-Venezia Giulia, Italia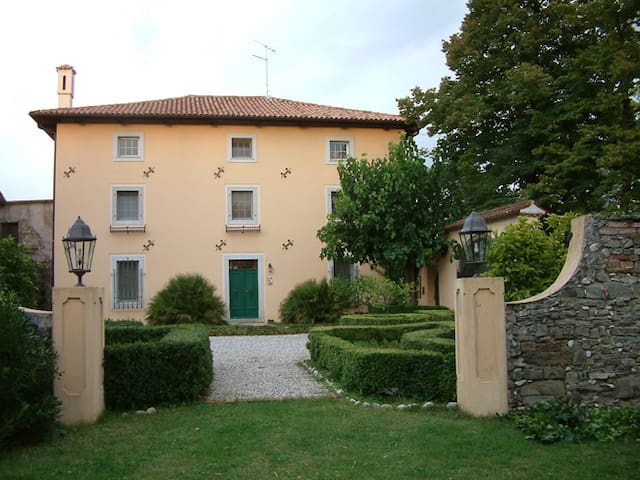 1

–

18

av

68 Utleiesteder
Oppgi datoer for å se fullstendige priser. Ekstra gebyrer gjelder. Skatter vil kunne tilføyes.