Step into this nostalgic space with vintage flavor, kick off your shoes and relax. Spacious newly finished lower level with private entrance on 2.6 wooded acres on a hill. Hosts live upstairs BUT are not around much. Family of 4. WE HAVE MADE SOME CHANGES IN THE LIVING ARRANGEMENTS SO PLEASE TAKE A CAREFUL LOOK AT THESE CHANGES DOWN BELOW.
One thousand square foot of wonderful comfy space awaits you in this private home on the hill. Newly finished lower level with full bath; galley kitchen with stove and coffee-maker. There is a seperate enclosed room that houses the microwave and fridge. Please note the fridge is 4.3 cu.ft. It is large enough for a 5 or 6 day stay, if you are going to be staying inside. Plenty of pots and dishes. There is always coffee and a coffeemaker.
We are on a town road, but our house sits on a hill. In the summer, house cannot be seen from the street as there are lots of trees. In the winter there is no problem finding the house. We are in the process of beautifying our woods with more perrenials and landscaping. Please bear with us. Thanks!
Mary is a very warm and personable host. She kept in touch as we traveled, and we arrived later in the evening to the fridge stocked with several breakfast items, which our kids greatly appreciated the next morning! All of our interactions with her were enjoyable and relaxed. She left clear, detailed instructions when she left town before our own departure, and our checking in and out were very easy. The apartment was exceptionally clean and the kitchen had what we needed as a family for several days of in and out cooking and eating. Beds were comfortable and warm. One unexpected bonus to being in a walkout basement apartment was that it stayed dark, which helped our little kids sleep in most mornings. There were plenty of extra bed linens and towels for our family of five, and she even left out some of her grandchildren's books and toys for our little ones to enjoy. The setting of her home was perfect for our visit to the Farmington Valley. We lived in Canton several years ago and highly recommend the beauty of the neighborhood and ease of access to Simsbury, Farmington, Canton, and Avon.
Natalie
2016-10-10T00:00:00Z
The host canceled this reservation 7 days before arrival. This is an automated posting.
Andrew
2016-04-23T00:00:00Z
This is a wonderful place. It is warm and cozy; just as described. It fit our needs perfectly. The hostess was pleasant and helpful. There was plenty of room, the beds were comfortable, and breakfast items were provided. We would stay here again and we will recommend this place to others.
Nick
2016-10-15T00:00:00Z
The apartment was as described in the listing; very comfortable, clean and tastefully decorated. Mary was available at check in with thorough explanation of the lodging. She was also very attentive to any of our requests. Our teenage grandsons were quite comfortable here. We would definitely consider staying again.
Chuck
2016-01-19T00:00:00Z
Romtype
Helt hjem/leilighet
---
Eiendomstype
Leilighet
---
Plass til
3
---
Soverom
Canton, Connecticut, USA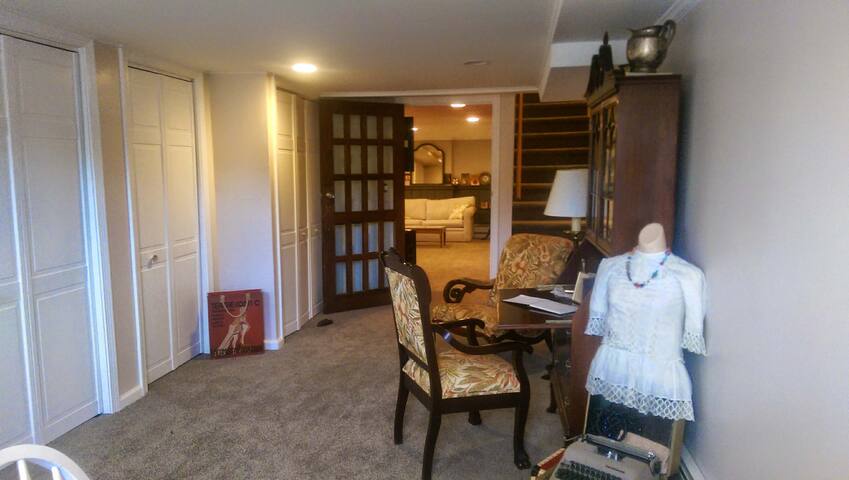 Very charming farmhouse tastefully decorated situated in rural West Simsbury CT. Learn every day farm life from helping gather the 400 eggs daily to feeding treats to the petting zoo animals.
Come enjoy a family farm experience getaway ... - Beautiful second story balcony with a grill, Adirondack chairs, a new retractable cover for the porch perfect for relaxing evenings overlooking the farm - Full size bed in the one room & bunk bed with a twin size bed on top and full size bed on the bottom in other room with an additional single twin bed in corner - Solar heated water and electric, a/c, pellet stove for heat - Lots of GREAT books and toys provided for kids use - Family room has a 32" flat screen with 20 channels/DVD player. Pellet stove with glass door for viewing fire - Three Large closets - Fully equipped kitchen - Washer and dryer downstairs - Fridge stocked with our " Farm Fresh Eggs" muffins,pancake mix, juice,milk,cream and coffee/tea - Peaceful meadows and walking trails - Access included to the petting zoo during and after office hours -wifi Note: Additional fees for services including Farm Tour, Collecting Eggs, Hayride, and Pony Rides $270.00 for 2 nights ... or just a weekend away with your best friends!
Quaint quiet neighborhood in a rural farm setting. BEAUTIFUL open space and wooded trails for walking across the street. Simsbury Farms Public golf course with pools in the summer and skating/sledding in the winter 5 minutes away. Tulmeadow farm homemade ice cream stand walking distance thru the meadows. Ski Sundown 15 minutes away for fun family skiing. Lots of beautiful romantic restaurants in Simsbury.
Farmer Julie made us feel welcome, and ensured we had everything we needed for a comfortable stay.
Julie
2014-11-27T00:00:00Z
The Flamig Farm was a wonderful place for my family and I to stay. We were in town for a funeral and they were very accommodating and sympathetic. They made sure that the stairs and porch were cleared of snow and salted every day. They even cleaned off our cars one day. The apartment itself it very cozy. Cupboards and fridge were well stocked and let's not forget the delicious eggs. The animals were friendly and cute too. Would recommend to anyone and hope to stay there again when visiting family in the future.
Corrine
2017-02-12T00:00:00Z
I stayed at Flamig Farm with my boyfriend and another couple and we had such a wonderful time! Even though the weather was cold, the staycation was warm and cozy and even roomier than the pictures show. The beds, the living room, the kitchen--everything was perfect. Farmer Julie and Nevin and all the staff on the farm are incredibly welcoming and kind, as well as helpful with anything we needed. Even when we arrived later than scheduled, Julie was patient and walked us through everything over the phone. The farm itself is amazing and we had a great time feeding and playing with all the animals. We can't wait to come back soon!
Chava
2015-01-19T00:00:00Z
Julie is the perfect hostess! She was there to help any time we needed her and she went above and beyond the call of duty. The house is very well equipped. If you enjoy the outdoors and have kids who like animals this is definitely the place to be!!! We will be back.
Lisa
2016-03-19T00:00:00Z
[Context: 4 college-age students who live hundreds of miles apart from each other want to have a week of partying, but also want a domestic experience with each other because long distance friendships give you that kind of longing.] Unfortunately, I honestly can't think of much that was bad about the place. The staff were cheerful and helpful, the animals were very cute, we had plenty of space to do our own activities in the evening, the location was serene... It was an excellent place to stay. The cupboards had some cooking supplies, the appliances worked mostly well, the inside was cozy and the outside was beautiful. These are some things for you to consider that didn't bother any of us, but you might want to keep in mind: - there are staff members working the floor below you during the day sometimes for small periods of time. Sounds travel very well between the party room and the house, though they didn't stay in there for long once we arrived. Sound luckily does not travel much at all between the egg shop and the house. - the farm wakes up at around 9:30, so if you plan on staying up to 4:00am, prepare to have coffee with breakfast. - there are many little steps around the house, meaning if you have a mobility related disability you might have trouble. - the animals often make sounds at night. I actually loved this, it completed the experience for me, but different people have different preferences. - if you have animal allergies, bring medication. Things that you might be concerned about but aren't actually bad: - The WiFi was unexpectedly decent. Sometimes we had trouble streaming youtube but visiting normal websites is totally fine. - My animal allergies were NOT exacerbated by anything in the house itself. Very clean! [Do bring medication if you visit the animals with allergies, though.] - Water, toilet, shower, stove all worked well. - Yes there are kids during the weekday but it's actually very peaceful during the week so don't think of it like staying out beside a daycare or something. The staff did a great job giving us the space we wanted. - There are great places to eat food and buy food nearby. You can buy eggs and meat just downstairs! Overall: we had an awesome time even though we were very obviously not the target demographic [young adults addicted to videogames and itching for a private party house]. The excellent quality of house utilities, excellent respect from the staff, and excellent companionship of the animals really made this trip one of our best together. If you have any interest in cute animals and cozy farm aesthetic at all, I very much recommend staying here! Final note: if you visit, please say hi to Larry for me!
AC
2016-05-21T00:00:00Z
The listing description was very accurate and the surrounding town and neighborhood is lovely. Julie was very easy-going and accommodating and welcomed us right away along with the rest of the staff we ran into. The loft is very clean, comfortable and cozy. I would stay there again, however, only during the week when I knew there were no parties going on below the loft, as the walls are paper thin.
Keely
2015-10-05T00:00:00Z
For us, it was all about the farm and countryside experience for us and the kids, and it was definitely a success. Lots of differents animals, plenty of life on the farm and our host had filled up the fridge and was very helpful during our stay. There were also plenty of toys for the kids. Flamig farm has a wonderful atmosphere, we recommend it highly!
Koen and Maren
2014-07-26T00:00:00Z
What a fabulous find-I was smiling from the moment I walked in the door. Beautiful space. Very accommodating. Loved all the animals and their wonderful sounds, which I now miss! Super friendly hosts and a great history of the property. Hiking close by-everything was just perfect.
Kat
2015-05-18T00:00:00Z
Romtype
Helt hjem/leilighet
---
Eiendomstype
Leilighet
---
Plass til
5
---
Soverom
West Simsbury, Connecticut, USA
Coming Soon.
Romtype
Helt hjem/leilighet
---
Eiendomstype
Leilighet
---
Plass til
1
---
Soverom
New Hartford, Connecticut, USA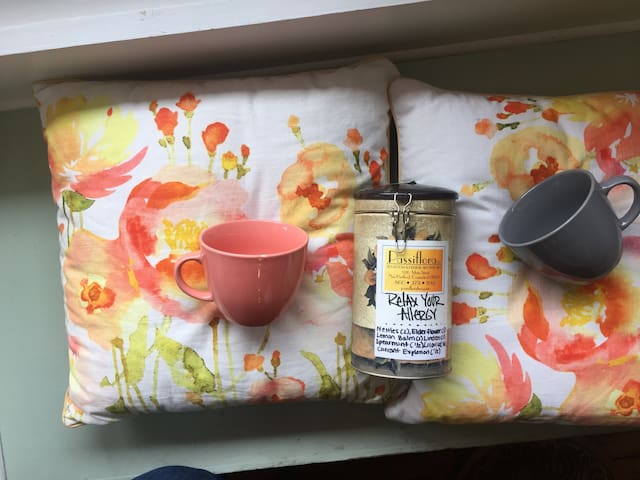 Comfortable 2 bedroom, 1 and 1/2 bath, 1,200 sf end unit condominium. Open floorplan. Master bedroom with queen bed, 2 twin beds in the second bedroom. Washer/dryer, garaged parking. Near Cigna and MetLife and also convenient to Hartford.
Lots of open space yet near downtown.
John's place was fantastic. I was here for business in East Hartford and it was only 25mins in traffic and 15 without. The check in process was VERY easy and the beds were comfortable. His place can easily fit a group of 3-4 people. It was clean and as described. Would definitely stay there again.
Chris
2015-05-15T00:00:00Z
John was a great host! Though we never met, he made sure everything needed was easy to find. The condo was clean, roomy and comfortable. My sons enjoyed the ping pong table in the basement - somehow I did not see that on the write-up, but it was a fun bonus!
jennifer
2014-10-19T00:00:00Z
John was a great host. He replied to all my messages very promptly, and tried his best to accommodate us, especially since we were staying for a long duration. His condo is actually a lot larger than it looks in the pictures too. All in all, John's condo was a comfortable stay, and I would recommend it.
Patricia
2015-02-12T00:00:00Z
Lovely spacious home, perfect for four adults, in a quiet neighborhood. The house had everything we needed, fully equipped kitchen, towels, comfortable beds etc. Although we didn't meet John, the information he sent us made check in and our stay very easy.
Terrie
2015-07-30T00:00:00Z
John's home is in a lovely location, convenient to major local employers, restaurants, and the Airport. It is stocked with everything you might need for a short or longer stay. John is flexible and understanding and was delightful to work with.
Lawrence
2014-09-30T00:00:00Z
虽然没有见面,但感觉房东是非常好的。房子所处位置既安静又方便,房间设置也很好,适合一大家或两家旅游,滑雪,或在哈特福德附近办事。房间内各种设施很齐全和方便。入住退房也都很简单,不知临走我卫生做的房东是否满意。期望有机会再次入住。
欣新
2016-01-18T00:00:00Z
This is a absolutely lovely home. The house is better than picture shown and everything prefect. Even though John is not at the house, he sent me very detailed instruction. This is the best Airbnb experience ever!!! I love to come back again :-)
Sunny
2015-12-18T00:00:00Z
John was a very gracious and welcoming host. His home was very nice and he was quick to accommodate when my plans were altered shortly before the end of my stay.
Jeremy
2015-02-14T00:00:00Z
Romtype
Helt hjem/leilighet
---
Eiendomstype
Leilighet
---
Plass til
4
---
Soverom
Bloomfield, Connecticut, USA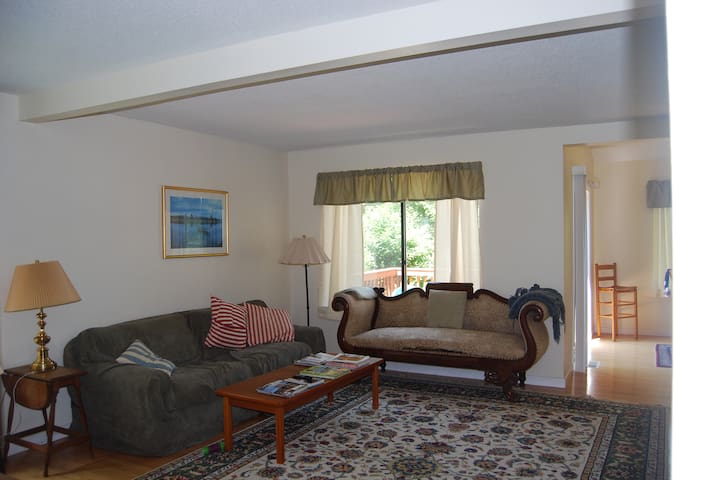 Large private room avaiable offered by work at home professional for short and long term stays. Shared kitchen and bathroom. Local bus routes into downtown and 5 min from St Francis Hospital and major busineses in the downtown area!
Very large room available expecially if you are interested in having extra space during your stay.
5 - 7 min walk into downtown, close to major hospitals and businesses in the downtown area. Local pizza 1 block away. Multiple bus routes into the downtown area. Great location. 5 min from Dunkin Stadium.
Victor was a very welcoming and gracious host!
Celeste
2016-10-29T00:00:00Z
Victor was great - very friendly and responsive. The room is basic but clean.
Marisa
2016-11-12T00:00:00Z
Victor was a fantastic host. My booking was last minute and Victor was extremely helpful and flexible making sure that my arrival was smooth. He is very friendly and the space was large, warm and clean.
Brittany
2016-10-27T00:00:00Z
Victor was very friendly, and if I was not so tired and had a race in the morning I could have chatted for hours. I asked him if there was a coffee maker, and since there wasn't, he not only went out and bought one, he also bought coffee. He was also so kind enough to get me some ibuprofen when I said I needed some. He was also easily accessible and responsive. Victor shared that he was new to Airbnb, and I think he will continue to provide a good experience for his guests. Right now I had the minimal I needed for my stay, and Victor was very responsive to what might have been lacking
Elisa
2016-10-08T00:00:00Z
Victor is a great host, very attentive and accommodating. The room was exactly as listed.
Erin
2016-09-30T00:00:00Z
Victor was very welcoming - he was outside when my cab pulled up so he could let me in and show me around. It was a warm night for October - he was kind enough to bring a fan to my room when I asked for one. He instantly made me feel right at home. And you can't find a better deal in Hartford.
Patricia L
2016-10-21T00:00:00Z
Victor does everything he can to make you feel comfortable.
Nagamohan
2016-10-06T00:00:00Z
My stay at Victor was okay. I stayed 2 nights, he had no problem to provide new clean sheets. It's a little bit pricey for the area nonetheless a quiet neighborhood that allows you to have some rest.
Nov
2016-10-25T00:00:00Z
Romtype
Privat rom
---
Eiendomstype
Leilighet
---
Plass til
1
---
Soverom
Hartford, Connecticut, USA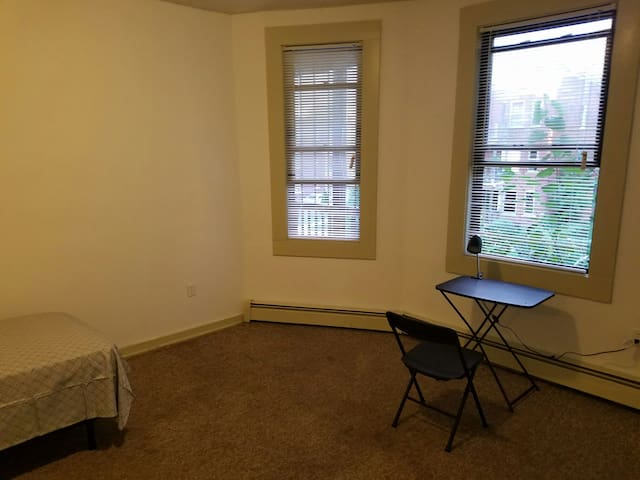 Feel right at home in this modern meets traditional 1 bedroom apartment. Features a full kitchen, living room and reading nook/office . A short 5-7 minute drive to Wesleyan University, Downtown Middletown and Middlesex Hospital.
Sara was a great host. Her suggestions for take-out were very helpful. The location was great and the apartment was well stocked with everything we needed.
Kim
2016-07-28T00:00:00Z
Sara's place was clean, quiet and conveniently located for our visit to Middletown. Everything was as advertised and we would stay here again.
JANET
2016-10-24T00:00:00Z
This place has so much character! It had easy parking, is in a quaint New England town and Sara was super flexible and responsive. We wish could have stayed longer!
Rachel
2016-11-06T00:00:00Z
My overall experience was very negative as i was subjected to extreme inconsideration in the amount of noise and chaos that I was exposed to through my host's choices
Kate
2016-10-04T00:00:00Z
Such an awesome place to stay, the host was wonderful and even got me a map of middletown (which is right down the street) with everything I needed to go see. Highly recommend.
Lauren
2017-03-08T00:00:00Z
Great apartment with easy access, parking, all the amenities we could ask for. A couple beers and water in the fridge were a great touch along with eggs and coffee! We added a night which was super easy! We will 100% stay with Sara again.
Andrew
2017-02-18T00:00:00Z
Very nice, comfortable place! Super communication!
Rachel
2017-03-18T00:00:00Z
Sara was super flexible with a last minute business trip change. I really appreciated the cleanliness and size of the apartment, and Sara went our of her way to make me feel welcome. The apartment would definitely be a great place to stay for events in the area, especially for Wesleyan graduation coming up!
kennon
2016-04-07T00:00:00Z
Romtype
Helt hjem/leilighet
---
Eiendomstype
Leilighet
---
Plass til
3
---
Soverom
Portland, Connecticut, USA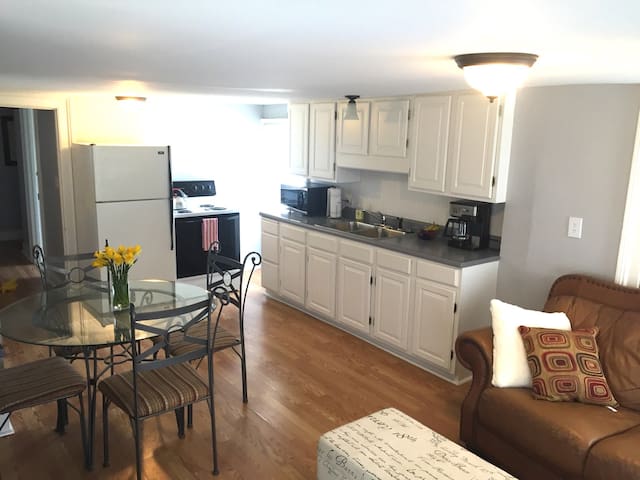 Newly renovated two bedroom apartment combines privacy and fantastic amenities in an unbeatable location in West Hartford center. Two sun-filled bedrooms, a hall bath, and spacious living room plus sleek modern kitchen. Free off-street parking.
In its coveted location, this chic, newly renovated two bedroom apartment features a range of exceptional amenities to enhance your stay. Sleek hardwood floors, sophisticated modern décor, and airy, light-filled living spaces enhance the meticulously updated open floor plan, introduced by a beautifully designed eat-in kitchen. The stunning kitchen balances a warm, inviting ambiance with state-of-the-art stainless steel General Electric appliances, lustrous new Corian breakfast bar, and glossy white cabinetry. Start your morning with a complimentary fresh cup of coffee – the cabinets are always stocked with coffee pods, mugs, and everything you'll need to cook and dine in style. Relax in the sunny living room with stylish modern furnishings and ample seating areas. Two spacious, private bedrooms overlook the lovely grounds and share a beautifully updated tiled hall bath. Lower level laundry and off-street parking are available to all guests. Need a recommendation for local restaurants, shops and entertaining options? We're happy to provide a list of our favorite West Hartford destinations!
West Hartford Center is home to some of the area's most buzzed about restaurants, bars, and shops, making it a sought-after destination for discerning locals. From posh lounges to family-friendly eateries, there's certainly something for everyone.
Danielle and Vaiva's lovely place in West Hartford is a wonderful place to stay and they are both extremely responsive and accommodating. The apartment is fully equipped, immaculately clean and fresh and is located a few hundred yards from downtown West Hartford, which has everything . Further, Danielle and Vaiva were able to accommodate our stay on extremely short notice and they ensured that my daughters and I had a great experience by recommending things to do and places to eat which were very helpful. Thanks Danielle and Vaiva! We'd love to stay at your awesome place again.
John
2016-04-11T00:00:00Z
Great hosts. Great place to stay while visiting the area.
Jennifer
2016-03-13T00:00:00Z
Danielle was very accommodating, the location was fantastic. Would def. stay again next time I'm in the area.
Kent
2016-07-22T00:00:00Z
Danielle and Vaiva were gracious hosts! The apartment was exactly as described, in a great part of town, and very clean and comfortable. They made themselves very available to answer any questions about the apartment and about the area. I would highly recommend a stay with Danielle and Vaiva!
Tyler
2016-11-20T00:00:00Z
Beautiful, comfortable, well appointed apartment. Our hosts were accommodating, kind and flexible. Awesome experience. Would stay here again in a heart beat. Thank you!
Amanda Nissen
2016-03-23T00:00:00Z
LOVELY RECENTLY UPDATED APARTMENT, NICELY FURNISHED & WALK-ABLE TO THE RESTAURANTS & SHOPS OF WEST HARTFORD & BLUE BACK SQUARE. EXCELLENT & VERY RESPONSIVE COMMUNICATION FROM THE HOSTS
Thomas V
2017-02-22T00:00:00Z
I had a very pleasant stay. The hosts were very accommodating. Thanks!
Daniel
2016-12-01T00:00:00Z
The place was wonderful! It was clean, well organized, well-stocked and extremely convenient to all the places we needed to go in West Hartford. Danielle was very accommodating and responsive. We ended up getting into town earlier than expected and she worked hard to help us. She is definitely a fantastic host! :) I would stay here again for sure!
Ashley
2016-04-08T00:00:00Z
Romtype
Helt hjem/leilighet
---
Eiendomstype
Leilighet
---
Plass til
4
---
Soverom
West Hartford, Connecticut, USA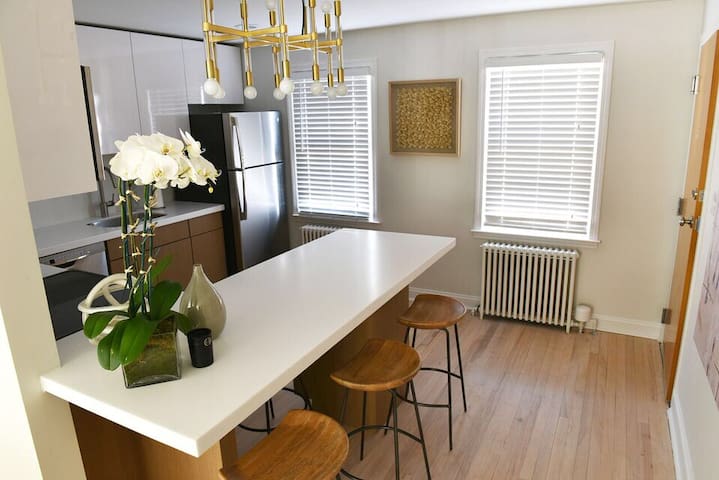 Fresh, newly finished, well appointed room in historic town close to all amenities and walking/hiking trails. Diverse restaurant selections in private, quiet area overlooking wooded areas. Convenient parking. Much to explore. Classic New England.
Relax in this secluded, comfortable getaway with a view. Lovely surrounding towns and close to extensive high end shopping. Coffee machine, though many coffee spots in town, microwave and mini fridge. WiFi and cable t.v., non-working fireplace.
Classic New England get away with tons to see and do nearby in a quiet, comfortable, lovely room with a view of wooded area. Easy to access parking and eight gradual steps down to unit in wooded area. Town borders the Farmington River and you can enjoy various water activities in season ie: tubing, swimming, kayaking etc.
Place was easy to find and discription sent by Anita about getting in etc. were easy to follow. Joe came to greet us after we got settled and if we needed anything they were in the house next door. It is located close to different restaurants and is just a short drive to stores and Stratton brook state park where we went and enjoyed the lake where you can go swimming. The place is very nice with a comfortable bed, tv, fridge, coffee maker (and coffee), mugs, plates and all the things you would find in a Hotel like small bottles of shampoo, towels and even tooth brush and comb. Private big bathroom as well. Everything was very clean. On the negative side the ceiling/floor is thin so you can hear the upstairs tennants walking around, listening to music etc. It was quiet aft(PHONE NUMBER HIDDEN) though.
kent
2016-06-20T00:00:00Z
We had a great stay here everything went smoothly and it was a very convenient location for a nearby wedding.
Athena
2016-10-10T00:00:00Z
We actually ended up staying in a different room on the same property. It was a beautiful room and our hosts set us up with everything we needed before heading out for the weekend. A great stay.
Carole
2016-08-14T00:00:00Z
Nice large private room with a great shower etc. We needed a corkscrew for a bottle of wine we brought and Joe was there within 5 minutes of when we called. Beautiful Setting . The outside of the house is in need of paint/ repair but the inside was pristine . We would rent again!
Bruce
2016-05-24T00:00:00Z
Great place great location and great hosts Would certainly stay there again. Both Joe and Anita were invisible unless you needed something then they were both attentive and helpful.
Russ
2016-09-09T00:00:00Z
Wir waren eine Nacht auf der Zwischenreise dort. Das Zimmer von Anita ist wirklich sehr geschmackvoll eingerichtet. Das Bad ist ebenso sehr schön. Sie war zwar nicht da, hat uns aber sehr gut darüber informiert, wie wir ins Haus kommen. Ausserdem hat sie sehr hilfsbereit unsere Fragen beantwortet und uns super Tipps zu Ausflügen und Frühstücksrestaurants gegeben.
Angela
2016-06-27T00:00:00Z
The place was very easy to come and go from. Very Clean!
Melissa
2016-11-19T00:00:00Z
Room was very cozy and well-appointed, neighborhood was nice and quiet. Everything good!
Max
2016-08-01T00:00:00Z
Romtype
Privat rom
---
Eiendomstype
Leilighet
---
Plass til
2
---
Soverom
Hartford County, Connecticut, USA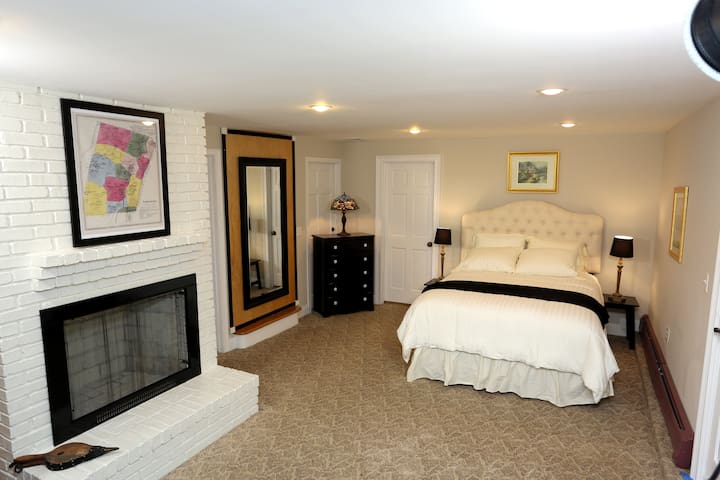 A private bedroom and sitting room with a full en suite bathroom in the garden level of a gorgeous Victorian brownstone condo. Quiet, comfortable space, walkable to everything downtown.
Your hosts for this property are Jane's parents Nancy and Bob. Jane and Earl's home is just around the corner and they are always available if needed. Their apartment is lovely. Soaring ceilings, historic detail and impeccable decorating make it a beautiful (and comfortable) space. The private bedroom and en suite bathroom with shower is in the garden level (half basement) of the apartment. The main living quarters are upstairs on the first floor. The bed is a Queen with a super comfortable tempurpedic-style mattress. The room has an armchair, wardrobe, and the other basic comforts of home. It also has a microwave and small fridge for your convenience. Our backyard is a small private park! There is a friendly dog on the premises, however she rarely if ever goes in the guest room.
We are close to everything downtown--restaurants, library, art museum, train station--and we are on several major bus lines including the CTFastrak; we are in a very convenient spot! Our small, historic neighborhood is a friendly community and we love being a part of it.
Jane checked in with me a couple weeks prior to decide on which property would best meet my needs. The place was all set up. Jane sent me travel directions and was waiting for me when I arrived. The home is right in the center of downtown close to everything. It's a beautiful brownstone place on an impressive block. My travel wardrobe was more on the Arizona side than the Connecticut side. Nancy let me borrow her rainjacket which kept my walking about town dry and warm. without it, my travels would have been very limited. When I slipped and my one sweatshirt was covered in dirt, she was accommodating, letting me use her washing machine to get a fresh start on the rest of my stay in New England. Nancy and Bob were great hosts and their lower unit had everything I needed and a few extras! I much appreciated their hospitality and discussing life's struggles and people who are making a difference in their community! Like them!
Cheri
2016-10-03T00:00:00Z
Jane was very nice and helpful. She was very easy to reach and suggested many places to visit during my short stay in Hartford. The house is beautiful and the bedroom very private and comfortable.
Armando
2016-07-09T00:00:00Z
The place is walking distance to everything! The room is cozy and well decorated. We do enjoy ourselves in this brownstone house. The host walked through us of everything before we checked in, and the tips he gave are really helpful.
舒妤
2016-11-27T00:00:00Z
We had a wonderful weekend staying in Hartford. Jane and Earl have a beautiful home that is centrally located and an easy walk to much of downtown Hartford. The bed was extremely comfortable and the room was very clean and perfectly prepared for our arrival. We will definitely keep them in mind again when we return to Hartford. Thank you for the wonderful experience!
Kyle
2016-06-27T00:00:00Z
Jane and Earl were gracious hosts, and the suite was wonderful. I found out that the house was built for a CT Supreme Court Justice in 1871, and it has been beautifully maintained. The front room of the garden level studio must have made a fine study, even then. I recommend any future visitors be sure to grab breakfast at the Kitchen at the Hartford Public Library, just around the corner. Nothing like fresh coffee and real food (as opposed to Dunkin or Starbucks) beside a statue of Mark Twain.
Jonas
2015-08-12T00:00:00Z
I told my host that I liked his apartment so much that I selfishly wanted to keep it a secret so that it would always be available when I want to go back. I liked everything about this wonderful private apartment in an historic brownstone. Rosie the dog was an added bene after the pressed tin ceilings, great tv, comfortable bed, best coffee and snacks in the fridge, easy access through a private entrance and great decorations. But please, don't tell TOO MANY of your friends to stay there :-).
Janice
2016-12-03T00:00:00Z
A great spot! A very cool and clean place that is right in Hartford. The hosts are extremely kind and struck the perfect balance between being there, but also allowing us to have our own space. If in need of a nice spot while in Hartford, this is a great option!
Harrison
2017-02-19T00:00:00Z
This is an excellent place to stay in downtown Hartford. The hosts were welcoming, easy to communicate with to make arrangements, and interesting to talk with -- I wish we'd had time to talk more. I will be glad to stay here again if back in Hartford.
Alan
2017-01-23T00:00:00Z
Romtype
Privat rom
---
Eiendomstype
Leilighet
---
Plass til
2
---
Soverom
Hartford, Connecticut, USA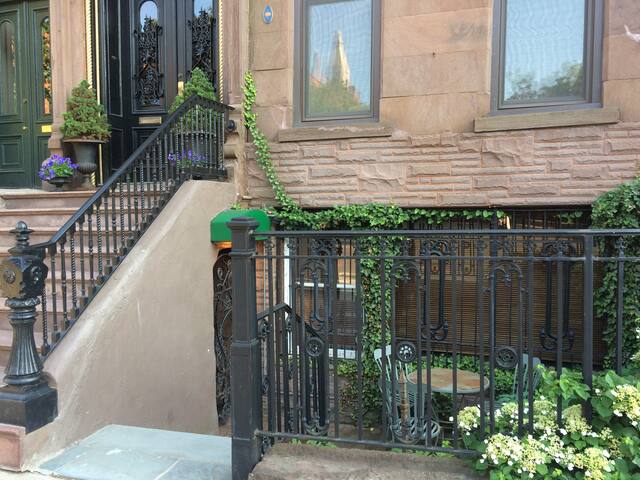 Whether your a student on campus or an employee at the many insurance companies or hospitals,you will find this room is near them all.
Great neighborhood
Jogger friendly with a perfect view of the city
Romtype
Privat rom
---
Eiendomstype
Leilighet
---
Plass til
2
---
Soverom
Hartford, Connecticut, USA
Cozy 1 bedroom unit in clean, quiet, serene neighborhood with private entrance.
Private 1 bedroom apartment with private entrance; living area, dining area, full kitchen, and full bathroom with tub/shower.
Beautiful quiet neighborhood. 3 minutes drive from Waterbury Plaza and 7-10 minutes away from Naugatuck Shopping center and Brass Mill Center Mall.
Marlene's apartment is a great place for a quiet get-away or to do some writing and research. It is very comfortable, private and well-equipped. Marlene is very easy to communicate with and very accommodating to needs. Great spot.
Jeremy
2017-03-30T00:00:00Z
Marlene is such a great host! We had such a nice time. Her place is clean and the kitchen is well stocked. She even got us breakfast food according to our tastes and a bottle of wine, since we couldn't find one along the way to the airbnb. Really one of the best places I've stayed at. Thank you Marlene :)
Christina
2017-03-25T00:00:00Z
Marlene's place is self-contained and very comfortable. She provides everything that a guest may need for a few days and more from bathroom supplies to breakfast, utensils and pots and pans. The kitchen is equipped with a full size fridge and stove/oven. The bedroom is very cozy. The living/ dining room is homely. Marlene and her young family are very quiet neighbors. I have been given my space and privacy, which I needed, but at the same time Marlene is a text or call away and is very prompt at resolving concerns. It has been a joy knowing Marlene.
Yasmeen
2017-02-21T00:00:00Z
Romtype
Helt hjem/leilighet
---
Eiendomstype
Leilighet
---
Plass til
2
---
Soverom
Waterbury, Connecticut, USA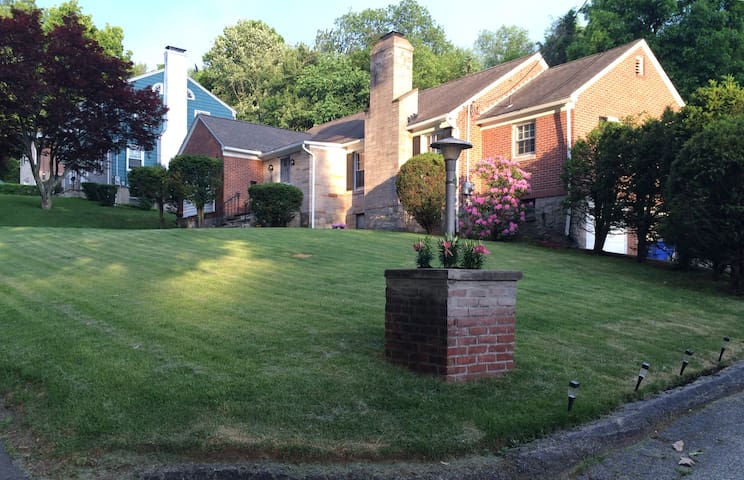 Enjoy the best West Hartford has to offer in our newly renovated and charming first floor apartment, walking distance to WH Center and Elizabeth Park; 7 min drive to downtown Hartford and Union Station; 20 min from Bradley Airport.
We are sure you will be comfortable in our bright and practical apartment. You will find everything you need here as it is well equipped and easy to navigate.
Historic homes, mostly residential, quiet and safe, yet close enough to urban Hartford with a true city-feel and cultural diversity.
We felt like this was our own personal space. It was easy to bring our family in for a visit; just like home. Looking forward to our next trip to CT!
Terrence
2016-10-23T00:00:00Z
Spacious living room, dining room and kitchen in a great location close to beautiful West Hartford Center. Easy to get anywhere from and ample parking in the back. Air conditioning and WiFi worked great.
Al
2016-07-30T00:00:00Z
Excellent place for someone visiting West Hartford wanting a central location.
Michael
2017-03-08T00:00:00Z
Lovely house in a quiet neighborhood. Thanks for accommodating my last-minute reservation!
Ethan
2016-04-02T00:00:00Z
The apartment is magnificent and totally consistent with the description. Yosefa was wonderful. Since the moment we booked it she was on top, making sure that all the instructions were clear, and of any additional information we might need.
Aaron
2016-10-26T00:00:00Z
Large yet cozy space if you're travelling with a child or two. Many nice and thoughtful touches here, from the many thick towels in the wonderfully clean bathroom to the couch pillows and board games in the living room. A very good location for West Hartford - Whole Foods nearby. We were quite comfortable here during a days long family visit.
Joan
2016-11-25T00:00:00Z
Our stay was wonderful! Yosefa is a lovely host, with excellent communication. The apartment was exactly as described, and makes a perfectly comfortable and convenient home-base for any visit to the GHA. Yosefa included some really thoughtful touches, like a welcome treat for my children, which was a big hit. Thank you, again, Yosefa!
A.E.
2016-03-28T00:00:00Z
Had a wonderful stay! Great location, walking distance from restaurants, shopping, bank etc. As promised, I found the house bright, easy, super clean,fully equipped, comfortable and cozy- makes you feel at home from first step in. Host was allways available, left clear written instructions and lots of brilliant tips on near by shops, dining and getting around. Highly recommended! Will definitely stay here again next time I am at West Hartford
Yoav
2016-09-29T00:00:00Z
Romtype
Helt hjem/leilighet
---
Eiendomstype
Leilighet
---
Plass til
4
---
Soverom
West Hartford, Connecticut, USA
Located in the historic Congress Street neighborhood, my place is less than a block away from Hartford Hospital and Connecticut Children's Medical Center and a 10-minute walk from Hartford's bustling downtown. Newly renovated, my place is good for couples, solo adventurers, business travelers and families (with one child). It includes a spacious living/dining room, separate kitchen, full bath and a large bedroom, with modern appliances and period details from the city's glory years.
It includes a spacious living/dining room, separate kitchen, full bath and a large bedroom, with modern appliances.
Nice, small, quiet, historic neighborhood. We felt like locals. It was easy to get around, we felt safe and walked most of the time. Apt was comfortabke, nice and clean. We will definitely stay here again!
Yoli&William
2016-11-25T00:00:00Z
I had a pleasant stay, and Carmen did everything she could to make it comfortable. She even brought extra blankets for my guest. She was in touch and within reach if needed. The location is a little "hood", but I felt comfortable and secure and my car and belongings in the apartment were safe n secure. I will definitely stay here again when I return for future conventions.......
Mark
2016-10-16T00:00:00Z
The host canceled this reservation the day before arrival. This is an automated posting.
Scott
2016-09-27T00:00:00Z
Carmen's place is excellent. It's located close to food outlets and other amenities. The place is clean and huge. Comfortable for 3 people.
Shirish
2017-03-24T00:00:00Z
Carmen's place was a perfect getaway for Hartford. I loved how quiet the neighborhood was and how comfortable the bed was. I got in at about 9 pm after almost 9 hours of driving and Carmen was very VERY patient with me and even came out to make sure I knew where to park. I was able get to the wedding I was attending, and back with no problems. I HIGHLY recommend her place. The neighborhood is perfectly safe and friendly so I am not sure what other reviewers meant by neighborhood is rough. Everything in the place is clean and it is very spacious. Location is great and it takes no more than 20 min to get into downtown Hartford by walking.
Kris
2017-03-19T00:00:00Z
Carmen is SO nice! We didn't know how to get the key from a 'safe-box' and she came from her home to help us in the night! She's very kind person and if I have another chance to come to Hartford, I'll definitely choose this place!
Zhenying
2017-03-10T00:00:00Z
Great stay!
Leah
2017-01-12T00:00:00Z
This location is ideal if you are going to Hartford Hospital or the state offices on Hudson. Starbucks and Au Bon Pain at hospital but nothing else really walking distance. The sound of upstairs apartment walking was quite loud but I was going to bed at 10pm. This apartment was very clean (except the bedroom carpets which need replaced!) and was fine for a no frills place to sleep. Do not expect any little "extras" like water, snacks, flowers, etc. Overall, I would probably stay again because it was clean and the location was perfect for me.
Kathleen
2017-03-22T00:00:00Z
Romtype
Helt hjem/leilighet
---
Eiendomstype
Leilighet
---
Plass til
3
---
Soverom
Hartford, Connecticut, USA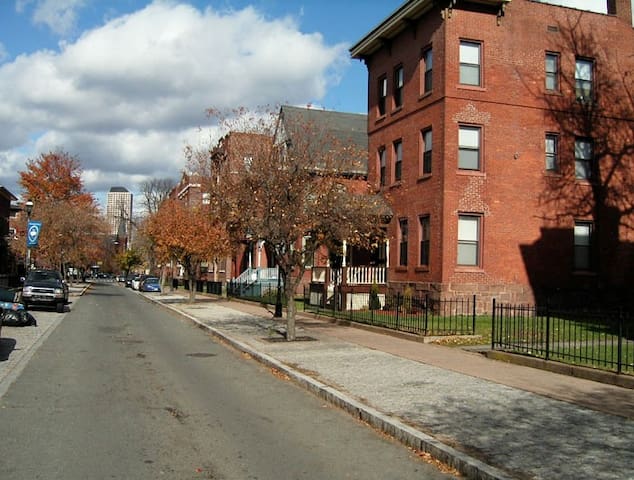 The apartment is quiet and light and has a calming effect. Beds are comfortable with a layer of memory foam. We are a mile from the Connecticut River and near many good hiking areas. Glastonbury is an old New England town with many exceptional restaurants and shops. Space has been used for out of town guests for weddings, funerals, and family reunions. 2-3 more bedrooms and living space are available upstairs and in the pool house (12 more people) if needed.
We are 5 miles from the center of South Glastonbury, a mile from the Connecticut River with an historic ferry to cross the river. A fruit and vegetable stand open from April to December down the street carries organically grown produce, flowers, and trees.
Lovely spacious and well appointed downstairs apartment in a beautiful house in the country. Near good restaurants and not too far from the airport. Friendly and accommodating hosts
Leigh
2017-02-19T00:00:00Z
Great place, thank you.
Sahiti
2017-01-03T00:00:00Z
Enjoyed my stay at Alice's place. It was easy to find, set up as described in the listing, clean, comfortable, and well furnished. Alice was very helpful throughout the stay. This is one of the best airbnb places I have stayed in so far. The apartment is located on the lower level of her house and has a separate entrance from the garage. There are two separate bedrooms that share a full bath. She has set up the kitchen with supplies for basic breakfasts, like cereal, bread, fruit, etc. The lounge area has a good desk for working on my laptop as well as a couch and TV. The neighborhood is super quiet at night and is about a 15-20 min. drive from downtown Hartford or Manchester. I found some good restaurants just across the Putnam Bridge in Rocky Hill.
Hugh
2017-01-13T00:00:00Z
Alice is a welcoming host and the space you get is HUGE. This is great commuting distance to Hartford and New Britain which is exactly what we needed while traveling for business. Wifi was fast, the fridge had some nice treats, and the bathroom was very well stocked in case you forgot any toiletries. Lovely home with a lovely host.
Rachel
2017-01-26T00:00:00Z
Alice was a gracious host. Thank you for a great stay!
Chris
2017-01-15T00:00:00Z
Nice everything. Easy to find even though in the CT woods. Away from it all but not far to I-84, I-91, Wesleyan U., Hartford. Alice welcoming and helpful. Comfortable, secure, roomy, well-lit, either new or newly remodeled. Washer/dryer, dishwasher, strong wi-fi. Nice basement with separate entrance but no basement feel or smell. Great value, hope to stay again.
Randall
2017-02-04T00:00:00Z
We are most appreciative that Alice and her husband were so accommodating with us checking in very late. They were both so gracious. Their place is a private apartment that is in the basement of their home. It is huge. Everything is new. The bathroom was very big and had a jacuzzi bathtub. The beds were real beds with firm mattresses. It is in a great location to stop for an evening on our way to Boston.
Van
2016-12-28T00:00:00Z
We were Alice's first airbnb guests. While Alice and her family were new to airbnb, their hospitality was not lacking. The apartment was exactly as described. It was not the right season for swimming, but there is an outdoor pool that looked very inviting. The beds were comfortable and there was more than enough space for our family of 5. Breakfast was brought down to us in the morning along with fresh coffee. The bathroom was huge and had a jetted tub and vanity. We would love a chance to come back here again sometime.
Jessaca
2016-12-24T00:00:00Z
Romtype
Helt hjem/leilighet
---
Eiendomstype
Leilighet
---
Plass til
8
---
Soverom
Glastonbury, Connecticut, USA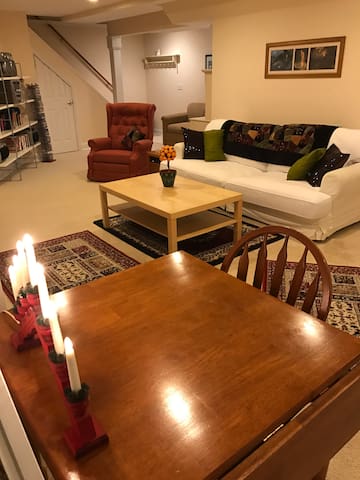 Our one bedroom apartment in a colonial barn has a country feeling! It comfortably fits two and is a 10 minute drive into downtown Hartford. Located halfway between Boston and New York City and within an hour to beaches and casinos.
We are on a private road with a country setting but half a mile from CT Rt.2 for convenience to major highways.
Carolyn and her family were warm and welcoming. The apartment itself is a charming converted barn, large space, very comfortable and private, with beautiful light on all four sides. Wifi internet worked great. There's a nice kitchen for basic food preparation. I hope to stay here again on my next trip to Glastonbury.
Matthew
2015-05-30T00:00:00Z
The "Barn" exceeded our expectations in terms of its location, accommodations and cost. We found the "Barn" to be comfortable, efficiently organized, clean, spacious, thoughtfully appointed, and well maintained. The personal touches of the hosts and their attention to detail were evident throughout the property. The surrounding grounds offered a serene, bucolic setting for enjoying a Connecticut spring in a warm and homey atmosphere. We found the bath/shower was the single shortcoming of the facility. While the bath tub will satisfy the bather, no one over 4' will be able to take a standup shower. Our stay was memorable. One we hope to repeat again during our periodic trips to Connecticut.
Helen
2016-05-10T00:00:00Z
Carolyn was a very kind and accommodating host during our stay. She was helpful with directions and offered recommendations for restaurants and outdoor activities, which we used. Cotton Hollow Preserve was a great, simple hike with beautiful views! Also, Roses Berry Farm is terrific for apple picking and offers Sunday brunch overlooking their farm and the mountains, something I'd highly suggest. The barn itself was lovely. The place was neat, beautifully decorated with an outdoor patio and was very cozy for any couple looking to get away. If you're tall, the tub/shower will be a bit tricky and you will need to sit on a small chair that's been provided but that aside, Carolyn's barn was a great stay and my boyfriend and I recommend it to fellow travelers!
Jen
2016-09-25T00:00:00Z
Our stay at the barn was lovely , charming house, well equipped and comfortable. Carolyn was very thoughtful and keen to make our experience great.
Frances
2016-10-13T00:00:00Z
My experience at the Barn was absolutely delightful. I had just relocated to the Hartford area for work and found this place on Air BnB. It couldn't have been more perfect and I would have loved the chance to make it my permanent address! The place itself is welcoming and warm and surrounded by nature. Carolyn has decorated in such an artistic and quirky way, every time I turned I saw something that pleased the eye. I was made so very welcome by Carolyn and Jim and I look forward to going back to visit them. If you are traveling in the area you MUST stay here. There is nowhere else that compares.
Lisa
2015-10-01T00:00:00Z
Carolyn and James were great. We really enjoyed our time in their adorable barn apartment. Some things that we particularly enjoyed: full sized refrigerator individually-controlled heat very quiet neighborhood lots of land on which to walk around proximity to restaurant and shops (about a 10 min drive) Some things that were a big challenging: Well, there was really only one thing: the shower. The shower ceiling is deeply angled. If you're over 5'2'', you probably will not be able to stand up straight in the shower. If you have a bad back or prefer not to squat during showers, you may want to take that into consideration.
Rashea
2015-11-08T00:00:00Z
If you are looking for a quaint, clean,beautifully decorated place to stay this is it. We have already booked a return trip!!! Frank is over 6 feet tall and we had no problems using the shower with the stool. Carolyn and Jim are great hosts, we can't wait to spend time outside with better weather in this serene setting. The barn in such a great get away, close to Hartford and New Haven . Nancy and Frank
Nancy
2017-03-30T00:00:00Z
It was such a lovely and beautiful barn house with a nice big garden, where you can sit under the sun sip your tea and watch the squirrels and rabbits! It was very calming and relaxing to stay at this place. We wish we could have time to stay a few days longer! It could also be the ideal place to stay even longer to accomplish some creative work at this atmosphere!
Elif
2016-05-16T00:00:00Z
Romtype
Helt hjem/leilighet
---
Eiendomstype
Leilighet
---
Plass til
2
---
Soverom
Glastonbury, Connecticut, USA
Work at home IT professional w/single room available for short term and long term stays. Shared kitchen and bathroom. Local bus routes and 5 min walk into downtown.
Great value. Very clean and neat environment. Quiet.
Love that its just 5 min into downtown and a new minor league baseball stadium. Great food in the downtown areas.
Victor was very helpful the whole time I was there and was incredibly friendly. The place is very clean and I enjoyed my stay.
Danhui
2017-01-21T00:00:00Z
Great experience all around. Victor was very hospitable during my entire stay. I'll definitely be looking to stay here again during any future trips
Scot
2016-09-12T00:00:00Z
I've stayed at Victor's apartments twice now and I've been very happy with both of my experiences. The rooms are minimalistic with a bed, desk/chair, lamp, and closet with hangers, but that's all I need. Both the bedroom and common spaces (including bathroom and kitchen) are very clean. Victor does a great job of anticipating guests' needs and provides you with soap, towels, and blankets. He's very communicative and easy to reach which is extremely helpful. Parking is very easy in the small lot behind the house. While the house is not necessarily in the nicest neighborhood, I've always felt very safe staying there given how the front doors are always locked and the door to your room can be locked as well. Would definitely stay here again.
Melissa
2017-01-24T00:00:00Z
I enjoyed the stay there. He was overly helpful
Omotayo
2016-09-01T00:00:00Z
Victor foi bem atencioso enquanto estava lá. Tivemos um desencontro na chegada e tive que dormir em outro lugar já que ele ficou inacessível de 14hs até 18hs. Problema contornado, o quarto é aconchegante, tem cozinha e banheiro compartilhados tudo limpo. A vizinhança não é muito segura, mas não tive maiores problemas. Bom custo benefício.
marcos
2016-09-27T00:00:00Z
Victor was so friendly and very easy to get ahold of if I needed anything! Room was very clean and cozy!
Elise
2016-11-29T00:00:00Z
Easy access
Edison
2016-12-14T00:00:00Z
Victor is a really nice guy -- super communicative and friendly!
Jeff
2016-09-30T00:00:00Z
Romtype
Privat rom
---
Eiendomstype
Leilighet
---
Plass til
1
---
Soverom
Hartford, Connecticut, USA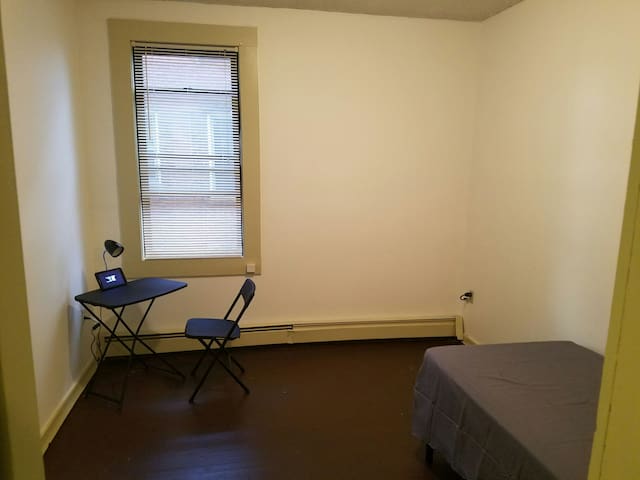 My place is comfortable and close to everything from downtown, to museums, shops, stores, clubs, pubs, bars, restaraunts, highways, bus terminals and minutes from Bradley Intl Airport
You'll love my place because of the high ceilings, the comfy bed, the coziness, and the cleanliness of the entire place. It's great for couples, solo adventurers, and business travelers. Our place is located on the second floor of a 6-unit apartment building. The place is very sunny and has a beautiful living room with large windows to let in maximum light. The kitchen is stocked with a coffee machine, microwave, pots and pans for guest use. There is a full bed in the bedroom with a dresser. The condo comes complete with Wi-Fi Internet, a 52 inch cable TV. Street parking is always available.
I love the culture and diversity that this great neighborhood offers all visitors. We are surrounded by beauty and history at every corner. We are fortunate to have Mark Twain House and Harriet Beecher Stowe house. The art and jazz seen here incredible!! Don't forget Bushnell Park and the carousel here for all to enjoy.
Romtype
Privat rom
---
Eiendomstype
Leilighet
---
Plass til
2
---
Soverom
Hartford, Connecticut, USA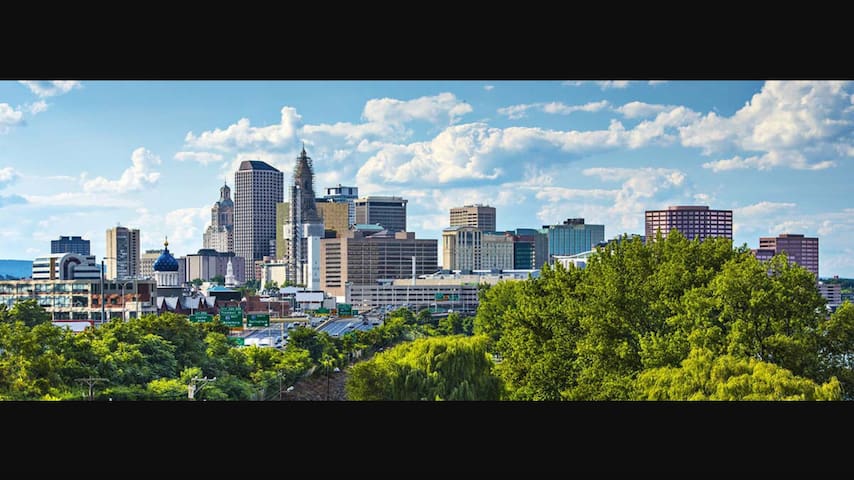 Welcome all Female travelers! Come stay in a very old 1920s duplex home that is less than a mile away from all of the best nightlife and restaraunts that West Hartford has to offer! Your accommodations include the basics such as a floor mattress bed, plenty of closet and dresser storage as well as a cute vintage-inspired decorum. A simple gluten-free breakfast is also available on Saturday mornings, and is included in the price of your stay.
This is a charming old house that has a lot of character.
The neighborhood is mostly residential with sidewalks that can take you right into downtown West Hartford.
I had a very comfortable stay at Alison's house. She had welcomed me to her house, made sure I had everything I needed, and was there for me if I ever needed help with something. She was great with the option of leaving me alone in my space or being available to hang out with me if I wanted so. Alison herself is a very sweet young lady, super welcoming, clean and organized. She had laid out a list of all kinds of places I could go eat and see during my stay. The house itself was very nice and comfortable, very clean and had a nice charm to it too. The room I stayed in was perfect, the bed was very comfortable too! Over all, I highly recommend checking in at Alison's place if you need a place to stay in the area. Very good experience!
vivian
2017-03-09T00:00:00Z
Romtype
Privat rom
---
Eiendomstype
Leilighet
---
Plass til
2
---
Soverom
West Hartford, Connecticut, USA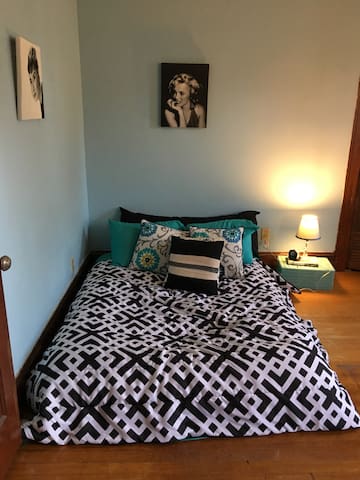 1

–

18

av

88 Leiligheter til leie
Oppgi datoer for å se fullstendige priser. Ekstra gebyrer gjelder. Skatter vil kunne tilføyes.