PICOBELLO rooms in an artistic studio, special guestrooms near by Lake Como. In the past the structure was an small factory, now we created an modern studio with warm loft character. Every room is realized in every detail with love, to give the guests an special living atmosphere. Thanks to the traveller and people who participate in our creative programm, picobello is an communicative living place!
BELLO (17m²) is located on the ground floor and has its own patio with table and two chairs. The room is equipped with a double bed, a small desk, chairs and open wardrobe. The private bathroom has towels, hair dryer, shower gel and shampoo. Drawings and paintings give the room an creative touch. Cedar wood and iron, the floors Smooth lime: Natural materials ensure a warm and modern loft character. Every day you have room service. Water and fruit you will find in your room, also you have free coffee and cookies for your small breakfast. If you desire, I will prepare you an rich and delicious breakfast with biological and local products, specially with the best cheese selection from our area (10.-€/person).
The Picobello is located in the heart of Calolziocorte, 8km southern of charming Lecco and Lake Como. Immediately close to us, there are typical bars, small and large supermarkets, fruit shops, and a butcher. Every Tuesday weekly market on the banks of the Adda. Also lovely walks you can do directly from the house.
Romtype
Privat rom
---
Eiendomstype
Andre
---
Plass til
2
---
Soverom
Calolziocorte, Lombardia, Italia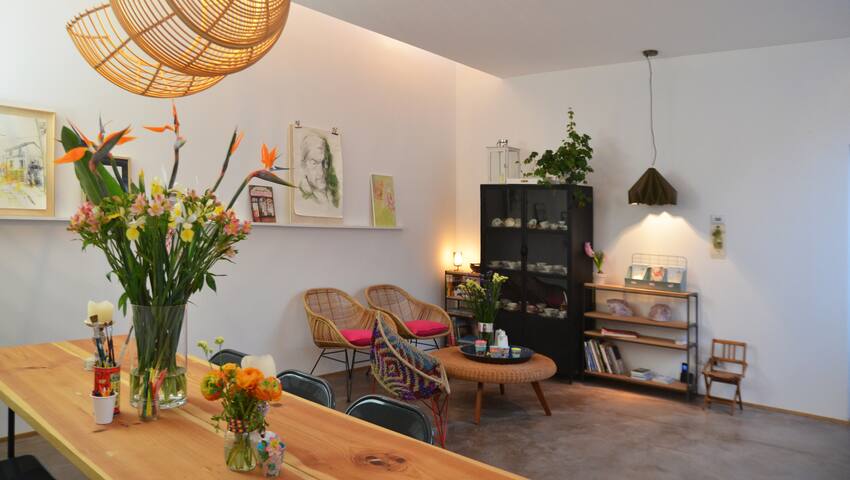 the rooms are in antique style, at the first floor of my old (1400) farm, with a big garden for barbecoa, at 20mt from river Adda, nice for bycicle,canoa and bird watching. the nearest town, at 7km, is Lecco, on the lake of Como.
i have more than 300 very old books in the breakfast area, some even in german and french language
near Lake of Como
Romtype
Privat rom
---
Eiendomstype
Bed & Breakfast
---
Plass til
3
---
Soverom
Calolziocorte, Lombardia, Italia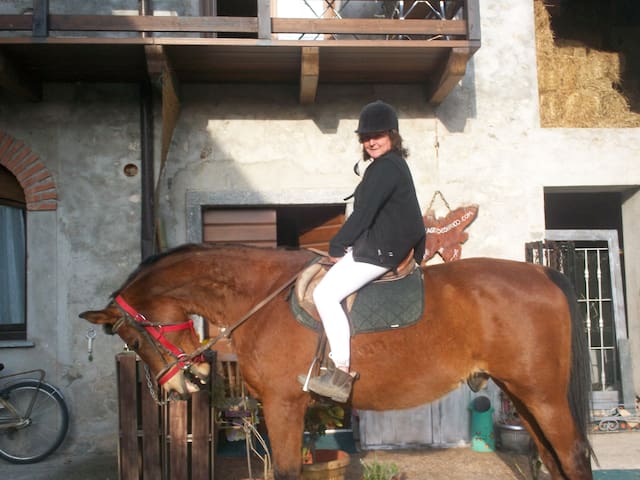 Ci sforziamo ogni giorno per renderla avvolgente, dal bagno schiuma di produzione locale all'abbinamento del colore delle lenzuola, perchè sia Unico il vostro soggiorno. Arredata interamente da noi utilizzando solo materiali della Valtellina, si trova al 2° piano di un gradevole, piccolo ed ordinato condominio, nelle vicinanze del Lago di Lecco, e di castelli, borghi antichi, come di ristoranti tipici e agriturismo del benessere e celebri luoghi del lago di Como.
Chris McCandless diceva: "la felicità è reale solo se è condivisa" e NOI CI METTIAMO IL CUORE... "la casa del Lago" è situata sul lago di Lecco, nominato il più pulito d'Europa, ramo orientale del lago di Como, e sulla sponda sinistra del fiume Adda, tra i monti della Grigna e dalla cresta del Resegone. Un bilocale luminoso, dotato di un salone in cui domina un comodo divano e una cucina completa di tutto, una camera con letto matrimoniale e annesso terrazzo con vista lago e monti ed un bagno con doccia relax. L'ideale per weekend romantici, vacanze mozzafiato, dimenticare il caos cittadino o visitare celebri luoghi del lago di Como (vedi fotografie). E' nelle vicinanze di numerosi castelli, di borghi antichi, di una spiaggia estiva e piste invernali di sci, come di ristoranti tipici e agriturismo del benessere, mentre a 5 minuti c'è la stazione con corse frequenti da/per Bergamo, Monza, Milano. Se verrete qui faremo di tutto noi e il territorio di Lecco, Como e della Brianza per aprirvi il Cuore lasciando parlare la nostra storia: dai personaggi Manzoniani dei promessi Sposi ai borghi ricchi di tradizione e paesaggi mozzafiato del Sentiero del Viandante, percorribile da tutti per giornate rilassanti con la possibilità di degustare cibi dal sapore nostrano e genuino (formaggi, yogurt, salumi, pesce persico e missoltini...). Molti di questi territori sono stati location per film come "Ocean's Eleven" o alcuni degli ultimi "007", per non dimenticare "Che bella giornata" interpretato dal comico Checco Zalone... Inoltre mettiamo a disposizione : Wi-fi gratuito / Computer con internet h. 24 / consegna a domicilio di ristoranti - paninerie - gelaterie della zona / Bicicletta uomo-donna ( per il periodo primavera – estate )
Il quartiere è molto accogliente con un bel panorama sul lago di Garlate, incastonato fra lago e montagna.Le città della zona hanno investito molto sulla possibilità di passeggiare lungo il Lago e lungo il fiume Adda. Città con origini storiche, antiche e da qui si possono effettuare numerosi itinerari per scoprire questi luoghi ricchi di fascino; numerosi sentieri permettono di esplorare il Resegone, la Grigna, Valcava, il Monte Tesoro. Si tratta di escursioni molto interessanti, con vari livelli di difficoltà, che in alcuni casi possono essere effettuate anche da famiglie. Una nuova pista ciclabile  costeggia ora anche tutto il lungo fiume Adda, e collega direttamente Lecco con Milano. Il Fiume Adda nasce dietro casa, nella sua porzione che esce dal Lago di Como. Lungo il corso del fiume sorgono rilevanti oasi ornitologiche e, soprattutto, merita il traghetto di Leonardo che lo attraversa. Insomma se volete una zona tra monti e lago, stupenda in primavera al risveglio della natura e magica in autunno con colori unici, o anche solo abbandonare per un weekend Milano e la sua metropoli... questo è il luogo che fa per voi. Luogo storico manzoniano e senza dimenticare la vicinanza di Bellagio, Como e la Valtellina. Quando farete la prenotazione vi invieremo una guida di nostra produzione molto dettagliata di tutto ciò che la zona vi offre : dai negozi ai luoghi caratteristici, dai supermercati agli angoli nascosti della natura.
Paolo ci ha accolti subito appena siamo arrivati, è stato molto cordiale e gentile nell'illustrarci i luoghi d'interesse e dandoci un bel benvenuto nella casa. L'appartamento è molto spazioso, luminoso, pulito e caldo; dotato di tutti i comfort possibili, ci ha fatto passare un bel weekend. E' un'ottima location per poter visitare i centri vicini, quali Como, Lecco o Cantù. Sono pienamente soddisfatto e non esiterò a contattarli per un eventuale nuovo soggiorno.
Bartolomeo
2016-12-12T00:00:00Z
Fantastico apartamento. Muy iluminado y muy bién equipado. Cerca de varios supermercados. Muy fácil para aparcar. Bonitas zonas para pasear. Propietarios muy amables, atentos y flexibles. Bravo! Paolo!. Muy recomendable.
Carlos
2017-03-04T00:00:00Z
molto gentili e disponibili anche per l'orario di check out
alessia
2017-01-01T00:00:00Z
The host canceled this reservation 128 days before arrival. This is an automated posting.
Mirjam
2017-03-07T00:00:00Z
Romtype
Helt hjem/leilighet
---
Eiendomstype
Leilighet
---
Plass til
3
---
Soverom
Calolziocorte, Lombardia, Italia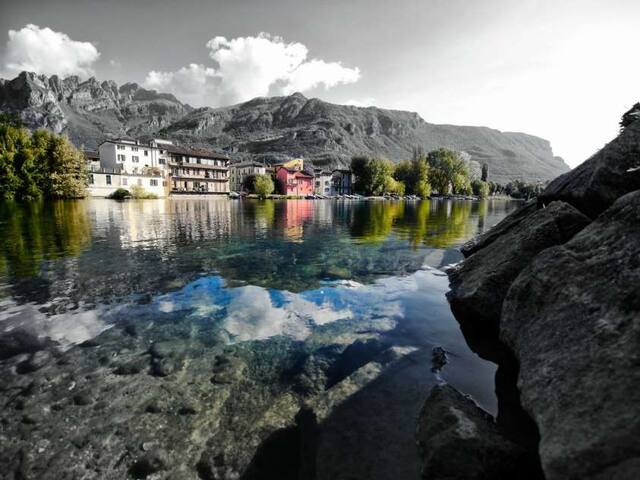 Benvenuti sotto i cieli di Lombardia!
Benvenuti sotto i cieli di Lombardia! "Quel ramo del lago di Como, che volge a mezzogiorno, tra due catene non interrotte di monti, tutto a seni e a golfi [...]", così Alessandro Manzoni descriveva il nostro territorio, così ancora oggi il lago che si trasforma in fiume e le montagne che sovrastano le nostre valli rappresentano i paesaggi in cui vi sentirete piacevolmente immersi. Un caloroso Benvenuto nell'appartamento "I Promessi Sposi"! Adagiata là dove il Lago di Como cede il passo al fiume Adda, la residenza "I Promessi Sposi" rappresenta la perfetta soluzione per chi decide di trascorrere una vacanza dedita all'esplorazione delle Prealpi Orobiche. La cittadina di Calolziocorte è perfettamente centrale e ottimamente collegata per raggiunge le principali attrazioni di questo splendido spicchio di Lombardia, ai piedi delle montagne Resegone e Grigna, proteso sulle pianure della Brianza. L'appartamento "I Promessi Sposi", di nuova ristrutturazione in un antico convento nel vecchio nucleo del "Cornello" di Calolziocorte, è posto in posizione rilevata e dall'ampia terrazza volge lo sguardo verso il lago, il fiume e la valle San Martino. La località centrale ma silenziosa offre ogni genere di comfort cittadino, senza dover rinunciare ad una vista mozzafiato e alla possibilità di avventurarsi a piedi per i sentieri collinari. L'interno dell'appartamento, modernamente arredato, permette di vivere una vacanza all'insegna della comodità, in un ambiente dove ogni dettaglio è pensato perché vi sentiate coccolati!Offriamo una connessione ad Internet in Wi-Fi gratuita, con l'utilizzo della nostra Internet key da connettere al vostro computer personale, per controllare le vostre mail, organizzare attività, gite e molto ancora!!! Vi aspettiamo!!! VIVI LA LOMBARDIA Il nord Italia è una regione stupenda da scoprire! E certamente fra i luoghi più belli è da annoverare il Lago di Como.A sud le pianure, a nord le vette delle Alpi e nel mezzo la regione dei laghi!Magnifici paesaggi vi aspettano in Lombardia: le limpide azzurre acque del Lago di Como in cui si specchiano le montagne innevate, i sentieri che si inerpicano sulle cime delle Alpi e delle Prealpi, le tranquille campagne...Grande cultura e storia vi aspettano al contempo: le città di Bergamo, Monza, Milano, Lecco, Como sono solo alcune delle più belle e vicine, ed i numerosi santuari, i musei...Buon cibo ed ottimo vino: la ricca cucina lombarda soddisferà tutti i gusti, dai primi piatti di pasta, alle carni, al pesce ed ai golosi dolci locali!Il clima varia profondamente di stagione in stagione: caldo in estate con la possibilità di fare il bagno nel lago e godersi il refrigerio delle valli montane, freddo in inverno con cieli azzurri e neve!Le maggiori attività che si possono praticare sono connesse al lago con numerosi sport acquatici ed alla montagna con passeggiate sui sentieri, arrampicata ed alpinismo. CALOLZIOCORTE Calolziocorte giace esattamente là dove il ramo di Lecco del lago di Como si trasforma in fiume Adda. Il luogo, così come narrato dal celebre scrittore Alessandro Manzoni, è raccolto in una valle, la valle San Martino, ed è dominato dal monte Resegone. Al centro della valle scorrono il lago ed il (URL HIDDEN) cittadina con le sue frazioni a valle ed a monte permette di godere di ottime prospettive sulla valle e sul lago.Calolziocorte offre numerosi ristoranti, banche, supermercati. Una bella passeggiata lungo il fiume permette di esplorare il Parco Adda Nord, grazie anche al nuovo ponte ciclopedonale che attraversa il fiume. Il monastero del Lavello rappresenta un gioiello d'arte sacra visitabile sulle rive del fiume. La pista ciclabile connette oggi Calolziocorte sia a Lecco, che al percorso lungo il fiume Adda che si sonoda per decine di chilometri verso sud.Nella limitrofa Vercurago, raggiungibile anche a piedi dall'appartamento, si può raggiungere il cosiddetto Castello dell'Innominato.Dalle frazioni collinari di Calolziocorte si snodano numerosi sentieri panoramici. La posizione strategica della cittadina consente di raggiungere con rapidità tutte le attrazioni dell'area del lago di Como, di poter esplorare le montagne della nostra zona e di visitare le città di Lecco, Bergamo e Milano.
We straightly recommend the apartment "The Betrothed" and Calolziocorte like the base for discovering Lombardy! We really enjoy lakes, crystal air, amazing mountains, and tranquil atmosphere! The apartment is absolutely new, very clean, comfortable and have all equipment for convenient holidays! Photos on the cite are sheer true but don't reflect the really charm and individual spirit of the apartment! The large terrace gives you opportunity to enjoy breakfast, look toward the lake and Alps and listen ringing of old-church's bells. Matteo is very hospitable and attentive, he gave full information and recommendation that we asked, and was available for help everyday! We stayed at the apartment with our baby daughter and Matteo was so kind that gave the baby-chair that used to be his years ago. It was the great surprise for us! For me (like mother) is very important that the apartment is an absolutely safe, clean, with a good atmosphere for the baby. Many thank Calolziocorte, Lombardy and, of course, Matteo for the wonderful holidays! Апартаменты в Калолзиокорт – это удобная остановка для исследования Альп, озер и Ломбардии. До многих известных туристических достопримечательностей вокруг удобно доехать, еще больше милых тихих уголков, где хорошо отдохнуть от шумного Милана, Бергамо и Комо. Апартменты абсолютно новые, современные, хорошо оборудованы и со вкусом обставлены. Потрясающая большая терраса с видом на озеро, горы и старый город, за завтраком порадует Вас звоном колокола на старой церкви, а вечером обеспечит романтическую умиротворяющую обстановку. Матео предоставил нам карты, полную информацию по региону, интересным местам, дал нам консультации по всем интересующим вопросам, и самое приятное, всегда был "на связи", чтобы помочь. Мы отдыхали со своей 2-годовалой дочерью, и Матео был настолько милым, что предоставил нам стульчик для кормления, который был его собственным много лет назад в детстве! Огромное спасибо Ломбардии, Калолзиокорт, а особенно Матео за наш прекрасный отпуск!
Yulia
2013-05-04T00:00:00Z
Wir haben Matteo als einen sehr fürsorglichen und hilfsbereiten Gastgeber erlebt, und er hat uns alle Informationen rund um den Comer See gegeben. Die Wohnung ist neu eingerichtet, hat ein sehr schönes großes Badezimmer und wir haben uns sofort sehr wohl gefühlt. Jeden Morgen haben wir auf der großen überdachten Terrasse unseren Caffe latte macchiato getrunken und haben die traumhafte Aussicht genossen. Unbedingt besuchen sollte man Como, Varenna, Bellagio , Lecco und Tremezzo. Einer unserer Highlights war unsere Motorbootsfahrt auf dem Comer see kurz vor Varenna in Lierna (Nautica Lierna),das wir von Lucca gemietet haben, er spricht italienisch und englisch. Wir können diese schöne und angenehme Unterkunft von Matteo nur weiterempfehlen und wünschen allen weiteren Gästen eine wunderschöne Zeit am Comer See.
Regine
2013-06-11T00:00:00Z
The apartment was wonderful, comfortable and well-maintained. We loved the view from the balcony and listening to the ringing of church bells. Matteo's suggestions for sight seeing were superb. We hope to return!
Cheryl
2014-08-11T00:00:00Z
We truly loved our 11 day stay at this apartment! The apartment was actually more spacious than the photos would indicate. The view from the terrace is even more breathtaking, too. Bathroom is huge, the bedroom clean and roomy, and the combined living room and kitchen allow you to both relax and cook great meals to enjoy on the terrace. The location is just perfect to explore both the beautiful surrounding areas with mountains, valleys, and the lakes, as well as visiting the larger cities like Lecco, Bergamo, and Milano. If you choose to visit Milano, the train departing just 10 minutes walk from the apartment is highly recommended (a cheap 50 minutes trip). The local city, Calolziocorte, has everything you could ask for. Small and large supermarkets (Iperal has got excellent produce and a huge selection in everything!), and the local bakery, butchers, and delicatessen allow you to get all the great Italian food you crave for! Walking down to the city center will give you a good exercise (likewise when you go back up!) and prove a very good excuse to visit the great local "gelaterias" and enjoy their amazing ice creams and sorbets. In short driving distance you will find numerous great places to enjoy good food. Trust the recommendations from Matteo; they are very great places to eat! We would highly recommend this place to anyone looking to enjoy beautiful landscapes, relaxing cities, and outstanding food.
Kim Juul
2014-07-13T00:00:00Z
Vi havde en fantastisk dejlig uge i Mateos lejlighed. Ankomsten hertil var superfin og Mateo var meget hjælpsom og opmærksom. Selve lejligheden ligger på toppen af den lille by, der er nem at gå ned til. Der ligger flere små butikker i gåafstand, men det kræver lidt god kondi at komme hjem igen med varerne op af alle trapperne! Vi sejlede fra Lecco hvilket var en meget dejlig oplevelse. Tag endelig den lille gåtur op til udsigtspunktet ved klostret. Den er nem nok at gå, men kræver også lidt god kondi da det stiger en del. Selve lejligheden egner sig perfekt til et par med et barn som vi var. Der var alt udstyr i køkkenet - og der var meget rent og lækkert at være. Udsigten fra den kæmpestore private terrasse er meget smukkere end på billederne!
Anne
2016-07-29T00:00:00Z
Matteo's apartment looks pretty new. It is modern and well furnished. The balcony is magnificent with a top view of the lake. The pictures do the apartment justice. The garage is spacious and just below the apartment. Matteo and his parents were very kind and accommodating, making themselves available to deliver us the keys and show us the apartment despite our huge delay. The region is also very nice to explore and visit, however I highly recommend visitors to travel by car.
Leandro
2014-04-21T00:00:00Z
The apartment was well documented and proved to be just like it was advertised. Matteo's sister, Luisa, met me at their house and drove over to the apartment. She carefully described everything and it was a wonderful stay. There is a great view of Lake Como from the terrace. I was quite impressed with the security, pf both the apartment and my rental car...actually in a private garage right below the unit. It was centrally located and I used the time to do some sightseeing in this wonderful part of Lombardia.
Bob
2014-12-22T00:00:00Z
We stayed 7 days at the apartment and it was all really wonderfull! Matteo and his family were very kind and helpfull. The apartment had everything you could ask for, very modern, superclean and such an amazing view from the private terrace!! The pictures in Airbnb show exactly how it is, but in real it is even more bigger and more beautifull than you expect. The apartment is very private and still in an Italian surrounding amongst the Italian people. The location is perfect for exploring the environment, and in calolziocorte you can get everything you need like groceries and take away pizza. We were with a little kid and he enjoyed the apartment as well, so perfect for small children. We went to Mandello del lario for the lake, a parc with playground and ability to swim in the lake.. Really recommended! Thank you Matteo and family, we had a lovely time!
Nadine
2016-08-28T00:00:00Z
Romtype
Helt hjem/leilighet
---
Eiendomstype
Leilighet
---
Plass til
4
---
Soverom
Calolziocorte, Lombardia, Italia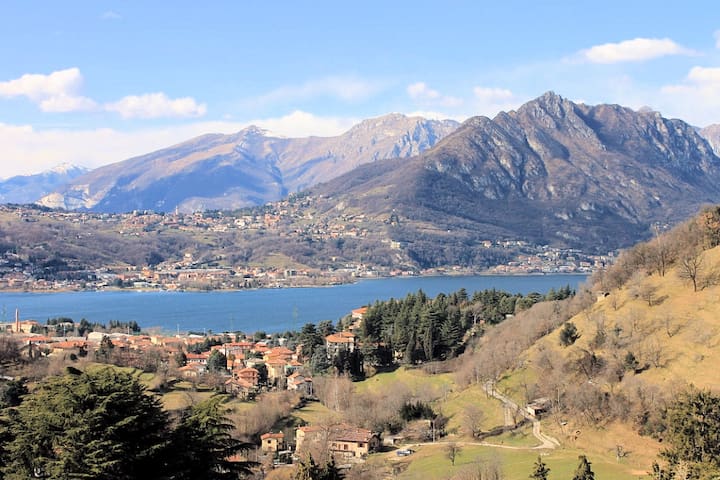 PICOBELLO rooms in an artistic studio, special guestrooms near by Lake Como. In the past the structure was an small factory, now we created an modern studio with warm loft character. Our room are realized in every detail with love, to give the guests an special living atmosphere. Thanks to the traveller and people who participate in our creative programm, picobello is an communicative living place!
PICO, one of the double rooms (21sqm) is located on the first floor. The small, private balcony with table and two chairs, invites you to enjoy. The room is equipped with a double bed, a small desk, chairs an small corridor with open wardrobe. The private bathroom has towels, hair dryer, shower gel and shampoo. Drawings and paintings give the room an creative touch. Cedar wood and iron, the floors Smooth lime: Natural materials ensure a warm and modern loft character. Every day you have room service. Water and fruit you will find in your room, also you have free coffee and cookies for your small breakfast. If you desire, I will prepare you an rich and delicious breakfast with biological and local products, specially with the best cheese selection from our area (10.-€/person).
The Picobello is located in the heart of Calolziocorte, 8km southern of charming Lecco and Lake Como. Immediately close to us, there are typical bars, small and large supermarkets, fruit shops, and a butcher. Every Tuesday weekly market on the banks of the Adda. Also lovely walks you can do directly from the house.
Romtype
Privat rom
---
Eiendomstype
Andre
---
Plass til
2
---
Soverom
Calolziocorte, Lombardia, Italia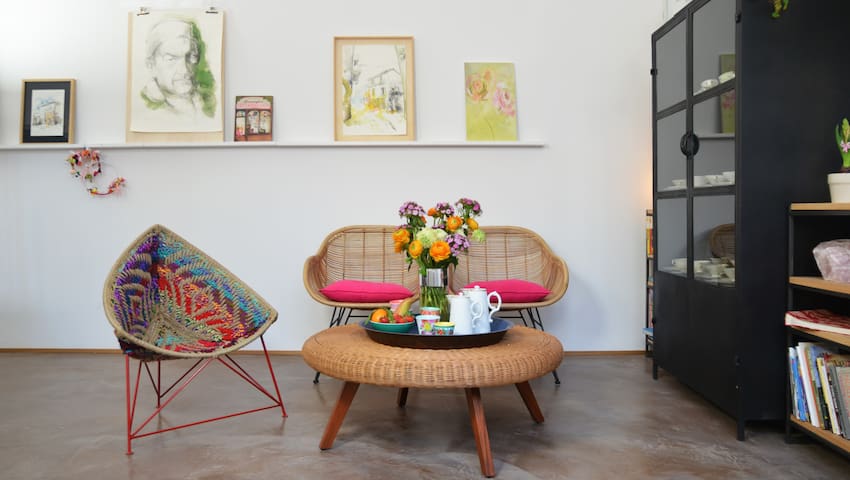 Appartamento con soggiorno, cucina, bagno, camera da letto in mansarda, balcone e camino. Si trova a Calolziocorte alta, a 9 km da Lecco, da dove si possono ammirare la valle dell'Adda e i monti lecchesi. Possibili escursioni in bicicletta e a piedi.
Bello e arredato con gusto, appartamento con soggiorno e divano letto (1 piazza 1/2), cucina, bagno con vasca, camera da letto in mansarda, balcone e camino. L'appartamento si trova in una corte, il parcheggio dell'automobile si trova fuori, molto vicino e gratuito. La casa si trova nella parte superiore di Calolziocorte, a 9 km da Lecco, da dove si ammirano la valle dell'Adda e i monti lecchesi. Da qui è possibile fare splendide escursioni in bicicletta lungo l'Adda: il nuovo anello ciclabile che raggiunge Lecco, il classico percorso verso Trezzo e Milano, oppure percorrere la ciclabile della Valtellina; spettacolari escursioni a piedi sui sentieri delle montagne circostanti (Grigne, Resegone, Prealpi). Milano e Bergamo sono facilmente raggiungibili, per chi, invece preferisce godere degli eventi e della cultura di cittá. Si forniscono materiale turistico-culturale e informazioni relativamente a escursioni a piedi e/o in bicicletta. L'appartamento è dotato di Wifi. Nella stessa casa si può vedere anche questo appartamento: https://www.airbnb.it/rooms/1474001 Questo ultimo appartamento si trova su un unico piano ed è preferibile se si hanno bimbi piccoli.
We had a wonderful stay at Mina's house. The flat was lovely with amazing views over the valley and a beautiful attic bedroom. The carpark was not at the house, but very close and convenient. Mina was a great host, very responsive and helpful and the fact that she lived downstairs was useful when we had questions. We took our 20 month old daughter and while the flat was fine, it was a challenge to keep her off the spiral staircase and away from all the ornaments and things in the flat. I would definitely recommend this flat to anyone looking in the area.
Anita
2014-08-11T00:00:00Z
Mina is de buurvrouw die je altijd hebt willen hebben. We kwamen aan en je voelde je meteen welkom. De parkeergelegenheid is dichtbij, maar toch werden we met de bagage meteen geholpen zodat we niet zo hoefden te sjouwen. Ze stond er op dat de racefietsen die we bij ons hadden in haar bijkeukentje werden gestald. Dit betekende wel dat ze eerst door haar woonkamer moesten.. Het appartement doet groter lijken dat het is, heeft een mooi uitzicht en bevindt zich in een rustige wijk buiten het centrum. In een soort kleine gemeenschap waar iedereen elkaar kent en je je meteen op je gemak voelt. De omgeving is mooi, een aanrader is het fiets-, & wandelpad dat ze om het meer hebben aangelegd. We willen zeker een keer terug met name om meer te fietsen en te joggen. Als bonus kregen we nog lekkere pasta en saus (om zelf te maken) allemaal van verantwoorde kleine winkeltjes want Mina heeft het niet zo op de grote supermarkten. Kortom een absolute aanrader!
Yvette
2014-08-30T00:00:00Z
Nous avons été ravi de notre séjour chez Mina. Elle nous a chaleureusement accueillie chez elle et a fait preuve preuve de plein d'attentions à notre égard. Carole et Jaroslaw
Carole
2016-08-01T00:00:00Z
We just loved spending our holidays in Milano in Mina's house. It was cozy, comfortable and beautiful just as it is on the pictures. We enjoyed being close to nature in the mountains and discover Bergamo and the lake Como not that far away from the apartment. Thank you Mina we had lovely days there.
Harisoa
2015-10-04T00:00:00Z
Two friends and I stayed at Mina's apartment for a week while rock climbing around Lake Como. We were looking for a place with internet, parking, and easy access to areas around Lecco. This was the PERFECT place. It was the first Airbnb I've stayed at that actually looked better than the pictures when we got there. On top of the completely adorable apartment with balcony and everything you could want, Mina was an absolutely wonderful host. We speak very little Italian, but she made a huge effort to communicate with us and make our stay perfect. She was very responsive, helpful, and overall just a really lovely person.The apartment was equally as lovely and well-suited for our needs. It was a perfect size for two or three (with two people sharing the upstairs bed and one on the pullout sofa). I would highly recommend and would definitely stay here again on my next visit.
Lisa
2015-06-19T00:00:00Z
Choosing Mina's apartment was the best decision we could make! Beautiful home with atmosphere, very nice views and lovely people - that's what made our holidays unforgettable. Mina is lovely, helpful and caring person. Apartment was very well equipped. Definitely recommend!
Joanna
2014-09-24T00:00:00Z
Siamo stati ospiti di Mina 9 notti. L'appartamento è molto carino, arredato con gusto e perfettamente attrezzato come indicato nella descrizione. La zona è tranquilla e la posizione ideale per le nostre esigenze. A pochi minuti di auto si trova praticamente tutto. Mina si è dimostrata fin dal principio molto gentile, disponibile e attenta alle nostre esigenze. Trovare la torta all'arrivo poi è stato stupendo.
CHIARA
2015-09-02T00:00:00Z
Mina was a wonderful and attentive host. Both her apartments are really nice and as described. Very clean, great decor - we loved it. A big thumbs up for having an espresso percolator and coffee in the kitchen ready to go :) Much thanks
Sherif
2014-08-08T00:00:00Z
Romtype
Helt hjem/leilighet
---
Eiendomstype
Leilighet
---
Plass til
4
---
Soverom
Calolziocorte, Lombardia, Italia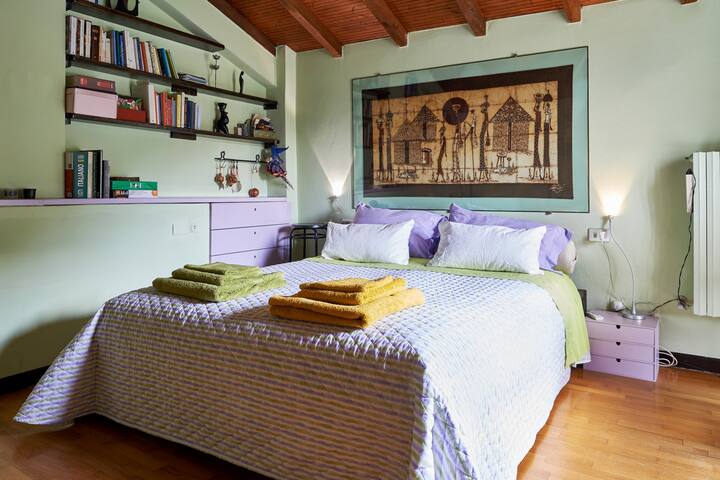 1 large kitchen, 2 beautiful bedrooms, living room with wood stove, plus, heating, bathroom with shower. quiet area, overlooking the lake and mountains. train station for connections I, LC, BG, 10 min walk.
Convenient for any need, quiet location, suitable for cruising around by car, and even a 10 min walk, reach the stat. station, for trains between Milan, Sondrio, Bergamo, Lecco, Como. In winter, a 30 min drive are the ski fields, (plans of Bobbio).
This neighborhood is very quiet, and in the building of 12 families, equally quiet.
We arrived and Achille was very kind and gladly welcomed us into his home. His English was fairly good and when there was difficulty communicating he called his daughter who would communicate the message to us. The following morning we stayed a little later that planned and Achille arrived before we had left. We didn't mind in the slightest and what made our stay was that Achille made the two of us brunch which was very nice. Would happily stay there again.
Gareth
2016-08-01T00:00:00Z
Achille est chaleureux, enthousiaste et bon vivant. Il est prêt à rendre service et parle très bien français !
Aurore
2016-05-09T00:00:00Z
Romtype
Helt hjem/leilighet
---
Eiendomstype
Leilighet
---
Plass til
4
---
Soverom
Calolziocorte, lecco, Italia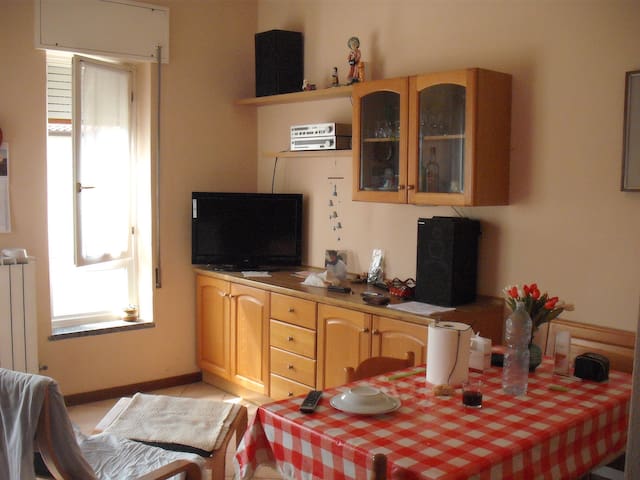 Speciale EXPO sconto 10% per tre ospiti sconto 15% per quattro ospiti
Detached house overlooking the lakes in the Lecco branch of Lake Como. Within a framework of pre-Alpine mountains such as described by A. Resegone Manzoni's novel The Betrothed, and the group of Grigna. At 40 km from Milan and 25 from the art city of Bergamo. Just 5 minutes from the center of Lecco. The cottage has no confirmation but only pedestrian access for cars. At 30 meters from the House there is a large free car park. you can get there by train on the line Milano-Lecco Calolziocorte station. Or from Bergamo arriving by plane from Orio al Serio airport, Bergamo, Lecco line Caloziocorte station. The cottage offers an apartment with private entrance features three rooms: a single, a double, a quadruple with mezzanine (ideal for families), a lounge / conservatory with satellite TV, a kitchen available for guests, a bathroom with bath and shower. Also It is possible to connect to the Internet through wireless 12: 0 am. Maison individuelle avec vue sur les lacs de la branche de Lecco du lac de Côme. Dans un cadre de pré-alpine des Montagnes telles décrites que par A. Manzoni Resegone roman "The Betrothed", et le groupe de Grigna. À 40 km de Milan et 25 de la ville d'art de Bergame. Situé à 5 minutes du center de Lecco. A few kilometers from Bellagio, Varenna and Como A few kilometers from Bellagio, Como and Varenna Cottage overlooking the lakes in the Lecco branch of Lake Como. Within a setting of pre-Alpine mountains such as the Resegone described by A. Manzoni in his novel The Betrothed and the Grigna group. At 40 km from Milan and 25 from the city of Bergamo Art. Just 5 minutes from the center of Lecco. You can arrive by train on the Milano-Lecco line Calolziocorte station. Or from Bergamo for those arriving by plane from the airport of Orio al Serio, Bergamo Lecco line stop Caloziocorte. The house offers a private entrance apartment with availability of three rooms: one single, one double, one quadruple room with a mezzanine (ideal for families), a sitting room / veranda with satellite TV, a kitchen, a bathroom with tub and shower. You can also connect to the internet via wireless 24h.
Lovely view! Geraldo and Sonny are very helpful and friendly. They were always willing to help.
Sandra
2016-08-02T00:00:00Z
The accomodation was great. With 4 people there is enough space to hang on the veranda or in the house. We (the four of us) we're new with airbnb and with no doubt i will recomment Geraldo as a really good host! He is generous, polite, keeps distance when you want to and if you like he would like to play pingpong onces or twice. About all the things i read in the past recommondations, he has read them too ;)! Great job Geraldo! See you again some day!
Peter
2015-08-14T00:00:00Z
Мы с женой жили у Герардо в начале августа. Нам всё очень понравилось. Это очень тихое и красивое место. Дорога на поезде в Милан занимает меньше часа, поезда ходят часто. Очень гостеприимный и внимательный хозяин. Надеемся побывать там ещё. Остались только положительные впечатления.
Aleksandr
2012-08-12T00:00:00Z
We arrived the house in the evening. Knowing that we had bought meat and vegetable for dinner, Gerardo reacted very strongly that cooking is not allowed. We had problem in communication as he didn't speak English. We finally need to communicate with each other in front of his computer with Italian/English translation. He stressed many times that it is a B&B with bed and breakfast provided. Nevertheless, he said we could cook that night and the next night. So it was settled. The breakfast food provided included milk, yogurt, jam, fruit and cookies. We staying there 4 nights but the breakfast food was not refilled until we asked for it for the fourth day. It was not a good experience at all. Nevertheless, Gerardo was very kind to have helped us move our clothes inside on a raining day and fix the shower for us (the shower worked very badly in the first 2 days, we didn't tell Gerardo seeing that it would probably be of no use in complaining)
Poon
2013-07-14T00:00:00Z
Die Unterkunft ist schön und sehr sauber. Es istalles was man den Tag durch so braucht vorhanden. Einzig dass der Vermieter kein Englisch spricht machte die Sache nicht gerade einfacher... aber man ist ja schliesslich auch nicht in England... Gerardo hat sich aber alle Mühe gegeben die sprachliche Barriere zu überweinden und hat geholfen wo er konnte. War ein sehr schönes Wochenende in Lecco!
Samuel
2014-08-12T00:00:00Z
We have been received warmly by Gerardo and had a great time in his spacious villa and romantic garden. For us speaking Italian was the most important, which we did plenty. We can recommend this place and Gerardo as a friendly and helpful host warmly. Also this place is very suitable for trips in the area of the Como lake and visiting the important World Expo in Milan.
Aukje
2015-06-06T00:00:00Z
Buona accoglienza buona scorta per la prima colazione. Casa un po' particolare ma valida per un
Oriana
2015-08-04T00:00:00Z
Sehr freundlicher Gastgeber, hilfsbereit und immer ansprechbar, wobei die Sprachbarriere etwas hinderlich war. Tolle Lage etwas abseits der Touristenhochburgen; Mobilität mit Auto, Motorrad oder Fahrrad ist von Vorteil. Die Wohnung ist geräumig und mit allem Nötigen ausgestattet. Wir haben uns sehr wohlgefühlt.
Reinhold
2016-08-26T00:00:00Z
Romtype
Privat rom
---
Eiendomstype
Bed & Breakfast
---
Plass til
6
---
Soverom
Calolziocorte, Lombardia, Italia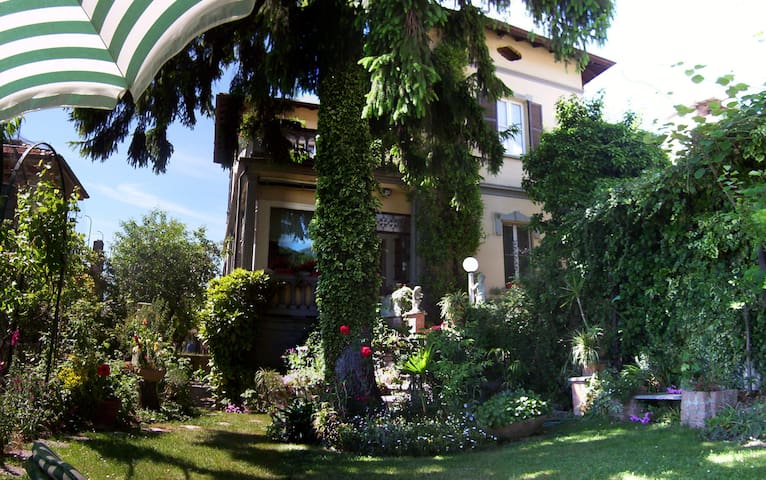 Overlooking the lakes in the Lecco branch of Lake Como. Within a framework of pre-Alpine mountains such as described by A. Resegone Manzoni's novel Promessi Sposi, and the group of Grigna. At 48 km from Milan and 20 km from the art city of Bergamo. Just 20 minutes from the center of Lecco. With a breathtaking view that encompasses much of the beautiful Lecco's Lake, three-stories villa and garden 500m altitude, village of Vignale Rossino 8 km from Lecco's Lake. Independent apartment mq80. Rustic furniture and wood finishes, a medium size bedroom, living room, kitchen with fireplace, large bathroom with shower and bath tub. The apartment has a washing machine. We can add another bed/sofa for one guest. Astonishing garden and beautiful view, peaceful and secluded. If you're looking for a place to relax and hikes and excursions that's the right place for you...! Beautiful locations to visit near by: 8 km from Lecco 20km Bellagio 15km Como's lake 15 km ski slopes Piani di Bobbio 48 km from Milan 20 km Bergamo
Very helpful
Romtype
Helt hjem/leilighet
---
Eiendomstype
Leilighet
---
Plass til
3
---
Soverom
Calolziocorte, Lombardia, Italia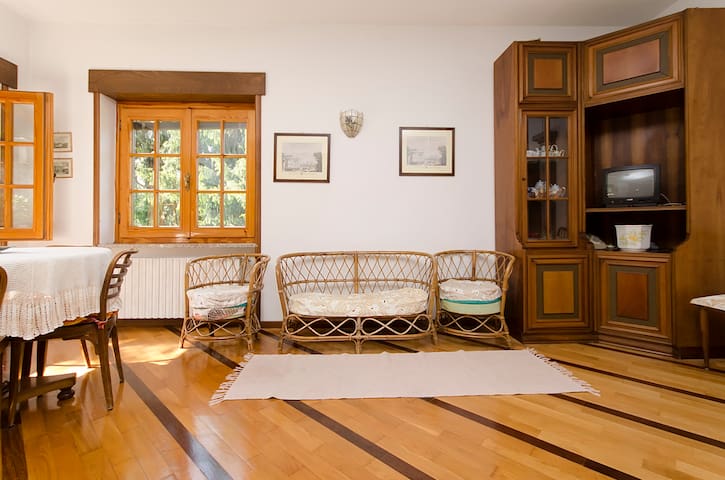 Rent the beautiful suite of the tower, experiencing the magical atmosphere of the castle Rossino! The spectacular stone tower of the 12th century is perfectly restored and houses a suite consisting of a living room, two double bedrooms and a bathroom
The castle tower rossino allows guests to experience the magic atmosphere of an antique residence but perfectly restored and equipped with all the comforts.
Romtype
Privat rom
---
Eiendomstype
Slott
---
Plass til
4
---
Soverom
Calolziocorte, Lombardia, Italia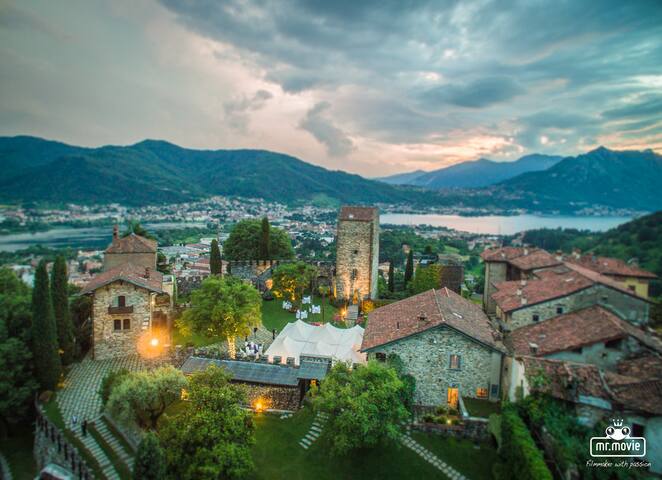 Il mio alloggio è vicino a attività per la famiglia. Ti piacerà il mio alloggio per questi motivi: i panorami, la posizione, l'atmosfera, gli spazi esterni e la gente. Il mio alloggio è adatto a coppie e avventurieri solitari.
Komfortable Wohnung in der Nähe schöne Wanderungen
Romtype
Privat rom
---
Eiendomstype
Hus
---
Plass til
3
---
Soverom
Calolziocorte, Lombardia, Italia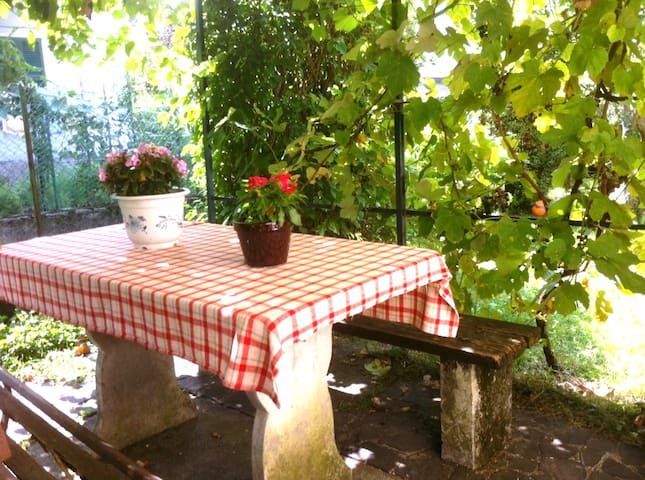 Deliziosa nuovissima mansarda (loft) sopra lago di Lecco, in zona tranquilla e magica, molto panoramica, nei pressi di un eremo di San Gerolamo ed ai piedi del castello dell'Innominato ( Promessi Sposi di A.Manzoni). Spettacolare Idromassaggio in torretta vetrata quotato extra. Tariffe vedi note sotto.Tavolo da lavoro , internet e Wi-Fi .
Il silenzio ed il Parco. Il loft è' nuovo e dotato di tutti i più' moderni servizi.
È' piccolo e sicuro. Bar, pizzeria, è negozio a cento metri.
De très bonnes vacances dans le logement de Marco qui était très réactif par messages avant le séjour, et qui nous a très bien accueilli dans un loft refait à neuf, propre et agréable. De très bons conseils pour visiter la région et un accueil chaleureux !
Camille
2016-10-30T00:00:00Z
Casa molto pulita, nuova e dotata di tutti i confort, a 10 minuti dall'itinerario manzoniano che porta alla Rocca dell'Innominato, dalla quale si gode di un magnifico panorama. A 5 minuti di macchina dal lungolago e a 15 da Lecco.
Alberto
2017-03-19T00:00:00Z
Marco's house is like one of the best I ever been! It's comfortable, is clean, is everything the photos show and the jacuzzi was just what we needed. The neighbourhood is very quiet and the walk up until San Gerolamo and then to the lake all the way down it's really worth it! If you are looking for a relax, romantic, and a good place to stay this is the house! Marco welcomed us to the house, and gave us really good tips that we have followed and I have to say it was perfect and he was really a good host! In here you have good connections between Bergamo airport, by car we done more or less in 40 min. We do hope we have opportunity to go back to Vercurago and we would definitely stay here again.
Regina
2017-03-30T00:00:00Z
Appartamento molto bello, caldo e accogliente, dotato di tutto il necessario. Noi vi abbiamo soggiornato 2 settiamane e siamo stati benissimo. Marco e Laura molto disponibili e alla mano.
CHIARA
2017-03-08T00:00:00Z
Host simpatici, casa più bella che nelle foto!
Paolo
2017-01-22T00:00:00Z
The risk about such stays is that you don't want to leave the house. It is so comfortable, so chic, so nice. Highly, highly recommended for a visit in nature near Lake Como.
Koraltan
2016-11-17T00:00:00Z
L'accoglienza è stata fantastica. Per problemi logistici siamo arrivati più tardi di quanto previsto e Marco è stato molto gentile e paziente nell'aspettarci. Laura è una donna meravigliosa e molto disponibile. La casa non rende dalle foto! E' perfetta per una coppia, interamente nuova e molto accogliente. Il paesino è piccolo ma molto romantico e offre la possibilità di fare bellissime passeggiate nella natura. In un quarto d'ora di auto ci si trova a Lecco, dove si può visitare la casa di Alessandro Manzoni, e in mezz'ora a Varenna, paese molto caratteristico.
Francesca
2016-11-06T00:00:00Z
Marco is amazingly nice and spent 20 minutes explaining us about the house, nearby restaurants etc. Uber friendly and helpful!
Zohar
2016-10-21T00:00:00Z
Romtype
Helt hjem/leilighet
---
Eiendomstype
Villa
---
Plass til
2
---
Soverom
Vercurago, Lombardia, Italia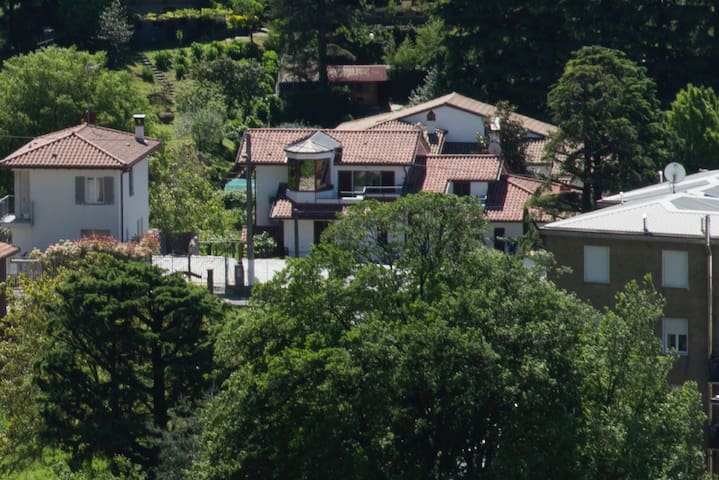 I typisk domstol i sjøen og en rolig atmosfære, tilbyr jeg tilgjengelig 4 gjester, to rom utstyrt med alle bekvemmeligheter (fullt utstyrt kjøkken / oppvaskmaskin / vaskemaskin). Mulig funksjonshemmede, nærliggende supermarked, 100m med utsikt over innsjøen
Gjestene vil nyte reservert parkering inne på gårdsplassen. I tillegg til 4 senger indikerte at det er en camping seng nyttig for små barn. Full tilgjengelighet til viktige (laken, putevar, håndklær, badehåndklær, etc) hårtørrer, mikrobølgeovn.
Hovedsak bekvemmelighet for turister å ha for hånden skjønnheten som tilbys av området: sentrum av Lecco (gå to trinn), en spasertur langs elven og langs sjøen og åsene rundt Lecco (taubane til planene «Erna, parken Monte Barro - Galbiate).
Bella casetta accogliente in ottima posizione!
sara
2017-03-08T00:00:00Z
Casa molto comoda e confortevole. La consiglierei a chiunque sia per la pulizia trovata che per la disponibilità ricevuta da parte di Fulvio. Vicina al centro. Host molto accogliente e cordiale.
sabrina
2017-02-10T00:00:00Z
Nice, large house. Close walk to Lecco that is very pretty on the water. Fulvio is very hospitable. Came with a nice care package. Highly recommend!
Matthew
2017-01-25T00:00:00Z
The apartment was perfect, had great location and very well equipped. We recommend the craft beer pub in the near. Fulvio was great host, all went well.
Daniel
2017-01-27T00:00:00Z
Fulvio è stato davvero gentile e premuroso. A disposizione per gli ospiti un cesto per la colazione e un pensiero per la sera. Appartamento molto accogliente, desscrivibile con una parola: "caldo". Il centro di Lecco si raggiunge facilemte a piedi in 10 minuti. Lo consiglio vivamente.
Luca
2016-12-08T00:00:00Z
Ottima accoglienza e disponibilità da parte del proprietario, casa accogliente e ben fornita.
Andrea
2017-01-24T00:00:00Z
Abbiamo appena soggiornato da Fulvio per le vacanze di Natale . Sia io che la mia famiglia ci siamo trovati molto bene sia per la gentilissima disponibilita di Fulvio , sia per l'appartamento in se .... posizione molto comoda per visitare Lecco (ci si arriva comodamente a piedi) ed i dintorni , con possibilità di usufruire dell'automobile sistemata nel posto auto comodo da utilizzare sia in ingresso che in uscita.. Consigliatissimo
Marco
2016-12-28T00:00:00Z
Ci siamo trovati molto bene. Il host era molto gentile. La casa ha tutto il necessario per una permanenza confortevole. Il lago e vicinissimo e il centro di Lecco e raggiungibile a piedi facilmente!
Alla
2017-01-01T00:00:00Z
Romtype
Helt hjem/leilighet
---
Eiendomstype
Leilighet
---
Plass til
4
---
Soverom
Galbiate, Lombardia, Italia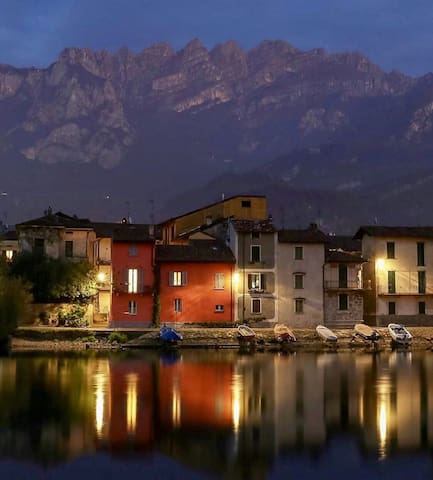 Il mio intento è quello di offrire un pernotto, con la formula del "Bed & Breakfast", ad un prezzo che sia il più contenuto possibile. Sarei felice infatti di accogliere a casa mia tutti coloro che per curiosità, per lavoro o per semplice casualità, dovessero trovarsi a passare da queste parti. In famiglia, amiamo una cucina semplice e naturale ed è per questo che privilegiamo i prodotti fatti in casa, talvolta "bio". Non a caso ho voluto conseguire il corso HACCP per poter offrire il meglio.
ll nostro appartamento è spazioso e molto luminoso. E' perfettamente riscaldato ed isolato dal punto di vista termico. E' posizionato al terzo piano di un condominio che poggia su un versante collinare rivolto verso il Lago di Garlate con un panorama davvero impagabile.
La frazione di Somasca in cui abitiamo è leggermente in collina e il verde paesaggio che ci circonda offre sia relax che svago allo stesso tempo. Al culmine della collina, a circa 10 min. a piedi, sorge quello che rimane del Castello dell'Innominato citato anche ne "I Promessi Sposi".
Cristina, marito e figli sono stati una famiglia accogliente e disponibile. Torta fatta in casa per colazione e arance biologiche! Location strategica per esplorare il lago di Como (sul versante di Lecco) e per scoprire i luoghi che hanno dato origine ai Promessi sposi. Praticamente dietro casa (10min di passeggiata) si trovano i ruderi del "Castello dell'innominato"...come rispolverare meglio la storia di Alessandro Manzoni! ;-)
Matteo
2017-01-08T00:00:00Z
Tres bien acceuillis par le couple. Ils Sont soucieux de bien faire et nous on propose un Bon Ptit dejeune avec plein de bonnes choses. A refaire
Jessy
2016-10-31T00:00:00Z
Accoglienza premurosa, ospitalità e disponibilità straordinarie, attenzione scrupolosa all'igiene e all'ordine, colazione generosa a buffet. Anche se sei di passaggio, a casa di Cristina, sei accudito come uno di famiglia.
Barbara
2017-01-01T00:00:00Z
My stat at Chriatina's and her husband was FANTASTIC! I booked super last minute, but I arrived and everything was clean and ready for me. They were very nice, made me delicious pasta for dinner and an incredible breakfast. I was more than satisfied!! I think this is the perfect location for someone alone who wants to enjoy the Lecco area!! Plus, the view from their apartment is amazing!! Thanks again!!!
Catherine
2017-02-25T00:00:00Z
E' la prima volta che prendo solo la stanza in affitto e non l'intero appartamento, e devo dire che è stata un'esperienza molto positiva e di condivisione. Cristina e suo marito sono delle persone squisite.. Oltre ad aiutarmi telefonicamente con le indicazioni per raggiungere il posto, una volta arrivata e sistemata mi hanno chiesto se volevo cenare con loro. Abbiamo cenato anche ai due bambini che hanno rallegrato la serata. Cristina ha poi preparato la crostata di fragole per la colazione che era davvero ottima e che ha potuto preparare perché ha conseguito l'attestato di partecipazione ai corsi HCCP!! Il buffet al mattino era ricchissimo!! Tornerò sicuramente da loro se tornerò a Lecco.
Francesca
2017-01-22T00:00:00Z
Romtype
Privat rom
---
Eiendomstype
Bed & Breakfast
---
Plass til
3
---
Soverom
Vercurago, Lombardia, Italia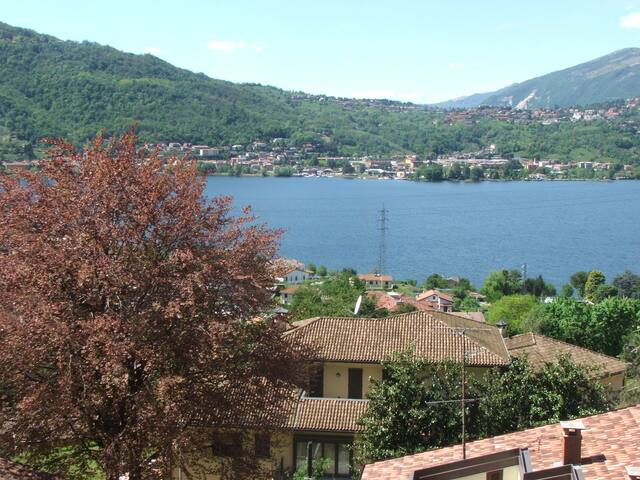 Incredible panoramic penthouse located on the sixth floor of a beautiful building. On the seventh floor, the roof, there is a private garden in exclusive for our guests, equipped with a dining set and barbecue, sun beds, umbrellas and a relaxation area. From here you can enjoy a stunning 360 ° view of the mountains and lakes with beautiful sunsets. On the ground floor of the same building you will find bakery, grocery, pharmacy, hairdresser, shops and bars, as well as a supermarket just 200 meters.
Romtype
Helt hjem/leilighet
---
Eiendomstype
Leilighet
---
Plass til
4
---
Soverom
Galbiate, Lombardia, Italia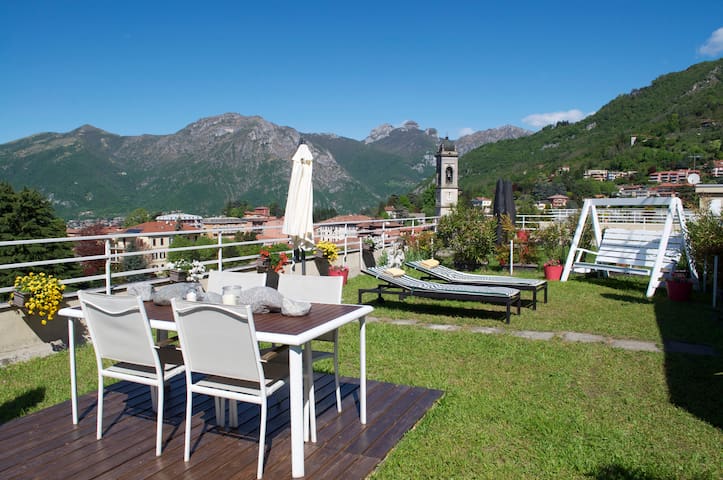 Appartamento al piano rialzato di 60mq, tranquillo e luminoso, accogliente e attrezzato. Arredi tutti su disegno. Situato a 300mt dalla zona pedonale del centro, vicinissimo a stazione, al lago e all'università. Matrimoniale + divano letto singolo.
L'appartamento è estremamente pratico, tranquillo e curato, a due passi dal centro città. Uno dei due affacci al cortile interno di ampio respiro e quiete. Arredato con mobili su disegno, in tutto l'appartamento c'è un pavimento in wenge industriale.
Il quartiere è in una zona residenziale adiacente al centro storico e alla zona pedonale. Gli edifici ben conservati, di carattere storico si affiancano a costruzioni di inizio secolo con altezze medie comprese tr(URL HIDDEN)piani. L'appartamento è situato in Via Bezzecca 12, a poche centinaia di metri dal lungo lago, dai negozi, supermercati, bar e ristoranti, tutto raggiungibile comodamente a piedi. In via Aspromonte, a circa 300m, è presente un silos per parcheggiare l'auto, custodito a pagamento.
Matteo greeted us upon arrival with a big smile and a thorough walk through of the apartment, whilst luckily; speaking english. He also provided croissants and a selection of juices, milk, tea and coffee for our immediate survival. Very nice! Matteo has been a very generous and flexible host throughout our stay, and we are looking forward too renting his place again. The apartment is well equipped, and has a lot of storage space. We were two persons staying for a longer period of time, and brought with us luggage for summer and winter activities, and got it all packed in pretty nicely. In general the apartment is clean and spacious with everything you need. The location is great - just 5 minutes walking to the center, and 10 minutes to the start of beautiful Monte Barro. I would recommend this apartment to anyone!
Hilde
2016-03-05T00:00:00Z
Matteo is a great hosts. The apartment is spacious, well equipped and has a really nice design. Location is also a big plus. I would recommend this place to everyone.
Maciej
2016-11-01T00:00:00Z
Matteo has a really nice flat, very modern, perfectly placed in Lecco (not in the center but just close enough). He was a great host, plenty helpfull with finding the best places around. If you wanna spend time at the lake of Como you should go to his place. Best suited for 2 and a baby max, be sure to spend time in Varenna and Bellagio.
edith
2014-11-01T00:00:00Z
Matteo is a very responsive host. He was very accomodating. He responded to our texts right away. We were arriving an hour later than we told him due to a local train from Milan vs. the direct. No problem. . . Mateo met us at the apt. He provided croissants, yogurt, latte and an array of coffee and tea for the next morning. His apt. is a beautifully designed contemporary space. As an interior designer I am very impressed with the design. We stayed only two nights but I wish we could have stayed more. This apt. Is one of nicest, most relaxing spaces we have ever stayed in. Matteo has thought of everything, hairdryer, washer and dryer, and the kitchen is fully stocked. He also gave us a list of great restaurants to try in town. The location is central to everything so you do not need a car. We would definetly stay, again if we ever come back to Lecco. Great experience(URL HIDDEN)use of space.
Devon
2015-10-24T00:00:00Z
Matteo was a very nice host in spite of so many changes that occurred on our trip. Our arrival was delayed tremendously, and he graciously wait and helped us at 2:00 AM. He provided breakfast and lots of great tips on restaurants and sights around Lecco. The apartment is located in a nice part of town, and is very close to the main square. The apartment is very unique in architecture and decor, and is quite fun. Matteo even set up a nice travel cot for our baby which was greatly appreciated. Highly recommend staying at Matteo's place.
Nicole Mercedes
2015-06-08T00:00:00Z
è stato un piacevole fine settimana. la casa è veramente confortevole e servita di tutto. abbiamo apprezzato molto la cura dell'arredamento. consigliatissimo.
linda
2017-01-30T00:00:00Z
What a fantastic apartment and what a great host. Matteo warmly welcomed me to his place and gave me some fantastic recommendations for local restaurants - in fact I only ended up eating in these places and had a fantastic time! I can't recommend the apartment enough. Fantastic value and so clean and comfortable. Thank you Matteo!
Lucy
2015-05-20T00:00:00Z
Matteo arranged everything perfectly (breakfast croissants and more) and welcomed us personally. He also supplied us with useful local information. The private parking was ideal because parking in Lecco is quite difficult and expensive. Lake Como and Lake Lecco is beautiful. There is a lot to see and do. The food is off course fantastic.
Otto
2015-07-17T00:00:00Z
Romtype
Helt hjem/leilighet
---
Eiendomstype
Leilighet
---
Plass til
3
---
Soverom
Lecco, Lombardia, Italia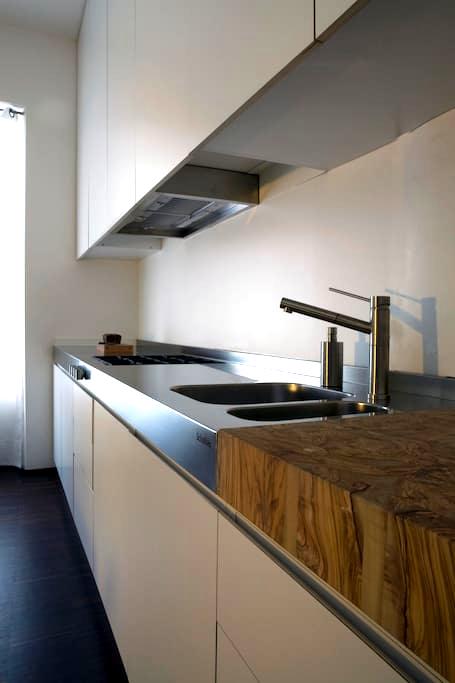 In Lecco between lake and mountains within walking distance from downtown and from the lake promenade, a ten minute walk from the train station, in a pedestrian area surrounded by a green area on the first floor, separate entrance,large terrace, fitted kitchen, living area large and bright living, bathroom with shower and two sinks, large bedroom,private parking space, electricity, gas, water, wi.fi, all included in the price . from every window you can enjoy a great view of the green and in blu
away from traffic and a few steps from the lake promenade and the city center. parking and terrace and great view
quiet, green area
Lovely apartment, Luka is very hospitable and welcoming. The flat is spacious and has everything you need, the balcony is great for sitting out in the sun. The apartment is a short walk from the train station and from the bars and restaurants on the Lecco lakefront. Highly recommend the apartment - great value and a great host.
Ryan
2016-07-29T00:00:00Z
Everything was perfect. Nice cosy place and Luca was very friendly.
Pawel
2016-05-30T00:00:00Z
Casa con todas las comodidades necesarias para pasar unos días (cama muy cómoda, baño estupendo, calefacción). Además de un balcón dónde ver las estrellas o disfrutar de un café con el sol de la mañana. El anfitrión muy agradable nos ayudo en todo, incluso nos vino a buscar cuando no encontrábamos la casa. Zona tranquila a 5 min del lago y de la estación de tren.
Aina
2016-11-08T00:00:00Z
Soggiorno perfetto, check in e check out veloce, appartamento molto ampio, pulito e fornito di tutto. Posizione comoda anche senza auto, siamo arrivati in treno e ci siamo mossi senza problemi sempre a piedi. Ps complimenti per l'arredamento!
Gianluca
2016-09-25T00:00:00Z
Luca's place is amazing. Very well situated - 3 min from the lake where scenic views are, 5 min from the city center where all shops and restaurants are. Lecco is a charming small typical italian village - with beautiful views at the mountains and lake, old traditional style buildings and amazing restaurants (pizzerias, pastas, foccacio etc.).
Rafał
2016-12-21T00:00:00Z
Io e il mio ragazzo abbiamo soggiornato da Luca una notte. Lo abbiamo chiamato un paio d'ore prima e lui è stato subito disponibile. Abbiamo scambiato poche parole ma è stato molto accogliente e gioviale Casa molto bella e curata, ottima posizione. Consigliato!
EMANUELA
2016-12-09T00:00:00Z
Casa molto pulita e comoda per il centro. Luca é stato molto disponibile
Andrea
2017-01-12T00:00:00Z
Great place! We love our stay at this traditional italian apartment. It is close to the city center and has everything you need. Luca and his parents were very hospitable. We definitely recommend this place!
Rob
2016-06-07T00:00:00Z
Romtype
Helt hjem/leilighet
---
Eiendomstype
Hus
---
Plass til
2
---
Soverom
Lecco, Lombardia, Italia
Our beautiful and bright rooms are in an apartment with a panoramic view! It comfortably sleeps six people and is located in the center of the village with all amenities at hand :-) Enjoy your stay!
A relaxing stay in the mountains a few steps from Lake Lecco. If you have to spend a few days in the Lecco area for business or pleasure, here you are in the right place! Bright and spacious rooms in an independent apartment. Three spacious bedrooms, two doubles and one with twin beds. You will have two bathrooms just for you, just in front of the room. The whole apartment is about 120 square meters, so privacy is assured !! There is also a kitchen where you can cook with freedom, or store something in fridge for a quick meal if you want :)
The house is located in the town center, within walking distance you will find butchers, bakeries, bars, stationery and tobacco. Ideal for those who want to bike rides, or walks.
Хозяйка потрясающая - гостеприимная и очень нам помогала . Спасибо ей огромное. Деревушка находится в потрясающеи месте высоко в горах.
Olga
2015-10-20T00:00:00Z
The host canceled this reservation 198 days before arrival. This is an automated posting.
Stéphane
2016-01-05T00:00:00Z
Donatella was very nice host. Even though we came later than planned she came in a minute to let us in. Everything was perfect, from communication to breakfast. Apartment looks even more beautiful than on photos and the area is calm and peaceful.
Nikola
2016-04-18T00:00:00Z
My husband and I spent three nights at this wonderful apartment in the greater Lake Como area of Italy. Donatella was extremely friendly and welcoming to her light-filled, impeccably clean apartment. This is an ideal set up for at least two couples as there are two spacious bedrooms with queen-size bed's as well as another bedroom with two twin size beds. In addition there are two full bathrooms, a well-equipped kitchen that was stocked with coffee, basic snacks and fruit (demonstrating how she went above and beyond and surpassed our expectations!), a large dining table and beautiful patio that had peaceful views of the surrounding mountains. The drive to get to the apartment twists and turns up the mountain and brings you to a place where the fresh air and sense of tranquility is superb. We would definitely recommend this location to other people who are wanting to experience small-town charm in an Italian village while being close to the Lake Como region.
Carrie
2016-09-07T00:00:00Z
Donatella è molto gentile, disponibile, e precisa. La casa è ampia e luminosa come da descrizione e foto, ma soprattutto ordinata e pulita. Tutti i servizi elencati sono presenti. La zona è tranquilla e silenziosa. Un buon punto d'appoggio per visitare il lago di Lecco e dintorni. Consigliato.
Riccardo
2016-09-11T00:00:00Z
Muito boa anfitriã, simpática e prestativa,localização muito boa,casa excelente.
Eraldo
2015-10-06T00:00:00Z
Donatella was perfect. She wait quite late and was caring of us. The Breakfast was fantastic. Carenno is a good starting point for hiking and biking tours. The room is very confortable and the place is quiet. I recommende it Donatella a été parfaite. Je l'a recommande vivement. Elle est très attentionnée et nous a attendu malgré notre venue tardive. Le logement est spacieux et l'endroit est reposant et se prête bien à des randos en montagne. Le petit déjeuner nous a ravi car nous n'avons manqué de rien. Merci Pascal et Claire
Pascal
2015-05-17T00:00:00Z
The apartment had everything you need for a comfortable stay. Donatella was very nice! Thank You for everything! Grazie! :)
Anna
2016-02-15T00:00:00Z
Romtype
Helt hjem/leilighet
---
Eiendomstype
Leilighet
---
Plass til
6
---
Soverom
Carenno, Lombardia, Italia
Oppgi datoer for å se fullstendige priser. Ekstra gebyrer gjelder. Skatter vil kunne tilføyes.