Fabulous 3 bedroom apartment on the top floor in a quiet building. Bright whit big windows an great view over the city and nearby mountains. Very nice kitchen fully equipped and big dinning room. Cozy balcony with BBQ and in a sunny day great place to be in. We have a sofa in the kitchen because that´s where the tv and snacks are.
Located in Breiðholt, a family friendly neighbourhood. Three pizza places within 1km radius. 2 Asian cuisine restaurants also within 1 km radius. 4 supermarkets within 1 km radius and two of them are open 24/7. + a coffee house Gamla Kaffihúsið next door. Walking distance from a swimmingpool + gym and hiking trail in Elliðarárdalur (Elliðarárdalur valley) Elliðarárdalur is a nature gem, peaceful recreation area.
Romtype
Helt hjem/leilighet
---
Eiendomstype
Leilighet
---
Plass til
6
---
Soverom
Reykjavik, Island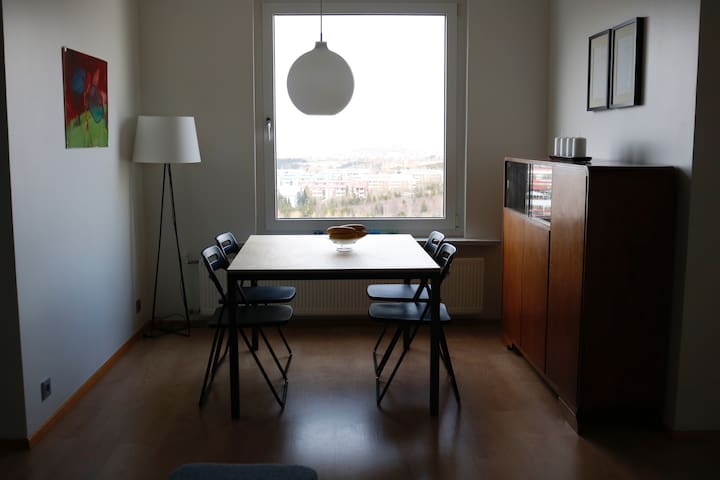 Kosy apartment, ready for rent. Next bus stop 2 min walking distance and goes straight to Reykjavik central. Also close to Mjodd, the main bus station in RVK. All service is close by: f.x. grocery store, swimming pool and gym 5-10 min walking distance.
Romtype
Helt hjem/leilighet
---
Eiendomstype
Leilighet
---
Plass til
3
---
Soverom
Reykjavik, Island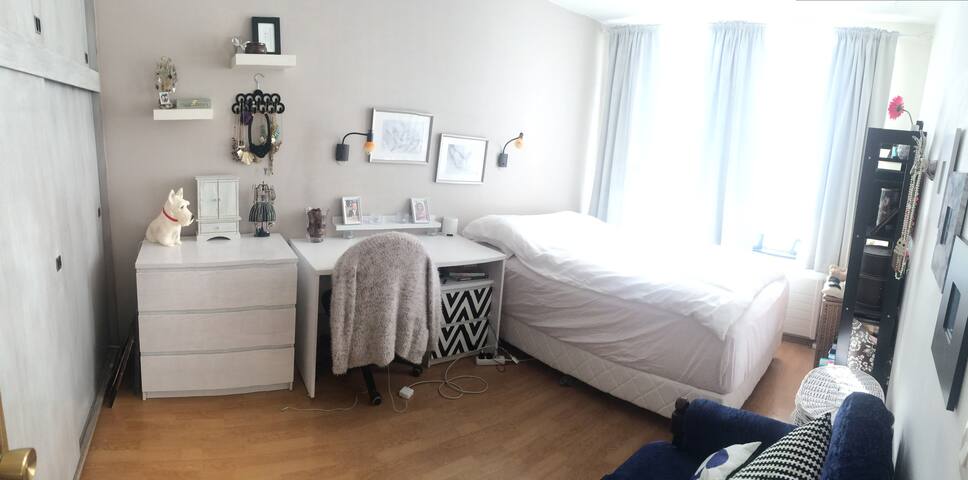 Apartment located 5-10 minutes by car from the Reykjavík city center in a quiet neighborhood. 2 minute walk to the bus station, convenience stores, pharmacy, swimming pools and more. Owners live in the same building and are ready for your service anytime. Free Wi-Fi. Situated in the beautiful valley of Elliðarárdalur with plenty of nature, walking and outdoor space, clear view of the auroras and only minutes away from the city central, restaurants and bars.
Seljahverfi is a quite and family friendly suburb of Reykjavík, which has a good outdoor area close to nature where a salmon river crosses a valley towards a big fresh water lake which is nice for walking or jogging even fishing. All this and only 15 minute drive from the Reykjavík city center and 10 minute drive towards the beautiful Icelandic countryside . Swimming pool and gym in about 15-20 minute walk from the apartment. 24/7 convenience store located approx 5 minute walk from the apartment. children friendly residential area and are therefore a lovely and convenient place to stay while experiencing Iceland and all it has to offer.
Good place and Siggi was a great host. Would reccomand this apartment.
Andres
2017-04-09T00:00:00Z
Romtype
Helt hjem/leilighet
---
Eiendomstype
Leilighet
---
Plass til
4
---
Soverom
Reykjavik, Island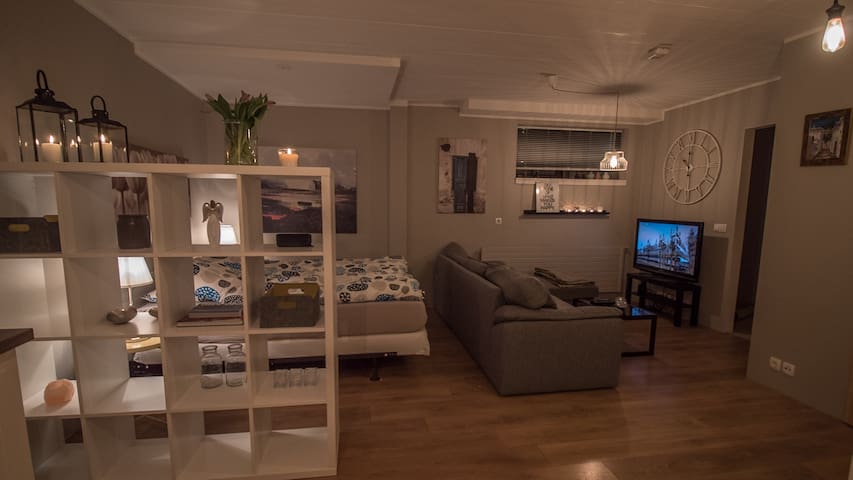 This space is for budget travellers or party people (420/Tobacco/*Everything*), although not a downtown location you can however use the nearby Mjódd bus station to go anywhere in Reykjavik or Iceland, right next door to 24/7 supermarket and liquor store, play loud music till late at night (just not Linkin Park though), relax at nearby secluded outdoor geothermal spa, listing offers very high speed internet (+wifi).. *Everybody is Seriously Required to Read The Entire Description Below!!*
One of the only places in Reykjavik where you can have an honest interaction with a local all the time and not just stay in your private room (which is the norm everywhere else) moping on your phone or laptop. :P Feel free to use the kitchen as you like whether it be using the stove or oven or storing things in my fridge (you can also use the groceries i have in the cupboard above the sink for free), i have a coffee machine which you can use aswell as a water heater for if you want tea, and ofcourse a microwave.
Reykjavik's Best Swimming Pool is 10min away walking (the listed "pool" and "hot tub" is this place). Can take you to a place nearby where you can pick some 4-Leaf Clovers (maybe even 5) (Summer Only). There's a Movie Theater and an Art Gallery/Library (Gerðuberg), Elliðaárdalur forest/valley is 5min walk from my place where you can see some wild bunnies and a nice waterfall.
Nuestra estadía en el apartamento de Einar fue perfecta. Estuvimos en invierno así que los días con luz son cortos, regresabamos temprano al apartamento y allí se encontraba Einar, el nos ofrecía ver alguna película, ir a la piscina o una buena platica. Muy buena persona. Lugar recomendado.
Fredy
2016-12-15T00:00:00Z
Einar's place was really continent for us, spending a few days in Iceland on a budget. We appreciated Einar's inputs and his honesty in introducing us to his place, which is exactly how he presents it. The flat is 20 minutes by bus from central Reykjavik, so not too bad. And it's in a great position if you rent a car and intend to visit the island. Here's a swimming pool 10 minutes walk, and 24h supermarkets round the corner.
Nicola
2017-02-20T00:00:00Z
Little bit scary :D but in general that s all right) very comfortable sofa it's true!
Lidiia
2017-03-17T00:00:00Z
Great house and a great couch to sleep on
Daniel
2016-08-12T00:00:00Z
Highly recommend this place! We rent a car ,so the location was fine for us!and it's in capital, thats really amazing price!!!!! Steinn was a nice guy,and he also hosted two people from couchsurfing, they were all really nice as well. Four of us got three cozy sofas and one bed on the floor,it was also nice to sleep!
Yi-Jhen
2016-07-08T00:00:00Z
Very nice guy and helpful. Recommend for poor students
Rebeka
2016-05-24T00:00:00Z
Comme prévu,Einar,garçon discret et serviable si besoin, nous avait préparé un coin de son appartement où nous avons pu nous étaler sans problèmes! Parfait quand on débarque de l'aéroport et qu'on doit faire le point! Merci encore Einar!
Marie-Mary
2016-10-19T00:00:00Z
The host canceled this reservation 25 days before arrival. This is an automated posting.
Samuel
2016-07-25T00:00:00Z
Romtype
Delt rom
---
Eiendomstype
Leilighet
---
Plass til
4
---
Soverom
Reykjavik, Hovedstadsregionen, Island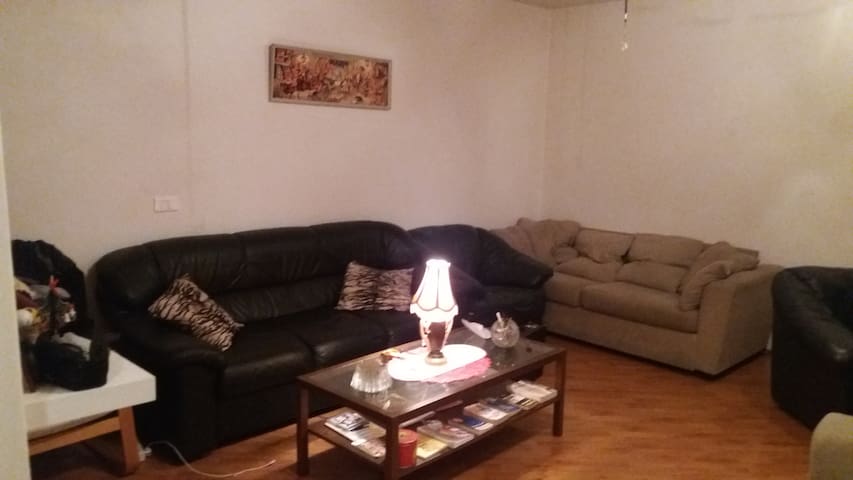 A single room for rent in a 3 bedroom apartment. It is located on 8th floor with a stunning view of the city of Reykjavík. It is 10 minutes away from the city central and very accessible to groceries, public pool,clinic and bus transportation.
TAKK
Stephan
2017-03-23T00:00:00Z
Rosalyn war sehr freundlich und hilfsbereit. Sie war noch spät Abends wach, als ich ankam. Am nächsten Tag hat sie mir geholfen, mich dort in Reykjavik zurechtzufinden, was sehr hilfreich war! Sie zeigte mir, wie und mit welchem Bus ich in die Stadt komme. Es war meine erste Airbnb-Erfahrung und ich bin positiv überrascht. Das Zimmer ist zwar klein, aber wer braucht schon Platz, wenn man einen so schönen Ausblick über die Stadt hat (besonders wenn es dunkel ist). Vielen Dank nochmal, Rosalyn!
Juliane
2015-09-01T00:00:00Z
Had a great stay at Rosalyn's apartment! Room was clean and she was very helpful in answering any questions I had.
Matthew
2016-06-25T00:00:00Z
Rosalyn is very kind and helpful person. I arrived almost at night but it was not a problem for her. I heartily recommend:)
Magda
2016-04-24T00:00:00Z
good stay some shops close by + public transportation to downtown. lovely host
Tammo
2016-10-06T00:00:00Z
Great little place to stay. Has a nice view of the city and its far enough away from downtown that it's not loud. Would recommend to anyone who is staying a night.
Hoon Hyung
2017-03-16T00:00:00Z
I had a wonderful stay in Reykjavik in Rosalyn's house. She's very sweet and kind and stayed up very late to greet me and let me in after I arrived on my midnight flight. The room is cozy and clean with a nice view of the city. The location is great with a bus stop just in front of the apt building (3 mins walk) and just remember that Bus 3 takes you into the city and Bus 4 takes you back. It's a little over 30 mins to get to downtown Reykjavik. I had organized a golden circle tour and they were able to pick me up last and stop me off first from here so that was a big plus. This was my first AirBnB booking and made me very excited to book more places for my trips. Rosalyn made me feel very welcome and was very caring and sweet (almost like a mom). I really enjoyed chatting with her after I'd come back to her place after my day out. Also there is a washer and dryer in the bottom floor. Just make sure you insert a 100 krona coin (and not a 10 krona coin like I did into the dryer. Thank you so much, Rosalyn, for helping to get that resolved!) Overall it was a great place and I'd definitely stay here again. ☺️
Linh
2015-08-12T00:00:00Z
Rosalyn's place is situated on the 8th floor of a building that is on a hill, offering you wonderful views over Reykjavik, and I can only imagine the view on the Northern Lights when they are there. Rosalyn was very accommodating to my specific questions and kind. If I need to bridge another night, I would go to Rosalyn again.
Anoek
2017-04-01T00:00:00Z
Romtype
Privat rom
---
Eiendomstype
Leilighet
---
Plass til
1
---
Soverom
Reykjavik, Hovedstadsregionen, Island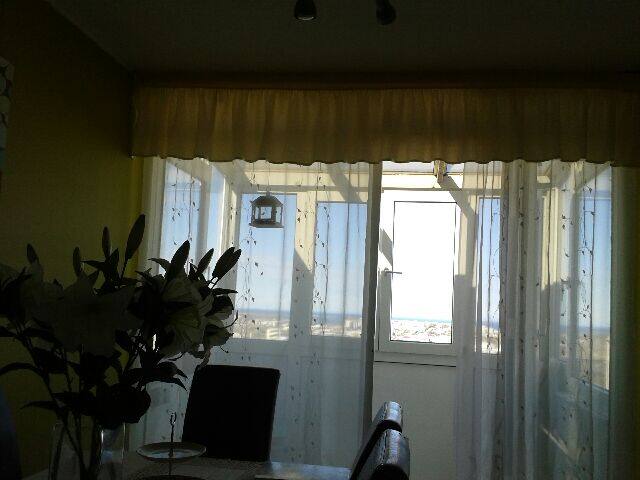 My place is close to puplic transport. You'll love my place because of the people, it is not in the city center but the bus takes you there in 15-20 min. My house is my home and i hope you will feel at home :)
Dani was so nice with us all the time. We had a great experience with her.
Cristina
2016-10-28T00:00:00Z
Facil aparcar. Parking enfrente de la casa. Casa desordenada totalmente. Cocina con platos sucios todo el tiempo. Poco interés por la anfitriona.
Carlos
2016-11-11T00:00:00Z
Alles war wie beschrieben. Die Kommunikation klappte. Die Sauberkeit im Bad könnte etwas verbessert werden, aber die Unterkunft ist diesem Preis allemal O.K..
Marcus
2016-09-05T00:00:00Z
We had a pleasant stay at Dani's apartment. She was really nice and helpful. The bed is unbelievably comfortable. I recommend this offer to anyone who needs a good night's sleep in Reykjavik.
Magdalena
2016-10-15T00:00:00Z
Sehr dreckig. Betten waren nicht gemacht. Man musste sie selbst beziehen. Es gab einen Hund. Positiv ist die Vermieterin war leicht zu erreichen und man konnte kommen wann man wollte
Philipp
2016-09-23T00:00:00Z
Ankunft war sehr freundlich sowohl von Heidi als auch von Daniela, das Zimmer war okay und aufgeräumt, sie restliche Wohnung war leider sehr unordentlich. Im großen und ganzen aber ein guter Preis für Island.
Marian
2016-08-29T00:00:00Z
Daniela is a nice host and the place is comfortable.
Paul
2016-09-14T00:00:00Z
Das Zimmer ist einfach mit einem Stuhl und einem bequemen Bett, leider hatten wir uns aber nicht willkommen gefühlt. Unterkunft liegt ca 20 Minuten vom Zentrum entfernt.
Ti
2016-10-20T00:00:00Z
Romtype
Privat rom
---
Eiendomstype
Leilighet
---
Plass til
2
---
Soverom
Reykjavik, Hovedstadsregionen, Island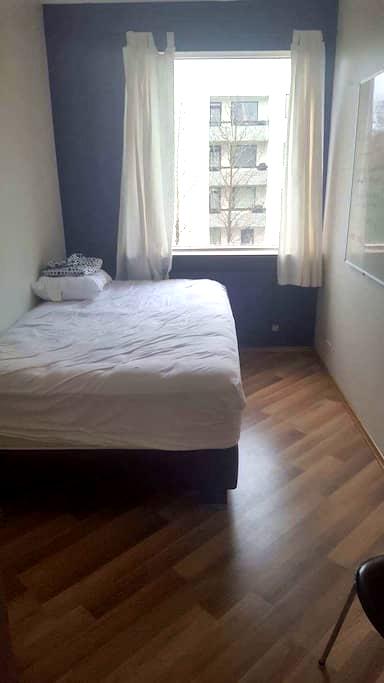 The apartment is in a beautiful area which is about 7-10 minutes drive to the center of Reykjavík. It is right by the bus stop, a local supermarket and a pizzeria. Also close by there is a public swimming pool, children's playgrounds and supermarkets which are open 24/7. You'll love this place because it´s like a home away from home!
The entrance to the apartment is a few steps down.
Close to a variety of services.
Appartement propre et bien équipé. Anne Marie habite au-dessus ce qui est bien pratique en cas de besoin. Présence à 50m d'une supérette qui ferme à 21H et d'une pizzéria ou l'on parle le français. Ce logement est une bonne base pour ceux qui sont motorisés car le centre ville est à plus e 5 km. Le signal du WiFi est faible dans le séjour et inexistant dans la chambre principale qui se révèle étroite avec un lit double qui l'est également (moins de 140cm).
Jean-Luc
2016-09-02T00:00:00Z
Pro: Large open space, full kitchen with oven with utensil/dishes, dishwasher, washer, TV (basic channels), next to a supermarket and a bus stop (not sure where the bus goes, didn't have to use it), very close to a awesome public pool (heated, sauna), plenty of in property parking Con: Crawling internet speed (we clocked it at 80kbps, that's slower than dial up), hot water in bathroom smell like sulfur (only the bathroom hot water, no smell at kitchen, didn't have that smell at all the other 4 places we stayed), the window at one of the room cannot be opened and the heat at the place is hot (that could be a plus for someone, but way too hot for us) Comment: This place won't work for you is if internet is important to you, and you have problem with sulfur water, or you can't be in a super heated environment. Otherwise this place offer everything else with a very budget friendly price.
Asal
2017-03-22T00:00:00Z
Worth the money, clean, quiet, beds are a little small but manageable
Kaye
2017-03-07T00:00:00Z
This a great place for four, maybe five people (couch). Has a grocery store right there, and Ann Marie is amazing. She let me use her phone to call the rental car company. Great communication before the trip. Place is perfect, quiet, and a 15 min drive to downtown.
Joseph
2017-03-14T00:00:00Z
La casa è davvero carina, ha tutto quello di cui si può avere bisogno, addirittura una stanza con la lavatrice e il ferro da stiro. L'host è stato disponibilissimo. Ci siamo sentiti davvero a casa per tutto il tempo passato lì. Ci sono tutti i servizi e le comodità a portata di mano, due supermercati, benzinai, autobus. Assolutamente consigliato, ci tornerei mille volte!
Claudia
2017-03-01T00:00:00Z
The apartment was very homely, clean and spacious. There is a pizza place and super market across the apartment which was were very handy. Anne Marie was a great host. She was very responsive and eager to help. We had an excellent stay.
Shamim
2017-03-20T00:00:00Z
I love the place. Close to downtown (about 15mins drive). Place is finished with a kitchen, which we used to prepare our breakfast. Overall, i would be love to return to stay at Anne Marie's place.
Lenice
2017-02-04T00:00:00Z
Appartement très mignon et fonctionnel. Suffisant pour 4 amis. Anne Marie est disponible et très accueillante, comme pratiquement tous les islandais d'ailleurs. Il y a des arrêts de bus à côté pour ceux qui ne peuvent pas avoir une voiture.
Justyna
2017-02-19T00:00:00Z
Romtype
Helt hjem/leilighet
---
Eiendomstype
Leilighet
---
Plass til
4
---
Soverom
Reykjavik, Hovedstadsregionen, Island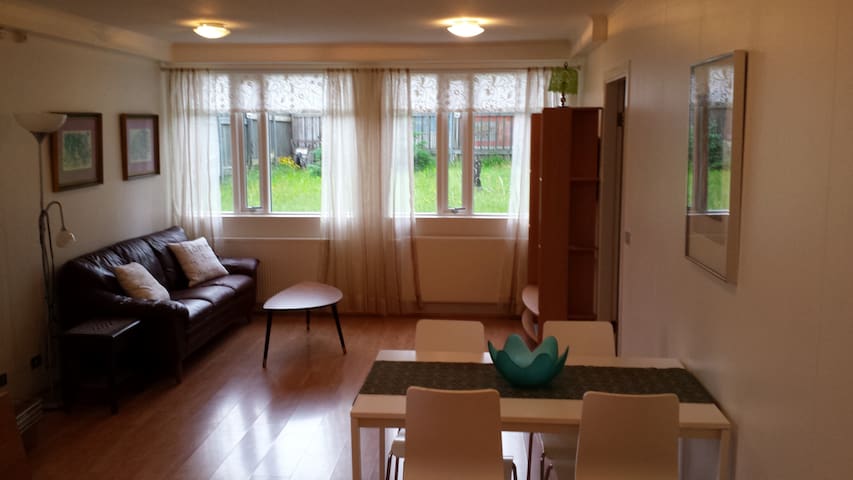 My place is about 10-15 minutes drive by car from the city centre (NOT WALKING DISTANCE). Free parking. The apartment is in a quiet neighbourhood, but is close to the main bus station in Reykjavík and public transport and easy commute to the city centre with buses. You'll love my place because of the coziness and the quiet neighbourhood. My place is good for couples, solo adventurers, business travelers.
Bedroom with double bed, kitchen with coffee machine, fridge, freezer, living room and a sofa bed, small bathroom with shower.
The apartment is in a very quiet district with villas. In a walking distance is a small shopping centre with food store, bakery, post office, pharmacy, book store and supermarket which is open 24 hours. A swimming pool is in the neighbourhood in a walking distance from the apartment.
Ottima esperienza ! Molto bene la ospitalità . Non sono riuscito a far funzionare la TV . Consiglio mettere istruzioni .
Federico
2016-08-12T00:00:00Z
Helga was a wonderful hostess, providing transportation to and from the airport, taking us on a city tour, and booking a beautiful tour for us of the Golden Circle! The apartment was lovely with comfy bed and fold out couch. The flat screen tv was nice as was the hot shower, and fully equipped kitchen! She really made it the trip of a lifetime!!!
Sharon
2017-01-13T00:00:00Z
Very nice apartment with great amenities. Hosts are accommodating and friendly. It is a little further from downtown Reykjavik than the app location shows.
Mark
2016-11-06T00:00:00Z
Helga's home is exactly as described. There was three of us staying here for a few days and there was room for all of us. Her home is very clean. Helga is very nice and sat with us to give us some tips on our trip. Her house is also really close to downtown, about a 10 minutes drive which is great. Very easy to get in communication with her on the trip too. I would definitely stay here on my next trip to Iceland. Thanks Helga!
Amanda
2016-09-26T00:00:00Z
We thoroughly enjoyed our stay and It wouldnt have been possible without Our host Helga. She is a wonderful person. she is very helpful and kind. she is also an official tourist guide and very passionate and committed about her job. That proved a big advantage for us .she knows most of the sight seeing places which one would like to visit and also many such places that the tourists dont visit but are breathtakingly beautiful. she prepared an itinerary for us based on the duration of our stay and she took us all around in her car at a very reasonable cost and with our own time schedule.Because of Helga we got to see a lot of iceland which otherwise with the tour companies would have been very expensive . We've had a great time in her appartment .Its very well maintained and clean.Also very conveniently located within walking distance from one of the main bus stops MJODD.The buses to other cities in iceland Start from this bus stop so its very convenient if one has to travel to other places around Reykjavik. The apartment is well equipped and quite spacious. Even though we were 4 of us it was very comfortable. There is a also 24 Hr supermarket NETTO closeby . To sum up everything was perfect . We couldn't have asked for more. i would definitely recommend this place to my friends,family and to anyone who wishes to visit iceland. i wish Helga good luck and hope to visit her once again in the future. Thank You very much Helga .
Rajesh
2016-06-16T00:00:00Z
Helga's apartment was lovely! We very much enjoyed our stay.
Mila
2017-03-31T00:00:00Z
The place is great, Helga is very helpful! There is everything the you need in the studio. The place is located in a very quiet neighborhood although not far from central Reykjavik.
Victoria
2016-07-28T00:00:00Z
Nice location, a bit smallish for 4 persons on the outskirts of Reykjavik. Quiet place, low ceiling with a lot of mirrors...
Frederik
2016-08-02T00:00:00Z
Romtype
Helt hjem/leilighet
---
Eiendomstype
Leilighet
---
Plass til
3
---
Soverom
Reykjavik, Hovedstadsregionen, Island
Tento útulný apartmán se nachází na 3 rd. patro s balkonem a výhledem na awsome (URL skryté) v blízkosti 2 bazénům a 1 nákupní (website hidden) deset Minut chůze je nejlepší ze dveří procházku s malým lesa a řeky s krásným vodopádem.
Veiw je tak pěkné. Apartmá jsou prostorná a jako nový dovnitř a ven s dobrou kuchyní s myčkou na nádobí, mikro, krásné (email hidden) eeping pokoj s dobble pohovkou a TV, v obývacím pokoji mají cauch, které mohou proměnit do postele, kde dvě osoby mohou spát. To appartmen mít vše, co potřebujete pro příjemný pobyt v Reykjavíku
Very impressed by the place . Cozy , very clean and private at the same time . We would say it's the very convenient to travel into town from here and we' could take on the motorway just as quick . But one thing that we really love a lot is the kitchen ; great job by providing varieties of seasoning and cooking utensils ! Would definitely recommend this ! We thoroughly enjoyed our stay here !
X
2017-01-12T00:00:00Z
Very clean & quiet place. Parking space close to apartment.
anna
2017-03-12T00:00:00Z
Great apartment which is modern, clean and spacious. Elena was a helpful host who replied quickly to all messages and came to save us immediately once when we foolishly locked ourselves out. It's a bit out of Reykjavik - not a problem if you have a car though. 24 hour large supermarket close by.
Jonathan
2017-01-05T00:00:00Z
The host canceled this reservation the day before arrival. This is an automated posting.
Tho
2017-02-09T00:00:00Z
The house is really nice and clean. Furniture are new and it's located in a quiet residential area with own parking.
Alfredo
2017-03-01T00:00:00Z
The host canceled this reservation 2 days before arrival. This is an automated posting.
Harpa
2017-03-31T00:00:00Z
Elena's place is perfect for your trip to Iceland. very nice residential area close to main highway. You will need a car to get around, and should Iceland is beautiful just to drive around or out of town. Do rent a car if you are in Iceland! 24 hour store is near by, but if you are coming late at night like us, you might want as Elena for direction. her place is very clean and cozy. Everything you need is there, but we really didn't stay inside much. Iceland has so many places to see, so we were out by 9am and came back around 9 pm. I highly recommend Elena's place.
Marietta
2017-03-18T00:00:00Z
The reservation was canceled 3 days before arrival. This is an automated posting.
Ziyee
2014-10-30T00:00:00Z
Romtype
Helt hjem/leilighet
---
Eiendomstype
Leilighet
---
Plass til
4
---
Soverom
Reykjavik, Hovedstadsregionen, Island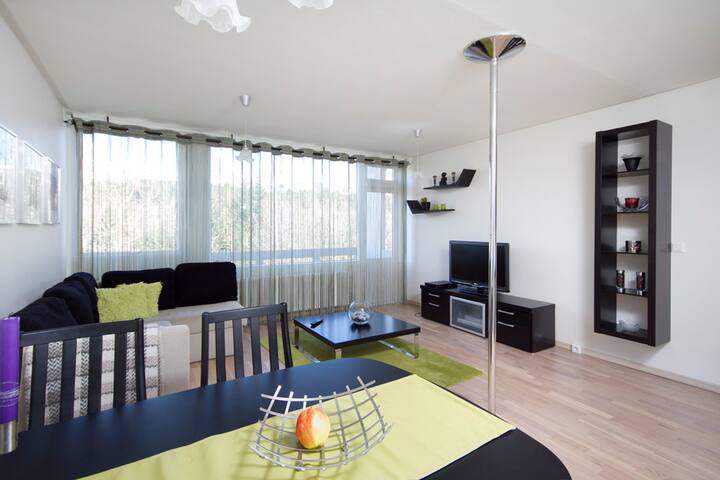 This cozy and bright apartment is ideal for 2-4 persons. It's located in a lovely neighbourhood, only 10-14 minutes drive to downtown Reykjavík. Upstairs is two twin beds and downstairs you will find a comfortable pull-out sofa. There is a private parking space out in front and also a bus stop nearby. Located in the same building is a great pizzeria and a supermarket. In the area you will find a public swimming pool, children's playgrounds and supermarkets which are open 24/7.
My apartment is really cosy and comfortable, and you will love it there.
Located in the same building you will find Adam's pizza! It's a great pizzeria and it's really easy to order a pizza, take it upstairs and enjoy. You will also find a supermarket in that same building. Don't worry though, both the pizzeria and supermarket are located on the other side of the building.
Really lovely place to stay. Clean and comfortable.
Leah
2017-02-07T00:00:00Z
A perfect place to stay. A little out of the city but close enough. Place was nice and clean.
Erica
2017-03-31T00:00:00Z
Unnur's apartment is perfect for a solo traveler or a couple looking for affordable lodging close to Reykjavik City Centre. The apartment is within 15 mins driving distance from Downtown Reykjavik. There is also a convenience store and pizza parlor in the same complex. Most of all, it is comfortable and clean, has good amenities (e.g. stove, fridge, washing machine, etc.) and looks exactly like the pics in the profile. Finally, Unnur is a good host; she is very responsive to emails and provides detailed instructions on accessing the property and making your way around while in Iceland. I highly recommend staying at this property.
Niel
2017-01-16T00:00:00Z
环境不错 位置离市区不远 自驾入驻方便 周边有披萨店 超市 购物吃饭方便
JIANG
2016-12-23T00:00:00Z
The place was clean and well organized. There is the loft with 2 beds (and some power strips behind them for ample charging). The couch downstairs can also accommodate a third. The beds were quite comfy but if you're a bit taller watch your head in parts of the loft. The bathroom is well kept and also has a washer too!
Brian
2017-04-09T00:00:00Z
Apartment was very clean, cozy and comfortable. It was great to have a washing machine and a well-equipped kitchen. We really liked the location and we loved to have the grocery stores and the pizza place close by. Unnar Birna was an amazing host who was very helpful and communicative before and during the stay. Definitely recommend this place! Thank you for a great stay!
Hanna
2016-12-15T00:00:00Z
Lovely apartment, very clean, everything we needed and very close to public transport would definitely recommend.
David
2017-02-27T00:00:00Z
Beautiful clean apartment and bigger than expected, fully equipped. We hired a car so didnt use bus, parking space just outside and great location for day trips, much easier than staying down town. Amazing holiday, would definitely recommend this apartment and Unnur was really helpful, everything went very smoothly.
Luci
2017-01-01T00:00:00Z
Romtype
Helt hjem/leilighet
---
Eiendomstype
Leilighet
---
Plass til
4
---
Soverom
Reykjavik, Hovedstadsregionen, Island
A studio apartment in the basement of our house. The apartment is 70 m2 and has a kitchen corner, sitting area and sleeping area with two single beds that can be put together, and a bunk. A playground is beside the house. The apartment has a private entrance and you can come and go as you please, but this house is our family home and we like to have a quiet house after midnight.
We are just a minutes walk away from an open area, Elliðaárdalur where there is a salmon river and a nice place to walk or have a picnic.
Romtype
Helt hjem/leilighet
---
Eiendomstype
Leilighet
---
Plass til
4
---
Soverom
Reykjavik, Hovedstadsregionen, Island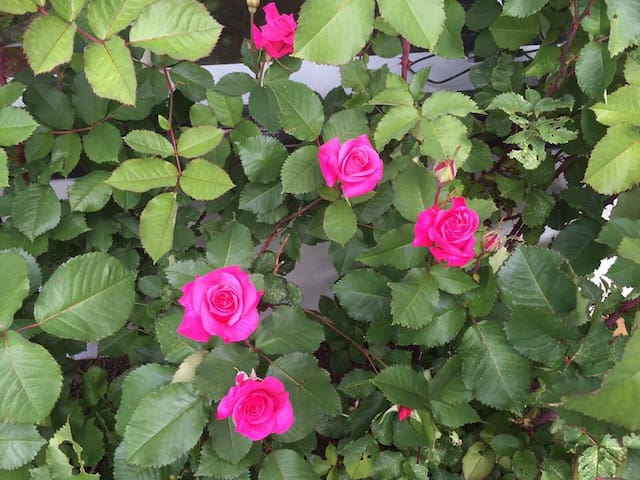 A small and cozy apartment on the seventh floor with a great view of the reykjavik area. The apartment is located in a 8 floor apartment building in Reykjavik, 10 minutes drive from Reykjavik Center.
The apartment is 40 sq.meters and is mostly all one open space with large windows and a nice balcony. There is a nice queen size bed in the bedroom, a double sleeping sofa and table in the common area and the kitchen is small but has most of the household appliances you might need such as oven, refrigrator, coffee machine, water boiler etc. The Bathroom has a toilet, shower and a washing machine.
The area is mostly residencial, there is a grocery store, fish store, hairdressers, bar and more only 2 buildings away.
Romtype
Delt rom
---
Eiendomstype
Leilighet
---
Plass til
4
---
Soverom
Reykjavik, Island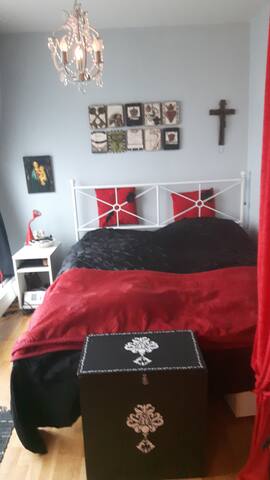 We gladly welcome you & your family/friends to our lovely home,this amazing apartment has the best views over Reykjavík.Only a 10 min drive from city center & bus stop outside.This is the perfect place to rest after a busy day traveling & exploring Icelands finest places and restaurants. As I'm a chef I also offer traditional icelandic food or just any food for hungry guests of ours. My car is for rent if you havent rented one & as you can see, we will do our best to make your stay 5*
Our apartment is greatly decorated in a cozy trendy place. Perfect for relaxing after an awesome day out exploring and power up for the busy day that's waiting to come.
Broddi and Anita are excellent hosts. They are both very knowledgable of the area and would love to help out with any suggestions. They made us some delicious food and dessert and would definitely stay here when we come back.
Cam
2017-02-18T00:00:00Z
This was a great place to stay. It was easy to access via the buses and Broddi was very kind and responsive to messages. We were delayed in our travels to arrive at his flat and he was kind enough to wait for us and help us with what buses to take. Once we arrived at the flat, it was extremely comfortable and very pleasant. The bed was very comfortable and the room was very nice. The flat itself was very charming and clean. Broddi even messaged us the night we arrived to let us know the Northern Lights were out and we were able to go see a spectacular show. We really enjoyed our stay, particularly Broddi's cute cat and would really recommend his flat.
Calla
2017-03-05T00:00:00Z
Very nice apartment! Really cool people, we had a great week in Iceland and it was helped significantly by the comfort we were coming back too. I would highly recommend a stay here.
Migle
2017-03-27T00:00:00Z
My friend and I stayed with Broddi and his partner Anita for a week (18th-25th Feb. 2017), as my sister was getting married nearby Reykjavik. The first night we were due to stay, our plane got delayed and we had to reschedule for the following morning. Broddi was more than understanding and did all he could to account for our unforeseen circumstances. We arrived the next day with no issues. Broddi's apartment is perfectly located just a few miles from Reykjavik city centre and with a bus stop just across the road, getting to and from the city is a doddle (from our experience, Icelandic buses are always on time in comparison to here in the UK). Overall our stay with Broddi and Anita was an *absolute* delight! Their apartment is kept to the highest standard of cleanliness and we soon felt right at home. I had the pleasure of having many conversations with both Broddi and Anita and they truly are a lovely, warm-hearted couple. With this being the first time i've stayed in an Airbnb accommodation abroad, it's difficult to imagine how any future hosts could exceed their good-naturedness. Without Broddi and Anita, my fond memories of my sister's wedding in Iceland would not be the same. Best wishes always, from your English friends Martin and Fred :)
Martin
2017-02-25T00:00:00Z
Good location if you don't want to be right in the centre. The hosts are very knowledable and very happy to help with suggestions. They are very flexible with check in times and check out times so good for late arrivals and early flights. Three people in the room is a bit of a squeeze.
Peter
2017-03-19T00:00:00Z
Anita and Brody are lovely people. They are friendly and so is their cat. They went the extra mile in assisting me with late check-ins, storing my luggage and transport to the main bus terminal once I realised their apartment was not as conveniently located as I thought. They are uncompromising on their strict cancellation policy. Take into account learning a different bus system, the additional cost, trying to fit tour schedules with bus schedules, wait time, travel time (as its 10 mins in a car but 30 on the bus with all the extra stops) logistics with luggage etc. accommodation along the FlyBus route is much more convenient and less stressful. If I had had a vehicle, this would have been less of an issue. Great people though.
Doey
2017-03-04T00:00:00Z
The flat was a very cozy and we felt right at home. Their kitchen was fully stocked and provided us with opportunities to cook our own food. The room was the perfect size for the two of us. Broddi and Anita were great hosts and even offered to rent us out their car. Their flat was right next to the public transportation for easy access into the city.
Andrew
2017-03-13T00:00:00Z
The apartment was clean, comfortable, and beautifully decorated. Anita and Broddi are amazing hosts and just wonderful people in general! They are not only kind hosts, but they are also caring, fun and generous people who I am glad to have been able to meet during my time in Iceland. Would love to stay with them again and hope to see them sometime in the future!
Maddie
2017-02-11T00:00:00Z
Romtype
Privat rom
---
Eiendomstype
Leilighet
---
Plass til
3
---
Soverom
Reykjavik, reykjavík, Island
Want to visit the locals, then we are perfect family. ONLY WEEKENDS TOUR. Just ask for other days :) I´m an excellent Travel planner, and great tour guide. YOU CAN GET ONE NIGHT FREE IF YOU TAKE TOURS. I also have a wool sweathers and wool gloves for sale. Cheaper then in stores. We´re just a normal family. People goes first who wants the tours. No free night in christmas, summer and easter. and need to be 2 people to get one night free.
A very charming, private room in a good neighbourhood. We are very good family. The rooms have sleeping space for 3 people. Bed for 2 and air bed on the floor for 1. Small room. It is in a beautiful, quiet and charming area THERE IS FREE WIFI IN THE APARTMENT. I ALSO OFFER TO TAKE GUESTS ON ADVENTUROS TRIPS TO THE COUNTRY. FOR MORE INFORMATION, JUST ASK :) GOOD OFFER IF YOU TAKE MORE THEN ONE TOUR. I ALSO HELP PEOPLE TO BOOK AND PLANNING THEIR TRIP HERE IN ICELAND. JUST ASK ABOUT THAT. THE BLOCK IS LOCATED in Reykjavík just outside of the down town area. There is a good bus connection from here in all directions and it takes only 20 minutes to go down town, depending on which bus you take. Nothing is far in Reykjavik. There is a 10 min walk to the nearest public pool in Kópavogur. Two gyms are also in that area.. Top secret in Iceland is the Swimming pools.
Very good and quiet. The main bus station is here and small shopping center. Pizza place, bakery, cinema, Subway, Bank, grocery and more.
I did not actually meet Hoffy because she was out of town but her daughter was there to great me at the apartment. Hoffy's two children were fine and let me feel at home. The apartment is in kind of funny location outside of the city in a housing area. It was about a 12 minute drive to the downtown area. There is a bus stop but the bus stops at midnight so if you are looking to go out in town at night, you will be taking a cab. The room was clean and the bed was very comfortable. The dog, Princess, is friendly.
Jesse
2015-05-17T00:00:00Z
Hoffy is an awesome host. She did all possible to make my stay good. I arrived late at night, she helped me check in late without any issues. Her place is in a peaceful neighbourhood. Just 15minutes to the main bus station. I recommend her place to have a peaceful stay in Iceland.
Muthuraja
2015-08-01T00:00:00Z
We have been living a week with Hóffý and we can only say it has been a very rewarding experience, her house is very comfortable located in a quiet neighborhood very well connected to the center of Reykjavik. She gave us all the support and attention to our questions and she was there for all. The next time we go back to iceland we back to enjoy their hospitality without doubt it. We encourage anyone who is thinking of traveling to Iceland to enjoy her home.
Aroa
2013-09-03T00:00:00Z
To visit Hoffy and Tristan is cosy and feels like home. And not to forget the charming dog Princess. Definately a place to recommend. We will be back again. Love Louise and Helle from Denmark
Helle
2013-09-25T00:00:00Z
I enjoyed my stay here very much. About 12 minutes from downtown with easy access to public transportation. I was able to experience a not touristy view of Iceland. Hffy's home was quiet and clean. she made me feel very comfortable. There was a grocery store, coffee shop and public swimming pool all within easy walking distance. I can't recommend enough a stay here in this Icelandic home.
Richard
2014-02-27T00:00:00Z
I t was great to stay with Hoffy especially as i was sick and had to bunk down for the day. Hoffy was very helpful and kind. I think everyone falls in love with Princess!
suzi
2014-07-05T00:00:00Z
Hóffý was great about keeping in touch and answering all of my questions and in the end she bumped me up to a small apartment in the city center with a very good location.
Justin
2015-01-11T00:00:00Z
The place isnt near the city. You have to get bus tickets to get out. Otherwise, call a cab.
Reynard
2017-03-21T00:00:00Z
Romtype
Privat rom
---
Eiendomstype
Leilighet
---
Plass til
3
---
Soverom
Reykjavik, Hovedstadsregionen, Island
Lovely apartment in a lovely, quiet neighbourhood in Reykjavik. Fully equipped kitchen, spacious bathroom with a shower. Free parking. Owned by a married couple in their 30s with 3 children, who live on the first and second floor in the same house. The apartment is completely separate and with a private entrance. 15 minute drive to the city center. Bus stop right in front of the house. 10 min. walk to the central bus station: Mjódd and shopping and service.
The apartment has one bedroom, living-room, bathroom and a kitchen with a sofa bed in the living room. Plenty space for 4 persons. The bed is Queen size(156cm wide and 200cm long) the Sofa bed is 140cm wide and 200cm long. We have also available a baby travel bed suited for children up to 3 yr. and a high chair. Send us a message with a request if needed. Although we are living in the same house the apartment is completely separate and with a private entrance.
Our stay at Gunnar's was great. He was very responsive and attentive to any issues or questions we had. The stay was nice and private and was relatively close to the city where we were exploring.
Bryan
2017-01-16T00:00:00Z
Every room is very cleanly and well organized. Host communicated with us daily checking on us and asking if we needed anything. I recommend to rent a car if you are looking to stay here as it is about a 15min drive to the city center. Good price and a nice place to stay if you have the convenience of a car rental
Cory
2016-12-18T00:00:00Z
Gunnar Petur is so nice.The apartment is very comfortable.
sienna
2017-01-31T00:00:00Z
you should checking about that rooms semi-basement.
수영
2017-01-26T00:00:00Z
The host canceled this reservation 58 days before arrival. This is an automated posting.
Pedro
2016-12-13T00:00:00Z
The host canceled this reservation 88 days before arrival. This is an automated posting.
Alex
2016-12-13T00:00:00Z
The host canceled this reservation 79 days before arrival. This is an automated posting.
chenchen
2016-12-13T00:00:00Z
Cozy apartment true to the pictures. Gunnar was helpful and responsive in replies. We enjoyed our stay very much. Kitchen is very well-equipped. Hope you can include toiletries and hairdryer to make it even better. :)
Leling
2017-01-22T00:00:00Z
Romtype
Helt hjem/leilighet
---
Eiendomstype
Leilighet
---
Plass til
4
---
Soverom
Reykjavik, Island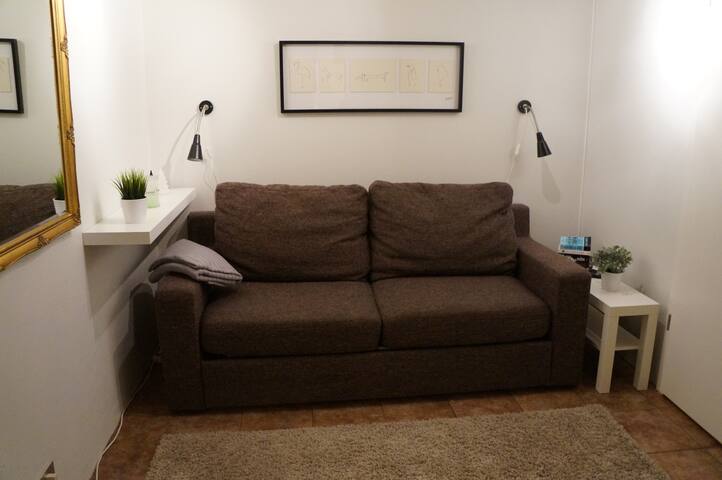 Newly renovated 60 m2, 2 bedroom apartment in a beautiful neighborhood. Private with no shared facilities. The apartment is bright and spacious with small kitchen and living room. Two bedrooms with comfy beds. Bathroom w/shower. Fully equipped kitchen. Perfect for families with children. Great location for planning day trips outside Reykjavik. 10 min drive downtown. Toys for kids available. Free high speed Wi-fi. Bus stop 1 min away Free parking space is included.
Newly renovated 60 m2, 2 bedroom private apartment with no shared facilities. The apartment is bright and spacious with kitchen and living room. Two bedrooms with comfy beds. Bathroom w/shower. Fully equipped kitchen. Perfect for families with children or people that want to stay away from the traffic in downtown Reykjavík. Toys for kids available on request. Coffee and tea are complementary and always available for guests. Free access to High speed Wi-fi included and parking space.
The house is in a quiet and beautiful family friendly neighborhood with houses that are built around 1980. Nearby we have a small park with a pond and also a recreational area, with nice walking paths, trees and a collection of sculptures.
This was the perfect place for our trip. Very clean, great communication and good location to downtown. Highly recommend!
Lisa
2017-03-23T00:00:00Z
We had a lovely time at Hafdis place. She was very nice to us, showed us the neihborhood and she had information about Reykjavik and Iceland in the place. The appartment was clean and very nice after a long cold day... I'd recommend it
Jacyra
2017-01-17T00:00:00Z
Nice apartment in a quiet residential area of Reykjavik. Clean, well-maintained and Hafdís is very helpful and accommodating.
Coryna
2017-03-20T00:00:00Z
They were extremely responsive to our messages, and very helpful and nice once we arrived. Would definitely recommend this place to anyone.
Rakel
2016-10-15T00:00:00Z
We loved this airbnb! It was very clean and spacious! Was actually bigger that we expected. Host was helpful and easy to communicate. Location is about 10mins drive to Reykjavik and other amenities are nearby. We had a great stay, thanks to the host!
Jane
2016-12-11T00:00:00Z
Le logement correspondait parfaitement à l'annonce, très propre et fonctionnel. Hafdís à répondu très rapidement à toutes nos questions. Nous avons vraiment apprécié notre séjour et recommandons vivement cet appartement !
Emma
2016-11-03T00:00:00Z
The apartment was lovely we had a great time. Would recommend hiring a car as it gives you more freedom to get to and from the city, explore etc without relying on a bus. Description was accurate and communication before check in was really clear and helpful.
Laura
2017-03-04T00:00:00Z
Perfect location for our time in the area! Centrally located, clean and spacious. Would definely stay here again.
Jamie
2017-04-11T00:00:00Z
Romtype
Helt hjem/leilighet
---
Eiendomstype
Leilighet
---
Plass til
4
---
Soverom
Reykjavik, Island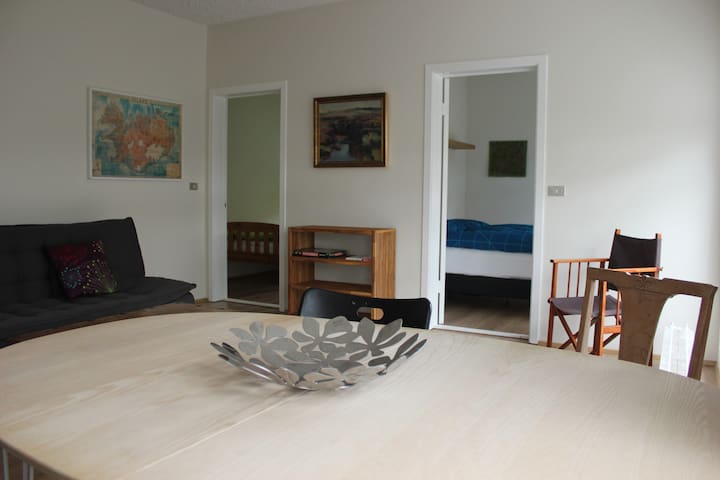 This is a 85 m2 apartment on a second floor (no elevator) in a quiet area. The apartment is just about 8 km from the city center. Many beautiful walking paths nearby like Elliðárdalur. Old history museum, Árbæjarsafn nearby etc. Bus station 4 min walking distance away, to the central connection station Mjodd, where you can take bus all over the city Food store is about 7 min walk from the apartment. Easily access to road 1, towards Golden circle and to the west part of Iceland.
The apartment have two bedrooms, a living room and fully equipped kitchen (coffee machine, dish washer, microwave oven etc). Master bedroom with a double bed (160 cm) and the other room with two single beds. In the living room we have a comfortable double sleeping sofa. Bathroom with a shower and washing machine. Bed linen and towels are provided A glass covered balcony, able to open TV with Netflix and free Wifi .
Great location, clean, and Lilja and Hilmar were very quick to respond with any questions. They even delivered a new hairdryer when the one in the home was broken! Would recommend this quaint house!
Maria
2017-04-03T00:00:00Z
Absolutely loved our stay at Lilja and Hilmar's place...hosts are extremely friendly and respond quickly. Very clean and lots of space, we only had 3 guests and still found ourself with extra room if needed. Hilmar came with printed out maps and tourist attractions to accommodate us and even told us about some hidden spots that were beautiful, whereas if we stayed in a hotel or such we would've never known. Getting to down town was close and accessible but unless you figure out how to use the bus it can be quite expensive using a taxi. Other than this, I enjoyed my stay and thank you to the hosts!
Andriana
2017-03-05T00:00:00Z
Wonderful place, really quiet and great hosts ! Lilja and Hilmar were very kind offering tips for Iceland and provided us with a great experience ! We also had the opportunity to see Northern Lights from their flat! Highly recommending the place.
Theodoros
2017-03-28T00:00:00Z
Great hosts to deal with. kitchen was well equipped, house was nice and cosy.
Abel
2017-03-09T00:00:00Z
Romtype
Helt hjem/leilighet
---
Eiendomstype
Leilighet
---
Plass til
6
---
Soverom
Reykjavik, Island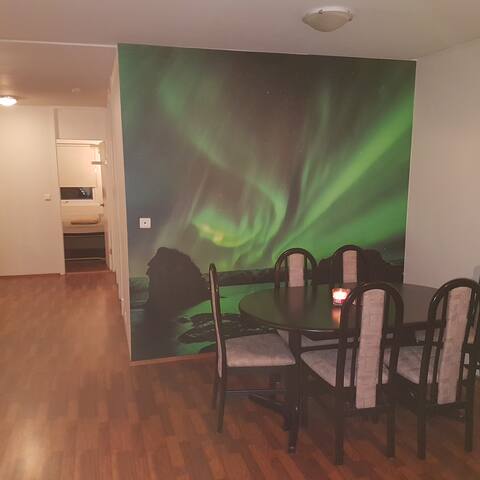 My cozy apartment is on ground floor with garden and located in a quiet part of Reykjavík, 7 km to the city center. The garden is amazing! For children it's perfect, also for guests to sit outside when it's sunny.
The apartment is very cozy! It's 31 m2 and is with all necessaries. It is best for 2 guests to stay, but it is very well possible for 3 to stay. There is a queen size bed and also a sofa bed that one person (or two children) can sleep in. There is 40' plasma TV in the apartment. This apartment has everything you need for a great stay in Reykjavik city. The garden is shared with people in the house, the backyard is for guest but the garden in front of the house is for the house owner. The garden is amazing in the summer time, for you to sit outside when it's sunny or/and for children to play in. If you are looking for a bigger apartment, I recommend this one: https://www.airbnb.com/rooms/10482179?checkin=01%2F19%2F2016&checkout=01%2F22%2F2016&s=rad6L-yx
The neighborhood is great for hiking and easy to take a bus down town and to BSÍ. The bus stop is only 3 min walk from the apartment :) Close by there is a supermarket (24/7 opening hours), only 10-15 min walk, a gas station 5 min walk, bakery, subway, dominos pizza place 10-15 min walk.
Sandra gave us a very clear instructions on how to reach her place and where to get the key. She was also very responsive on my messages. The location of the apartment was near to the city center. We had a car so driving to the city center was not a problem. There's a free parking in front of the house. The bed was comfortable and the apartment was spacious enough for me any my husband. Wifi connection was somehow ok. The neighbourhood was residential and very quiet. What we didn't like was every time we were using the water in the shower, bathroom sink and kitchen sink there's an unpleasant smell coming from it. It's the same scent that you can smell if you are in Blue Lagoon or the Geyser (Strokkur). It was a bit uncomfortable for us using the water due to the strong smell. Overall we had a great stay at Sandra's place.
Jhoanne
2016-09-17T00:00:00Z
The apartment is well situated in a quiet neighborhood. It is perfect for visiting the city centre. The apartment is perfect for a couple. The cleanliness is ok.
Piera
2016-09-05T00:00:00Z
Sandra was an amazing host and everything was as we expected, nice and cozy!
Diana
2016-04-06T00:00:00Z
We enjoyed our time in the little apartment. It wasn't too far from downtown. We got the 3-day city pass so our bus ride everyday was included. Aside from that, it got us into the museums, botanical garden, the zoo and many, many other places. We saved $$ because we cooked breakfast. And Sandra allowed us to do a late check out on our last night so we enjoyed our time a little bit more.
Sharon
2016-09-01T00:00:00Z
The place description was accurate. It was clean and in a good neighborhood. There was plenty of closet space which is nice as most hosts that I have visited dont fill that need. All communications were timely and pleasant. I highly recommend Cozy Apartment Garden & Free parkin
Gudie
2015-12-27T00:00:00Z
My husband and I enjoyed our stay in Iceland and Sandra's apartment very much. Sandra was very helpful and accommodating. The apartment was very clean, cosy and warm, and had everything we needed for our 5 night stay. The apartment is in a very convenient location, with easy access into town and to the main roads, which is perfect if you are driving around Iceland. The neighbourhood is very quiet and there is ample free parking space outside the house.
Indre
2016-02-10T00:00:00Z
We stayed in this apartment for an entire month as we wanted to be in Iceland for a longer period of time to really see all it has to offer. The apartment is tiny but it was perfect for us. The location is great, just a short 5 minute drive to Reykjavik. The neighborhood is very nice. This apartment has a lot of storage space. Kitchen has all your needs and a nice size refrigerator. Bed was comfortable and so was pull out sleeper in sofa. Sandra was a wonderful hostess and very fast to respond to any of my messages. This specific apartment does not have a washer or dryer as I am assuming most people don't rent it for an entire month. Sandra was kind enough to actually do our laundry for us. She also let us use the bigger apartment located next door when vacant to do our laundry as well. I really appreciated her making this accommodation for us due to our long stay! This apartment really began to feel like home and we were so sad to leave Iceland. It was perfect for our month long journey! Just what we needed. I would definitely book it again when we return! Thank you Sandra for all of your help!!
Jaimie
2016-08-03T00:00:00Z
Sandra was an excellent host. I wish we could have met in person (schedules didn't mesh). The cosy apartment was everything and more as described. Sandra was super responsive to questions and her directions for public transport were spot on. Highly recommend the cosy apartment. Tack Sandra
Marilyn
2015-09-20T00:00:00Z
Romtype
Helt hjem/leilighet
---
Eiendomstype
Leilighet
---
Plass til
3
---
Soverom
Reykjavik, Hovedstadsregionen, Island