Very individual apartment in a semidetached house with old wooden floors, central heating and additional fireplace, open kitchen and separate bathroom with shower, bathtub and washing machine, a cozy living room and bedroom with wireless internet and 40 "LED TV, baby cot available
Very quiet area at the edge of the historical mining town, just 10 minutes walk from the city center. Our Freiberg is Saxony (Ore Mountains), it is not Freiburg in the Black Forest. It is located in eastern Germany in the middle between Dresden and Chemnitz.
Green environment with gardens
Es kann kaum besser sein. Mir hat es sehr gut gefallen. Ich habe mich nicht fremd sondern aufgehoben gefühlt bei meiner schweren Arbeit die sechs Wochen. Es ist etwas sehr Besonderes, dass man in der heutigen Business-Welt noch auf Menschen trifft, dass ein menschliches Miteinander stattfindet.
Arila
2016-04-18T00:00:00Z
Vielen lieben Dank an Jürgen! Es war eine Freude und definitiv nicht das letzte Mal. Wir sind leider etwas spät in Freiberg angekommen, aber es war absolut kein Problem. Der Kontakt war immer sehr gut und vor allem schnell. Für das leibliche Wohl war auch gesorgt: ein paar Brötchen und die notwendigsten Nahrungsmittel und sogar ein kühles Bier standen bereit - super, und das ist nicht selbstverständlich! Vielen Dank und bis zum nächsten Mal!
Margarita
2015-12-14T00:00:00Z
Richtig tolle Unterkunft ,mega nette Menschen. Jede kleinigkeit ist in der Wohnung vorhanden vom Rasierschaum bis zum Haarspray alles da. Auch in der Küche Öl -Tee ,alles da. Wir sind viel unterwegs aber so gemütlich ,nett und sauber habe ich es selten erlebt. Liebe Grüße hiermit nochmal an die Gastgeber
lisette
2015-06-30T00:00:00Z
Vielen lieben Dank an Jürgen & Co. für die nette Unterbringung! Jürgen hat uns (planlos auf Durchreise) spontan, noch am am Tag der Buchungsanfrage, mitten in der Nacht empfangen und dafür gesorgt, dass wir nachts wie morgens nicht verhungern! Die Wohnung war sehr sauber und liebevoll eingerichtet. Mehr kann man nicht erwarten! Das uns bis dahin unbekannte Freiberg ist im übrigen wunderschön und einen Besuch wert! Klare Empfehlung von uns für Jürgen und viele Grüße aus Wien, auch an den lieben Hund! Julia & Christian
Christian
2015-04-07T00:00:00Z
Wir sind sehr herzlich begrüßt worden, mit ein paar Lebensmitteln und einer Flasche Wein für eine erste Versorgung nach der Anreise. Auch haben wir uns sehr über die frischen Brötchen am Sonntag gefreut und die Möglichkeit, Holz für das Anschüren des Kamins zu bekommen :) Die Wohnung ist sehr hell, freundlich und liebevoll eingerichtet. Es gibt Platz genug fürs Gepäck und das Bad ist herrlich groß zum Wohlfühlen und entspannen. Wir kommen sehr gerne wieder :) Liebe Grüße Heike
Heike
2015-12-31T00:00:00Z
Tolle Unterkunft mit allen hilfreichen Kleinigkeiten wie in den vorherigen Bewertungen schon beschrieben. Die Lage ist zentral und trotzdem ruhig. Perfekt für einen schönen Urlaub. Wir haben uns sehr wohlgefühlt. Ein herzliches Danke an Jürgen und seine Familie als großartige Gastgeber.
Anke
2016-07-23T00:00:00Z
Die Wohnung von Hans-Jürgen ist wirklich toll. Man hat richtig viel Platz, ein riesen Badezimmer und alles ist mir viel Liebe zum Detail eingerichtet. Vor allem das Bett war sehr bequem! Die Lage ist gut und man ist wirklich in nur 10 Minuten zu Fuß im Zentrum. Es war ein super Aufenthalt!
Anne
2016-12-11T00:00:00Z
Jürgen war ein toller Gastgeber. Er hat sogar Wasser und Willkommensbierchen in den Kühlschrank gestellt und ein paar Lebensmittel in die Küche, so dass ich mir abends Spagetti kochen mit Tomatensauce machen konnte. Auch Kaffee und Tee waren da. Zum Einkaufen hätte ich keine Zeit gehabt. Die Kommunikation mit ihm war unkompliziert und schnell. Die Wohnung ist sehr schön, wie auf den Bildern zu sehen ist. Es ist sehr bequem und es fehlt an nichts. Unbedingt empfehlenswert. Vielen Dank lieber Jürgen.
Walja
2015-09-03T00:00:00Z
Romtype
Helt hjem/leilighet
---
Eiendomstype
Leilighet
---
Plass til
2
---
Soverom
Freiberg, Sachsen, Tyskland
be in the room a large desk, a chair, a single bed with a mattress, three-part cabinets and a shelf offer.
The main focal points: ~ 2min for Kaufland ~ 7min to the station, ~ 5min to Lessingbau (ideal for WiWi's) ~ 10min University / cafeteria, no more than 10 minutes to the park / pool / office / post / savings / and many others.
Romtype
Privat rom
---
Eiendomstype
Leilighet
---
Plass til
1
---
Soverom
Freiberg, Sachsen, Tyskland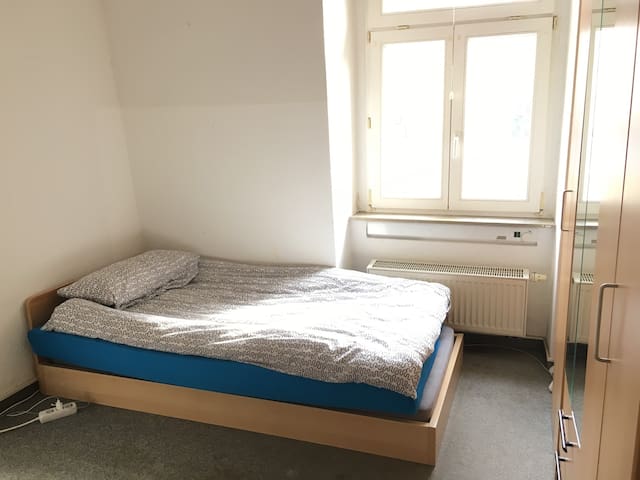 My cozy room is connected near the town center and good public transport links. - 5 minutes to the train / bus station - 5 mins to the city center - 10 minutes to Uni Since I am not at home longer because of studying, I rent my room in a 5 Series WG. We have a large kitchen and 2 bathrooms and you have a private 18sqm room, which you can also complete. My roommates are very open and you will here certainly have a lot of fun!
Beautiful old building in an ideal location for the center and connection to the Urban public transport.
Judit was incredibly helpful, kind and has a beautiful space. Her (SENSITIVE CONTENTS HIDDEN) were also super helpful and even though I got in late, had no problem helping me get there. Such a great, clean, wonderful experience! Highly recommend it!
Shauna
2017-01-05T00:00:00Z
Die Wohnung ist eine typische Studenten-WG, das Zimmer großzügig, die Menschen freundlich, ich konnte mich gut zurückziehen, was mir auch gerade sehr wichtig war. Judi selbst habe ich nicht getroffen, die Kommunikation klappte per Email hervorragend.
Ekkehart
2017-01-19T00:00:00Z
I didn't cross paths with Judith, but her roommates were very nice and outgoing. I would stay here again. This place sort of felt like one of those AirBnB experience packages. If this one had a title it might be "Real World: Freiberg".
Stephanos
2017-02-10T00:00:00Z
Super Zimmer/Bett, sehr nette WG-Mitbewohner, es war mir eine Ehre! Judith war sehr gut zu erreichen! Vielen Dank und das nächste mal werde ich mehr Zeit mitbringen ;)
Andi
2017-01-12T00:00:00Z
Ich habe Judit am Vormittag geschrieben und schon sofort eine Antwort bekommen, dass ich bei ihr am Abend übernachten könnte. Das Zimmer ist schön, Bett bequem und die Mitbewohnern von Judit nett und hilfreich. Ich würde es 100% empfehlen hier zu übernachten.
Lauren
2017-01-22T00:00:00Z
The host canceled this reservation 79 days before arrival. This is an automated posting.
Sophie
2017-02-22T00:00:00Z
The host canceled this reservation 40 days before arrival. This is an automated posting.
Michael
2017-03-05T00:00:00Z
Obwohl ich sehr spontan angefragt habe, hat es problemlos mit der Buchung geklappt, da Judit direkt auf meine Anfrage geantwortet hat. Das Zimmer ist sehr sauber und schön. Die Mitbewohnerin hat mich direkt in die Wohnung eingeführt, so dass es reibungslos alles funktioniert hat! Wlan-Zugang inklusive! Also alles top! :-)
Utako
2017-01-20T00:00:00Z
Romtype
Privat rom
---
Eiendomstype
Leilighet
---
Plass til
2
---
Soverom
Freiberg, Sachsen, Tyskland
2-room apartment in a renovated house in the historic miners Freiberger downtown.
The apartment DON 13 is a total of 36 square meters and includes a bedroom, a bathroom with shower and a kitchen with access to the garden / terrace. Up to four people can stay here. In addition to the double bed in the master bedroom, two additional people can sleep on the couch in the living room. A baby bed can be granted. Our apartment DON 13 is characterized by a modern design, taking into account the historical components of an old miners' house. In the bedroom are decorated in warm tones of beech wood in the furniture, in the kitchen clean, bright, modern lines with color accents. On the walls you will find photos that were made by our two friends Quang from Vietnam and Alex from Brazil and Freiberg also show you from a different perspective.
Our building - a former miners house - located at the cradle of the city of Freiberg, former Christian village. A recently discovered document from the year 1162 reported clearing of previously covered by forest area of the later Freiberg and the installation of individual villages, as well as a certain "Christian village." A little later, in 1168 took place here the discovery of the first silver, not far of our house Donat alley 13. The discovery of silver-bearing ores resulted in an extremely fast-paced, unique in Central Germany, development. In only a decade emerged after more urban miners settlement around the old Jakobikirche a artisans and merchants settled around the St. Nicholas church and a Burglehn between the castle and the Church of Our Lady, later Cathedral. Already in 1180 the upper town was built around St. Peter's Church. By 1200, Freiberg was by far the largest city in the Mark Meißen. Due of several city fires occurred in the destruction of these relatively simple Berarbeiterhäuser which, however, were always rebuilt - some with the gneiss plates of the nearby medieval walls. The Donat street which previously was also called "to quarry" has always been a center of the miners and from work past the Donat storm through to Donatstor to their mines in the northern region of the city of Freiberg. This is also confirmed old postcards about 1900. With the decline of the mining industry in the 60s, the two world wars, the post-war years and the construction of new settlements in GDR times it came to the neglect of the Freiberger downtown. Often, only old people stayed in their homes under nowadays almost unimaginable standards reside. In 2003, almost uninhabitable property Donat alley was acquired 13 of Rüdiger Grimm and rescheduled by the architect Frank Jaster into a modern city villa. The result is a 100 sqm condo and a 36 m² apartment. In the backyard there is a small garden with stunning views out over the rooftops of the freiberger old town with the cathedral. After the basic stick refurbishment in 2003/2004 the object 2005. received the Freiberger refurbishment Price At the award ceremony was emphasized that it is the builders Rüdiger Grimm very well succeeded in bringing old buildings, historic preservation and modern living requirements in line. So lovely details, like the old mosaic floor and the gneiss wall in the hallway, the sandstone staircase to the first floor and the brick arches have been preserved on the walls of the neighboring buildings. This is complemented by modern triple-glazed windows, a heat protection insulation on the courtyard side and the transformation of the courtyard side cultivation to a roof terrace. In 2008, the heat generation of the building of that time natural gas was converted to environmentally friendly geothermal energy. positioning a 100m-bore in the courtyard and a 7kW heat pump in the hallway provide for the heating of the entire building and hot water of the condominium. By using green electricity, the building can thus be heated carbon neutral.
Die Unterkunft: Schicke kleine Wohnung im Herzen von Freiberg. Schöner sanierter Altbau, ideale Lage. Die Ausstattung: Die Wohnung ist perfekt für zwei Personen. Sauber, hell, modernes Equipment und alles top in Schuß. Die Ausstattung der Küche läßt keine Wünsche offen. Nettes Extra: der gut gefüllte Kühlschrank, wo man für kleines Geld Snacks und Getränke aus den neuen Ländern bekommt. Dazu gibt's in der Info-Mappe persönlich recherchierte Hintergrund-Stories zu jedem Produkt. Die Gastgeber: Unsere Gastgeber haben sich perfekt um uns gekümmert. Wir haben zumeist mit Rudi kommuniziert, der alle unsere Fragen (per Mail oder telefonisch) sofort höflich und zuvorkommend beantwortet und uns bei unserer Anreise durch die Wohnung geführt hat. Sylvi und die Kinder haben wir leider erst bei unserer Abreise kennengelernt. Unser Fazit: Wenn wir wieder für einige Tage nach Freiberg fahren, werden wir auf jeden Fall versuchen, wieder im DON13 unterzukommen. So muß eine perfekte Ferienwohnung sein! Viele Grüße aus der Pfalz, Melanie & Christian.
Christian
2015-12-28T00:00:00Z
Great place which is based in the centre of Freiberg. Easy and quick communication with the host. Thumbs up!
Ralf
2016-01-14T00:00:00Z
The apartment was really lovely and perfect for my parents to stay while they visited me. The location is so great and ideal for walking around the Alt Stadt. Sylvi and her adorable little boy were very welcoming and I will definitely be booking again next time I have visitors.
Charlotte
2015-02-23T00:00:00Z
Rudy and Sylv hosted me despite a late arrival the flat is really nice; cqlm qnd cozy It was wonderful.
Floriane
2015-06-18T00:00:00Z
Apartamento bien equipado i en perfecto estado. Situado en el Altstad de Freiberg en un entorno traquilo y agradable. Sylvi ì Rudi Grimm, los propietarios, son personas acogedoras i de cordial trato. En definitiva, es una estancia totalmente recomendable, aunque como en nuestro caso el tiempo no ha acompañado.
Carles
2015-04-02T00:00:00Z
The reservation was canceled 89 days before arrival. This is an automated posting.
Mareen
2014-09-14T00:00:00Z
Oh my gosh that place was awesome ! Not even mention the cute cat outside who was willing to play with us. The family was nice but not overbearing :) they were so quite even though they have two kids upstairs. We loved the design of the apartment and the fact thst there was everything what we needed :) we are coming back for sure ! Staying in such such a place only added to our wonderful Freiberg Trip.
Marta
2017-02-01T00:00:00Z
Wir hatten eine sehr schöne Zeit in Freiberg. Das Appartment liegt in der Altstadt, zum Obermarkt und zum Untermarkt sind es nur wenige Minuten. Aufgrund einer Vollsperrung kamen wir erst recht spät in Freiberg an, aber Rudi hat uns erwartet und alles gezeigt. An einem Morgen kam auch Cesar (der Kater) vorbei und hat nach dem Rechten geschaut. Ein schönes Appartment. Wenn wir wieder nach Freiberg kommen, möchten hier gern wieder wohnen.
Sandra
2015-04-19T00:00:00Z
Romtype
Privat rom
---
Eiendomstype
Leilighet
---
Plass til
4
---
Soverom
Freiberg, Sachsen, Tyskland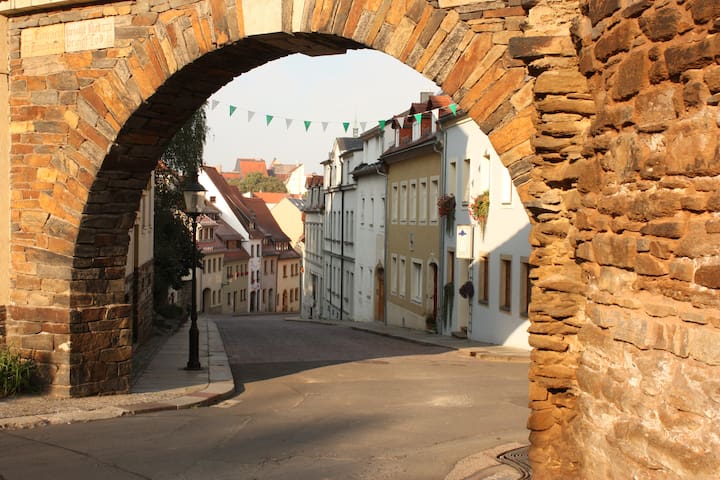 My house is near a train station Freiberg 2 min, Arts and Culture, the city center 10 min, park 5 min, Dresden Airport 30 km. My accommodation is ideal for couples, lone adventurers, business travelers, families (with children) and large groups.
Romtype
Helt hjem/leilighet
---
Eiendomstype
Leilighet
---
Plass til
3
---
Soverom
Freiberg, Sachsen, Tyskland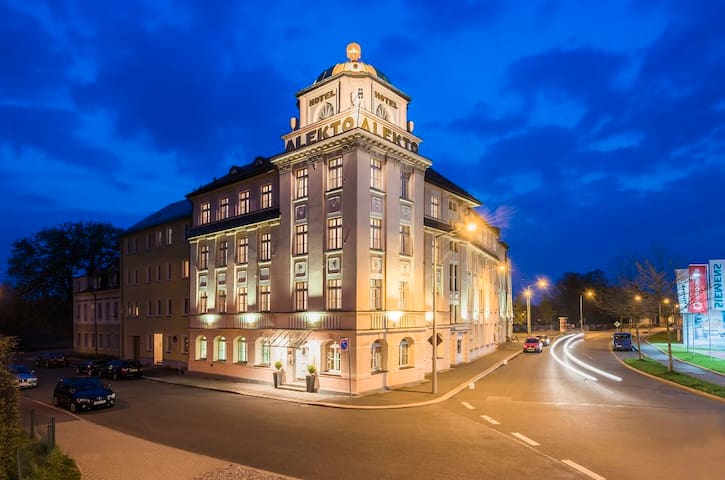 * Piso de 1 habitación con balcón, cocina equipada con nevera incl. Congelador, vitrocerámica, tostadora, hervidor de agua, vajilla y. Cubiertos * Incl. Nk, electricidad y plaza de garaje incluido costes limpieza -. Cálculo al alquiler * Las toallas y ropa de cama n
Here you feel good - Wohnpark Gentilly is a gated community with 51 apartment houses and is located in the west of Freiberg in a quiet park-like suburban location. Only 4 of our apartments we rent as guest apartments. All other apartments are rented out indefinitely. We mainly occupied by students, trainees and commuters. The Wohnpark Gentilly features a laundromat, volleyball court, outdoor table tennis tables, barbecue and a bistro lounge with coffee, cold drinks and snacks. Many other recreational opportunities in the near vicinity - gym, cinema, Waldbad, adventure, beautiful cycling, running and hiking trails in the adjacent woodland. Optimum transport links. The city and the university are easily accessible by bicycle and on foot. Shops are located in the immediate vicinity.
Romtype
Helt hjem/leilighet
---
Eiendomstype
Leilighet
---
Plass til
2
---
Soverom
Freiberg, Sachsen, Tyskland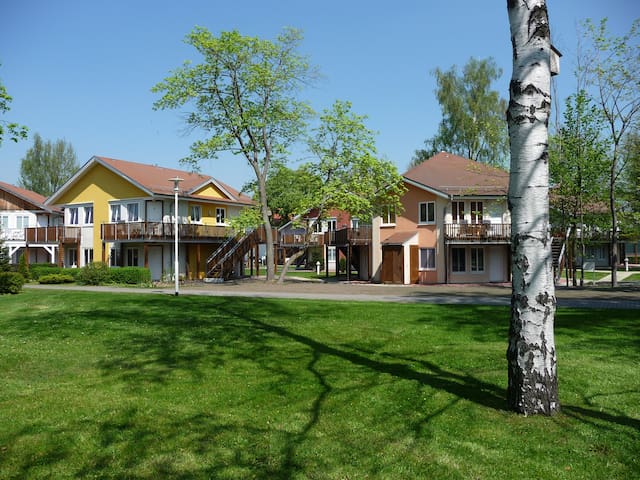 My house is near family-friendly activities Dresden, Freiberg. You'll love my accommodation for comfort, have the view, nice hosts, beautiful scenery, opportunities for sporting activities, rest In summer there are around a lot of swimming and in winter (as snow) winter sports. My accommodation is good for couples, solo travelers adventurers, business travelers, families (with children) and furry friends.
The apartment is in our small farmhouse and can be reached through a separate entrance.
Weras place is awesome! A little farm in the middle of nowhere but in the middle of a beautiful nature. It is absolutely calm and peaceful. The flat is very large (5 rooms, a bathroom and plenty of space for many people), very well and lovely equipped and serves a a perfect place to stay for a couple of days to relax and enjoy your like. There are plenty of animals and two very friendly hosts that can also pick you up and drop you off from and to the next bus or train station. Thank you, Wera!
Marcus
2017-04-09T00:00:00Z
We were driving from Karlovy Vary to Dresden and we found Wera's house which is in the middle of our road. It is a small and nice village and even if the house is in the middle of the nature, it was completely equipped with modern tools, clean and nice designed. It was quite at night to sleep well and she gave us eggs from her farm as a gift. We really liked that we found such a house and we enjoyed our stay. Thank you Wera :)
Murvet
2017-03-19T00:00:00Z
Romtype
Helt hjem/leilighet
---
Eiendomstype
Leilighet
---
Plass til
5
---
Soverom
Pretzschendorf, Sachsen, Tyskland
Ik heb een mooi appartement in Freiberg en veel ruimte voor de gasten. Ik bied mijn slaapkamer als een gastenkamer. Hier heb je een echt bed voor 2 (1.40m breed) in een aparte kamer. Keuken, badkamer en woonkamer kan ook worden gebruikt. Ik heb ook een gastentoilet. Ik ben er trots kat mama, dus moet je geen problemen met katten of vacht hebben. Het appartement is centraal gelegen op ongeveer 10 minuten. van het centrum en 10 min. vanaf het station.
Mijn appartement is 72 vierkante meter groot en verdeeld in 3 kamers. Zoals mijn gasten, ik bied u mijn slaapkamer als een gastenkamer. Hier heb je een bed (1,40 m breedte) waarin je ook heel comfortabel kunnen slapen. Tijdens uw verblijf leef je met mij in het appartement. Ik zal slapen in de woonkamer of kantoor gedurende deze tijd. U kunt de badkamer en de keuken te gebruiken. De keuken heeft alle gebruikelijke apparaten, zoals oven, koelkast, vaatwasser ect. ... De badkamer heeft zowel een douche en een bad. De wasmachine in de badkamer kan ook worden gebruikt (in het gebruikelijke kader). Ik heb ook een gastentoilet.
In mijn huis wonen gezinnen met kleine kinderen, dus vraag ik u in de avond om aandacht te besteden aan het volume.
Der Aufenthalt bei Jasmin hat mir sehr gut gefallen. Alles ist sauber und ordentlich, das Bett sehr bequem. Jasmin ist eine sehr freundliche Gastgeberin, die ihren Gast alles benutzen lässt, auch ihre Waschmaschine. Ich habe gerne bei Jasmin übernachtet und kann sie weiterempfehlen. Danke Jasmin und alles Gute.
Andrea
2017-01-12T00:00:00Z
Tip top! Sehr nett, sauber, ruhig und ordentlich =]
Gorka
2017-01-26T00:00:00Z
Romtype
Privat rom
---
Eiendomstype
Leilighet
---
Plass til
2
---
Soverom
Freiberg, Sachsen, Tyskland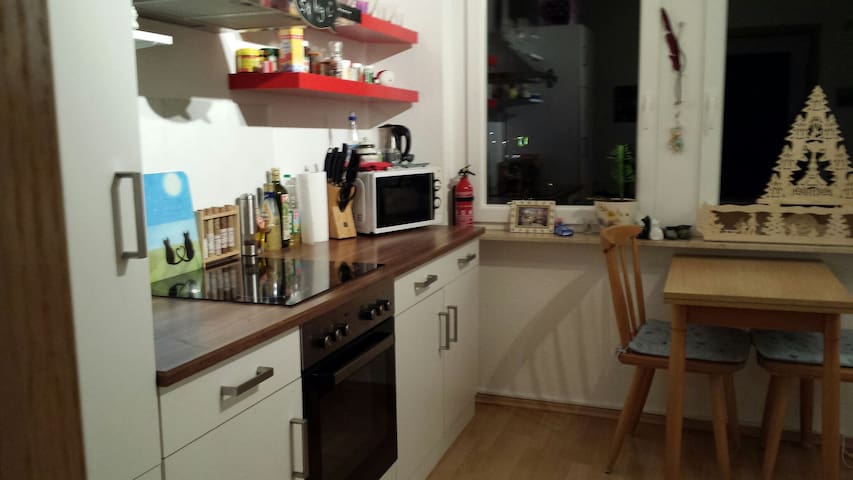 Moderne, helle, gemütliche Appartments in wunderschöner Landschaft, mit 3Zimmern. Reifland und die schönen Berge des Erzgebirges laden im Sommer wie Winter zum Wandern, Skifahren, Rodeln, Radfahren und Relaxen ein. In den Nachbarorten gibt es viele Möglichkeiten die erzgebirgische Schnitz- und Klöppelkunst direkt zu erleben.
Liegt mitten in Mutter Natur von viel Wald umgeben, sehr ruhig. In 2 separaten Wohnungen können bis zu 8Personen gemütlich wohnen.
Romtype
Helt hjem/leilighet
---
Eiendomstype
Leilighet
---
Plass til
5
---
Soverom
Eppendorf, Sachsen, Tyskland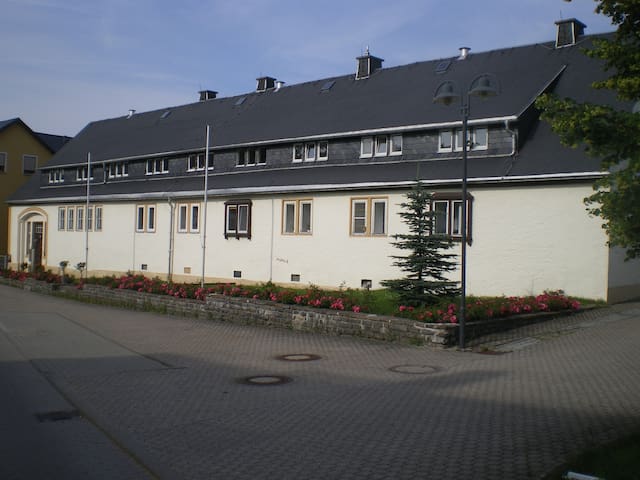 * Furnished 1 Room Apartment with coffee maker, toaster, kettle, Dish u. Cutlery *Incl. Nk, electricity and parking space plus cleaning costs -. Calculation to rental * Towels and bed linen not available
Here you feel good - Wohnpark Gentilly is a gated community with 51 apartment houses and is located in the west of Freiberg in a quiet park-like suburban location. The Wohnpark Gentilly features a laundromat, volleyball court, outdoor table tennis tables, barbecue and a bistro lounge with coffee, cold drinks and snacks. Many other recreational opportunities in the near vicinity - gym, cinema, Waldbad, adventure, beautiful cycling, running and hiking trails in the adjacent woodland. Optimum transport links. The city and the university are easily accessible by bicycle and on foot. Shops are located in the immediate vicinity.
Super schnelle und unkomplizierte Abwicklung; Unterkunft zweckmäßig und mit allem was man braucht - wir waren sehr zufrieden und würden wieder es wieder buchen.
Janine
2015-10-11T00:00:00Z
Ce studio est idéal pour une nuit. L'agencement de la kitchenette limite les possibilités de préparation des repas (surtout pour deux). L'environnement est agréable et calme. Prévoir 10€ supplémentaires réclamés une fois la réservation acceptée, pour les frais de ménage. L'arrivée est possible à toute heure grâce à un système de boîte à clés codé.
Benjamin
2015-09-21T00:00:00Z
Unterkunft super. ..alles was man brauch. ..sauber und sehr freundlicher Empfang. ..werde nun öfter diese Unterkunft buchen...geht sehr leicht und schnelle Antwort. ..topp. ..waren 2Personen mit 2 Hunden dort. .danke. ..gerne wieder. ..
Viola
2015-06-04T00:00:00Z
Sehr zuvorkommend, nettes Apartment...gern wieder
simon
2015-10-09T00:00:00Z
Bei der Ankunft wurden wir freundlich Empfangen und alles gut Erklärt.
Denise
2015-09-06T00:00:00Z
Sauberes Miniapartement, offensichtlich als Studentenwohnung konzipiert und entsprechend umfangreich ausgestattet: besonders die Küche. Beim Ausfahren des zweiten Bettes wird es jedoch eng. Bettwäsche und Handtücher werden nicht gestellt. Bei der Buchung wird darauf hingewiesen. Da jedoch zwischen Buchung und Anreise u.U. mehrere Wochen liegen, kann dies in Vergessenheit geraten. Eine Erinnerung vor der Anreise wäre angebracht. Der Code für den Schlüsseltresor sollte mindestens drei Tage vor Ankunft unaufgefordert zugeschickt werden, kam jedoch erst auf Nachfrage. Ausserhalb der Servicezeiten (z.B. am Wochenende) ist offensichtlich auch telefonisch niemand erreichbar. WLAN war meistens überlastet.
Guenter
2016-07-25T00:00:00Z
Alles gut!
Xueyao
2015-10-20T00:00:00Z
good place to stay.
Jim
2017-04-03T00:00:00Z
Romtype
Helt hjem/leilighet
---
Eiendomstype
Leilighet
---
Plass til
2
---
Soverom
Freiberg, Sachsen, Tyskland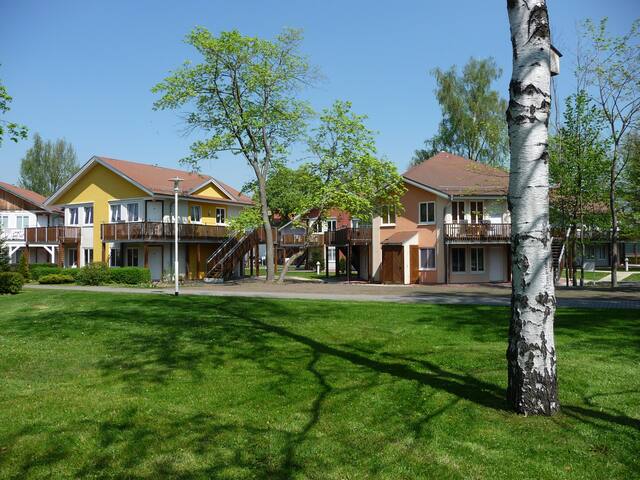 Mé místo se nachází v blízkosti centra města, krásným výhledem, umění a kultury, restaurací a stravování, a parků. Zamilujete si svoje místo, protože pohodlné postele a pohodu. Mé místo je vhodné pro páry, rodiny (s dětmi), tak i velkým skupinám.
The host canceled this reservation 50 days before arrival. This is an automated posting.
Lena
2017-04-04T00:00:00Z
Romtype
Helt hjem/leilighet
---
Eiendomstype
Leilighet
---
Plass til
6
---
Soverom
Freiberg, Sachsen, Tyskland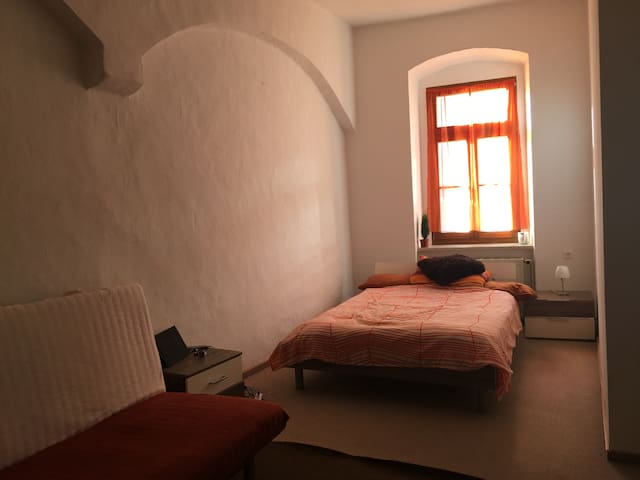 The room in a 4p - WG is very diverse and offers something for every mood. At the desk can be used, in the reading area can be explored new readings or just relaxing in bed the soul.
The house is within the historic center ring of Freiberg. The university, sights and shopping facilities are in close proximity.
The roommate of the 4p - WG are all super nice, uncomplicated and are always happy to meet new people.
Echt nette Leute in der Wohnung, offenbar und bereit zu helfen. Wenn ich wieder nach Freiberg fahre, werde unbedingt bei Dennis zu bleiben versuchen.
Gorka
2016-06-14T00:00:00Z
Everything went fine at Dennis charming student flat. I definitely recommend this place for staying in Freiberg.
Anastasios
2016-05-30T00:00:00Z
The host canceled this reservation 4 days before arrival. This is an automated posting.
Jochen
2016-06-21T00:00:00Z
The host canceled this reservation 3 days before arrival. This is an automated posting.
Steve
2016-06-21T00:00:00Z
Hallo Dennis, es war ein wunderschöner Abend bei euch in der WG! Hat mich sehr gefreut, einen Tag bei euch verbringen zu dürfen... unkompliziert, aufgeschlossen und einfach freundlich - GERNE WIEDER
Xenia
2016-06-12T00:00:00Z
Dennis war ein sehr netter Gastgeber. Das Zimmer war genau wie beschrieben, groß, sauber und bequem. Kann ich nur weiter empfehlen.
Fezyla
2016-05-13T00:00:00Z
Romtype
Privat rom
---
Eiendomstype
Leilighet
---
Plass til
2
---
Soverom
Freiberg, Sachsen, Tyskland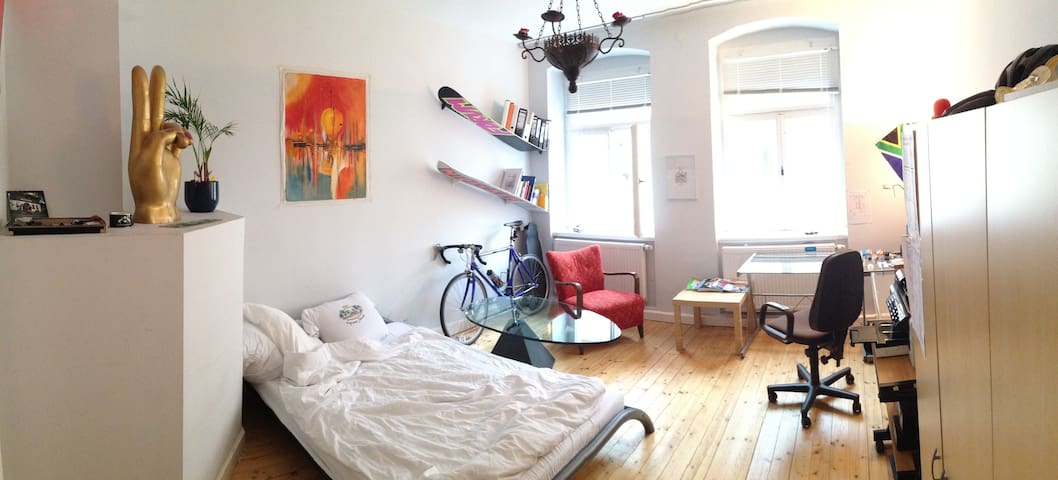 Wir bieten ein 40 m² Apartment im ehemaligen Bahnhof Frauenstein. Der Bahnhof Frauenstein war früher Kopfbahnhof der Kleinbahnstrecke von Klingenberg-Comnitz nach Frauenstein, die 1898 eröffnet wurde.
Ihr wohnt in der ehemaligen Wartehalle des Bahnhofs. Dort befindet sich jetzt ein großzügiger Wohn- und Essbereich, sowie ein optisch abgetrennter Schlafbereich. In dem Raum, welcher jetzt die Küche beherbergt, wurden noch bis 1991 Fahrkarten verkauft. Ein absolutes Kuriosum, da die Kleinbahnstrecke schon 1971 eingestellt wurde. Das gesamte Apartment ist mit Fußbodenheizung ausgestattet. Über einem der Wohnraumfenster tickt außen die Bahnhofsuhr. Innen gibt es eine Schautafel von einem russischen Bahnhof und ein historisches Bild vom Bahnhof in Aktion. Wir haben uns bemüht eine wohnliche Atmosphäre zu schaffen. In der Küche findet ihr ein Cerankochfeld, einen Geschirrspüler und einen Kühlschrank. Selbstverständlich gibt es auch eine Grundausstattung an Gewürzen, sowie Essig und Öl. Je nach Saison könnt ihr euch auch bei Obst und Gemüse aus unserem Garten bedienen.
Frauenstein ist eine sehr hübsche kleine Stadt, die mit der Burgruine und dem Museum punkten kann. Es gibt viele schöne und interessante Wanderwege in und um Frauenstein. Im Winter werden Loipen für den Langlauf gespurt. Das nächste Skigebiet ist 15km entfernt. Bis Freiberg ist man 20 min unterwegs, bis Dresden 45 min. Auch Meißen, Moritzburg und Chemnitz sind leicht zu erreichen. Selbst nach Prag kann man Tagesausflüge unternehmen. In Frauenstein gibt es zwei Supermärkte, einen Bäcker und diverse kleine Läden.
Anke hat uns sehr nett begrüßt und uns alles wichtige gesagt und gezeigt, es gab sogar selbstgemachte Marmelade, Sirup, frisches Gemüse aus dem Gewächshaus und einen tollen frischen Blumenstrauß in der Wohnung. Die Bilder entsprechen absolut der Realität, es ist sehr schön. Der Garten ist auch grandios, leider hat das Wetter nicht mitgespielt, sodass er nur von drinnen sehnsüchtig betrachtet wurde ;) Auf jeden Fall eine Empfehlung. Wenn das Wetter stimmt sicher noch 10x schöner!
Cato
2015-08-18T00:00:00Z
It was a wonderful apartment and wonderful people. There were extra blankets, home made jam and even a PC... superb hosts :)
Pavel
2015-12-13T00:00:00Z
Eine unglaublich tolle und außergewöhnliche Bleibe! Herzlicher Empfang von Anke und ihrem Mann und ein familiärer Umgang, sodass wir uns gefühlt haben wie Zuhause! Traumhaft ausgebauter Bahnhof mit liebevollem Garten. Es gab sogar frisches Gemüse und Sirup&Marmelade selbstgemacht! Die Wohnung ist hell und mit allen notwendigen ausgestattet, hat mal was gefehlt hilft Anke weiter ! UNBEDINGT vorbeischauen wenn ihr in der Nähe seid und im Sommer mal im kühlen Pool abtauchen . Uneingeschränkt zu empfehlen! Ps. Restaurant zum goldenen Stern 5min zu Fuß entfernt und lecker!! :)
Linda
2015-08-24T00:00:00Z
Sehr geschmackvoll eingerichtetes Appartement. Es ist alle da, was man braucht. Man fühlt sich sofort zu Hause.
Ilo
2017-02-12T00:00:00Z
Anke und Axel waren wundervolle Gastgeber, welche uns sehr herzlich in Empfang genommen haben. Die Wohnung war einfach fantastisch und hat die Bilder nochmal übertroffen - sehr geräumlich, stilvoll eingerichtet und super sauber. Selbst 2 kleine Gläschen selbstgemachte Marmelade haben uns den Aufenthalt versüsst ;). Der Besuch in Frauenstein war eine unserer besten Airbnb Erfahrungen. Wir würden jederzeit wieder bei Anke übernachten.
Florian
2016-05-17T00:00:00Z
Wir haben eine wunderschöne Wohnung in Frauenstein vorgefunden. Das Apartment war großzügig geschnitten und die Einrichtung liebevoll, diesem alten Gebäude angepasst. Es ist alles da, was man braucht. Die Gastgeber sind freundlich und hilfsbereit und auch die Kommunikation vor der Reise lief unkompliziert. Ich würde dort jederzeit wieder buchen, vielen Dank!
Katrin
2016-04-17T00:00:00Z
Die Unterkunft ist wirklich sehr schön und ohne Einschränkung zu empfehlen. Anke und Ihr Mann sind sehr freundlich, und haben uns herzlich empfangen. Die Kommunikation vor Ort, als auch über Airbnb im Voraus, verlief unkompliziert, schnell und freundlich.
Matthias
2017-01-29T00:00:00Z
Anke bietet eine niedliche kleine Ferienwohnung in einem alten Bohnhofshaus an, die modern eingerichtet und gestaltet ist. Leider war ich nur einige Stunden dar und konnte somit nicht viel von der Umgebung besichtigen.
Linda
2015-07-29T00:00:00Z
Romtype
Helt hjem/leilighet
---
Eiendomstype
Leilighet
---
Plass til
2
---
Soverom
Frauenstein, Sachsen, Tyskland
Urlaub am Tharandter Wald near Freiberg, Dresden, Meissen, Freital, Tharandt, Wilsdruff, Grumbach. Idyllic holiday flat, which leaves nothing to be desired, for 2 to 3 persons. Ideal for hiking, biking or relax.
The property is centrally located near Freiberg, Niederschoena, Dresden and Meissen. In the idyllic house located in a cozy, modern Non smoking apartment with free parking outside the house. Storage facilities for bicycles are on site. Visit us in the carefully furnished and attention to detail apartment (52 m²). In combined bedroom and living room has a double bed, a big wardrobe, a table with three chairs and a TV. An extra bed is possible at any time. The kitchen has a modern fitted kitchen with z. B. with a ceramic hob, oven, dishwasher, coffee maker, kettle, toaster, etc. The bathroom has a vanity unit, a washbasin, a wall-mounted toilet, a shower and bathtub. On the balcony you can enjoy the sun or just let the evening end the day. The nearby forest "Tharandter Wald" is ideal for recreational athletes and walkers. By bike you are in 2 minutes in the forest. More distant destinations such. B. Freiberg, Dresden, Moritzburg, Meissen or the Saxon Switzerland can be reached in a very short time. For further questions please do not hesitate to call us.
Experience the Tharandter forest and our beautiful and rural surroundings. Ideal to relax and take a vacation. In summer, there are only 5 minutes to the pool.
Vielen Dank für die schöne Herbergszeit, sollten wir wiedermal einen Unterschlupf brauchen, kommen wir gerne wieder. Liebe Grüße Sita & Björn
Björn
2015-12-27T00:00:00Z
Romtype
Helt hjem/leilighet
---
Eiendomstype
Leilighet
---
Plass til
3
---
Soverom
Halsbrücke, Sachsen, Tyskland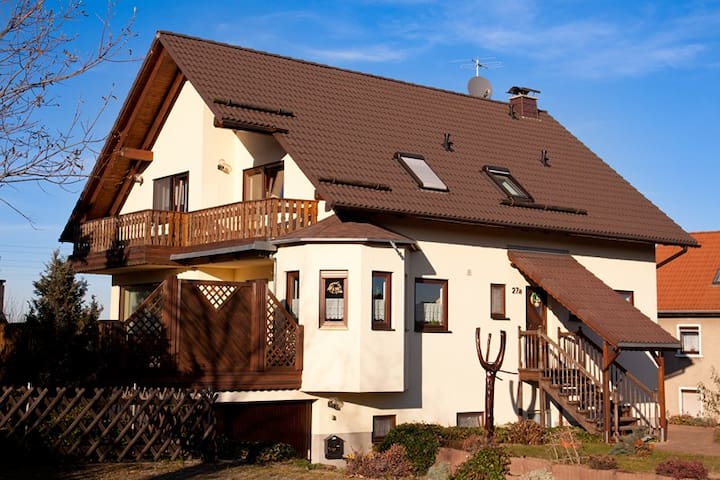 Very cozy apartment with fireplace, garden, space, nature, sunsets and starry skies! A wonderful place for hiking, biking, skiing, relax, enjoy culture in Dresden, Freiberg ... trips to the Ore Mountains and Saxon Switzerland.
El apartamento es amplio (53 m²). Cuenta con sala, dormitorio y una cocina grande con una mesa de comedor y todo el menaje necesario vivir. A partir de ahí, y desde la sala de estar se mira en puestas de sol! Una chimenea es el toque especial sala de estar. La leña está disponible de forma gratuita. Independientemente del fuego, el apartamento se calienta. Hay juegos, libros y revistas interesantes para leer. El dormitorio tiene una cama doble, un armario y una mesa. Además, dos colchones pueden ser diseñados para dormir en la sala de estar o incluso. Esto es ideal para una familia o amigos. El acceso a la habitación a través de la sala de estar. La sala de estar es al lado de la chimenea con un sofá y una silla mecedora y un banco y sillas alrededor de una mesa redonda extensible. El espacio puede adaptarse de forma flexible a sus propias necesidades espaciales. El baño tiene una ducha y baño, WC está separado - para alcanzar tanto a través del pasillo. La rejilla de secado se puede utilizar. El apartamento está en la planta baja con una corta trayectoria en el jardín.
Röthenbach is today part of 01774 Klingenberg (important for Navi !, the automatic still shows the old with 01744 Pretzschendorf) and is located in the Eastern Ore Mountains, a magnificent mountainous landscape. I live at the top of a plateau with panoramic views! The neighbor has horses, Galloway and chickens. There you can get eggs. The village has a Biofleischer, in the neighboring Pretzschendorf can buy everything, there is a restaurant, Lutheran. Church, riding area, outdoor swimming pool. Not far away is Frauenstein (11 km) with its castle, palace and Silbermann organ. In the area I like to recommend my restaurant tips (s. Map). Freiberg (22 km) is a fine old town with the "terra mineralia" (you mus see!), Dom and mining history. Dresden is within easy reach (32 km) and offers plenty of art and culture (Semperoper, Frauenkirche, Kreuzkirche, "Green Vault", Albertinum, Tango Argentino, the same ... The Saxon Switzerland with its wonderful sandstone rock is also in 1h reached for hiking and climbing. In Altenberg bobsled track there (World Cup place for Skelton and Bob), close (20 km) are resorts offering ski lifts, cross-country skiing, ice-skating rinks. The Botanical Garden in Schellerhau (21 km, to approximately 800 m ü.Null) and in Tharandt (20 km) of forest botanical gardens provide plenty for nature lovers. We have here three dams (Malter go for swimming and boat) close, the Tharandt forest wall adventure trails - great for kids. Before Christmas in Advent you experience from here the illuminations and the famous Advent decorations of the Ore Mountains.
Schöne Unterkunft, supee freundliche Gastgeberin. Können wir nur empfehlen.
Björn
2015-12-20T00:00:00Z
Wir wurden herzlich in Empfang genommen und mit sehr leckeren Erdbeeren aus dem Garten verwöhnt. Die Unterkunft war ausgesprochen sauber und in einem guten Zustand. Die nette Gastgeberin hat gut für unser Wohlbefinden gesorgt.
Petra
2016-07-07T00:00:00Z
Die Ferienwohnung ist groß, sauber und gemütlich eingerichtet. Die Küche ist vollständig eingerichtet und verfügt sogar über einen Geschirrspüler. Der Kamin ist einfach toll. Die Gastgeberin sehr freundlich. Es war ein schöner Aufenthalt.
Mario
2017-02-04T00:00:00Z
Bettina ist eine sehr freundliche und hilfsbereite Person. Wir wurden bei der Anreise herzlich empfangen und der gesamte Ablauf war unkompliziert. Die Unterkunft haben wir sehr sauber vorgefunden und es war alles wie beschrieben. Ich würde noch einmal wiederkommen.
Martin
2016-10-03T00:00:00Z
Ruhige Lage, weiter Blick, ausgedehnte Waldspaziergänge, wärmendes Kaminfeuer, im Haus alles da, was man braucht, eine herzliche, aufmerksame Gastgeberin ...
Steffen
2016-12-04T00:00:00Z
Romtype
Helt hjem/leilighet
---
Eiendomstype
Leilighet
---
Plass til
4
---
Soverom
Pretzschendorf, Sachsen, Tyskland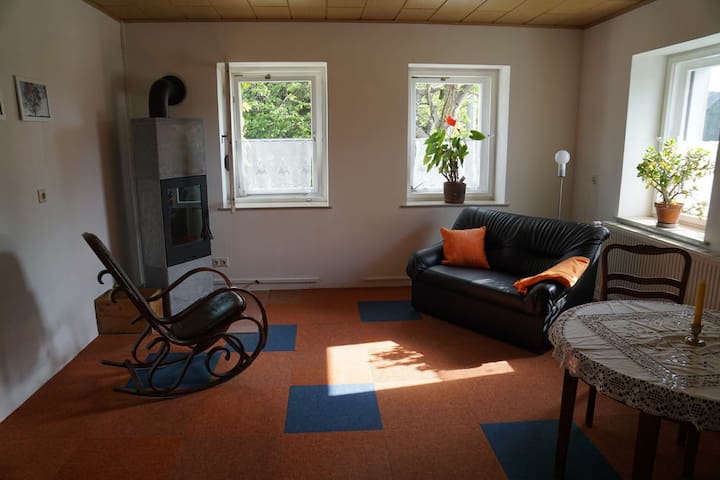 Er zijn 3 appartementen ongeveer 35-40 vierkante meter met 4 bedden en een grote tuin met barbecue en open haard beschikbaar. In de omgeving is een mooie speeltuin voor de kleinere kinderen. Tal van gratis-u. Overdekte zwembaden nodigen u uit om te blijven hangen.
Ik bied ontspanningsoefeningen, ontspanningsmassages, meditatie en begeleide wandelingen, de stress van het dagelijks leven af te schudden.
Reifland is een plek van stilte en vertraging. Hier kunt u uitschakelen van de dagelijkse stress, de gewerkte tijd, output en verwachting. In de zomer, ideaal om te wandelen, fietsen en in de winter voor sleeën en langlaufen. Vele uitstapjes kunt nemen vanaf hier. In de omgeving ongeveer 20 km naar Augustusburg, Freiberg, zeep of Marienberg of Dresden 70km maken de regio interessant voor een langere vakantie. Met de fiets kunt u het gebied rond de Saidenbachtalsprerre of langs de Flöhatal verkennen.
Romtype
Helt hjem/leilighet
---
Eiendomstype
Leilighet
---
Plass til
2
---
Soverom
Pockau-Lengefeld, Sachsen, Tyskland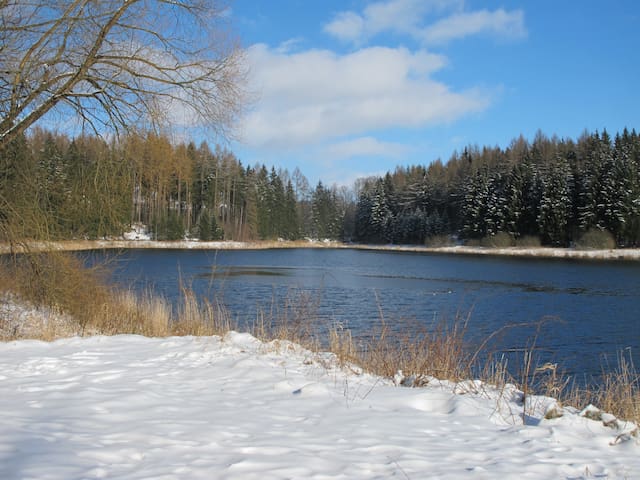 Brand-Erbisdorf - Airbnb
:
Gjennomsnittlig

4.74

av

5

stjerner fra

116

gjesteanmeldelser
1

–

18

av

124 Leiligheter til leie
Oppgi datoer for å se fullstendige priser. Ekstra gebyrer gjelder. Skatter vil kunne tilføyes.