Welcome to our beautiful city and have a pleasant stay in our warm and shiny hostel where you can find excellent quality for a great price. You can spend peaceful time away from the traffic and city crowd, since the hostel is tucked in in a quiet city area.
Hostel Voyage is situated in the convenient area and it is close to all amenities. 5 Minutes walking from the hostel to the Clock Tower, the Main Square and the Main Pedestrian street Shirok Sokak. 5 minutes walking to the Old Bazar. 15 minutes to the National Museum of Bitola. 20 minutes walking to the Bus / Train Station.
Romtype
Helt hjem/leilighet
---
Eiendomstype
Hus
---
Plass til
12
---
Soverom
Bitola, Municipality of Bitola, Macedonia
The house is located in the vicinity of Oteshevo which was formerly famous summer resort in the town of Resen on Prespa Lake. The house has two floors with three bedrooms on the second floor, living room, bathroom and dining room on the first floor. The house has large yard and is most appropriate for summer. There is no store nearby, so if you want to stay here then be prepared with food and other things you might need. With car Slivnica Beach, Pretor, Stenje are approx 15min.
Romtype
Helt hjem/leilighet
---
Eiendomstype
Hus
---
Plass til
4
---
Soverom
Bitola, Municipality of Bitola, Macedonia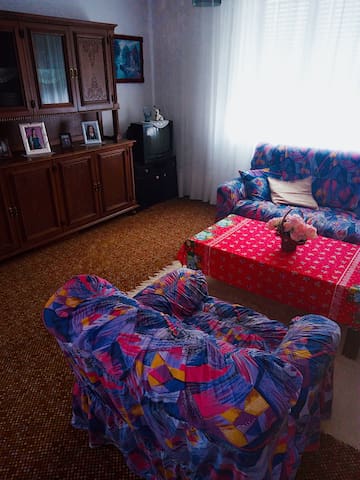 Freshly renewed apartment in friendly residential neighborhood, just 10 minute walk from the city center. The apartment is cozy, well furnished and easily accessible with spacious living room, 2 bedrooms, fully equipped kitchen and bathroom.
Recently renovated, fully furnished and equipped apartment with two bedrooms and one living room that can easily accommodate 4 people. It is situated in nice, residential area, only 10minute walk from the city center. The bright and spacious living room is equipped with flat screen TV and air conditioner. It has access to small and cozy balcony. The sofa in the living room can be easily used as extra bed. The kitchen is fully equipped a fridge, dishwasher, stove with oven, toaster and all the necessary kitchen amenities. The bathroom is brand new and clean. Washing machine is available for use. Shampoo and soap are provided. The apartment has wireless internet. The apartment gives you all the necessary amenities necessary for everyday family life.
The apartment has ideal location in very friendly and welcoming neighborhood. Surrounded by family houses in typical residential area, this apartment offers authentic experience of contemporary everyday life in Bitola. There is a small park just in front of the house.
Romtype
Helt hjem/leilighet
---
Eiendomstype
Hus
---
Plass til
4
---
Soverom
Bitola, Municipality of Bitola, Macedonia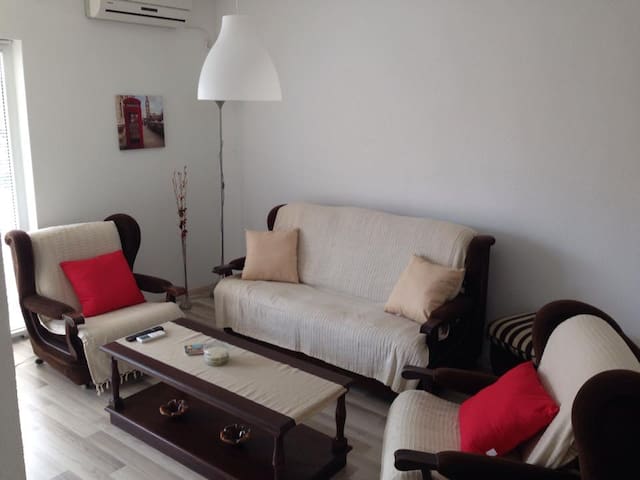 Our house is in quiet street, it has front and backyard. The location is 5 minutes walking from the main street in the center of the city( Street Marshal Tito). The parking is included also.
The host are such nice, kind, Interesting people!! Help you with anything they can! Lovely!!! And a great house!
Iris
2016-11-06T00:00:00Z
We loved the place; which is well situated and quiet at the sane time. But the highlight of our stay was without any doubt the hospitality of filip's grandma! Truly amazing. She did everything so that we had a fantastic stay.
Yola
2016-08-09T00:00:00Z
We had a great time at Filip's apartment. Great location, and very nice place :)
Thibaut
2016-07-27T00:00:00Z
Functional and a little outdated, comfortable and quite, 5 minutes walk to city's center. Lovely people that are very helpful.
Yoel
2017-04-02T00:00:00Z
Romtype
Helt hjem/leilighet
---
Eiendomstype
Hus
---
Plass til
6
---
Soverom
Bitola, Municipality of Bitola, Macedonia
Enjoy the peace and quiet of this beautiful small stone house with fire place at the edge of the forest in a small village just 10 minutes walk from small Prespa lake. The house dates back to 1920 and has been fully renovated in 2014.
Everything in the house is constructed by local artisans with local materials. The space is 4x10 meters with the kitchen and dining area on one side and the living and sleeping area on the other. The dining area has a wood burning stove and the living area has a fire place. There are also radiators for heating. The kitchen is fully equipped with good quality cooking supplies and it has an electric stove as well as electrical burners.
The house is at the edge of the forest in a remote part of Greece. Please expect that there is wild flaura and fauna in the area. We guard it outside the house as much as possible but there is the occasional small trespasser.
A wonderful house in a stunning location! Myrto and Sofia offered excellent recommendations and communication was quick and easy. The house is clean and has all the amenities you'd need for your stay. The location is amazing, stunning views and very tranquil. I highly recommend the house and area - I was sad to leave!
George
2016-04-15T00:00:00Z
Ideal for living in harmony with nature. The world changes but in Myrto's house it is easy to take some time to relax and really enjoy each other's company.I liked it so much, that the experience till now, is tantalizing, hypnotizing and paralyzing me
Nikos
2017-04-02T00:00:00Z
Fotis
2017-01-03T00:00:00Z
We decided to rent the house just looking at the photograph and read Myrto's description. It all turned out to be much better than described and all together was a wonderful experience that included a quiet village with a house on a little hill with unbelievable view of a valley. The house is essentially a loft with one wall occupied by a kitchen with a full size stove, fridge and sink. Plus a set of china and cooking gear that will be sufficient for a minor banquet. Myrto even prepared a small Japanese teapot which we used extensively. The house has a bathroom with a convenient shower stall and good ventilation. The wooden floor of the house is new, like everything else in the house, and smell of the wood adds to charms of the place. We felt very welcome to the house since Myrto provided us detailed driving directions plus description of places to visit, to eat and connect to Wi-Fi. The house has two beds, double and single, and linens, blankets (down and wool) towels are spotless. We have stayed at the house for 4 days and it was a difficult to leave. We loved it all.
Arie
2014-08-28T00:00:00Z
Το σπίτι βρίσκεται σε ένα μικρό χωριουδάκι κοντά στη μικρή λίμνη. Είναι πολύ όμορφα ανακαινισμένο, εξοπλισμένο με όλα τα απαραίτητα και γρήγορο wifi. Παρόλο που πετύχαμε χιόνια και πολύ χαμηλές θερμοκρασίες κατά τη διαμονή μας, το σπίτι ήταν πολύ ζεστό. Η περιοχή είναι πανέμορφη και οι ντόπιοι πολύ φιλικοί. Επίσης το φαγητό στα χωριά είναι εξαιρετικό και σε πολύ καλές τιμές. Θα ήθελα πολύ να επιστρέψω στις Πρέσπες και σε άλλη εποχή του χρόνου. Ευχαριστούμε Μυρτώ για τη φιλοξενία.
under the Linden Tree
2017-01-07T00:00:00Z
We had the most wonderful time at Myrto's little stone house at Prespa Lake. The communication with her was excellent. We did not get to meet her unfortunately but she had arranged for everything and made our stay even more pleasant. She gave us some excellent tips regarding restaurants and sights etc. The house is exactly as portrayed, it is actually even better. There is a great energy in that place. Perfectly clean, fresh towels, bed linens etc. I would highly recommend a stay at Myrto, we will definitely come back.
Mirella
2014-10-06T00:00:00Z
Everything was perfect during our stay at Myrto's house. This place is one of a kind and everything was done to make us feel comfortable. It was very nice to spend a few days during summer and I hope to have the chance to come back during other seasons as the region has many things to offer. The communication with Myrto was very smooth and the place definitely worths it.
Nicolas
2016-08-17T00:00:00Z
Une petite maison parfaite pour des vacances à la campagne en couple ou en famille. Il y règne un calme absolu, seulement ponctué par le hennissement des chevaux et les clochettes d'un troupeau de chèvres. Idéal pour faire de la méditation ou lire (il y avait d'ailleurs une intégrale de Manchette que j'ai dévoré ). La région est incroyable, aux confins des Balkans, avec des balades magnifiques à faire au bord des lacs.
francois
2016-08-27T00:00:00Z
Romtype
Helt hjem/leilighet
---
Eiendomstype
Hus
---
Plass til
3
---
Soverom
Agios Germanos, Ipiros Ditiki Makedonia, Hellas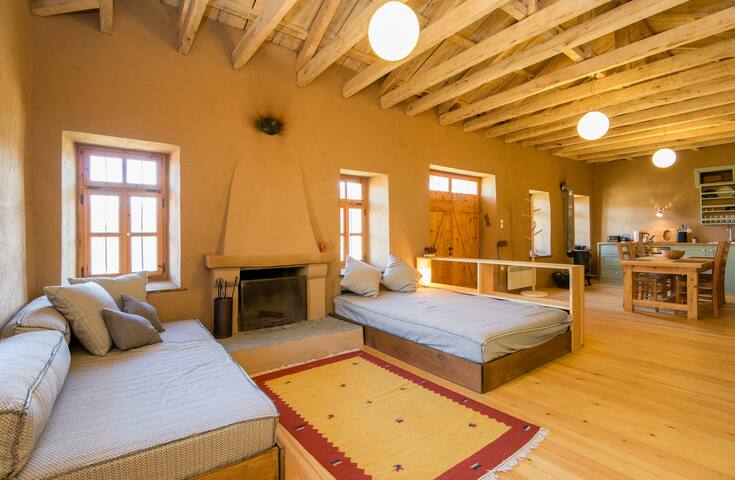 Villa Lara fascinates with its appearance and dominant location in the heart of Ohrid's old part with a breath-taking view of the Lake. Studio rooms include private bathroom with shower, Wi-Fi, mini bar, kitchen, refrigerator, Jacuzzi and grill area.
Unique view at the lake and whole old city and the mountains
We are surrounded by beautiful view at the lake, mountains and churches. Church St Marry across the street. Fish restaurant Dalga 2 minutes away
The host canceled this reservation 228 days before arrival. This is an automated posting.
Virginie
2016-12-04T00:00:00Z
Amazing experience. They helped us explaining everything and giving us directions to park the car. The flat was clean, in good location and renovated. Price / Quality one of the best I have ever been!
Rafa
2015-07-19T00:00:00Z
We enjoyed staying at this lovely apartment, kitchen fairly basic but amazing view from balcony made up for it. Friendly and helpful host. Short walk from main square but lots of stairs. Could do to have air-con but there is a fan so not much of a concern unless very warm. Thanks for having us, we loved Ohrid.
Amy
2016-06-20T00:00:00Z
The top floor apartment in Villa Lara has the most spectacular view of Lake Ohrid, the mountains and the old city. The apartment and entire villa was very clean and Rita is always quick to answer any questions you may have. The balcony is huge and a great place to relax and watch the boats go by on the lake. The villa is in a great location with attractions and stores all within walking distance. The internet isn't unlimited, therefore not great if you have work to get done, but its fine for basic browsing and e-mail.
Ryan
2016-10-02T00:00:00Z
Beautiful apartment overlooking Lake Ohrid. Rita was very welcoming and accommodating for us when we arrived late. Only a short 3min walk into the main shopping street and waterfront. Highly recommend this apartment if you are wanting a good location, beautiful views and great hosts.
Lucy
2015-09-15T00:00:00Z
This was a beautiful place to stay in Ohrid! Very close to the water and center, but far enough away from the loud noise. The terrace was a perfect view of town, the lake, and the surrounding mountains. Everything was clean. The wifi doesn't reach the top villa, but we didn't really need it, so it was no problem. Overall a great experience. Would recommend if you need a quiet weekend away!
Leah
2016-08-22T00:00:00Z
The villa was beautiful- we had a real 'wow' moment when Lara showed us to our room. The balcony in particular had the most spectacular views over the lake. We spent a large portion of our time sunbathing on the balcony (lots of sun on the top floor- perfect!) and drinking wine in the evenings. The whole apartment was spotless and the bed was really comfy; I love going abroad and having a bed with a decent mattress and proper pillows. Lara was a great host too- very welcoming and helpful. On the last day, she kept our bags down in her apartment until we picked them up for our flight. A fantastic host. We were surprised at how busy and lively Ohrid was actually, but we did go during the height of the summer season in August. I imagine if we went back in May/ June, it would be far quieter. We had an awesome holiday and would definitely recommend. Thank you Lara!
Kathy
2015-08-13T00:00:00Z
Very nice and quite place with amazing view from the balcony! I highly recommend it, especially for couples or families with little kids! :)
Danail
2015-08-29T00:00:00Z
Romtype
Helt hjem/leilighet
---
Eiendomstype
Hus
---
Plass til
3
---
Soverom
Ohrid, Ohrid, Macedonia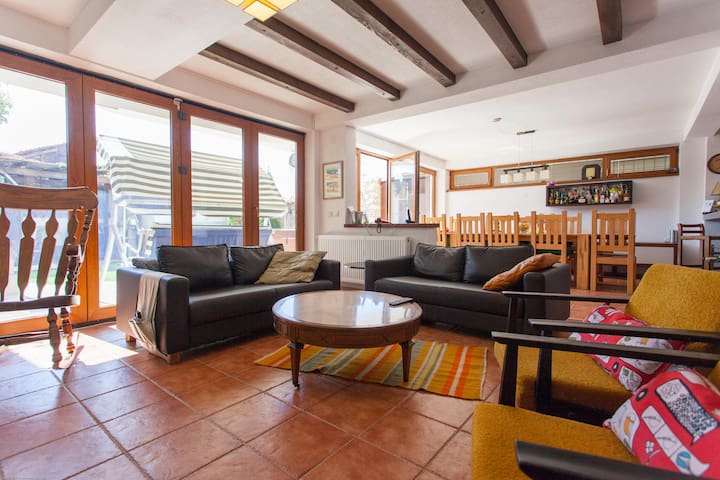 Amazing place to be whit the nicest view you have ever seen
The apartment is cosy and full equiped for everything that our guest might need for a pleasant holiday.
All best restaurants and coffee bars are just meters away so you wont look far for great food and fun.Old Town and Old Bazzar are 10-15 min.walk by the lake promenade.City beach is in front of the apartments.
Beautiful view and location, and a clean and neat apartment. Sasho was extremely helpful all around. Highly recommended.
Goran
2016-07-25T00:00:00Z
Lovely place with awesome view! Very close to the main town area and Ohrid is so beautiful. Bed was super comfy! Host was great with communications and was super easy to meet him. Thanks for everything:)
Elizabeth
2016-11-03T00:00:00Z
Great location right on the lake. Cosy little flat in a lively part of town. Basic but functional kitchen, and stunning view. Super helpful host.
Max
2017-02-14T00:00:00Z
Choosing Villa Maria was one of the best choices that we made !! The apartment is just perfect...modern, clean, and has everything you need. It's also in the perfect location (close to everything) with the most beautiful view you can imagine. Sacho is a great host, very helpful in all aspects (organised transport for us from and back to the airport) was happy to supply us with all sorts of information. We highly recommend staying in his apartments and will definitely be coming back for longer next time.
Mariusz
2016-09-28T00:00:00Z
Best place I've ever stayed in Ohrid. And I've been there a dozen times over the past years. The location of the apartment is amazing with a wonderful view on the lake, close to anything you might wish to be close to =) The room is cozy and classy and has anything anyone ever needs :)
Ivo
2016-08-30T00:00:00Z
We had an awesome stay in Sasho's apartment. The location was great just a 5 min walk along the lake to the old town and the balcony has a beautiful view of the lake. The bed was comfy and the kitchen was great for basic cooking. We would highly recommend this apartment.
Rebecca
2016-12-01T00:00:00Z
We had a great time at Sasho's apartment. It's very clean and cozy. The location is perfect. Everything was great!! I highly recommended you to stay in this apartment. ;)
Vesna
2015-06-12T00:00:00Z
Sasho and his wife are super friendly and super helpful! The apartment is perfect, with a brilliant view over the lake.
Will
2015-09-24T00:00:00Z
Romtype
Helt hjem/leilighet
---
Eiendomstype
Hus
---
Plass til
3
---
Soverom
Ohrid, Ohrid, Macedonia
Spacious (30m2) private room with kitchenette and bathroom in a leafy side of Prilep. Only 3 minute taxi or 15 minute walk to the city centre. Either enjoy the seclusion of the room and the garden gazebo, or join in for breakfast with the family and experience Macedonian home-style hospitality.
Blazo is really nice and his family give me a really warm welcome. I have had breakfast with them and I feel like home. : )
yw
2016-12-09T00:00:00Z
Romtype
Privat rom
---
Eiendomstype
Hus
---
Plass til
3
---
Soverom
Prilep, Municipality of Prilep, Macedonia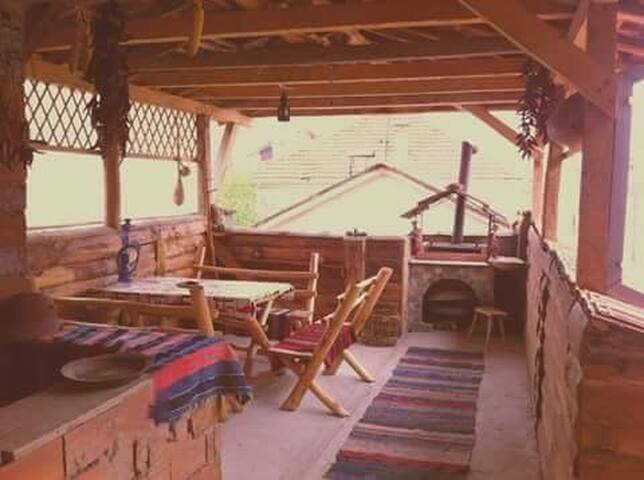 Green studio located in the old part of the city, features with one room with double bed and one armchair on opening. Green studio offers stunning side balcony view of Lake Ohrid. Great for couple, families of 3 or 3 persons. Free Wi-Fi, iron and washing machine, coffee machine, free coffee ,tea, public parking place Green room is 110 yards from the ancient theater and 550 yards from the Kaneo lakeshore.
Green studio located in the old part of the city, features with one room with double bed and one armchair on opening. This room offering stunning side balcony view of Lake Ohrid. This room is great for couple or 3 persons. Green studio is offering stunning views over Lake Ohrid, located 100 meters from the ancient theatre and 500 meters from the Kaneo beach, near the church St.Plaosnik and beautiful fortress. Green studio is close to the center, best way to walk and see old Ohrid architecture. In the vicinity of the guesthouse there are various restaurants, bars and places of historical interest. Location: Villa Ohrid is 10 minutes to the center, next to the Ancient theatre and Upper Gate and two streets under the Samuel Fortress. The easiest way to come from the bus station is taking the cab/taxi and telling him our street address Brakja Miladinovci 11- Villa Ohrid, price could be around 120 to 200 macedonian denars or around 2, 3 euros. From the airport best way to come to the house is taking cab/taxi and tell our street address is Brakja Miladinovci 11- Villa Ohrid, price could be around 600 macedonian denars or 10 euros. The best way from Villa Ohrid to the center is walking, you don't need to use a car. It is around 10 min to the center and 15 min back. A CITY-MUSEUM UNDER PROTECTION OF UNESCO, A PEARL OF MACEDONIA Ohrid is one of the oldest settlements in Macedonia, its origin dates back to the antique period. Nowadays, the city is the most developed as well as the most attractive place for tourists in the Republic of Macedonia. 0hrid is a city in the south-western part of the Republic of Macedonia onto the north-eastern shore of Lake Ohrid. Traffic connections are towards Skopje, Bitola, Debar and Republic Albania. It is located along Via Egnatia, which used to connect Adriatic Sea and White Sea, and that was an important circumstance for develop-ment of Ohrid in the past. There is Ohrid Airport in the vicinity of Ohrid, it is air traffic connection to certain foreign destinati-ons. Water traffic in Lake Ohrid does not have an important role, it is used for tourists sightseeing and fishing. There is not a railway station and that is the only disadva-ntage. In the 3rd cen-tury BC, there was Lychnidos instead of the present Ohrid. This important and fortified place was conquered by Roman gover-ning and it be-came an important settlement along the roadof Via Egnatia. Lychnidos as a rich and fortified city fell under Byzantine rule. There were fights between Slavic tribes and Byzantine army in the 6th and 7th century. After conquering the city by Slays Lychnidos was renamed as Ohrid. In 879 Ohrid became Episcopal seat and in 886 by arrival of St. Kliment and St. Naum, this settlement grew into cultural centre. These disciples of St. Cyril and St. Methodius started spreading Slav literacy and literature. Ohrid was the capital of Macedonian state during the rule of tsar Samuil. The fortress is well preserved fortification in the old part of the city, the oldest data for this fortress date back to 476. After Samuil's death the fortress was destroyed and again it was renewed. It was also used during Turkish Empire. Ohrid had developed crafts and trade and it represented an economic center during 12th and 13th century. After Balkan Wars, population figures in Ohrid were decreased due to Turks migration. There is low development during the period between the First World War and the Second World War. Population and economic progress was marked after the Second World War. Population growth has been marked since the period after wars: there were 11.169 in-habitants in 1948, over 39.093 in-habitants 1981 and approximate-y 50.000 inhabitants till 2002. The population figures were doubled from 1961 to 1994. Ohrid has an eminent tourist function in the wider region. Important income of Ohrid's economy has been obtained by fishing, industry and craftsman-ship. Having developed city functions and developed tertiary and secondary section, Ohrid represents a center for the surrounding gravitation area. Anyway, whenever we refer to its tourist importance, Ohrid has great attractive power which is spread beyond state borders. Antique Theatre Antique Theatre in Ohrid originates since Hellenistic period. It was built in 200 BC. It is located in the old part of Ohrid and it is between both sides of Samuil's Fortress plateau in suitable area to perform antique Theatre from antique drama scene and gladiators' arena to a contemporary scene of cultural events acoustics during cultural-artistic and sports events. The Classical Theatre offers an extraordinary view of Lake Ohrid and the mountain Galichica.
In the corner of the Ancient theatre have small shop. Restaurant Gladiator, above the Ancient theatre is offering the best traditional Macedonian food ever.(unfortunately is close in the winter season) In the vicinity of the guesthouse there are various restaurants, bars and places of historical interest. Antique Theatre Antique Theatre in Ohrid originates since Hellenistic period. It was built in 200 BC. It is located in the old part of Ohrid and it is between both sides of Samuil's Fortress plateau in suitable area to perform antique Theatre from antique drama scene and gladiators' arena to a contemporary scene of cultural events acoustics during cultural-artistic and sports events. The Classical Theatre offers an extraordinary view of Lake Ohrid and the mountain Galichica. Samuil's Fortress Samuil's Fortress was used and partially extended during Roman period and it had even greater dimension during Byzantine period. During the reign of Samuil, it was significantly extended and built up by well-built bulwarks. The present fortress kept the form of Samuil fortress, although there are some claims that some parts were demolished and then they were restored by Turks and Byzantines. Fortress walls are from 10 to 16 meters high and several meters wide. The hilly part of the town was protected with high towers and walls 3 km long, except the south side which is surrounded by the lake itself. It covers the whole Ohrid Hill with its fortification and walls. Now, there are eighteen towers and four gates. Some parts of the fortress occupy area towards the lake and lower hilly part of the old part of Ohrid. The old part of the town had three entrance gates and only Gorna Porta (Upper Gate) is preserved. Partially damaged top layer of inner walls reveal Byzantine format of bricks in horizontal layers. Besides defense function from enemies, the fortress was used as a residence. It is also known as Samuil's Fortress. During tsar Samuil ruling from 976 to 1014 and his successors till 1018, Ohrid was the capital of the first state of Macedonian Slays. Then, the restored fortress has kept its monumental urban skeleton till the present days. Saint Kliment Monasterty, Plasohnik This complex is one of the most important archaeological localities in Ohrid and Macedonia as well it is the centre of the Christianization of the Slays, of their literature and culture. Plaoshnik belongs to different archaeological periods which can be divided as pre-Kliment's, Kliment's and post-Kliment's period. Saint Kliment's Monastery Saint Pantelejmon, Plaoshnik (9th century) nearby early Christian episcope basilica in the community of Plaoshnik in 2002, the new-built temple dedicated to St. Pantelejmon was consecrated Saint Kliment (Clement), a patron of Macedonia and MOC-OA as a symbol of education and literacy, he was also a great builder of churches and monasteries, the most famous is the monastery in Plaoshnik. The newest archaeological excavations in 2000 confirmed that Saint Kliment renewed a former monastery in shape of a trefoil. That is a testimony of the Christian church life in Macedonia since the 1st century -the time of the holy apostle Paul and it is believed that this early Christian basilica was dedicated to St. Paul where Kliment's Monastery was built in the 9th century. There were discovered over 500 monks' graves and other abundant discoveries such as: gilded clothes, crosses, icons with the face of the Holy Mother and the Crucifixion of Christ, relicts of the Saint Kliment's monastery and Roman coins. At the place of the monastery, in the 14th century a new church was built, that the Turks converted into a mosque in the 15th century. Then the remains of Saint Kliment were transferred in the Holy Mother of God Periylepta church in Ohrid, known popularly from then on as a church Saint Kliment. On December 8, 2000 (the feast dedicated to Saint Kliment) and celebrating 2.000 years of Christianity, foundations of the new monastery of Saint Kliment were laid and it was consecrated on August 11, 2002. After 530 years, on the day of the consecration of the renewed monastery dedicated to St. Pantelejmon, the relicts of Saint Kliment Ohridski were moved again on Plaoshnik, he was the first Macedonian episcope from 893 and a founder of Macedonian Orthodox Church - Ohrid Archbishopric. Ohrid School was located here, the centre of Slav literacy, spirit and culture and it is considered as the first Slav University. St. Kliment was the most gifted pupil of the holy brothers Cyril and Methodius, the all-Slays teachers, therefore in Saint Pantelejmon Monastery in Ohrid, in Plaoshnik, he founded the first European and all Slavic University in the 9th century (886), many years before those in Padova and Bologna. 3.500 disciples graduated at the University of Saint Kliment in Ohrid They all went to different places and spread the Christianity in Slavic language all over Europe. The Bible written in old Macedonian Slavic language was spread from Ohrid through the whole Slavic Europe, from Thessaloniki to Ural in 15 European countries. Why did he dedicate this monastery to Saint Pantelejmon? Because Saint Pantelejmon was a doctor with a great gift for miracles. Next to the monastery there was a hospital where St. Clement treated and cured the sick - with prayers, herbs and tea and was called Miracle-maker. St. John Theologain, Kaneo St. John Theologian, Kaneo (1280) this medieval church is known after a former fishermen settlement Kaneo, which in Latin means "shines" and it is one of the most photographed symbols The monastery St. John Theologian was built and painted in the 13th century, but church-donors and fresco painters are unknown. Dome frescoes are preserved century, during this period a lot of frescoes were destroyed and lost forever. There were some renovations and additional building in the recent history of this church, while in 1889 a new wooden iconostasis was set in and certain parts of the old fresco painting were reproduced. The original appearance of the church St. John of Kaneo, as one of the symbols of ancient Ohrid, was being and altar frescoes are quite damaged, because of this the church was demolished and abounded for longer period between the 17th and 19th century, during this period a lot of frescoes were destroyed and lost forever. There were some renovations and additional buildings in the recent history of this church, while in 1889 a new wooden iconostasis was set in and certain parts of the old fresco painting were reproduced. The original appearance of the church st.John of kaneo, as one of the symbols of ancient Ohrid, was being restored after preservation work from 1963 to 1964, when the bell tower was demolished, which was built up in the 19th century. The dome frescoes were discovered then. The frescoes from the 13th century are destroyed and there are only parts in the cupola and the apse. The two angels from the Communion of the Apostles are wonderful and specific, in tsar's garments, which is a rarity. The architecture of this church is very important for studying of medieval monuments in Ohrid, because it represents a successful combination --- of Byzantine and Armenian elements. The construction is made of trim stone, scale and tiles, on a rectangular base, with a cross-in-square plan and octagonal cupola. Monastery Saint Naum of Ohrid Monastery Saint Naum of Ohrid (9th-14th century) was built on a high cliff above Lake Ohrid on the ultimate south point in a place with rare natural beauty, this monastery is one of the most significant spiritual monuments of medieval Macedonian past . Building of this monastery is connected to the name of Saint Naum who was working with Saint Kliment (Clement), they are the most famous educators of Macedonian People. The church is dedicated to The Council of the Saints Archangel, which was built by Saint Naum in 905. And it was same with the monastery of Saint Clement in Plaoshnik as to the shape and size. The Saint Naum's grave is in it, walled up in the southeast part of the narthex, at the same place as the Saint Kliment grave in his monastery in Ohrid. The church foundation was built in a form of trefoil (a clover leaf). It was completely destroyed from 10th to 12th century. There was built the present church on the existing foundation in the 16th century, it was built up and extended in several phases. The dome over the church was built in the second half of the 17th century, and the last significant restoration was performed in the end of 18th century (1799). The inscription, which is over western entrance, says that church painting was performed during the period of the abbot Stevan in 1806. The chapel with Naum's Tomb was also painted then. There have been performed certain changes that completely changed the appearance of St. Naum church. The present church has form of a cross in scribed into a dome square, set on four pillars. Naum's Tomb is a sticked building with wide and low dome. Even today in the Saint Naum Monastery the pilasters with engraved Glagolitic and Cyrillic letters remain. Being the first monastic centre in Macedonia, from the time of Saint Kliment and Saint Naum, there is traditional monkshood and an active church life today. The monastery and its surrounding is quiet place for relaxation and walking. The whole area enchants with its calm beauty of pearl - clear water of Crn Drim spring, therefore it is considered to be one of the clearest locations of Ohrid shore. The clear and cold springs and the dense vegetation are considered to be the most exotic place in the region. You must not miss sailing by boat in the springs by the monastery. Bay of Bones Bay of the Bones a reconstructed pre-historic stake settlement - museum on water Bay of the bones is a reconstructed prehistoric settlement dating back to the 12th-7th centuries BC, it is set onto a platform supported by wooden stakes. It is a new-open museum on water, there are exhibited the relicts of the wooden settlement found in water, there is a diving base as well some reconstructed fortresses of Roman Empire dating back to the 2nd century. There were found remains of 6. 000 stakes at a depth from three to five meters on this locality, which probably supported the same platform with 20 wooden huts onto it. According to the researches, this settlement occupied 8.500 m'. Taking into consideration that it was built from wood, reed and mud, therefore these settlements were easily burnt and frequently rebuilt and this is because of the great stakes density (there were found burnt wood and coal). The platform was connected to the land by a movable bridge, which was erected during night in order to protect the settlement from animals and enemies. A part of the present settlement has been reconstructed, there are seven huts built onto the platform which is set onto 1.200 processed stakes in order to be more resistant and supportive. The interiors of the huts have also been reconstructed, which offers an interesting experience of the past way of living. There are exhibited some discovered ceramic objects and also there is aquarium made by stakes under water. Diving Base offers lovers of diving to dive with diving guide and research underwater remains. The bay and the beach are a former part of the car camp Gradishte where the reconstructed stake settlement was named as Bay of the Bones due to great number of animal bones typical for the same period while the settlement existed.
We booked two rooms in the house because we were five together. It went smooth and with no hussle. If ya'll want to check more in-depth review, I have one on the "Tripple apartment" page. The best time in Macedonia!
Janis
2016-05-30T00:00:00Z
Emilija and her mother are great hosts! Very friendly and helpful welcoming. Taking care of everything you can think of and will gladly answer your questions. The room was excellent and i enjoyed my stay and will highly recommend this listing :)
Omer
2016-09-11T00:00:00Z
We loved staying at Villa Ohrid! Emilija was very welcoming and helpful - she went the extra mile for us and made us feel very welcome, by arranging taxis and also airport pick-ups for us. The villa is well-located with beautiful views of the lake, and it has everything you need, with lovely restaurants at a very close distance. We would really recommend Villa Ohrid for a lovely stay :)
Esther
2016-07-09T00:00:00Z
The satnav kept sending me down one-way streets (the wrong way) and pedestrian alleys in Ohrid. Thankfully, Emilija's mother waited for me near the upper gate and guided me to Villa Ohrid. Villa Ohrid is a convenient location to explore the old town since it is close to the Antic Theater.
Jeremy
2016-04-16T00:00:00Z
Unfortunately, We did not meet Emiliji personally, but contact via aribnb was great. Her mother helped us with everything during our stay - she speaks English quite well . Also it was very nice to get small gift - Ohrid magnet, during the check out.
Przemysław
2016-09-27T00:00:00Z
Emilija's place in Ohrid was great. Very close to the lake and near the centre of the old town. Emilija was also really flexible as we needed to change our reservation and we also arrived slightly later than expected. Really enjoyed our stay, would definitely recommend!
Ross
2015-08-08T00:00:00Z
Although I didn't meet Emilija, I did meet her mother, who was a gracious host and very helpful! The apartment and kitchen was lovely and the view from the balcony was breath-taking :) I would definitely stay here again and I highly recommend Villa Ohrid!
Elizabeth
2016-05-17T00:00:00Z
The view from the balcony is amazing and we were welcomed very nicely. Also the location is great being close to the cathedral of mother Theresa and the sea. Thanks!
Irma
2016-04-02T00:00:00Z
Romtype
Helt hjem/leilighet
---
Eiendomstype
Hus
---
Plass til
3
---
Soverom
Ohrid, Ohrid, Macedonia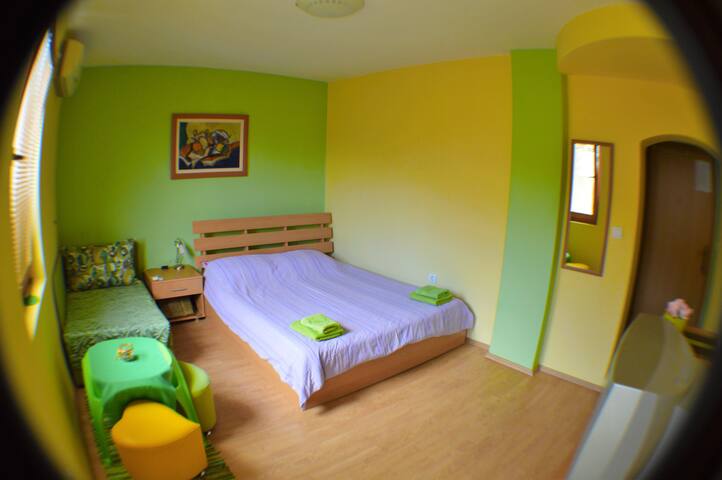 We are located near the 1200 years old chinar tree and the fountain, just 170 meters away. For your convenience we are very close to the old bazaar street, lots of coffee-bars, restaurants, food market, banks and all the interesting sights
We are located near the 1200 years old chinar tree and the fountain, just 170 meters away. For your convenience we are very close to the old bazaar street, lots of coffee-bars, restaurants, food market, banks and all the interesting sights and landmarks of Ohrid which will leave you breathless . There are lots of beaches near the area so you won't need a car to get to them at all… room has 1 double bed and 1 single bed, bathroom., and wi-fi and small garden and if you want you can use our kitchen. Our dear guests can start their day with breakfast and coffee in the near-by restaurants or coffee-bars, then a walk through the old part of town and sightseeing of the many historical landmarks that Ohrid has to offer, and admiring the beautiful nature . We wish you a pleasant stay with us. Breakfast-You can get breakfast with additional payment. Note :We have a cat that is very friendly.. .animals allowed ADDRESSE :ANDON DUKOV (PHONE NUMBER HIDDEN) NADE
This place is unique because here you have the mix of history and cultures ,and all cultural events are taking place in our neighborhood. Here is the soul of the city of Ohrid
Staying with Nade and Vladimir was nice! They were very helpfull and caring. And we could store our bicycles in the garden. The room is clean and the location in the old town is very close to the centre and castle.
Juul
2016-12-05T00:00:00Z
The host canceled this reservation 11 days before arrival. This is an automated posting.
Oleksandr
2016-07-11T00:00:00Z
Vladimir and Nade are fantastic hosts! They found us at the bus stop and directed us to their flat. The flat was just what we were looking for. It is also right in the center, lots of restaurants, shops, a supermarket, and life around. Vladimir and Nade even arranged the details of how to get us from Ohrid to our next stop in Thessaloniki, by talking to a friend and arranging a cab in Bitola, which was super helpful. They even washed my clothes for me. They are great, the flat is great, and the town of Ohrid is cool. Vladimir and Nade go way over and beyond the call of duty, they treated us like good friends. I highly recommend this place.
Wes
2015-07-04T00:00:00Z
Extremely nice people, who picked us up at the bus station and helped us with everything they could. The place is quite central - however, the room was a bit too cold and the bed is very uncomfortable. Otherwise good value for the money.
Jamil and Julia
2016-09-16T00:00:00Z
Nade and Vlad are one of the kindest people in the world. They took great care of us making our time in Ohrid the best time ever. They were always willing to help. We felt like home.
Paulina
2016-11-08T00:00:00Z
The place has perfect location with everything important near by. The only thing which we were a bit worried about was missing AC, but it turned out that AC was not needed. The room was nicely cool all day/night even though it was really hot outside. Nade waited us at the bus stop and during our stay was helpful as much as she could. Totally recommended. If we come to Ohrid again we will definitely stay again!
Martin
2016-07-02T00:00:00Z
Nade and Vladimir are so nice. Very open and smiling from the very beginning. They told me all I needed to know about Ohrid. The room is big and with a fantastic garden. I can't promise to everyone that Nade will insist on making Macedonian coffee each morning but I have to say that I'm really happy that it happened to me
Roar
2016-07-28T00:00:00Z
The location was good. Nade offer us a great coffee and was very welcome. Vladimir helped us to find a parking space and with the luggage. Thank you again.
Arthur
2016-01-04T00:00:00Z
Romtype
Privat rom
---
Eiendomstype
Hus
---
Plass til
2
---
Soverom
Ohrid, Ohrid, Macedonia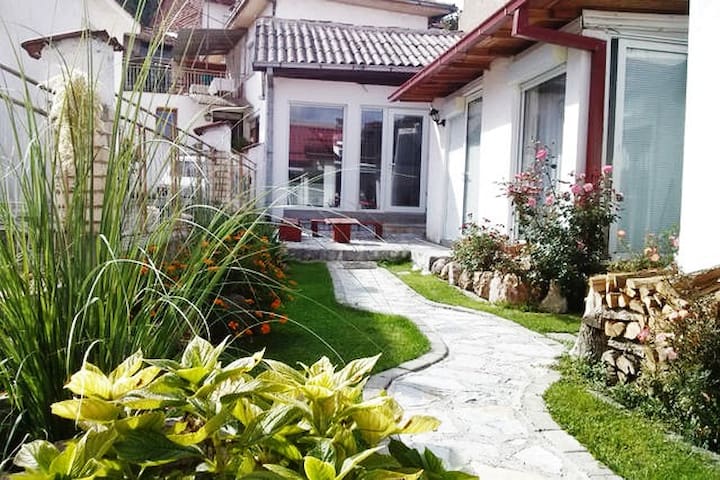 Traditional baroque style townhouse in Prilep center, minutes walk from the old bazaar. Self-catering privet guest accommodation on ground floor with garden. Double bedroom, sitting room, TV, WiFi, fully equipped kitchenette, bathroom with shower & toiletries included.
Our traditional baroque style townhouse is located in the heart of Prilep center and has been recently renovated inside with many retained original features. The outside of the house is still in it's original form, rustic looking with the original ornamental baroque architecture. The house is around 200 years old, built before the fall of the Ottoman Empire in the Balkans when there was still great Turkish influence in Macedonia. We are in an excellent location, just step outside and you are right in the center of Prilep walking distance to everywhere.
Located in the heart of Prilep we are walking distance from all amenities. Wander around the old bazaar, farmers market, parks and squares, taking advantage of the many shops and cafes while you explore Prilep's old architecture. Visit the tall clock tower which is visible from a distance over the rooftops , opposite the remains of the old mosque which was burned down during ethnic tensions in 2001 (everything is fine now). If you wander from the center take a walk up to Mogila park on the top of the hill. Or if you are up for some hiking head up through Varos to Markovi Kuli, the mountain with the cross where you will find the remains of King Marko's towers, dating back to the 13h century, situated on the peak. Take a moment here to admire the breathtaking panoramic views over Prilep. If you are more adventurous you can continue further up the mountain which is full of erratic rocks with strange formations, a favorite location for climbing, where after about a 2 hour hike you will find the famous Treskavec monastery situated at the highest point of the mountain. The stunning views from here reach out over Pellagonia valley, Prilep, Bitola and Krusevo. This mountain is also a favorite location for paragliding, if you like an adrenaline rush. There is a paragliding club which regularly flies around Prilep and we can arrange for our guests to fly with them, weather permitting. Or head up to Prilep lake on the outskirts of the town, another scenic place to stop and admire the views. Prilep center really comes to life in the summer season with live bands regularly playing at various venues, often for free in the park at the ruined wall of the old Turkish bathhouse. There are various festivals, the biggest of which is the beer festival PivoFest, where the whole main street is taken over with stands selling beer and BBQ and music is played day and night over 4 days in July. There is also a Jazz festival at the end of August, as well as many other events over the summer months giving Prilep center a really buzzing nightlife.
J'ai passé un très bon moment avec Fiona et Jane. C'est la deuxième fois que je séjourne dans leur maison et nous avons passé du temps ensemble, discuté, bu du vin et fait une très jolie promenade dans la campagne. Fiona et Jane on été très accueillants et disponibles, c'était comme retrouver des amis. La maison ancienne est très bien située dans le centre de Prilep. La chambre est très agréable, avec son séjour, une cuisine et une salle de bain privée.
gaëlle
2016-08-06T00:00:00Z
This is a nice place to stay if you want to see Prelip. It is almost like you have your own apartment. The kitchen has the basic necessities for cooking, which is what we did most of our stay. It is near cafe's, markets, city center, and about a 20 minute walk from the main bus and train stations. Fiona and Jane (Ya-Nay) were wonderful hosts and did there best to make us feel welcome, and comfortable. The washer was not working on the bottom level, so Fiona was kind enough to do some for us in their upstairs washer. She also gave us many pointers on what to see and where to go. Defiantly recommend staying here if you are in Prelip.
Charles
2017-02-15T00:00:00Z
J'ai été très agréablement accueillie par Fiona et Jane, dans leur belle maison ancienne au centre de Prilep. Ils ont été très disponibles et nous avons passé du temps ensemble à bavarder. Ils m'ont également aidée et informée sur les choses à faire et à voir. La chambre est jolie et confortable, il y a en plus un séjour et une salle de bain privée. Prilep est une petite ville très calme mais vivante dans un cadre naturel époustouflant. Fiona and Jane are very nice and welcoming, I had a wonderful time in Prilep in their beautiful old house. The house is well located inthe center of Prilep.
gaëlle
2016-03-09T00:00:00Z
Central and quiet location. Two big separate rooms, well equipped and spacious, very clean and comfortable. Fiona is very kind and friendly. Very good!
Giovanni
2017-03-26T00:00:00Z
Nice, central place in the middle of town. Very close to everything and just a walking distance away. Was a little cold even with the heater, but a great option for summer/spring
Javahir
2017-03-04T00:00:00Z
This was a great place right in the center of Prilep. When I arrived it was orthodox Christmas and nothing was open but I was was met with a delicious, hot meal. The space itself was nice and newly renovated and the bedroom was cozy and warm even in -30 degree temperature. Fiona and Jabe were wonderfull hosts and I left with a bag full of apples from their farm. I will definitely stay here again if I'm back in Prilep.
susan
2017-01-11T00:00:00Z
Fiona and Jane's house is very nice, and they created a small and cozy appartement within for the guests, composed of a lovely bedroom and a relaxed and well equipped living room / kitchen. The house is really in the center of the city, less than 5min walk from the old bazaar. Fiona, Jane and their son Anthony have been great hosts, and it has been a real pleasure to stay with them! We will definitely contact them next time we (hopefully) come to Prilep!
Charles
2016-05-03T00:00:00Z
Fiona is very nice person. She cared for our comfort. We stayed only for one night so there was not much time to talk but it was interesting to talk to her. Her family has a nice dog Poppy, it was nice to see dog that is cared about in Macedonia because there are so many on the streets. The place is in the centre of Prilep but very close to Treskavec monastery or right below Marko´s Towers. The view from Treskavec monastery is amazing. We were accomodated on the ground floor of Fiona´s house, it is not new but it has everything what we needed and we felt very well in the house.
Tatana
2016-10-13T00:00:00Z
Romtype
Privat rom
---
Eiendomstype
Hus
---
Plass til
4
---
Soverom
Prilep, Municipality of Prilep, Macedonia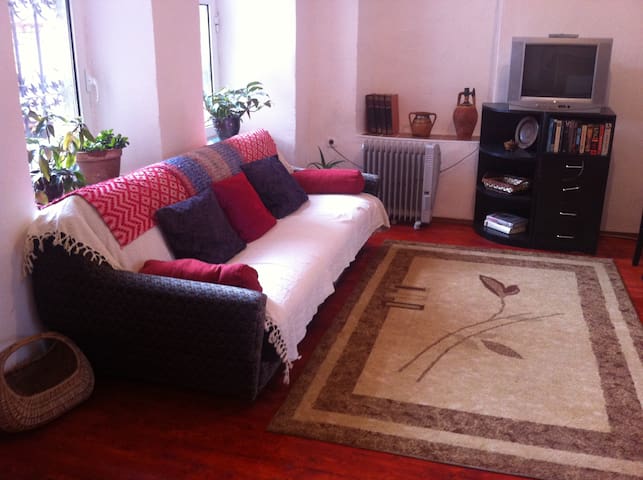 Aparment citadela is located in the old city near the Samoil fortress.Peaceful place with big yard and fireplace .With 2 bedrooms big living room, kitchen, bathroom, 3 balcony with beautifull veiw. Parking for 3 cars.
Lovely apartment
Howard
2016-10-05T00:00:00Z
We spent a wonderful New Year's in Pavlina house. The location is perfect - in the old town,quiet, no traffic, and the backyard is a pine forest. The apartment is clean, warm and ideal for families with children. The perfect holiday.
Alexander
2017-01-02T00:00:00Z
Amazing place with amazing hosts:). We loved it here and can't wait to return.
Frank
2016-08-24T00:00:00Z
Appartement très confortable au cœur de la vieille ville d'Ohrid. Bien placé, propre, moderne. Très calme. Parfait pour une famille
HELENE
2016-08-13T00:00:00Z
Lovely host, kindly, nice home, good location. Very recommend
Amichai
2017-01-08T00:00:00Z
When we got to Ochrid we were not able to find the place, Pavlina's husband (who is a very friendly guy) came to pick us up. Living room had a balcony which had a really great view ( castle and the lake). Other rooms were facing to the garden which was really nice. The house is really close to everywhere. It doesn't take even 5 minutes to walk to ancient theatre. The house was clean and big, area was quiet & peaceful. Also the house had every utility you would need in the kitchen. We thank Pavlina, her husband and also her mother-in-law for their hospitality.
Mehmet
2016-09-11T00:00:00Z
Pavlina was very helpful and friendly. though I didn't meet her. The place was just what I needed - quiet, beautiful and spacious. There is a lovely view and a really nice back garden.
Rachel
2016-10-09T00:00:00Z
Great
Sofia
2016-12-28T00:00:00Z
Romtype
Helt hjem/leilighet
---
Eiendomstype
Hus
---
Plass til
6
---
Soverom
Ohrid, Ohrid, Macedonia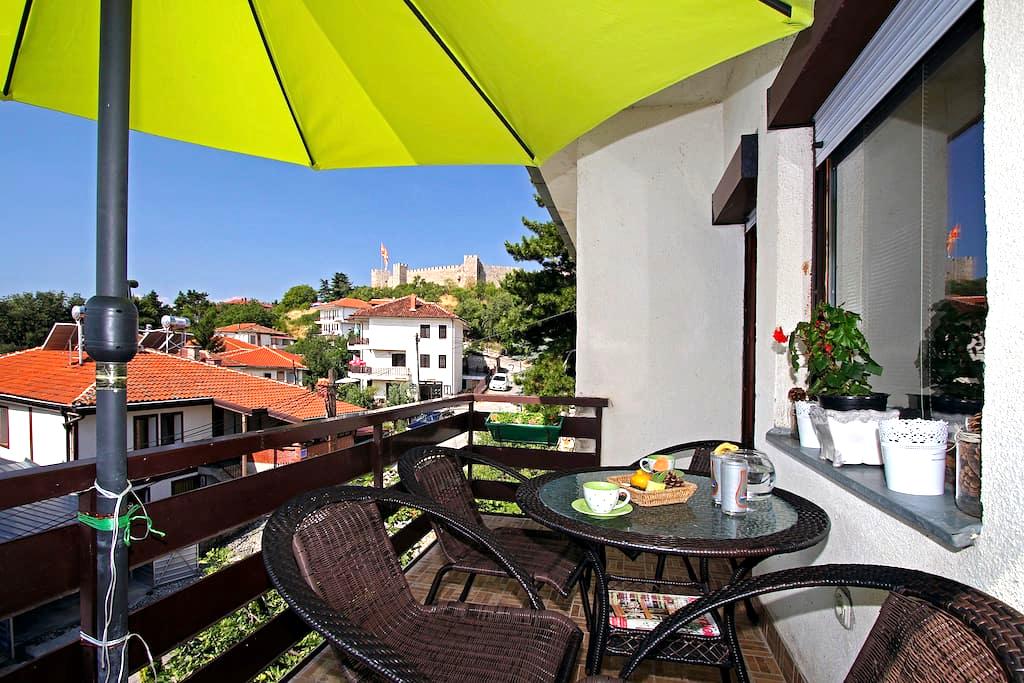 Rooms for rent with private bathrooms and a view of Ohrid Lake in the Old Part of town. One room has a queen size bed with en suite bathroom and a beautiful lake view. The other room has 4 beds, a private bathroom, and a big balcony with a view of the lake. Both rooms have wifi. The small room has a mini refrigerator and the big room has a small kitchen. The house is located near all of the historic sights, of which we are happy to give you a personal tour. We are great hosts and will happily make coffee for you in the morning and answer all your questions about the town. It is ideally located only two minutes from the square, the lake, and shops. All tourist attractions (Roman amphitheatre, 13th century churches, and Samuell's Fortress) are easily walkable in 10-15 minutes. Several beaches (Kaneo and Podpes) are also in walking distance. Local transport to surrounding villages (including scenic Sveti Naum and its monastery) is only 10 minutes away. My home is a unique place to stay and experience the culture with a local who also happens to be an English teacher, Located on a hill overlooking the city, the house is central enough to easily access all the attractions without the crowds.
La vista sul lago c'è e la posizione è ottima, ma la casa è ancora in costruzione e non c'erano i servizi richiesti. La signora ha cortesemente ricordato che potevamo riununciare, ma a quel punto era troppo tardi per cercare un'altra sistemazione.Per un giudizio completo, bisognerà attendere che la casa sia finita!
Alessandra
2013-08-26T00:00:00Z
Even though we never got to visit Ohrid, my plans got scuppered during our stay in Macedonia, Sonja was flexible, helpful and very understanding. We're coming back next year and I would definitely recommend Sonja based on my experience.
Gary
2016-06-10T00:00:00Z
This is the perfect place to stay if you go to Ohrid : clean, large room with terrace with view on the lake, ideal location in the town centre, close to everywhere you want to go in Ohrid. Sonja is very friendly and always helpful with precious information and advice. We had a great stay there, and we highly recommend the place!
Mathieu
2014-07-28T00:00:00Z
This is a really nice room with a beautiful view, in an ideal location for access to the town and the lake, hosted by a wonderful family. I was looking for a calm place where I could work on a book, and Sonja's house was perfect. Sonja made me feel very welcome before I even arrived; when I was confused with street directions, she helped me find the other place I'd booked while I waited for her room to become available. She was very helpful when I stayed in the room, and I soon felt that we were friends. We had a nice conversation on the terrace about life and literature, and she really helped me begin to understand Macedonia. I really want to return some day, not only to spend more time at the lake, but because it would feel like visiting friends. I think that staying at Sonja's place was a large part of what made my experience of Ohrid so enjoyable. Thank you Sonia!
Lucas
2015-09-15T00:00:00Z
Really nice place, definitely recommended!
Robin
2016-09-23T00:00:00Z
Sonja was an amazing host! She went out of her way many times to help us in finding buses and to make our stay as amazing as it was. The room was clean, comfortable and easy to get to from the old town. I'd definitely recommend this location to anyone going to Ohrid.
Samantha
2015-06-04T00:00:00Z
Sonia and her husband were so welcoming and helpful and responsive, despite having a brand new baby! The place was very clean and centrally located, with an ensuite bathroom. I would definitely stay here again if I come back to Ohrid. One small thing that travellers should know (And this has NOTHING to do with Sonia's place itself, which, as I've said, was wonderful): The Wifi internet connection was wildly inconsistent. Sometimes I would get 10 mbps of download speed and 3 of upload speed, but most of the time it was around 0.1 on both ends. I did what I usually do in this case, which was to buy mobile internet, but even that was very inconsistent and couldn't be depended on to support much more than e-mail. So I would say that Ohrid is a good place to vacation, but not the best place to work remotely or (SENSITIVE CONTENTS HIDDEN) home.
Kate
2016-08-24T00:00:00Z
Sonja was really very responsive and friendly. Would recommend her place without hesitation. She was helpful and genuine.
Kuhan
2015-08-07T00:00:00Z
Romtype
Privat rom
---
Eiendomstype
Hus
---
Plass til
6
---
Soverom
Ohrid, Macedonia
There are three double rooms, they come with a TV, a small seating area and a private bathroom with a shower. Ironing facilities and a fan are provided, as well. A shared equipped kitchen is at guests' disposal, a garden with barbecue facilities.
Romtype
Privat rom
---
Eiendomstype
Hus
---
Plass til
2
---
Soverom
Ohrid, Macedonia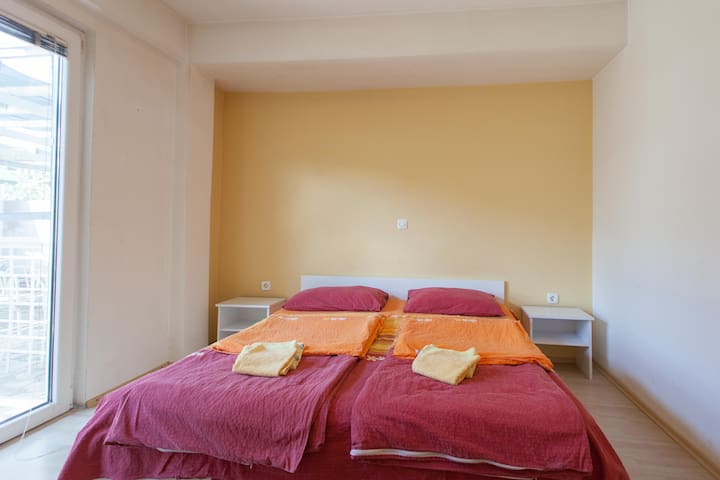 Apartments FourRoses are located in the centre of the city in house on the first floor. Each apartment has bathroom with shower, kitchen, cable TV, warming, free WiFi, parkig, terrace.From "Apartments FourRoses" to: - the Lake 220m (3 min walking) - the Old city 800m (10 min walking) - Pharmacy 200m (3 min walking) - Ambulance 400m (5 min walking) - Ohrid Airport 10km (13 min driving) - City Bus Station 1900m (5 min driving). Dream the dream that You have craved for, for so long, here in Ohrid.
Me and my 5 friends stayed at the Trajches appartment for 3 nights. Trajche was very flexible regarding hours of our arrival, he even came to escort us to his place when we got lost in Ohrid. He was very nice, explained everyhing we needed to know about the place or the city. At the end we even got some freshly baked cake. I would recommend him to anyone who wants to stay in Ohrid. Otherwise the place is in walking distance to the center just like it says in his description, very clean and hospitable.
Valerija
2015-09-15T00:00:00Z
We stayed in Trajche's flat for 3 nights. It was a really nice place in a quiet part of town, but still just a 2 minute walk to the lake and about 10 min to the centre of Ohrid. There a few shops and cafes around too. Trajche was nice enough to pick us up from the airport, otherwise it might have been a bit difficult to find. The flat itself was quite cold which I imagine will be nice in the summer. We were just about ok, but I'm sure trajche would lend you a heater if it was too cold.
Darren
2016-05-12T00:00:00Z
We had a very pleasant stay and thought the apartment was very well situated- its a short walk from the beautiful lake. Trajche was a really friendly host and was kind enough to pick us up from the bus station- and wait for us when our bus was 40 mins later than expected, thank you!!
Rebecca And Laurie
2016-07-24T00:00:00Z
Trajche's place is very central yet very quiet. We were able walk everywhere. It's kid friendly. Inside is exactly what you see in the pictures. It also has a small balcony in the garden which does not have a photo. There are restaurants and markets in the close walking distance. Hot water is very convenient.
Nilay
2016-09-13T00:00:00Z
It is a beautiful property next to the lake. Trajche was very helpful. He even picked us up from the bus station at Ochrid without being ask!!!! Very nice place, comfortable and clean. We had all we needed for our stay.
Dagmara
2016-07-04T00:00:00Z
Apartment is new, modern, very clean, and has everything you need. Really great location, 1min from lake and main walking promenade. I would recommended it to everyone. Will come back here for sure.
Amir
2016-08-14T00:00:00Z
We stayed in Trajche unit for 3 days and it was absolutely lovely. We loved every min of it. The unit was very clean and comfortable. Was a lovely walk along the lake to the main center. I recommend staying here made our experience in ohrid extra special. The host is very friendly and communication was great.
Ann
2016-06-09T00:00:00Z
My friends and I had a very pleasant stay in Trajche's apartment. We didn't manage to meet him in person, but we did meet his parents who were very nice and hospitable. The apartment is as listed, completely renovated and new, clean and tidy and it has a great location, just 5 min from the Ohrid quay and promenade. You would still have to use a car or a motor vehicle to get to the beaches, but that's the way things work in Ohrid. It's a good deal for the money.
Gjurgica
2015-08-30T00:00:00Z
Romtype
Helt hjem/leilighet
---
Eiendomstype
Hus
---
Plass til
4
---
Soverom
Ohrid, Ohrid, Macedonia
My place is close to the beach,, nightlife, city center. You'll love my place because of the location, the outdoors space, the people, the neighborhood, and the ambiance. My place is good for couples, solo adventurers, business travelers, families (with kids), and big groups.
Romtype
Privat rom
---
Eiendomstype
Hus
---
Plass til
2
---
Soverom
Ohër, Ohër, Macedonia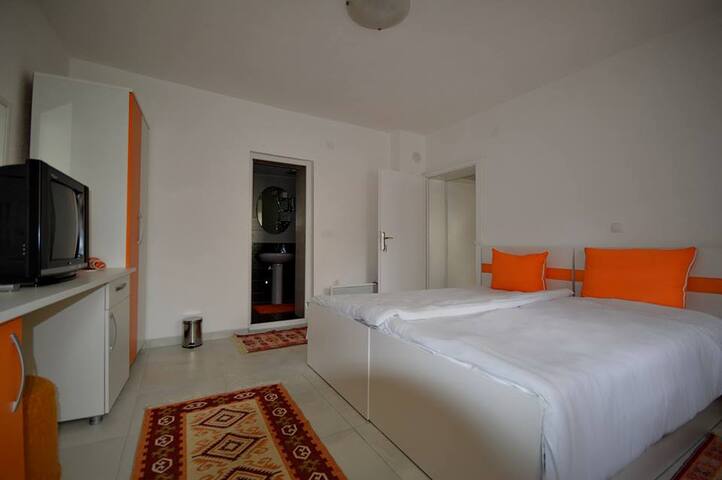 A lovely house situated 1.8 km from the center of Ohrid, nearby the moutain(national park Galicica). A peaceful neighborhood, free parking in front of the house and BBQ facilities in the garden. It is 22min walking to the center and there is also a busline to the center.
Romtype
Helt hjem/leilighet
---
Eiendomstype
Hus
---
Plass til
6
---
Soverom
Ohrid, Ohrid, Macedonia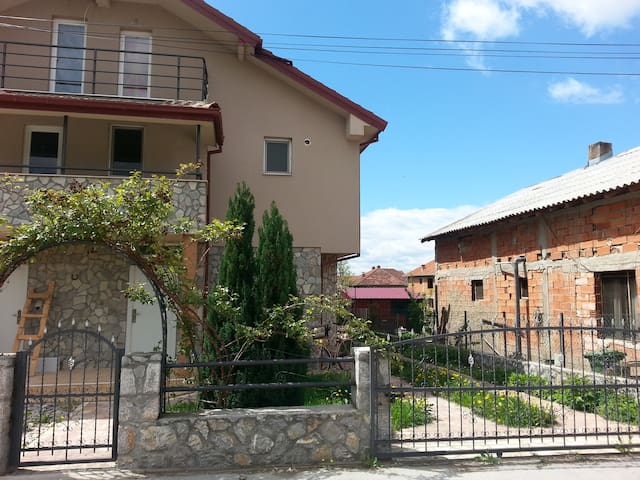 Apartments is in the center of Ohrid, on the squear. The apartament is 90 m2, 2 badrooms, bathroom,kichen, livingroom with balkony and lake view. Beach Saraishte is 250 m walking. Everything is near to apartment. Shops, market, parks, lake, pharmacy.
The apartmen have a great comfor, nice lake view with terasse...
It is close to everything, lake , beach, park for walking, green market, pfarmacy, old town, shoops, resturants.
The host canceled this reservation the day before arrival. This is an automated posting.
Stefan
2016-07-31T00:00:00Z
Romtype
Helt hjem/leilighet
---
Eiendomstype
Hus
---
Plass til
5
---
Soverom
Ohrid, Ohrid, Macedonia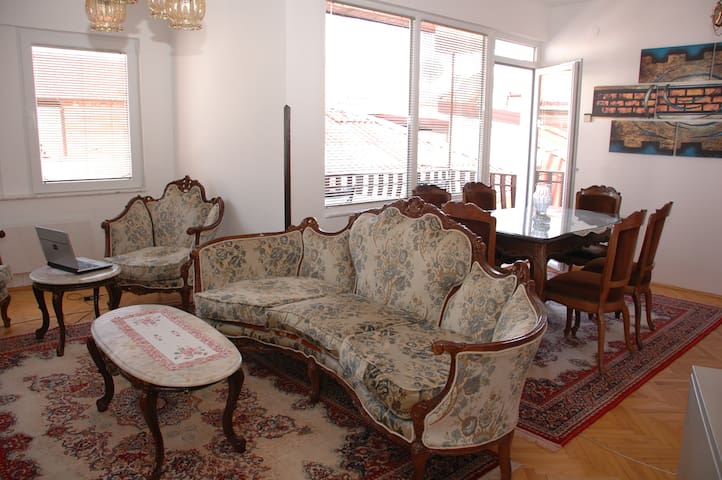 1

–

18

av

218 Hjem til leie
Oppgi datoer for å se fullstendige priser. Ekstra gebyrer gjelder. Skatter vil kunne tilføyes.