Located in the heart of the Fall River Valley, this lovely private cabin is nestled among oak trees on our ranch. Enjoy peace and quiet, view the stars from the deck and enjoy being only minutes away from fishing, hiking or whatever brings you here. **We are pet friendly, but there is a $75 non-refundable pet deposit.**
We have decorated for comfort - cozy leather couches, comfy beds, plenty of dishes, pots and pans for your use. When possible, we try to provide fresh eggs from our neighbors chickens for your county breakfast. Our goal is your comfort, peace and privacy!
The cabin is located within driving distance ranging from 20 minutes to 1.5 hours to McArthur/Burney Falls State Park, Lassen National Park, Mt. Shasta, Shasta Caverns, Baum Lake, Big Lake, Fall River, Pit River, Hat Creek, Thousand Lake Wilderness and numerous other sights. We are also a great stopping point when traveling between National Parks, being centrally locate between Lassen National Park and Crater Lake in Oregon.
The host canceled this reservation 35 days before arrival. This is an automated posting.
Julian
Sandi's Ranch is such a welcoming destination. Immaculate and well appointed the cabin is situated behind the main house, massive shop, extensive orchard, and horse barn. The road to the cabin is very accessible and pothole free with a good gravel base and lined with beautiful hand stacked rock walls. The cabin sits on a hill covered in oaks and over looking a pond, frequented by a herd of deer. The House is clean and cozy with almost everything anyone could hope for. Beautiful leather couches in the living room, and extraordinary photography on the walls by a local artist. There is a good proximity to so many wonderful things to explore...Burney Falls, The Pitt River, Fall River Valley and Lassen National Park...there is an exquisite view of Mt Shasta from the town of McArthur and the access to Hwy 299 was excellent even in during a winter snow storm. Sandi is a wonderful host, with a lot of attention to detail...we even had fresh ranch eggs upon arrival for our breakfast. We settled in quickly and felt quite comfortable watching the snow fall outside. For us, it was the perfect getaway and hope to return again soon.
Bev & Rod
2015-12-29T00:00:00Z
Sandi was a wonderful host and her cabin in the woods is an awesome retreat. The cabin sits down a well maintained gravel road past her beautiful ranch house, barn and orchard. Out of view from the main house, there is a feeling of total seclusion. We spent 3 nights and our only visitors was the herd of deer who made their way up from the pond through the oak trees in the snow covered landscape. The cabin is well furnished with everything and anything a guest might need. There is no detail missing from her honor wine bar to the Hershey's kisses left on the counter. She even has a cookie jar full of doggie treats for her four legged guests. The area of McArthur is very close to so many interesting things to do. A short drive to Burney Falls and Lassen National Park. Side trips into the Pitt River Canyon and fishing at Hat Creek. The view from town of Mount Shasta was unobscured and spectacular!! The cabin is just off a very well maintained road and even though it snowed while we were there the roads never reached an impassable state...making this an ideal winter destination.
Bev & Rod
2015-12-30T00:00:00Z
Sandra's place has everything you need. Bring your own food, and you can cook it using the grill or kitchen stove. Very quiet location off the beaten track. If you like to kayak, Ahjumawi State Park is just 15 minutes away.
Laura
2016-08-07T00:00:00Z
The host canceled this reservation 2 days before arrival. This is an automated posting.
Patrick
We had a great stay in this comfortable, very clean cabin, far away from our busy life back home. In this rural and beautiful part of California you will meet your very friendly and helpful host Sandra and, if you are as lucky as we were, a big box of fresh eggs from the ranch next door! You can visit the Lassen Vulcanic Parc and the impressive Mc Arthur Burney Falls. Destress at this quit and peaceful spot. Thank you Sandra!
Ilse
2016-06-17T00:00:00Z
Romtype
Helt hjem/leilighet
---
Eiendomstype
Hytte
---
Plass til
4
---
Soverom
McArthur, California 96056, USA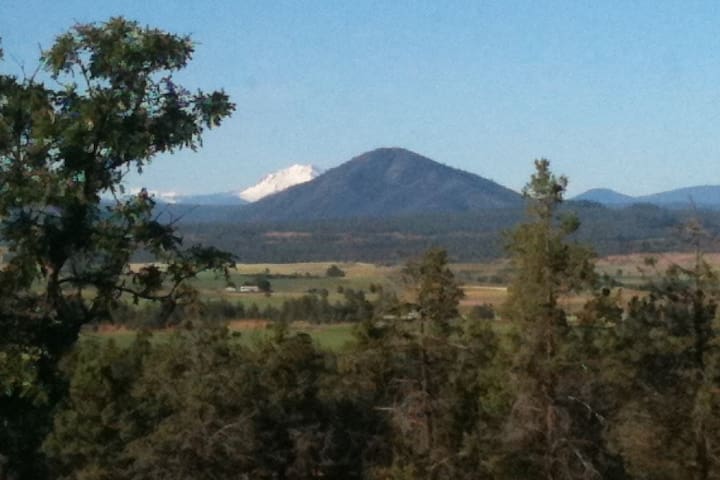 Peaceful cozy cottage with fishing and access to Fall and Tule Rivers, launch included. On private 375 acre family cattle ranch. We raise cows, pigs, ducks, and chickens. Winter snow, Spring babies, summer swimming, Fall Harvest. Horse boarding, RV space.
Spring and Summer are amazing in our part of the world. We have hiking, swimming, boating, waterfalls, state parks and much more. We have lots of baby animals running around the ranch in the spring. We are planting our gardens and enjoying everything being green and beautiful. Spring flowers make the air sweet and make the fields look as pretty as a painting.(URL HIDDEN)The cottage has two yards. One facing Mt. Lassen with a picnic table. The other is facing Mt. Shasta and the river. The cottage has its own parking spot by the orchard. We rent out 1, 2 person canoe and 2, 1 person kayaks. The river is amazing, great for fishing, swimming or nature watching. You will see otters, bald eagles, golden eagles, geese, deer, muskrat, cranes, ducks, turtles, fish, more species of birds than I can count and much more. It is breathtaking this year! Come and experience our farm to table life style and relax in natures beauty.
We have a great location for people looking to explore Lassen or Mt Shasta. We have lava caves and 5 waterfalls in our area. Burney Falls is the most famous. If you own a boat we have a launch and from the Ranch you can access Big Lake, Eastman Lake, Tulie River, and The Fall River. We have Kayaks for rent to explore or fish from.
We loved staying at Mott's cottege! The sunset was spectacular and it was fun to walk around and see the farm. Natalie was very kind, left eggs for us and had an extremely comfortable space! I would definitely stay here again. Location wise, it was very close to both the north entrance of Lassen and Burney Falls! Enjoy!
Hayley
2016-07-17T00:00:00Z
Natalie was very welcoming it is secluded from town which is great cause you are also just minutes from town the stay was great and the animals were wonderful thank you again natalie!
Nicole
2016-11-02T00:00:00Z
Loved the fresh flowers. THANK Natalie
Sheryl
2014-09-17T00:00:00Z
The cottage is situated within the most beautiful surroundings and offers a lot of privacy - ideal for small families or outdoorsy people. The interior could be described as cozy and rustic, a very authentic ranch experience.
Alexander
2015-10-04T00:00:00Z
What a treasure Mott's Cottage is! A way cool quaint place in a wonderful setting. Natalie did a great job setting up the place, and was very welcoming. There were two of us adults and two kids and we all loved it. I was up at the crack of dawn and walked a 100 yards to the river and saw thousands of birds, & geese fly overhead, what a site! We will be back, looks to me it would be great in any season.
Jim
2014-09-20T00:00:00Z
The location is absolutely gorgeous. The sunsets are even more beautiful than they seem in the pictures, Natalie told us they're usually prettier than during our stay but it's hard to imagine how. You have to sit at the river each evening and watch them or, of course, rent the canoe. We did that for one day and saw quite a few otters and turtles as well as lots of birds. The cottage was exactly as described and very comfortable. The wi-fi worked fine. We bought meat from the freezer, some stuff from the kitchen shelf as well as some vegetables directly from Natalie, all of which was excellent. We also fell in love with their adorable dog Pongo! This is a good place to stay in if you want to go to Lassen Volcanic Park but it's so beautiful that we didn't go as often as we had intended.
Petra Liane
2016-08-24T00:00:00Z
Excellent location off the beaten path! If you are just passing through, I advise that you plan to stay for more than a night or you might regret it like we did. The views were amazing and the host Natalie was great and detailed with directions. When arriving late at night, be sure to have some sort of light on you as it gets dark and we ended at up at Natalie's other house! My headlamp (for caving the next day) came in handy that night. Lots of farm fresh stuff available for sale at the cottage such as bacon, sausages and steaks, and preserves, pickles and juices. Everything made from the harvests of the ranch. Doesn't get any fresher than this! Natalie was sweet to leave us some fresh eggs too. We were also allowed to roam the orchard and the ranch and get upclose and personal with the animals that were living there. There were ducklings, roosters, horses, pigs, etc. And accessibility to the lake gives you more exploring options. You'll meet some friendly neighbors working around their farms and that's about all the people you'll ever find out there. GO be one with nature at Mott's Cottage!
Fiona
2016-09-04T00:00:00Z
Place was very peaceful and relaxing. We were hoping to hike along the river but found it difficult to access a good spot without walking through cow pasture. Dog was barking at 2AM for 30 mins straight. Natalie was very friendly and the property beautiful with views of Mt. Shasta and Lassen.
Justin
2015-05-16T00:00:00Z
Romtype
Helt hjem/leilighet
---
Eiendomstype
Hytte
---
Plass til
4
---
Soverom
Fall River Mills, California 96028, USA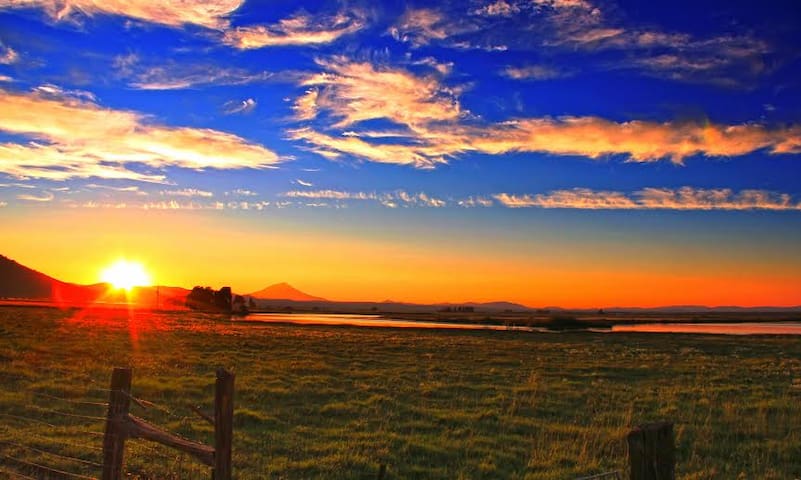 Our favorite getaway, this home has a special place in our hearts. With a spectacular view of the Pit River valley, you may spend more time on the deck than at nearby activities! Our place feels secluded and has all the comforts of home. We have a strict No Smoking policy and no pets are allowed on the property.
The view of the river and the surrounding valley makes this home truly unique. The 2,000+ sq ft home sleeps 8 very comfortably (1 Cal-King bed, 1 queen bed, 2 twin beds, and 1 hide-a-bed that is very nice), plus 4 more on the 2 hide-a-beds in the Great Room. There are 3 bedrooms and 2 bathrooms in the house.
We're in open countryside... we have a couple of neighbors along our lane, but you'll feel quite secluded.
We had a great time at Jayne's place. Kelly (the property manager) made us feel at home and the property was fabulous. Thanks Jayne and Kelly for the wonderful memories!
Prabal
2015-10-10T00:00:00Z
We felt very welcome and were given a lot of details by manager Kelley in person after arriving. Jayne was in touch with us every step of the way from booking to access details. The home was comfortable with lots of interesting decorations. Plenty of DVD's to watch, and a great view of the Pitt river valley from the entire backside of the home. The local area is very homey, farming rural country, and I liked it a lot.
Jack
2016-06-16T00:00:00Z
The house and the location was beautiful. Everything was well arranged and organized. Loved looking into the night sky using the telescope in the house. All in all a wonderful experience.
Virag
2014-09-06T00:00:00Z
Great house with an amazing view behind the house. The pictures don't due it justice.
Justin
2017-03-09T00:00:00Z
We had a wonderful in Jaynes house. The house is very cosy , well equiped and very clean. burney falls park is very beutiful, we had time to visit Lassen volcanic park too. The environment of the house is very beutiful and peaceful , with deers passing in front of us . Many thanks Stéphane and his family.
Stéphane
2015-08-12T00:00:00Z
It was an very nice stay at Jayne's vacation house .. House was very clean and highly organized.. Half an hour away from burney falls .. I highly recommend this house for future stay too..
Ramkumar
2016-02-16T00:00:00Z
Beautiful view. I had a great time at your home. My only complaint is that I couldn't stay longer. Your house was really clean and had lots of amenities.
Dustin
2016-10-14T00:00:00Z
Romtype
Helt hjem/leilighet
---
Eiendomstype
Hus
---
Plass til
12
---
Soverom
McArthur, California 96056, USA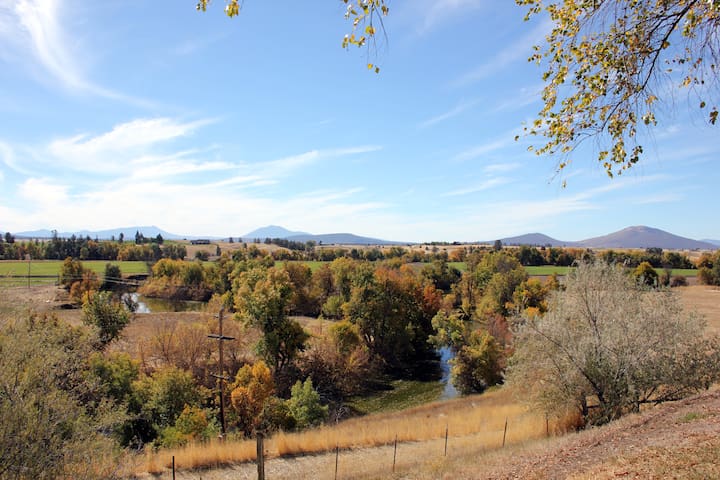 Nestled between Mount Shasta and Mount Lassen lies the spring fed rivers, lakes and fertile Fall River Valley. The H & O River house is located on the upper Fall River where the crystal clear waters make it a fisherman's dream. The view of the river, surrounding pastures, and mountains from the large deck and house complete the picture. My place is good for fisherman, bird watchers, golfers, couples, solo adventurers, business travelers, and families (with kids).
The H & O River Ranch is located on a pristine stretch of the upper Fall River. In addition to fishing, you can relax on the large deck, enjoying nature's spectacular scenery while having all the amenities at your fingertips including high speed internet.
Boat & dock launch included. Nearby hiking, waterfalls, golfing and sight seeing
Romtype
Helt hjem/leilighet
---
Eiendomstype
Hus
---
Plass til
7
---
Soverom
Fall River Mills, California 96028, USA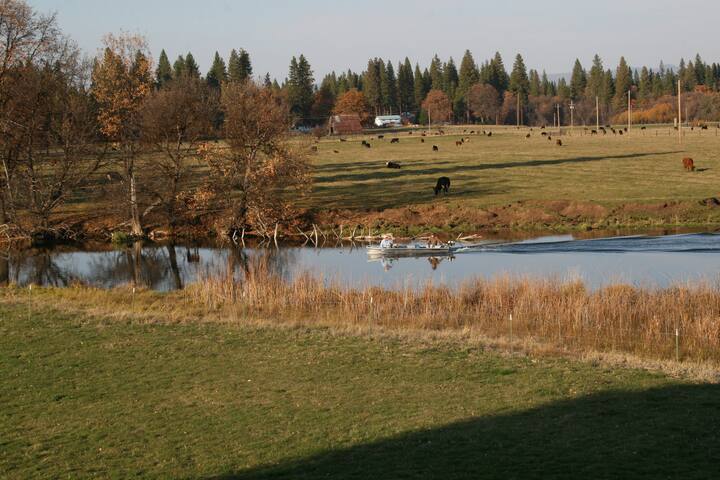 Two Son's Lodging has 4 beautiful cabins with great views and that are close to hiking, restaurants, and lots of other outdoor activities! With your private walk down to Hat Creek, you'll love fishing all day long! The high ceilings, coziness, and location will make this place hard to leave and exciting to come back to! Great for couples, solo adventurers, business travelers, families (with kids), and big groups. 11 miles from Mt. Lassen and 20 miles from Burney.
This cabin is wheelchair accessible with a full bed downstairs and an extra large bathroom. The upstairs is the same as Cabin B with a loft that has a full sofa bed, a private queen bedroom and a full bathroom.
Romtype
Helt hjem/leilighet
---
Eiendomstype
Hytte
---
Plass til
8
---
Soverom
Old Station, California 96071, USA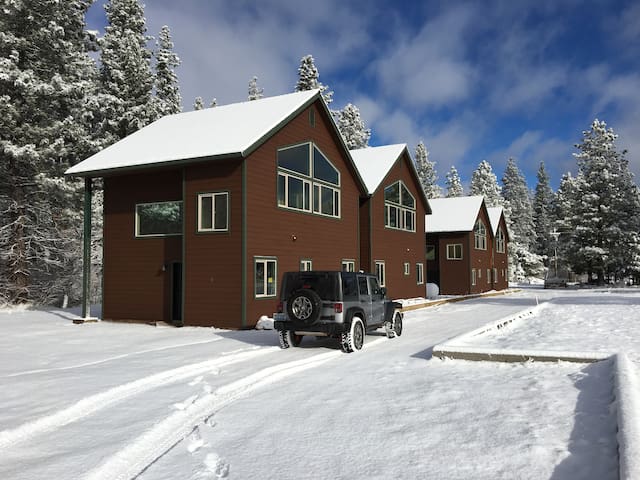 The Stonehouse Cabin is nestled on 10 acres in a beautiful forest on the edge of the small town of Burney, California. It features the latest in modern conveniences while maintaining a classic 'cabin' feel. Fantastic sight-seeing nearby.
The cabin itself has 3 bedrooms and 2 baths, with fully equipped modern kitchen. Additionally, there is a bedroom adjacent to the garage with a queen bed and 1/2 bath. Comfortably sleeps 5 to 7 guests.
While it appears that we are in a remote location, we are actually on the edge of town, and only minutes from groceries and other local merchants. We are about 20 minutes from MacArthur Burney Falls State Park, and about 40 minutes from Lassen National Park.
Really nice cabin. Huge plot of land. Amazing kitchen. Everything is brand new. You immediately are relaxed by this cabin. You are very close to town but feel like you are deep in the woods.
Brian
2016-11-28T00:00:00Z
The house was very clean and comfortable. We enjoyed the forest setting but close to the stores. We loved the proximity to Lassen National Park. It was a great stay
Amelie
2017-01-05T00:00:00Z
This property is private and very nice, and is within an hour or so of many outdoor attractions. Dottie was very helpful in making sure everything went smoothly.
Alex
2016-08-10T00:00:00Z
We rented Dorothy's cabin over Christmas while we were in town visiting family. It was a charming little cabin set back in the woods. The cabin has two rooms (king, single), a loft (two singles), and an additional room in the detached garage (queen). The property conveniently located right in Burney, but is set back far enough to feel secluded and peaceful. It's probably the nicest accommodations you'll find in Burney.
Brian
2017-01-02T00:00:00Z
Everything was as pictured and described. The cabin was spotlessly clean. The location was great!
Peggy
2016-09-27T00:00:00Z
The cabin is very nice and was easy to find. Dottie was easy to communicate with and available by text. This is probably one of the nicest places you can stay in the area. It was a short drive to Burney Falls, the subway cave, and fishing on the Pitt River. Fly fishing was good but rugged. My son caught 10 trout. We drove out on Hwy 44 and visited Mt. Lassen and Manzanita Lake. Caught a brown trout at Manzanita.
jackie
2016-05-11T00:00:00Z
The cabin was located at the end of a private road with beautiful trees and at this time of year wildflowers on the property. It is a lovely setting that was accurate to the description. The home was clean with plenty of toilet paper/paper towels etc. We would stay again if we were in need of another place in this area. The hosts were responsive and plesant to work with.
Becky
2016-07-07T00:00:00Z
A wonderful spot for a gathering of old friends in a seemingly private spot but a short walk from downtown Burney. Well equipped for cooking and eating with plenty of room for all. My buds were all impressed that I found such a great place for such a reasonable price. They all want to come back next year. Lots of nearby fishing opportunities which were all visited.
Michael
2016-10-09T00:00:00Z
Romtype
Helt hjem/leilighet
---
Eiendomstype
Hus
---
Plass til
5
---
Soverom
Burney, California 96013, USA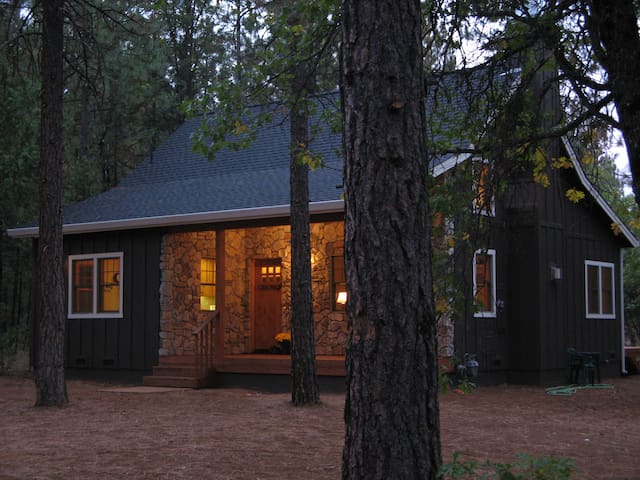 Two Son's Lodging has 4 beautiful cabins with great views and that are close to hiking, restaurants, and lots of other outdoor activities! With your private walk down to Hat Creek, you'll love fishing all day long! The high ceilings, coziness, and location will make this place hard to leave and exciting to come back to! Great for couples, solo adventurers, business travelers, families (with kids), and big groups. 11 miles from Mt. Lassen and 20 miles from Burney.
Romtype
Helt hjem/leilighet
---
Eiendomstype
Hytte
---
Plass til
8
---
Soverom
Old Station, California 96071, USA
Oppgi datoer for å se fullstendige priser. Ekstra gebyrer gjelder. Skatter vil kunne tilføyes.