Looking for value and a nice property? Our new quiet and cozy house is close to Ithaca, Cornell Univ., Ithaca College, Fingerlakes, Watkins Glen, Wineries and State Forests, . You'll love our place because of it's proximity to many areas and the price is very reasonable. Washer & Dryer, flat screen TV, WIFI, large yard. Perfect place for your next stay in the Southern Tier/ Fingerlakes of NY. Owners next door on adjacent property to assist you in making your stay a memorable one.
Looking for value on your own house? Stay in our cozy new house located 19 miles south of the city. It's an easy 20 min drive on state highway 34/96. Have your own quiet space and the enjoy the house.
Spencer NY is a small, quiet, safe, and rural "Bedroom Community" conveniently located near the center of the most popular Fingerlakes/ Southern Tier attractions.
This place is amazing and in a perfect location to visit Ithaca and Cornell. It was spotless and the perfect size! Highly recommended!!
Jo-Ann
2017-04-02T00:00:00Z
David and Chris are wonderful hosts. The house was just as I expected. They had it warm and toasty for our arrival. They checked on us throughout our stay. I will stay with them again. I highly recommend the house.
Cheralyn
2016-11-26T00:00:00Z
Clean and very comfortable. David is an excellent host and responded promptly to all communications. The area is very scenic and we enjoyed exploring the Finger Lakes region.
David
2016-11-06T00:00:00Z
The cottage was fantastic! My boyfriend and I wanted to get away to the Ithaca area for the weekend and this was perfect. The cottage was great. Super clean and cozy, easy to access, comfortable and in a quiet neighborhood. It's about 20 minutes out of Ithaca but the drive is very easy and pretty. David left us printouts for local trails and state parks to check out which was awesome as it was our first time to the area. I really appreciated that personal touch. Communication was fast and easy. Overall it was a great experience. We would definitely stay again and are already trying to plan our next trip back!
Kate
2016-10-30T00:00:00Z
Our stay was made easy by such gracious hosts. The house was set up perfectly for our weekend visit to our friend in Ithaca, a short 20 minute drive away. We were able to sleep 5 comfortably! Would highly recommend a stay here if visiting the city, but desired a quiet place to retreat for the night. Thanks David and Christine!!!
Daniel
2016-11-13T00:00:00Z
Romtype
Helt hjem/leilighet
---
Eiendomstype
Hus
---
Plass til
4
---
Soverom
Spencer, New York, USA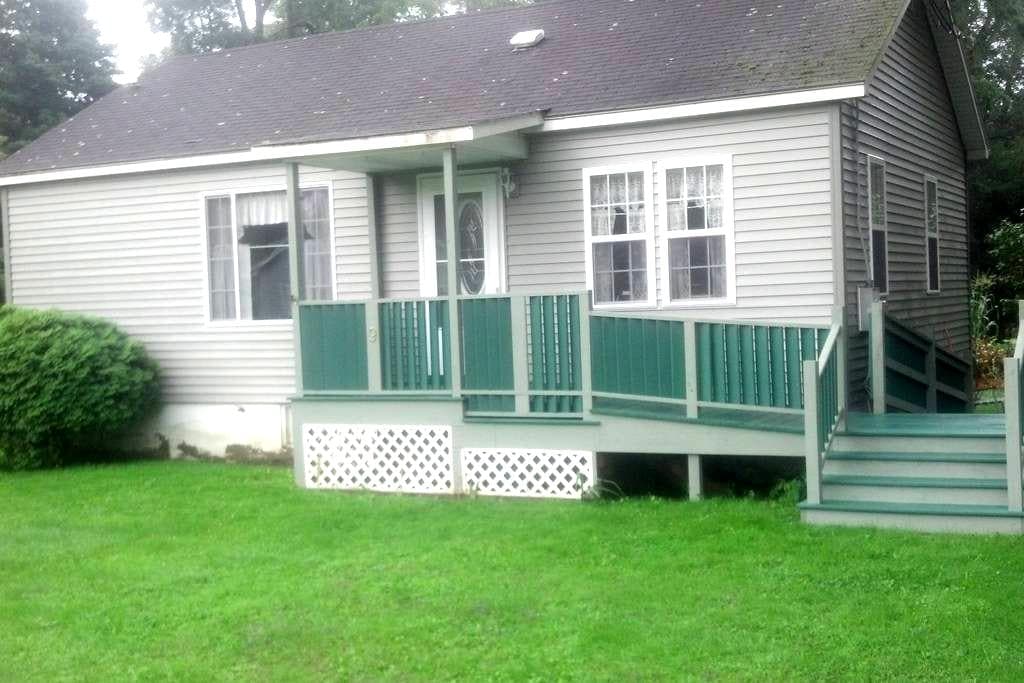 We invite you to enjoy a peaceful, wood fired pizza getaway on a small farm that sells weekly at the world famous Ithaca Farmer's Market Farm. Lonely Planet recommended us in their most recent book:Wine Trails: 50 Perfect Weekends in Wine Country as one of the two places that travelers should stay when traveling in the Finger Lakes. The house sleeps 8 adults, has a full kitchen, and 2 baths. There are no other houses within sight of the Lodge, this is you private country getaway.
Your private getaway in the Finger Lakes awaits. Lonely Planet recommended us in their most recent book:Wine Trails: 50 Perfect Weekends in Wine Country as one of the two places that travelers should stay when traveling in the Finger Lakes. We invite you to enjoy a peaceful wood fired pizza getaway on a small farm that sells weekly at the world famous Ithaca Farmer's Market Farm. There are no other houses within sight of the Lodge, this is you private country getaway. The house sleeps 8 adults, has a full kitchen, and 2 baths. The fridge and pantry are minimally stocked with basic provisions from local producers & real food companies to help you create your own delicious breakfast. The kitchen is equipped with a Vita-mix blender, cast iron pans, air popper popcorn machine, and all the other tools you'll need to make a remarkably flavorful and memorable meals. Fair trade coffee & tea provided. If you're so inclined, we invite you to get your hands dirty and farm with us! Taste the Finger Lakes, harvest and eat local food as fresh as it gets. During your stay in our quiet rural neighborhood you'll fall asleep to the symphony of pond life and rise to the serenade of diversified woodland birds. The sights of the gardens and surrounding woodlands will greet you when you rise from your bed each morning. We welcome creatives, makers, innovators,and adventurers and their loved ones to get away on the farm. The cell reception at the Lodge is excellent and of course we have wi-fi. The connection is the highest speed available in our area, but if you're planning on video conferencing during your stay, it's not a great fit. There's no cable, but the Lodge has a large flatscreen tv with a DVD player. Feel free to get in touch with any questions you may have. We look forward to helping you make your winter getaway a reality. Pizza oven notes: You'll need our assistance using the pizza oven. We are happy to fire it up for you before you plan on cooking. It needs to warm for at least an hour or more before you can bake pizza. That gives you time to get your toppings ready and plan for your meal. Unlike a campfire, there is a specific way to build a pizza oven fire on top of the fire bricks where your pizzas will be cooking. Too big of a fire could in turn ruin the oven. We help guests get started using the oven and need to be part of the firing process. Other than that our interaction with our guests is minimal to moderate depending on their interest level in what we're doing here on the farm. Guests are welcome to accompany us into the fields of sustainable agriculture and see what it takes to grow food. We cannot always guarantee that the field work is appropriate for children or that you'll get hands on experience. Please reach out and let us know the type of experience you're expecting ahead of time (as we have a busy market schedule and family life), and we will make a plan.
The Lodge is located in a rural setting, there are very few house up here on the hill. There are no street lights on our road, it's quiet country setting located on a well maintained dirt road. Travelers arriving after dark are often surprised at how dark it is out here when they reach, but the night sky is amazing! There is a motion sensor light outside the entry way, but you'll have to get out of your car to trigger it.
Great silent location. Courtney is very friendly host, hope we can visit her farmhouse again!
Mikhail
2016-12-27T00:00:00Z
I was looking to get away from the urban hustle and bustle. This was the most amazing experience. Courtney was super cordial and responsive. The property is nicely secluded and a true gem. The propert is beautiful as is the home. Big bonus that is a stones throw from Ithaca and the finger lakes. Make sure to heck out the farmers market where the farm produce is sold.
Joseph
2016-08-29T00:00:00Z
We had a great stay at Courtney's home. She was super coordinating our arrival and preparing the pizza oven for us. She even made a batch of homemade pizza dough for us. We all loved wandering the grounds of the farm and the peace and quiet of this they place!
James
2016-08-23T00:00:00Z
Our large group of three families stayed in Courtney's house for one night. We arrived quite late and didn't have a chance to meet Courtney, but nevertheless enjoyed our short stay very much. We loved exploring and walking on the property and our kids had the best time playing around. Though we were very large group, this house was spacious enough for all of us to sleep in. We really appreciate Courtney's willingness to accommodate us all and would gladly recommend this house.
Neda
2015-08-12T00:00:00Z
We had a 8 friends get together and spent two nights . very clean house , beautiful and peaceful surrounding (words can't express enough), a perfect getaway development retreat. Responsive, kind, thoughtful and gentle host (If you come at night time, you will understand this feeling. We came to the farm house at around 11.30pm. It was super dark, quiet and no human activities around). For being weaklings-city people, we were scared of the openness of the area when we reached the house. Courtney didn't have to, but she drove to the farm house to greet us. It had really make us feel more calm and safe). - Basic breakfast food (LOCAL dairy products, honey, waffle, cake mix, bread, tea, coffee, maple syrup, etc) and more than sufficient cooking and eating tools. - farmer's market open till 3pm. - Accessible to at least 3 parks within 15min drive. Watkins Glen is 45min drive. - the stars were gorgeous Our Advice: bring your disposable plates, bowls, utensil to save water and reduce cleaning time if you come in more than 6 people group. - Brick oven!!!! (use it!) - ah, you need to tell Courtney in advance because it takes time to heat the oven up. - Best to stay at least 2 nights. - Ask for a tour of the farm from Courtney's kids for a short fruit picking trip :) A sincere thank to Courtney and her family hospitality and kindness. We had an amazing time.
shahla
2016-07-11T00:00:00Z
This is a perfect place for a one-night stopover or a more extended visit. The hose is lovely and well appointed. Everything you need is there! However, the highlight of our visit was the tour of the organic farm. The dynamic tour leader was our host's 8 year-old son who also played with my grandchildren. His dad, the organic farmer, is a congenial fellow. My son and I had an animated discussion with him about everything under the sun! The whole family had a great time! Highly recommended!
Stephen
2015-07-29T00:00:00Z
We had a family get together and spent two nights at the Humble Hill farm. Courtney met us at the lodge when we arrived. The house was very clean and comfortable, it had everything we needed. The area is very quiet and secluded, we saw more wild animals than people over the two day stay. Which was exactly what I needed. We enjoyed gazing at the stars at night and exploring around during the day. We all had a very pleasant time. Thank you, Courtney!
Yakov
2016-06-26T00:00:00Z
Quiet large farm house in rural area, clean and organized. My friends visiting USA from Korea said the bed was quite comfortable. We cooked a diner and breakfast without any problems. Courtney is a well prepared host and we appreciate the attention to every detail.
Kwang
2016-06-06T00:00:00Z
Romtype
Helt hjem/leilighet
---
Eiendomstype
Hus
---
Plass til
6
---
Soverom
Spencer, New York, USA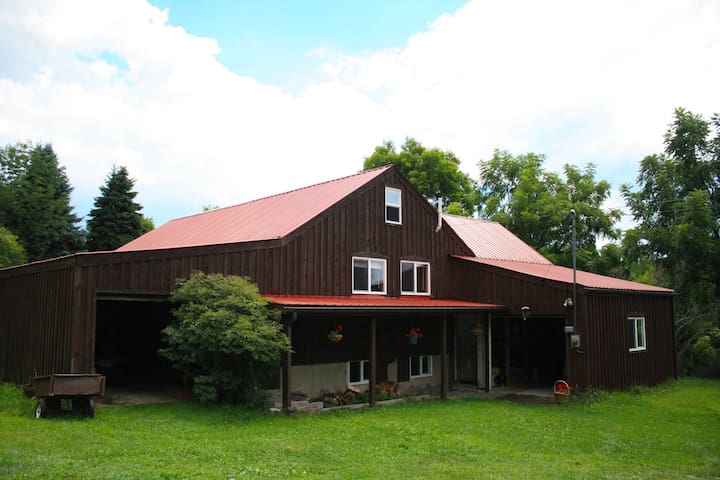 My place is close to Ithaca College and Ithaca, New York, Jennings Pond, Upper Buttermilk and the Finger Lakes Trail. You'll love my place because of the location and the coziness. My place is good for couples, solo adventurers, and business travelers. Ithaca is 5 minutes down the road.
My house is a cozy space. You will sleep in the kids room with Smartie the goldfish. I have a 32 inch flat screen for you so you can privately hang out and veg in the room. I also have a couple bottles of water for you.
We are close to the Finger Lakes Trail, Upper Buttermilk Falls State Park and Jennings Pond for your relaxation. It is very quiet and we have no streetlights or stop lights where we leave !!! Our road also used to be a dirt rood but they stoned and tarred it about 5 years ago !!!
Very nice host. I checked in late and he left the lights/heat on for me. Room was clean and odor-free. His dog was friendly and loves to give kisses (if you want them). Very great value for an AirBNB.
Yongqi
2016-12-20T00:00:00Z
Staying at Mark's was great! Cool dude with great kiddos and an adorable dog. Great location - his property is beautiful, near parks and minutes from the Ithaca commons. We felt comfortable and homey the whole time. Mark is fun to chat with and very accommodating. Gave us good recommendations and left us with a basket of snacks. For the price, the place, and the person, definitely a good choice!
Kelly
2016-10-30T00:00:00Z
I'm working for Marriott and my wife is working @ Hilton, with 50% employee discounts could lower rate than Mark's But Mark gave us a warm welcome and he'd provided more than enough for his guests feel like AT HOME. If you don't need a high class luxury room, then stay at Mark's house, you will get more amenities than any Vegas, Dubai hotels.
Quoc
2016-10-07T00:00:00Z
I made there very late but Mark made sure that my arrival was smooth and I had everything that my stay was comfortable. He also has some snacks in the room, which is great if you had not have a chance to grab a dinner.
Leyla
2016-11-08T00:00:00Z
I stayed at Mark's place with my girlfriend for just a night to check out downtown Ithaca's bar scene. Mark was super helpful before and during the stay, and he even made us Starbucks coffee in the morning! The room we stayed in was spacious, comfy, and had a TV. No lie, my best Airbnb experience so far.
Ian
2016-11-06T00:00:00Z
Mark allowed me to check in pretty late after a long drive. He was very helpful and accommodating. Snacks and water in the room.
Maryselle
2016-11-11T00:00:00Z
It was a real pleasure to to meet Mark and his young sons, who were truly kind and exceptionally considerate hosts. Mark, has made me feel as part of the family yet was respectful of my privacy. My bedroom, was most comfortable and peaceful. An excellent host, Mark anticipated all my needs, even driving me to my local scheduled meeting place. I could not have asked for a better host. I look forward to staying at Mark's place in Spencer again when I travel to Ithaca, and I wish him well as he continues to grow and develop his Airbnb vision. Thank you again Mark and family!
Dennis
2016-09-25T00:00:00Z
Mark was a fantastic host! He made us feel very welcomed by offering his assistance from the beginning to the end of our stay. He's super responsive, and told us if we had any questions while travelling outside, we could just text him for help. Our room was clean, quiet and had everything we needed for a comfortabable stay (wifi, snacks, TV, heating). We had fun getting to know Mark and his family as well. Overall, it was a wonderful stay.
Sissi
2016-10-10T00:00:00Z
Romtype
Privat rom
---
Eiendomstype
Hus
---
Plass til
1
---
Soverom
Spencer, New York, USA
In Ithaca and you dont want to park that beautiful Class A at Walmart? Park it in beautiful Danby.
Were in the country where u can see all the Beautiful Stars !!
Romtype
Privat rom
---
Eiendomstype
Hus
---
Plass til
2
---
Soverom
Spencer, New York, USA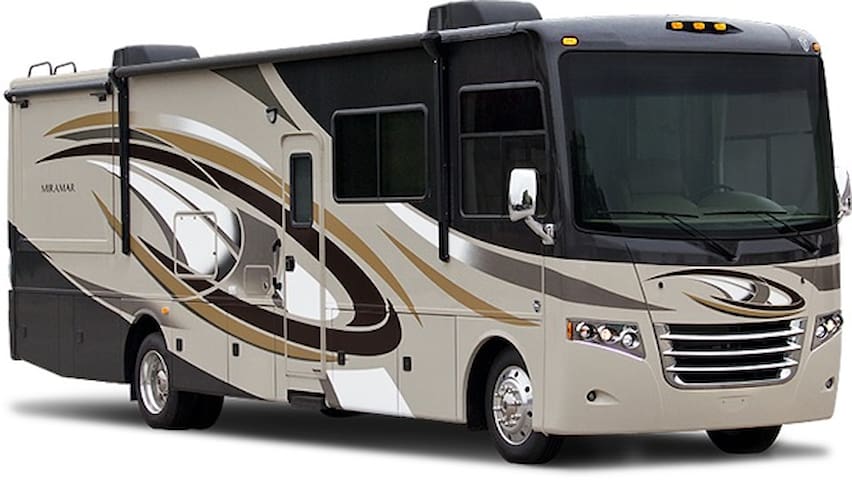 Do you want to sleep on the couch? If so bring your sleeping bag, pillow and a towel for the shower !!! FYI its a pretty soft couch !!!
Sleeping on the couch is unique and not in a tinyhouse village with no heat no running water and no bathroom no power and no shower.
In the country 5 minutes from Ithaca College and 10 minutes from Ithaca.
Mark was great! Upgraded me free of charge and was fvery friendly and welcoming
Johnny
2016-11-13T00:00:00Z
Romtype
Delt rom
---
Eiendomstype
Hus
---
Plass til
1
---
Soverom
Spencer, New York, USA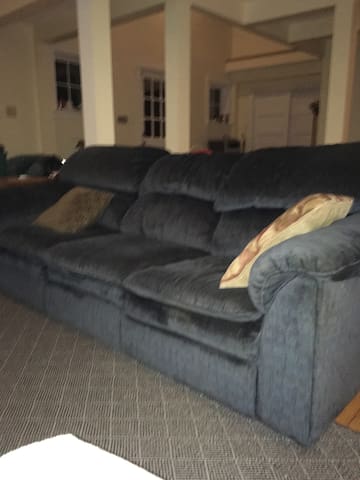 Nice quiet room 5 miles minutes from ithaca ... this is our second room where we are in the process of redoing it new drywall paint and etc.
We are currently redoing this room and its up to fresh paint. The room actually has a double bed and a twin bed in it. This is a great under construction room or a diamond in the rough with comfortable beds and heat !!!
Were in the country and its quiet.
Mark is very nice and friendly. He gave us many useful information about the area and provided everything we needed during our stay. The house and room look like they are still under some remodelings. Maybe he needs more time to get the house renovation done and this place would become more comfortable. Generally we had a good stay with his family.
Trung (Eric)
2016-10-10T00:00:00Z
Our family stayed at Mark's Place during "parents weekend" while visiting our son at Cornell. Before coming up, Mark quickly answered all of our questions and while driving up he even suggested a Diner to stop at for supper (yummy food!). Upon arriving at Mark's Place, he and Bayer (his dog) graciously greeted us and had light snacks and beverages available. After giving us a tour of his house he made us feel very welcome and comfortable. We were shown to our room which was homey and cozy. Even with all the construction/renovation, Mark did everything possible to fulfill our requests, and made us feel like we were right at home! We stayed for 3 nights and Mark generously allowed us full use of his kitchen and we made breakfast for ourselves every morning. The location is beautiful, there is a pond just down the block and you can walk around his 5 acre back yard. Location is a convenient 11 minute drive to downtown Ithaca. Looking forward to another wonderful visit soon!!!
Joe
2016-10-24T00:00:00Z
Romtype
Privat rom
---
Eiendomstype
Hus
---
Plass til
3
---
Soverom
Spencer, New York, USA
Enjoy rest and relaxation in our secluded home or hike through our forest, 30 minutes south of Ithaca, NY. Space, peace, and light awaits you in your 5 Private room(s) with 3 private bath(s) or our entire home. Sleeps 10
Warm, 2500 sq. ft. inviting home is a split level ranch that is a great spot for groups to gather, secluded in nature. House comes with 5 total bedrooms. 3 br/2ba upstairs along with kitchen, living room, picture windows looking into the secluded forest/pond, and fireplace. Downstairs includes additional 700 sq ft. private living room/bedrooms (one Queen memory foam and one futon)/fireplace w/additional full bathroom downstairs. Choose between renting room(s) or entire home (see my additional listing)
My home is secluded in the woods, but only 1.5 miles to a Shur Fine grocery store, Dollar General and a few local pizza shops and diners in the town of Spencer. I'm within 30 minute drive of Ithaca, Elmira, Watkins Glen
We and one another family spent 2 days at Amber's house over the Easter weekend. This was our first Airbnb experience, so we were not sure what to expect, but we came away impressed by airbnb and experience with Amber. The house is in a remote area - but beautifully located and tastefully done up. We had the whole house to ourselves, but Amber made sure we were fine through her text messages and instructions. We had no trouble at all. The Hot tub was such a great addition- we spent a lot of time in it. It was a great time to rewind and reconnect with old friends and this house provided us the right atmosphere to do that.
Priya
2015-04-05T00:00:00Z
This was a wonderful space that we shared with a few of our friends and our children for a few days over New Years. Kitchen was well equipped and lots of indoor activities for kids and adults. The outdoor space was beautiful and we'd consider returning during warm weather to take advantage of those amenities. Amber was a great host!!
Asheley
2017-01-02T00:00:00Z
We had a great time in Amber's home! The setting is gorgeous and provided the privacy we were looking for! 11 of us fit comfortably, and having 3 full baths was really helpful when getting ready! The setting of this house is why we chose it! The pond, trees, outside deck, & hot tub, is where we spent all of our time! Very secluded and private! Amber was easy to contact and communicate with! Thanks for a great stay!
Kala
2016-08-08T00:00:00Z
Amber's home is lovely and immaculate. We were there for Cornell's graduation, and it provided the 7 of us a terrific place to gather. Unfortunately we did not have time to enjoy the hot tub or pond- maybe next time!
Christine
2016-06-01T00:00:00Z
We had an amazing stay at Amber's home! We were a group of 9 and there was more than enough room for all of us. We were up for a long weekend in the fingerlakes and had no difficulty finding a limo to pick us up. The property is pretty secluded but not too far from a nearby grocery store etc. The firepit, trampoline, hot tub and pond were all used by our group. It was great having 3 full bathrooms between our large group, and the large kitchen and grill made it very convenient for cooking at the house. We would absolutely stay there again for future trips to the fingerlakes!
Irina
2016-04-25T00:00:00Z
When planning a sort of "weekend reunion" for my friends and I in the Ithaca area, I found Amber's lovely home nestled in the hills of Spencer, NY. As listed and as I can confirm, the house can accommodate 10+ people, and it did quite comfortably. Whether we were relaxing down near the pond and fire pit or lounging on the deck around the hot tube, we all felt quite at home. So thank you Amber for opening your home up to us, I would definitely recommend it to others and stay there again. P.s. We also did a bunch of grilling over the weekend and only left the house for supplies, however I would highly recommend the local pizza place in town (I forget the name).
David
2015-07-19T00:00:00Z
Amber's place is definitely one of the best places I have stayed at. Everything was as per what we expected. Clean rooms, big spacious living rooms and a hot tub that was absolutely magnificent. The kitchen was really easy to use and all the basic amenities were there. The interiors are great and if you're looking for a peaceful getaway in the midst of nature, look no further.
Karthik
2016-11-25T00:00:00Z
This home was a great place for a large group of my friends and me to stay over New Year's weekend. 14 people were able to fit in the house with two couples sleeping on air mattresses. We're all comfortable with each other and close quarters (and most of us are couples that would share beds) so it worked out very nicely :). We enjoyed the hot tub throughout our stay, and even made a fire in the pit in the backyard near the pond - very scenic and private. The kitchen had pretty much everything in it we needed to cook each day, and we loved having the speakers available to play music while hanging out. Some of us went hiking at a trail nearby one of the days. We also hired a limo to take us on a winery tour on Seneca Lake on another day. Lots of great options within 30 or so minutes from the house. Amber was a gracious host and perfectly communicative - we knew what needed to happen and she checked in at just the right times without being overbearing. The only critique of the home I will make is that the house's water smells very badly of sulfur - it's extremely potent. It was a bit jarring at first, when someone just washed their hands in the sink and we all could smell it. Despite the water probably being totally drinkable, none of us could bring ourselves to drink it because of this and had to go out and buy a large amount of bottled/jugs of water as soon as we arrived. We had already planned on bringing our own paper products - toilet paper/paper towels/garbage bags, but noticed there really weren't any extras when we arrived, so I would expect to do the same for your stay. I would definitely recommend this as a relaxing, cost-effective, private place to spend some time, drink some wine, and enjoy! Thanks to Amber and her family for letting us stay!
Allie
2016-01-03T00:00:00Z
Romtype
Helt hjem/leilighet
---
Eiendomstype
Hus
---
Plass til
10
---
Soverom
Spencer, New York, USA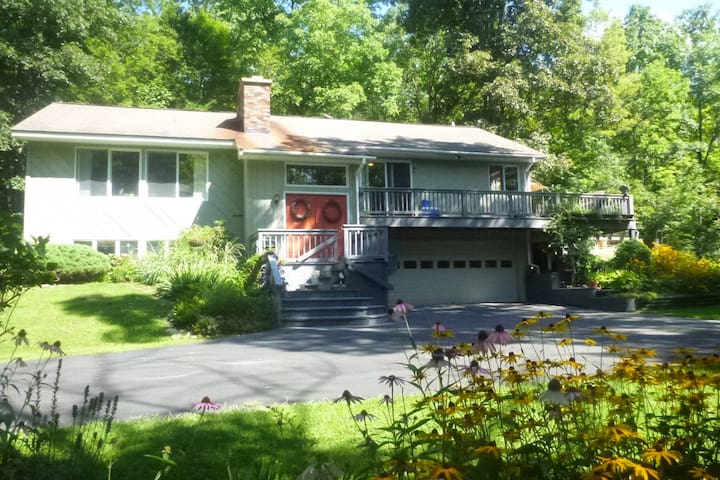 Small private bedroom on a second floor. Share the rest of the house with the owner. Spencer is located 20 miles south east of Ithaca, New York
Romtype
Privat rom
---
Eiendomstype
Hus
---
Plass til
1
---
Soverom
Spencer, New York, USA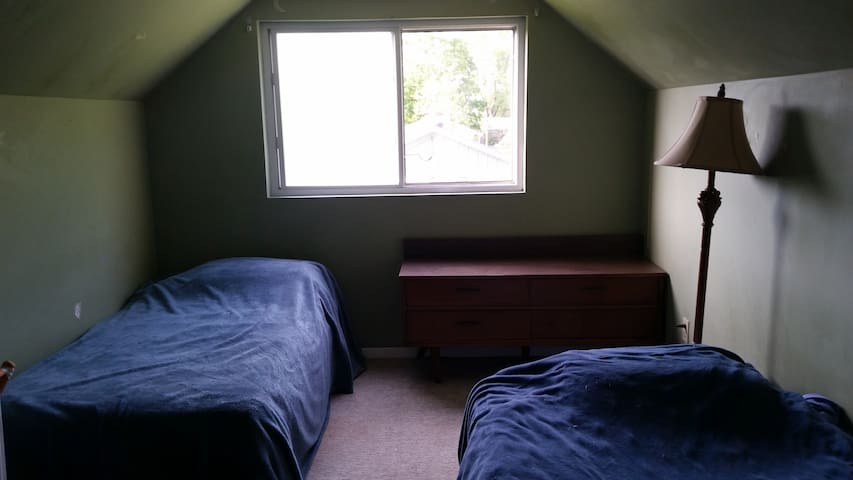 Enjoy rest and relaxation in our secluded home or hike through our forest, 30 minutes south of Ithaca, NY. Space, peace, and light awaits you in your Private room(s) with private bath(s) or our entire home. 2 private br, 2 private baths avail.
Home is split level ranch. Choose between a private room/private bath upstairs with shared kitchen, or enjoy your own secluded 700 sq ft. private living room/bedroom/fireplace/bathroom downstairs (One Queen memoryfoam bed and one futon). If you're renting a room, you will share the home with me and my friendly five year old daughter.
An absolutely wonderful experience. Amber and her daughter were a delight and the perfect hosts. Clean, well appointed living space, two very comfortable futon beds, a comfortable couch and ideal entertainment center. The view of the pond from the house deck is truly spectacular. The comforts of a modern home in an idyllic setting. Could not be more pleased. We very much would stay again.
Nico
2015-07-26T00:00:00Z
雖然很可惜沒跟房東碰到面,但在聯繫過程Amber非常快速回覆所有問題。房子很乾淨很舒適,尤其是外面大草原及池塘讓人覺得身曠神怡! 真的很適合有帶小孩出遊的人入住。
Mei
2016-09-06T00:00:00Z
Great place to spend the night while visiting Ithaca! The house and rooms were lovely, clean, and quiet, set in the woods near a beautiful pond. Amber was a terrific host and I felt very at home and comfortable here. Would definitely return.
Mariah
2015-10-10T00:00:00Z
It was a pleasure staying with Amber. They have a very welcoming home and it was almost as if we were visiting old friends. The place was comfortable, clean and tidy. We asked for the hot tub and Amber made sure it was perfect temp when we arrived. The home is located beautifully in the forest. We would definitely come back!
Andreas
2015-03-31T00:00:00Z
Amber's place was exactly as described, possibly even better! The serine location was beautiful and peaceful. Unfortunately, we arrived late and left early the following day so didn't get to enjoy the hot tub. We were, however, honored to have met little Princess Zara before we left! She was so polite and sweet...I would venture to say meeting her was a highlight of the wonderful visit!!!
Dr Jason
2015-11-07T00:00:00Z
Amber was a wonderful host! She was extremely generous with her home, which was beautifully furnished and spacious. She provided ample sleeping options, offered us coffee and pumpkin bread, and let us play with her adorable daughter. As the description promised, the house had a jacuzzi and was located in a peaceful neighborhood only 30 minutes from downtown Ithaca. This was the ideal Airbnb experience and I highly recommend Amber's home to other travelers.
Lauren
2014-10-12T00:00:00Z
This was our second stay at Ambers and it was an amazing, relaxing experience. Amber accommodated a very last minute request which I so appreciated! We got to enjoy the hot tub this time and enjoy the serenity her home and setting have to offer. overall a 5 star experience!!! We WILL be back!!!
Dr Jason
2017-02-25T00:00:00Z
We had a fantastic time staying at Amber's place! Everything was very clean and welcoming, and Amber was there to greet us when we arrived. The hot tub is very nice, and we found that the futons downstairs were comfortable. Amber had everything we needed to know written up and readily available for us to look at. Would definitely come to stay here again!
Heather
2016-07-02T00:00:00Z
Romtype
Privat rom
---
Eiendomstype
Hus
---
Plass til
6
---
Soverom
Spencer, New York, USA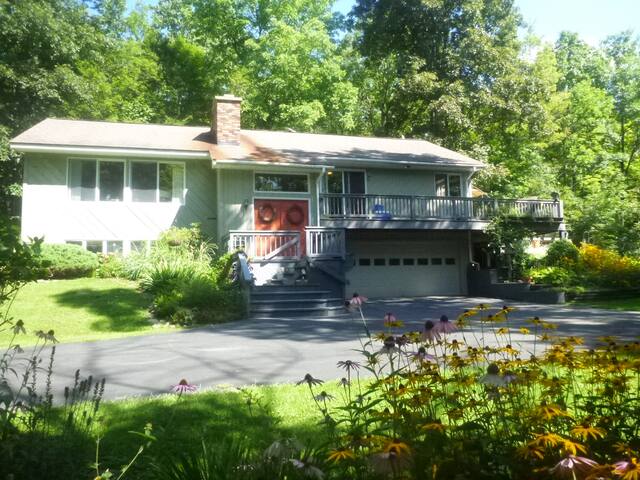 Close to Ithaca, State Parks, Cornell University, Ithaca College, TC3, Wine Trails, Ithaca Beer, and Watkins Glen. An amazing house for entertaining. Located in a picturesque, country setting with plenty of room for everyone. Pet friendly home with outdoor area featuring gas fire pit and outdoor games. Comfortable beds. Quiet setting with plenty of parking. Nature's paradise. Good for couples, solo adventurers, business travelers, families (with kids), big groups, and furry friends (pets).
Located in a quiet, country setting
Great country setting. Beautiful trees and stunning views. Hike the local gorge.
Romtype
Helt hjem/leilighet
---
Eiendomstype
Hus
---
Plass til
16
---
Soverom
Spencer, New York, USA
Single family home located on Binghamton's west side. Conveniently located near Binghamton University and easily accessible to I-81 and route 17/I-86. The house has two full updated bathrooms, kitchen with a dishwasher, back patio with table and access to a propane grill. Window air conditioners are available in each bedroom during warmer months.
Kevin's place was very well maintained, neat and centrally located on a quiet street. We found everything we needed. We liked the older character of the home. We will certainly see if this place is available when we visit the area again!
Michael
2016-09-18T00:00:00Z
Kevin's place is extremely clean, super nice, and definitely would stay again if in the area.
John
2017-02-05T00:00:00Z
Kevin was an excellent host! He made my group feel welcomed and his home is very comfortable and tidy. We loved the available entertainment system and his promptness in responding to any concerns. Will rent from again if in the area.
Robert
2016-08-29T00:00:00Z
Everything was great, welcoming home and great communication. Highly recommended!
Brandon
2016-12-26T00:00:00Z
Romtype
Helt hjem/leilighet
---
Eiendomstype
Hus
---
Plass til
4
---
Soverom
Binghamton, New York, USA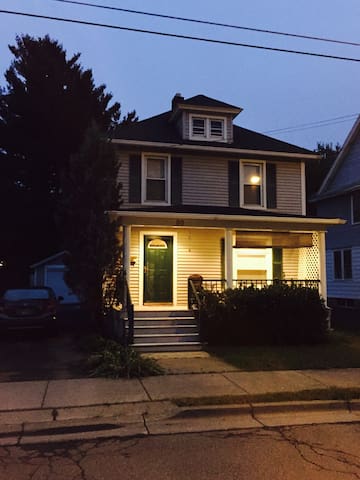 Lovely B&B-style room in a beautiful, hardwood floor home. On direct bus line, close to downtown, Recreation Park, Binghamton University, Lourdes Hospital & 24/7 Emergency Room, and several grocery stores. Perfect for short-term stays while attending Binghamton University's orientations, tours, or more long-term stays for medical rotations in Binghamton hospitals. Couples, solo adventurers, business travelers, families, and furry friends welcome! Breakfast and toiletries provided.
Lovely B&B-style room in a beautiful, quiet neighborhood. This large room has a brand new full-sized bed with four down pillows and 1000-thread count sheets. The bathroom has a beautiful antique claw bathtub. Enjoy morning coffee and breakfast in a family-style kitchen or on the wrap-around porch! Beautiful, safe location in Binghamton, NY. A short drive/walk to grocery stores, hospitals, restaurants, hikes, and Ithaca, NY! Guests have a private, quiet space of their own, and are welcome to share the kitchen with us.
This is a very safe, family-oriented neighborhood. Incredibly quiet and plenty of parking at all times! We are a short drive/walk from downtown, grocery stores, restaurants, etc.
Romtype
Privat rom
---
Eiendomstype
Hus
---
Plass til
2
---
Soverom
Binghamton, New York, USA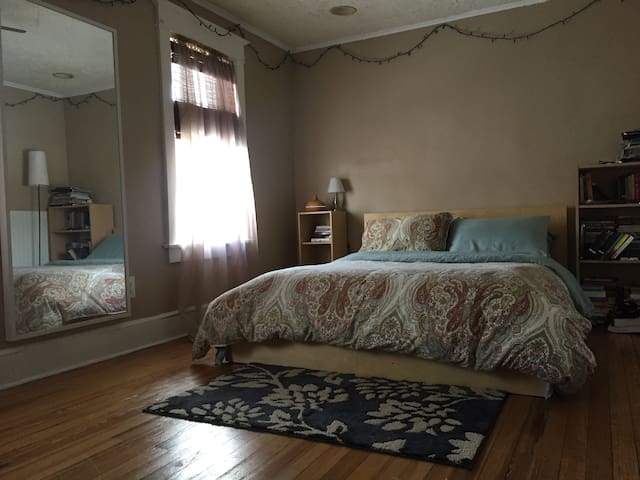 2 rooms in the apartment are rented so please be respectful, we just installed a fenced and new blacktop. The kitchen tiles are newly remodeled and is about a 10 minute walk from the downtown Binghamton attractions.
The space is on the second floor.
You get what you pay for. Good for one short night stay! Sandra was very nice.
Alexis
2017-01-01T00:00:00Z
This is a good accomodation if you're looking for a budget place to sleep. Sandra was very very nice. The neighborhood is not the best but it was quiet and I didnt have any issues although my car was full of stuff. There is a kitchen but it is not really very well equipped for cooking even minimally. (No cookware, pots, minimal dishes available). Bathroom was not so clean but ok. Overall a passable budget accomodation that Ill probably use again. Thank you Sandra.
Heather
2017-01-13T00:00:00Z
Accurate description on this cozy spot. Super easy walk to anywhere you want to go either downtown or on the west side. Sandra was an amazing host, extremely friendly and great with communication. Would definitely stay here again.
Jeff
2017-03-21T00:00:00Z
It is a really cheap offer and you should reconsider that before you book.
Fabian
2017-03-25T00:00:00Z
I stay in this place for one night during my trip to Binghamton. I feel that it is definitely worth its price. Sandra was very welcoming and helped me to find everything I need for my stay that night (i.e. ironing board)
Ekaterina
2016-12-09T00:00:00Z
It's very nice to stay there, the room is comfortable, and people are excellent!
Yueming
2017-03-07T00:00:00Z
Very easy check-in. Clean, quiet apartment very close to downtown and public transportation. Great value. I would definitely stay there again.
Pat
2017-02-15T00:00:00Z
The room was exactly what we were looking for and Sandra went out of her way to help. Thanks!
Henri
2016-11-13T00:00:00Z
Romtype
Privat rom
---
Eiendomstype
Hus
---
Plass til
2
---
Soverom
Binghamton, New York, USA
Privacy of downstairs - 2 BRs w/ queen beds, a TV in one bedroom, a full bath w/shower & a family room w/ TV, queen pull-out sofa & gas fireplace. Heated swimming pool, deck, fire pit & large backyard, kitchen upstairs may be used by guests. Kids U5 free.
Guests will have full privacy in the downstairs of the house with exception of the laundry room which I will need to use when long-term guests are here. The living area is equipped with a small refrigerator, microwave and keurig coffeemaker. A continental breakfast is provided - yogurt, fresh fruit, cereal, oatmeal, homemade sweet breads, granola bars, juice, coffee, hot chocolate and tea. There is a high chair and pac n play available for guest use.
Located in a neighborhood which is quiet. Back yard is very private. Parking is available in the driveway or on the street in front of the house.
The communication with Karen was very timely, informative and wonderful. She gave us all the information we need for our stay ahead of time. The house is in a lovely and quiet neighbourhood, with plenty of street parking. On the day of the arrival, we managed to be late again, yet she waited for us to show all the amenities (which included tea/coffee, and some snacks for the morning). The house was as described, very comfortable, clean and welcoming. Our only regret that we didn't get to spend a lot of time there as we were passing by, but hoping to make that up by staying over sometime soon (that is if she take us back again ;)
Ann
2016-06-06T00:00:00Z
Karen is a very nice host. She loves my kids just like her grandchildren, which touched my heart. And the house is very nice and clean too! We are surely love to stay again!
Liz
2016-07-12T00:00:00Z
Karen was a wonderful host with lovely and private accommodations. She replied promptly to our inquiries. We would stay there again for sure.
Ghislaine
2016-07-28T00:00:00Z
It was nice experience. We had four guests and arrived at night after a long drive from upper New York. Karen's rooms gave us a comfortable break. We had good talk on many things. She has provided different snacks for breakfast. I forgot bringing my razor when leaving ,but luckily Karen contacted me right away and promised to mail it to me. I really appreciate her kindness.
Tao
2016-06-13T00:00:00Z
Karen's place was perfect for us. We had a lots of room, there was coffee, tea and fresh baking ready for us. The town is lovely and there is a great playground at the nearby school, which our kids loved. Karen was very helpful and friendly. This was also a great place to stay with young children as Karen had many toys they could play with. This was everything we hope for from an AirBnB experience and we would absolutely stay again.
Daniel
2016-10-07T00:00:00Z
Karen was a really nice host, very kind, helpful, available. It was our first stay in a countryside house in USA, and it would definitely be a great memory for me and my family. The house is in a nice and quiet neighborhood close to Binghamton, pretty lightly for a lower area. We could make a laundry, enjoy music, and relax. Moreover the fridge was full of everything we need for breakfast, plus water/snacks.
Paul
2016-08-01T00:00:00Z
Karen's place is neat and cozy with nice neighborhood. The house is full of lovely pictures, just like grandparents' house. In addition, our family like the homemade cakes, that Karan kept in the little refrigerator. The place is recommended.
Suqin
2016-08-15T00:00:00Z
Очень уютная и чистая квартира. Очень распологающая хозяйка.
Regina
2016-10-18T00:00:00Z
Romtype
Helt hjem/leilighet
---
Eiendomstype
Hus
---
Plass til
6
---
Soverom
Binghamton, New York, USA
Enjoy a stay in a period Victorian house, centrally located and close to major highways and fine restaurants. I will prepare you a healthy breakfast and I am happy to be your arm-chair guide, while you are in Binghamton.
I have two guest rooms at the Queen Anne Bed and Breakfast. This listing is for Room #1, the larger of the two rooms, a sunny space with a newly acquired pillow-top queen-sized bed. The room contains a dresser and a desk, as well as space to accommodate a single airbed for an additional $10 per night. The room is air-conditioned. My two guestrooms share the full upstairs bathroom, which has an enormous claw foot tub with a hand-shower. I supply shampoo and a hair dryer for your use, and there is a drawer where you can store personal items while you are visiting. I also have a half-bath off the kitchen. I provide an informal, self-serve breakfast--granola or oatmeal, toast, fresh fruit, coffee and tea. I will do my best to satisfy your dietary cravings or restrictions. Weather permitting, we have breakfast in the garden. I offer wireless Internet access throughout the house, off-street parking, and kitchen privileges. You are always free to brew yourself a cup of coffee or tea. I encourage travel-weary guests to do their laundry and make themselves a home-cooked meal. I also have an iron and an ironing board that you are welcome to use. My house was built in 1892 for Chester Larrabee, co-owner of the Sturtevant-Larrabee Company, Builders of Fine Carriages and Sleighs. I purchased the house in 1990 from the estate of Helen Larrabee, Chester's youngest child, who lived here her whole life. The house is well-preserved example of the Queen Anne style, with chestnut and oak moldings that have never been painted, pocket doors, three fireplaces, a laundry chute, and potato bins in the pantry. It gives me great pleasure to share it with you.
My house is located in an urban neighborhood close to downtown and very close to bus routes. It is about five miles from Binghamton University, and BU Blue Buses travel to and from there regularly. There are several excellent restaurants nearby. I've got menus on hand. You can get more information about them and check out other Binghamton a(EMAIL HIDDEN) For those of you who like to go running or walk your dog, Otsiningo Park is just a short drive away.
Mary is the absolute best! She is delightful company, and her house is amazing. We especially loved the homemade granola in the morning, the clawfoot bathtub, and Einstein the wonder pup! Mary also took a fair amount of time to shat with my husband and I about the area--what a windfall to have an expert tour guide.
Sarah
2016-05-02T00:00:00Z
We enjoyed our stay with Mary, Eistein, and Bayliss! We arrived later in the evening than we had anticipated due to traffic, but Mary graciously stayed up to welcome us and Einstein kindly showed us to our room. She offered us a delicious breakfast in the morning (local granola and yoghurt) and we enjoyed a tour of her beautiful home and backyard garden. The rental rooms upstairs are comfortable and convenient to a private bathroom (complete with a gorgeous claw foot tub). Thank you Mary, Einstein, and Bayliss! We will be back again!
Megg
2015-08-26T00:00:00Z
Lovely old Queen Anne house with lots of original woodwork and character. Descriptions and pictures were accurate. Mary was warm and welcoming and I enjoyed chatting with her in the evening. The breakfast granola she made was too good to describe. I may stay here again just for another bowl. Mary was full of helpful advice, including a recommendation to spend an hour at the Bundy museum (who knew that IBM started out making time clocks???). If you like diners, Danny's Diner a few blocks away on Main Street is great (Danny's mother bakes the pies - try the sugar-free lemon pie). I loved this place and will return next time I'm in Binghamton. I recommend it.
Tom
2014-10-24T00:00:00Z
My boyfriend and I really enjoyed our staying in Mary's place. This is an old house with great decoration. Many travelers have been here and put their hometowns on the map. The breakfast Mary provided us was fantastic and I really enjoyed our conversation! Highly recommended.
Emma
2016-08-11T00:00:00Z
Anyone who appreciates a beautifully-crafted Queen Anne home that's been lovingly restored and lived in will enjoy a stay at this B&B. Mary welcomed us warmly and was quick to provide us with whatever we needed (an excellent iron!). Breakfasts of home made granola (the smell of it baking was divine), fresh fruits and freshly brewed coffee were made even more enjoyable with the company of the pets Einstein, Bayliss and Sophie, the selection of newspapers, and most of all, spirited conversations with Mary. Our bedroom was spacious and nicely appointed—the bathroom, with its big claw-foot tub and amazing inlaid wood floor, was outfitted with a fine selection of toiletries. Lovely gardens, off street parking and the central location made it a perfect choice for our visit.
Larry
2014-08-05T00:00:00Z
My husband and I were looking for a place to spend the night on our way up to the fingerlakes and we're glad we went with Mary's home. Although our stay was really short, it was wonderful! The room was just as shown in the picture. The house itself is even more impressive in person. Lots of great antiques throughout. The bathroom was my favorite part of the house - beautiful tub with lots of handmade wonderfully scented soaps. Mary was a great hostess. Prior to arriving she gave us some great recommendations for dinner/night out in downtown Binghampton (which by the way is walking distance) and also really helped us out by recommending a local autoshop since we got a flat on the way up from NYC. Breakfast was delightful. Delicious farm fresh produce, granola, coffee, bread, etc. accompanied by great conversation. Would definitely stay again if we ever find ourselves back in Binghamton. +++Highly recommend +++
Kristina
2015-09-06T00:00:00Z
We loved our stay at Mary's! Her house is beautiful and well cared for. Mary was, herself, delightful - wonderful to chat with and extremely helpful (she seems to know everyone in Binghamton!)
Mary
2017-04-02T00:00:00Z
I have stayed at Mary's place many times and each stay has been excellent. I highly recommend this Airbnb stop to any travelers in the area!
John
2016-12-15T00:00:00Z
Romtype
Privat rom
---
Eiendomstype
Hus
---
Plass til
3
---
Soverom
Binghamton, New York, USA
The room in the basement has its own private bathroom available for you. Its a small space and is good for one night. The ceiling is low i wouldn't recommend it for people 6 foot and taller. A nice fit for one person since the space is a tight fit.
The house is located on a hill in binghamton New York not too far away from the city but not too close to the mountains a nice in between. We are located on a steep hill, most people are surprised when they see it.
It's quiet, not too far from downtown. Close to the highway and walmart.
Quiet neighborhood, great value, Sandra was such a sweet hostess.
PAT
2016-08-28T00:00:00Z
This is a great, affordable option for one or two nights. Sandra and Ms. Tee were incredibly welcoming, and were very generous with their time. They made sure that I felt comfortable and that I had everything that I needed. One aspect of note is that this room has a very low ceiling- I am 5'11" and had to walk around slightly bent over so that I would not hit my head. However, this probably would only be an issue if you are tall and are staying for a long period of time.
Anne
2016-12-14T00:00:00Z
This room is modest but cozy, and Sandra and Ms. Tee are warm and friendly and very respectful of my privacy. I find them delightful hostesses!
Linda
2016-08-15T00:00:00Z
This room was as described, but could use a good cleaning. Sandra and her mom couldn't be nicer and it is in a nice neighborhood
Pati
2016-08-18T00:00:00Z
Nice place if your just stopping through town. I tend to stay to myself when traveling, but the host seemed very nice and accommodating.
Alex
2016-09-02T00:00:00Z
The room was basic, no frills but with all the necessities I needed for my one night stay. Only met the host briefly but she was friendly.
Kenzie
2016-09-18T00:00:00Z
Sandra and Ms. Tee were very kind hosts. Most other folks only stayed a couple nights, but I stayed here for just under 2 months while working on a campaign. The ceiling is a little low, but I'm 6 feet and only had to bend my head slightly. The private bathroom is really a great addition. Ms. Tee made me coffee every morning, and was great company.
Marc
2016-11-09T00:00:00Z
Very hospitality host and super nice people. The place is on the top of a very steep hill with very good view of the city. When I arrived in the evening it seemed I was driving on Moutain Washington:) (make sure you have good brake for your car if you are trying to park on the street). The room is in the basement. I had a very good night sleep since it was very quiet. The room is not air-conditioned and the host does not have a wake-up call service in the morning instead the wake-up call was done by a barking dog:) The hosts are very nice and kind and Ms Tee is so kind and cooked hot coffee and provided nice cookies for me before I hitting the road in the morning. Overall it is a very nice experience. Thanks Ms Tee and Saundra!
Joe
2016-09-08T00:00:00Z
Romtype
Privat rom
---
Eiendomstype
Hus
---
Plass til
1
---
Soverom
Binghamton, New York, USA
The Peace Pad! A wonderfully peaceful place to land! Eclectic & tranquil, feng-shui principles applied. Ample gathering places indoors & out. Convenient location, 7 min. drive to BU Binghamton's charming Westside Very bright, high ceilings, wood floors,1898 Victorian Amenities: Chemical free environment, RO water filter system & Shower filter Breakfast: w/ advance notice $15/person/day Eggs,bacon,homemade muffins, fruit... Food allergies? I can accommodate! Complimentary café & tea
Romtype
Helt hjem/leilighet
---
Eiendomstype
Hus
---
Plass til
5
---
Soverom
Binghamton, New York, USA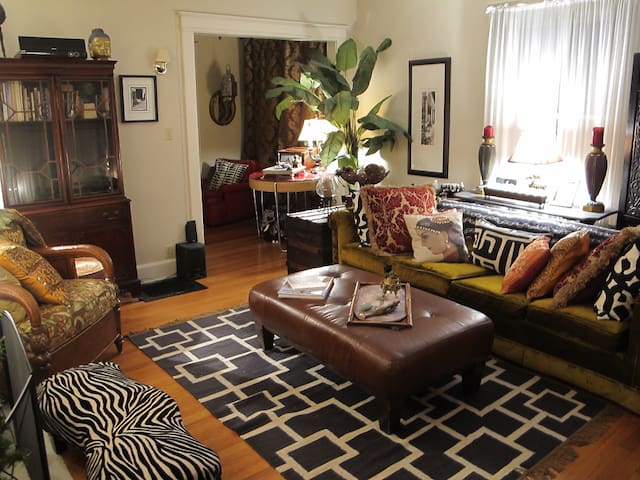 Park House is a B&B located in the heart of Binghamton. It has 5 bedrooms, each of which can accommodate 2 people plus an additional 2 people on rollaway beds. Two large reception rooms for events. Large kitchen, living and dining areas.
Park House is in a quiet, walkable neighborhood.
Our party of 8 people had a wonderful stay at the Park House. We occupied the whole house and never felt crowded or cramped. The bedrooms were cozy and lovely, and the downstairs areas were perfect for gathering, talking, and hanging out. We made several meals in the kitchen, which was large and well-stocked with cooking tools. (One note: the convection ovens are tricky!) The hosts made us feel welcome and made communicating easy.
Jim
2017-02-26T00:00:00Z
Our hosts were wonderfully welcoming and the home was a little oasis in the midst of Binghamton.
Sara
2015-05-03T00:00:00Z
My group had a wonderful time at Park House. The hosts were extremely welcoming and provided a delicious breakfast for us. The house is large, well furnished and very clean & comfortable. The bedrooms were each large and equipped with all the towels and necessary toiletries. There is no better place to stay in Binghamton - it was such a dream to find this place I stead of the usual boring corporate hotels in the area. Would love to come back again and again.
Kait
2016-04-17T00:00:00Z
Wonder stay here
Tia
2016-07-15T00:00:00Z
Host was extremely accommodating, the place was very lovely and comfortable, it was the perfect spot for our get together.
bob
2015-09-07T00:00:00Z
The house was beautiful and just as described.
Jillian
2016-06-20T00:00:00Z
Nice clean place... enjoyable stay
Karan
2017-02-19T00:00:00Z
Romtype
Helt hjem/leilighet
---
Eiendomstype
Hus
---
Plass til
14
---
Soverom
Binghamton, New York, USA