Our little log cabin is back in action! We are back in the main house after living in the cabin for a year: a fun adventure! About the cabin, it's mostly heated by the wood fireplace. Kitchenette has microwave, 1 burner, mini-fridge, dishes etc. upstairs is full-sized bed
Sweet restored stockade style log cabin right on Haller Lake. You would never know you were within the Seattle city limits! Haller Lake is a quiet, natural spring fed 15 acre lake surrounded by private homes. Custom woodwork inside with artful touches. Sleeps 2 upstairs in full sized bed. Main floor has comfy sofa, kitchenette with microwave, single induction burner cooktop, coffee maker, toaster and small refrigerator, teapot, dishes and glasses; 3/4 bath with new stone tile shower. This cabin is heated mainly with the wood fireplace. The photos show the old wood stove. You can now watch the flames and there is a fan to spread the heat around a little better. There is also a deLonghi oil heater to add a little more heat when needed. There is no TV but there is WiFi. Bring slippers, the stone floor gets chilly. Fish from the dock or take a ride in the paddleboat. We just got a canoe! (The boats are out of the water in the winter). No pets please! We are now living in the main house. We have an Australian Shepherd and a flock of chickens and ducks (the dog and chickens do not come into the cabin, just in case you were wondering) Parking is shared with the main house. It's close to Northgate Shopping Mall with shops, restaurants and Thornton Place Cinema. A few blocks to Northwest Hospital and the new proton center (look up ProCure Center) The lake is about 20-35 minutes from downtown Seattle via I-5 or highway 99 (can be a bit more in heavy traffic). Bus route #346 has a stop at the end of the driveway. If you are interested in having a party or many friends over, please clear it with us before making your reservation. We have limited parking and there is no parking down our communal access road. Check out by noon, Check in no earlier than 2pm, sometimes later if I can't get the cabin ready because of work. To be agreed upon according to schedule. If you want an early morning check-in, please book the night before.
Roberta & Dan's cabin is absolutely wonderful! I booked it for my visiting in-laws and they completely adored the location and amenities. My father-in-law especially loved getting up early and going fishing in the lake or just taking in the peaceful scenery. Roberta was easy to work with and very accommodating, even when my in-laws flight was delayed and did not come in until late evening. I would highly recommend staying here to anyone, and we certainly look forward to booking this cabin or their larger house when we have more visitors.
Marisa
2011-09-19T00:00:00Z
We spent four nights at the Haller Lake cabin. It was perfect in every way. It is cozy, romantic, very clean and the lake is right there with boats and everything. Only 10 miles to downtown Seattle. Loved it
Marilyn
2011-11-03T00:00:00Z
Absolutely fabulous !!!! The cabin is cozy and comfortable. The views of the lake are beautiful as well as the surroundings. My husband describes it as a sanctuary in the hustle and bustle of life. We would definately stay again when in the area. Great job Roberta and Dan.....
Carol
2011-09-09T00:00:00Z
We arrived to a warm cabin that hosts had started a fire in for us. They were warm, welcoming, and attentive. The cabin was exactly like the pics and was very quiet and set apart yet easily accessible to the city. We definately hope to stay here again in the future!
Tammy
2012-01-29T00:00:00Z
Roberta and Dan have a great place! We shot a clip for a short web commercial here so we didn't get a chance to stay the night. The place is small but cozy. Best part would have to be the shower! I'm planning on booking this location when it warms up for a little weekend getaway with some friends. Roberta and Dan were very friendly and easy to communicate with. Thanks Roberta and Dan!
Blaine
2012-02-21T00:00:00Z
Impressed with the site, the architectural beauty, the welcome details and the conversations with Roberta, our hostess... We had a total ball in their darling cabin by the lake ;) I took "a ton" of pictures...will post them little by little, to re-live the fun time spent there. Full heartfelt recommendation, from both Robert and myself...:D Always love, light and laughter; Leticia & Robert Hube(URL HIDDEN) (URL HIDDEN)
Leticia
2012-05-13T00:00:00Z
Great location, wonderful little gem in the city. Roberta and Dan's place was very clean. Comfortable bed and linens, which is always nice. Loved it!
Lisa
2017-03-12T00:00:00Z
This cabin was the perfect home base for our weekend. It is so charming and cute. Ideal to really feel like you're getting away while being close to everything.
Josh
2017-04-03T00:00:00Z
Romtype
Helt hjem/leilighet
---
Eiendomstype
Hytte
---
Plass til
2
---
Soverom
Seattle, Washington, USA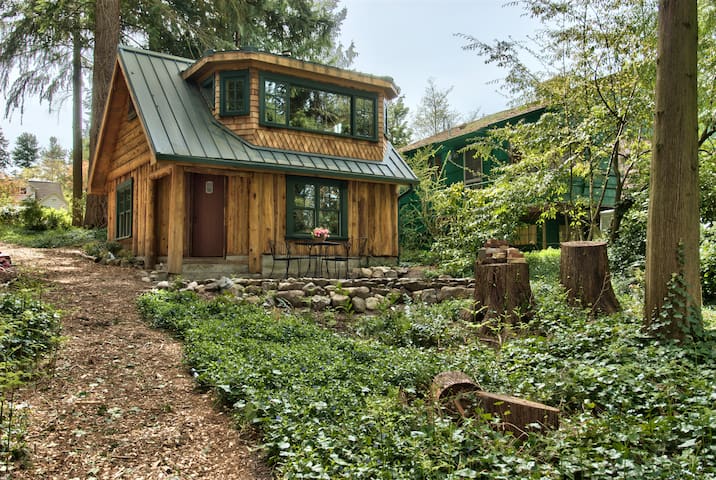 **Please click on "read more" and read everything below before booking** Our place is a bit unusual and we want to be sure it's a great match for your style of traveling. Please read all details below, plus the house rules so you don't miss anything that might really matter to you once you get here (shared bathroom, steep ladder, etc) • This is studio #7 - a private airbnb room designed as a simple & affordable space for arts-related guests near the heart of Seattle's downtown gallery district. But you don't have to be an artist to stay here - all are welcome! • You'll have this private room all to yourself. It's located among 15 other art studios on the 2nd floor of our building in the Japantown area of Seattle's historic International District. It has an upper bed-loft with a luxurious Novaform queen mattress & very comfortable bedding. Please note that you'll need to climb a ladder to get up into the bed loft. The lower portion of the room has a small love seat couch (not meant for sleeping), desk & chair, and other basic furniture. Free wifi and satellite TV w/HBO are included. Shared bathrooms & kitchenette are very close by. ~~~~~~~~~ important notes: • We don't recommend booking this room if you have trouble climbing stairs & ladders. There is a pretty long flight of stairs to get up to our floor (no elevator), and you'll need to climb a steep ladder to get up into the bed area of the loft. The couch is small and is not meant for sleeping. • You'll have access to 2 shared bathrooms nearby down the hallway, one with a shower. You can also use our shared kitchenette area with fridge & microwave (no stove). Although there are other artists working in the building and sharing these common areas, they don't live here and most of the time you'll hardly see anyone around. Check out our many reviews for feedback about the shared bathrooms if you're wondering... • Our listing is a little unusual and we want to be sure it's going to meet your needs before you choose to book it. Please send us a note with the secret code word TEDDY (that's our dog) - this will let us know you hung in there and read the whole thing. • Also before booking make sure your user i.d. profile is complete, including a good clear photo of you. It helps with security in our building to be able to identify guests. Thank you!
This is a fun & interesting international neighborhood with lots of quirky shops and tons of food choices - including a great sushi restaurant right in our building. There's quick take-out to high end, and everything in between. Uwajimaya Asian specialty supermarket is close by, plus coffee shops & bakeries - you won't go hungry in this neighborhood! • Check our online Guidebook to see all the great restaurants & attractions we've bookmarked in our neighborhood. We also have a guidebook in the room when you arrive with some of our favorite spots nearby for food, plus maps and other details. • We're just a few blocks from the baseball & soccer/football stadiums. There are many bars and clubs within walking distance, and even more just a quick bus ride away. Since the building is right downtown you can also easily visit the Seattle Art Museum, Sculpture Park, Pike Place Market, the Space Needle, Experience Music Project, and many other great Seattle attractions. • Please note that we're right next to the Pioneer Square neighborhood, which tends to have some homeless people on the streets. Along with the conveniences of being right downtown - great public transportation & cool places to visit - this is city life and we don't recommend walking around by yourself late at night.
Very Nice room!really clean and lovely.everything was perfect.good location!we will come back!
Benjamin
2015-06-06T00:00:00Z
Excellent experience. The place was clean and quiet, and the hosts were very good with communication. I had to check in quite late, and the process was easy.
Dylan
2017-04-07T00:00:00Z
Friendly hosts, great location (right near fantastic Chinatown restaurants, and super clean, quiet space. We loved staying there and would definitely come back.
David
2015-06-07T00:00:00Z
This was a lovely little downtown spot, clean and comfy and great for our needs. The kitchenette was a nice convenience to have, and it was great to enjoy a cup of coffee in a quiet space before a busy day at the Convention Center. I'd be happy to stay here again in the future!
Sarah
2016-04-09T00:00:00Z
Great experience! Would definitely come again!
Stephanie
2016-02-05T00:00:00Z
This is a really cool loft in downtown Seattle. Very clean and tastefully decorated. Jaq is a great communicator, and everything went very smoothly. Thank you!
Louisa
2012-07-29T00:00:00Z
깨끗하고 좋았습니다
Jiyeon
2014-11-28T00:00:00Z
Room was lovely and exactly as described. Very cool loft bed. Very clean. Bargain!
Niamh
2014-09-23T00:00:00Z
Romtype
Privat rom
---
Eiendomstype
Loft
---
Plass til
2
---
Soverom
Seattle, Washington, USA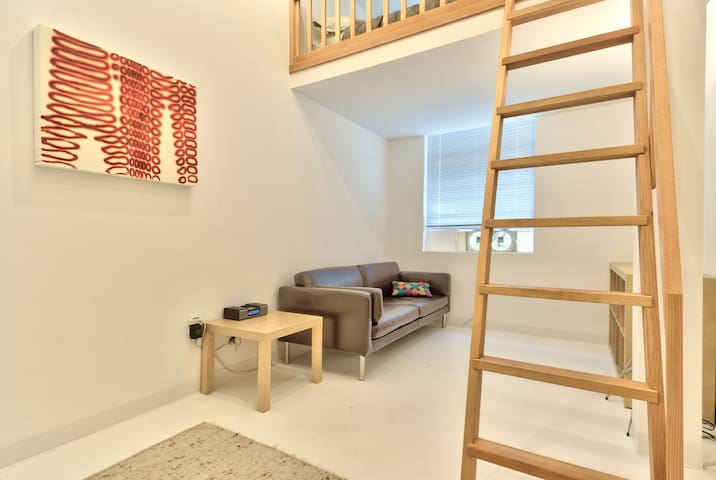 Come stay at my place and walk through a real tiny house on wheels! #deaffriendly Se habla español Je parle français
Check out my house! Just go to You Tube and search: Seattle Woman builds/designs her own Tiny House "Pocket Mansion" I designed and built this tiny house on wheels. Inside I have a loft, closet, laundry chute, downstairs I have a dining table, couch space, a washer and dryer, a fireplace, a desk, a kitchen with seven feet of counter space, pantry space, a convection oven and microwave, two burners, a hand-hammered copper sink, a full size refrigerator, a shower and flush toilet, more storage than I can fill and well over a hundred books! For those who want A LOT of tiny house info; I teach a tiny house class, it lasts about 4 hours. I go over what it takes to build a comfortable, sustainable, and safe tiny house on wheels. The real costs and struggles involved. At the end of the presentation I work with each person individually on how to best go about what they want in a tiny house, or work on a design! $100 for one person, $50 for each additional person. Contact me if you'd like to take the class during your stay! ******IMPORTANT MESSAGE FOR TINY HOUSERS****** Please do NOT send me reservation requests to get info about tiny houses. I cannot share any contact info through that. I am HAPPY to talk to you about tiny houses. Find my company Pocket Mansions, please message me through there. Thanks and I look forward to talking with you!
Staying here you are just a few blocks away from Westwood shopping center. There is a Target, Barnes and Nobles, Bank of America, QFC (grocery store), three Starbucks and lots more.
Had a great time. Very unique experience.
Nick
2016-02-20T00:00:00Z
My first ever tiny house stay. Everything went smoothly aside from the fact that the pipes were frozen for a portion of my stay. They unfroze later in the day on their own, but sometimes you just want a morning shower or to brush your teeth. Since it doesn't usually get this cold in winter in the Pacific Northwest, this probably won't be an issue for other visitors, but it's something to consider. Also, for those who want total quiet, the neighbors have a yappy dog that can be rather obnoxious. The house itself was cute as can be, however, and I wish I could move it to my own backyard!
Sara
2017-01-06T00:00:00Z
Hannah's tiny home is such a great introduction for couples or individuals who are interested in the tiny home lifestyle. Staying overnight in a space under 200 sqft brought us perspective about how we want to live and kindled more excitement about our future tiny home. thanks Hannah! Also Hannah is the best host!
Justin
2017-01-16T00:00:00Z
My boyfriend and I had such an amazing time at the tiny house! It was definitely something different than were used to, and I'm so glad that we chose to experience it! Hannah literally has everything you could possibly need packed into that little house! It's also so cute! She has put a lot of attention to details. Her bathroom sink is super cute! I would love waking up and making Turkish coffee. So delicious! At night, I would make tea and read some of her many books to unwind. We went to downtown Seattle everyday of our stay and it was about a 20 minute bus ride. The bus stop is about a 3 min walk from the house. I strongly recommend staying here if you want to experience tiny house living!
analily
2016-01-19T00:00:00Z
I stayed at a few Tiny Airbnbs during my trip and Hannahs was my favorite. I wish I would have blocked out more time for this place than others. Very homey feel, great lighting with the skylights, not sacrificing on creature comforts. When I arrived, I was pretty hungry. There were a few things to eat in and around her fridge and that was great to hold me over until dinner. Hannah took the time to talk with me about her tiny house design and building considerations, which was very helpful for my own decision making process. She was very knowledgeable on the subject and the things she did in her tiny house showed it. Highly recommended if staying in the Seattle area.
Cody
2017-03-23T00:00:00Z
Hannah build this tiny house and I think that is amazing. I came and went as I please without disturbing anyone. There is also a motion sensor light on her garage that faces the tiny house. It made me feel and more comfortable knowing that it was there. When I came back after dark I could see what I was doing and I felt safe. I also felt safe and cozy in the tiny house.
kathryn
2015-10-19T00:00:00Z
The stay in the tiny house was great. Everything was immaculately clean, and the description was spot-on. Parking on the street was easy, and getting into downtown either by driving or by taking the bus didn't take too long.
Philip
2015-09-12T00:00:00Z
Like most HGTV watchers, we have been intrigued by the Tiny House movement, and we're delighted to use our vacation to experience one! Hannah made it a great experience for us, by providing comfortable linens, a few staples in the kitchen, and a really well-designed space to enjoy. We recommend everyone try this!
Quincy
2016-07-12T00:00:00Z
Romtype
Helt hjem/leilighet
---
Eiendomstype
Andre
---
Plass til
4
---
Soverom
Seattle, Washington, USA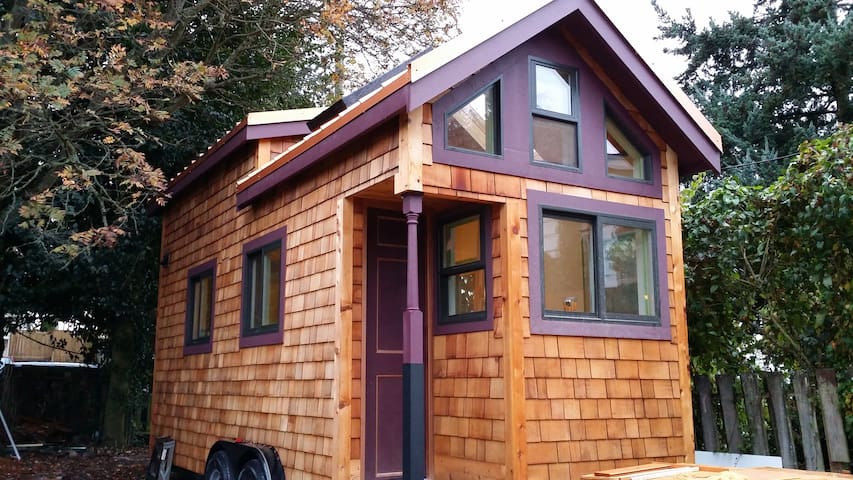 This open-plan one bedroom in a historic building is perfectly situated for a comfortable and convenient visit to Seattle. Ideally located between the Financial District and the Downtown Shopping District, you'll find yourself in a great spot no matter the purpose of your visit. The apartment is a three block walk from the nearest Light Rail Station, making for simple transportation to and from Sea-Tac Airport. All the major Downtown attractions - Pike Place Market, Seattle Art Museum, Benaroya Hall, Pioneer Square, 5th Avenue Theater and many more - are within an easy 10 minute stroll, as are numerous pubs, bars and restaurants. The apartment features high ceilings, classic moldings, bay windows and hardwood floors. Wireless internet, digital cable and a landline phone are all available for use during your stay. The building is secure with a controlled entry. The apartment is furnished to be comfortable and appealing, yours to make the most of during your sojourn to Seattle.
Thank you Lauren. Wonderful space for enjoying the city. Very comfortable and inviting space. Would enjoying staying again the next time we find our way to the city. AND thank you for being so accommodating, friendly and helpful with all the cool recommendations for our night on the town. Very helpful.
Steve
2016-05-26T00:00:00Z
It's been awhile since we stayed at Lauren's lovely apartment and I have been quite tardy in posting my review but I think it shows just how memorable and wonderful our stay was that I am still thinking about our time at her place now!. The location was just grand for walking around downtown and over to Pike's Market. The apartment is well kept and provides you with all the comforts of home. Thanks again, Lauren!
Vera
2011-07-06T00:00:00Z
This cozy apartment is in the middle of downtown Seattle in a "vintage" building tucked amidst hotels and very near the new Seattle Public Library. It is directly across from I-5, so there was quite a bit of road noise, but after a while you just tune it out. The bed was comfy, the kitchen and bath were immaculate. Lauren helped work out picking up a key at an odd hour - thank you, Lauren! All in all, it was a lovely place.
Kristin
2012-08-28T00:00:00Z
We really enjoyed our stay in Lauren's apartment. The location is fabulous. We were able to walk to most of the things we wanted to do and when we did need to catch a taxi there were always plenty right in front of the apartment. Lauren was great and the apartment was really clean. I noticed that some other reviewers mentioned noise, but that wasn't a problem for us at all. We found out during the first night that the heat didn't work, but Lauren was kind enough to track down some space heaters for us so our stay was very comfortable. I'd definitely recommend staying here. The location can't be beat and we really enjoyed having a full kitchen.
Kim
2012-10-05T00:00:00Z
Lauren's apartment was a lovely alternative to the many hotels that are very close to the Washington State Convention Center, which was the site of a conference I was attending. It's within walking distance to the conference ctr, to the Market, to the train, as well as so many other great things to experience in Seattle (but, I'm a crazy walker, so take that for what it's worth!) For those who aren't crazy-walkers, right outside the front door of the apartment building is also a line of cabs awaiting fare, should you need one! The apartment building might give some people pause (it's older and a bit run-down from the outside/lobby, and the lobby kinda smells like cats, truth be told), but it is secure, and Lauren's apartment is clean, adorably decorated and has everything you need for a very comfortable stay. I loved to be able to get away fromt the sensory-overload of the conference I was attending and walk back to the apt., just to relax, take a nap, do a bit of reading. Be aware that the freeway is literally right outside the windows, and traffic roars past at all hours of the night—I wasn't bothered, but some might be, if peace and quiet is your thing. Lauren is incrediby accessible, returns messages with lightning speed, and literally means "Please ask!" if you need anything at all! I loved staying here—it was my first airbnb experience (and first visit to Seattle!) and it was a wonderfully memorable one! I would definitely stay at Lauren's apartment again, and highly recommend it, for a unique, comfortable Seattle experience!
Jennifer
2014-03-03T00:00:00Z
Lauren's apt has so nice location. Just 5-10 mins to Pike market. Lauren helped us for everything about parking, restaurant, landmark.. Staying her apt was so nice experience!
hyunji
2014-10-07T00:00:00Z
LAUREN, Is ridiculously AMAZING. Seriously speaking, if you do not use her charming space when you need a place to chill in Downtown Seattle you are missing out on a wonderful experience. She treats you like you are her friend of 10 years. She wants you comfortable and you will be. I will be returning. Guaranteed! AndreaS
Andrea
2014-11-19T00:00:00Z
Excellent location within walking distance to all the downtown fun spots in Seattle. Apartment was clean, safe, and secure. Highly recommend this cute apartment if you want to be in the heart of the city.
Carin
2016-07-25T00:00:00Z
Romtype
Helt hjem/leilighet
---
Eiendomstype
Leilighet
---
Plass til
4
---
Soverom
Seattle, Washington, USA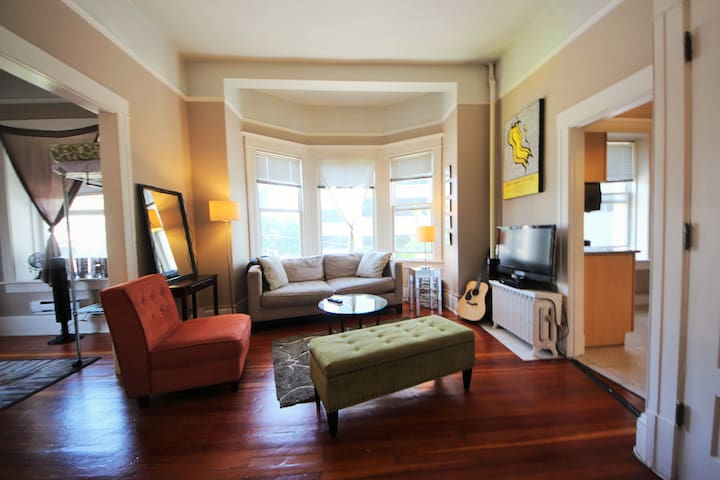 Enjoy modern luxury just a few minutes walk from the Washington State Convention Center, Downtown, SLU/Amazon and Capitol Hill. This beautiful unit is perfectly situated at the center of everything; Whole Foods, many restaurants, shops, and more.
With wide open spaces, a minimum of walls, tall ceilings, hardwood floors and German cabinetry, guests will not only live in one of the more convenient locations in the city, but will also enjoy interior spaces unlike anything else in the city. This modern one bedroom is located in one of Seattle's most central and trending neighborhood, South Lake Union. It is home to a number of fabulous restaurants, coffee shops, Whole Foods, retailers, Amazon Campus, and a short walk to the heart of Downtown, Capitol Hill, and the Washington State Convention Center. In this apartment you will find everything you need; gigabyte internet, stainless steel Bosch appliances (including a gas stove), 55' 4K SmartTV with cable, comfortable queen size bed, full size front loaded washer and dryer, modern decor, heating, air conditioning, and fabulous city views.
South Lake Union is one of Seattle's fastest developing neighborhoods, and is home to Seattle's biotech community as well as Amazon's new campus. Joining these developments are a slew of restaurants, coffee shops, and retailers. This neighborhood is perfectly situated, clean, and safe. You can easily walk to the heart of Downtown Seattle, Amazon Campus, Washington State Convention Center, or take a short uber ride to Capitol Hill.
Wonderful experience staying in this modern downtown apartment. Perfect fit for my husband and I with stellar views. We enjoyed all the amenities and would happily stay again should we return to Seattle. Katya could not have been a better hostess!
Starr
2016-03-27T00:00:00Z
I have stayed in this lovely apartment for almost a week. The apartment it's just like the pictures, the hosts are very much available for any issue you might have. I would recommend this one to my colleagues when travelling for business, my experience was great and better than booking a hotel.
Elena
2017-01-27T00:00:00Z
Great hosts! Always quick to attend to any need! Beautiful apartment with high ceilings, modern and funky furnishings and amazing views! Fantastic location to Microsoft and amazon campus! Highly HIGHLY recommend!!!!
Deirdre
2017-01-21T00:00:00Z
Great stay again!
Kay
2017-03-27T00:00:00Z
My experience with Katya was great! Easy to check-in and out, and the apartment was absolutely amazing. Gorgeous views, well decorated, great location, and very clean. Would highly recommend. There's even some free parking behind the building near the construction site, rare for Seattle. Definitely an A+ experience!
Adrianna
2016-02-12T00:00:00Z
Lovely lovely apartment and both ladies were awesome hosts. We were able to work a little earlier check-in which was so kind. We were met by the door and walked thru, all was explained and left alone to enjoy (huge plus). The apartment was just as pictured - neat and well stocked. I was sad to be there only 3 days. Even soap for the washer. Plus, Whole Foods is across the street. We weren't leaving Seattle until late on Sunday and Eve allowed us to store our bags at her house, again - so kind! Only minus - if there is a cleaning service right after us, why do we have to take out the garbage? I mean, the chute was on the same floor but it confused me a little. I would love to return and stay again. Location and apartment was just perfect.
Jen
2016-05-02T00:00:00Z
Wonderful experience with great hosts. The unit is sleek and modern and very convenient to everything. Whole Foods across the street, lots of places to eat within walking distance and public transportation across the street to take you anywhere you want to go. Have already booked my next stay.
Kay
2017-03-02T00:00:00Z
The Appartement is the perfect place to start your Seattle Trip. Very clean and super spacious. In walking distance to all the great spots in Seattle. Would recommend it to everybody.
Thomas
2016-01-28T00:00:00Z
Romtype
Helt hjem/leilighet
---
Eiendomstype
Leilighet
---
Plass til
3
---
Soverom
Seattle, Washington, USA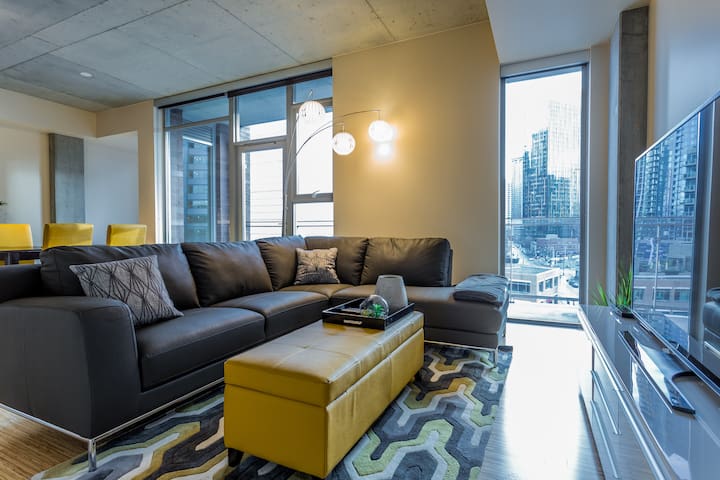 For travelers who are passing through town short-term and like a rustic cabin vibe in a great city location. Features: Futon pull out double bed, twin single loft bed, toliet & kitchette, but note: No bathing facilities available on site. Welcome!
This space has a lot of funky charm and is in a great part of the city. The room is cozy and a bit quirky with a rustic/self built vibe as we inherited the space (for example, the walls are simple paneling) but if you like its charm like we do, you will always have clean sheets, fresh duvets and coffee. You can have your coffee on the roof to see the tips of the skyscrapers while listening to the collection of birds that seem to like our yard! We hope you will love this place so please do not book just because it "will do for the price." Not everyone likes ladders, futons, old wood wall paneling or lack of a shower, but some people love cozy and fun and will truly resonate with our offering as they travel like we do! We love people to be happy and feel safe. There is a toliet is in the room with a curtain and half wall dividing it from the rest of the space, but no solid door. There is a single foam bed in the loft for those that are comfortable on a loft ladder. The futon in the main space is a pull out that could fit two people and is comfy. I set it up with clean sheets and bedding always. It will take up most of the room, so if you are staying more then a night, you may want to push it back to have a sitting space as there is a small table and two seats for eating space and a kitchenette, but no drawers for clothes..though we have lots of hooks and a shelf- if you have large wheel suitcases it will be possibly too tight...I offer all this to be upfront so you will enjoy your stay if you select the Zen Loft :) The wifi password for the zen loft is hulahoop :)
Ravenna is a wonderful neighborhood with an extemely good walking score. You are only a few blocks from so much! Less than 10 minutes walk and you are walking around Greenlake, or at Ravenna Alehouse, Zeeks Pizza, Ravenna Park, Third Place books, you name it! There is so much in our area to enjoy! For drivers, you are just 10 blocks from 1-5 and 5 minutes drive to the University District and 10 minutes to areas like Phinney, Fremont and the Woodland Park Zoo. In the city, but without the traffic, noise or high rises.
Lara was a wonderful host! Very accommodating to our late check-in. We didn't get the opportunity to meet Lara, but the loft had a very nice, personal feel to it with coffee and tea for us to use. The space itself was super cozy, perfect for two or three. Located in a nice, quiet neighborhood which was perfect for an escape from the bustle of Seattle while still super close to everything. We would definitely stay again next time we visit Seattle. Eleven out of ten stars.
Tony
2015-10-24T00:00:00Z
Such a cute place! It was raining so the twinkle lights set up outside were such a magical entrance. It was so tiny and cozy with the quirkiest things! I would definitely stay here over and over again!
Lilly
2016-10-20T00:00:00Z
Lara's place was just as described: small, very cozy and comfortable, an extremely efficient use of space. For a night or two it's great. Lara says they're hoping to expand to add a shower which would make it fine for a longer stay. One the night we stayed, the temperature outside dipped well down into the 20s. We were warm enough and even though a space heater was supplied just in case, we didn't need it. However the water pipes froze and we were without plumbing in the morning. Lara invited us in for breakfast and use of the indoor facilities. She plans to get the water supply insulated right away. We loved our stay and would definitely stay there again!
John
2014-12-01T00:00:00Z
Lara made us feel very welcome and was very clear with descriptions and instructions. The neighborhood was great! Very pretty and quiet. The cabin itself is quite small, even smaller than the pictures make it look, but it was cozy and the futon was comfortable. We loved staying there and will probably do so again!
Raina
2015-09-14T00:00:00Z
I booked the loft last week for a quick photo shoot. Unfortunately, my model was delayed so I had to move the location. Lara was an excellent host. She answered all questions and concerns very, very quickly. This being my first actual Airb&b booking I hope all of my future hosts are as gracious and on top of things.
Leon
2015-09-08T00:00:00Z
Such a good place for a quick stay in the city
Ross
2017-03-10T00:00:00Z
From the very first email correspondence, I knew staying at the Sweet "Zen Loft" Cabin was a great decision. Lara and I exchanged sentiment via email about our families and I felt like I knew her before I even arrived. The reason that my girlfriend and I stayed in Seattle over Labor Day, 2015, was to celebrate our one-year anniversary. We have a eight-week old daughter (my mother watched her for the first two nights), that we were missing, but we also had plans that included Sounder's tickets for Saturday night. Lara offered to watch our little girl for the few hours that we'd be at the game. So, after my mother spent the day with us in Seattle, and dropped off our baby, we knew that we had babysitting arranged by our host. That kind of service will never be replicated by a hotel. Unfortunately, plans didn't work out that way (we were enjoying ourselves down by the waterfront too much and didn't have enough time to make it back to the cabin before the game. The offer was so unexpected, genuine, and nice though that there is no way I wasn't going to mention it. I had planned this amazing four days in Seattle, which included a movie in the park, but we had so much luggage that we couldn't fit blankets in the car. Lara let us borrow four blankets, and they were definitely needed on that cold September night. As for the cabin itself, it was very cozy. The heaters did a great job warming the space, and everything you needed was provided. The room is nice and bright with natural lighting, and there are plenty of interior lights for when the sun goes down. All in all, it was an amazing space with a wonderful host, and Crystal and I will always keep it in mind for future stay-cations!!
Anthony
2015-09-07T00:00:00Z
The Zen Loft is great! Just what we needed for a quick overnight in Seattle. Plus it's a short walk from all kinds of restaurants and stuff. Would definitely stay here again.
Michael
2015-10-06T00:00:00Z
Romtype
Helt hjem/leilighet
---
Eiendomstype
Andre
---
Plass til
3
---
Soverom
Seattle, Washington, USA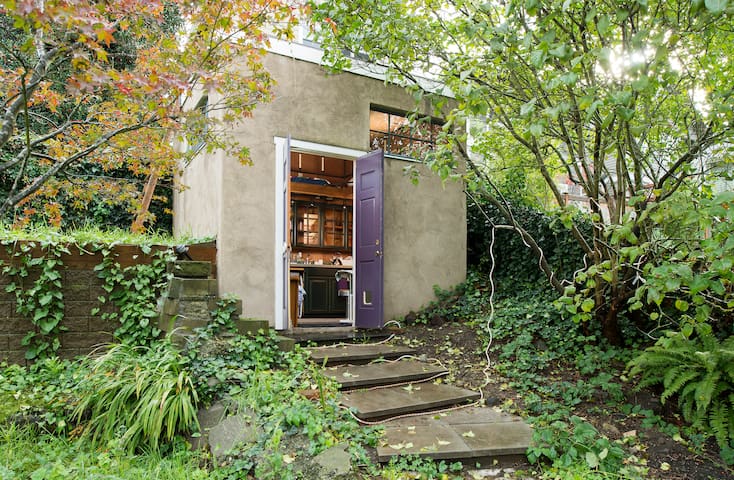 This lovely, modern room and ensuite bath is detached from the main house, so you can enjoy privacy and quiet. We are a 5 min drive from Ballard and a 15 min drive from downtown. Welcome to our quiet, safe neighborhood!
For those who would like more privacy than that offered by a room in someone's home, this detached bedroom is a perfect choice! The bedroom has a queen bed with a memory foam topper. Power strips on both sides of the bed allow for cell phone charging. Wireless internet and cable tv are provided. There is a small, walk-in closet so that you can unpack and feel at home. The full bath has shampoo, conditioner, and liquid soap, as well as plush towels. The windows bring in plenty of light and fresh air in the summer and there is also an air conditioner, and the floors have radiant-floor heating for the winter months. I have created a small area to enjoy hot beverages and quick meals. There is a mini-fridge, a hot water kettle, and a French press for your convenience. I provide orange juice, a variety of teas, freshly ground coffee, hot chocolate, instant oat packets, granola bars and fruit. I'll also bake scones or muffins on one morning of your stay. With dishes and two chairs, you'll be able to have a quick breakfast before you head out for the day. There is a hair dryer and umbrella to use as well as beach towels. If you need or forgot something, let me know, and I'll do my best to accomodate you. The guest suite is attached to our garage. The garage will not be in use between the hours of 9pm and 9am. However, during the day, family members will occasionally open the garage door, which can be heard from the guest room. Please note that there is not a full kitchen or laundry facilities in your guest suite. Our guest suite is not kid-friendly. Babies and young children are not a good fit for this listing. Ages 12 and older are welcome, as long as your child is part of the 2 person max. Thanks!
Ballard is known as one of the hippest neighborhoods in Seattle. Come to Ballard for amazing restaurants, micro-breweries, and coffee shops; come to shop at the boutiques on Ballard Ave; come to check out the salmon run and the boats coming and going at the Locks; come for the year-round Sunday Farmers' Market; come for the Golden Gardens beach with views of the Olympics; or come just to walk one of the most walkable neighborhoods in Seattle. Let me proudly advertise an area just two blocks away from our home. Seattle Met named it "one of the city's best food micro-hoods." You won't have to go far to enjoy these amazing restaurants: Honore Bakery, with French macarons that rival those in Paris; the Fat Hen, a light and cheery cafe that serves great breakfasts and coffee; Delancey's, where locals line up for amazing wood-fire pizza; Essex, serving mixed drinks and bar food especially for foodies; and Brunswick & Hunt, providing farm-to-table fare. I have a notebook full of suggestions of where to eat as well as where to play while you are here. If you'd like, I can email you my info so you can plan ahead.
Stay was great and Debbie had the place super stocked and prepared.
Aaron
2016-11-17T00:00:00Z
Debbie was super nice and made us fresh scones for breakfast.
Noelle
2015-09-21T00:00:00Z
Debbie was really great with communication and even helped us by giving me parking tips for seattle! Parking was easy at Ballard and lots of fun places a quick uber ride away. The bed was amazinggggg my boyfriend wants us to get the same one ! Would definitely stay here again.
Jenna
2016-07-17T00:00:00Z
Debbie was very sweet and welcoming, and I had a nice stay on my last night in town. The room was very clean and private. Also, the homemade scones were so delicious :) thank you, Debbie!
Alyssa Marie
2016-02-10T00:00:00Z
This airbnb is in a lovely residential neighborhood in Ballard. Our host Debbie was great at communicating in the days leading up to our stay. The suite is exactly what it looks like and is the perfect spot for a couple or single traveler. Debbie has thought of everything to make your stay as comfortable as possible from shampoo, air con, luggage stands, and she graciously made us scones in the morning (which were too delicious). We will definitely stay here again!
Missy
2015-07-27T00:00:00Z
Debbie was wonderful and super accommodating! When you talk to her, she makes you feel very welcomed. Her house is absolutely gorgeous. When we stayed with her, she definitely provided us with a homie feeling. She also provides a lot of helpful tips and good places to eat and visit. If I do go to Seattle again, I'll definitely try to stay at her place again.
Erisa
2015-09-17T00:00:00Z
Debbie is an absolutely amazing host! Warm and welcoming and we felt at home from the beginning. The place was clean and very organised. We also got to try her great homemade scones:) We would definitely recommend people going to north Seattle to stay at Debbie's place!
Kasper
2016-10-14T00:00:00Z
I absolutely loved this place! It was so clean and cozy and exactly like the pictures. The house is very nice and modern. When I got in there was snacks and a few drinks in the mini fridge and a hot tea kettle top of fridge. I will definitely stay here again because it was private and quiet and just overall very pleasant.
Bobbi
2015-11-06T00:00:00Z
Romtype
Helt hjem/leilighet
---
Eiendomstype
Hus
---
Plass til
2
---
Soverom
Seattle, Washington, USA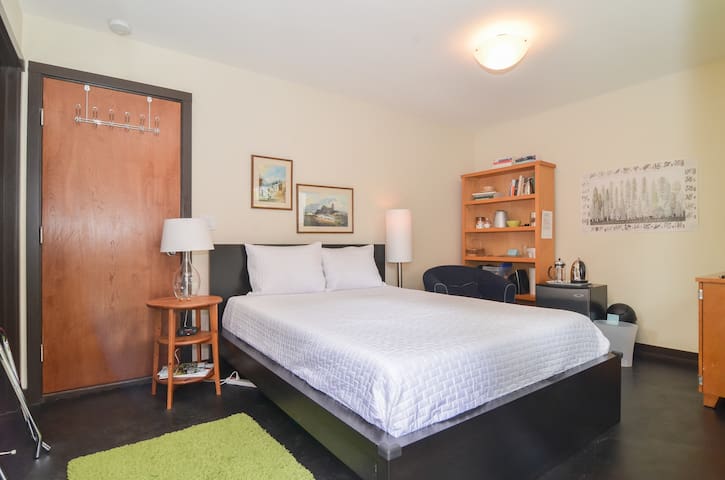 This site features modern Lodge-Style Timber-frame architecture on a secluded 1/2 acre located 10 seconds off I-405, 3 miles south of Downtown Bellevue and 9 miles East of Downtown Seattle. Walking/Running/Biking Trails are just across the entrance with immediate access to the Lake Washington Beach front Parks and Trail System as well as all the surrounding communities. Shopping is approximately a mile away accessed via walking/biking trail or car.
The space is ~1000 sq ft, fully furnished, walk-in basement apartment. Guests use the front French Doors as the entrance/exit. This space is a completely separate basement in our home. We are a family with 2 (well behaved) children. We will do our best to keep noise to a minimum, especially during the quiet hours. Main Bedroom: This larger room features an AMAZING Sleep Number ILE bed. There's a large dresser for longer stays as well as plenty of open built-in shelving. Cubby/Loft: The second "bedroom" features a very comfy Queen BeautyRest mattress. ***NOTE: This room is about 4ft high - SEE PHOTOS for interesting access and room height!). This space is cozy and dark so get ready for a deep sleep even in the day! But don't be scared... there are night-lights too. Main Living Area: There is a large leather couch and cloth chair in the main living area. The leather couch also folds out to a queen bed which has a built-in air mattress... (no funny springs here!). For entertainment there is a new 55" flat-screen TV with and XBOX 360 (XBOX games/Older DVD's/Family Board Games are hidden in the base of the coat rack). Local HD Channels are available on the TV and the XBOX can be used for DVDs. The space can possibly sleep +2 Children but adults beyond 4 would be tight quarters. Bathroom/Laundry: There is a single bathroom with the Sink/Laundry area separated from the Shower/Toilet area by a sliding door for privacy which makes efficient use of the smaller space. There is a Full Size Washer and dryer (Behind the Curtain) ready to go with soap and dryer sheets. The Kitchen features a full size Dishwasher, Stainless Tub Style Sink w/ Disposal, a mid-size Refrigerator/Freezer with Icemaker, 2 Burner Wolf Ceramic cooktop, and an GE Monogram Advantium Oven (Speedcook, convection, microwave and warming capabilities "All-in-One"). There is also a Coffemaker w/ grinder, rice cooker, toaster, and a slow cooker in the kitchen. Let us know if something you need isn't listed, perhaps we may be able to provide it!
This is a very safe area with easy access to trails and Newcastle Beach Park. Seconds from the freeway but secluded enough to feel the lodge-like experience.
Romtype
Helt hjem/leilighet
---
Eiendomstype
Leilighet
---
Plass til
4
---
Soverom
Bellevue, Washington, USA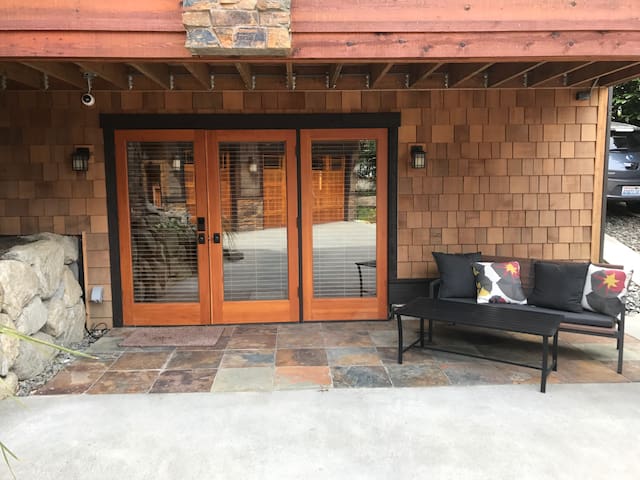 New Modern Urban living building, great location within Downtown Bellevue, WA. Shopping, restaurants, entertainment, city park, business district within walking distance of property. (Bellevue Square, Lincoln Square, Old Bellevue Main Street)
Romtype
Helt hjem/leilighet
---
Eiendomstype
Leilighet
---
Plass til
2
---
Soverom
Bellevue, Washington, USA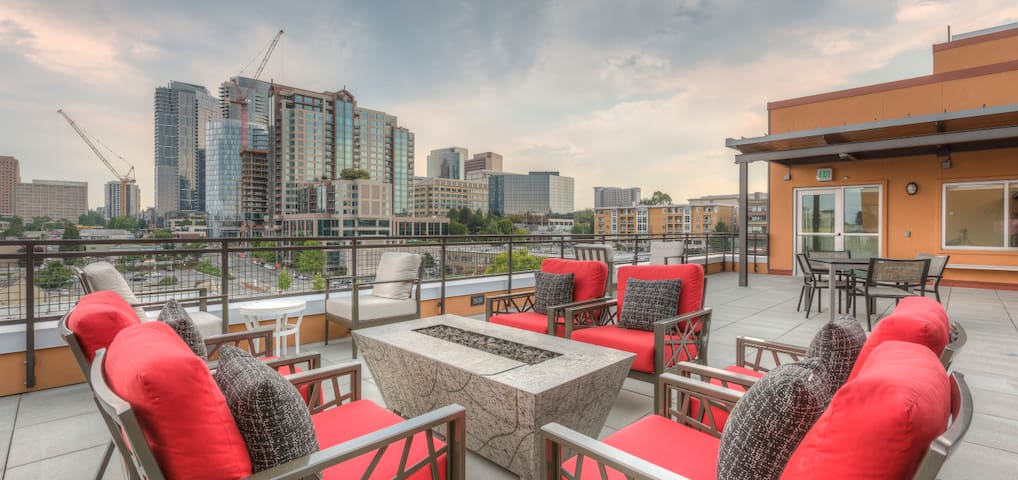 Come and check this beautiful master bedroom with private bath room, furnished, CLEAN AND SAFE. Great location, it is only steps away from major shopping mall, fine dining and entertainment venues. 1 minute walk to H Mart, 10 minutes walk to Nordstrom, Naiman Marcus and Ding Tai Feng. 3 minutes walk to Expedia and 10 minutes walk to Microsoft Bellevue office, 15 minutes drive to Redmond Microsoft Headquarter and 16 minutes drive to Seattle downtown.
1170 sq feet
Romtype
Privat rom
---
Eiendomstype
Leilighet
---
Plass til
2
---
Soverom
Bellevue, Washington, USA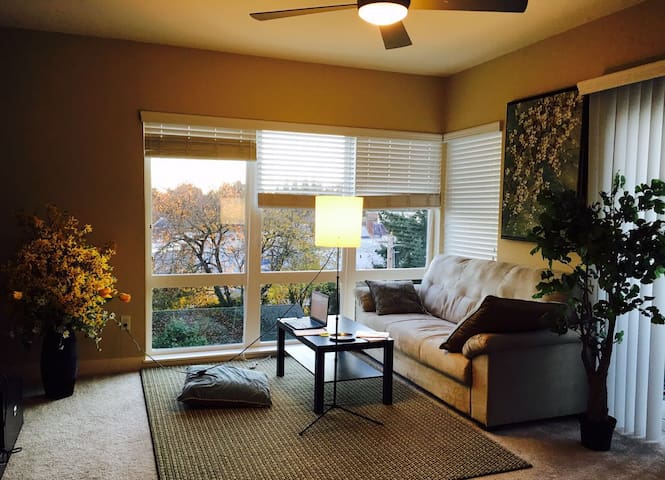 Unique, serene and private setting! Our guests rave about this rare vacation rental cottage-they love the privacy, upscale neighborhood, fabulous view, high quality furnishings, and very quiet neighborhood. This convenient yet quiet remodeled 1 bedroom 700 square foot cottage is equipped with high standard furnishings including a Tempurpedic Queen.
Stand alone cottage loaded with charm, furnished with hardwood floors in kitchen, living room and dining room, and carpet in the bedroom. Cottage is an architectural jewel with high ceilings and high quality furnishings. Approximately 700 square feet to enjoy. High quality furnishings, fully equipped kitchen, 2 TV's with cable (one in bedroom, one in family room). Washer and drier are available in cottage. Continental breakfast provided for the first couple days. A queen size bed is in the main room, with a Tempur-pedic mattress, sofa sleeper in family room; 2 Aerobeds (auto-inflatable) are also available.
This cottage is truly close to everything and is this close to these places: --Nearest airport: Sea Tac Airpot: 16 miles --Nearest mall: Bellevue Square: 3 miles --Seattle: 8 miles --Bellevue Downtown: less than 3 miles --Nearest highway: I 405 & I-90: 1 mile --Nearest beach/ park: Enatai Beach Park --Nearest Ski Area: Snoqualmie: 38 miles
This was a last minute business trip that felt more like a vacation thanks to the beautiful cottage and warm welcome from my host, Karin. I can't wait to come back with my husband! Thank you.
Carol
2016-11-17T00:00:00Z
The cottage was great with everything you would want. There was a lot of breakfast items, wine, and chocolates. Information on places to go and there are great restaurants just 10 minutes away. The cottage was very cosy with great views. Karen really thought of everything. Would love to come back!!!
Don & Kathy
2016-11-15T00:00:00Z
Every detail impeccable. Incredibly easy from start to finish. Karin is a great host and the cottage is outstanding!
Jennifer
2016-12-04T00:00:00Z
The listing was exactly how it was listed. The cottage is beautiful, very well maintained & and the view is spectacular. The cottage is very well stocked & they even left a little something in the fridge for the next morning.
Margaret
2016-11-01T00:00:00Z
Lovely cottage with spectacular view of Lake Washington, easy access to Bellevue and Seattle. Gracious hosts, available next door, presenting an immaculate well supplied cottage - a very comfortable cottage for a relaxing or work related stay. A well equipped kitchen allows for meal prep - the bed is very comfortable with very nice bathroom adjoining the bedroom. The total environment supports an enjoyable stay.
Beverly
2017-03-28T00:00:00Z
I stayed in Karin's home for 5 nights when I was working in the Issaquah area last week and it turned out to be a great choice. The commute was short and it was a fantastic place to return to at the end of each day. The house is private and has an amazing view of the water, and everything you could want is in the home. I have stayed in air bnbs all over the world and this one is by far the best. From the thoughtful food/welcome items to the amazing bed, everything was perfect. I even found a sewing kit for a loose button! I am hoping that work will bring me back to the area soon and that I will be able to stay in this lovely home again. Rent this place. You will not be disappointed!
Nancy
2017-04-07T00:00:00Z
We had the most incredible mini-vacation ever. Our son rented us the most quaint cottage in Bellevue, and it was the perfect retreat for our family. From the time we arrived we felt well cared for, and our host Karin went above and beyond to make our stay perfect. We were welcomed with divine treats, and even a continnental breakfast for the morning. We had five star treatment the whole stay, and highly recommend this cottage to anyone travelling in the Bellevue area. The view alone every morning was truly breathtaking, and it was one of the most pleasureable vacations my husband and I ever experienced.
pamela
2016-11-28T00:00:00Z
I feel bad for giving other places five stars before I saw this place. You are literally staying in a cottage that is luxurious. Enjoy it. It's the best place I have ever stayed in from airbnb
Muzamil
2016-12-21T00:00:00Z
Romtype
Helt hjem/leilighet
---
Eiendomstype
Hus
---
Plass til
4
---
Soverom
Bellevue, Washington, USA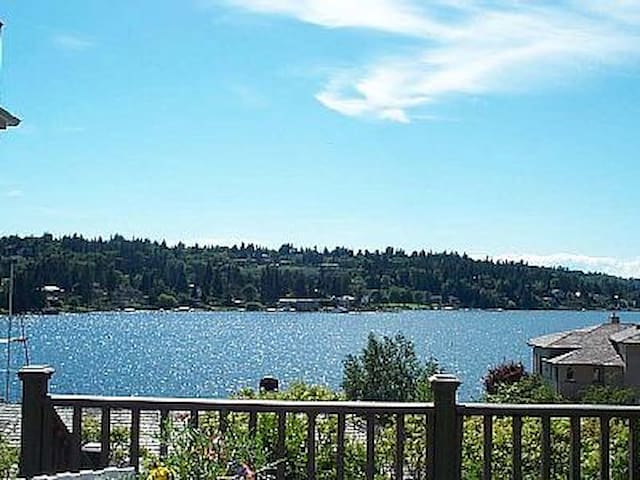 Luxury Studio located in Bellevue Downtown, clean and cozy place for you to enjoy. 400sqft studio with big kitchen, bathroom, closet, washer and dryer. Very good location, drive to Seattle only 12 mins, also you can walk to transit center to anywhere by 2 mins walking. Very convenient place around QFC market, wholefoods.
Romtype
Privat rom
---
Eiendomstype
Leilighet
---
Plass til
2
---
Soverom
Bellevue, Washington, USA
* Entire space yours ~ Private entrance ~ Flexible Check In * * Secluded, Pristine, Peaceful ~ No Cleaning Fee * * Your own private Laundry Room * This spacious, immaculate haven is all yours. Dream location: Bellevue on border of Redmond. Walk to Microsoft. Amenity-rich. Windows view secluded greenbelt. Kitchenette with fridge, fireplace, TV Amazon, Bistro Table. Your own Laundry Room included, yes really! Quiet and safe residential neighborhood. Security cameras on premise.
Downtown Bellevue is 5 miles away. Downtown Seattle 13 miles away. Check out our informative Photo Captions! Secluded, private, green and peaceful. No cleaning fee. Your private Laundry Utility Room makes your short or long term stay convenient and comfortable. This pristine private space is only yours, including the entrance and clean laundry room. You have lots of wiggle room and this space is organized. Patio Table and two Adirondack chairs for your relaxation. The Patio looks onto the private backyard and secluded greenbelt. The top level of this home is occupied full-time. You have full privacy with the lower level being all yours, located in a pleasant residential community with neighbors, though you won't see any other houses. Please take a photo tour of this spacious, immaculate sanctuary that's a location dream come true. Being on the border of Bellevue and Redmond, you are near all this and more... Walking Distance: *Microsoft Redmond *Ardmore Park *Idyllwood Park Short Drive or Short Bike Ride: *Sammamish River Trail, an iconic recreational interurban trail. Walk / Bike Paradise. *Downtown Redmond, walkable and lovely with array of everything. *MaryMoor Park, acres of park with many features, including outdoor concert and film events in summer and covered picnic areas. *Redmond Town Center and Cinema. Includes many restaurants, shops and connects to trail/s. Very bike-able. *Overlake Hospital *Overlake Transportation Hub *Lake Sammamish *Crossroads Mall and Cinema, many restaurants and businesses in and surround this area. *Trader Joe's Grocery Store ( 3 minute car ride away, very close.) Short Drive, about 15 minutes: Downtown Bellevue (high rise city center with many restaurants and nightlife. Microsoft also has offices here along with many other tech businesses.) Kirkland, a beautiful walkable waterfront city. (SENSITIVE CONTENTS HIDDEN) headquartered here along with many other tech and non tech businesses. Whole Foods Market, Bellevue or Redmond location. (The Redmond Whole Foods Market is right by the Lake Sammamish Trail and is a fun, easy stop on your walk or bike ride.) Seattle downtown is 13 miles away across the floating bridge and about half hour away, depends on traffic. I90 or 520 are the floating bridges. I90 no toll, 520 has toll. There are other ways into Seattle. Please inquire as needed. Woodinville, including Woodinville Winery Region is about 15 minute drive away. You don't need to cross a bridge to go here. Use your GPS and / or ask Kristen who is very familiar with this lovely region. A great destination for a full day trip, or for just a few hours depending on the time you have. *Please scroll through the photos of this private guest space and read the photo captions which is filled with additional information* A 3rd person is welcome to sleep on large sectional sofa for extra cost of $15 per night. Please inquire and linens will be provided. (2 small children will be only priced as one adult.)
Downtown Bellevue is 5 miles away. Downtown Seattle 13 miles away. Residential with free street parking very close to your private keyed entrance. In Bellevue, on the border of Redmond. Walking distance: *Microsoft Campus in Redmond *Ardmore Park *Idyllwood Park Short Drive or Short Bike Ride: *Many businesses are 3 to 5 minute car ride, including Trader Joe's. Dozens of stores and restaurants are in this nearest commercial center. *Sammamish River Trail, an iconic recreational interurban trail. *Downtown Redmond, walkable area once there, has some historic buildings and great shops and restaurants (about 10 minute drive). *MaryMoor Park, acres of park with many features including covered picnic areas and outdoor concerts and films in summer. *Redmond Town Center and Cinema. Includes many restaurants, shops. Connects to recreational trail/s so using your bike or walking is possible and fun (about 15 minute drive depending on traffic). *Overlake Hospital (about 15 minute drive depending of traffic). *Overlake Transportation Hub *Lake Sammamish *Crossroads Mall and Cinema *Trader Joe's Grocery Store ( 3 minute car ride) *Walgreen's Drug Store ( 3 minute car ride, next door to Trader Joe's) *Fred Meyer One Stop Shopping (5 minute car ride) Short Drive, 10 minutes: Downtown Bellevue: high rise center with many restaurants and nightlife. Main Street, old downtown Bellevue, is a great spot too (about 15 minute drive). Kirkland, a lovely waterfront town that with a very walk-able waterfront downtown (about 20 minute drive or less if traffic light.) Whole Foods Market, Bellevue or Redmond location. (The Redmond Whole Foods Market is also on the trail.) Half Hour drive, depending on traffic: Seattle About 20 minute drive: Woodinville Winery Region, a lovely destination location. (SENSITIVE CONTENTS HIDDEN) it! *Please be wise and leave no valuables or anything that may be mistaken as valuables, such as an empty duffle bag, in your car.*
Excellent place to stay, great location, super comfy.
Chris
2017-03-16T00:00:00Z
The place was great, clean and spacious! Very smooth communication and check-in process.
Christopher
2017-03-29T00:00:00Z
the place is simply great, nice and clean.
Kai
2017-04-02T00:00:00Z
Big, beautiful, comfortable space, really enjoyed my stay here!
Jason
2017-03-01T00:00:00Z
Very clean house, the bed was super comfortable and the neighborhood was quiet and peaceful.
Samantha
2017-03-18T00:00:00Z
This is easily the best deal in the Bellevue area. Great location, easy access to tons of parks, the lake, shopping, restaurants and more. It is exactly as advertised, clean, spacious, quiet, and very comfortable. The only downside I would say is that the only way to make any food is a microwave, so if you've planned on trying to make some of your own food while in Seattle, you might need to adjust that plan a bit if you stay here. But there is such great food all around Bellevue, that you might not want to make your own anyway! Book this place with confidence, it's fantastic. And the owners communicate quickly and regularly, they are great to work with!
Nathan
2017-03-25T00:00:00Z
A really nice place to stay in Redmond. Very clean, quiet and cozy.
Mark
2017-03-09T00:00:00Z
Romtype
Helt hjem/leilighet
---
Eiendomstype
Gjestehus
---
Plass til
3
---
Soverom
Bellevue, Washington, USA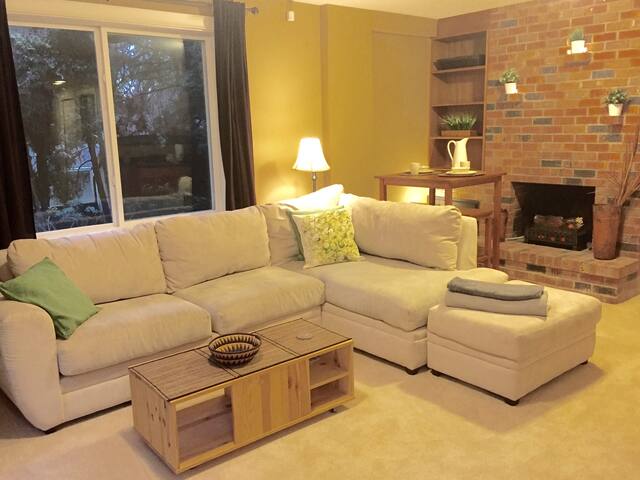 Great downtown location! Walk to everything Bellevue has to offer! There are many activities, shopping and entertainment to choose from all a quick walk from the property. Completely remodeled. There is a fully equipped kitchen featuring granite counter tops and new modern bathrooms with marble floors and above counter sinks. Steps away from the best shopping and dining in the entire NW. Golf , Bellevue Square, The Bravern, Microsoft, Main street restaurants shopping and many bars
2 bedrooms / 2 bathrooms 1080 square feet of space Open and Bright The master has a king Bed and the second bedroom has a queen bed and desk work space with printer. *wifi *2 flat screen tvs *cable *balcony overlooking downton bellevue *kurig and coffee provided There is washer and dryer in the unit and it comes with one parking spot
Walking distance to restaurants, bars, Expedia, Microsoft locations, and Bellevue Square Mall
Seerel was very responsive to messages which was very much appreciated. The home has a great way and both bedrooms are beautiful and large. Lots of amenities and a great location with many restaurants within walking distance.
Siris
2017-03-13T00:00:00Z
Steven
2017-03-09T00:00:00Z
Romtype
Helt hjem/leilighet
---
Eiendomstype
Leilighet
---
Plass til
4
---
Soverom
Bellevue, Washington, USA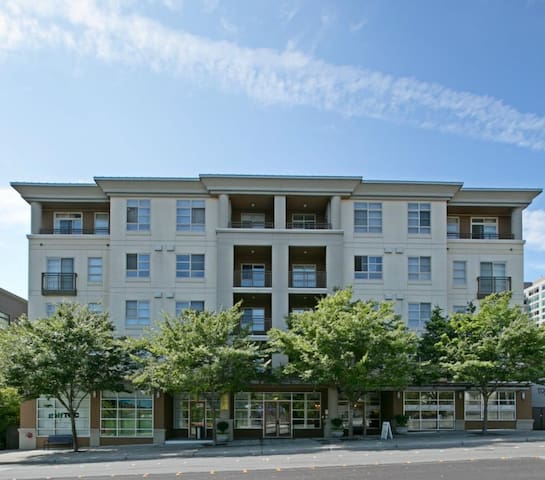 Everything that DT Bellevue has to offer is 20 min walk from this beautiful Condo, right off exit on I-405. Designated Parking Spot: # 3 The private deck is massive with a fenced lawn. Whole Foods, Starbucks and Uwajima (Asian Grocer) are a 10 min walk from the condo. Enjoy Lincoln Square & Cinemas with shopping at Bellevue Square Mall & Bravern buildings.Kids can enjoy the IMAX theater, parks and museums. Easy commute to Microsoft, Expedia, Symetra, T-Mobile, Paccar & many more companies.
Condo is located close to Bellevue Downtown. Right off exit on I-405. Spacious place with large kitchen, dining and living area with sofa bed, 1 bedrooms, 1 bath (tub/shower), washer and dryer. Fully equipped, very comfortable. Every detail has been thought of like: iron and ironing board. Bedroom has queen bed. Sleeps 2-3 total. Great for a family or couples traveling together. Designated Parking Kid friendly. High speed wifi internet (fast!). Includes all linens, towels, silverware, plates, pots and pans, knife set, etc. Also includes basic toiletries, laundry detergent, and other everyday necessities. When you arrive, everything you need is here. Coded lockbox with keys lets you arrive 24/7 at your convenience. And I offer early check-in and late checkout whenever possible. My goal is to provide my guests a great place to stay and great personal service. I want you to have a wonderful, memorable trip.
Very close to restaurants, grocery stores, and not too far from Downtown Bellevue.
Clean flat with a view of the Bellevue skyline. Reasonable walk to shops and downtown. Host was very responsive and helpful.
Joe
2017-04-11T00:00:00Z
I stayed Suneet's place for a week and it was a great experience. The place was very clean and quiet, and everything was new. Location was perfect!! Would definitely stay again and recommend!
Sungwon
2017-03-08T00:00:00Z
Very good location, clean, nice decoration, fully equipped kitchen, lots of towels. Communications with the host works very well. Instructions to get there, parking spot, keys to the apartment, everything went perfect. I would definitely book it again.
Christiano
2017-03-24T00:00:00Z
Suneet was amazing! He took time to meet us at the location as we got there and was very responsive to anything that came up. He made sure that we had everything we needed! Would highly recommend!
Zachary
2017-02-12T00:00:00Z
Romtype
Helt hjem/leilighet
---
Eiendomstype
Selveierleilighet
---
Plass til
4
---
Soverom
Bellevue, Washington, USA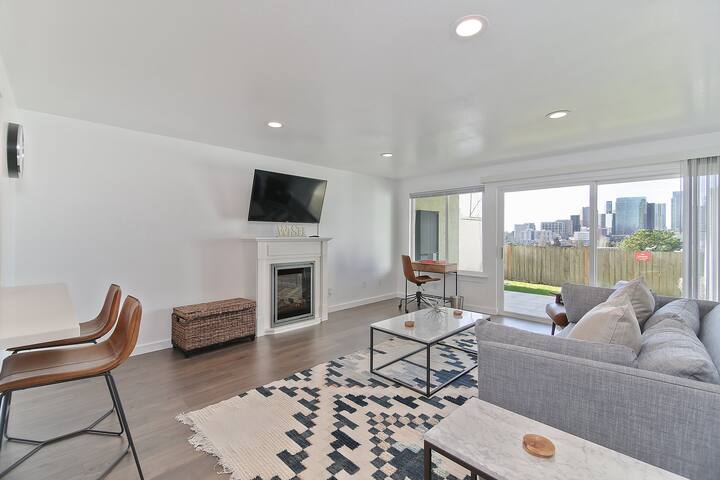 Almost empty and clean house available in a cozy neighborhood. House is located very close to the main Microsoft campus in Redmond and is minutes away from transit center and major outlets. But I gotta say that the house is not very well furnished yet and please do not expect a comfortable bed. Bed is a Sofa bed and another couch is also available in the hall. You can expect house to be, clean, empty and available for you full time without interruptions.
Romtype
Helt hjem/leilighet
---
Eiendomstype
Leilighet
---
Plass til
2
---
Soverom
Bellevue, Washington, USA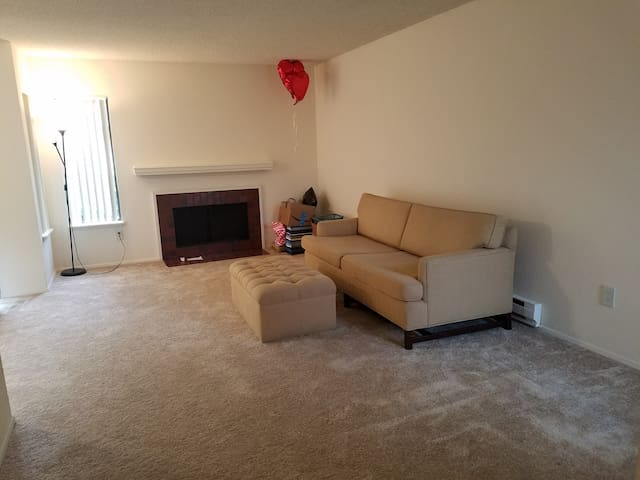 This home is in a beautiful neighborhood very close to downtown Bellevue for shopping and dining. It is 2 blocks from lake beach park. With 4 bedroom, 2.5 bath, and a nice hot tube for relaxing during your visiting. Close to I405, I90, bus station.
The host canceled this reservation 35 days before arrival. This is an automated posting.
Thomas
2015-12-12T00:00:00Z
Lan put some Christmas lights up for us, because we were having an adult family getaway Christmas. The place was clean and well stocked with spices, oil, butter, toilet paper, paper towels, cooking supplies,etc. so the essentials were available. The neighborhood is nice and quiet, with some beautiful houses, and not far from things you need, like a pharmacy or grocery store. Access to Netflix, a spacious living room, and bedrooms for all of us. The hot tub was great, and turned on for us, ready for use! This clean, spacious, lovely home had all we needed, and staying for Christmas really made our holiday! We used uber XL for the 6 of us to get to downtown Seattle, which took about 20 minutes, and cost anywhere from $30-$40- not a problem with a big group. I reached out to Lan a couple times, and always received an immediate, pleasant response. Although we never met, I felt comfortable asking questions and knowing I'd get a quick response. internet worked perfectly. GREAT stay! Would recommend in a heartbeat for groups of 4-8 people that want to stay near Seattle.
Holly
2015-12-28T00:00:00Z
The host canceled this reservation 149 days before arrival. This is an automated posting.
Ywen-Mei
2015-12-12T00:00:00Z
Lan was great, and this house was wonderful! I would definitely recommend to anyone. The TV wasn't working and Lan went right to the store to buy a new one and came over at 8:30 at night to set it up. Thanks so much for making our Christmas a wonderful one!
Elisabeth
2015-12-24T00:00:00Z
We booked Lan's house for a group of four people working on-site with a client in Bellevue in early December, as it was certainly a more cost-effective alternative to four hotel rooms. The house was really excellent. Very clean and spacious, exactly as described in the listing, and the photos are a very fair representation of what you will find when you get there. It was also really close and convenient to Bellevue, yet removed from all the bustle and in a nice quiet neighborhood close to the lake. Overall, I thought it was excellent value, and we'll definitely book with Lan again when we return to Bellevue in the new year.
Paul
2015-12-04T00:00:00Z
Romtype
Helt hjem/leilighet
---
Eiendomstype
Hus
---
Plass til
10
---
Soverom
Bellevue, Washington, USA
It's not a hotel, it's our humble home shared with you in a quiet neighborhood. One mile to highway 405 or 90 for Bellevue downtown 4 mi away, or Seattle just over the bridge. Walking distance has beach park, shopping mall, and great restaurants!
The place is a separate entrance sunlight basement. Queen bed in the bedroom, queen sofa bed in the living room, and bunk bed in a snug den (please be aware it's very small - see picture for reference). If you need to use the sofa bed, you may use the pad on the stairs. You'll have a bathroom with jet tub and a separate shower; a full function kitchen with dinning utensils, stove, oven, toaster, microwave and fridge; a laundry room with washer and dryer; and your own back yard next to green belt. Please be aware that the living room has a lot of sunlight but not for the bedrooms and bath. Also please keep in mind, the house is a very old house that we restored and keep improving it along the way. However something I'd like to point out to avoid surprises: - It is a basement unit. The bedrooms and bath have no sunlight. Some guests reported mildewy smell but others are fine. - The cement ground outside of the main entrance is broken and ugly but doesn't impact walking on it. - I'm trying to keep up with garden tasks but in general overgrown plants is a common scene of the house. - I'm not trying to make this a luxury hotel but just sharing a home we stay too from time to time. What you get is what we have.
The place is in a quiet residential area, one mile from active Factoria Mall and cinema, with many great restaurants, QFC, Safeway, and Wal-Mart.
Neighborhood is very quiet. The street you pull out onto from the house can be busy at times. The upstairs of this house is also a rental until. We stayed for 3 weeks. Sometimes we had people above us, most of the time it was empty and very quiet. This place has privacy that the local hotels don't have and it's a cheaper price per day than the nearest Motel 6. This was very much worth our time and money to stay here.
Jamie
2017-01-07T00:00:00Z
This place is awesome! I would totally recommend it. It's in a nice neighborhood and the host was very accommodating.
Kelsey
2017-03-21T00:00:00Z
On our trip we stayed in a beautiful Airbnb farmhouse in Oregon. After that great experience, this place was disappointing! If I could've gotten our money back and booked another place the same evening, I would've. With simple care and a little elbow grease, the grounds and apartment could be clean and neat. i wouldn't recommend it to anyone.
Kim
2016-08-11T00:00:00Z
People should be very aware that the cleanliness, and actual look to this home do not match the pictures. We pulled up and thought "oh my". There were notes all over the house about how the heater doesn't work (don't touch it or it will blow), the hot water doesn't work (cold showers if more than 1 person is showering), and the electrical outlets don't work. I plugged my hair dryer into the outlet in the bathroom and blew the outlet...how can a woman get ready if she can't dry her hair?? The nights were terribly cold because of the lack of heat, and my infant son shivered because of it. The second "bedroom" was a closet with military style bunk beds, and no door. It's not right to even call it a "room". The WORST part were the fruit flies in the kitchen that lingered even though the kitchen was clean, and the roaches that came out at night. It made our skin crawl, and we felt extremely uncomfortable having our 7 month old staying there. You can hear every single noise that the people staying above you make, and this makes for sleepless nights. We were excited to have wifi and a roku enabled TV, but the second day there it all went out. We felt like that was the one amenity, and it got taken. This was about equal if not worse than a Motel 6, and its doable if you are in a pinch or have 6 people splitting the bill. DO NOT stay if you have a little one. The best part of the house was the bathroom. The shower and tub were nice. It was hard to get ready for the day because the mirror was so tiny that I could only see my forehead in it. I feel terrible leaving this review because the owner really was sweet. She helped us immensely by giving us an earlier check in time, and helped us out when he needed to have an emergency package delivered to the house. They should lower the $ per night to make this a fairer deal. Honestly, we would never stay there again.
Amanda
2015-10-05T00:00:00Z
Amanda (Xueling) was so kind and helpful. We felt very welcomed and made every effort to make our stay memorable. The place is in a great location to downtown, and is spacious, clean with a nice livingroom on backyard view. Can make better use of the backyard though. Its worth mentioning that the place is on a basemnet level, yet there are large windows overlooking the backyard from the livingroom. One thing would make the place more enjoayble is a TV, and probably more peices of furniture. Upstairs Neighbours were very nice and friendly. All in a this price, we could stay there again!
ali
2013-09-08T00:00:00Z
The host canceled this reservation the day before arrival. This is an automated posting.
Adriana
2016-06-17T00:00:00Z
The host was very welcomjng and greeted us upon arrival. She gave us a tour and made us feel at home. The space was incredible and had all the necessities we needed for our trip. The washer and dryer was a great plus as well as the stocked up showering necessities. There wasnt any cable but the wifi, Amazon prime and Roku box made up for the lack of. Would recommend a TV for the living room area for families but other than that the home exceeded our expectations as this was our first airbnb experience. Checking out was also incredibly easy and did not require a lot of time. I would definitely stay here again and reccomend this place to friends!
Nikki
2015-06-17T00:00:00Z
The neighborhood is convenient to Bellevue and easy to get to from the major roadways. It is affordable and clean. The shower has 3 heads (!!) and the bathroom is newly remodeled.
Sander
2015-04-09T00:00:00Z
Romtype
Helt hjem/leilighet
---
Eiendomstype
Hus
---
Plass til
6
---
Soverom
Bellevue, Washington, USA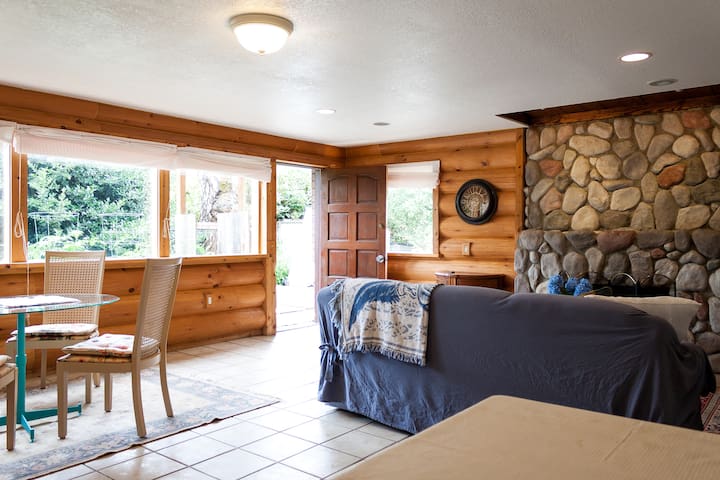 Bellevue - Airbnb
:
Gjennomsnittlig

4.96

av

5

stjerner fra

2143

gjesteanmeldelser
Oppgi datoer for å se fullstendige priser. Ekstra gebyrer gjelder. Skatter vil kunne tilføyes.