Relaxed + modern one bedroom basement apt. Bright + spacious with a handmade Portland touch. Comfortable for two, it's a great home-base for the traveller wanting to explore PDX! Located in charming Woodlawn neighborhood. Near the park, bars and bus lines.
Handmade by us! We're a craftsman and an interior designer who are not afraid to get our hands dirty. Stay in this remodeled basement where every detail was thought, planned and carefully constructed. We value high-end, conscious design. Our motto is maintain, reclaim and sustain. All of the exposed wood was salvaged from this 100 year old home! We love our house and hope that you do too. It's a great, peaceful place to crash at the end of the day. A plush queen sized bed, a huge doorless walk-in bathroom (ie. divided by a wall), glass walk-in shower and a tiny but efficient kitchen were top priorities when we made this place. The kitchen has dishwasher/fridge/oven stocked with all the pots/pans and plates to make a nice meal at home. Its always a shifting art-installation, so don't be surprised if the art in the listing photos change. We like to collect art and objects during our travels.
We're one block from 2 major bus lines (the 8 goes to downtown) and our neighborhood market, P's & Q's. 3 blocks from Woodlawn park + 5 blocks to our neighborhood hub: breweries, dance hall, coffee shop and restaurants. Woodlawn is a great area and closely located to Alberta Arts District, Mississippi and Kenton.
The apartment was great and in a wonderful location. There were restaurants close by and Anna and Jeremy left great directions for what to do around the city.
Debbie
2015-10-11T00:00:00Z
I couldn't say enough nice things. They've done a fantastic job with the property, it was one of the nicest places I've stayed. It was quiet at night, and the neighborhood was really friendly (and full of great food and beer). I especially recommend the coppa and egg sandwich at the Ps and Qs market for brunch. I had no idea an egg sandwich could taste that good. Anna and Jeremy showed a lot of pride in what they do, both in building up / maintaining the property and in hosting. My wife and I can't wait to visit Portland again, and this is the first place we'll look to for lodging(URL HIDDEN)
Christopher
2014-08-04T00:00:00Z
Anna and Jeremy's space was awesome. We really like the design and layout of the place. The bathroom was really nice. They were very accommodating to our needs as we had to checkin earlier than expected. Anna let me know that we could checkin 3 hours before we had originally planned. She also was very prompt to answering all my questions. I would defiantly stay here again!
Kristine
2014-09-30T00:00:00Z
Anna and Jeremy were the type of hosts that we all hope to have! They were informative, friendly, helpful and responsive! They provided detailed information prior to our arrival that made it easy to find and get into our place. And they provided so much information such as places to get food and great drinks when I let them know that we will be arriving pretty late! The place is exactly like how the pictures look - it is very spacious for two people! Coming from LA, we always appreciate free parking so we were so happy when we were able to easily park our rental car right in front of the house :) I hope all of our future stays through Airbnb will be this pleasant!
Tracy
2015-10-04T00:00:00Z
Anna and Jeremy were very quick to respond and were extremely accommodating hosts. Their listing is so well designed and maintained, and I got the best sleep I've had in a long time. The space was cozy, warm, and the bathroom is to die for! I've been raving about their listing to all my friends! Thank you, Anna and Jeremy!
Stephanie
2015-01-26T00:00:00Z
The coolest basement apt I've ever been in. Anna was great recommend several great places to eat and was very welcoming.
Craig
2016-01-06T00:00:00Z
Anna & Jeremys retreat is all it promises to be and more. I was made to feel very welcome long before check in. After arriving very late in the evening, it was very thoughtful of Anna and Jeremy to leave me some amazing breakfast supplies to I could see myself to a proper start. Everything inside is well kept and the decor just beautiful. The bathroom is very spacious and the morning light that streams in put a smile on my face every morning. Location is close to the airport and very close to some of Portlands amazing food spots.
Ridhwaan
2015-01-19T00:00:00Z
Was in town for work and was looking for a home base that was comfortable and convenient. This place fit the bill perfectly! Was amazed at the beautiful space. The different materials and design elements were everything I love but could never put together myself. Anna was incredibly friendly and offered great neighborhood tips for where to eat, walk, drink for which we were incredibly grateful. Would love to stay again in the future!
Alex
2015-10-14T00:00:00Z
Romtype
Helt hjem/leilighet
---
Eiendomstype
Leilighet
---
Plass til
2
---
Soverom
Portland, Oregon, USA
Nylig bygd i 2016, ligger dette moderne og private frittliggende hage studio i hjertet av et rolig boligområde, og er en kort spasertur til toppen restauranter, mat handlekurver, og butikker i hip SE Portland. Plassen er kompakt - om 240sf-- men koselig, lyse og et flott sted å slappe av etter en dag med utforsking Portland!
Våre lyse, koselige studioet har en komfortabel queen size-seng, hvelvede tak, takvinduer, air condition, bad, kjøkkenkrok og liten sittegruppe. Det er fullt løsrevet fra hovedhuset, så tilbyr fullstendig privatliv. Gulv-til-tak-vinduer gir utsikt over vest åser og franske dører fører til en privat uteplass. Det er lite --about 240sf-- men plassen er godt utnyttet med mange fasiliteter som trådløs bluetooth høyttaler, Portland kart og guider, og komfortable puter og tepper for å gjøre det føles som hjemme. Studioet har et komplett bad med dusj (ikke badekar). Kjøkkenkroken har et lite kjøleskap, vask, varmt vann, kaffetrakter, kaffe trykk, mikrobølgeovn og alt du trenger for å varme opp rester fra de fantastiske restauranter og mat handlekurver i nærheten. Utfyllende te og kaffe er inkludert, sammen med en lang liste over restaurant anbefalinger. Det er en growler tilgjengelig for fylling, som du kan gjøre på The Imperial Bottle Shop på Division Street og på mange lokale bryggerier og dagligvarebutikker i nærheten.
Vi elsker å bo i hjertet av nabolaget Richmond! Ligger på en rolig boliggate, vi er i gangavstand til hip og variert restaurant og detaljhandel distriktene i SE Portland. En 4-blokk spasertur bringer deg til en bussholdeplass som kan få deg de fleste andre steder i byen. En kort spasertur fra studio bringer deg til mat, shopping og underholdning (for å nevne noen av våre favoritter): Restauranter: PokPok, Ava genes, Bollywood Theater BESTE matdepartementet Handlekurvene i Portland: Tid-bit og Cartopia Handlevogn Pods Barer: Whiskey Soda Lounge, Imperial flaske butikk, Hopworks Brewery Bakerier / kaffebarer: Little T, St Honore, Grand Central Iskrem: Salt & Straw, 50 Licks, Ben & Jerrys Dagligvarebutikkene: New Season, Folkets Co-op, Safeway Butikker og vintage butikker på Belmont, Hawthorne og Division gater. Powells Bookstore på Hawthorne. Uavhengige kinoer: Clinton St. Teater, Cinemagic, McMenamins Bagdad teater og pub Byens parker: Sewallcrest, Mt. Tabor, Laurelhurst
This place is perfect! Melissa is really sweet and helpful. Communication couldn't have been better. It is clear that they really put time and thought into creating this space. It's extremely relaxing and beautiful. The location couldn't be any better, you're close to buses, great food, and cute shops, but it still feels quiet and private. We spent our mornings sipping coffee and listening to music on the bluetooth speaker. An amazing find on Airbnb: Book it now! Thank you for having us!
Maggie
2016-08-07T00:00:00Z
The guesthouse is just perfect for any couple. It's very clean and has everything you need. The bed is comfy too!
Jessie
2017-03-16T00:00:00Z
The hosts greeted us when we arrived and said they were available for any questions or suggestions. On one day when they left the area, we were informed and told to text them with anything we needed. The reviews are all excellent because it's a beautifully designed place to stay in a great, convenient neighborhood. Melissa and Brian made our first trip to Portland a great experience. Thanks for sharing your space.
Carol
2016-09-15T00:00:00Z
What a fantastic stay. Melissa really accommodated us for our "staycation." Highly recommended!
David
2016-07-15T00:00:00Z
Melissa and Brian have a lovely charming space for Airbnb visitors. Their hospitality was excellent. We thank them for the extraordinary attention to detail for our needs and follow up thereof.
Subhash
2016-10-23T00:00:00Z
What a treat to have landed such a beautiful space. My husband and I were amazed how Melissa provided so many special details from the welcome letter, fresh flowers, Portland coffee and chocolate bar, great reading material and a special Bristol garden where we had dinner. What amazed us the most was how clean the place was and I am talking from baseboards to the top. The location was absolutely perfect. We parked our car and used public transportation. What a beautiful place. No need to check any other place to stay in all of Portland.. Doesn't get any better than this. Be sure to book more days than you originally plan to because you will not want to leave this little slice of heaven
Devorah
2016-09-10T00:00:00Z
Easily the best Airbnb experience I've ever had. The studio is in a great location, easy to access, and is just stunning. There were so many cute details that made it such a welcoming place to stay. Melissa even provided a list of food recommendations and was very responsive to any questions we had. Would definitely recommend!
Tiffany
2016-10-04T00:00:00Z
Melissa and Brian's studio is new, beautifully decorated, bright, and cheery. They really have taste! The space was 5 minute walking distance to the cutest foodie/hipster neighborhood. Everything you is walking distance and the city is a short uber ride away (10-15 minutes). Would stay here again/ recommend to any friends!
Bridget
2016-07-15T00:00:00Z
Romtype
Helt hjem/leilighet
---
Eiendomstype
Gjestehus
---
Plass til
2
---
Soverom
Portland, Oregon, USA
Ligger i den private bakgården vår familie hjemme, et nabolag hub. Den runde, skjuler rustikk, romantisk MudHut i en hemmelig hage med utsikt over St. Johns broen og glitrende elv, i nærheten av Katedralparken, Forest Park, sentrum av St. Johns, kano og turstier ... Firepit, permakultur hager, låne sykler, samfunnet liv, utsikt!
Våre hytta ble handbuilt av familie, venner og samfunnet med stor kjærlighet og fungerer som et gjestehus, homeschool hytte, badstue og helligdom. Wood-oppvarmet og levende lys, er det en rolig, rustikk soveplass. Jeg anbefaler å bo to netter for en oppslukende opplevelse i avslappende atmosfære.
Vi er i St. Johns, nordligste området i Portland, og en liten by på egne bein med et sterkt fellesskap identitet her. Mange familier her spore sine røtter tilbake til James John, pioneren grunnleggeren av St. Johns som gjengis over hele nabolaget. Downtown St. Johns er noen kvartaler unna, med mange restauranter (Thai, vegan, soulfood, kinesisk, pub, pizza, deli, frokost, kaffe og gelato), en gammel kino og shopping (mye vintage). Domkirkeparken, tre kvartaler unna, er nydelig og fotogen med tilgang til Willamette River og fantastisk overhead nærvær av den gotiske St. Johns Bridge som du kan se fra hytta. Vi er også i nærheten av en rekke naturområder for urban vandring og padling. Forest Park, full av stier og gammel skog, ligger rett over broen. Like nord for her er Kelley Point Park, samløpet av Willamette og Columbia Rivers; Smith og Bybee Lakes, et våtmarker for fuglekikking og padling; og Sauvie Island, med strender, gårder, barnehager, fotturer, fiske, og fuglekikking. Vi er på Pacific trekkende fly-vei, så mange raptor handling rundt her. Skallet ørn, vandrefalk og hauker razzia ved regelmessig.
The experience of living in the mud hut is one of a kind. Everything about this place is wonderful. Firstly, I was so impressed by the way its been built and the unique character it exhibits. The fireplace and the candles surrounding the bed just made it so magical for me with the tiny little windows. Soaking into the hot tub with the view of the bridge and a glass of wine is something worth experiencing. I personally loved every moment and I wish could stay longer.
Preeti
2016-08-08T00:00:00Z
Ivy and Potato (the cat) were wonderful host. Loved the fire pit, hot tub, wood stove in the hut and the red towels. We arrived at night and couldn't see the pathway little solar lights would have helped, and the little tea lights are a lovely touch but we couldn't see in our luggage, and the train track noise on Friday night was quite alarming.
Robyn
2016-09-12T00:00:00Z
The mud hut and surrounding gardens felt like a world away from the bustle of downtown Portland, only a 20 minute drive. Ivy was out of town, but we had a great time exploring the place on our own. We cooled down by the water at Cathedral Park under the beautiful bridge at sunset and took some Tulip Pastry donuts over to Forest Park in the morning. For a unique, peaceful spot full of character, look no further!
Katie
2015-08-03T00:00:00Z
This was my best airbnb experience so far! Ivy was extremely welcoming and friendly, showed us around even though we arrived later in the evening. The hut was cozy and very serene. We needed a relaxing weekend free of worry, and we got that. Ivy even helped build a better fire when ours was struggling. Pretty sure I'll be back next time I need a good night sleep in Portland.
brian
2014-12-01T00:00:00Z
We had such a wonderful time staying in the Mudhut! Ivy was so kind and shared her jacuzzi and home-brew with us, and even helped us light the fire in the wood-burning stove. We felt so welcomed and enjoyed the simplicity and naturalness of the Mudhut and the land around us.
Anna
2016-01-19T00:00:00Z
My time at the mud hut was exactly what I needed and even better than I had envisioned. Ivy and her family are very friendly and accommodating. I loved getting to sit and watch her gather herbs and greens from her garden to make breakfast one of the mornings - everything was fresh and so flavorful. She really could make a living being a chef! Being away from my three cats was hard, so it was nice to have a kitty to pet a bit to remind me of them.
Melissa
2014-05-25T00:00:00Z
Ivy was a wonderful host! The mud hut was so cute, cozy, and comfy during a wide range of temperatures. We loved hanging out with the chickens in the raspberry and mint patch, and making coffee each morning in the outdoor kitchen area. Saint Johns is a very walkable neighborhood with great places to eat, awesome parks, and super friendly people. The bathroom is a little dingy, which was our only drawback, but all in all we had a wonderful week.
Ali
2016-06-12T00:00:00Z
This place is magical. It's exactly what is advertised and then some. I was looking for the next closest place on a very long bike tour, and Ivy waited up for me- five stars! Can't say enough nice things about this listing, highly recommended.
Douglas
2016-09-27T00:00:00Z
Romtype
Privat rom
---
Eiendomstype
Jordhus
---
Plass til
2
---
Soverom
Portland, Oregon, USA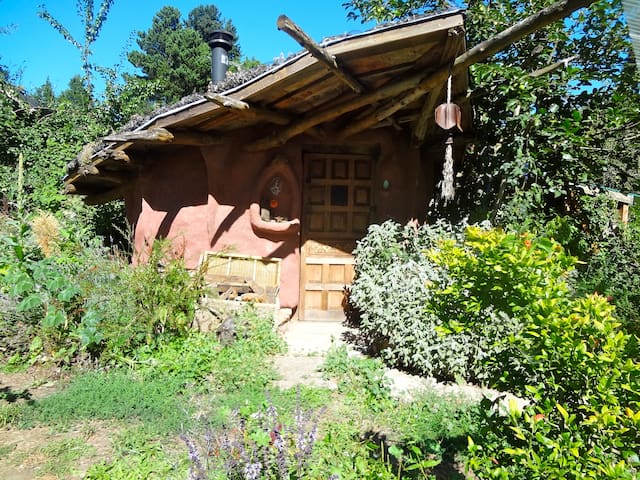 "Dette er offisielt den kuleste Treehouse i verden" -Condé Nast Traveler Hele lavere nivå gjest suite med stue, soverom, eget bad, mini-dekk, og uendelig utsikt. Et nettsøk etter "Dette er offisielt den kuleste Treehouse i verden" fører til en kort video av boligen.
Located in SW hills, one mile from OHSU near Council Crest. Three miles from downtown Portland. Entire lower level guest suite including bedroom with queen bed, private bath, sitting room designed for lounging with comfy long sofa and bench table for placing ones feet or coffee upon, mini-decks, and shared laundry room.
House resides within 175 acre Marquam Nature Park with miles of trails for hiking or running. Three miles from downtown Portland.
Loved staying at Lance's! Adorable kitty, amazing views, and a friendly host. Everything was perfect and as described.
Kiran
2016-08-26T00:00:00Z
Couldn't have asked for a more beautiful and unique place to stay for our first visit to Portland. Beautiful neighborhood, fascinating house, and wonderful host. Thanks, Lance!
Benjamin
2016-06-21T00:00:00Z
We really enjoyed staying in Lance's treehouse! Beautiful city and mountain views! Lance was a cordial host- providing local recommendations and a history of the house.
Peter
2016-07-22T00:00:00Z
Great and unique house with a magnificient view. Clean and spacious room. Lance was easy to talk to.
Seulah Christina
2015-09-25T00:00:00Z
The place was a gem. It is located on the hills above the city, and you get an unobstructed view all the way to my. Helena and Hood. To be clear to those who rent, the rental is for the entire downstairs area and Lance lives on the second level. Lance was great about communicating and gave us our space to enjoy our stay. He also made coffee for us in the morning and made us feel very welcome! Would definitely recommend.
John
2015-11-28T00:00:00Z
Lance was a great host and the experience at the treehouse was like non other in Portland! We had great communication with Lance prior to our arrival and we had no problems checking in. He made us feel welcome right away like we were staying with a friend. We even had a chance to meet Barbie, his sweet 20 year old cat. Of course, the room was as described and the views were better than we expected. We only wish we could have stayed longer!
Cassie and Gilbert
2015-06-24T00:00:00Z
Best sunrise view! This place is an architectural gem. My husband and I found the room very comfortable and private. Lance and his adorable cat are fabulous hosts!
Vinessa
2016-08-29T00:00:00Z
This place is truly unique. It is nestled inside a dense forest of moss-covered trees with a stunning view of the city (and the sunrise!). It's like something out of a fairytale. We felt very safe and secure in the neighborhood. Lance is a wonderful host and went above and beyond to make sure we were comfortable. I hope to return here on my next trip to Portland!
Emily
2016-09-05T00:00:00Z
Romtype
Privat rom
---
Eiendomstype
Hus
---
Plass til
2
---
Soverom
Portland, Oregon, USA
Cute little Tiny House! It used to be our boys' fort when they were young, now it is a comfortable little retreat for adventurers exploring Portland!
Cute little back yard "granny flat" cottage located near Mt Tabor park in very desirable neighborhood! The cottage is "Portland Style" construction with excellent insulation (R30), new windows, etc.. Great host, free internet, parking, furnished living space that is quite private.. I absolutely love to cook (growing up my parents owned a restaurant), and a made to order hot breakfast is included! Menu items range from homemade granola, homemade biscuits, Lisa's secret-recipe-fried potatoes, and much more! The cottage contains an upstairs bedroom & sitting area. Note: There are steep stairs, so please take that into account if you have joint pain, etc... The QUEEN size mattress is new and comfortable. Downstairs there is a small kitchen with stove, microwave and under the counter fridge. Also downstairs is a full bath with ceramic tile shower. Coffee maker and freshly ground coffee provided in the cottage. Guests are welcome to use washer/dryer in main house. Guests have use of the back yard with fruit trees and some berries when in season. Also the cottage is within walking distance of Division street shops, Pizzicato pizza, the 52nd & Foster street Food Carts and much more. The # 4 bus is just a block and a half away, which can take passengers west directly downtown. The "(URL HIDDEN) app or website is easy to use & can help you get you anywhere from the airport, to downtown, to Powells Books, The Chinese Garden, and so on.
South Tabor Neighborhood is a quiet eclectic little neighborhood with many avid gardners, friendly neighbors, and gobs of dog lovers. We have community get-togethers, work parties, and holiday celebrations! If you are used to neighborhoods where no one knows each other or even speaks to each other this is definitely NOT the neighborhood for you :-D
Lisa's cottage is cozy, clean, & everything you would want in a tiny house experience. The bed & pillows are very comfy. Make sure you eat the breakfast! Lisa is an amazing cook- my husband could not get over how delicious her biscuits & gravy is, I agree! She's an amazing cook & host! We will make sure to stay at the cottage when we come back to PDX.
Jessica
2016-08-21T00:00:00Z
Lisa's listing is pretty straight forward with everything, and her communication is fast as well. I wanted to confirm and ensure our circumstances for booking were ok, and she responded later that evening, and we were booked within less than 24 hours of our arrival. Everything in picture matched what we expected. A small, cozy cottage. Definitely something you can live in while visiting Portland for a day or two. The area is pet friendly, but the stairs to the bedroom are steep; so if you have low mobility it may be difficult (wasn't a problem for us). I don't recommend bringing your dog upstairs, unless you plan on escorting it up / down. Plus, it's carpeted, so I'm sure it's a pain for the host to have cleaned. There's a guest book to write about your trip, it's amazing how diverse (and many) people have stayed there. Lisa really has an awesome thing going for her. Everyone seems to speak glowingly of their experience. Some parts of the cottage are creaky, but noise isn't an issue. The neighborhood is extremely quiet. Careful on your way into the bathroom, there's a bit of a dip! Privacy is abundant, you can draw shades / curtains in almost every window to ensure you've achieved your level of comfort with the outside world. We didn't take advantage of the outdoor / fire pit area. Parking is also a bit tight, but they are open to you parking in the driveway, although we elected for street because we were out & about. The cost is well worth the stay for a night, and the breakfast is a must have. My only regret is not asking for the random breakfast, but I have a soft spot for eggs benedict, and was not disappointed (there's just something fun about being surprised with food).
Rhys
2016-04-03T00:00:00Z
Great stay, everything was exactly as described. Friendly host and awesome space.
Zack
2016-11-03T00:00:00Z
Lisa was so welcoming and helpful- we loved her immediately. The breakfast was absolutely delicious and we couldn't help but request it every single morning! It was like having restaurant breakfast delivered to your door each morning! The cottage is located in a great neighborhood and is very easy to get to - very near the Mt. Tabor park which is gorgeous and also near the eclectic SE Hawthorne area which we frequented. The cottage itself is exactly what you see in the listing - a "tiny house" of sorts with everything that you need right there. Perfect for 1-2 people. We loved it. The whole experience was perfect and we highly recommend it!
Kara
2015-03-09T00:00:00Z
We truly enjoyed our stay! Lisa was a very warm and accommodating host and we loved staying in her cozy cottage. Her home-cooked breakfasts were fantastic, and we appreciated the dog-friendly accommodations. We'll make sure to return next time we're in Portland!
Brendan
2016-11-26T00:00:00Z
We had a wonderful time staying at Lisa's place. It was cozy, clean and you can't beat the location. Lisa brought over breakfast in the morning and it was absolutely delicious! I would definitely stay here again.
Alischa
2016-07-21T00:00:00Z
Fantastic airbnb rental on every level! Great neighborhood, cute, clean and comfortable cottage (the bed/pillows are to die for!) and Lisa's extra special touch of gourmet breakfasts are worth the cost of admission! Thank You Lisa
teresa
2016-03-25T00:00:00Z
We enjoyed our stay. We slept better here than any place we have ever stayed! Breakfast was fantastic! Thanks Lisa!
Lisa
2016-06-27T00:00:00Z
Romtype
Helt hjem/leilighet
---
Eiendomstype
Bed & Breakfast
---
Plass til
2
---
Soverom
Portland, Oregon, USA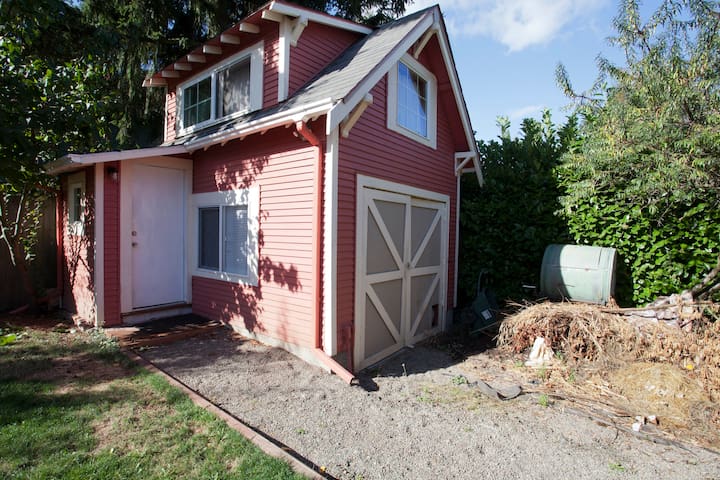 Tranquil space in a lush garden setting. This cozy guest house features a well equipped kitchenette and dining area, a relaxing L shaped couch that easily converts into a full sized bed. The bathroom window opens onto your own private patio for alfresco dining or a lazy afternoon in the hammock. Other amenities include a flat screen TV with cable and Netflix, WiFi, an iPod doc and stereo and a gas BBQ, Please also see our listing for the (EMAIL HIDDEN)e explore cool inner NE Portland, close to Alberta arts district and Mississippi Ave, its a short walk to some of the best bars and restaurants in Portland. 2 blocks to Whole Foods market or Irving Park and a 15 min bike or bus ride to downtown. Although you have your own patio the garden is a communal area shared with us and the Studio. We are conveniently located on 2 bus lines a 15 minute ride to downtown. the airport is accessible by max light rail or Taxi (about $25) Rental bikes available a few blocks away at Everybody,s Bike Rental and there is plenty of safe on street parking.
We were immediately impressed by the communication Colin & Medina had us with before & during our stay at their beautiful garden house. The space was extremely well kept, with a straightforward layout - made complete with helpfully detailed instructions ! In our 5 years of annual visits to Portland, this was our favorite place by far. We definitely plan on returning again. The location was perfect for biking to all the great spots the east side has to offer while still providing a quiet, and relaxed home-base setting ! Beauty, convenience, privacy & safety were met with perfect balance.
Jeff
2015-05-31T00:00:00Z
Everything about this location was perfect. The gated entrance on the side made accessibility ideal. Parking was never an issue. Very quiet at night, too. The neighborhood was close to everything we needed and our host went above and beyond for us. Incredible value for the experience.
John
2016-02-27T00:00:00Z
This was a perfect peaceful getaway spot. Would definitely recommend to others and would advise others considering a stay to go for it.
Tyler
2016-05-25T00:00:00Z
Wonderful time at Colin & Medina's place – really well-designed, simple spaces that have everything you need and nothing you don't. A tremendous value and a perfect location, close-in NE Portland. Great communication from the hosts, highly recommended.
Mathew
2014-02-11T00:00:00Z
This little garden home was fantastic! It was the perfect size for me during my weekend stay in Portland - and with a great location and friendly host I definitely can't praise it highly enough. Colin was very friendly and helpful from the moment I arrived, and though I didn't need anything during my stay I was confident that he would have been right there if I had. The furnishings are simple but thoughtful, clean and modern with many helpful little touches. Tea, coffee, and a healthy supply of cooking/eating utensils meant I didn't have to eat breakfast elsewhere. The bathroom is minimal but very functional - I was pleasantly surprised at how effective the fan was at keeping the small space free of after-shower humidity (it really is a small house, and I was slightly worried that I'd cloud up all the air inside). Really the only discomfort was my own fault - I forgot to bring slippers or extra socks and the (wood/laminate?) floor was cold in the mornings! Overall, I highly recommend this guest cottage to a couple or single person traveling in Portland!
chelsea
2014-03-17T00:00:00Z
We really enjoyed our time at your cozy cottage. It had everything we needed for a week long stay. It is in a great part of town, easy to walk places and parking was no problem. We would definitely recommend it to friends and family who want a unique Portland experience. Thank you Colin and Medina!
Jennifer
2012-11-29T00:00:00Z
This little cottage is a great base to explore Portland from! It's a lovely little space and great to have the kitchenette for tea and stashing leftovers. And the neighborhood is terrific. Very close to some really amazing places. We ran into Collin briefly and he was very pleasant.
Heather
2014-11-24T00:00:00Z
It was a blast to stay here. It is situated close by the major avenues that have all of the popular bars and restaurants as well as minutes from downtown. The place was clean and cozy. It easily accommodated my wife and I. Colin was a great person to meet (ask him to show you his tiny house trailer he built himself). All said and done, we would stay here again in a heartbeat.
Betsy
2016-06-15T00:00:00Z
Romtype
Helt hjem/leilighet
---
Eiendomstype
Hytte
---
Plass til
2
---
Soverom
Portland, Oregon, USA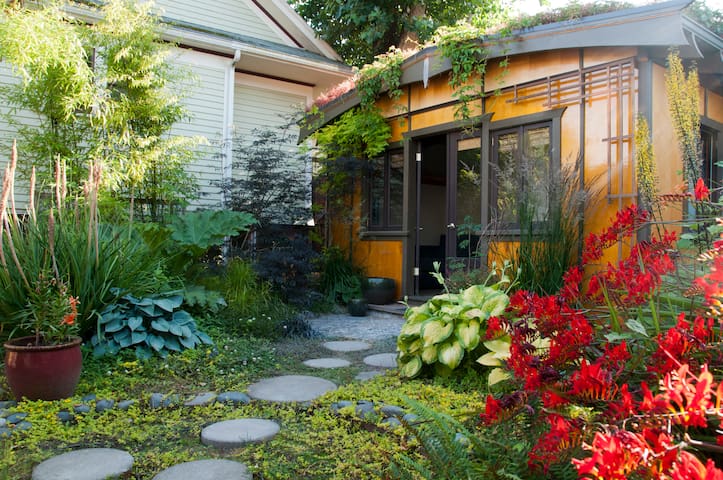 My place located in quiet residential area but you can easily access to Portland's richest attractions in nature and city. This house is good for couples, business travelers, and families (with kids). The quiet surrounding is also ideal for self retreat.
This is a newly remodeled 2 bedroom 1 bath house with mini kitchen inside and extra cooking space outside. Two private bedrooms and studio style living room are located on the same floor. Host house is upstairs but it is a separated space with different entry door. It is equipped with mini kitchen with full size refrigerator and cooking wares for 4-6 people. Room 1 has Queen size bed, Room 2 has two twins, and the Living Room leather couch can turn into a Queen size bed. All three rooms have TV with Cable Channels. Wifi available in house has the fastest download speed on the market. The whole area has beautiful hardwood floors and the living room overlooks the garden with an awning and BBQ grill. One side of the house is slightly below the ground level but the whole house is bright enough to enjoy full sunshine (except rainy season in Nothwest) The private bathroom has a spacious shower booth and sink.
This is located in quiet residential area but you can find Nike, Intel, Tanasbourne Mall, Costco, Target, Fred Myers, McMenamins Brewery, and numerous restaurants withing 5 miles.
My boyfriend and I had a wonderful stay at Simon and Sunny's place. The guest house was spotless and perfectly set up for our arrival, and even though we didn't get a chance to meet him in person, Simon was great about keeping in touch to give us all the info we needed and ensure we were comfortable and enjoying our stay. We loved having a quiet, private place to spend the weekend and particularly appreciated all the little touches, such as a basket of snacks in the kitchen, electric blankets, and helpful notes around the house.
Monique
2016-11-20T00:00:00Z
Very well appointed home for our stay good communication very easy check-in too
Kourosh
2016-11-25T00:00:00Z
Very clear communication and the home was in a great, safe neighbourhood. The place was clean, warm and inviting. They had made every effort to make our stay comfortable and I would come back and stay with you on my next trip. we were 3 friends visiting for a weekend. Close to all the amenities!
vandana
2016-11-13T00:00:00Z
Thank you for your wonderful abode. It was remarkably cozy and temperature comfortable. Not an easy thing to do. So well stocked. It looks like you guys put a lot of work into preparing the place. Congratulations on this endeavor and good luck!
Kevin
2016-10-02T00:00:00Z
The hosts were outstanding, from initial reservation to check-in to check-out. Every step was pleasant and they were always willing to help out if we needed. The house is a wonderful modification of their home, allotting the majority of the bottom floor, including a big and modern bathroom, two large bedrooms and a spacious living/dining room. Everything was immaculately clean, including rooms, bathroom, kitchen and couches and beds. I can't say enough good things about this place. Highly suggested and I will utilize Simon's Airbnb again when I return to the area. Thanks!
Will
2017-04-09T00:00:00Z
The guesthouse was wonderful! We stayed four nights with our little family and loved every minute. It was so comfortable and felt just like home. Sunny and Simon were so friendly and welcoming. Our kiddos loved their chickens and kitties. Definitely would recommend!
Liesbeth
2017-04-01T00:00:00Z
This is, hands down, one of the best Airbnb experiences I have ever had. There was absolutely no confusion or hassle from booking to check out. The space is bigger than appears in photos. Simon and Sunny made us feel incredibly welcomed with small details such as fresh fruit and snacks upon arrival, FULL container of fresh, clean, chemical free, amazingly tasty water in the fridge, and small notes around the house that made the experience that much more convenient. There were TVs in every room so no one was stuck watching the same show. Also most importantly the place was INCREDIBLY clean. With air purifiers throughout the space it did not feel stuff one bit. I felt like I even slept better because of it. I highly recommend this place to anyone visiting the Portland/Beaverton area.
Mary
2017-01-15T00:00:00Z
Our stay at Simon's place was perfect. We live in Beaverton and stayed at Simon's for a weekend in order to list our house (at our realtor's request). The location is great and close to many amenities. The home is fabulous - clean, cozy, homey, and roomy enough for our family of four. The kitchen is well appointed. My kids liked the garden. Simon is a wonderful host. He covers the basics and adds a lot of really nice and personal touches. He is helpful and private at the same time. I would recommend that family or friends stay here when they come visit us. You can't go wrong staying here.
Fred
2016-12-04T00:00:00Z
Romtype
Helt hjem/leilighet
---
Eiendomstype
Andre
---
Plass til
4
---
Soverom
Beaverton, Oregon, USA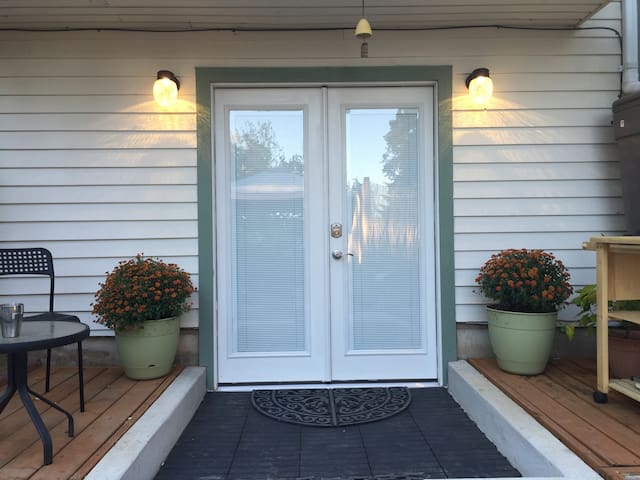 We offer a 2nd floor two bedroom apartment with private entrance and plenty of space. Located close to Nike, Intel, the Westside Regional Trail and Tualatin Hills Nature Park. We are also just 15 minutes from downtown Portland and all it has to offer. Easy access to buses and a Max stop less than a mile away. Great for exploring PDX and Oregon! The unit has a full kitchen, comfortable beds for up to four people and a relaxing great room with 60" TV. Great for families! Book with us today!
Recently built 700sf upstairs apartment with great amenities! Full, well appointed kitchen. 60" TV with smart/connected blue ray for Netflix and Amazon Prime. If TV isn't your thing there is also a large bookshelf with a variety of reading materials. Vaulted 9' ceilings make the apartment feel spacious and airy. Large French door for future deck access provides lots of light and/or cool breezes. Smaller bedroom has a desk for work or other needs. Lots of windows for natural light! LED lighting for bright energy efficient light.
Quite neighborhood with walkable sidewalks, park and nature reserve nearby.
My friend and I enjoyed our stayed at this location. This place is really beautiful and the pictures do not do it justice. I really enjoyed the set up and amenities this place had to offer. It was great that we were able to watch Netflix and other apps on the tv. Both beds were comfortable and so were the couches. It was ideal for our brief stay in Oregon. Very close to the nike store and Toms (breakfast place). Additionally, Justin made sure that I received an email with all the details about my stay the day before, and when I had questions he would reply in a timely manner.
Karen
2016-08-28T00:00:00Z
Dave's place was great! My boyfriend and I only stayed for a night but the apartment was beautiful, spacious, and exactly as described. All of the appliances were brand new and we had everything we needed. The neighborhood was residential and very safe, and Dave was very accommodating and easy to communicate with. Would definitely stay here again!
Meghan
2016-09-08T00:00:00Z
David & Erika's was a very calm, comfortable and absolutely beautiful place to stay. We loved every minute of here in Beaverton, the neighborhood will leave you breathless. Truly a welcoming environment, and I would highly recommend renting this place to anyone considering. To the best hosts ever, thank you David & Erika!
Victoria
2017-03-20T00:00:00Z
Good location, great place, great value, true to its listing.
Jacqueline
2016-10-26T00:00:00Z
David was great about getting back to me when I emailed or texted with questions. He was accommodating and went above and beyond. The plan was clean and just what we were looking for.
Carey
2016-09-26T00:00:00Z
Our stay here was awesome. We arrived later than planned and the hosts had no problems accommodating that and made sure to leave the lights on for us. The space was super nice and very cozy. We did have a bit of trouble working the tv BUT that's on us not them lol The bathroom is like one at a spa, we want a shower like that at home now. Great place to stay, would highly recommend it :)
Sandra
2016-09-17T00:00:00Z
David's place was incredibly cozy. Exactly as advertised and more. We had such a relaxing time in Portland at his place, especially since one of our days we got snowed in and we didn't even mind(: He was even so kind enough to shovel the walk way for us and everything! Would highly recommend and will definitely come back in the future! Thanks Dave!
Kim
2017-01-13T00:00:00Z
Did not meet David, but that was OK. Talked to him on the phone and seemed extremely nice. We were so busy didn't spend much time at the apartment. Would stay here again.
Paula
2016-10-07T00:00:00Z
Romtype
Helt hjem/leilighet
---
Eiendomstype
Hus
---
Plass til
4
---
Soverom
Beaverton, Oregon, USA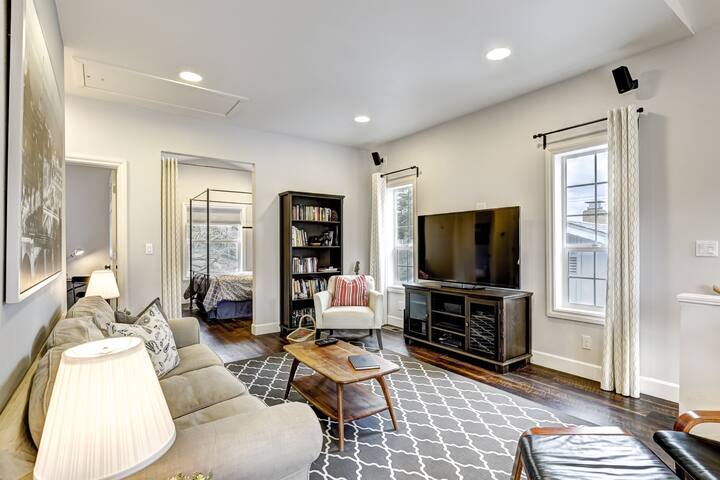 Our little cottage is 280sqft with its own entrance and parking. It is a studio with a kitchenette and features a full bathroom. The sleeper sofa is very comfortable and easily converts to a couch. TV and wireless internet are also included. We live in Beaverton on a quiet dead end street, just one block away from Nike HQ, very close to the Cedar Hills shopping area and only 20 minutes from downtown Portland.
Quiet neighborhood, located 1 block away from Nike and walking distance to Commonwealth lake, and Cedar Hills shopping area. Just 15-20 minutes to downtown Portland.
This cottage is perfect! It has everything you need. It's very close to basically everything! 25 minute tops to get downtown. Mark and Uli are very friendly, and gave us good tips on dining out, beaches, and hiking trails. Would recommend the cottage to everyone!
Rachel
2017-04-04T00:00:00Z
A 15-20 minute drive from just about everywhere in Portland. The small kitchen, full-size fridge, and the Netflix-ready television were great amenities. Privacy was top notch as it was a separate unit from their main house (easily accessible via the side gate at all hours).
Vincent
2017-03-27T00:00:00Z
As depicted, the cottage is very small but cute and clean. The couch/bed is quite firm so if you need a soft mattress, this may not be the one for you unless just a night or two. The kitchenette has a nice frig/freezer, micro, coffee pot, sink and a few pans. Bring your own baggies and plastic containers for leftovers if you plan to cook. Also tea bags, hot chocolate, etc. if you aren't a coffee drinker. The bathroom is small but has a very nice hand held shower/tub. It must have an instant hot water tank. If you want a bit of privacy, this is nice in a very convenient location to Hwy26, Beaverton, and surrounding towns.
Lee
2017-03-30T00:00:00Z
Mark and Uli are two great hosts that are always there when you need them and are quick to respond if you have any questions. The cottage is very comfortable and has everything a person would need for a short or long term stay. It's located in a very scenic location with many restaurants and shops very near by. I recommend anyone to rent this hidden gem to enjoy their time in Oregon.
Tamer
2017-03-21T00:00:00Z
Romtype
Helt hjem/leilighet
---
Eiendomstype
Gjestehus
---
Plass til
2
---
Soverom
Beaverton, Oregon, USA
700 sq. ft. 4-rm. apartment on ground level of 3-story townhome located on a quiet street of a small townhome development named Shadow Spring. Separate, private entrance in back of house on the ground level. Deck overlooks forested greenspace. Close to parks, restaurants, shopping centers, Intel, Nike, Columbia Sportswear Headquarters, Westside Medical Center, bus, light rail, and freeway. Free on-site parking.
This furnished apartment consists of four rooms: One bedroom with two comfortable twin beds; living room with large flat screen Smart TV, desk, and dining table that seats four. Kitchenette is stocked with basic supplies and includes a mini refrigerator with separate freezer compartment, microwave oven, portable induction cooktop, and Keurig Beverage Unit; Bathroom has a full-size tub and shower. A separate storage room holds and additional desk, an ironing board, iron, vacuum cleaner, brooms and two sleeping adult size sleeping cots. A small deck serves as the entrance to the apartment, and has seating area for two so you can observe the antics of the squirrels and other wildlife that inhabit the nearby forest...or just enjoy the quiet.
The Shadow Spring Development consists of 20 buildings (40 housing units). Many residents work for Intel or other tech-related firms in the area. Many are retired, few have children living in the area, several are new residents from other parts of the U.S. and other countries, and all love the neighborhood. Orchard Park is an easy walk from the apartment and contains a walking/biking path through forest and wetlands, and a disc golf course (2 sets of discs are available for you to borrow). Low-rise commercial buildings are nearby and include a walkable "park" where you can observe ducks and geese near a fountain and pond. Within one mile you will find multiple grocery store options (Whole Foods, Trader Joe's, New Seasons, Fred Meyer, Safeway). If you want to eat out, there are many options in fast food, coffee shops, chain restaurants, one-of-a-kind restaurants, ethnic restaurants, health food, etc. Kaiser Permanente's Westside Medical Center is three blocks away. "The Streets" Outdoor Walkable Shopping Center is three blocks away and includes a Macy's, REI, H&M, and many other smaller shops. Regal Evergreen Cinemas is within a mile--or you can just watch Netflix for free in the apartment. Two major health clubs (24 Hour Fitness and LA Fitness) are within a few miles of the apartment. Visiting Intel, Nike, Columbia Sportwear? They're all within a few miles. Sports: Gordon Faber Recreation Center (Hillsboro Hops Minor League Baseball). Live Theater: Hart Theater and The Venetian Theater and Bistro (in Downtown Hillsboro). Downtown Portland Activities: OMSI, Oregon Zoo, Convention Center Activities, Portland 5 (Performance Art), and many other options are about a half hour away by freeway or the Red and Blue Lines on MAX light rail. (A park and ride lot for the Quatama station is less than a mile from the apartment.)
I loved staying at Judy's place. Not only did I give her 5/5 for all the logistics of renting her unit, but the neighborhood itself was in a safe, quiet, clean, convenient location in Beaverton. The cuteness of the way she thoughtfully decorated and stocked the unit also helped my friend and I feel comfortable, like we were at home! Will definitely look into renting this place again the next time I'm in Portland!
Jeanna
2016-09-05T00:00:00Z
Judy is one of the nicest people I've ever met & very upbeat. She made me feel at home & I loved the neighborhood. There are hiking trails with wild black berries & several parks; I walked to a small Whole Foods & there is a newer outdoor mall with a Gap, a Trader Joe's & Judy gave us some great suggestions for eateries. I hope the place is available next time I make the trip. There were places closer to where I was going, but it was definately worth any inconvenience. I thought they were big squirrels but there were tiny bunnies playing out back- delightful!!
Karen
2016-08-13T00:00:00Z
Judy was very pleasant. The apartment was super clean and very conveniently located. The park and walking paths are beautiful. I would highly recommend staying here.
Paul
2016-09-28T00:00:00Z
Judy was an amazing host, super attentive and knowledgeable of the area. Her space was perfectly stocked with all the amenities you would need.
Jacob
2016-08-18T00:00:00Z
This place is just perfect, very spacious and clean. The attention to detail is impressive.
Caíque
2017-03-20T00:00:00Z
Judy's home was well equipped and went beyond expectations for thoughtful conveniences. She tries to provide anything you may need, and was always available for questions. Very considerate and kind host. Home was very clean and organized. Will definitely stay at her location again.
Aimee
2017-02-21T00:00:00Z
Great place to stay in a very friendly neighborhood. Very clean and welcoming.
Scott
2016-10-21T00:00:00Z
Mrs. Judy was a fantastic host. We came to the greater Portland area for job interviews. Our stay here felt so comfortable like we were at our own home. Mrs. Judy was nothing but generous and accommodating. We highly recommend staying at her secluded space, you'll feel so at home!!!
Stephanie
2016-10-20T00:00:00Z
Romtype
Helt hjem/leilighet
---
Eiendomstype
Rekkehus
---
Plass til
2
---
Soverom
Beaverton, Oregon, USA
The apartment is approximately 1,000 sq ft with a private entrance located in a cul de sac and quiet, safe neighborhood. The apartment offers a fully stocked kitchen, cable tv, dvd player and wifi with a comfortable seating area for reading by the gas fireplace or watching tv. The bathroom is freshly updated and spacious with an extra large shower. The bedroom has a queen size bed, walk-in closet and dresser. Driveway and street parking and private entrance on the side of the home.
Very quiet and safe neighborhood with easy access to downtown Beaverton and Portland, Nike, Intel and wine country. Apartment is ground level with no stairs, offering a private entrance and access to a beautiful backyard patio. The apartment is fully private with new and updated amenities.
Highland neighborhood is quiet with many walking/running paths and close access to several parks in the area. It is also close to Beaverton Farmer's Market, a large shopping mall, variety of grocery stores and other shopping, dining, movie theatre and freeway access.
Beckie was very welcoming of us in to her home. The whole place was immaculately clean with plenty of amenities. A very peaceful location and easy to navigate to and from wherever you are in the area. 100%
Mike
2016-09-16T00:00:00Z
This is our second time staying here and it's just as good as the first. It's inviting, peaceful, and accommodating. The whole process has been stress free. Thanks, Beckie!
Kathi
2016-10-06T00:00:00Z
Our stay was fantastic. It was warm and comfortable. My wife and I felt very much at home there. Beckie and Jim were very welcoming, helpful and were quick to respond to any questions we had as well as provided so much good information about the surrounding area. The backyard and water feature was incredible the neighborhood was very nice. Our overall experience we had was wonderful and would certainly go back.
Chris
2016-11-07T00:00:00Z
Becky answered all my questions well before the arrival. Sent a reminder text a day or so before arrival with final instructions and a lock code for the door. This one bedroom apartment is absolutely gorgeous. Freshly and tastefully decorated. The bed was comfortable, the kitchen well stocked with tools and Kurig coffee. The stream and fountain just outside was amazing and lulled us to sleep each night. We met Becky briefly and she was very pleasant. All in all a top notch experience. I would not hesitate to recommend to others.
Ken
2016-09-27T00:00:00Z
My mom and I loved our time at Beckie's! The space was so cute and cozy, perfect for a weekend getaway together. We enjoyed relaxing with the fireplace, the tea and coffee that was provided, and easy access to the city! Beckie was a gracious host who checked in with us throughout our stay to ensure we had all we needed! I will absolutely think of returning on future trips to the Portland area. Thank you Beckie!
Emily
2016-10-23T00:00:00Z
This place is cute and cozy! It was perfect for my solo trip and I loved it! Beckie provided details and instructions for anything that I needed. The kitchen came stocked with some snacks, the bathroom with some toiletries and they also provided coffee and creamer! The bed was comfortable, the shower was amazing (great water pressure) and the fireplace kept the place warm during cold nights. This was in a central location in a nice neighborhood and I don't think anything touristy that I visited was over 20 minutes away, which was great! I will definitely come back to them when I visit Portland again! :)
Courtney
2016-10-18T00:00:00Z
Staying at Beckie's Airbnb was a truly phenomenal experience from start to finish. Beckie and her husband are very welcoming and kind people and did everything possible to make the stay easier and more fun than any place I've stayed yet! When I get the opportunity to return to the portland area I will have to hope that Beckie's Airbnb is available for rent and I would absolutely recommend the space to anyone looking to spend a nice weekend away in a beautiful city with wonderful hosts!
Daniel
2016-09-19T00:00:00Z
This place is very clean, well appointed, spacious, and beautifully decorated. It might good for guests to know that the main living room wall is shared with the main house via a double glass door. This means that both guest and host noise from activities can be heard by the other.
Megan
2016-11-15T00:00:00Z
Romtype
Helt hjem/leilighet
---
Eiendomstype
Leilighet
---
Plass til
2
---
Soverom
Beaverton, Oregon, USA
The setup for this space is 2 bedrooms with a queen bed in one room and a comfortable Ikea Holmund sofa bed in 2nd bedroom with desk and television and private bath .
My home offers a spacious two room suite with a private bath just steps away from your rooms. One room has a queen size bed with a brand new 'Tuft and Needle' mattress and blackout drapes. The second room has an Ikea Holmund sofa with chaise that converts to a queen size bed, complete with comfy mattress pad. The space is family friendly, I also have a 'Pack and Play' playpen with the mattress insert and flannel sheet for an infant available. The 2nd room has a small refrigerator, desk, and Smart TV with HDMI cable. Wifi internet is fios fiber optic. This is a great space to work, study or relax and watch your Netflix or Hulu shows as well as being a great sleeping space. Both rooms have keyed locks for privacy and security and I provide all the essentials to make your stay comfortable.
Right across the street you'll enjoy a Saturday stroll through Beaverton's world class Farmer's Market, listening to the music, or enjoying the park with shade trees, picnic benches and a water pad. It's also open again on Wednesday evenings during the height of summer. You're within a couple of minutes walk from great restaurants of every kind, shops, cafes, coffee houses, the library, and parks. I love strolling through our peaceful and beautiful neighborhood. Shopping is also withing walking distance, including New Seasons, Trader Joe's, Fred Meyer, Natural Grocers and more. There is also a 16-screen Cinema and a Powell's Bookstore only a few minutes away.
Mary was a very welcoming presence and great host. She proactively asked and attended to my needs. The rooms were clean and spacious. I would definitely stay at Mary's place again if I had need of it.
Seth
2016-07-01T00:00:00Z
Mary was an awesome host! Great environment and accommodations. Would definitely stay with her again.
Kevin
2016-12-04T00:00:00Z
2nd time staying with Mary and it was again wonderful. She is a kind and considerate host who will always make you feel welcome in her home. Very quiet and close to downtown Beaverton. The library is only 1/2 block away and a great 24 hour coffee spot is close by. Would definitely recommend staying here.
Sean
2016-11-27T00:00:00Z
Mary was terrific. Gracious and friendly, and her home was a wonderful solution for our last-minute conference attendance. I wish we had had more time to enjoy her home. I especially enjoyed the glasses of fresh water, covered, by the bed. What a sweet touch!
Leslie
2016-07-16T00:00:00Z
Mary is a wonderful host and took the time to make sure my son and I felt at home. Very clean and comfortable rooms. Nice and quite. Great location that made it perfect for my needs. Hope to visit again. Thank you!
Sean
2016-08-13T00:00:00Z
This was my very first Airbnb experience and I don't know how I got so lucky to find Mary ! Both rooms were extremely clean, and very comfortable! Mary couldn't do enough for us to make sure our stay was perfect in every way! I would give her 10 stars! The location was also so convenient for public transportation, and in a great neighborhood. We were able to walk to stores, restaurants etc. Thanks a bunch Mary for everything!
Conny
2016-10-19T00:00:00Z
Mary's place is lovely! It's so clean and comfortable and perfect to relax or prepare yourself for a good hike. Mary is very accommodating and fun to talk to. I highly recommend Mary's place!
Hanne
2017-03-15T00:00:00Z
Mary's home was extremely comfortable, welcoming and in a great area. The bed was the most comfortable bed I've experienced. It was a blessing after a long day at work. Mary is a very kind and welcoming host. Highly reccomend!
Kayla
2017-03-31T00:00:00Z
Romtype
Privat rom
---
Eiendomstype
Rekkehus
---
Plass til
4
---
Soverom
Beaverton, Oregon, USA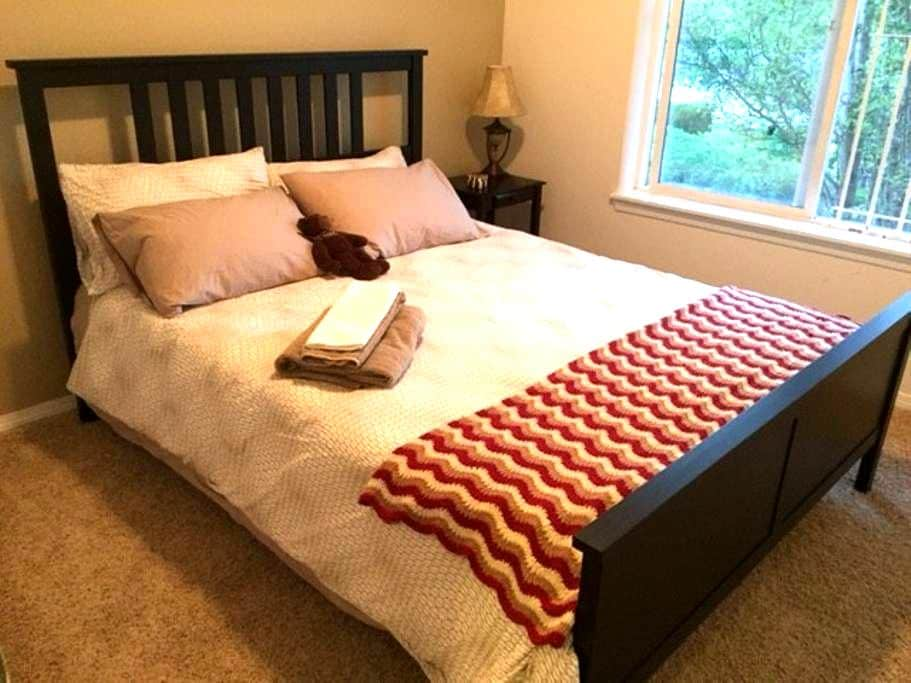 Clean quiet Space to come back and relax. Sit in the Hot tub or sauna or sit on the deck and enjoy the beauty of nature and listen to the sounds of birds and wildlife around you. Or walk up to forest park. Its all hear at Beaverton Suburban retreat
This area is attached to the main house but you will have a private enterance and the listing will not be shared with your host. street parking Private entrance Private bathroom with shower  Bedroom with queen size bed and walk-in closet Private sitting area with sectional, cable TV, bar height counter with bar stools Kitchen area with refrigerator, microwave, hot plate and washer & dryer  Separate heat and air conditioning comfort control Private Deck with table and chairs, gas BBQ Wi-Fi available No Smokers or pets
have lived in the rolling southwest hills of Beaverton since 1971.   Although the Pacific Northwest is known for wet winters, you'll be surprised to know that Beaverton averages only 36 inches of rain per year - which is less than Baltimore, Maryland, with 41 inches, and Miami, Florida, with 56 inches. In the dry months, June through September, Beaverton receives less than five inches of rain total. The average temperature in the summer is in the 80s and, because of the northern latitude, the total number of hours of daylight in the summer can reach almost 16 hours (sunrise at 5:21 am and sunset at 9:02 pm). In the wintertime, it is not uncommon to experience minor snowfalls of a couple of inches, but major snowfall occurrences are rare. Getting Around
Host baked us cookies, washed car, very welcome has everything you need. Great and fun place to stay. Great Value.
Agustin
2016-12-17T00:00:00Z
We stayed at Fred's place for a couple of nights and it was a wonderful experience. His home is a paradise for any nature lover and he has impeccable taste when it comes to home decor. Vintage and nature in abundance mixed with homely warmth. He is very hospitable and we would love to come whenever we visit Portland again. Staying at Fred's place was the highlight of our trip.
Khushboo
2016-07-05T00:00:00Z
We had a lovely experience! Upon arriving, Fred had cut up fresh fruit for us and stocked our fridge with snacks and drinks. We had access to the hot tub and sauna, the living area was very well kept and clean, the bed was incredibly comfortable. We highly recommend staying here.
B
2016-08-21T00:00:00Z
Fred's place was the perfect home base for me during my week in Portland. He has a lovely home with a wonderful garden oasis. He prepared the space down to such thoughtful details as fresh fruit in the fridge & chocolates!
Stefanie
2016-11-13T00:00:00Z
Fred was an amazing host. His house was freshly clean, and each day he tidied up after us. He went above and beyond with his hospitality and made us feel right at home. His dog Emiko was a loving ball of energy and fun to play with. We plan on visiting Oregon again next summer, and Fred's place will be our first choice of stay!
Cat
2016-09-12T00:00:00Z
Fred was a fantastic host, and his home is absolutely beautiful. His backyard garden, complete with ponds and fountains, made the perfect backdrop for a month of family dinners, lazy summer nights reading, and spending time with family. The actual space is gorgeous and just what we were looking for. W&D, simple kitchen, comfortable bed, quiet neighborhood, loved it! Will be back. Thank you Fred!
Sally
2016-08-19T00:00:00Z
Fred's place has a wonderful garden, a quiet setting and neighborhood, and it was a treat to use the sauna at night. It was a nice jog to New Seasons, and I was able to get a lot of work done (which was the purpose of my trip). Fred is very generous with food - he had fresh biscotti and even shared the recipe, as well as spanikopita and fresh fruit. Very thoughtfully set up place to stay, and did I mention that Fred is an amazing designer / gardener? Would definitely recommend, if the location works for you (it's about 25-30 minutes from downtown). I told him to raise the price, but he wouldn't listen...
Russell
2016-12-31T00:00:00Z
Staying at Fred is a delight. The place is private even though its attached to the main house. Fred house is very nicely done in details and decor. The whole place is very comfy, extremely clean, plenty of amenities (soap, shampoo, hair dryer, shoe polisher, tons of towels, bottled water, snacks, fruits, TV, washer and dryer and many more). The place is big enough so you don't feel cramped. Big sofa for you to lounge on, comfy bed. There are soo many things that Fred did that's way above any Airbnb that i stayed before. Thank you Fred for your hospitality, i highly recommend anyone visiting portland area to take a look at Fred's place.
Handy
2017-01-07T00:00:00Z
Romtype
Helt hjem/leilighet
---
Eiendomstype
Gjestehus
---
Plass til
2
---
Soverom
Beaverton, Oregon, USA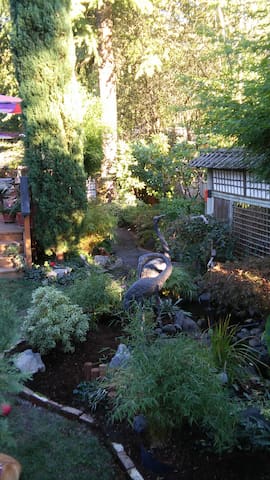 You'll love my place because of the new paint and polished hardwoods floors with Midcentury charm. There is a big screen TV and full range of channels. Washer and dryer, fenced yard that is great for a dog or relaxing on a summer day. Offstreet parking for 2 cars..
Clean, easy to find, and a comfortable bed.
Mitchell
2017-04-09T00:00:00Z
Great spot,Garrett is a very communicative host and very easy to work with.
Emanuel
2017-04-06T00:00:00Z
Romtype
Privat rom
---
Eiendomstype
Leilighet
---
Plass til
2
---
Soverom
Beaverton, Oregon, USA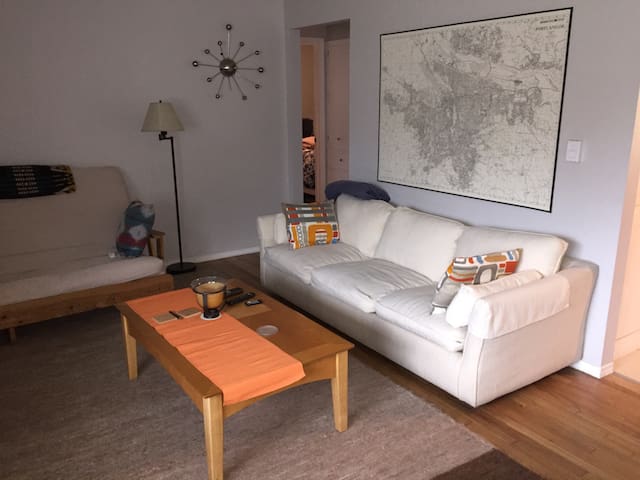 Lovely 2nd floor bedroom suite with private bathroom, balcony, and walk-in closet. Clean & private with lots of natural light and centrally located within walking distance to bus stops, grocery stores, bars, restaurants, and fast food. Close to Intel, Nike WHQ, MAX Stations & Transit Centers, & Downtown Beaverton and a short drive to Portland City Center, wineries, breweries, and all the great Pacific Northwest has to offer. Owned by a relaxed & friendly couple with 2 resident housecats.
The guest room is large and fully furnished with a comfortable queen bad, love-seat, dresser, Samsung HD Smart TV, and night table with alarm clock. The en-suite bathroom is fully stocked with all the essentials, and there is additional space in the walk-in closet for storage. Outside the guest room, there is a shared desk/work space available for use if needed. Wireless internet is also available.
This is a safe neighborhood filled with parks and sidewalks, but is also centrally located and a short walk to Downtown Beaverton, the Beaverton Library & Farmers Market. Grocery stores, coffee shops, restaurants, drug stores, and sports bars are a short walk down the street as well.
Mary's place is a great deal!! The room is clean and the bathroom is well stocked. The water is nice and hot and she doesn't skimp out on turning up the heat when it's cold at night. She even had good coffee to drink (sadly, I didn't get a chance due to time crunches, but Stumptown is always good) and she let us use her pans to cook dinner. Her cats are super friendly as well. I didn't see Mary much during my stay, but this was due to my poor planning. I stayed here with my boyfriend and we drove to Portland and somehow we ended up checking in to Mary's place super late, but she was extremely friendly about it and we stayed in touch through the messaging app. She was very understanding. I definitely recommend Mary's place! It's a nice cozy house and she could honestly charge more for it.
Jasmin
2017-01-15T00:00:00Z
Me and my friend stayed her for one night. Mary and her husband are great hosts and we felt like in a hotel room ! Best Airbnb we ever had!! Thank you so much !
Katharina
2017-03-12T00:00:00Z
Mary's place was great! Very cozy and made us feel at home. She was very nice and helpful and her cats are the cutest. Would definitely recommend/ book again!
Citlally
2017-02-12T00:00:00Z
The space is very nice, clean, and close to several restaurants, stores, and the HWY/Interstate for easy travel. Mary is easy going and available to answer any questions one may have of the area and communication is very good. Would recommend this stay to anyone looking for a place in the Beaverton/Portland area. The cats are sweet as well :)
Amanda
2017-02-23T00:00:00Z
The room is nice and there is a lot of complimentary amenities - coffee machine, snacks and best portland beers, a lot of towels and washing supplies. But be prepared for a little bluff and caustic cat smell. Mary was a great host and very helpful host!
Anna
2017-03-05T00:00:00Z
Mary's place well located and as described. The bed was very comfortable for a good nights sleep. There were many amenities in the room-coffee, tea, local craft beer, snacks, local guide books. Mary and Jeff were great hosts and although we didn't have a lot of time together Mary checked in with us to make sure everything was fine and I appreciated that. I would recommend Mary's place.
Corinne
2017-04-02T00:00:00Z
A beautiful clean home with very nice hosts! Everything you need is in your room, it feels like a hotel!
Amy
2017-03-26T00:00:00Z
Mary's place was fantastic! When we arrived we were greeted at the door and made to feel at home, the house was warm and cozy. Communication was great, Mary is very responsive and this made our check in and stay perfect. On a side note, the best bed I've ever slept on. Slept like a rock. Definitely will come back when we are in Oregon!
Jimmy
2017-03-14T00:00:00Z
Romtype
Privat rom
---
Eiendomstype
Rekkehus
---
Plass til
2
---
Soverom
Beaverton, Oregon, USA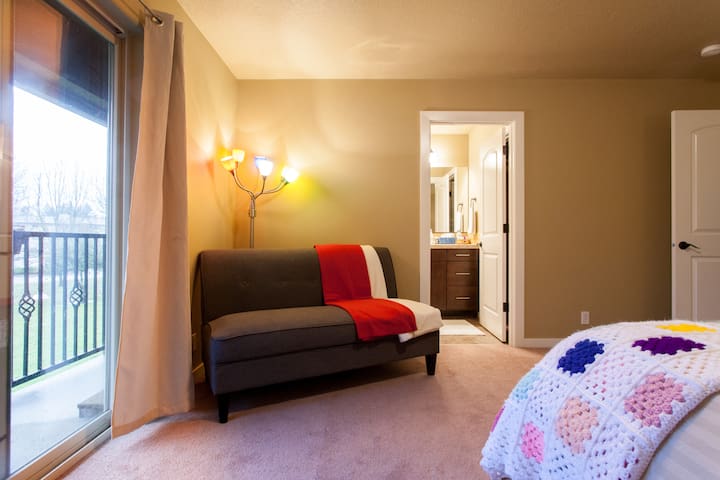 Possible shared room. You get the top bunk. This is a steel framed bunk. The max on the top bunk is 150 lbs. that is what the frame says so I gotta go with it. If you are over 150 lbs do not book. I will tell you that you can't stay here. Here is the bottom: http://abnb.me/EVmg/K1e9uuEiVB
You get the top bunk. Possible shared space. Renting another room in the house as well they have there own area with a TV. See other listing. https://www.airbnb.com/rooms/15237785?guests=1&s=41&user_id=91019873&ref_device_id=c31d707208eb8349 Again top bunk max wieght 150 lbs.
Quiet suburban neighborhood. Limited parking though. It is free to park any where. Just check the signs.
Great place to stay! Always clean and ready for the next day! Great host you will love it here!!
Lisa
2016-10-21T00:00:00Z
Comfortable, casual stay. Great host and place well kept.
Richard
2016-11-20T00:00:00Z
Kraig is super welcoming, nice, and laid back. The perfect spot for a quick over-nighter.
Joshua
2016-11-23T00:00:00Z
Kraig was really friendly and accommodating. The bed was comfy, the room was cozy, and the location was right on a bus line, making it easy to get downtown. I would definitely recommended!
Aimee
2017-04-06T00:00:00Z
Kraig's place is clean, cozy, and affordable. Everything an airbnb should be!
Raphael
2016-10-17T00:00:00Z
Kraig is a super cool, friendly, talkative, laid back guy! His house is very spacious and clean (I appreciated that shoes and smoking were NOT allowed in the house) with awesome amenities: laundry, TV with EVERY channel (I'm not a big TV watcher and I don't even own a TV so this was a real luxury to me!), and I really appreciated the little things like the complimentary toothbrushes and razors. I felt very comfortable and relaxed at Kraig's place... Awesome experience that was akin to staying at a good friend's place. Highly recommended!
Diana
2016-10-14T00:00:00Z
Kraig's place is comfortable and easy to navigate. No clutter and clean. Excellent job.
Richard
2016-11-22T00:00:00Z
Kraig was a great host. Parking was a bit tight in the neighborhood but overall a positive experience staying at Kraig's "hostel"!
Michael
2016-11-26T00:00:00Z
Romtype
Delt rom
---
Eiendomstype
Hus
---
Plass til
1
---
Soverom
Beaverton , Oregon, USA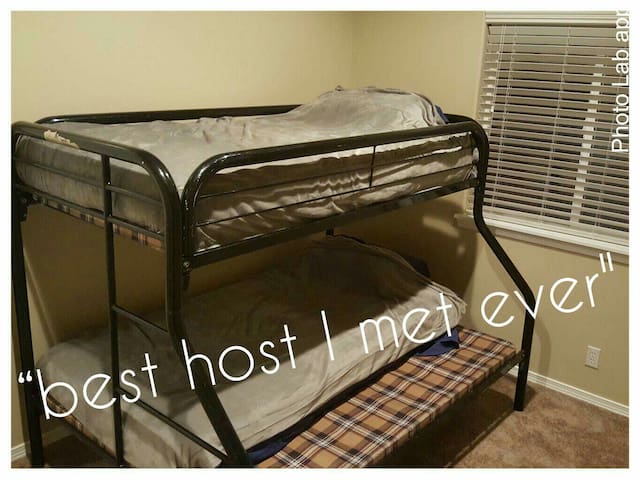 You'll have your own bedroom, with a twin bed and full bathroom in a very quiet neighborhood. 1/2 of the bedroom closet available for you, as well as a separate fridge for your use. Most guests stay for an extended weekend. The home is single story, with 2 bedrooms, 2 bath, fenced deck, and your own off-street carport parking. Host lives in the home. Shop/ Eat: Beaverton Town Square, 1.5 miles Public Transit: is one block away. MAX train-Beaverton TC Bus 76 Freeway, 1 mile away.
This quiet neighborhood duplex is near to freeways and public transportation (and the MAX). Although it is a single story home, it is not wheelchair accessible. No pets or smoking of any kind. The home has an enclosed and private deck with hot tub. Newly renovated, this is a 2 bedroom, 2 bath with a washer and dryer. You will stay in a room with a single bed; there's WiFi, and your own private full bath and parking in a carport. The condo has a tennis court and 2 pools, (seasonally open between Memorial and Labor Days). This home is less than a mile from Oregon Hwy 217, and very close to Hwys 26 and/or I-5. Located in close proximity to fantastic restaurants, coffee shops, bars, music venues, shopping at Fred Meyer, Trader Joe's, Safeway etc. OWNER IS FLUENT IN ASL. Beaverton is located about 15 min. from downtown Portland, a little over one hour to the Oregon Coast, one hour from Salem (the Capitol), and approximately two hours to Mt. Hood. Why pay double for a hotel with less amenities! Flexible arrival and check-out times. Looking forward to hosting you!
This is a quiet, treed neighborhood, VERY easy access to either public transportation or the 217 Hwy.
Not wheelchair accessible. I booked this place because it advertised wheelchair accessibility and even wrote the host before booking to confirm this. There is a large step up into the house. I couldn't close the door to the bathroom, and I couldn't get near the tub/shower to bathe. It's a terrible feeling to use the toilet with the door open at a stranger's house. This home doesn't work for someone who cannot walk or stand. It was also clear the bathroom had not been cleaned. I used disinfecting wipes to clean it myself. All this said, Annie was sincere and did everything she could to make things work. She and her place are nice, just not accessible.
Molly
2017-03-04T00:00:00Z
Nice place to stay in a lovely and quite home. The location is convenient to downtown Portland. The room is clean and comfortable and has a little desk if you want/need to get on the laptop. Having your own bathroom and carport is a big plus as well. Annie is very nice and I would stay here again and highly recommend.
Nathan
2015-10-17T00:00:00Z
Annie is very nice. When I move in, she told me a lot information about Portland. The bedroom is soft and hi-speed WiFi. The room is nice and sweet. Highly recommend choose this room.
Shake
2016-05-20T00:00:00Z
Annies place was a place that was so cute and full of love! She made sure I had privacy and a key to get in and out at my convenience. She let me feel welcome. It was nice having a private bathroom. Very quiet and peaceful.
Anjelika
2014-08-20T00:00:00Z
It was a great stay at Annie's place. The room is as described, perfect for a solo traveler. Highly recommended!!
Andrian
2016-04-07T00:00:00Z
She is very friendly and her home is super homey!
Jillian
2016-08-23T00:00:00Z
The room is exactly as described and was perfect for my 2 night stay. Annie is a great host and was very accommodating to my short notice booking. I'd definitely stay here again next time I'm in the area.
Adam
2015-08-13T00:00:00Z
Everything went very well. Annie was extremely welcoming and communicative. It was great to have my own bathroom and place to park
Stacy
2014-10-25T00:00:00Z
Romtype
Privat rom
---
Eiendomstype
Hus
---
Plass til
1
---
Soverom
Beaverton, Oregon, USA
Ever wondered what it is like to stay in a Tiny House? This home is the perfect spot for a Portland getaway or great place to stay for a business trip. Tiny House is minutes from Nike Campus & about 15 minutes to downtown with easy freeway access. Great home with all the bells & whistles in the heart of Beaverton on 6th and Main. House features modern furnishings, side yard with seating & privacy. House is blocks from the famous Beaverton Farmer's market, restaurants, shops and cafes.
Ever wondered what it would be like to stay in a "tiny home?" Now is your chance. This home has been completely renovated down to the studs. Home features modern furnishings, open floor plan, soaking tub and a side yard. House features a cozy queen size bed, sofa, seating area, eat in kitchen, Aerobed and playpen available for little ones when requested. Kitchen is equipped with dishes, kid friendly dishware, plastic ware for outdoors, serving dishes, plug in skillet, small George Foreman, toaster oven, Keurig and microwave.
There are a ton of great things in this neighborhood. Walk to restaurants, bars, shops, 24 hour cafe and the Pacific Northwest's best farmer's market. There are several parks with playgrounds within walking distance and great walking trails to enjoy. Neighbors are very friendly.
Laura went above and beyond her obligation to make our stay perfect. She was very personable with leaving us a note and bottle of Oregon wine upon our entry. And, she texted to be sure we had all we needed after the first 24 hours. She gave us just the right balance of privacy, and contact. Thank you, Laura!
Lainie
2016-07-05T00:00:00Z
Wonderful! Laura's Tiny Home was one of the best AirBnB experiences I've ever had. The house itself is lovely, beautifully decorated, excellently equipped, cozy and homey. Ideal for couples or solo travelers. Beaverton is a great little town, with a neat park with fountains that hosts a farmers market on Saturday's during the summer. It's convenient to Portland's attractions as it is just a short drive away. I appreciated Laura's communication. I always felt like I had the right amount of information each step of the way. I'd love to stay at the Tiny House again in the future.
Enrique
2016-06-20T00:00:00Z
The tiny house was just as described. It felt like a much bigger place and had everything we needed. It was clean and in a great location. Thanks Laura!
Kevin
2016-08-03T00:00:00Z
The moment we drove up to this charming cottage we were all smiles. The communication with Laura was great. The place is bigger than my conception of aTiny House and beautifully laid out. There is even a washer and dryer! We both slept comfortably, me on the couch and sister on the bed.
Marie
2016-07-09T00:00:00Z
Everything was amazing! So many thoughtful little touches made it extremely comfortable and convenient. Perfect for us and our 6 year old son. Even had books for bedtime stories
Amanda
2016-07-17T00:00:00Z
This house is so cute and has so many thoughtful touches. The kitchen is stocked with lots of cooking tools and dishes and utensils. I even saw some diapers tucked away in case you brought your baby and needed some. The location is great and not a very long drive into Portland. We would definitely stay here again!
Tressa
2016-09-25T00:00:00Z
Laura was so easy to communicate with and made me feel welcome weeks before I ever arrived. The Tiny House is a gem....beautifully decorated, in a great neighborhood, and more spacious than I even expected. I loved staying there and was sad for my visit to end.
Irene
2016-09-13T00:00:00Z
Really wonderful, cozy, and despite the name, spacious home!! It was only a short distance away from downtown, and close to any conveniences that we needed (Target, Trader Joes, etc.). Laura and Dave really made sure everything was prepared for us, to include a pack and play for our son. It helped tremendously that Laura was very responsive to any and all questions at all times of the day. Thank you guys so much for the wonderful stay. We can't wait to come back!!
John
2016-10-12T00:00:00Z
Romtype
Helt hjem/leilighet
---
Eiendomstype
Hus
---
Plass til
4
---
Soverom
Beaverton, Oregon, USA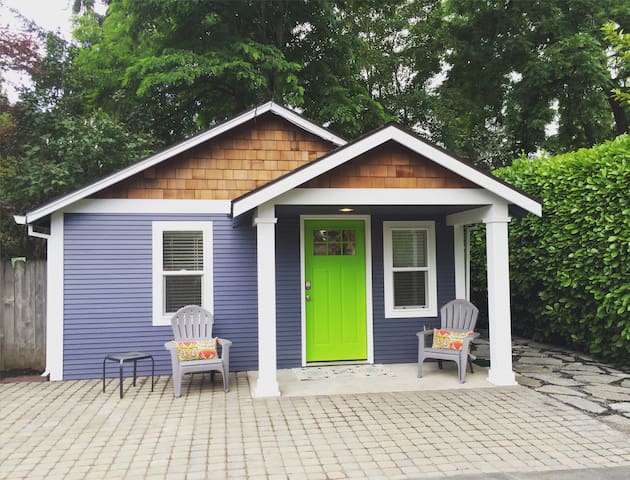 Beaverton - Airbnb
:
Gjennomsnittlig

4.97

av

5

stjerner fra

2097

gjesteanmeldelser