Modern apartment inside traditional stone farm building, in a rural setting, surrounded by fields and forest. A working family farm, we provide a warm welcome to all kinds of folks.
The apartment was great and Ciaran was extremely helpful. Would recommend this apartment to anyone wanting to spend a nice time in ireland. It is a bit rural with a rental car everything quickly to reach
Philipp
2017-03-22T00:00:00Z
Romtype
Helt hjem/leilighet
---
Eiendomstype
Leilighet
---
Plass til
5
---
Soverom
Ashbourne, County Meath, Irland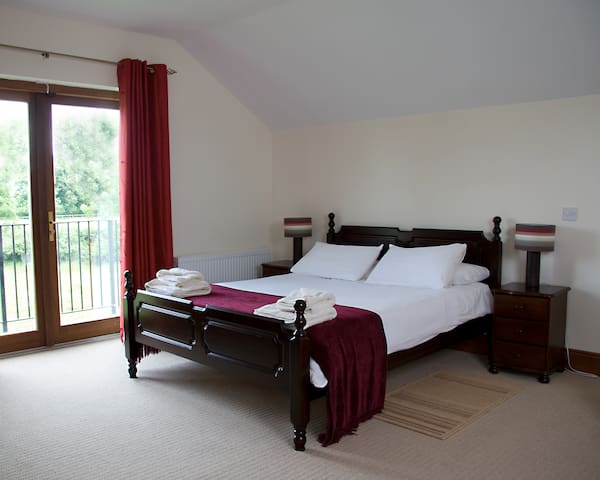 If you are looking for a nice accommodation in the heart of the Boyne Valley, and not far from Dublin, this room is for you ! Enjoy a quiet place, 10 minutes away from the town centre and close to some of the most famous historic places in Ireland !
I offer a large double bedroom with your own bathroom. Towels and bed linen are provided. This sunny apartment is located in Navan, in the heart of the beautiful Boyne Valley, 10min walk from all amenities (Tesco, pubs, cinema, gym, ...) and on the ground floor. The apartment has a large living room with 2 lovely balconies. Tastefully decorated, the apartment is spacious and has all the amenities you could need. I want you to feel at home and there is a very well equipped kitchen, which you are very welcome to use.There is no TV, but excellent wifi. Transport Navan is only 40min away from Dublin (1 hour by bus) : this is a great way to discover Irish countryside while living so close to a big city with many tourist attractions. We are a five minute walk from the bus station to Dublin. You are 20min drive from Trim and its beautiful castle, close to Newgrange and the Boyne Valley drive. There are plenty more attractions in Co. Meath and Dublin. I have a few guides of Ireland in the living room that you will be free to borrow, and I will be happy to provide more details. If you have any questions about the apartment or your stay in Ireland, feel free to ask. Looking forward to hearing from you. Caroline
It has been a pleasure to meet Caroline for our first airbnb experience. She is a great and very friendly host !
catherine
2013-09-19T00:00:00Z
We stayed for a week in Caroline's apartment while visiting Co. Meath. The apartment is small but nice with all the mod cons and great wifi. Caroline and her partner were friendly, even inviting us to the pub one night. The apartment is a convenient walk to Navan town with anything you could need. Breakfast was a great selection of cereals and toast with spreads and different tea and coffees to choose from.
Vanessa
2015-08-17T00:00:00Z
Très bon accueil chez Caroline. Logement bien décrit. Accueil au top. Résidence calme et sécurisée. Un bon souvenir du séjour.
Pierre
2014-10-17T00:00:00Z
I stay in Caroline apartment for 3 months. It was very helpfull as finding short time appartment is very difficult in Ireland. I recommend this place to onyone who look for short term stay in Navan.
Katarzyna
2016-05-15T00:00:00Z
Caroline was very kind and helpful. She was working late both nights I stayed at her clean and tidy flat, and so she arranged for a friend to meet me at the apartment block on the first night and show me the flat, how to get in etc. The bedroom was bright and comfortable. The bathroom and amenities fresh and clean. The flat is in a pleasant apartment block in a quiet area, not far from the town centre.
Alice
2014-05-05T00:00:00Z
Caroline is an amazing host! She made my stay so comfortable I almost didn't want to leave! The room is very well furnished and clean with the basics all provided. The bathroom was right next to the bedroom and very nice and clean! The highlight of my stay was the warm, incredible strawberry cake she made for breakfast! I can't recommend this place highly enough.
Lubna
2016-06-24T00:00:00Z
Caroline was a really kind host ! you feel comfortable and welcome in her place, the bedroom was nice too (pretty and functional !) . She also gave my advices of what to do in Navan to have a good experience :)
Clémence
2015-11-17T00:00:00Z
Neat and tidy room. Caroline and her partner are nice and helpful people.
Anil
2016-07-02T00:00:00Z
Romtype
Privat rom
---
Eiendomstype
Leilighet
---
Plass til
2
---
Soverom
Navan, Meath, Irland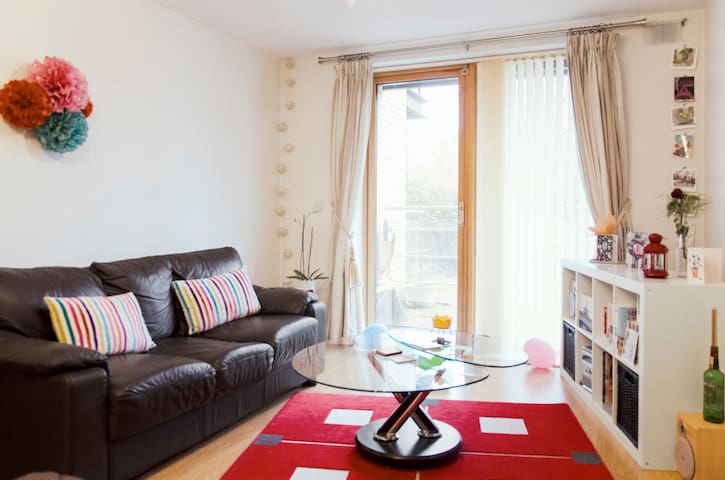 My freshly renovated apartment is in a quiet, residential area, close to the town centre. Within walking distance to local shops, restaurants and bars. The apartment is within a five minute walk to the train station and 15 minutes to the bus depot, with hourly transport to Dublin. The apartment is ideal for small families and couples.
We really enjoyed staying in Àine's flat. It is a clear apartment, nicely furnished with room enough for our family of four. It had everything we needed, including a washing machine. The neighborhood is quiet with shops and restaurants nonetheless. Wayne and Àine were really friendly and helpful, before and during the stay. I would really recommend this place, convenient to visit Newgrange, Dublin. Thx!
David
2016-07-24T00:00:00Z
Perfect balance of rest and exploring.
William
2016-08-06T00:00:00Z
Aine is an incredible host, she went above and beyond to ensure we had a great stay. I highly recommend booking her place. Thanks a million Aine!
Lisa
2016-09-11T00:00:00Z
I can't say enough good things about Aine and her apartment. Aine immediately made us feel at home, providing recommendations in the area, food/drink in the kitchen, and spare amenities in the bathroom. She was a very thoughtful, flexible, and accommodating hostess. Her apartment was clean and comfortable. I definitely recommend staying here.
Sara
2016-10-08T00:00:00Z
It was a wonderful stay. The flat is very clean and we had the sensation that we are at home. The area is very nice, very quiet and very close to shopping malls. Thank you very much Aine. It was a pleasure meeting you.
Bogdan
2016-08-15T00:00:00Z
Romtype
Helt hjem/leilighet
---
Eiendomstype
Leilighet
---
Plass til
4
---
Soverom
Drogheda, Louth, Irland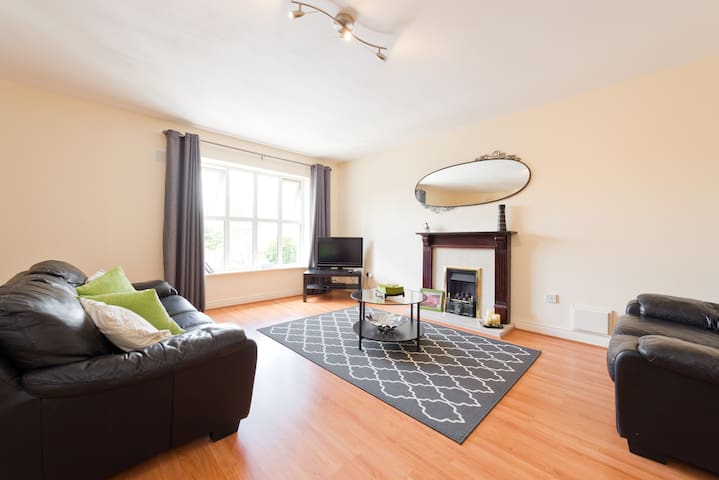 Comfortable studio flat (converted detached garage) located adjacent to a spacious family home with large child friendly garden. Newly renovated with king bed (American queen) and foldaway sofa bed. Modern bathroom and kitchen. Suitable for two adults and up to two children. Close to Dublin Airport (15-20mins), Tayto Park (10mins) and Dublin City Centre (30mins)
Private detached newly converted garage with access to large child friendly garden. Perfect for singles, a couple or small family to explore Greater Dublin.
Fantastic studio, very clean and comfortable. Stayed for some local work close by, and it was super convenient. Very close to Blanchardstown for shopping, and minutes from Ashbourne. Large child friendly garden, and well equipped with kettle, toaster, microwave, fridge and hob. Hosts were very friendly and helpful, and I wouldn't hesitate in recommending this studio apartment. Bed was very comfortable and long enough for my 6'4" husband! A+ all around.
Johanna
2016-10-30T00:00:00Z
This was a great rental. They are very nice, the studio was brand new and very clean! Very close to the airport, very nice city. Awesome yard for the kids to play. If I ever go back to Ireland I will stay here again. Also they were from my hometown!
Ryan
2016-09-15T00:00:00Z
We stayed here briefly as we were flying out very early from Dublin airport. For this purpose it was absolutely perfect we had a nice evening slept very well and the proximity to the airport was excellent. Megan is so nice was very fast to respond to any queries and was there to greet us on arrival. Fabulous we will be back again thank you!
Elsa
2016-08-16T00:00:00Z
Un estudio privado muy acogedor, limpio, bonito, nuevo y ordenado. Meghan y su familia combinan a la perfección la esencia de AirBnB ya que tiene un espacio para ti pero están abiertos a la charla. Son muy detallistas. La Ubicación es muy buena, cerca de Ashbourne, cerca de Dublín, cerca del Aeropuerto. En dos palabras: muy recomendable.
Agusti
2016-08-15T00:00:00Z
Meghan was an excellent host and her husband Sean helped us experience the local Gaelic football game at the local club. The accommodation was excellent and the spacious huge backyard was comforting and relaxing.
Pip
2016-08-01T00:00:00Z
studio aménagé très agréable,tout est en bon état et le logement très propre ainsi que des hotes vraiment acceuillants!
sylvain
2016-09-04T00:00:00Z
Had a lovely break in Ashbourne.the apartment was great and an ideal base for Tayto park , New Grange and Dublin. The kids had a fantastic time playing in the garden.The host was very friendly and helpful.Would definitely recommend this listing to others.
Micheal
2016-07-30T00:00:00Z
Meghan was a lovely host! She gave us a lot of recommendations of places and restaurants etc. Her place was very comfortable and had everything we needed. It is also very good located! I totally recommend to stay at her place! Thank you for everything! :)
Itzel
2016-09-19T00:00:00Z
Romtype
Helt hjem/leilighet
---
Eiendomstype
Leilighet
---
Plass til
3
---
Soverom
Ashbourne, Meath, Irland
Set in the heart of the Boyne Valley this self contained studio apartment is ideal for either the peaceful country escape or a fun filled adventure discovering East coast of Ireland and all it has to offer. We are set on a quiet country road. A car is essential for a stay at our home.
The accommodation consists of a living/kitchen area, bathroom and large bedroom with king size bed. The apartment is self contained and your own private space during your stay. The living area has satellite TV and a DVD and we provide a selection of movies and box sets if you wish to have a quite night in. Tea, coffee and everything you require to prepare a light meal is provided together with a continental breakfast at no extra charge.
You will be staying in a quite country setting. We can offer some suggestions on local nature walks and attractions like Tayto Park Dublin Zoo and the Blanchardstown Centre all within a one hour drive.
Loved staying at Nick and Sandra's. The location was fantastic and we were provided with everything we needed. The rooms were very clean and and comfy. Very happy and would love to return someday.
Steve
2016-10-27T00:00:00Z
Absolutely no issues in finding the apartment thanks to a complete set of directions from Nick and Sandra in the days before we stayed. The apartment was actually bigger than we expected and would have happily stayed there much longer than the one night we spent there. As expected, it was clean & tidy and Sandra was ever so helpful. I would definitely recommend and would also stay again if we were in the area.
Duncan
2016-05-22T00:00:00Z
The appartament was simply amazing and cozy. Nick is very friendly. One night is not enough! Thank you.
Erika
2015-08-22T00:00:00Z
Stayed for a wedding close by in Tankardstown House and we simply couldn't fault it. Warm welcome, large apartment in a country setting and good value. Nick even dropped us up to the hotel upon our arrival and helped organise transport back. This was our first experience of Airbnb and we were plesently supprised. I just wish we could of stayed longer. If we are ever in the area again we know where we are staying. Thanks for the hospitality Richie & Justyna
Richard
2016-08-01T00:00:00Z
It was my second stay at Nick and Sandra's idyllic retreat. I felt completely at home and would happily see out the rest of my days in the annex! The bedroom is huge, bright and airy with a very comfortable bed. The kitchen/living area is fully equipped. The offering of food and toiletries is beyond generous. Nick and Sandra themselves are warm, accommodating, incredibly helpful and laid back hosts. I would recommend Nick and Sandra's to anyone visiting the area as you will not be disappointed.
Kathryn
2016-07-09T00:00:00Z
This was a lovely and easy place to stop on our first day in Ireland. Thoughtful and plentiful amenities included farm eggs and home made granola. They helped us find the right stores to find our GPS and cheap phone. Clean apartment, comfortable bed, beautiful surroundings, charming interior, friendly dog in the yard. Highly recommended.
Barnard
2016-04-25T00:00:00Z
This country side rental was a perfect cozy escape after a long couple of days of traveling. The atmosphere of the area and property is very relaxed, private, and comfortable. Nick and Sandra had the unit generously stocked with breakfast foods and snacks, and the rooms were very clean and warm. We'd gladly stop here again.
Kyle
2015-09-22T00:00:00Z
It was my parents who stayed with Nick and Sandra and they were extremely complimentary of their stay. Nick and Sandra were friendly and went out of their way to meet my parents and leave them to a wedding venue. Very clean property with food provisions supplied- the perfect place for a stay.
Laura
2016-09-10T00:00:00Z
Romtype
Helt hjem/leilighet
---
Eiendomstype
Leilighet
---
Plass til
2
---
Soverom
Slane, Meath, Irland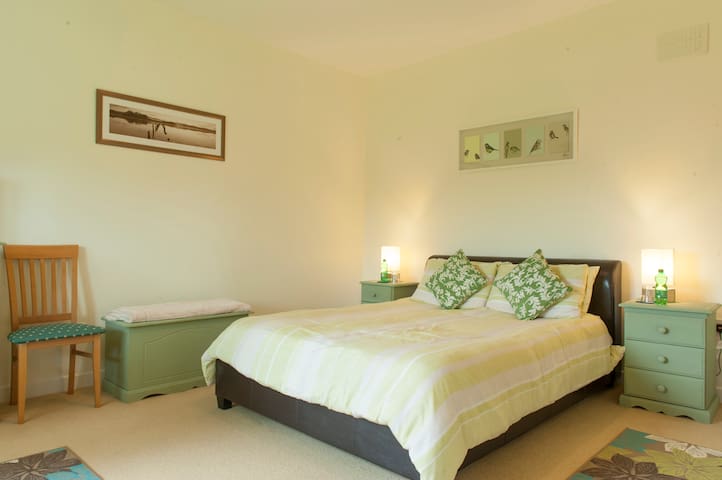 My place is close to Tayto Park 10min drive, Dublin airport 20 min drive and Dublin City Centre 30min by car / bus, nightlife, public transport. My place is good for solo adventurers and business travellers.
Ashbourne is a small town with plenty of restaurants and bars. It is very close to Tayto Park and Fairyhouse race-course all within a 10 min drive.
Easy to deal with, no problems here.
Shane
2016-10-23T00:00:00Z
Laura has been a great host, very helpful and accommodating! The room is in a great location, out of the madness of Dublin but close and accessible to everything that i needed for my stay!!
Artie
2016-09-14T00:00:00Z
Laura was great, very nice person, house was spotlessly clean
John
2016-10-09T00:00:00Z
This was a great stay. Last minute book after cancellation and they couldn't have been nicer. Tea in the room and she also left breakfast in kitchen. Excellent.
Terra
2016-10-24T00:00:00Z
Laura was very accommodating as we last minute needed a place to stay when our flight changed! She allowed us to check in at a late hour and was welcoming and made us feel at home! Space was very clean and nice! Would definitely stay here again. Thanks again for a short but great stay. Sorry for saying sorry so much ;)
Whitney
2016-10-22T00:00:00Z
The host canceled this reservation 65 days before arrival. This is an automated posting.
Johanna
2017-01-11T00:00:00Z
The host canceled this reservation 82 days before arrival. This is an automated posting.
davide
2017-03-06T00:00:00Z
Romtype
Privat rom
---
Eiendomstype
Leilighet
---
Plass til
2
---
Soverom
Ashbourne, County Meath, Irland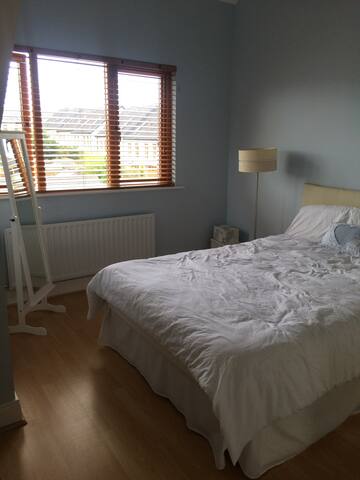 My place is close to family-friendly activities and great views. My place is good for couples, business travellers, and families (with kids).
Our trip was picturesque. In no small part due to Ann's wonderful lodging and accommodation. We secured lodgings for 10 days and only got to spend 6 days but it was easy to communicate with Ann about our change of plans and she was very understanding and even met us early for check-in. Very friendly! If you are comfortable with walking, make sure you visit the Battle of the Boyne center less than a mile away.
Lorrie
2017-03-23T00:00:00Z
Romtype
Helt hjem/leilighet
---
Eiendomstype
Leilighet
---
Plass til
3
---
Soverom
Drogheda, Meath, Irland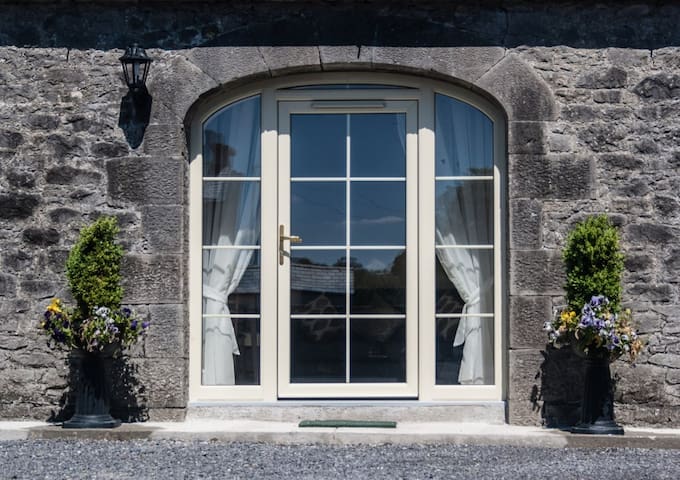 My place is close to Drogheda Trainstation and all its beauties. You'll love my place because of the people, the neighbourhood, and the light. My place is good for couples, solo adventurers, business travellers, families (with kids), and big groups. You have use of the entire flat •Plenty of room for families •Use of the kitchen •Washer and Dryer •Ride from airports, bus or train station •Restaurants nearby •Cats and pool table to entertain kids
Affordable stay
Ratko
2017-03-19T00:00:00Z
Romtype
Helt hjem/leilighet
---
Eiendomstype
Leilighet
---
Plass til
4
---
Soverom
Drogheda, County Louth, Irland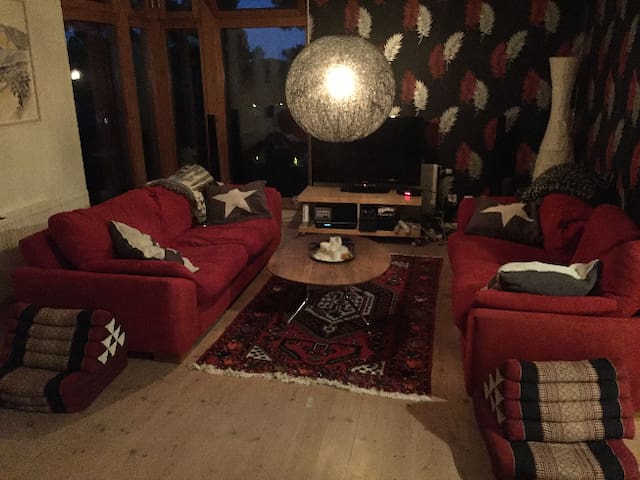 Modern two bed apartment in Drogheda close to M1 and only 25 mins to Dublin airport. Close to Newgrange and Slane. Property has free parking and WiFi.
Free parking and all mod cons for comfortable stay
The place is good if you are staying 1 night. There is an issue with the hot water lasting. The host got back to me in a fair amount of time and explained how to turn the hot water on. Once it was turned on you have about 4 minutes of hot water.
Rob
2016-10-07T00:00:00Z
Thank you Daniel. Lovely apartment, very modern, clean, comfortable and with all mod cons. Suited our needs for our stay in Drogheda perfectly.
Ruairí
2016-10-03T00:00:00Z
Great apartment in a very convenient location. Very clean and comfortable. Would thoroughly recommend!
Deslea
2016-07-27T00:00:00Z
Cozy is not the description I would use - sterile, perhaps? The apartment is exactly what you'd expect from a serviced apartment, down to the impersonal hotel decor and plastic plants. When we asked a neighbor for assistance in locking the door, she admitted that she didn't know Daniel and rarely sees him around. She also commented that previous guests didn't stay the night because they felt uncomfortable. Once Daniel responded to several outreach attempts to explain how to lock the apartment, we decided to stay - although we regretted it. Don't plan on taking more than one 7-minute shower because the hot water will disappear, only to be replaced with the loud sound of the water heater struggling - to do what, I'm not sure. The internet was spotty at best. I was going to say this spot was fine for one night before hopping on an international flight until we woke up the following morning to find our rental car had been petrol-bombed and was irrecoverable. In terms of communication, Daniel wasn't the most responsive when we asked questions about arrival. Messages via Airbnb went unanswered for days at a time.
Katrina
2016-09-30T00:00:00Z
The host canceled this reservation 3 days before arrival. This is an automated posting.
Guillermo
2016-05-24T00:00:00Z
The host canceled this reservation the day before arrival. This is an automated posting.
Philip
2017-03-30T00:00:00Z
Romtype
Helt hjem/leilighet
---
Eiendomstype
Leilighet
---
Plass til
4
---
Soverom
Drogheda, Louth, Irland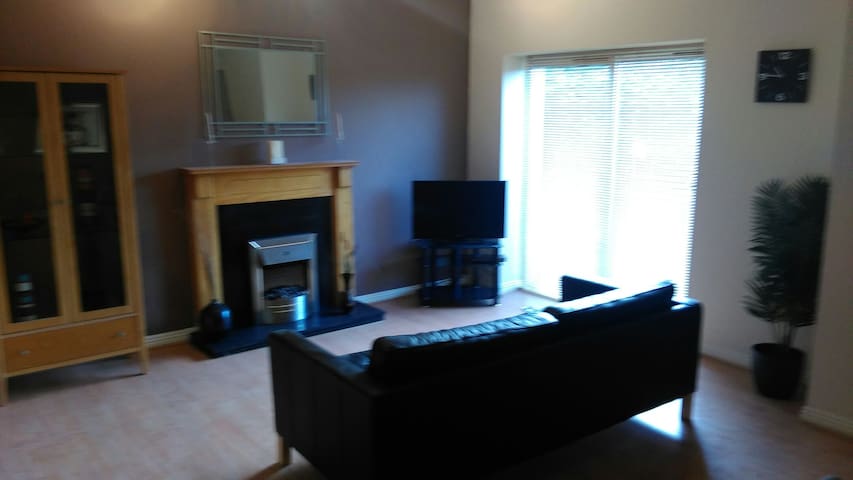 Large double room available in modern apartment which is located in a quiet street on the banks of the river Boyne.We are a ten minute walk to Drogheda town center and the bus stops . Dublin airport is approx 30 minutes away via the M1
Free secure parking, our apartment is located on the third floor, you have access to your own bathroom with electric shower, you are also welcome to make yourself comfortable in the living room and have access to the kitchen
We are a short 12 minute walk from the town center, we have a great view from the third floor of the river Boyne. The nearest local shop is approx five minutes walk away
We were very satisfied. Colm was so help full for us. Pick up us at buss stacion. He dropped us to the restaurant and to the coast. We slept so well at the river and in the most comfortable bed. We use the kitchen. And last day he drove us to the airport. Surely even in the future we will use his accommodation. Highly recommended to all
Lucie
2017-03-13T00:00:00Z
Colm is an easy going host, who is happy to chat with you or for you to go your own way. I did a bit of both. The guest room is spacious and comfortable, with a wonderful view of the river. It is within easy walking distance of the town, but very quiet, with under-cover parking. I enjoyed my night at Colm's home and would recommend it to other singles or couples.
Adrian
2017-04-07T00:00:00Z
Romtype
Privat rom
---
Eiendomstype
Leilighet
---
Plass til
2
---
Soverom
Drogheda, County Louth, Irland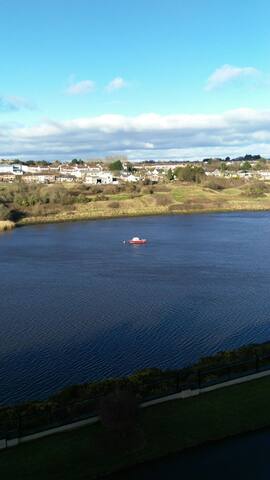 A great escape to a beautiful property, tastefully restored from the old milking parlour, provides the discerning holiday - maker with a unique opportunity to enjoy a luxurious country break in surroundings of unusual quality and interest.
A great escape to a beautiful property, tastefully restored from the old milking parlour, provides the discerning holiday - maker with a unique opportunity to enjoy a luxurious country break in surroundings of unusual quality and interest. Renovated to excellent modern standards while retaining great rural charm. Ideal family accommodation with personal attention. You can relax , unwind and enjoy the wonder and natural beauty in the surrounding green fields. Accommodates 4 Guests. At Kiltale farm they can meet a range of animals and try their hands at some old-fashioned animal husbandry - milk the goats, feed the lambs, even ride the donkeys and ponies. A well-equipped playground and playhouse provide hours of entertainment and for the lucky few we operate a Farm Camp in July that our younger visitors are welcome to join.
Our neighbourhood is nice and quite, and people are very friendly and helpful. Our village is nice and clean and people take a great interest in keeping it that way.
Romtype
Helt hjem/leilighet
---
Eiendomstype
Leilighet
---
Plass til
4
---
Soverom
Dunsany, county meath, Irland
Our house is located in a quiet cul de sac and it is only a few minutes walk from the most scenic sandy beach in Ireland which stretches over 5 kilometres from Laytown to the River Boyne in Mornington. The property is in perfect for family holidays. Close to the Beach, Golf Club, Tennis Club, Integral Fitness Club and more. In walking distance of: Tesco, pubs, pharmacies,dentist, post office, butcher, coffee shops, restaurants, takeaways and more.
Romtype
Helt hjem/leilighet
---
Eiendomstype
Leilighet
---
Plass til
5
---
Soverom
Bettystown, Meath, Irland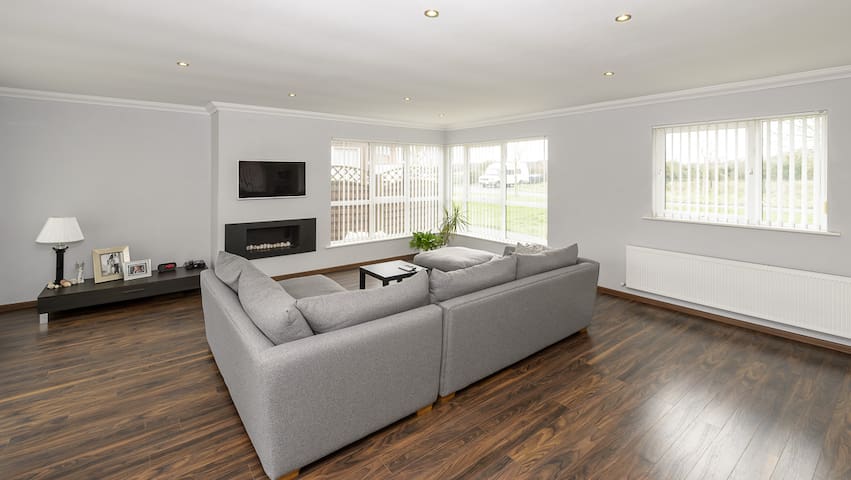 Our vaulted apartment is part of a 14century Castle! Tucked away in rolling meadows with only birdsong to rouse you. We're in the Castle over 20 years & know the locality well.Fishing, swimming, horse riding, historic tours & not forgetting music, craic & great company. It's all here waiting for you!
It's a genuine Medieval building, packed with history in a very ancient part of Ireland. But guess what ? Dublin is 15 mins to the toll from Navan!
Rural, friendly & green!
I loved the location peaceful and quiet. Sue lite the fire for us on the first night. Although the central heating made it toasty I love an open fire and the smell of the turf. The fridge was full of bacon eggs and sausages and sue dropped over a homemade soda bread. Ireland at its best. If your reading this Sue I had the ride of my life around Ireland and came 2nd , and set the 3rd fastest Record for an Irishman. I think the two relaxing days spent at yours set me up.
Adrian
2016-08-29T00:00:00Z
Very sweet space. The Bolt Hole is an Experience! It is medieval and modern at the same time.
Sally
2016-07-23T00:00:00Z
Romtype
Helt hjem/leilighet
---
Eiendomstype
Leilighet
---
Plass til
6
---
Soverom
Bohermeen, Meath, Irland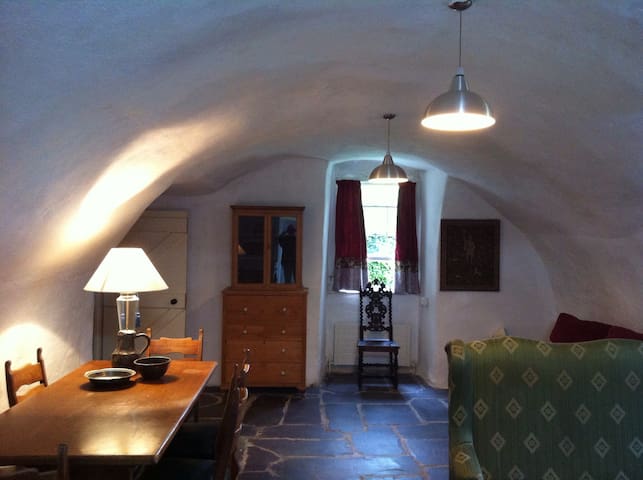 We offer a double room (double bed) in a modern ground floor apartment, within a leafy private development, a fifteen minute walk or a couple minutes drive from the centre of Trim in Co. Meath, Ireland.
We offer a very comfortable bed in a homely but modern ground floor townhouse-like apartment within a quiet development in Trim, Co. Meath (i.e..: County Meath *not* County Dublin). Owner occupiers are a friendly couple, one Irish, one French. The accommodation is gay friendly but we'll never discriminate either way! The bed is a double which our visitors always describe as being very comfortable and usually remark upon how well they sleep, so hopefully you'll also find it to your liking should you stay with us. Although the room is on the small side, it is a very restful and warm space which can boast plenty of pillows to help you sleep comfortably and extra blankets for those colder nights - but even then the excellent heating will probably make those redundant. We also have very limited storage for our visitors' belongings with bedside locker, and a very small wardrobe. The floors are wooden so ideal if you have an aversion to carpets (there are no carpets anywhere in the property). We also provide a bedside reading lamp, hair dryer, iPod docking station, mirror and plenty of books (should you need one) in the apartment to keep you lightly entertained before you nod off. Some guests leave books behind, which is absolutely fine with a bookworm like Paul, but please don't remove any titles from the apartment without asking. Some of the books on our shelves may mean more to us than just paper and print. (", )
Our place is just five minutes walk from the River Boyne and many of the attractions pictured including the Knightsbrook Hotel, Spa and Golf Resort, the ruins of an Abbey, a ruined hospital and the very special "Marcie's" (Signed: Regans) excellent traditional Irish pub on the banks of the Boyne - overlooking the river and the hospital ruin. Follow the winding riverside path for a picturesque stroll through the Abbey ruin and onwards against the flow of the river, as the path meanders its way into one of Ireland's prettiest heritage towns - arriving at the magnificent Trim Castle ruin which dominates the town.
The reception with Fabian and Paul was just great. We had a wedding in the town and they dropped us to the venue. The morning after we were treated to a great breakfast, exactly what we needed after a big night out. I would highly recommend this Airbnb
Corné
2016-12-29T00:00:00Z
We stayed with Paul and Fabien for two nights in their cozy little place. It was really a great time and you will adore their cocker spaniels. Every morning Fabien had breakfast for us and made us feel very welcomed. They both made us feel like we could use their home as if it was ours. I made tea in the kitchen and one night I made homemade salsa and guacamole and Fabien and I cooked together. I love British tv shows, so one night Paul and I hung out in the living room and watched, "The Catherine Tate Show." I had never seen it before and I loved it! The night before we left I washed some clothes. I was worried that they wouldn't dry in time before we had to leave early in the morning. Paul came to my rescue. We moved my clothes into the bathroom and he plugged in a humidifier and shut the door for the night and when I woke up in the morning they were dry and I could now pack them into my suitcase. They didn't mind driving us into the city on their way to work which saved us on bus fare:). Their kindness I will remember and on my way back to Dublin I want to stay with them again.
jessica
2012-10-12T00:00:00Z
Words can't express how appreciative I am for Fabien and Paul's hospitality. They gave me a place to stay while I completed some very important research over the summer. They were warm enough to welcome me to partake in some wine and lively conversation, but also had no problems when they knew I was engaged in some important reading. Trim is a hidden gem in a lovely country. Their home is absolutely charming and exactly as described. Their dogs are incredibly well behaved, adorable, and friendly. My stay was longer than most and Fabien and Paul were able to coordinate my needs and requirements before my arrival. They were even willing to accommodate my wife for a few days when she came out to visit me towards the end of my studies. I highly recommend staying here if you get the chance and truly believe that you will have an experience that you will never forget.
Connor
2014-08-09T00:00:00Z
Much more than a simple airbnb, a must in Ireland ! Fabien et Paul sont tout simplement fantastiques ! Chaleureux, sympathiques et drôles, chez eux on fait très rapidement partie de la famille. Après avoir passé 4 jours exceptionnels à Trim, superbe petite ville irlandaise pleine de charme, c'est la larme à l'oeil que nous avons quitté Fabien, Paul et leurs succulent "irish breakfast". Une petite pensée pour Roux et Maxi, leurs deux adorables cockers, qui sauront égayer vos journées ! Un grand merci à vous deux et à très bientôt ! Anne-Laure & Julien
Anne-Laure
2015-09-22T00:00:00Z
I spent 2 lovely two nights at Fabien and Paul's beautiful home. They went out of their way to provide not only a comfortable room but also a real feeling that I was staying with friends. The home is within easy walking distance to Trim along a safe and scenic river walk and only 45 km from Dublin. You will be charmed and delighted by Maxi and Roux their adorable cocker pups. This accommodation is HIGHLY recommended.
Mo
2015-07-02T00:00:00Z
I can't fault a single thing about my recent short stay at Fabien and Paul's place! I stayed for 2 nights when attending a conference at the Knightsbrook Hotel. Their home is immaculately clean and tastefully decorated and the room itself holds to the same standard. The hosts went above and beyond to make my stay as comfortable as possible. One morning I woke up to a beautiful breakfast table laid out just for me! And as I was catching a very early return flight the next day, Fabien so kindly offered to drive me to the airport at 4am and saved me at least 20 euro on the cost of a taxi from Trim to Dublin Airport. The best part of my stay was meeting Paul and Fabien's furry babies, the lovely cocker spaniels Maxi and Roux. Those dogs are so affectionate you can play with them for hours! If you're looking for a place to stay in Trim, then definitely choose Fabien and Paul's house because they will make your experience that much more special :)
Yana
2015-11-13T00:00:00Z
My stay with Fabien and Paul was absolutely wonderful! They are so accommodating, helpful, friendly, and good to talk to. They were great at showing me how to get around the area, etc. Their home is lovely and always very clean, the bed is super comfy. I felt right at home and very safe. I can't imagine a better introduction to Ireland!
Zelda
2014-06-23T00:00:00Z
It was great to stay at Fabien's and Paul's place. They were most attentive hosts in a lovely house and the super friendly dogs were an added bonus. I truly hope we be seeing each other often once I move to Co. Meath. We will soon drink some wine at my new house and pick up the conversation where we left. Keep in touch and see you soon!
Iwona
2015-01-23T00:00:00Z
Romtype
Privat rom
---
Eiendomstype
Leilighet
---
Plass til
2
---
Soverom
Trim, Co. Meath, Irland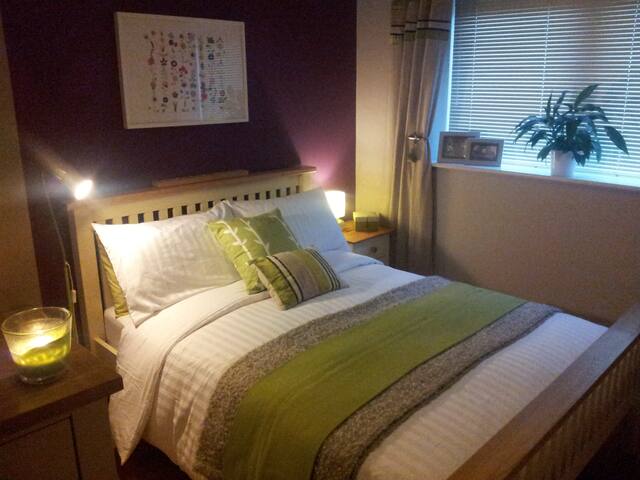 Our place is within a five minute walk to Dunboyne village which provides a public park, restaurants, coffee shops, art and culture, traditional music. We are within 7 minute walk to Dunboyne Castle and 10 minute drive to Carton House Golf and leisure complex. Our place is close to all major travel routes around the country. It is a 20 minute drive to Dublin City Centre and Dublin Airport. Also great shopping in nearby Blanchardstown Shopping Centre.
It is a self contained studio apartment with separate entrance in a quiet residential cul de sac. It is within walking distance to Dunboyne Village and Dunboyne Castle Hotel and within 15 minute drive to Carton House Hotel and Golf Course The apartment is spacious (400 sq ft)
Although this apartment is close to Dublin City the village has held onto its rural character offering good traditional music and entertainment.
Great place to stay. Highly recommended. Peter and Stephanie was very welcoming. All facilities provided for a family. We felt like home staying here. 5 stars
Anu
2017-02-12T00:00:00Z
A great place to stay, clean, modern self contained apartment, with great wifi ! About 15 to 20 minutes from the airport - I stayed there the night before flying out, and it was perfect for spreading out my things and re-packing bags.
Alison
2017-02-19T00:00:00Z
Great place to stay. Perfectly located- far enough from noise, but central so it is only a 2-5min walk from all parts of town. Plenty of privacy and facilities are all perfect.
Devin
2017-02-14T00:00:00Z
A wonderful, quiet place to stay! Very close to public transit and Peter and Stephanie were very helpful and kind. I would definitely stay here again.
Kristina
2017-03-28T00:00:00Z
- very, very friendly hosts - huge room - very clean - lovely town ( near markets ) - good bus connection Although the perfekt stay close to Dublin ( half an hour by bus )
Michelle
2017-02-27T00:00:00Z
Lovely place. Hosts were great and helpful. Recommend.
tom
2017-03-03T00:00:00Z
Great place to stay and very welcoming
Stephen
2017-02-24T00:00:00Z
have a good stay. Available, friendly host. Studio with 30 minutes by car from dublin
gennyson
2017-02-16T00:00:00Z
Romtype
Helt hjem/leilighet
---
Eiendomstype
Leilighet
---
Plass til
2
---
Soverom
Dunboyne, County Meath, Irland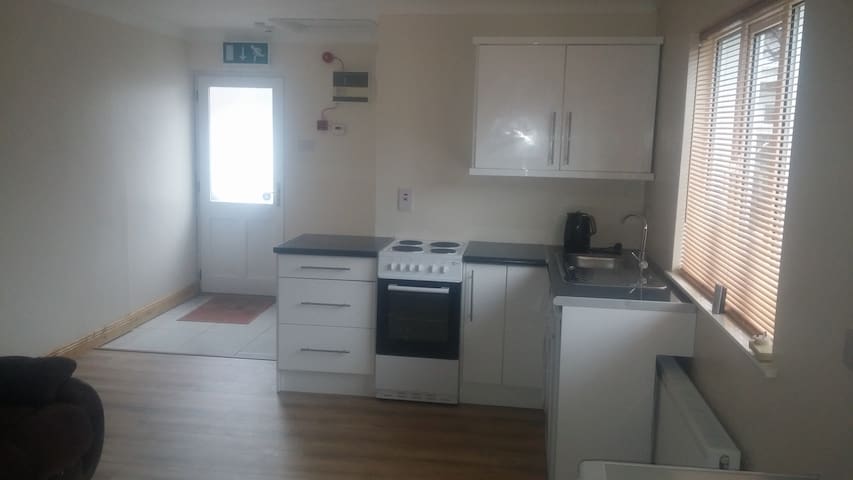 Newly refurbished one bedroom apartment, located in the most desirable location in this beautiful seaside town. Excellent public transport links, 10 minutes walk to the train station, and only 20 minutes to Dublin airport. 30 seconds walk to the towns best restaurants. This apartment is located on the only west-facing harbour on the east coast of Ireland, with both access to the harbour from the front and to the beach to the rear.
This lower ground floor apartment has the added bonus of having its own private entrance and outside area, an E.J Riley pool table, a vintage decorative record player and some catering facilities (fridge, tea/coffee making facilities, kettle & microwave)
Life's a beach in this stunning seaside town, with boat tours, rich heritage, award winning food and great pubs it is no wonder the town is a hit with tourists.
Romtype
Helt hjem/leilighet
---
Eiendomstype
Leilighet
---
Plass til
4
---
Soverom
Skerries, County Dublin, Irland
Luxury apartment with breathtaking views of the sea, harbour and the Mourne mountains. 5 minutes from the town centre, shops, bars and restaurants. This is a truly delightful accommodation with open plan living/dining room and a fully equipped kitchen leading to your bedroom and bathroom. The apartment is situated in the beautiful sea side resort of Skerries, it is within walking distance to all the local amenities, restaurants, bars, supermarkets, bus and train services. The apartment itself overlooks the harbour, mountains and beach, which is right outside the property. It is is situated on the 1st floor with large windows overlooking the sea, harbour, and mountains. It has a decking area on ground floor level with the same beautiful views. The decking area has a table and chairs, which can be used as an smoking area or for cocktails in the evening, it has beautiful views of the harbour and beach. The apartment has 1 double bed (which can be converted int 2 singles zip and link) it has a double bed setee, an extra single bed can be added if needed. The bathroom has a bath, and shower. The amenities include: Central heating, TV, Safe, Satellite TV, Wi-fi available, DVD player, Kettle, Toaster, Iron, Hair dryer, Dishwasher, Cooker, Microwave, Fridge, Freezer, Washing machine. Linen and towels provided, as well as secure parking.
The town of Skerries is a very friendly place, as its quite a small resort almost everyone talks to everyone, so its easy to intergrate
Valerie's place is just enchanting. Everything is so lovely, we enjoyed our stay very-very much. She was so helpful and even surprised us with some bread, milk and fruits. We would definitely come back soon!
Alexandra
2016-09-17T00:00:00Z
This is our 2nd time to stay in Sunset Crag & it gets better each time. Valerie is a great host & the apartment is so close to the town yet secluded and peaceful - with the most incredible view! Skerries is a fab seaside town with loads of great places to eat & drink. Highly recommend staying here.
Gina
2015-04-07T00:00:00Z
Beautiful apartment with amazing views of the sea and Skerries harbour. Stayed for a couple of nights with my daughter and her friend. Very well equipped, I can't think of anything I would want that it didn't have. Valerie was a great host calling us cabs and even driving us to a café when it was raining. I particularly enjoyed watching the seals in the sea just outside the apartment.
Paul
2015-11-10T00:00:00Z
This is the place to go if you want to get away from it all ! A place where you can get plenty of fresh sea air and relax . The views form the accommodation are just stunning and on a good day you can see the Mourne mountains . The living room / kitchen is well equipped and spacious...the bedroom is spacious as well and the bed is large and very comfortable ...the bathroom has a bath and a shower with hot water available at any time of the day .Valerie made us feel very welcome with a basket of scones , tea , coffee and a few other essentials which were much needed after our journey down . Thank You for a lovely stay Valerie and hope to stay with you again soon .
Aisling
2016-11-04T00:00:00Z
It was an absolutely perfect going away weekend for me and my boyfriend from the beginning when Valerie drove to the train station to collect us! She is such an amazing host, she drove us around in town to show us good restaurants and pubs. The minute we set our foot in the apartment we knew we were gonna have a great time here. Valerie is so nice that she prepared fruits, tea and coffee as well as scones for us! We felt so welcomed and it was just like at home. The apartment is amazing! The view is incredible! You can see the sea from the bedroom windows, you can listen to the sea waves and randomly pass by boats. It is just incredible! The place is so tidy and clean as well. I simply loved it! Definitely going back there again! Thank you so very much Valerie for an amazing weekend!
Rui
2015-03-16T00:00:00Z
Valeries place is just absolutely amazing, the view from the terrace is just breath taking. Located at the end of the north strand it is not far from the harbor where one can enjoy a glass of vine in the evening or spoil the kids with a delicious ice cream at Storm in a Teacup. Valerie was very helpful during our stay, and was even so kind to provide our two youngsters with some additional books and toys. Right from the first moment we felt very welcomed when she offered us her fresh bake icons and coffee. Hope to be back soon and thank you for all . Iveta, Fionn, Madara and Nora
Iveta
2016-06-15T00:00:00Z
Stunning location offering the privilege of uninterrupted sea views which calm the soul. Extremely well appointed apartment which is perfectly in tune with its setting. If the weather is also kind then it could hardly be a more enjoyable experience.
Maria
2013-09-23T00:00:00Z
A wonderful destination for a quiet getaway with every comfort provided. Valerie was a great host giving plenty of advice on how to get around, what the best sights to see were and where to eat. Highly recommend.
Dennis
2015-09-09T00:00:00Z
Romtype
Helt hjem/leilighet
---
Eiendomstype
Leilighet
---
Plass til
3
---
Soverom
Skerries, Co. Dublin, Irland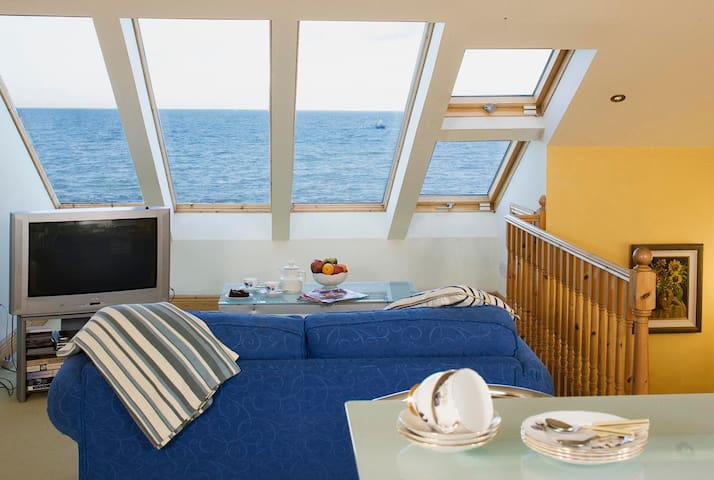 its a 2 bedroom apartment that i stay in maybe 2 nights a week so guests will have the area mostly to themselves most of the time
Romtype
Privat rom
---
Eiendomstype
Leilighet
---
Plass til
2
---
Soverom
Trim, County Meath, Irland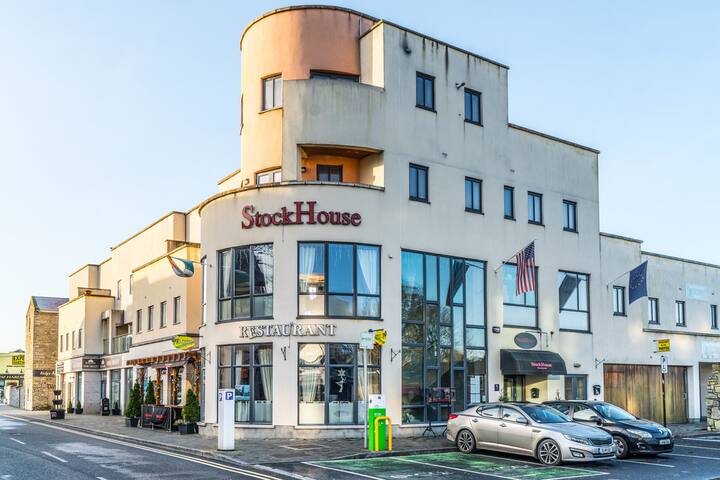 1

–

18

av

267 Leiligheter til leie
Oppgi datoer for å se fullstendige priser. Ekstra gebyrer gjelder. Skatter vil kunne tilføyes.