I restored this cottage from 2003 with love and every ounce of my soul has been poured into bringing it to a cosy retreat perfect for two or a small family or 4 close friends. Take time to Hike, Bike, Read, Write, Draw, Think, Play, Live &make Love. There is a large extension which is another house which can be rented separately or together if you have a larger group. Thick stone walls means there is excellent sound proofing. You would not notice the guests next door unless you meet them.
Hello there, If you love amazing views of the sea in front and the peace and quiet of the countryside, then this place is for you. Sleeps one or 2 couples comfortably.(there are 2 bedrooms with a double bed in each. there is also a single bed in the bigger bedroom. I have a fold out couch downstairs. 5 and 6 people can be accommodated but then again how close of friends are you? 6 adults is a bit cramped. My cottage really suits people who love the country cottage feel and relaxed atmosphere, if you love monotone hotels and convenience to towns/shops/arcades this is not for you. The entertainment on offer can be having a cuppa while watching the two baby bunnies playing in my wild garden and somehow avoiding my visiting fox who almost daily pops by.....also we two great local pubs with friendly people and good cheer....also one does really good food. This is a cottage rental rather than a bed and breakfast. Some dried foods I leave you just in case you arrive and have forgotten to get shopping, even thou Short and long term rentals are possible, small or large groups, just ask and I shall see if I can make it possible for your situation. It's a quiet neighbourhood, occasional tractor factor, rabbits, foxes, migrating swallows....you get the picture....relaxation, views, perfect for relaxing get aways. My cottage is about 100 plus years old. It is open plan down stairs with kitchen diner one side and sitting room with stove. It has two bedrooms and a bathroom upstairs. I restored it and lived in it since (URL HIDDEN) had been derelict with roof falling in no windows or doors so it has been a labour of love and now I happy to rent it to people who will enjoy it and have a great experience on the penninsula. I built on and I live in the "West Wing" mostly although I often live with my boyfriend but sometimes I have a weekend of R and R in my cottage where I read books and invite friends over and have tea in front of the fire and play scrabble.... There is something magical about it....everybody loves the cosy feeling. I prefer to only accept minimum of 3 nights bookings. It is a lovely penninsula and I'm sure you won't regret 3 nights staying here. I can offer a variety of accommodation as in if it's a larger group you can have the "West Wing" which has another 2 bedrooms and bathrooms and dance/yoga floor. I can put in a futon or pull out couch in the cottage just ask and see if I can sort out your situation. I am in the middle of nowhere but there's nowhere else I'd rather be having been around the world I've come home to Ahakista. 1 hr 45 mins drive from Cork city/airport, 17 km from bantry town, no bus services to Ahakista . No trains down here etc. You need a car and a Sat Nav or a map and a good sense of adventure and an ability to ask for directions. It's beautiful and is perfect for folk who like hill walking and going off for picnics or lunches out and drives to ring of Kerry and the five penninsulas. Perfect base to go explore from. Thanks for checking out my profile I'm now almost 3 years being a member of Airbnb and really excited by the concept of making the global community welcome in my home . I backpacked around the world for 2 years and wish this concept was available back then. I used to wander into villages and ask to be hosted for a fee, I do believe that it enriched my experiences greatly. I will guide you/give directions/ advice if you want or leave to discover by yourselves as you wish. The original cottage is over 100 years old and I have retained as much of the original features. I've got underfloor heating (winter time) and a lovely stove which is not only good for atmosphere but it's cosy in the not so balmy evenings. Wooden floors, rustic feel, open plan kitchen diner/ sitting room. If it's a wet weekend and you can't get out and about walking! You could paint, draw, read, write, cuddle up on the couch in front of the fire. I like to play board games and have a large selection and books/dvds/music. There is also the local bars which can be really lovely with open fires and live music or sitting out and having a BBQ watching the sun setting over the bay. Food: Restaurants/café/bars with food in the area, information pack/maps/guide books/walking maps etc. available in the house. Hope to see you here. Sheila
Peaceful countryside with panoramic views of rolling hills hugging the valley of a patchwork of forty shades of green. A close knit community of people who have grown up together and look out for each other. If you ever wanted to find an idyllic life this is the place to live. I wish I was there more often.
We had a great week in Ireland, in Sheila's cosy, nicely quiet cottage. The views and walks are just amazing. In the evenings, we just sat on the couch in front of the fire and read books. Very very relaxing. Sheila was very friendly, although we didn't see her very much. Because it was Christmas time, many restaurants nearby were closed and the pub Arundels didn't serve food. So, we just bought food in Durrus and Bantry and prepared it ourselves in the kitchen. At night, it was so very quiet and we watched the stars. When leaving Ahakista, we realized there were so many more spots and hikes to be seen and done, and we would love to come back sometime.
Mathilde
2015-12-26T00:00:00Z
Sheila's home is in a beautiful location and very cozy! We had a great night, enjoyed the fireplace and the moonlight outside. The home is well equipped with everything you need: she even provided us a crib for the baby. It was easy to find and I wish we had longer to stay!
Katharine
2014-02-15T00:00:00Z
We were very well received. The house is beautiful with a fantastic view, very conveniant for 4 people, a bit cramped for 6. This peaceful place is close to a pub and a little town, a bit far from main visiting area. So we realy advice this nice house at good price for a restful stay.
Eric
2014-07-15T00:00:00Z
Das Haus ist schön, aber liegt sehr abgelegen. Möchte man vieles vom Land sehen ist das Haus nicht geeignet. Zum entspannen und um sich auszuruhen können wir es weiter empfehlen.
Sabi
2017-01-04T00:00:00Z
I rented the whole cottage for 4 nights as a base for exploring West Cork with my parents who were visiting from abroad. Everything the other reviews have said is true - nicely refurbished cute old house, amazing location, stunning views, generous, friendly host - fruit, cereal & milk left for us for breakfast, stove full of logs ready to light the fire. But overall we did not have a comfortable stay as the cottage was very cluttered and I am afraid not as clean as I have come to expect from Airbnb members. I am sorry to give such a review especially as I love the airbnb concept and I have used it successfully in the past but after having spent 4 days worrying about my parents' comfort amidst all the clutter, cobwebs, dust and hair I feel a bit let down and disappointed.
Vanya
2012-05-09T00:00:00Z
So twice in one trip I stayed here. Sheila took me in last minute after where I was didn't work out. Thank you Sheila your the best.
Cecilia
2014-03-21T00:00:00Z
Stayed with Sheila for two nights and were sorry we couldn't stay longer! Sheila is a great host, nice chats and help! She spoiled us with some (lots!) of freshly baked scones one morning - lovely! Very cosy house, lovingly renovated, fully equipped kitchen with a bread-maker. Wonderful bed, didn't want to get up. Thanks ever so much Sheila, hope to see you again some time!
Claudia
2014-04-24T00:00:00Z
Really nice cottage. perfect sea view and amazing area. Every room is very clean and new. Sheila is a great person, we loved it at her place. Thank you very much & good luck with your future plans, Lena & Philipp
Lena
2012-08-29T00:00:00Z
Romtype
Helt hjem/leilighet
---
Eiendomstype
Hus
---
Plass til
5
---
Soverom
Cork, Munster, Irland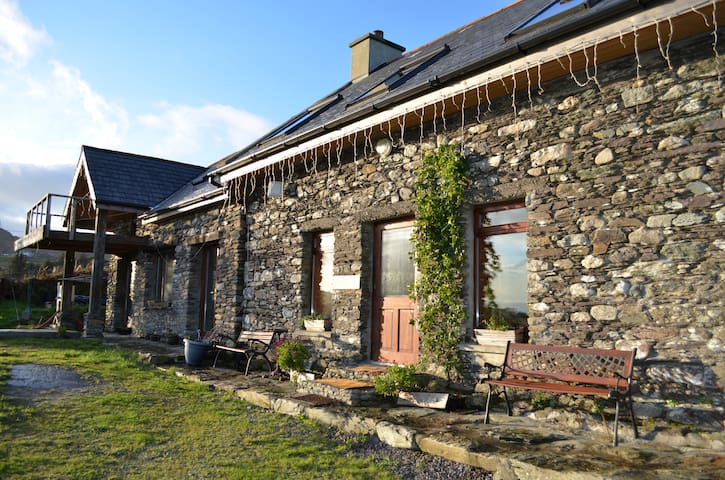 Komfortable traditionelle Hütte, 2 min vom Meer und ein Pub. Ein Doppelzimmer und ein Einzelzimmer mit Einzelbett und Stuhl Bett sowie Doppelschlafcouch im Wohnzimmer. Mit allem Komfort, Wi-Fi, Holzofen, neben Café und Galerie, (Café nur geöffnet von April - Ende August), den Zugang zu einem schönen Garten, gut erzogene Hunde willkommen. Wir sind 10 Minuten von Durrus, wo es Supermarkt und gute Familienrestaurant ganzjährig geöffnet ist. Sie werden vor der Haustür der fantastischen Art und Weise Weg- Sheeps sein Routen über die Halbinsel alle markierten Wander. Arundels auf dem Pier ist am Wochenende Pub-Essen und den ganzen Sommer.
I stayed at Seaside Cottage in Ahakista for several weeks this summer and it was a great experience. What with sea views, beautiful gardens and a cafe and gallery next door, it felt like I had landed in my own little idyll. Annabel and Klaus, who own both the cottage and the Heron Cafe and Gallery next door, were lovely hosts. They left me in peace but were always available if I had any questions - just the right balance. Ahakista is a beautiful part of the Sheep's Head peninsula in West Cork. There is a special gentle warmth in the air and the local foliage brings a wave of colour to the roads and pathways. It's a terrific area for walkers, kayakers, swimmers, boat people, readers, writers, artists and anyone who is tired of city life. It's a difficult place to leave but the thought of a return visit helps. Roll on 2017!
Christine
2016-08-21T00:00:00Z
A beautiful cottage in a beautiful spot. Highlights for me were being able to see the sea from bed, the fire place - the weather wasn't so warm when we were there, so we made a fire every night - and the well-equipped kitchen - it has absolutely everything you could need to cook (I recommend stocking up at the markets in Cork or Bantry on your way down - they have great fresh fish, veg and bread and there aren't so many shops nearby the cottage). There were only 2 of us, but there is more than enough space for 4. Arranging arrivial, etc with Annabel was super easy. Highly recommend!
Katherine
2016-04-30T00:00:00Z
We had a relaxing stay in the cottage. The weather was poor for a couple of the days, but that made it perfect for staying in by the fire. The house was lovely and warm and suited the two of us, and two cats, just fine. We managed to get one day walking in, and highly recommend the area for spectacular scenery.
Elizabeth
2015-01-03T00:00:00Z
Beautiful location,,very warm welcome from Annabel,,dog friendly,, it was just fantastic, Christine and Bobbie
Christine
2016-09-04T00:00:00Z
Es war ein Zufallsfund, und was für ein schöner! Wir kommen auf alle Fälle wieder, es hat uns sehr gut gefallen. Angenehme Einrichtung, freundliche, hilfsbereite Menschen, wunderbare Gegend sowieso. Man sollte das nicht erzählen, sonst kommen am Ende noch mehr Leute ;)
Britta
2016-05-24T00:00:00Z
Just as lovely as we'd hoped, both the cottage and the beautiful garden. Annabel very kindly gave us access to her washing machine - very helpful at the mid-point of a long trip - and was very quick to respond to emails seeking practical advice before we arrived. We appreciated the comfortable beds and there can't be many baths with such a good view. Would thoroughly recommend.
Lucy
2015-07-19T00:00:00Z
Agréable accueil d'Annabel, très discrète pendant notre séjour, le cottage est bien équipé et joliment décoré ; très joli jardin à parcourir. Nous avons cependant été déçus que le petit déjeuner ne soit pas prévu, nous pouvions le prendre dans le petit café à côté mais il ouvrait trop tardivement pour nous. L'endroit est très tranquille, un peu à l'écart cependant pour les visites mais dans un paysage superbe.
Nelly
2016-07-16T00:00:00Z
We had a wonderful stay at Annabels Cottage. Annabel is a great host and a fabulous artist. The cottage is full of her art works, and is cosy and has everything you need. The area is beautiful and we followed Annabels advice and had two great days, exploring Sheepshead and Mizen head. We would highly recommend a stay there and hope to return in the not too distant future.
stephen
2014-04-17T00:00:00Z
Romtype
Helt hjem/leilighet
---
Eiendomstype
Hus
---
Plass til
5
---
Soverom
Ahakista, Cork, Irland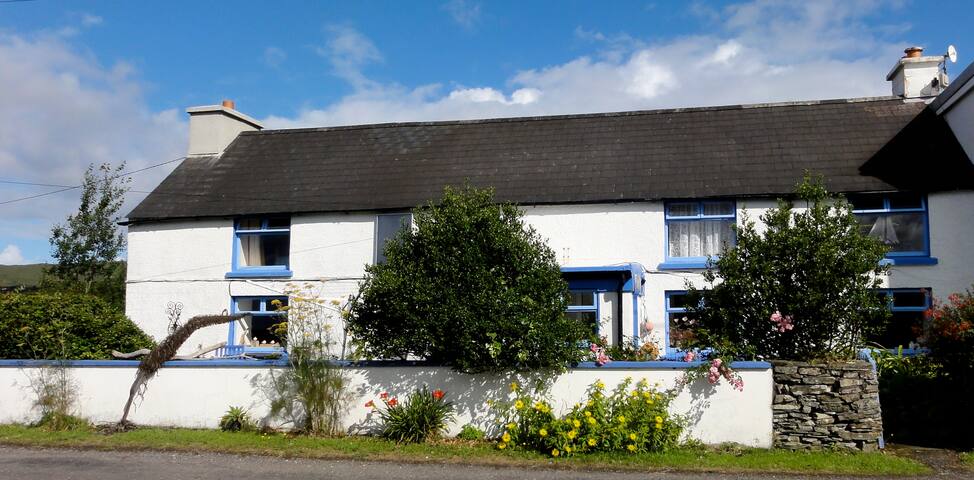 "Le Cheile" hat Konkurrenzlos Blick auf Dunmanus-Bucht und die spektakulären Schafskopf-Halbinsel. Expansive Blick vom Haus und Garten, nur einen kurzen Spaziergang zu Ahakista Pubs und Restaurants, nur 100 Meter vom Meer entfernt. Luxuriös und gemütliche ideal für Paare oder Familien.
"Le Cheile": - Geräumiges Ferienhaus mit Blick auf Dunmanus Bay. Treppab: - Wohnzimmer mit Kaminofen, Erker und bequemen Sitzgelegenheiten. Küche mit allen notwendigen Geräten. Dienstprogramm mit Waschmaschine und Mikrowelle. Schlafzimmer mit Kingsize-Bett. Badezimmer und Abstellraum. große Sonnen Zimmer mit herrlicher Aussicht. NACH OBEN:- Haupt-Schlafzimmer mit Französisch Türen Blick auf das Meer und ein eigenes Bad mit Dusche. Zweites Schlafzimmer mit 1 großen Einzel 3 ft 6 Zoll, 1 Einzelbett 3 ft und zweiten Einzelbett in voller Größe mit Standard-Matratze 3ft herausziehen. Dies ist auch ein eigenes Bad mit Badewanne.
Sheeps Kopf ist ein Eden preisgekrönte Ziel und hat einen spektakulären abgebildet Wanderrouten. Es gibt viele Bars und Restaurants in der unmittelbaren Umgebung. Segeltörns verfügbar von Ahakista Pier Ref "Carbery Segeln". Kajakverleih ist auch vor Ort zur Verfügung.
Fantastic location, amazing seaview, large comfortable living space, within walking distance of the village pubs and tiny beaches. Fully equipped kitchen. Lovely outdoor patio with seating to enjoy the seaview. Found it very easy to liaise with Rita regarding keys/check-in and would highly recommend to others to stay here.
Una
2016-06-20T00:00:00Z
Home away from home. Good garden for kids, amazing views. Found it hard to eat breakfast and look out the window at the same time. Thoughtful touches all over the house, very family friendly. Very comfortable spot
Derek
2017-02-19T00:00:00Z
It is the perfect place for a relaxing and peaceful weekend. The house is big and cosy and the seaview is absolutely amazing! It is also the perfect spot to visit West Cork: we visited the Sheep's Head, the area around Ahakista and Mizen Head. Rita and Neil were always available and responsive to our queries. Absolutely recommeded!
Giulia
2016-10-16T00:00:00Z
This house is amazing - a lot of space, well-equipped and the location is great - what a great view. All even better than in the photographs. The instructions provided by Rita were clear, the communication with the host perfect too. We had a great weekend there.
Miguel Angel
2017-03-26T00:00:00Z
The house was perfect for a relaxing weekend. Enjoyed our stay at the place. I would rate it as one of best house that we have stayed in. All the instructions were written in a folder and which helped us a lot. Would definitely recommend people to go and stay.
swapnil
2016-10-31T00:00:00Z
Nous avons passé un excellent séjour dans la belle maison de Rita. Nous sommes enchantés par notre expérience : la maison est spacieuse et bien aménagée. Tout est exactement conforme à la description et la propreté est impeccable. La maison est très pratique, agréable à vivre et située au grand calme. La vue sur la mer est magnifique. Vous pouvez profiter de la vue depuis le jardin et la terrasse mais aussi grâce aux baies vitrées situées dans la cuisine/salon séjour ainsi que depuis une des chambres. Enfin, excellente communication et accueil chaleureux de la part de Rita. Si l'occasion se présente, nous y retournerons pour y passer encore un peu plus de temps.
Pascal Nicolas
2016-11-14T00:00:00Z
We stayed in Rita's house for a weekend, which is certainly not enough to fully enjoy the place and the neighborhood. The views are breathtaking, the house is very cozy and spacious, it is ideal for a quiet rest outside of city. Ahakista is a lovely small village with a good local pub, Sheep's Head is a short drive away, and fantastic Mizen's Head is about 40 minutes away by car. Rita and Neil met us upon arrival, showed the house and recommended the local attractions. They were very friendly and welcoming. I would definitely recommend the house and would visit it again in future with pleasure.
Danylo
2016-06-06T00:00:00Z
Rita and Neil couldn't have been more welcoming! The house was as described, with super comfy beds and amazing views! Enjoyed our days out and about sight seeing and our evenings in front of the wood stove. Would recommend for all ages. Would have loved to have stayed longer than our 3 nights.
Kim
2016-10-12T00:00:00Z
Romtype
Helt hjem/leilighet
---
Eiendomstype
Hytte
---
Plass til
6
---
Soverom
Bantry, Cork, Irland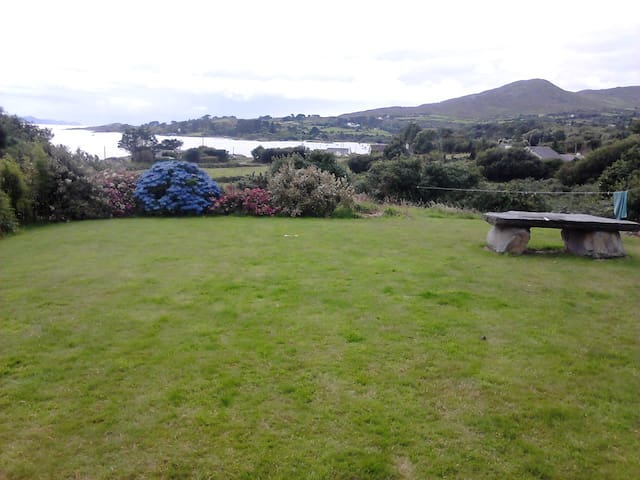 Our place is in the middle of the beautiful Sheep's Head Peninsula, in Ahakista, situated on the Sheep's Head Walk. People love it for the beautiful views of the sea and the mountains. The cottage is a traditional Irish Cottage, with thick whitewashed walls, a half door, and a wood burning stove. The views are to die for. Many guests have their best nights sleep here, the only sounds are distant cows and tractors! 90 min drive from Cork Airport, and 25 min drive to the local town Bantry.
Romtype
Helt hjem/leilighet
---
Eiendomstype
Hytte
---
Plass til
2
---
Soverom
Ahakista, County Cork, Irland
Geräumige Wohnung mit Meerblick und großen angelegten garden.Approx 1 km vom Dorf Ahakista nah am Strand Pier und amenities.Secure friedliche location.Loads von Raum und auch für größere Gruppen auf der Sheeps Head Way Wanderweg ausgestattet.
Große, komfortable Küche mit Kochinsel geeignet für Menschen, die gerne kochen und in komfortablen Sitzbereich in der Küche zu essen. Großes Wohnzimmer mit offenem Kamin. Terrasse zum Essen alle Fresko
Whitehorn Lodge ist in das Dorf Ahakista ganz in der Nähe. Restaurant zu essen ist gut für Angeltouren gesorgt usw. sind auch die Marktgemeinde Bantry verfügbar ist ca. 12 Meilen, wo Sie Bantry Haus, um die Kino Schwimmbäder besuchen können und die sowie Erfolg der lokalen frischen Lebensmittelhersteller bei Supermarkt Metzger am Freitag Bauernmarkt und Fischhändler
Fiona was lovely to deal with--prompt, pleasant, and no nonsense in all matters. She gave us excellent directions and made clear that she was on hand should any difficulties arise (none did). The house is extremely spacious and comfortable. The setting is picturesque and could not be more peaceful. Excellent WIFI and phone signal. Ideal for families or, possibly, a group of walkers. Stunning, well signposted trails all along Sheeps Head and two great local pubs (one serving good food).
Sophie
2016-08-30T00:00:00Z
Fiona nous a reçu et accompagné de manière impeccable et respectueuse. Le lieu, la maison et les descriptions correspondaient parfaitement à ceux décrits sur le site de airbnb. Nous avons eu beaucoup de plaisir d'y séjourner et de découvrir les alentours. Nous avons eu comme cadeau pour notre fille à qui manquait son piano, un piano et une cheminée pour nous pour nous sentir dans un environnement familier. Nous y retournerons, si l'occasion se présente, avec plaisir et recommandons Fiona à toute personne désireuse de passer du beau temps en Irlande; à Ahakista précisément.
Karine
2016-07-31T00:00:00Z
A beautiful spacious house surrounded by beautiful nature. Nice and quiet.
Amba
2017-01-07T00:00:00Z
Big house with phenomenal view. We loved the place.
marianne
2017-02-27T00:00:00Z
Fiona was very quick in communication, very kind, and helpful. The house was much larger than we expected, with some nice places to relax with a great view (there were more nice places in the house than the photos do believe). The view from the house and scenery were gorgeous. The peninsula was also very beautiful. We would definitely like to come back some time!
Nienke
2016-09-10T00:00:00Z
We had a lovely long weekend here. The house is huge and bright, and has almost everything you might want in self-catering accomodation. Though it has a nice sea view, it's still about a 20 minute walk from Ahakista village.
Malcolm
2016-12-04T00:00:00Z
Die Lage war mit mehren möglichen Wanderrouten gut gelegen. Probleme gab es, aber mit der Sauberkeit des Airbnbs. Langes Leerstehen und vergessenes Putzen trugen nicht zu der Wohnlichkeit bei.
Bodo
2016-10-18T00:00:00Z
Very nice house in a beautiful landscape. Fiona was a very good host an takes care of everything. Thx a lot!
Martin
2017-03-21T00:00:00Z
Romtype
Helt hjem/leilighet
---
Eiendomstype
Hus
---
Plass til
10
---
Soverom
Ahakista, Cork, Irland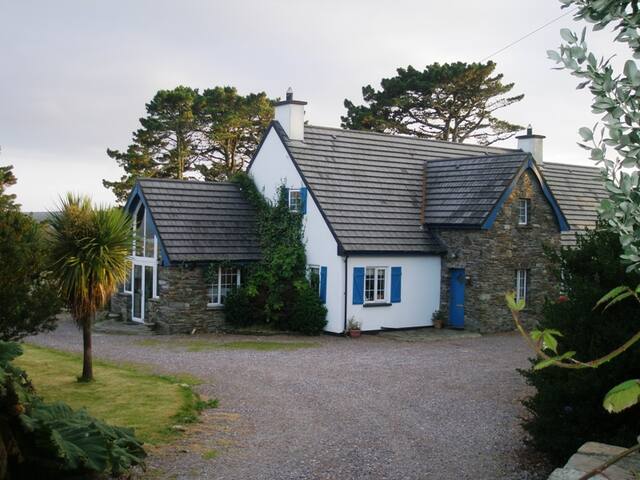 Detached seaside cottage located on the water's edge with amazing sea views and private beach. Ideal base for touring the Sheepshead and Mizen Peninsulas. The nearest town is Bantry (a 30 minute drive) and Cork city and airport are a 2 hour drive.
Lovely place to stay, warm and comfortable. Great.
Meng
2016-09-03T00:00:00Z
Fantastic location and fantastic accommodation. The photos do not do it justice and the place must be experienced first hand to appreciate just how beautiful it is. Steve couldn't have been a better host from start to finish. He was generous and very welcoming and the accommodation was immaculate.
Peter
2016-09-01T00:00:00Z
Wir hatten eine traumhaft schöne Zeit in dem Sunshine Cottage von Sandra und Steve. Das Cottage liegt in erster Reihe zum Atlantik. Die Bilder im Internet entsprechen absolut dem, wie es auch wirklich ist. Es ist vor Ort, wenn man alles auf sich wirken lässt noch viel bezaubernder wie wir es uns vorgestellt haben. Das Cottage ist mit ganz viel Liebe zum Detail eingerichtet. Uns hat es absolut an nichts gefehlt. Bei der Ankunft haben wir frisches Obst und eine gute Flasche Rotwein vorgefunden. Auch Müsli, frische Milch, Orangensaft... Kaffee, Tee... Alles war da! Und das zusätzliche Highlight, wir durften uns aus dem hauseigenen Gemüsegarten bedienen! Fangfrischen Fisch gab es an Tag zwei sogar für uns! Worte können diesen Ort und die Gastgeber gar nicht beschreiben. Ein wahrgenommener Traum! Wir haben uns von der ersten Sekunde an willkommen gefühlt. Wir kommen sicher wieder, dann für eine längere Zeit!
Sabrina
2016-07-13T00:00:00Z
Steve and Sandra's place is amazing. Heated floor, wood burning stove and falling asleep to the sound of waves crashing on the rocks! What else do you want in life?
Shane
2017-01-09T00:00:00Z
It is a beautiful location. The sea being so close to the house was amazing-it was lovely to wake up to the sound of the waves breaking. We would have been happy to sip wine (which Steve and Sandra kindly provided) and enjoy the view all day. It was wet and windy for the two days we were there but the scenery made up for it. There is a lovely shop/cafe/post office close by called O'Mahony's in the village of Kilcrohane a 5 minute drive from the house. There was also a really nice pub that served great food called Arundells by the pier in the village of Ahakista again just a short drive from the house. Close by there are some great walks along the Sheep's Head Way with stunning scenery. The house is cosy and very clean and the hosts are close by if you need anything. The view from the sitting room is better than any TV. If you want a quiet get away this is the spot. We had a great time
Eoin
2017-03-19T00:00:00Z
A piece of heaven! We couldn't have asked for a more idyllic spot or nicer hosts. Accommodation was very comfortable, spotlessly clean and private. Great thought has clearly been given to every aspect of guests possible requirements. Beautiful gardens and setting against mainly blue waters of wild Atlantic way, thank you Steve and Sandra!
Rachel
2016-07-21T00:00:00Z
We really enjoyed our stay in this beautiful cozy cottage beside the sea. Absolutely stunning location
John
2017-01-02T00:00:00Z
Beautiful beautiful magical and relaxing spot. Steve and Sandra were so generous with us. I loved this amazing location. Steve and Sandra are lovely hosts.
monique
2016-07-24T00:00:00Z
Romtype
Helt hjem/leilighet
---
Eiendomstype
Hus
---
Plass til
2
---
Soverom
Reenmore, Cork, Irland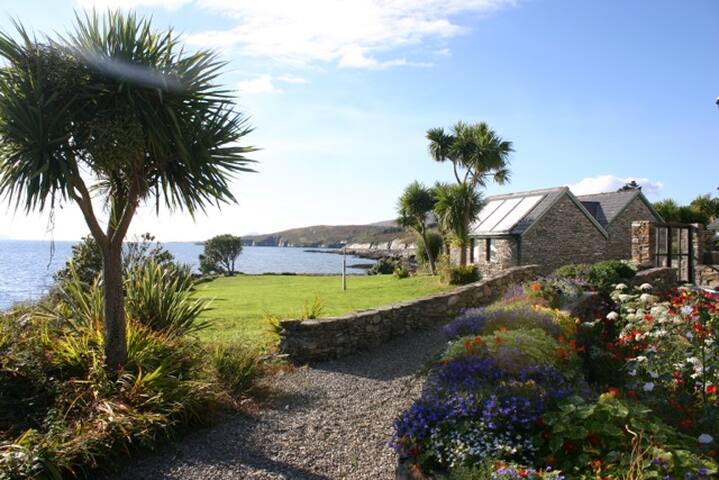 Das 300 Jahre alte Bauernhaus wurde liebevoll aktualisiert, aber noch hält all die kleinen Macken und Merkwürdigkeiten, die dort gewesen wäre, wenn es zuerst gebaut wurde. Die Aussicht ist atemberaubend und es ist eine Freude, hier zu wecken. Wir bieten ein kontinentales Frühstück
Das Doppelzimmer ist traditionell und schön zu einer schicken Boutique-Stil Schlafzimmer restauriert. Das Bauernhaus auf Basis am Anfang des Alten Messe-Schleife gehen es einen atemberaubenden Blick auf Bantry Bay hat. Perfekte Stopp zu stützen Sie sich, wenn Sie ein Künstler oder Schriftsteller sind, die eine ruhige Lage will, wo man sich entspannen und tauchen Sie ein in die Schönheit der ländlichen Gegend, während Sie Inspirationen, um von den sich ständig ändernden Blick auf Bantry Bay. Keinen besseren Ort, um die Sonne aufgehen und Set zu beobachten.
Flora und Fauna, Archäologie und wildes Leben, das der Sheeps Head Way ist. Die Halbinsel ist eine preisgekrönte Erfahrung bekannt als Irelands Eden! Dies ist der perfekte Ort zu bleiben, während die Kammermusikfestival und Literaturfestival im Juli und die Meister der Tradition im August zu genießen. Oder entspannen, während Rock-Angeln. Sie können die lokalen Galerien, Läden besuchen oder sich einfach auf Fin McCools Sitz und sehen Sie die atemberaubende Aussicht über beide Seiten der Sheeps Head Halbinsel und als Seamus Heaney würde sagen, "Wasser und Boden in ihrem Ende".
The best place to stay !
Richard
2016-07-24T00:00:00Z
Mary was so sweet! She greeted us at the end of her driveway, allowed us to tag along with her and her girlfriend to a local pub and made us a nice little breakfast in the morning. Her homemade blackberry jam was delicious! She showed us around her property and let us cuddle her cute little lambs. If you don't mind sharing space in an adorable quaint little barn, with a sweet woman, this is the perfect place for you.
Kelsey
2016-05-02T00:00:00Z
Gorgeous setting and a really lovely host. Would thoroughly recommend!
Mairead
2017-03-26T00:00:00Z
If you love views and a secluded spot this is it
ginny
2017-04-05T00:00:00Z
Mary heeft ons verwelkomd met cake en thee. Helaas was het weer erg slecht en hebben we weinig van de directe omgeving gezien. De zelfgebakken scones bij ons laatste ontbijt waren erg lekker.
annelies
2016-08-22T00:00:00Z
We were greeted by her niece and with coffee and homemade cake . The farm house was a very beautiful and quiet place , the breakfast was delicious and Mary is a very very nice and friendly hostess . We are glad that we had stayed there for one night . Thanks Mary !
Sebastian
2016-05-30T00:00:00Z
Mary is een schat: Ze heette ons zo hartverwarmend welkom met koekjes en thee, dat maakten we niet eerder mee. Halverwege onze 1e etappe van de Sheep's Head trail is haar eeuwenoude boerderijtje een onvergetelijk rustpunt met uitzicht over de baai. Echt, more than cute.
Joost
2016-12-05T00:00:00Z
J'ai eu relativement difficile de trouver la maison car Mary n'était pas encore là et n'avait pas suspendu l'enseigne de son B&B, ce qui aurait rendu la chose très aisée. Mary m'a permis de découvrir les scones sortant du four, ainsi que son pain brun et soin gâteau au whisky et cela permet de gpûter des produits typiques artisanaux très goûtus. Mary est aussi une personne agréable avec qui on peut parler de son pays.
François
2016-06-06T00:00:00Z
Romtype
Privat rom
---
Eiendomstype
Hus
---
Plass til
2
---
Soverom
Bantry, Cork, Irland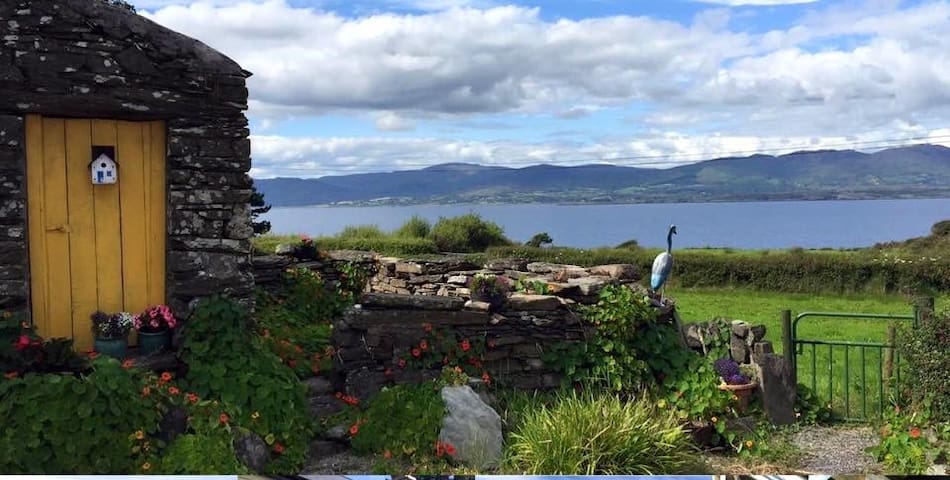 This is an extremely comfortable and well equipped home with stunning views and a balcony from which to enjoy them. There is a very comfy and cosy den for reading or tv. King size bed and dressing room, comfy double bedroom ensuite. Large yoga room!
hello all, Welcome to your holiday on the Sheep's Head peninsula. My West Wing is an entire home and it is all yours to enjoy a home away from home experience. I have two separate Airbnb listing at this one address. 2 large bedrooms, a large front room the "dawn ballroom" perfect for yoga dancing and large dinner parties and when the table is extended. There are two bathrooms one upstairs and a downstairs wc and shower wet room. kitchen is large and a delight to cook in. I have designed it and built it while living next door in the cottage "Rent Peace and Quiet and hillwalk" also listed on Airbnb. Guests will have a peaceful tranquil location with spectacular views and it is a delight for anyone who needs to escape the city and just breath. The neighbours are sweet and farming and fishing and arts and crafts types. There are two pubs one has a restaurant and both have really picturesque beer gardens overlooking the harbour. The village of Ahakista is rather tiny with just two pubs an art gallery/coffee shop and garden, a school and a church (all spread out) There are two other villages on the penninsula, Durrus and Kilcrohane and we are halfway between them. There are shops and cafes in both villages. Lots of hill walkers come for easy and unspoilt walking routes called the sheep's head way. It is best to come by car as there really is very poor public transportation. I have had cycling tour guests who arrived and stayed to rest at the end of their journey. My place is unique or special as it has a lovely character without the perfection that makes hotels and modern houses boring and soulless. I love it and am very proud of it and I hope you will love it as much as I do. Thanks for considering my West Wing for your holiday destination. Sheila wifi internet/restaurant and bars.
Great views, Eden award winning area of natural unspoilt scenery. Great little pubs and bar food, great hiking and biking available, sailing trips available in Ahakista. Sheep's Head walking routes.
Sheila's house is really spacious! You have a great view on the atlantic ocean! It is an amazing house regarding Sheila built it on her own!we loved our stay and would recommend to stay in this area and at sheila's place!
Vera
2015-10-07T00:00:00Z
Nous n'avons pu passer que 2 nuits dans le Sheep's head mais c'était très agréable. La vue est magnifique. Nous avons été bien accueillis par Sheila qui a fait l'effort de parler français ! Cette maison a été très bien rénovée, elle est très confortable et agréable, malgré quelques odeurs dans la cuisine laissées je pense par de précédents locataires fumeurs...
Emilie
2013-10-31T00:00:00Z
We had an absolutely magical stay at Sheila's cottage on the Sheep's head peninsula. She opened up her heart and home to us in so many ways, making sure we had the best experience as possible. We went on incredible hikes and pasture walks through the area and met so many wonderful people through her! She took us Irish set dancing one night, welcomed us with tea and bread and cheese our first night, and made us feel so at home. The cottage is very cozy and homey, and there is a great nook upstairs for reading, cuddling or doing yoga. There is a washer/dryer, great wifi, a fully stocked kitchen with appliances, hot showers and incredibly comfortable beds. I couldn't recommend her home highly enough, we all can't wait to return!
Melissa
2013-10-22T00:00:00Z
Fabulous. Beautiful view. Really interesting building and lovely host. If this is available then go ahead and book it...you will love it.
Pamela
2016-08-14T00:00:00Z
The sheep's head was a great area to discover with our children. And the house of Sheila gave us, next to a great view, a lovely place to sleep, eat and enjoy. Liesbeth
Liesbeth
2015-07-24T00:00:00Z
We've just stayed in Sheilas lovely house and we've really a nice time. Unfortunately we didn't meet Sheila but she prepared everything for a very warm welcome. Thanks for everything!
Corinna
2014-08-14T00:00:00Z
We liked Sheila's place very much. There is a great view towards the sea and you can feel, that she did a lot by herself (in the future with her new saw ;-)) ... really great feeling there! We also liked to chat with her about the Irish life and a lot more. And last but not least: We saw the fox :-)))
Karin
2014-04-19T00:00:00Z
This was a very nice experience. Sheila was in contact right away and gave very good information about her beautiful place and the way to find it. When we arrived everything was as she said.
James
2014-08-18T00:00:00Z
Romtype
Helt hjem/leilighet
---
Eiendomstype
Hus
---
Plass til
6
---
Soverom
Ahakista, Cork, Irland
Full House à votre disposition, 4 chambres, cuisine, salle à manger, salon et 3 salles de bains. Situé dans une zone de vues panoramiques sur la mer. Idéal pour la marche et de la randonnée. Familles Très bienvenus. Pas d'animaux de compagnie. Village le plus proche, à 5 miles. Pétrole et chauffage central est en lecture de compteurs. Très calme et quartier tranquille. Près de plages de galets et de sable. Ville la plus proche est Bantry, une vingtaine de minutes en voiture. Il a beaucoup de commodités, y compris les restaurants, bars, grand supermarché, vêtements et boutiques de souvenirs, terrain de golf, Cinéma, pour ne citer que quelques-uns. Transport public est disponible à Bantry et à un degré moindre dans le village voisin de Durrus. Vous pouvez prendre une excursion en bateau à quelques-unes des îles voisines de Bantry. Nos voisins sont très serviable et sympathique. Notre gardien est plus que disposé à répondre à toutes vos questions et être utile à vous pendant votre séjour. Profitez de votre visite et espérons vous revoir un jour.
Mary, I agree with others on saying the house is so much better than the photos. The family fell in love with the house and the view was amazing there in the Sheep's Head peninsula. Cheers, Richard
Richard
2016-07-01T00:00:00Z
Had a wonderful stay at Mary's listing. The house is very large and extremely clean, with everything you could possibly need for your stay. It is very close to the sea and Ahakista where there are fantastic walks, great pubs, friendly locals and amazing scenery. There are towns close by, if you want to have a change of scenery, such as Durus, Kilcrohaine and Bantry where you can have amazing food. Mary is an extremely diligent host, who contacted me prior to arrival with detailed directions and even made sure on the day of arrival that I would contact the caretaker to arrange the key pick up. We were also contacted while on the way there to make sure we knew how to get there and luckily they did, as we had almost made a wrong turn. The communication between the host, caretaker and us was extremely good and hospitable and I would recommend this listing to anyone, to enjoy the beautiful scenery of West Cork and enjoy the comforts of home at that same time.
Jean
2012-07-08T00:00:00Z
My wife, 5 year old son, 22 month old daughter, and my parents stayed at Mary's beautiful stone cottage for 8 nights over the Easter holiday and it was just fabulous. The house is extremely large, well put together and has all of the amenities that you could ask for. Mary and Kieran (the caretaker) were lovely hosts and we would highly recommend staying her (and we will definitely be back again). The surrounding area is beautiful and it is a great location to explore the Southern part of Ireland. We had an absolutely wonderful stay.
Emily
2013-04-05T00:00:00Z
We really enjoyed our stay here. The house was really lovely with all the facilities we could need. The location is in the beautiful countryside of Ahakista, a perfect spot to relax. It is very close to the village where there are a couple of lovely spots to eat and drink. I really enjoyed the food in the The Herons Rest Cafe and Arundels. The tin pub is also close and a really unique spot. There are not many shops nearby so I would recommend stocking up on your milk etc as your passing through Durrus. I thought the communication from Mary was excellent and Ciaran was very good at meeting us and showing us things to do with the house. It is a fabulous penninsula. We brought our bikes and cycled up to the sheeps head. There are stunning views. We also done an amazing hike on the sheeps head way and visited baltimore for a sea safari. You wont be short on things to do! You do need a car though for the longer journeys. A bike is good for getting around the penninsula. Thank you for a wonderful stay!
orla
2016-07-16T00:00:00Z
Fantastic is right! Too big for the 3 of us but we loved it anyway. Gorgeous home inside & out. Fantastic area for country walk, including actual hiking trails through beautiful landscape of Sheeps head peninsula stunning. Easy access to Beara peninsula also for day trips, we explored all of both peninsulas. Super awesome. Caretaker Kiern was fantastic, easy to contact and very helpful & responsive. Super super comfortable beds & great views. Loads of wildlife in area, even in yard. We saw a fox in the front yard & a pheasant in the back yard. We had everything we needed. You turn heat on & off when you need it & pay for oil & electric at time of departure, Kiern came quick when we called to take the readings and our 4 day stay cost 20 Euros, paid at time of departure. Fantastic value. If you have a large group of people this place is perfect. We had a fantastic dinner at ?? Very close, by at the harbor ,views of the boats , great food & service. Loads of option in nearby beautiful Bantry. Bantry house was great tour. Stunning area. We highly reccomend this place. Sheeps head peninsula is really off the beaten path, easy to drive even though most roads are nearly single lane, absolutely no tour busses. We hiked a lot and absolutely loved it.
Mary Ann
2016-06-24T00:00:00Z
Myself and my two children had a wonderful few days in Rossnacaheragh at the end of July 2013. The house is absolutely beautiful with an amazing location, of the mountain to the rear and a view over the bay to the front. The pictures really do not do justice to the house, which is absolutely beautiful and much larger inside than it looks from out. Incredibly well equipped with a dishwasher, towels, toilet rolls all provided. Kieran the caretaker was a delight. All in all I could not recommend Mary's beautiful house highly enough.Thank you, Mary
Neil
2013-08-02T00:00:00Z
Mary's home is wonderful! We kept increasing the length of our stay because we were having such a great time there. The home itself is lovely and spacious, and you can't beat the views of green hills and the beautiful bay. It's a very quiet, peaceful area, about 25 minutes outside of Bantry. Mary is a great, considerate host, and her caretaker Kieran is great as well. I highly recommend staying here for a scenic, peaceful getaway!
Kristy
2013-09-08T00:00:00Z
This property is dream worthy. It has a beautiful view and quite surrounding. The house is flooded with natural light and has a lovely interior. Each bedroom and room is fully equipped, with a homely feeling. We really enjoyed our stay and the surrounding countryside. Kieran was very helpful and close by if we needed help. I would love to come back to this property again.
Natascha
2016-07-09T00:00:00Z
Romtype
Helt hjem/leilighet
---
Eiendomstype
Hus
---
Plass til
8
---
Soverom
Rossnacaheragh, County Cork, Irland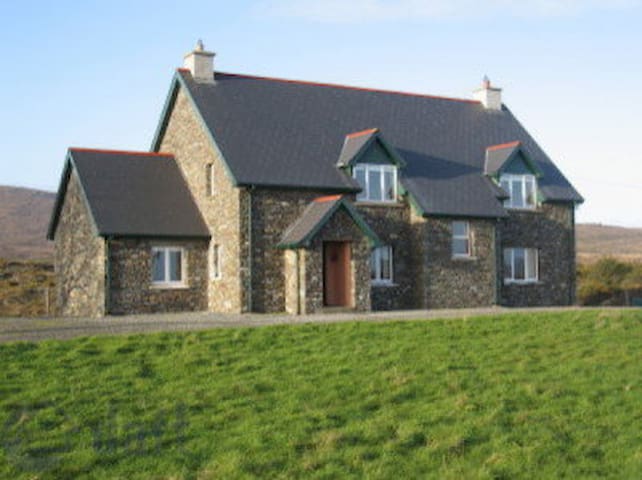 Værelses 14x14ft, enkeltsenge, som kan sættes ved siden af hinanden. Badeværelse med bruser / bad og bidet ca. 10x10ft. Kaffe / te faciliteter, men ingen madlavning faciliteter. Vi leverer, uden omkostninger, en fremragende let morgenmad fx korn, æg, croissant eller brød, frugt, yoghurt og te eller kaffe. WiFi til rådighed. Køleskab. Ingen tv.
The Wild Atlantic Way, der passerer ved vores gate, har haft en masse omtale for nylig, så det er værd at se op. The Peninsula vi er på, Sheepshead, er den mindste af de fem halvøer i South West Irland. Den Fårehovedhavrude Way er en godt markeret tur langs "ryggen" af halvøen. Der er en fantastisk udsigt langs denne tur. Der er en stejl sti, undertiden lidt tilgroet, ned til vores stenet / rullesten forstrand. Anbefales ikke til spage. Som anført er det midlertidigt ude af drift. Der er en glimrende gang fra en cafe med parkeringsplads i slutningen af halvøen til fyret på spidsen af halvøen.
Inoubliable!!! Les mots sont difficiles à trouver pour qualifier les moments passés chez Ian et Jeanny. La maison est confortable, très propre et fonctionnelle. On s'y sent tout de suite comme chez soi. Une vue merveilleuse sur la baie depuis la fenêtre. On est entouré de fleurs, d'animaux , il règne un calme et une sérénité idéale pour se sentir bien. Le petit déjeuner est royal, copieux, dans un cadre exceptionnel, entouré de Spoki et Maïsi deux adorables poules.... Idéalement situé pour visiter le sud ouest de l'Irlande: Mizen Head, Sheep's Head, la péninsule de Beara, le Ring of Kerry, Dingle...Tout est magnifique dans la région. Ian et Jeanny sont d'excellents conseils et nous ont fait découvrir des endroits fabuleux. Nous avons sillonné les petites routes en moto, on a découvert des endroits époustouflants, et on a eu la chance d'avoir un temps magnifique. Mais tout cela n'est rien comparé à nos adorables hôtes. On m'avait parlé de la gentillesse des Irlandais. Nous avons été touché par cet accueil chaleureux, cette présence sans être envahissante, cette chaleur humaine, ces petites attentions, ces efforts pour communiquer alors que notre anglais est très limité, cette douceur de vivre, cette disponibilité.... Mais déjà il faut repartir, cette semaine a passé si vite. Alors on est triste, très triste. Alors qu'on doit juste être heureux d'avoir eu la chance de les rencontrer. Sans hésiter nous allons parler de notre expérience à notre retour et conseiller cet endroit à tous nos amis. Et nous y retournerons, on se le promet. Elisabeth et Jean-Pierre Les motards
Jean Pierre
2016-08-12T00:00:00Z
This is a beautiful secluded home with the most stunning views of Sheepshead Penninsula. Jeannie and Ian are kind and welcoming - I would 100% recommend staying here if you are traveling in the area - it is the perfect resting place!
Ange
2016-07-22T00:00:00Z
Het was een fantastisch verblijf! Ian en Jenny waren zo lief en gastvrij, heerlijk. Wij hebben ons zo op gemak gevoeld, jammer dat we niet langer konden blijven. De bedden waren goed, douche goed, locatie was prachtig, ontbijt was overweldigend, heerlijk. Leuke en goed tips. Beara was geweldig en de mosselen bij Helen waren heerlijk. Dank jullie wel!
miranda
2016-09-13T00:00:00Z
We had a fantastic stay at the Bothy of Ian and Jeannie. They are very friendly and we felt us like we were at home. Also the animals were very pleased with us. They all did a great job. The breakfast was outstanding. They really surprised us in every way. We could tell you a lot more... But we think the best way is to go there and experience it for yourselves. Then you will understand what we mean. We wish you all the best Regards, Robert & Marianne
Robert
2016-09-06T00:00:00Z
Thanks a lot to Ian and Jeannie for their very warm welcoming. The lovely little house is in a very charming place, in front of the sea, with sheeps on the side. We loved having breakfast outside with chicken and sunshine. Everything was perfect!
Nicolas
2016-07-16T00:00:00Z
This is a beautiful place. The Bothy is cozy and comfortable. Best of all, Ian and Jeannie are first-class hosts. Views of the ocean are stunning.
Jerome
2016-07-01T00:00:00Z
We felt like arriving to family! Ian and Gene were hearty and caring lovely during our stay. Great conversations in the heart of Sheep's Head Peninsula! Unfortunately we couldn't stay longer. We will be back definitely!
Dorothee
2015-08-28T00:00:00Z
We had lovely four days in Sheeps Head. Ian and Jeannie were amazing hosts, welcoming us with all their attention. The accommodation is very nice with an amazing view - perfect to relax. Sheeps head offers tourists some amazing hiking tours, so you will not be bored while staying there. Thank you again for everything!
Sophie
2015-08-04T00:00:00Z
Romtype
Helt hjem/leilighet
---
Eiendomstype
Hytte
---
Plass til
2
---
Soverom
Bantry, Cork, Irland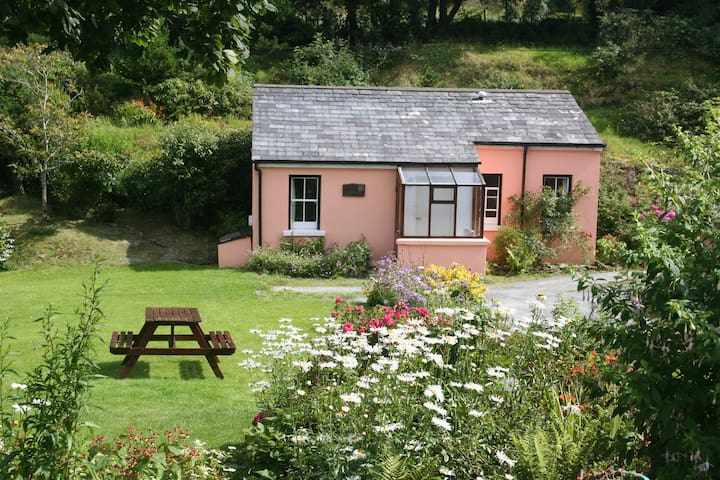 Hjemlig fire soveværelser sommerhus med udsigt over den smukke Dunmanus Bay. En destination for alle årstider - kæle op ved siden af en åben ild i vinteren, eller i mere retfærdig vejr nyde prisvindende naturskønne vandreruter længden af halvøen.
Rosskerrig Holiday House ligger i idylliske omgivelser i West Cork, på fårehoveder halvø med udsigt over den smukke Dunmanus Bay, mellem Ahakista og Kilcrohane landsbyer. Den charmerende hus har en sydvendt aspekt, der giver mulighed for den bedste udsigt over det maleriske landskab, på tværs Dunmanus Bay til Mizen halvøen. Ejendommen indeholder tre dobbeltværelser, hvoraf to er ensuite, og en dobbelt værelse. Ejendommen har centralvarme, samt en åben ild (dejlige for dem rask vintre nætter!) I den rummelige stue, og et separat stort køkken / spisestue med alle mod-cons. En varm velkomst venter i en af de lokale barer og restauranter, med fødevarer muligheder (glade for at give nogle lokale anbefalinger), der passer til alle budgetter. I et tillæg til de mange vandre- og cykelruter, som halvøen er berømt, andre lokale fritidsaktiviteter omfatter, svømning, fiskeri, kajak, sejlads og madlavningskurser for blot at nævne et par stykker ... Ud over de mange lokale seværdigheder og aktiviteter, ejendommen er også en fremragende stop-off punkt på Wild Atlantic Way - en 2500 km turisme trail (kørsel rute) langs Irlands vestkyst, fra Cork til Donegal, der tager på nogle af de lande, der mest betagende sceneri.
Det er fredelige, rolige med endeløse frisk luft!
Had a wonderfully relaxing stay at Mary and Michael's lovely home. The house itself is large and spacious with a fully equipped kitchen and a wood fire with all the supplies needed for a comfortable stay. Added to this the house has breathtaking views of the bay and surrounding area. Most definitely recommended for those who are looking for a peaceful, relaxing stay and are interested in plenty of walks in the peninsula.
Conor
2015-10-28T00:00:00Z
Amazing! Mary and Micheal were perfect hosts and we had absolutely everything we needed. The view was spectacular and plenty to do around the area if you have a car. Would come back again and recommend it to others!
Elizabeth
2015-08-20T00:00:00Z
I loved Ahakista and especially loved staying at Mary and Micheal's beautiful appointed house overlooking the ocean and hills with cows, bunnies and sheep. This was probably the best vacation we've ever taken--- it was so relaxing, everything was easy to find (and they really do have everything you need to cook, bake and relax), the fireplace was so nice to settle in front of during the wet and windy weather, and we had loads of space to stretch out in! We came with our nearly 2 year-old daughter, and she was in love right away. She slept better than she does at home (because it's really quiet and perfectly dark), and she would get up each day to moo with the cows, and take a walk in the rain. Mary and Micheal were so nice to provide us with a cot for her and a high chair. Really lovely house, area and hosts! We will definitely be coming back :-)
Alechia
2015-09-17T00:00:00Z
It was such a nice stay in the house. There is an incredible and wonderful view to the bay from the front side and the livingroom. The house is huge and very cosy with a chimney in the livingroom room. Its modern furnished and a lot of space in the house. If you stay there don't miss a walk at the sheepshad way to the lighthouse: (URL HIDDEN) its really beautiful. Thanks a lot for everything. We can really recommend this house! Julia :)
Julia
2016-09-02T00:00:00Z
We as a family of four people had a lovely stay at Mary's and Michael's house. The house itself is very cosy and welcoming. Yet the view is even more astonishing as the pictures show. When there's no fog you can see very far over the North Atlantic Ocean. Mary and Michael were really nice and gave tips when there were any questions. All in all I personally highly recommended staying at Mary's and Michael's house. :)
Lennart
2016-07-24T00:00:00Z
Mary and Michael are fabulous hosts they made our stay very comfortable and their cottage is very cosy and very Well looked after
Valerie
2014-04-22T00:00:00Z
This place was just wonderful. The house itself, its surroundings and the view on the coast were remarkable. The house had enough space for two families and although we couldn't meet the hosts, we got a very warm welcome from their son. There is plenty to see and do in the area. We would love to come back some time. Thanks!
Robert
2016-08-14T00:00:00Z
Mary and Michaels cottage was beautiful, perfectly situated for exploring the beauty of West cork. The cottage was really clean and Mary and Michael really friendly and helpful. We would love to return when we are next in the area
Alison
2016-01-26T00:00:00Z
Romtype
Helt hjem/leilighet
---
Eiendomstype
Hus
---
Plass til
8
---
Soverom
Ahakista, Cork, Irland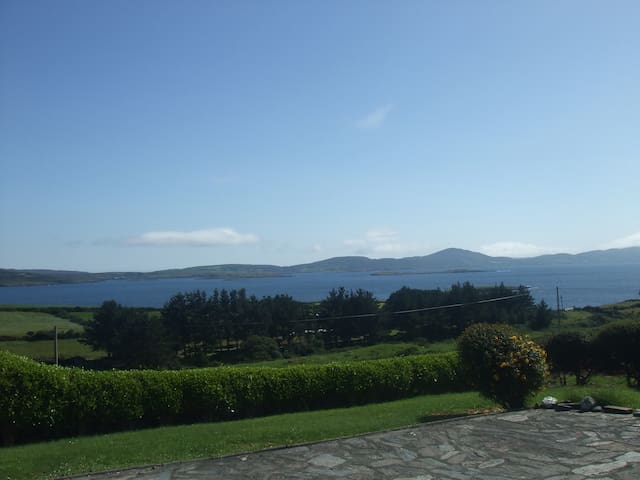 Bantry 14 miles, une auto de luxe Villa-Maison de vacances, avec un grand jardin privé, 4 chambres, 3,5 salles de bains, cuisine, plus buanderie moderne, chauffage central, salon a cheminée, TV, Il y a aussi une salle de soleil avec vue imprenable sur Dunmanus baie
Un auto-restauration de luxe Maison, avec un grand jardin privé, 4 chambres, 3,5 salles de bains, salon a cheminée, cuisine moderne, plus buanderie, internet, Sky TV, chauffage central. Il y a aussi une salle de soleil avec vue imprenable sur Dunmanus Bay- voir photo prise devant la maison. 1,5 miles de villages colorés de Kilcrohane, Ahakista et 7 miles de Durrus, fournissent des rafraîchissements avec boutique, un café et pubs, Maison IS14 miles de Bantry Town, Choix de grands restaurants à moins de 20 minutes en voiture, les taxis et les baby-sitters disponibles Très bien situé pour se détendre avec de nombreuses activités disponibles à votre porte: marche, vélo, natation, golf, bonne base pour explorer Pêche- West Cork et Kerry, de beaux paysages voir (website hidden) beaucoup de choses à faire dans la région de la tête de mouton. Le Head Way Moutons, situé dans le West Cork, est, une péninsule paisible et préservé qui a quelques-uns des plus beaux paysages de toute l'Irlande. Marchez Head Way du mouton, gagnant d'un prix Walker Waterford Crystal. Choisi comme la meilleure marche en Irlande par pays Walking magazine, de ces 55 mile longue distance à pied a une grande variété de terrains tout avec de belles vues et il y a beaucoup de boucle courte et longue marche disponibles.
1,5 miles de villages colorés de Kilcrohane, Ahakista, 7 miles de Durrus, Bantry 14 miles
Donal and Theresa have a great house with magnificent views over Dunmanus Bay and the large garden in front of the house. It is big, comfortable, very well equiped -especially the kitchen- and is decorated with taste. Contact with Donal and Theresa was very good. Donal's sister, who lives next door, is standby for advise, she showed us some lovely routes to walk. Recommended place to stay !
harrie
2016-07-23T00:00:00Z
The location and the house were absolutely stunning! The house had everything you could possibly think you would need. We really wish we could have stayed longer. I highly recommend walking out to the lighthouse! Breathtaking!
Anne
2014-07-14T00:00:00Z
A fantastic, spacious, clean and relaxing house. It is beautifully located and within easy reach of Kilcrohane and Ahakista. Donal was an excellent host. Although we did not meet in person, he provided me with all the necessary information and made contact on our arrival to ensure that we had found and gained access to the house. We had a superb time!
Mary
2014-08-25T00:00:00Z
La vue depuis le logement est exceptionnelle. Le logement est très confortable. la WIFI n'a pas fonctionné malgré l'intervention de Donal
Damien
2014-08-08T00:00:00Z
Donal was a very thoughtful host. His sister who lives close by helpful, but not at all intrusive. The house is wonderful, spacious, clean and very well equipped (though watch for the water - sometimes the filtration system reboots so you do need to have bottled water for drinking). Our time was great. In particular sitting in the sun-room looking out over Dunmanus Bay to Three castle Head (just beside Mizen). Overall the Sheep's head peninsula is a great spot for a family break.
Tadhg
2015-08-15T00:00:00Z
We had a lovely stay. Thank you.
ciara
2014-08-05T00:00:00Z
House was fabulous - would definitely recommend for anyone staying in this area!
Jenni
2016-09-13T00:00:00Z
We had a fantastic stay in Donal's place. The house was spacious and bright and warm, not to mention really well equipped. The views from the house are spectacular and the Sheep's Head Peninsula is a small piece of heaven. We didn't meet Donal but he was very helpful over the phone with directions. Donal's sister let us in and kept an eye that we were doing ok. Ita gave us some tips for the locality on nearby walks and hikes. We always felt welcomed.
Fionnuala
2014-08-20T00:00:00Z
Romtype
Helt hjem/leilighet
---
Eiendomstype
Hus
---
Plass til
8
---
Soverom
Bantry, County Cork, Irland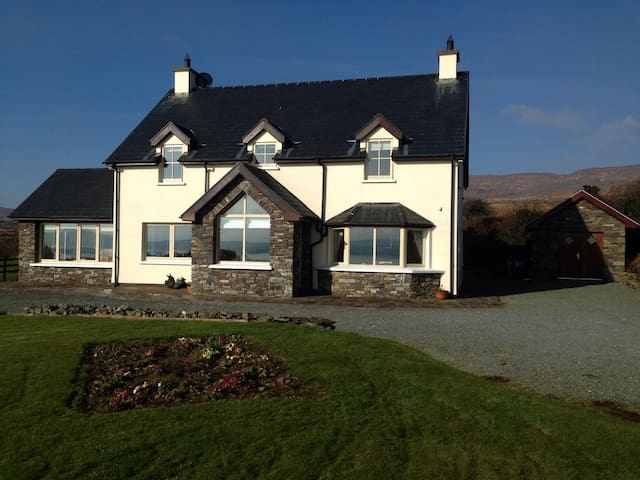 Ma place est bonne pour les couples, les aventuriers en solo, les voyageurs d'affaires, les familles (avec enfants), et de grands groupes.
Avec des vues spectaculaires sur Three Castle Head au Sud et à tête de mouton à l'Ouest, Ballyvonane House est idéalement situé où Dunmanus Bay ouvre sur l'Atlantique sauvage. Ce gîte rural de luxe est situé sur 350 hectares de terres agricoles avec six kilomètres de côte. Autour de la maison, vous verrez Aberdeen Angus, les bovins et les chevaux de pâturage charolais. promenades, poney et colline escalade ne sont que quelques commodités à votre porte. La zone de la Chambre Ballyvonane, qui comprend un appartement autonome séparé est de 320 m². De la maison principale, vous entrez dans une grande cour avec un barbecue. Lorsque le temps est incertain, la salle de jeux intérieure a une table de billard, soccer intérieur et d'autres jeux. Cette location de vacances dispose également d'un sauna de luxe. La cuisine entièrement équipée maison de campagne a tout un cuisinier a besoin - et plus encore. Totalement intégré, avec four en acier inoxydable, grande plaque de cuisson électrique, réfrigérateur et lave-vaisselle. Il y a une petite cuisine avec four supplémentaire, cuisinière à gaz, un autre lave-vaisselle, frigo-congélateur, deux machines à laver et sèche-linge. hébergement Ballyvonane Maison 5 chambres, chacune avec salle de bains, 6ème chambre facultative, sauna, salle de jeux, télévision, vidéo, téléphone et fax. Ballyvonane Maison Chambre / Disposition Salle de bains Rez-de-chaussée 1 x Chambre double avec salle de bains (2) 1x Double Chambre (2) Salle de bains Premier étage 2x chambres doubles avec salle de bains (4) Appartement: 1 x double (canapé-lit) (2) Salle de bains Salle de jeux: 1 x double (canapé-lit) (2) Salle de bains Sauna = Total: 12 personnes
Romtype
Helt hjem/leilighet
---
Eiendomstype
Hus
---
Plass til
12
---
Soverom
Durrus, County Cork, Irland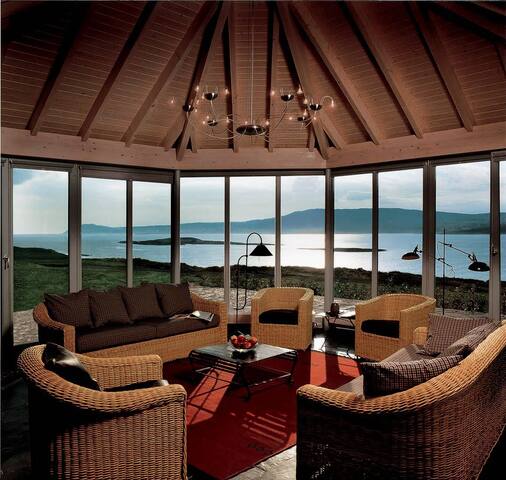 Mit sted er på de prisbelønnede Sheeps Head gangbro og cykelruter. Du vil nyde panoramaudsigten over bakkerne, Mizen halvøen, den placering, den udendørs plads, fred og ro i naturen og nem adgang til kysten. Mit sted er godt for par og solo eventyrere. Du skal bruge din egen transport som den offentlige transport ikke er tilgængelig ud over den lokale by Bantry. I Bantry er der to store hoteller med indendørs swimmingpool og fitness-faciliteter er åbne for besøgende, og en biograf
Min studio lejlighed byder på ro i en uspoleret landlige omgivelser, og nem adgang til fremragende gåtur og cykelruter. Jeg nyder at dele min viden om lokale steder, som du kan besøge for at få mest ud af din ferie. Indkvarteringen er selvstændig med sin egen hoveddør og uden for parkering / opholdsområde, tilgås fra en delt indkørsel. Det er en split-niveau åbent rum, med soveværelset adgang via en trappe, en våd værelse med elektrisk bruser og radiator, et køkken med grundlæggende madlavning faciliteter og en åben stue / alrum, oplyst af en mur af glas vinduer, der glider sikkerhedskopiere at give nem adgang til det fri.
Fårehoveder er en del af Wild Atlantic Way, en drivende rute, der tager i den sydvestlige del, vest og nord-vest kyster Irland, med mange loop drev og spektakulære landskaber. Fra denne halvø kan du nemt få adgang Mizen og Beara halvøer, med mange smukke landsbyer, fiskerihavne og færger til syv beboede øer. Kajak, sejlsport, svømning og line fiskeri er alle tilgængelige lokalt. Der er en god golfbane i Bantry der hilser besøgende og kan arrangere en lokal til at spille en runde med. Lokale folk er venlige og velkommen besøgende. Der er et marked om fredagen i Bantry, og en retfærdig udvalg af butikker, restauranter og barer. Der er vidunderlige lys og lidt lysforurening, så klare nætter er fantastisk til stjerne-stirrede.
Pat's little house is perfect! It is clean and well-furnished and extremely comfortable. I love the loft bed and the skylight window! Even though it's not a full kitchen, it has everything you need to prepare simple meals. I stayed 8 nights and ate all of my breakfasts and half of my dinners there. Pat is a generous host, and she even left me a basket of essential food items and a nice note welcoming me! I have spent a out of time in West Cork and Sheep's Head, and this is one of the most welcoming spaces I've ever been in. I love how light and cheerful it is (anyone who's spent time in Ireland knows it can get gloomy at times.) I would not hesitate to stay there again!! Five stars all around!
Cynthia
2016-08-20T00:00:00Z
We were made very welcome by Patricia who had kindly left some welcome supplies for us - eggs, bread, juice and fruit, tea and fresh milk. The apartment was stylish, spotless and very comfortable with plenty of info about this lovely area. We'd love to stay at An Tigin again and heartily recommend the place if you like peace and quiet with walks nearby. Full marks to Patricia.
S&S
2016-09-11T00:00:00Z
Patricia's house exceeded our expectations and was in the perfect place for exploring the Irish countryside as well as being lovely to spend time (handy given the unpredictable weather!). Patricia was very welcoming and helpful in providing information on the surrounding area. We enjoyed sharing travel experiences over tea! Thanks!
Frances
2016-07-19T00:00:00Z
Patricia has been the most pleasant host! She was very helpfull and provided us a welcome package and lots of information for hiking in the area. The place is very peacefull (an hour before our departure some deer walked through the garden) and has a great view through the big front window. Because of the location on Sheepheads Way I definetly would recommend this place to hikers or people who want to enjoy the beautiful nature...
Eric
2016-09-24T00:00:00Z
We had such a lovely time in this cosy little space and really enjoyed its remoteness as well as the beautiful scenery. It had everything we needed and some beautiful walks just outside the doorstep. Pat was an awesome, very caring host who provided us with a lot of useful information about activities and restaurants in the area. We felt very welcome here!
Laura
2016-09-01T00:00:00Z
Staying at An Tigin has been a wonderful experience. It it situated at a beautiful peninsula with plenty of of opportunities for walking. The scenery is simply stunning and yet it is not overrun by tourist but on the contrary very peaceful. With Bantry being just 15 minutes by car it is not too remote - cafes, restaurants and some shopping opportunities are to be found there. The house itself is very tastefully decorated has modern facilities, overall a very good standard and just the perfect fit for us. Last but not least Patricia has been a wonderful host: always keen to help with tips for day trips and up for a friendly chat. Overall our time at An Tigin has been the highlight of our stay in Ireland - highly recommendable! Unsere Zeit in Patricia Unterkunft An Tigin war eine wunderbare Erfahrung - die Lage ist hervorragend fuer Tagestrips sowohl auf Sheeps Head als auch auf den benachbarten Halbinseln. Die Landschaft dabei ist einmalig - gruen bewachsene kleine Bergruecken ragen hier bis in den Atlantik hinein. Trotz der Hochsaison im July war man auf einigen Wanderwegen prinzipiell alleine was die tolle friedliche Atmosphaere in Irland noch verstaerkt. Nicht weit weg von der Unterkunft gibt es mit Bantry eine kleines Staedtchen mit Supermarkt und leckeren FIschrestaurants. Hier koennen auch regnerische Tage mit Bummeln, Cafebesuchen und Kino ueberbrueckt werden. Die Unterkunft selber ist sehr geschmackvoll eingerichtet - man merkt eine Fotografin war hier am Werke - und vor allem gemuetlich. Die Ausstattung ist sehr modern, uns hat es an nichts gefehlt. Nicht zuletzt war Patricia eine wunderbare Gastgeberin - unglaublich freundlich, hilfsbereit und nett. Da sie die Gegend hervorragend kennt, konnte sie uns mit zahlreichen Tipps aushelfen. Der Aufenthalt in An Tigin war unser persoenliches Highlight in Irland - absolut zu empfehlen! 예상보다 늦게 도착했음에도 Patricia씨는 우리를 따뜻하게 맞아주었고, 그녀의 집은 새로 지어져 굉징히 모던하고, 아기자기 꾸며져 있었습니다. 전혀 기대 없이 갔지만, 마음에 쏙~ 드는 로맨틱한 우리의 휴식처가 되었답니다. 거기에 현지인으로 도움되는 Patricia의 조언들! 그녀가 추천해준 Sheeps Head 등대, Paekeen 산책/등산로, Mizen Head, Crookshaven, Barleycove, Ring of Kerry, Killarney 국립공원은 아일랜드와 사랑에 빠지기 충분했고, 꼭 다시 와야 겠다는 다짐을 하게 했습니다. 더블린을 떠나서 푸른 바다, 초록 풀밭, 바위산, 초원위에 양들, 고요함, 말로 형언 안되는 숨막히는 진정한 아일랜드의 풍경을 보고 싶다면 망설이지 말고 An Tigin으로 가시라하고 싶습니다. Patricia ~ 엄마처럼 알뜰살뜰 챙겨주셔서 따뜻했고 ~ 정말 고마웠어요. 꼭 다시 올게요 :) 房东 Patricia非常亲切和善良。这新建的房间布置得很有感觉, 像照片一样,给我们在家的感觉。周围的环境也很美丽。我们去了 Sheeps Head, Mizen Head, Crookshaven, Barleycove, Killarney (开车1个半小时)真是难忘的旅游&超级开心的6天5晚~ 如果想看真正的Ireland, 我强烈推荐您到Patricia那里度假!
Moeller
2016-07-25T00:00:00Z
We were looking for a comfortable, private place in this beautiful part of Ireland. We found it in An Tigin, Pat's place. Pat was very kind, conscientious and caring in making us feel welcome, from giving directions through mail in advance to providing special equipment e.g. for a good wifi connection and cookery. Everything you need for a comfortable stay is there. The house is designed very efficiently and it's all very clean. From the doorstep of An Tigin you can make wonderful walks on the peninsula. Te place is not too remote to get to larger towns quickly, however. We really had a wonderful time. Pat, thanks so much for everything!
Gert
2016-08-01T00:00:00Z
The place was very cozy and it was very comfortable and quiet!! My girlfriend and I went hiking and Pat has a hiking book that was perfect for what we wanted to do. Awesome natural beauty all the way around. The little town of Durrus had a few pubs and the Long Boat was great for food. Bantry and only 20 mins away for a bigger town and it has everything we needed. Great place to stay for sure!!
Jonathan
2016-09-15T00:00:00Z
Romtype
Helt hjem/leilighet
---
Eiendomstype
Hytte
---
Plass til
2
---
Soverom
Durrus, Cork, Irland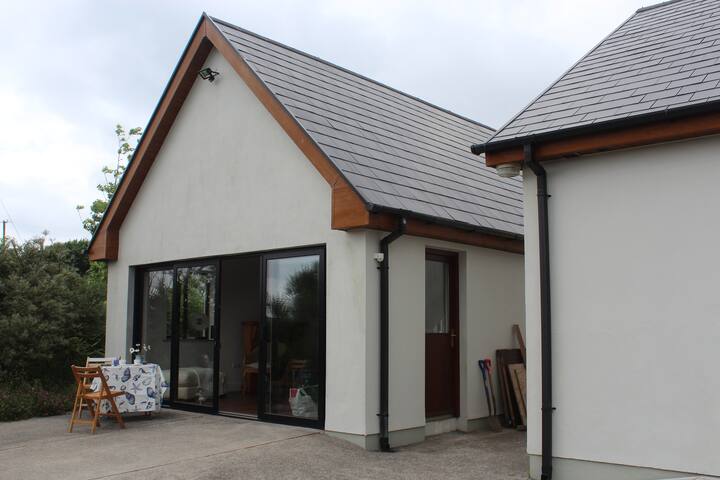 Mein Platz ist in der Nähe eine tolle Aussicht und Meer. Sie werden meinen Platz wegen der im Freien Raum lieben. Mein Platz ist gut für Paare und Solo-Abenteurer.
Romtype
Privat rom
---
Eiendomstype
Hytte
---
Plass til
3
---
Soverom
Bantry, County Cork, Irland
Amazing views - sleeps 6 3 DBedrooms, 2 bathrooms, Huge Kitchen and 3 reception rooms. From the kitchen window you can watch Dolphins and Seals feeding for the mackerel You can walk to a private beach within 150 mts where you can swim fish and sunbathe
Romtype
Helt hjem/leilighet
---
Eiendomstype
Hus
---
Plass til
6
---
Soverom
Bantry, Cork, Irland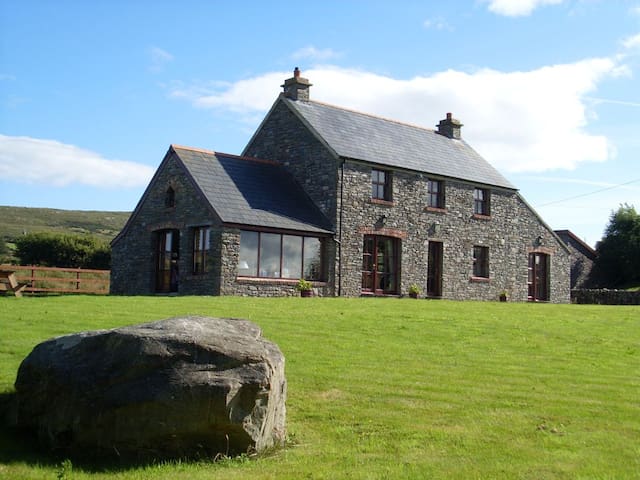 The building is owned by Music producer Wayne Sheehy. Clients come from home and abroad to record, when no artist is in residence and just the mixing suite is being used, there is a beautiful private room for rent. Of interest to music lovers.
This is a unique house, the owner toured with Ronnie Wood and many other music greats and the house is full of books and photos from his tours. The property is set on 2.5 acres on Bantry Bay with great views and rooms full of light.
The property is on the Wild Atlantic Way and the Sheeps Head Way so is excellent place for walkers, there is a stables next door and the first sound in the morning is the sound of the horses neighing, the horses can be hired so riders will love this place.
Wayne has been an exceptional host. He was able to make us feel comfortable in his own private house. It was so interesting to know such a cosmopolitan person that was able to make us feel not only good as guest but as friends. The location was amazing, we never seen stars so bright when we arrived and a beautiful view when we woke up
Marco
2016-11-27T00:00:00Z
We didn't met Avril, but Wayne, her husband. He was really cool, help us find a good restaurant, a make us feel at home. We were there for 3 nights and really enjoyed those vacation inside our vacation! Do not expect a traditionnal b&b. It is more like beeing at a friends house. There is a lot of trail near Avril's place, also a pier we you can go relax, swimm, or wait to see a dolphin or a whale!The house has been renovated, and it is not 100% finished. Make sure you go to Eileen's pub for the late afternoon beer! Thank's a lot!
Xaviera
2016-05-11T00:00:00Z
The House is directly beneath the sea, we loved it staying there because of the beautiful view! The host was very nice and the atmosphare was great! Thank you for this nice stay!
Marius
2017-02-13T00:00:00Z
Short review: Don't think twice. Book this one. Complete review: This airbnb is amazing :D The view is absolutely priceless, and there is no light pollution so if stargazing is your thing this is the place to go. The drive down to sheep's head (lighthouse) offers panoramic views of the atlantic and opposite peninsula's. Also, Wayne and Charlie (dog) were great hosts and made us feel super comfortable and at home. We simply had a wonderful time and would love to come back one day. :)
Victor
2017-01-27T00:00:00Z
Romtype
Privat rom
---
Eiendomstype
Bed & Breakfast
---
Plass til
2
---
Soverom
Cork, Cork, Irland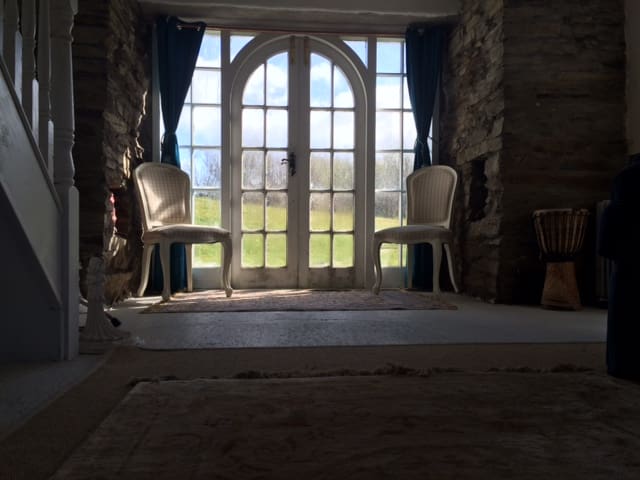 Spectacularly located on the Wild Atlantic Way and within easy reach of the scenic seaside market town of Bantry. Ideal location for family-friendly activities like sightseeing, walking, hiking, fishing, boating and touring. Great golf courses within easy reach. You'll love my place because the scenery and views over Dunmanus Bay are so amazing. My place is good for couples and solo adventurers.
This unusual property was rebuilt 10 years ago from an old farm building into a space suitable for tourism rental. The property features a large room with a comfy queen sized bed, a table & chairs, a futon sofa (convertible) and a cosy wood burning stove. A TV and DVD player are available for entertainment. An adjacent fully fitted kitchenette features most mod cons including laundry facilities. The bathroom features a separate power-shower stall.
Such a lovely home in this wonderful piece of Irish nature. No doubt it is one of the most interesting and authentic places to stay in Ireland. The price is really cheap for this place and is perfect for young couples, hikers and also old people (as my 80 years old grandmother enjoyed the staying). I will come back as soon as possible ! Thank you John, hope we meet again some day in Kilcrohane or somewhere else.
Rémi
2017-04-01T00:00:00Z
Romtype
Helt hjem/leilighet
---
Eiendomstype
Hytte (i sveitsisk stil)
---
Plass til
2
---
Soverom
Kilcrohane, County Cork, Irland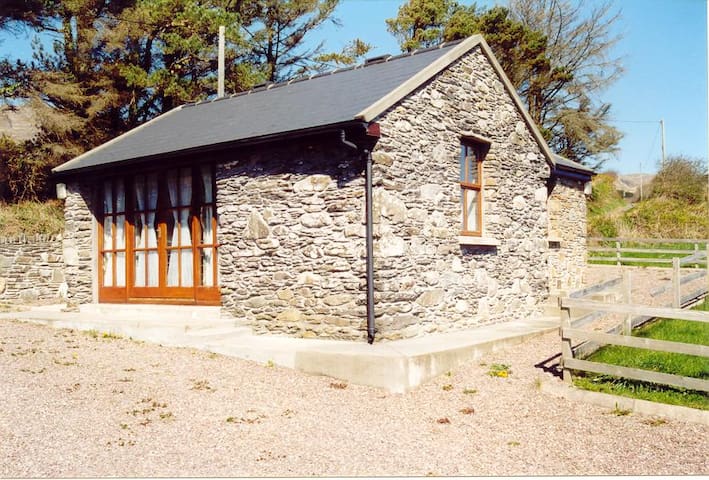 1

–

18

av

51 Utleiesteder
Oppgi datoer for å se fullstendige priser. Ekstra gebyrer gjelder. Skatter vil kunne tilføyes.